Saudi foreign minister says his country will defend itself against Iranian threats | World News
The Saudi minister for foreign affairs has told Sky News his country will do whatever it takes to defend itself against Iran.
In an exclusive interview with Sky News, Saudi Minister of State for Foreign Affairs Adel al-Jubeir also confirmed that Saudi Arabia is consulting with the UK about military support.
"We have a responsibility to defined our country and to ensure that no harm comes to our country and our peoples," the minister said.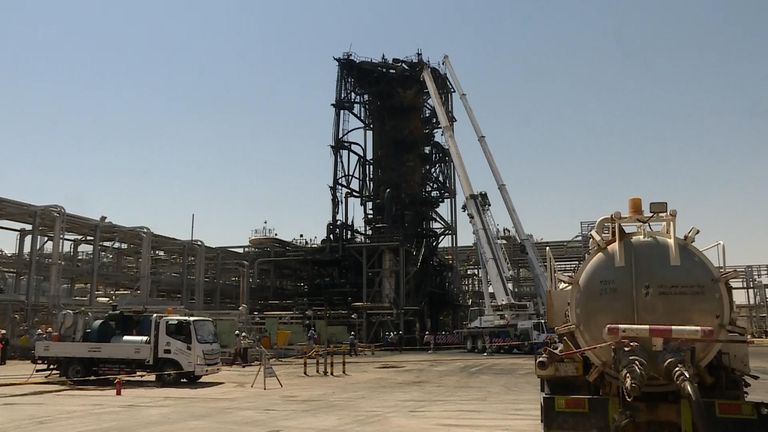 "And so we will do whatever it takes to prevent our country from sustaining damages. Preparing for war? War is always the last option."
His words came as the Commander of Iran's Revolutionary Guard Maj-Gen Hossein Salami told Iranian state media: "Our readiness to respond to any aggression is definitive. We will never allow a war to enter our land. We will pursue any aggressor. We will continue until the full destruction of any aggressor."
In response, Mr al-Jubeir said: "We will do whatever it takes to protect our nation. Period.
"Iran has engaged in aggressive behaviour for 40 years. They have destroyed Lebanon through Hezbollah, they have sent militia to destroy Syria, they have militias in Iraq, militias in Yemen and provide them with ballistic missiles and drones.
"They have set up cells in various countries Kuwait, Bahrain, SA to cause terrorist attacks."
:: Listen to the Daily podcast on Apple Podcasts, Google Podcasts, Spotify, Spreaker
US Defence Secretary Mark Esper confirmed that Donald Trump has authorised the deployment of US forces to the region but he stressed they were there in a defensive nature.
"The president has approved the deployment of US forces, which will be defensive in nature and primarily focused on air and missile defence," he said.
"We will also work to accelerate the delivery of military equipment to the Kingdom of Saudi Arabia and the UAE to enhance their ability to defend themselves."
While the UK has not confirmed any increased military presence in the region, Mr al-Jubeir said consultations were taking place. He is due in London after this week's UN General Assembly in New York.
"The UK also been one of our staunchest allies when it comes to security. We are in consultations with the UK in this area," he told Sky News.
"The UK has agreed to provide naval assets in order to help with maritime security. The gulf countries, the US, the UK, I believe Australia are now providing assets to protect maritime security and the flow of energy."
Quaden Bayles: Bullied boy leads out all-star rugby league team in Australia | World News
A nine-year-old boy who was left suicidal after being bullied because of his dwarfism has had "the best day of his life" as he led out an all-star rugby league team in Australia.
Quaden Bayles received an outpouring of support worldwide after his mother shared an emotional clip of him on social media.
In the viral video the youngster was heard saying, "I'm going to die right now… give me a knife, I'm going to kill myself", after a bullying incident at his school.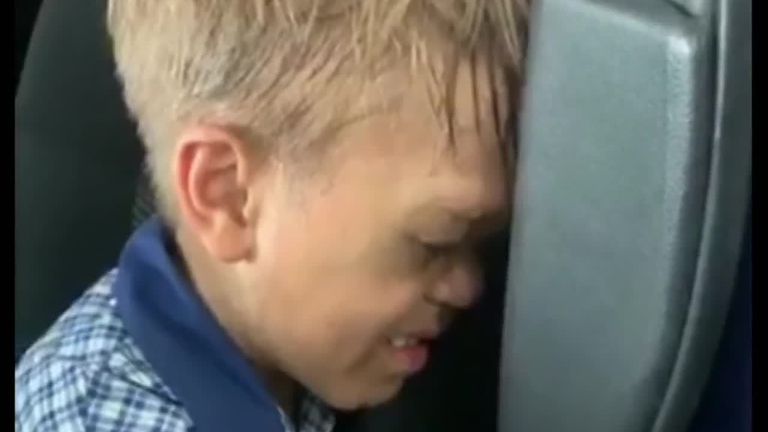 On Saturday, Quaden was invited to walk the Indigenous All-Stars rugby league team onto the field as they took on the Maori All-Stars in an exhibition match on Australia's Gold Coast.
The crowd at the Cbus Super Stadium in Robina, Queensland, erupted in cheers as Quaden entered the field hand-in-hand with captain Joel Thompson.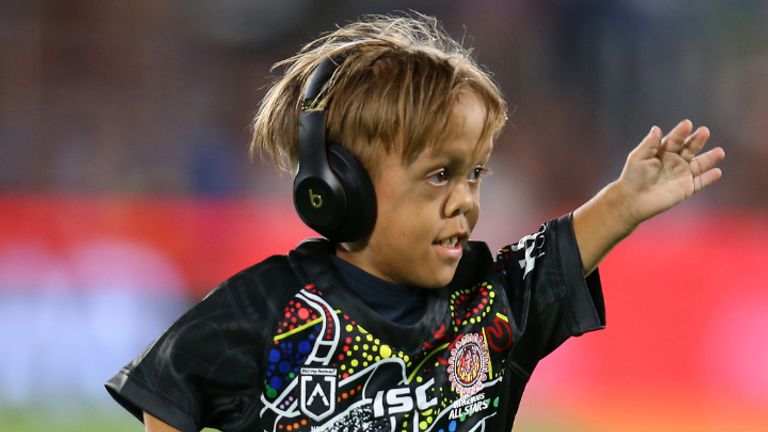 Dressed in an All-Stars jersey, he wore black noise-cancelling headphones and clung to the match ball as he strode into the middle of the pitch.
Ahead of the event, Quaden's mother Yarraka Bayles said her son had described the invitation to attend the match as "going from the worst day of his life to the best day of his life".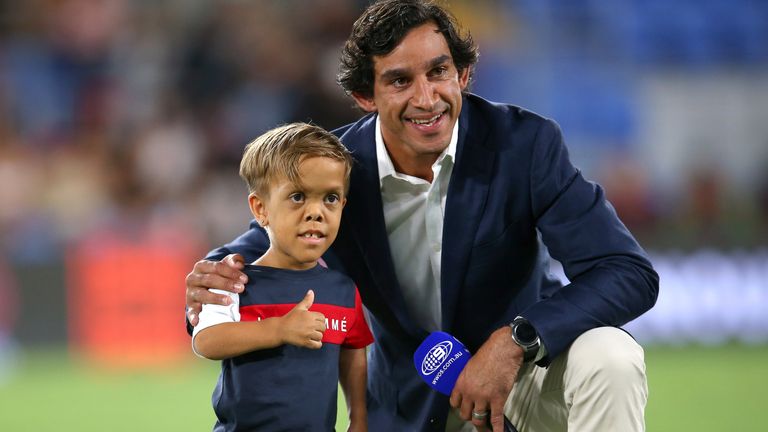 "We could never have dreamt in our wildest dreams that it would've gone worldwide and created such a media frenzy," Ms Bayles said.
"It's every parent's worst nightmare losing their babies and for me that's my reality every day.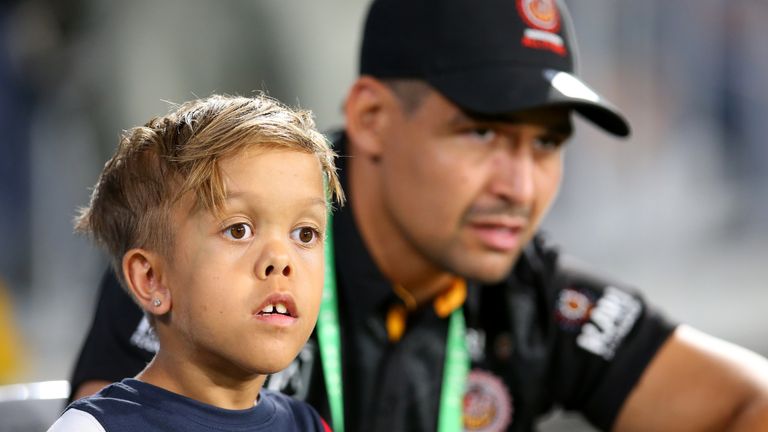 "That's what I have to prepare for – the worst, because everything he is going through with his medical condition, the suicide attempts are very real and people don't understand that.
"There are way too many people suffering in silence and my heart goes out to those families that have already lost their children to bullying.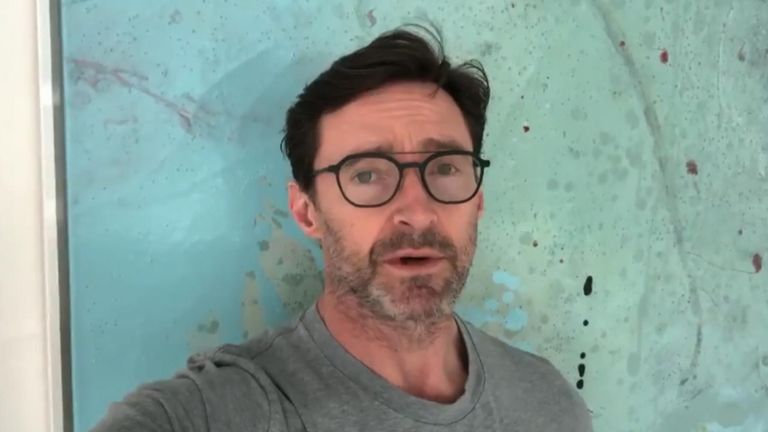 "It's been way too many and it's something that needs to be addressed, it's an international crisis and it demands urgent attention."
Rugby league player Cody Walker described Quaden as a "young warrior".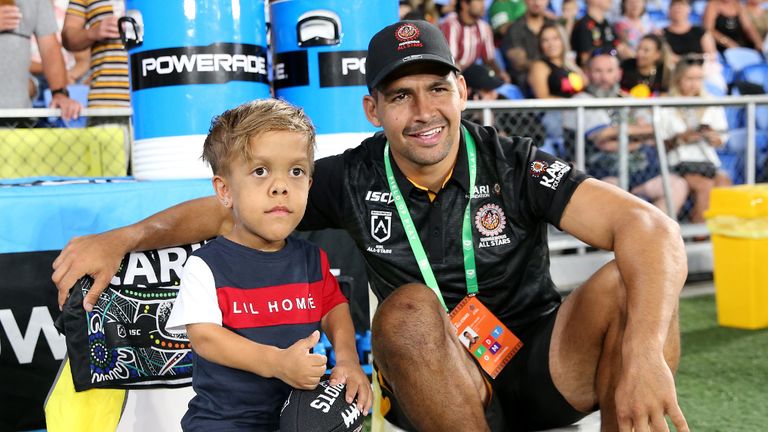 "We're in a pretty privileged position to be sports stars and obviously seeing that hurt us in so many ways and thought very quickly about… what we can do to lift his spirits first and foremost," he said.
"One of the vehicles in Aboriginal communities is rugby league and… this game is a very important game within those communities, so what better way to get Quaden down here on the Gold Coast, be a part of our team, lead us like the young warrior he is, and show him that we love him."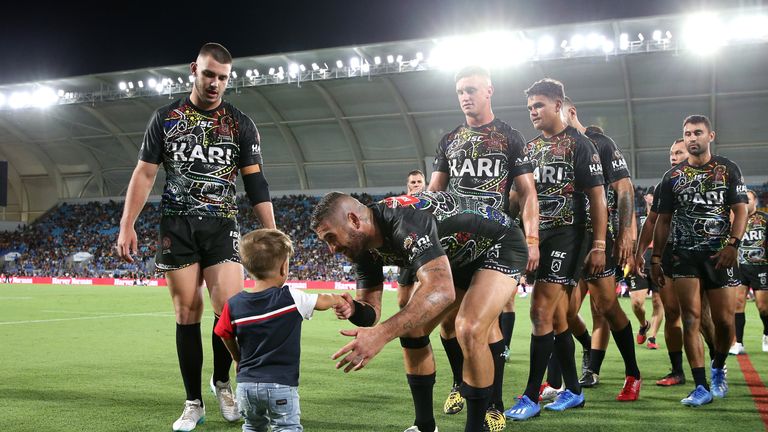 A comedian has raised more than $440,000 (£339,000) after setting up a fundraising page to send Quaden to Disneyland following his bullying ordeal.
American Brad Williams, who has the same dwarfism condition achondroplasia as Quaden, set up the GoFundMe page after seeing the video of the youngster in floods of tears.
Hollywood star Hugh Jackman and Star Wars actor Mark Hamill are among those who have voiced support for Quaden since the clip of him went viral.
:: Anyone feeling emotionally distressed or suicidal can call Samaritans for help on 116 123 or email jo@samaritans.org in the UK. In the US, call the Samaritans branch in your area or 1 (800) 273-TALK.
Ryanair boss Michael O'Leary accused of racism for saying terrorists are 'generally Muslim men' | Business News
Ryanair boss Michael O'Leary has sparked outrage for suggesting would-be plane bombers are more likely to be Muslim men – and airport security should focus on "where the threat is coming from".
He told The Times that potential terrorists will "generally be males of a Muslim persuasion" – and that families with young children should be waved through airport security as there was "virtually" no chance of them being terrorists.
Ryanair has disputed the paper's coverage and said its chief executive "apologises sincerely for any offence caused", having been accused of sharing "racist and discriminatory" views.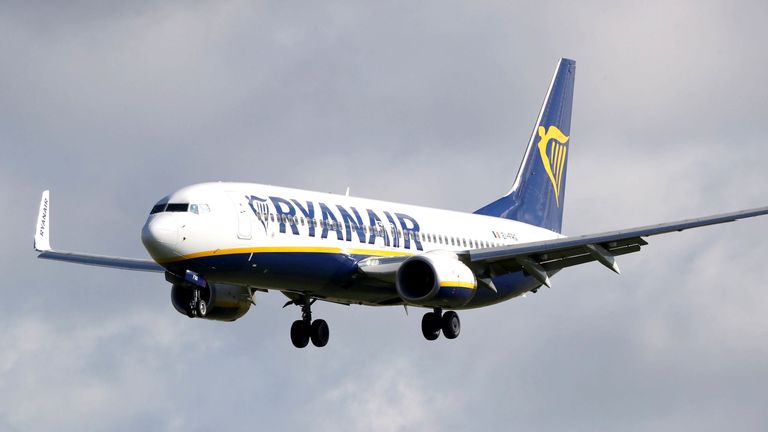 The 58-year-old told the newspaper: "Who are the bombers? They are going to be single males travelling on their own.
"If you are travelling with a family of kids, on you go; the chances you are going to blow them all up is zero."
He added: "You can't say stuff, because it's racism, but it will generally be males of a Muslim persuasion. Thirty years ago it was the Irish.
"If that is where the threat is coming from, deal with the threat."
Ryanair told Sky News that any suggestion that Mr O'Leary thought Muslim men should face extra airport security checks were "simply inaccurate".
"Michael was only calling for more effective airport security checks which would do away with much of the unnecessary queues at airport security today for all passengers," a spokesman said.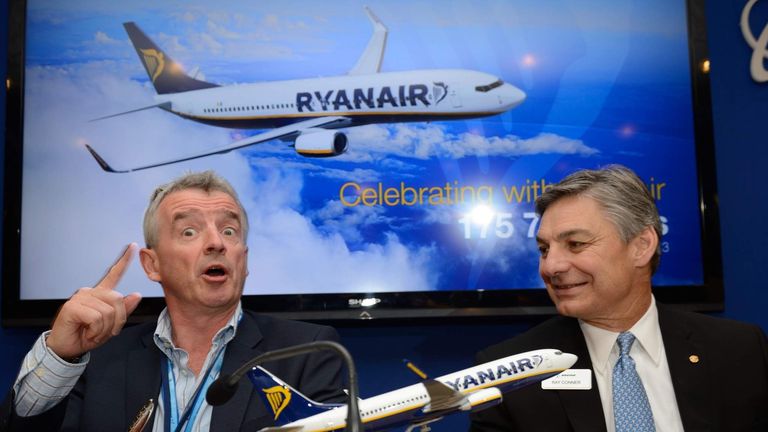 The controversial comments came during an interview in which he also appeared to mock obese passengers – and hit out at the need to accommodate disabled people.
He said that the need for wheelchair facilities on each floor of an office he had built in Dublin was "complete and utter nonsense"
That "fairly shortly we'll have to have gender-fluid toilets", adding: "I'm male today and I'll be female tomorrow"
And described obese airline passengers as "monsters", saying: "If you have complete monsters you may need to buy two seats"
Hate crime monitoring group Tell Mama said his "flippant" comments could have serious consequences for the business where he was worked for more than 30 years.
"Besides being discriminatory and basing judgements on the 'looks' of people, which is abhorrent, O'Leary clearly does not know about the history of terrorism, where people have used others to bypass this blunt and divisive technique," it said.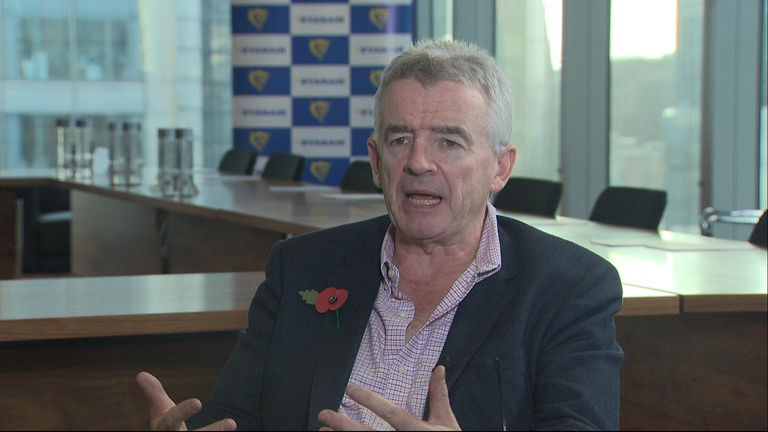 The Muslim Council of Britain also criticised Mr O'Leary, describing his views as "the very definition of Islamophobia".
"He openly advocates discrimination against 'males of a Muslim persuasion', which presumably is not based on specific intelligence but solely whether someone 'looks or acts like a Muslim'," a spokeswoman said.
"It is a shame that such racism is being expressed so openly, and that the CEO of a large airline would so want to discriminate against his customers so brazenly."
Mr O'Leary is no stranger to courting controversy, having famously proposed that passengers should pay to use the toilet, and he dressed up as a pope to launch Ryanair's new route from Dublin to Rome.
He has also been at loggerheads with the UK government in recent times – threatening legal action over its bailout of regional carrier Flybe, and criticising former transport secretary Chris Grayling over no-deal Brexit planning.
Last year he also waded into the row over a McDonald's executive who was sacked for having a consensual relationship with an employee.
Giorgio Armani criticised for accusing fashion industry of 'raping' women | World News
Giorgio Armani has been criticised for remarks in which he accused the fashion industry of "raping" women.
The Italian designer repeatedly used the term "rape" to describe how women in the fashion industry are treated when he spoke at an event during Milan Fashion Week.
"I think it's time for me to say what I think," Armani said.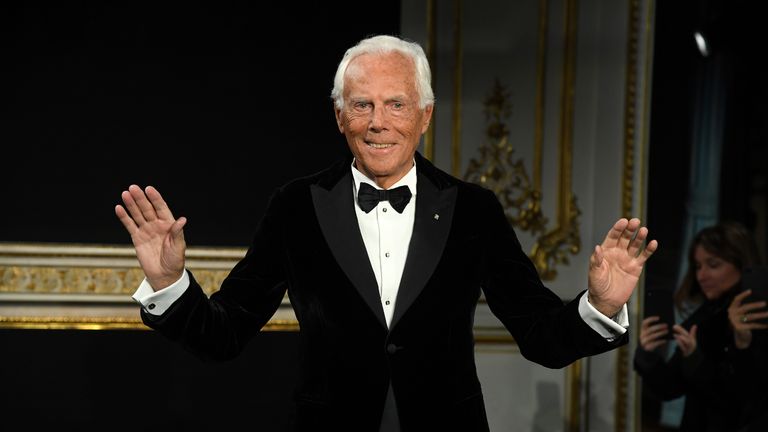 "Women keep getting raped by designers, by us.
"If a lady walks on the street and sees an ad with a woman with her boobs and a**e in plain sight and she wants to be like that too, that's a way of raping her.
"You can rape a woman in many ways, either by throwing her in the basement or by suggesting that she dresses in a certain way."
The 85-year-old's comments drew criticism from some people in the fashion industry who questioned whether Armani's use of the term "rape" was appropriate.
Booth Moore, an executive editor at fashion trade journal Women's Wear Daily, wrote on Twitter: "The exploitation of women in fashion imagery is not a new phenomenon, far from it. And I do think Armani has tried always to be respectful of women in his work.
"But the word 'rape' is very charged, in any language."
Armani says, several times, that designers are "raping" women by making them dress inappropriately for their age etc, and I would love to chalk this one up to an age/language/culture barrier but uhhhhhHHHHHHHHHHHH https://t.co/lHJrItfudK

— Tyler McCall (@eiffeltyler) February 21, 2020
Armani founded his label in 1975 and has built it into a global brand.
His controversial remarks were made at an event on the sidelines of a show for his Emporio Armani line at Milan Fashion Week.
He said of his latest show "there are short skirts, long skirts, ample and tight trousers".
"I have given maximum freedom to women who can use all possibilities if they are sensible," Armani said.
"I'm sick of hearing the word 'trend'. We need to try to work for today's woman. There shouldn't be trends."
The designer has used recycled fabrics and materials in his autumn/winter 2020 Emporio Armani show, which he will present at Milan Fashion Week on Sunday.