Saudi Arabia says 'Iranian weapons' used in drone attack on oil facilities | World News
Oil prices have fallen after an initial spike following a drone attack on Saudi Arabia's oil facilities, as finger pointing continues over who was responsible.
Global prices surged nearly 20% following the bombing of two oil plants, before dropping around 10% when markets calmed in reaction to Donald Trump's suggestion that America's stockpile could be used if required.
Yemen's Houthi rebels, who are backed by Iran, say they are responsible and have warned of more strikes.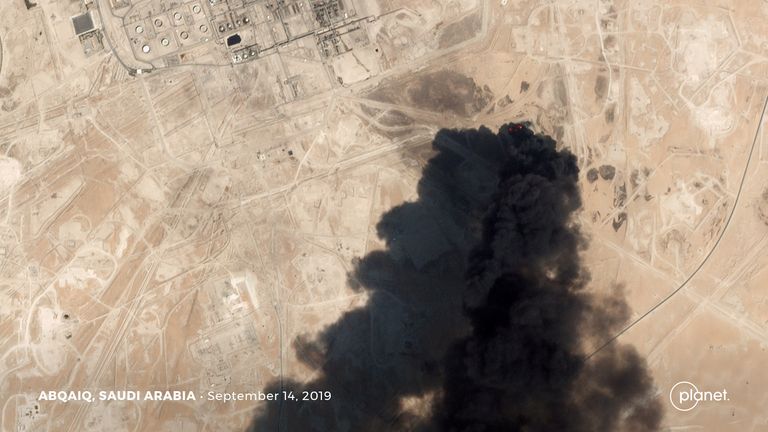 However, Saudi Arabia and the US have accused Iran of being behind the attacks on the Abqaiq facility and the Khurais oil field in the early hours of Saturday.
Saudi military spokesman Colonel Turki al-Malki said their initial investigation suggests "Iranian weapons" were used and were "not launched from Yemen".
His comments were echoed by the US ambassador to the United Nations, who told the security council that information "indicates that responsibility lies with Iran" and there was no evidence the attack came from Yemen.
Iran has denied it is to blame and said it was ready for "full-fledged war" if necessary, while countries including Russia have warned against pinning the blame on Tehran.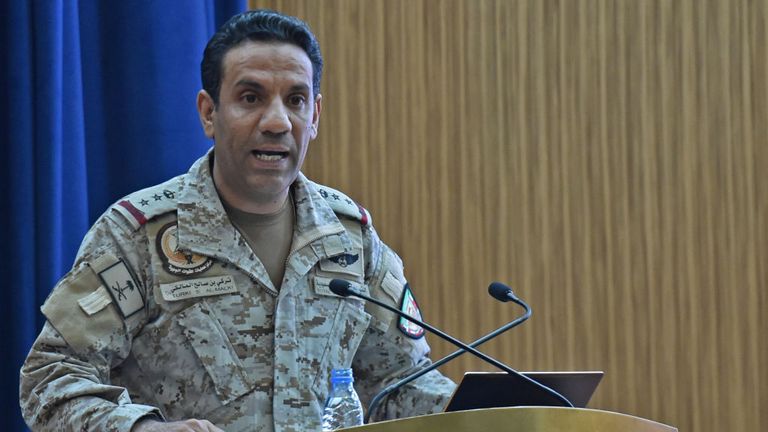 It comes as Iranian news agency INSA also reported that the country's Revolutionary Guards had seized a ship in the Gulf for allegedly smuggling diesel to the United Arab Emirates.
Iran and Saudi Arabia are locked in a long-standing power struggle in the region.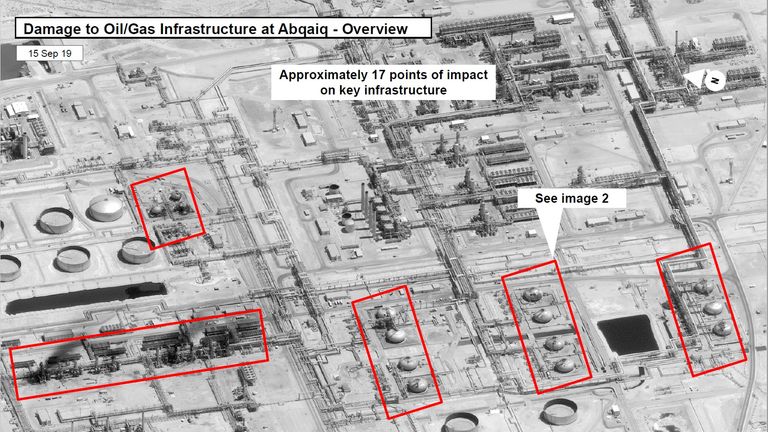 Saudi Arabia is leading a coalition, which includes the UAE, in a war against the Houthi rebels in Yemen. It is often described as a proxy war between Saudi Arabia and Iran.
The strike on Saudi Aramco's main processing facility has cut its production of crude oil by 5.7 million barrels a day – more than half its daily exports and more than 5% of the world's daily production.
The oil market's confidence was knocked by how easy it appeared to be to attack and damage the Saudi facilities.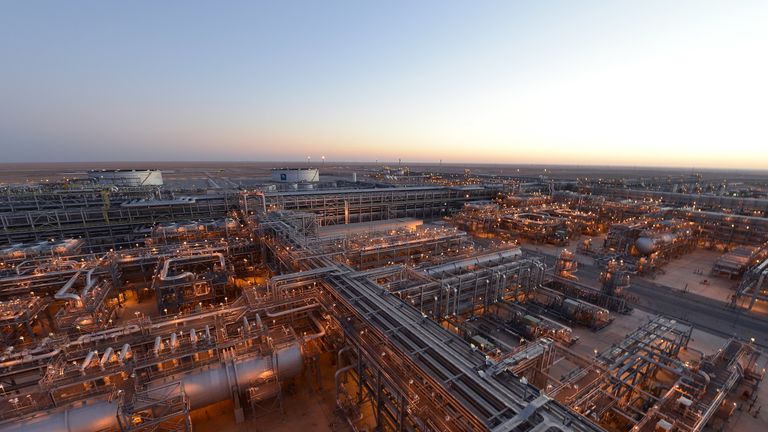 It remains unclear how long it will take to carry out repairs, with some suggesting it could take months.
The country has stockpiles that will enable it to meet its export commitments in coming weeks. However it took some action to clamp down on supplies, including shutting down its pipeline to Bahrain.
US President Donald Trump helped calm markets when he said oil from America's emergency fuel storage would be released if needed.
He tweeted: "We don't need Middle Eastern Oil & Gas, & in fact have very few tankers there, but will help our Allies!"
He also said the US was "locked and loaded" and that he is unwilling to meet Iran, who he re-imposed sanctions on last year after pulling out of a landmark nuclear deal.
The president went on to accuse Iran of lying over its involvement, tweeting: "Remember when Iran shot down a drone, saying knowingly that it was in their 'airspace' when, in fact, it was nowhere close.
"They stuck strongly to that story knowing that it was a very big lie.
Because we have done so well with Energy over the last few years (thank you, Mr. President!), we are a net Energy Exporter, & now the Number One Energy Producer in the World. We don't need Middle Eastern Oil & Gas, & in fact have very few tankers there, but will help our Allies!

— Donald J. Trump (@realDonaldTrump) September 16, 2019
"Now they say that they had nothing to do with the attack on Saudi Arabia. We'll see?"
Senior US officials said satellite images and other intelligence showed the strike was inconsistent with one launched from Yemen, where the Houthis are based, and suggested instead that it came from Iran or Iraq.
Iraq has denied the attack originated from their territory.
Dominic Raab, the UK foreign secretary, told Sky News: "The attack on the installations was a wanton violation of international law.
"It's despicable and we stand firmly in support of our Saudi partners and other international players who are outraged.
"The picture is not entirely clear, we are working it up, and before I talk about who is responsible and the implications I want to have a very clear picture, which we will be getting shortly."
Russia's foreign ministry expressed "grave concern" and said it condemned attacks on vital infrastructure or any action that could disrupt global energy supplies.
However, Moscow warned against putting the blame on Iran and said military retaliation would be unacceptable.
Saudi neighbour Qatar also condemned the attacks, despite being on the receiving end of a Saudi boycott.
Surfer fought off great white shark by punching it and telling it to 'f*** off' | World News
A surfer has told how he fought off a great white shark by punching it in the eye after it attacked him.
Nick Minogue, from the New Zealand city of Auckland, was bitten by the shark on Saturday at Pauanui Beach in the country's Coromandel region.
He told the NZ Herald: "I was just paddling along and got hit on the side of my elbow and forearm.
"By the time I realised what was going on, its teeth were definitely latched on to the front section of the board."
Mr Minogue, 60, said he had heard sharks don't like being punched in the nose or eye.
"So I actually shouted at it 'f***off!' and went to punch it in the eye and missed," he said.
"Then I pulled my fist back and shouted 'f*** off!' again and got it right smack bang in the eye. It's quite a big eye, about three knuckles across, and its eye kind of looked up and rolled up.
"In between the two punches it crunched down a bit more on the board and then disengaged its teeth, got its jaws off and then I got brushed by the dorsal fin and the tail fin and swam off."
Mr Minogue said he had been alone in the water apart from a German surfer closer to shore, who heard him screaming before the two paddled as fast as they could to get out of the water.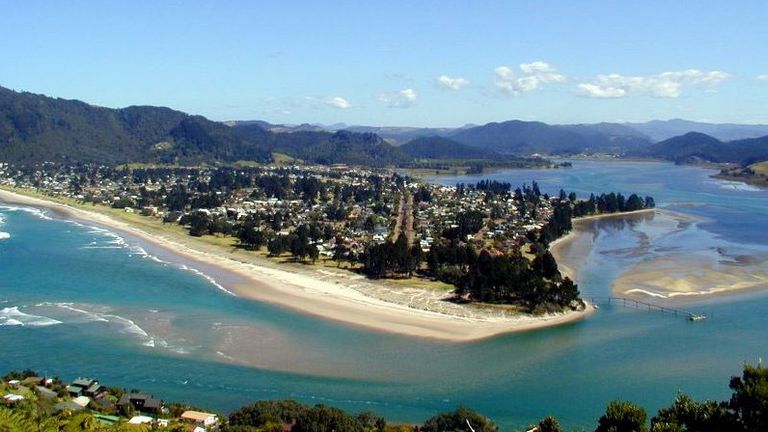 Mr Minogue said: "It was a grey shark with a white bottom, probably a great white. It was a big head and jaw. I kind of sat up in shock and decided to hit it. That was the only thing to do."
Experts told the newspaper that the bite marks on Mr Minogue's surf board and his description led them to conclude the shark had been a great white.
Pauanui surf life-saving club captain Stuart Upjohn had also been on the beach and told Radio NZ: "It turned out he was actually fine but just a bit shaken. [We] had a good look at his surfboard and it had a good bite mark in it."
Mr Minogue was left with a cut on his arm but said his full-length wetsuit saved him from further injury.
"There was blood dripping out the sleeve of my wetsuit. Thankfully it wasn't too deep. Two teeth put holes in my wetsuit but only one punctured the skin," Mr Minogue said.
"I've still got an arm and fingers, it could have been a lot worse."
Quaden Bayles: Bullied boy leads out all-star rugby league team in Australia | World News
A nine-year-old boy who was left suicidal after being bullied because of his dwarfism has had "the best day of his life" as he led out an all-star rugby league team in Australia.
Quaden Bayles received an outpouring of support worldwide after his mother shared an emotional clip of him on social media.
In the viral video the youngster was heard saying, "I'm going to die right now… give me a knife, I'm going to kill myself", after a bullying incident at his school.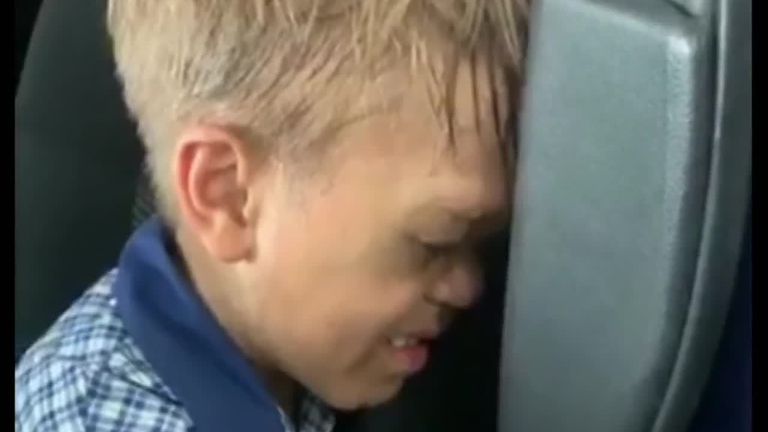 On Saturday, Quaden was invited to walk the Indigenous All-Stars rugby league team onto the field as they took on the Maori All-Stars in an exhibition match on Australia's Gold Coast.
The crowd at the Cbus Super Stadium in Robina, Queensland, erupted in cheers as Quaden entered the field hand-in-hand with captain Joel Thompson.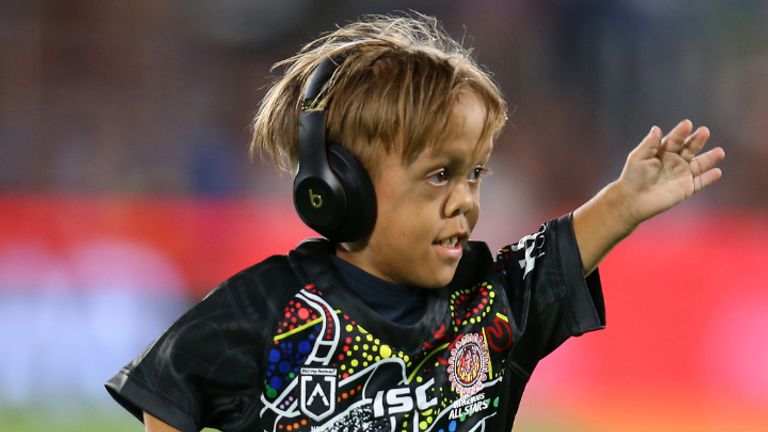 Dressed in an All-Stars jersey, he wore black noise-cancelling headphones and clung to the match ball as he strode into the middle of the pitch.
Ahead of the event, Quaden's mother Yarraka Bayles said her son had described the invitation to attend the match as "going from the worst day of his life to the best day of his life".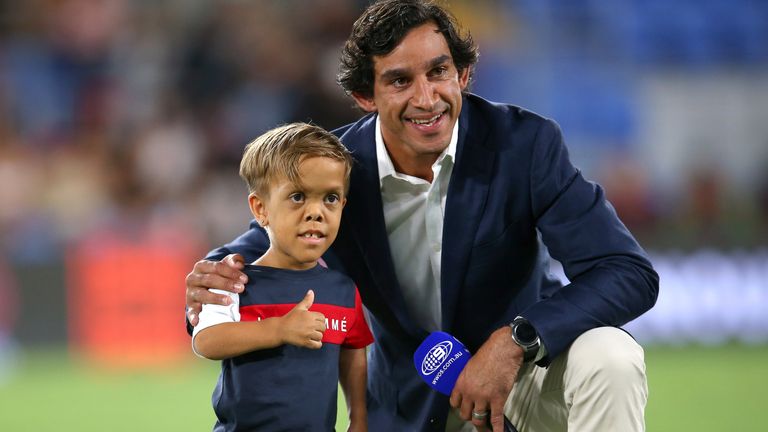 "We could never have dreamt in our wildest dreams that it would've gone worldwide and created such a media frenzy," Ms Bayles said.
"It's every parent's worst nightmare losing their babies and for me that's my reality every day.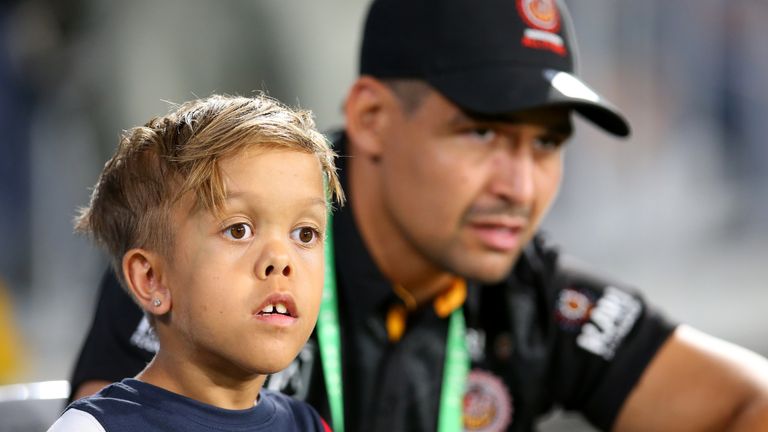 "That's what I have to prepare for – the worst, because everything he is going through with his medical condition, the suicide attempts are very real and people don't understand that.
"There are way too many people suffering in silence and my heart goes out to those families that have already lost their children to bullying.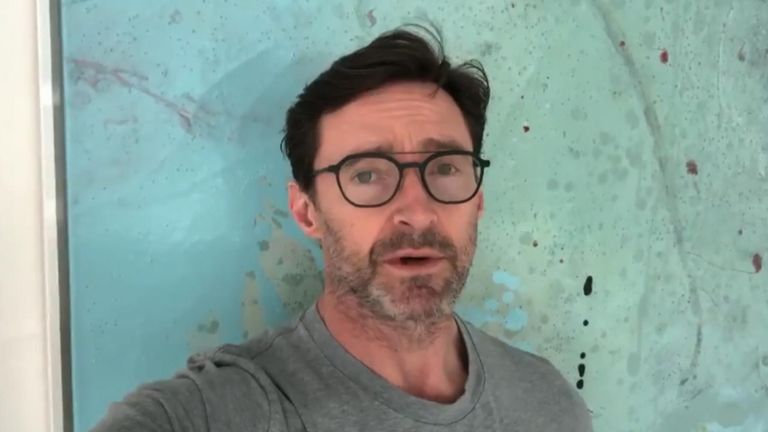 "It's been way too many and it's something that needs to be addressed, it's an international crisis and it demands urgent attention."
Rugby league player Cody Walker described Quaden as a "young warrior".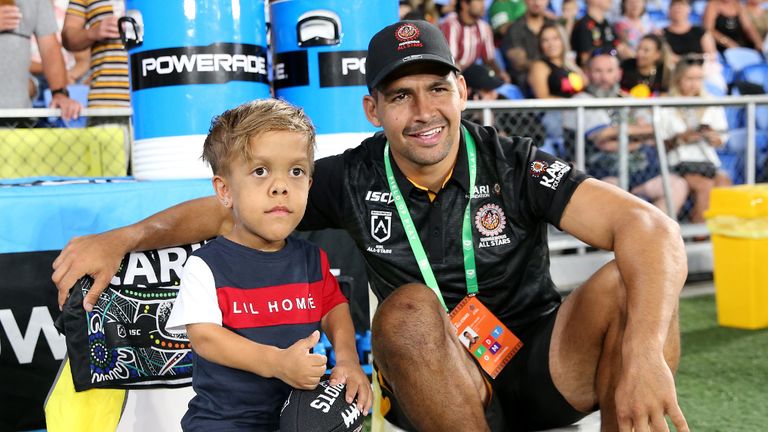 "We're in a pretty privileged position to be sports stars and obviously seeing that hurt us in so many ways and thought very quickly about… what we can do to lift his spirits first and foremost," he said.
"One of the vehicles in Aboriginal communities is rugby league and… this game is a very important game within those communities, so what better way to get Quaden down here on the Gold Coast, be a part of our team, lead us like the young warrior he is, and show him that we love him."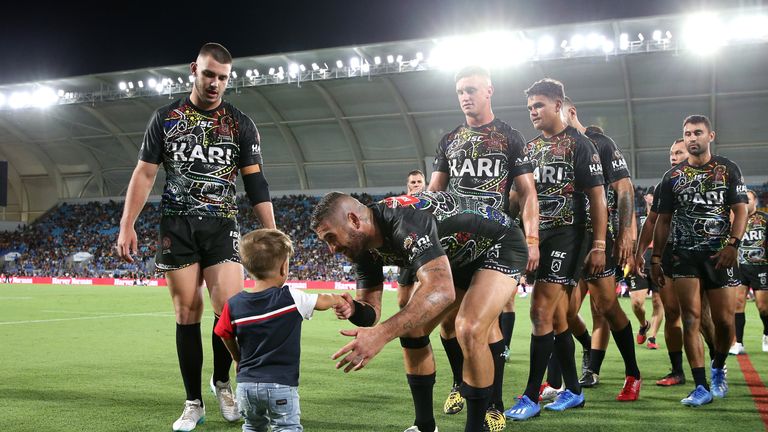 A comedian has raised more than $440,000 (£339,000) after setting up a fundraising page to send Quaden to Disneyland following his bullying ordeal.
American Brad Williams, who has the same dwarfism condition achondroplasia as Quaden, set up the GoFundMe page after seeing the video of the youngster in floods of tears.
Hollywood star Hugh Jackman and Star Wars actor Mark Hamill are among those who have voiced support for Quaden since the clip of him went viral.
:: Anyone feeling emotionally distressed or suicidal can call Samaritans for help on 116 123 or email jo@samaritans.org in the UK. In the US, call the Samaritans branch in your area or 1 (800) 273-TALK.
Ryanair boss Michael O'Leary accused of racism for saying terrorists are 'generally Muslim men' | Business News
Ryanair boss Michael O'Leary has sparked outrage for suggesting would-be plane bombers are more likely to be Muslim men – and airport security should focus on "where the threat is coming from".
He told The Times that potential terrorists will "generally be males of a Muslim persuasion" – and that families with young children should be waved through airport security as there was "virtually" no chance of them being terrorists.
Ryanair has disputed the paper's coverage and said its chief executive "apologises sincerely for any offence caused", having been accused of sharing "racist and discriminatory" views.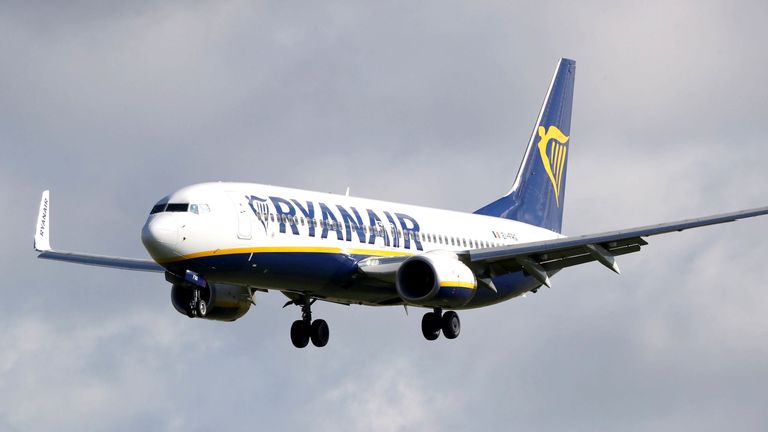 The 58-year-old told the newspaper: "Who are the bombers? They are going to be single males travelling on their own.
"If you are travelling with a family of kids, on you go; the chances you are going to blow them all up is zero."
He added: "You can't say stuff, because it's racism, but it will generally be males of a Muslim persuasion. Thirty years ago it was the Irish.
"If that is where the threat is coming from, deal with the threat."
Ryanair told Sky News that any suggestion that Mr O'Leary thought Muslim men should face extra airport security checks were "simply inaccurate".
"Michael was only calling for more effective airport security checks which would do away with much of the unnecessary queues at airport security today for all passengers," a spokesman said.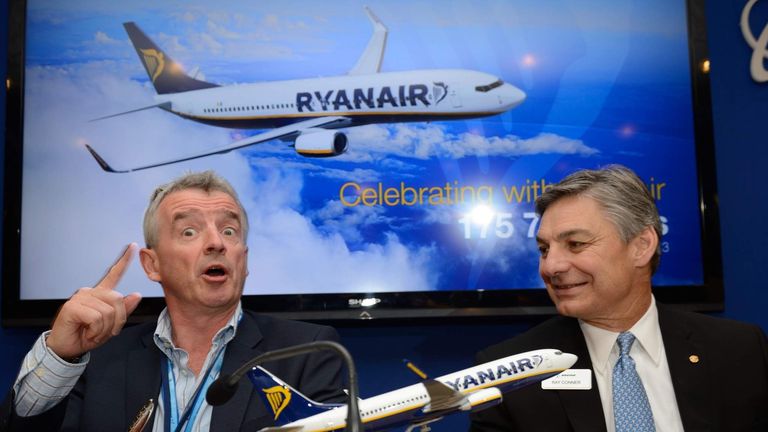 The controversial comments came during an interview in which he also appeared to mock obese passengers – and hit out at the need to accommodate disabled people.
He said that the need for wheelchair facilities on each floor of an office he had built in Dublin was "complete and utter nonsense"
That "fairly shortly we'll have to have gender-fluid toilets", adding: "I'm male today and I'll be female tomorrow"
And described obese airline passengers as "monsters", saying: "If you have complete monsters you may need to buy two seats"
Hate crime monitoring group Tell Mama said his "flippant" comments could have serious consequences for the business where he was worked for more than 30 years.
"Besides being discriminatory and basing judgements on the 'looks' of people, which is abhorrent, O'Leary clearly does not know about the history of terrorism, where people have used others to bypass this blunt and divisive technique," it said.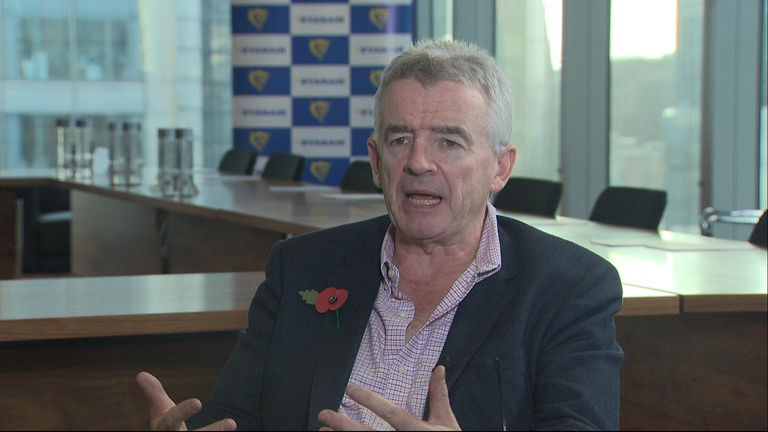 The Muslim Council of Britain also criticised Mr O'Leary, describing his views as "the very definition of Islamophobia".
"He openly advocates discrimination against 'males of a Muslim persuasion', which presumably is not based on specific intelligence but solely whether someone 'looks or acts like a Muslim'," a spokeswoman said.
"It is a shame that such racism is being expressed so openly, and that the CEO of a large airline would so want to discriminate against his customers so brazenly."
Mr O'Leary is no stranger to courting controversy, having famously proposed that passengers should pay to use the toilet, and he dressed up as a pope to launch Ryanair's new route from Dublin to Rome.
He has also been at loggerheads with the UK government in recent times – threatening legal action over its bailout of regional carrier Flybe, and criticising former transport secretary Chris Grayling over no-deal Brexit planning.
Last year he also waded into the row over a McDonald's executive who was sacked for having a consensual relationship with an employee.