Romelu Lukaku: Football pundit suspended over racist remark about Inter Milan star | World News
A football pundit has been suspended following racist comments he made on-air regarding former Manchester United striker Romelu Lukaku.
TopCalcio24's Luciano Passirani was axed shortly after making a comment directed at the Belgian striker on Sunday.
Speaking on the Qui Studio a Voi Stadio show, Passirani said: "I don't see any other player in Italy now like Lukaku… I really like him.
"The only way to stop him is to say: 'Here are 10 bananas that you can eat.'"
Lukaku, who now plays for Inter Milan, was targeted with monkey chants by Cagliari fans earlier this month.
Serie A's disciplinary judge has not yet decided if Cagliari should be punished.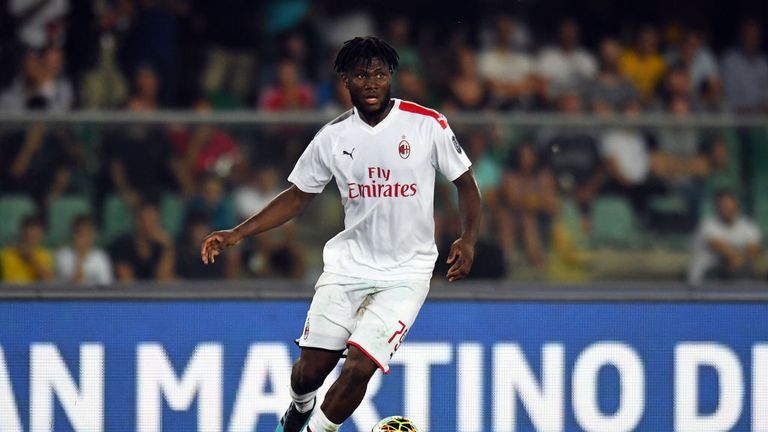 Meanwhile, Gazzetta dello Sport has claimed Hellas Verona supporters aimed offensive chants at AC Milan midfielder Franck Kessie during the first half of a 1-0 loss to Milan on Sunday night.
The Italian sports newspaper said the chants continued during half-time.
Kessie, an Ivory Coast international, was also subjected to racist chants by Inter Milan and Lazio fans last season.
Coronavirus: South Korea confirms more than 120 new cases as fourth person dies | World News

South Korea has reported more than 120 new coronavirus cases, bringing the country's total to 556.
A fourth person has also died from COVID-19, the illness caused by the virus, according to the Korea Centers for Disease and Control and Prevention.
The organisation said 113 of the new cases were reported in Daegu and the surrounding area, where they had been linked to a church and hospital.
Thousands of worshippers in the southeastern city have been screened for the virus.
Some 78,630 people worldwide have been infected with the virus, almost 77,000 of them in China, where it originated in December.
Around 2,460 people have died, according to figures recorded by Johns Hopkins CSSE.
Meanwhile, in Italy three top-flight football matches have been postponed after the deaths of two people from coronavirus in just 24 hours.
The Italian government ordered the Serie A matches between Inter Milan v Sampdoria, Atalanta v Sassuolo and Hellas Verona v Cagliari be cancelled.
They had been scheduled for today in the northern Italian regions of Lombardy and Veneto, the two areas where the Italy's coronavirus cases have been recorded.
The president of Lombardy, Attilio Fontana, said there were 39 confirmed cases in the region and the Veneto region reported 12 people with the virus. Schools, restaurants and businesses have been closed in both areas.
The first fatality was a former construction company owner aged in his late 70s, who died in Padua, in the Veneto region in northern Italy, where he had been admitted along with another person who has tested positive for COVID-19.
A second patient – a woman – died hours later in Lombardy, a region also in the north.
More follows…
Surfer fought off great white shark by punching it and telling it to 'f*** off' | World News
A surfer has told how he fought off a great white shark by punching it in the eye after it attacked him.
Nick Minogue, from the New Zealand city of Auckland, was bitten by the shark on Saturday at Pauanui Beach in the country's Coromandel region.
He told the NZ Herald: "I was just paddling along and got hit on the side of my elbow and forearm.
"By the time I realised what was going on, its teeth were definitely latched on to the front section of the board."
Mr Minogue, 60, said he had heard sharks don't like being punched in the nose or eye.
"So I actually shouted at it 'f***off!' and went to punch it in the eye and missed," he said.
"Then I pulled my fist back and shouted 'f*** off!' again and got it right smack bang in the eye. It's quite a big eye, about three knuckles across, and its eye kind of looked up and rolled up.
"In between the two punches it crunched down a bit more on the board and then disengaged its teeth, got its jaws off and then I got brushed by the dorsal fin and the tail fin and swam off."
Mr Minogue said he had been alone in the water apart from a German surfer closer to shore, who heard him screaming before the two paddled as fast as they could to get out of the water.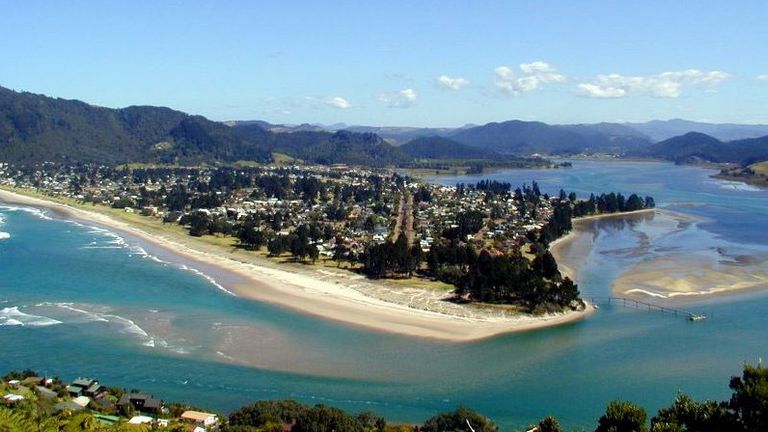 Mr Minogue said: "It was a grey shark with a white bottom, probably a great white. It was a big head and jaw. I kind of sat up in shock and decided to hit it. That was the only thing to do."
Experts told the newspaper that the bite marks on Mr Minogue's surf board and his description led them to conclude the shark had been a great white.
Pauanui surf life-saving club captain Stuart Upjohn had also been on the beach and told Radio NZ: "It turned out he was actually fine but just a bit shaken. [We] had a good look at his surfboard and it had a good bite mark in it."
Mr Minogue was left with a cut on his arm but said his full-length wetsuit saved him from further injury.
"There was blood dripping out the sleeve of my wetsuit. Thankfully it wasn't too deep. Two teeth put holes in my wetsuit but only one punctured the skin," Mr Minogue said.
"I've still got an arm and fingers, it could have been a lot worse."
Quaden Bayles: Bullied boy leads out all-star rugby league team in Australia | World News
A nine-year-old boy who was left suicidal after being bullied because of his dwarfism has had "the best day of his life" as he led out an all-star rugby league team in Australia.
Quaden Bayles received an outpouring of support worldwide after his mother shared an emotional clip of him on social media.
In the viral video the youngster was heard saying, "I'm going to die right now… give me a knife, I'm going to kill myself", after a bullying incident at his school.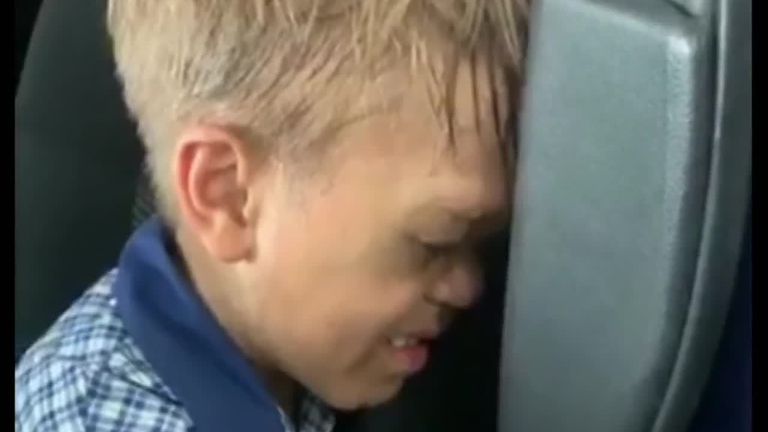 On Saturday, Quaden was invited to walk the Indigenous All-Stars rugby league team onto the field as they took on the Maori All-Stars in an exhibition match on Australia's Gold Coast.
The crowd at the Cbus Super Stadium in Robina, Queensland, erupted in cheers as Quaden entered the field hand-in-hand with captain Joel Thompson.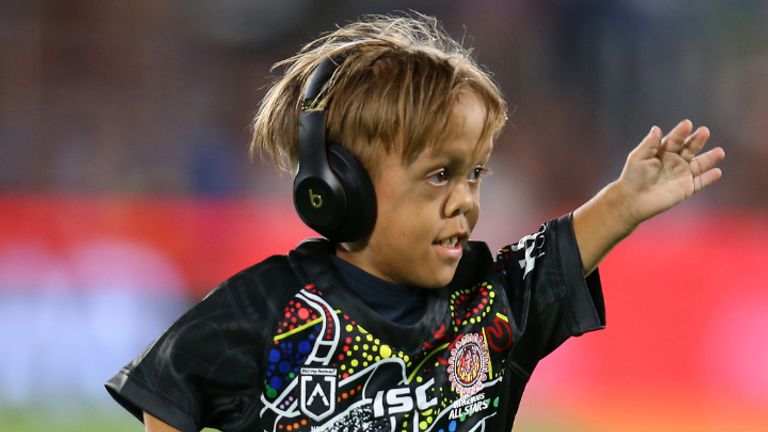 Dressed in an All-Stars jersey, he wore black noise-cancelling headphones and clung to the match ball as he strode into the middle of the pitch.
Ahead of the event, Quaden's mother Yarraka Bayles said her son had described the invitation to attend the match as "going from the worst day of his life to the best day of his life".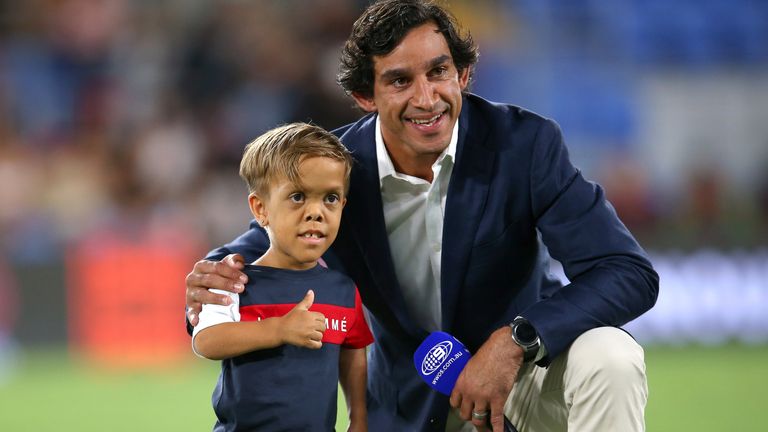 "We could never have dreamt in our wildest dreams that it would've gone worldwide and created such a media frenzy," Ms Bayles said.
"It's every parent's worst nightmare losing their babies and for me that's my reality every day.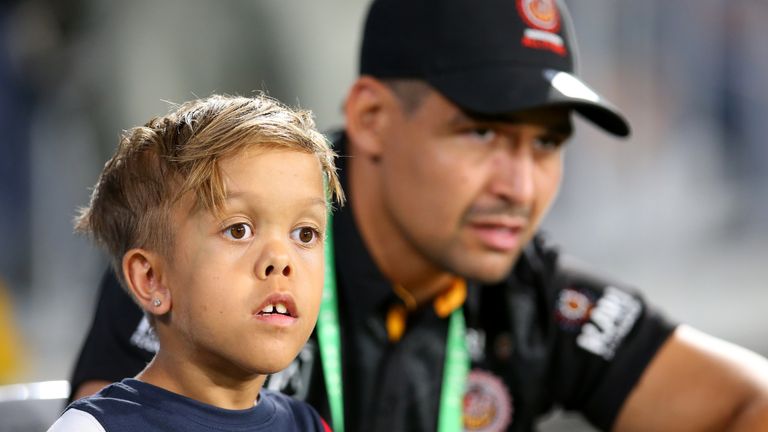 "That's what I have to prepare for – the worst, because everything he is going through with his medical condition, the suicide attempts are very real and people don't understand that.
"There are way too many people suffering in silence and my heart goes out to those families that have already lost their children to bullying.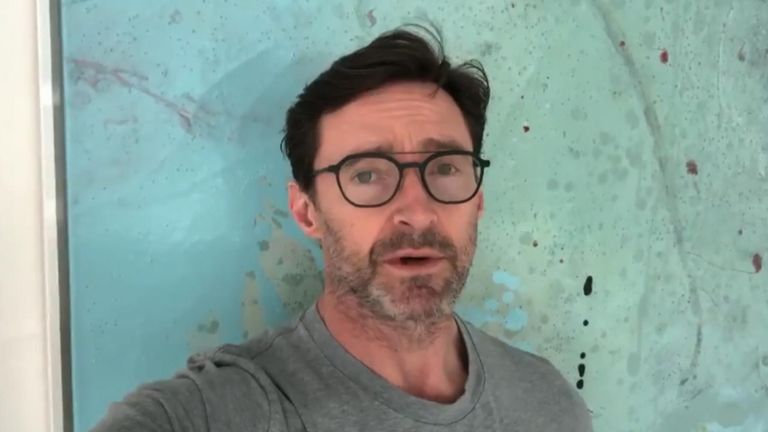 "It's been way too many and it's something that needs to be addressed, it's an international crisis and it demands urgent attention."
Rugby league player Cody Walker described Quaden as a "young warrior".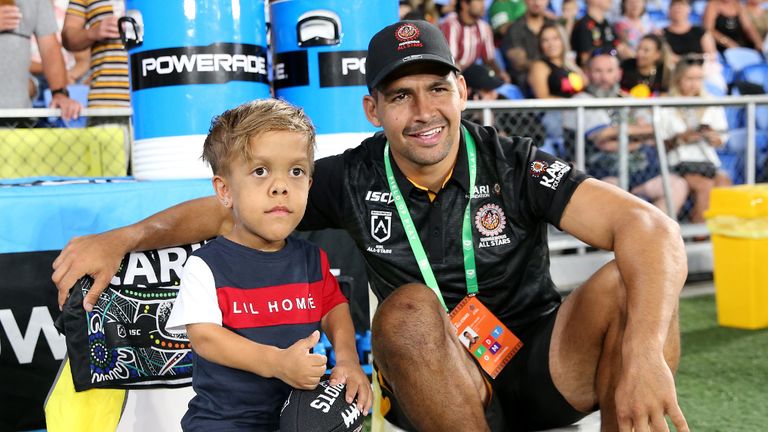 "We're in a pretty privileged position to be sports stars and obviously seeing that hurt us in so many ways and thought very quickly about… what we can do to lift his spirits first and foremost," he said.
"One of the vehicles in Aboriginal communities is rugby league and… this game is a very important game within those communities, so what better way to get Quaden down here on the Gold Coast, be a part of our team, lead us like the young warrior he is, and show him that we love him."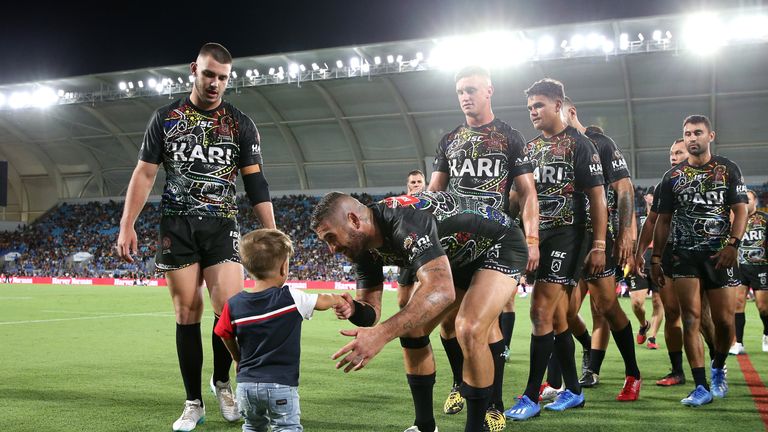 A comedian has raised more than $440,000 (£339,000) after setting up a fundraising page to send Quaden to Disneyland following his bullying ordeal.
American Brad Williams, who has the same dwarfism condition achondroplasia as Quaden, set up the GoFundMe page after seeing the video of the youngster in floods of tears.
Hollywood star Hugh Jackman and Star Wars actor Mark Hamill are among those who have voiced support for Quaden since the clip of him went viral.
:: Anyone feeling emotionally distressed or suicidal can call Samaritans for help on 116 123 or email jo@samaritans.org in the UK. In the US, call the Samaritans branch in your area or 1 (800) 273-TALK.