Robert Mugabe family backs down over burial after 'threat to Grace' | World News
You can see it from the suburbs of Harare, stamped onto a sizable chunk of hillside.
It is a burial ground fit for a king – or a long-time dictator like Robert Mugabe – and it was the former Zimbabwean president who paid the North Koreans to construct it back in 1981.
It is called Heroes' Acre, Zimbabwe's cemetery for its most extraordinary citizens, and it will not come as any surprise when I tell you that a special plot was reserved for the man who commissioned it.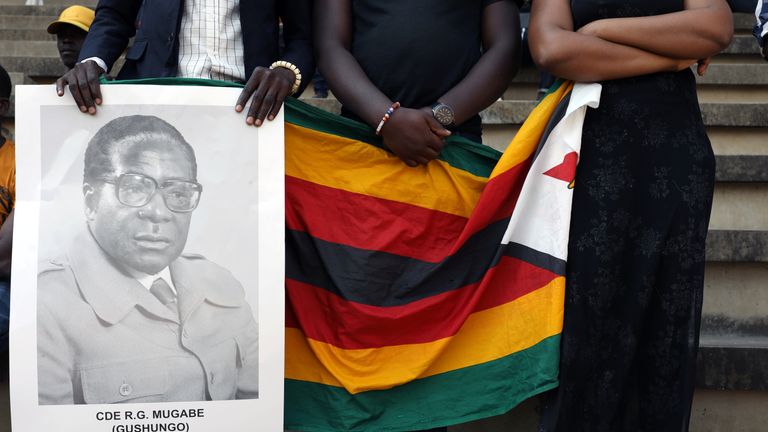 The problem is, Mr Mugabe changed his mind about Heroes' Acre when the current president, Emmerson Mnangagwa, deposed him in 2017.
He was bitter and angry and he did not want Mr Mnangagwa to benefit from his death so he told his family to bury him in the village of his birth.
Yet Dr Phedzisai Ruhanya, an academic and analyst, told us that Heroes' Acre is the perfect place to put him.
"He was upset about being deposed but he cannot refuse being buried here.
"He constructed this thing at [huge] expense… so Mugabe must sleep in his grave.
"In fact they must put him on the top [of the hill] so he can preside over his criminal friends who are buried in this place."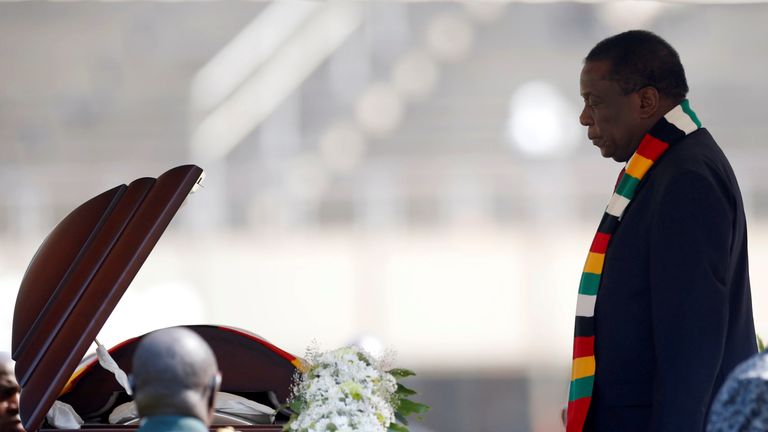 Mr Mnangagwa planned to bury Mr Mugabe at Heroes' Acre on Sunday but members of his family intervened, objecting to the government's plans.
However, Mr Mnangagwa got his way, reportedly by threatening to kick Mr Mugabe's second wife Grace out of her palatial home, known in Harare as the Blue Roof.
Thus, in a month or so, the former president will be sealed in a mausoleum near the crest of the hill with the current president expected to play a prominent role.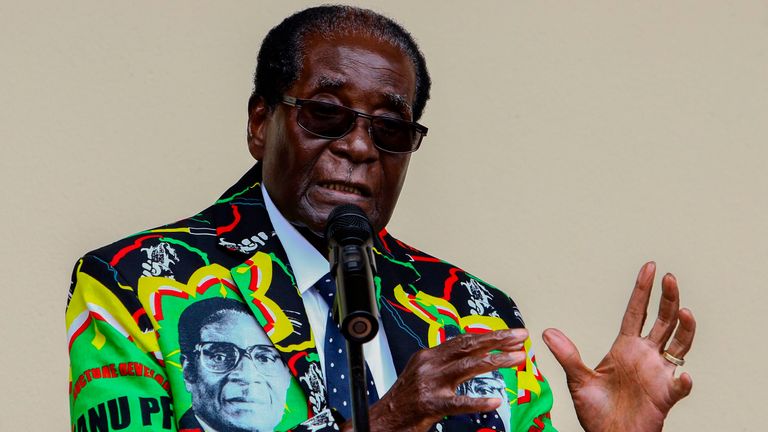 Dr Ruhanya says Mr Mugabe will be in good company for he will be surrounded by plenty of others who did not want to be interred on the site.
"Just look at Edgar Tekere," says the academic.
Mr Tekere rose to the top of the ruling ZANU-PF party serving as the secretary-general in the early 1980s but his progress was dashed when he fell out with Mr Mugabe.
"Before he died, [Tekere] was very clear that he didn't want to be buried in a place where criminals and corrupt people and looters and violent groups [were buried].
"But Mugabe is on record saying that the dead do not decide where they are going to go and it is only their souls that belong to God.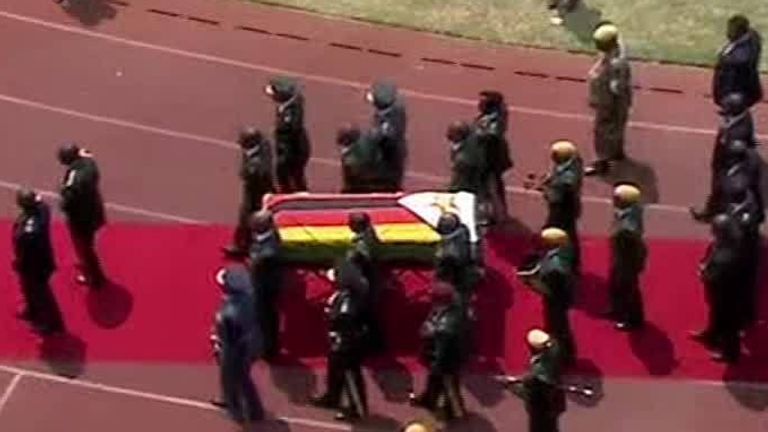 "The body belongs to the state."
The government's funeral plan has been delayed but that delay is only temporary, for Mr Mugabe created a system that cannot be denied – and that system has decided that he will be buried at Heroes' Acre.
Harvey Weinstein accused of breaching bail conditions by mishandling electronic tag | US News
Harvey Weinstein breached his bail conditions by mishandling an electronic tag which had been fitted to monitor his whereabouts, a New York prosecutor has argued.
The Oscar-winning producer's location was unrecorded for hours at a time because of the "manipulation" of the ankle bracelet, prosecutor Joan Illuzzi said.
Ms Illuzi made the claim at Friday's pre-trial hearing for Weinstein, 67, while asking a judge to increase his bail from $1m (£760,000) to $5m (£3.8m).
She accused the movie producer of leaving a piece of the monitoring technology that keeps the ankle bracelet activated at home.
Defence lawyer Donna Rotunno denied it was deliberate and blamed "technical glitches" such as dead batteries.
Ms Rotunno said after leaving court: "It has nothing to do with any manipulation of the bracelet."
She acknowledged that on at least one occasion Weinstein forgot part of the device when he left the house, and added: "The minute he realised he forgot it, he made a phone call."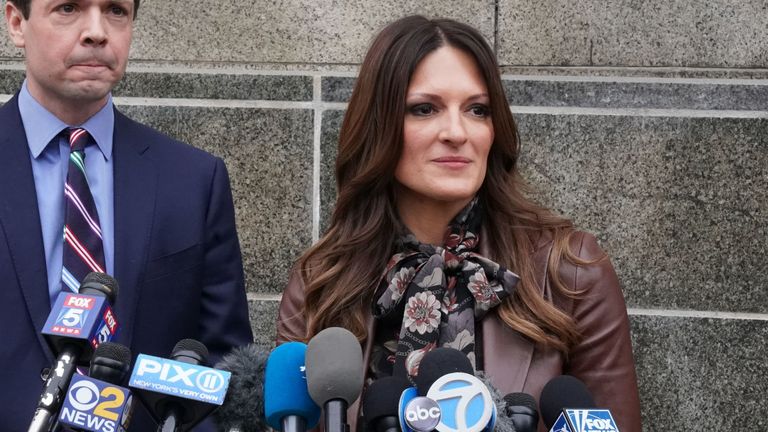 The judge adjourned any decision about whether he should face stricter bail conditions over the alleged electronic tag violations until next week.
Weinstein was in court for one of many proceedings scheduled across the state to inform defendants of reforms to New York's bail system.
The reforms are set to take effect on 1 January.
State politicians passed a law this year eliminating cash bail for most non-violent crimes.
For poorer defendants facing lesser charges these appearances could mean release from jail in the New Year, or refunds for those who have posted bail.
The reforms are unlikely to affect Weinstein's case, which is scheduled to go to trial in January.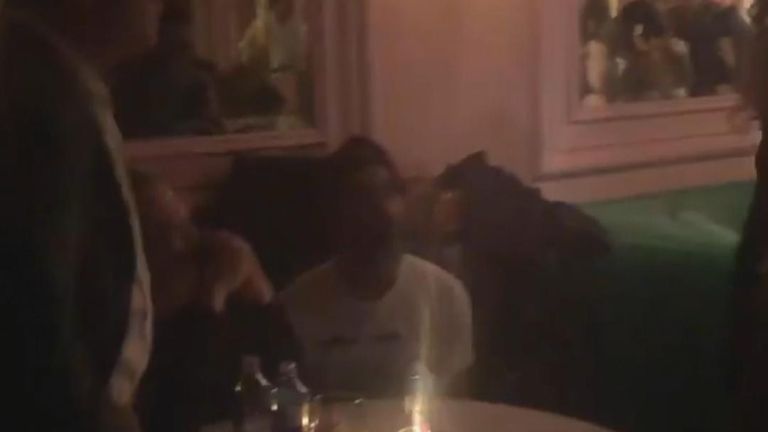 The producer has pleaded not guilty to charges he raped a woman in a Manhattan hotel room in 2013 and performed a forcible sex act on a different woman in 2006.
He is free on $1m bail (£761,200) and denies that any sexual activity was non-consensual.
Weinstein's wealth has given him plenty of freedom as he awaits trial on the charges, which could put him in jail for the rest of his life.
He has been socialising at New York City nightclubs and was jeered at a recent actors showcase.
One dead, several injured as gunman opens fire at Florida navy base | US News

One person has been killed and several others are injured after a gunman opened fire in a navy base in Florida.
Escambia Sheriff's spokeswoman Amber Southard confirmed the gunman had also been killed after the shooting at the Naval Air Station in Pensacola.
News outlets are reporting that 10 people have been taken to area hospitals.
Pensacola Police spokesman Mike Wood confirmed that law enforcement responded to the gunman.
A spokesman for the navy base, Jason Bortz, said both gates are closed and the base is on lockdown.
NAS Pensacola employs more than 16,000 military and 7,400 civilian personnel, according to its website.
More follows…
Blind killer Lee Hall who set fire to ex-girlfriend is executed in Tennessee | US News

A blind convicted killer who murdered his ex-girlfriend by setting her on fire has been executed in the US.
Lee Hall is only the second blind inmate to be executed in America since the country reinstated the death penalty in 1976.
He was put to death by electric chair – after choosing the method over lethal injection – at a maximum-security prison in Nashville, Tennessee on Thursday evening.
Hall was convicted of killing 22-year-old Traci Crozier by setting her on fire in her car in April 1991.
The 53-year-old, who was formerly known as Leroy Hall Jr, had his sight upon entering prison, but lawyers say he became functionally blind from improperly treated glaucoma.
In his final words, Hall said: "People can learn forgiveness and love and will make this world a better place."
According to court documents, Hall set Ms Crozier's car alight while she was inside the vehicle after she had tried to leave him.
She suffered burns across more than 90% of her body and died in hospital the next day.
Ms Crozier's sister, Staci Wooten, and her father, Gene Crozier, watched Hall's execution. Hall's brother David and the killer's "spiritual adviser" also attended.
Ms Wooten said: "Hopefully today ending this monster's life will bring some peace within everyone who has had to suffer throughout these 28 years without my beautiful sister."
Lawyers for Hall had asked federal courts in the US to stop him from being put to death after other attempts in state courts and with Tennessee's governor had failed.
Those attempts officially came to a halt less than hour before Hall's execution when the US Supreme Court declined to intervene.
A statement from Hall's brother David said: "We are devastated by the loss of Traci and now Lee.
"Lee loved Traci more than anything and we welcomed her into our family and love her too. We also love Lee and wish that we could have changed the events of that tragic day."
Hall's lawyers fought for months to delay the execution plan, arguing that courts should have had the opportunity to consider new questions about one of the jurors in his case.
The juror – a woman known as "Juror A" – helped hand down the death sentence against Hall.
She acknowledged publicly for the first time this year that she failed to disclose during Hall's jury selection process that she had been repeatedly raped and abused by her former husband.
Hall's lawyers argued the omission deprived him of a fair and impartial jury, a right protected in both the Tennessee and US constitutions
However, both the Tennessee Supreme Court and Tennessee Governor Bill Lee declined to intervene.