Criminals in Syria to have sentences cut under Assad amnesty | World News
Criminals in Syria, including those convicted of some of the most serious offences, will have their sentences cut as part of an amnesty by President Bashar al Assad.
Those who were given the death penalty will now have a life sentence of hard labour, while life terms will be cut to 20 years in jail.
In Syria, the death penalty can be for crimes including treason, espionage, murder, arson resulting in death, desertion of the armed forces to the enemy, violent robbery and terrorism.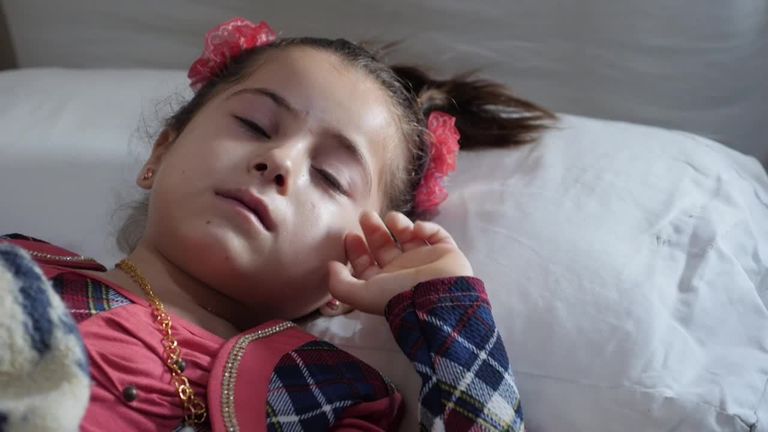 For civilians, the method of execution is hanging, while military personnel are shot.
Also under the amnesty, draft dodgers inside the country will be pardoned if they report for duty within three months, while those abroad will have six months to enlist.
Aid agencies say the fear of conscription and punishments for avoiding it are among the reasons refugees give for not returning home.
The Assad decree relates to crimes committed before 14 September, and prisoners with incurable diseases including cancer will be freed.
But there are exceptions to the amnesty.
They include Syrians who took up arms to fight the regime, and those who colluded with foreign nations against Syria or joined insurgents that Damascus sees as terrorists.
Other exceptions include drug crimes and arms smuggling.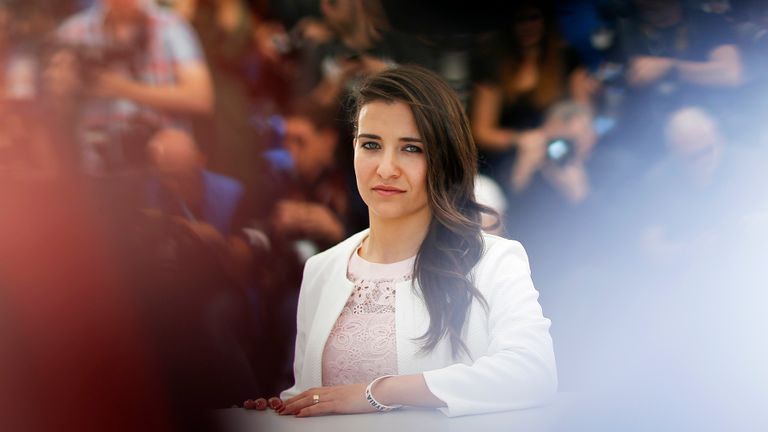 In a 2018 report, Amnesty International said the death penalty remained in force for many offences, but authorities disclosed little information about death sentences passed and no information on executions.
Since Syria's uprising began in March 2011, sparking a civil war, similar amnesties have been issued on several occasions – most recently last year.
Meanwhile, the leaders of Russia, Turkey and Iran will meet in the Turkish capital Ankara on Monday to discuss the situation in Idlib province which has been under attack from government forces since 30 April.
A truce has been holding despite some violations since the end of August.
Russia and Iran are strong backers of Mr Assad and have helped his forces reclaim control of most of the country from different rebel factions and jihadists.
Turkey supports the Syrian opposition.
The war has killed hundreds of thousands of people and displaced half the population.
Black woman killed by white officer in her own home while babysitting nephew | US News
The family of a black woman killed in her own home by a white police officer have accused the officer of murder.
Atatiana Jefferson, 28, was killed in her home in Fort Worth, Texas, while looking after her eight-year-old nephew.
A neighbour had called police on a non-emergency line when they saw her front door was open. Police responded at about 2.25am.
Fort Worth Police said officers saw someone near a window and one of them drew his duty weapon after "perceiving a threat".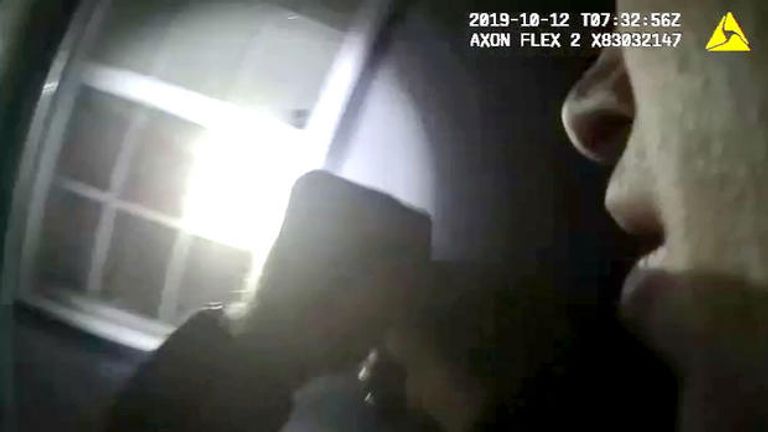 Lee Merritt, an attorney for the family, said the bodycam footage showed the officer would not have had time to perceive a threat from Ms Jefferson.
He said: "You didn't hear the officer shout, 'Gun, gun, gun.'
"He didn't have time to perceive a threat. That's murder."
The video released by Fort Worth Police shows two officers searching the home from the outside with torches, before one shouts: "Put your hands up, show me your hands."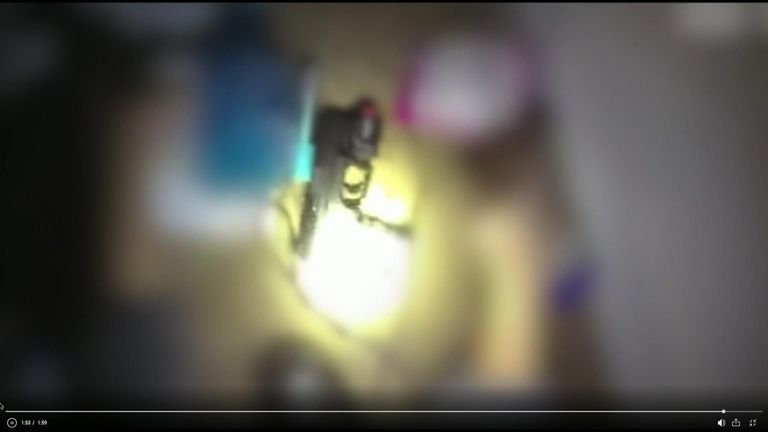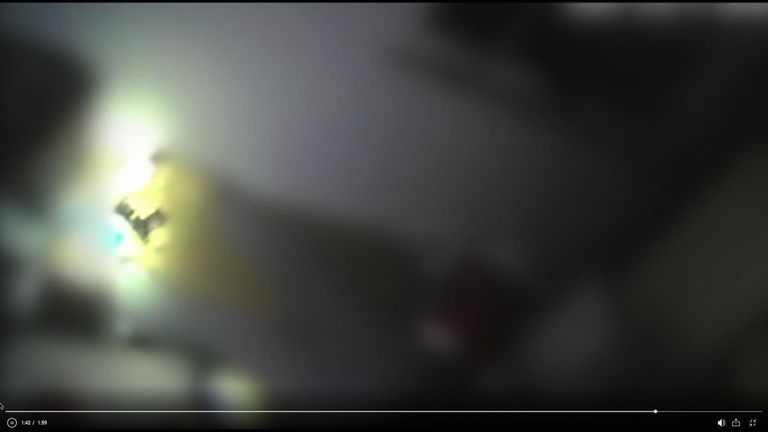 One shot is then fired. The officer does not identify himself as police.
Ms Jefferson died of her injuries in her home.
Amber Carr, Ms Jefferson's sister, said: "It's another one of those situations where the people that are supposed to protect us are actually not here to protect us.
"You know, you want to see justice, but justice don't bring my sister back."
One of her aunts, Venitta Body, said: "It's like from the moment we got the call, it's been more and more inconceivable and more confusing. And there has nothing been done in order to take away that confusion."
Fort Worth Police said the officer, who has been with the force since April 2018, is on administrative leave pending the outcome of the investigation.
His name has not been released.
The neighbour who called police about the door, James Smith, said he feels "it's partly my fault".
He said: "If I had never dialled the police department, she'd still be alive.
"It makes you not want to call the police department."
Ms Jefferson's nephew usually lives with an older woman, who has been in hospital.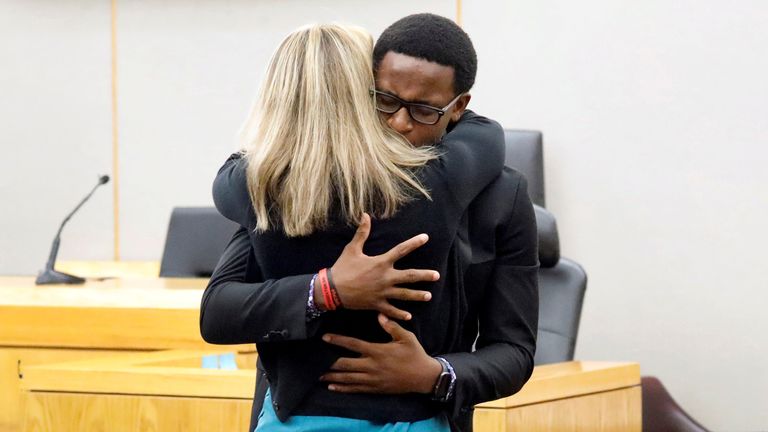 Fort Worth Mayor Betsy Price released a statement on Saturday which said: "Writing a statement like this is tragic and something that should never be necessary. A young woman has lost her life, leaving her family in unbelievable grief. All of Fort Worth must surround Atatiana Jefferson's family with prayers, love and support.
"Chief Kraus and his command staff are acting with immediacy and transparency to conduct a complete and thorough investigation. More details are forthcoming and the Tarrant County District Attorney Law Enforcement Incident Team office will ultimately receive this case."
Mr Merritt said the family of the victim expects "a thorough and expedient investigation".
Fort Worth Police Department said it released the bodycam footage from outside the home to show its transparency, but cannot release the video from inside the home because of state law.
The shooting comes two weeks after Amber Guyger, a former Dallas police officer, was sentenced to 10 years in prison for killing Botham Jean in his own apartment.
She shot him with her service weapon when she went into his home by mistake, thinking it was her own.
Mr Merritt is also the Jeans' family lawyer.
Marilyn Hartman: 'Serial stowaway' caught trying to sneak on flight again | US News
A "serial stowaway" has been caught trying to get through airport security again – despite getting an 18-month sentence ordering her to stay away from terminals.
Marilyn Hartman was spotted as she tried to sneak through security in Chicago's O'Hare airport on Friday night and officers realised she did not have a ticket or identification.
According to an NBC report, police said she was "moving dividers in an attempt to circumvent security".
It comes after she was arrested last year for sneaking on to a flight from O'Hare to London.
The 67-year-old has been sneaking onto flights for about 10 years.
She ultimately pleaded guilty to criminal trespassing and was sentenced in March to 18 months' probation after agreeing to stay away from Chicago's two commercial airports.
According to NBC Chicago, Hartman has long struggled with homelessness and mental health, and has had multiple encounters with officials at airports throughout the US.
In 2016, Hartman was ordered to be held in jail without bond after she walked away multiple times from a Chicago mental health facility where she was receiving treatment.
She was set to appear at bond court at 9am local time on Sunday.
Simone Biles vaults into record books after 25th medal at world championships | US News
Simone Biles has become the most decorated gymnast in the world championship history after clinching her 25th medal.
The 22-year-old overtook the 23 medals won by Belarusian men's gymnast Vitaly Scherbo by winning the balance beam in Stuttgart, Germany, on Sunday.
The US gymnast added her 25th medal by winning the floor exercise less than two hours later.
Biles delivered a polished routine on the beam before executing a full-twisting double-tuck dismount for a score of 15.066.
When her score was announced, guaranteeing the medal record, Biles jumped up from her seat with a broad smile and punched the air.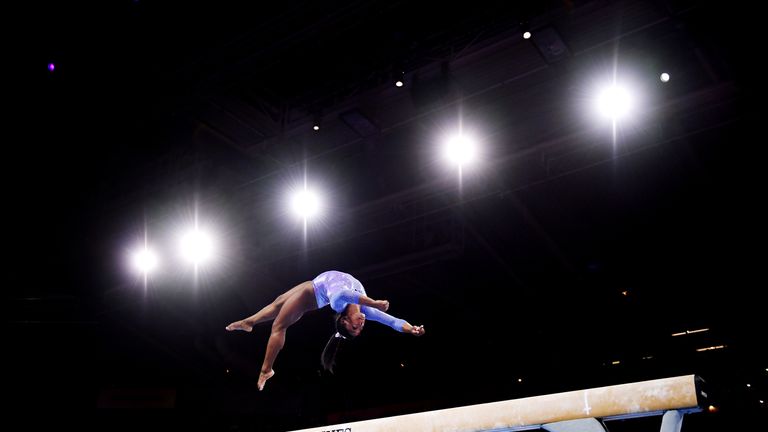 Liu Tingting of China, last year's winner, took silver with 14.433, and her teammate Li Shijia won the bronze.
Biles won the floor exercise by a full point, scoring 15.133 despite a step out of bounds on one pass, and blew kisses to the audience after finishing her routine.
Her US teammate Sunisa Lee took silver, her third medal of the championships, while Angelina Melnikova took bronze for Russia.
Biles' winning routine came after a long wait when Brazilian gymnast Flavia Saraiva requested an inquiry into her score.
The US gymnast has won five events at these world championships after winning team gold on Tuesday, individual all-around gold on Thursday, and vault gold on Saturday.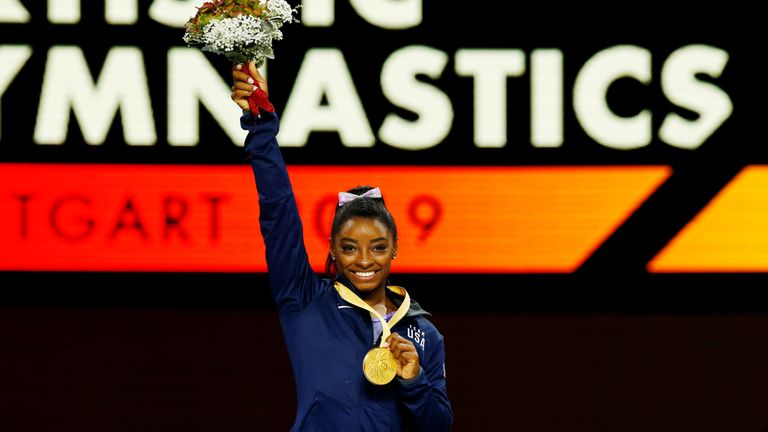 A fifth place on uneven bars on Saturday ended Biles' chances of winning a medal in all six events, which she did last year in her comeback world championships after a sabbatical in 2017.
Four-time Olympic champion Biles now holds 18 gold medals across four championships against 12 for Scherbo, who competed in five world events between 1991 and 1996.
Biles hasn't confirmed whether she will continue to compete after next year's Olympics, so this could be her last world championships.
Max Whitlock won Britain's first gold medal of the championships on the pommel horse on Saturday.
Britain won its second gold of the championships when Joe Fraser scored 15 points to win on parallel bars.
Biles' record came before Kenyan runner Brigid Kosgei set the women's marathon record with a time of two hours and 14 minutes.
She beat British runner Paula Radcliffe's record of two hours and 15 minutes.