Spain floods: At least five dead and thousands evacuated as torrential rain batters the south | World News
At least five people have been killed and around 3,500 others evacuated in two days of torrential rain in southeastern Spain.
Emergency services rescued people stuck in flooded highway tunnels as many roads, railways and an airport closed on Friday due to the severe weather conditions.
Floods swept away cars and debris in the regions of Valencia, Murcia and eastern Andalucia, while motorway tunnels in some areas were flooded almost up to the tunnel lighting.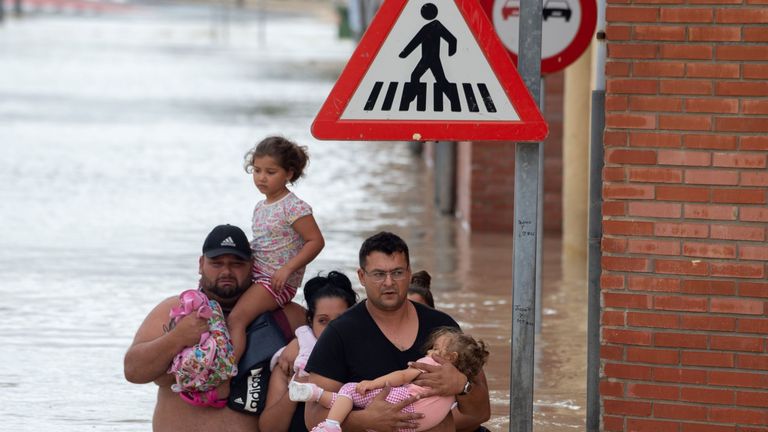 A man was found dead in the village of Redovan in Valencia after leaving his home on foot earlier on Friday, while another was found in Granada province after his car was swept off a motorway.
A third man died in Almeria after trying to drive his car through a flooded tunnel, rescue services said.
On Thursday, a 51-year-old woman and her 61-year-old brother died when torrential rain dragged their car away.
A total of 74 roads were closed, along with the entire Murcia regional railway service and airport. The railway link between Alicante and Spain's two cities – Madrid and Barcelona, was also shut.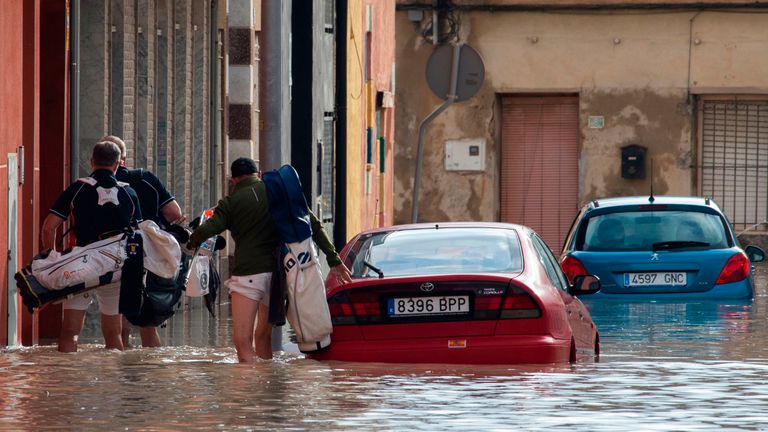 Interior Minister Fernando Grande Marlaska described the floods as "a serious tragedy".
The storms in this region of Spain are an annual metrological phenomenon, however they have been particularly fierce, turning roads into muddy rivers that sweep away everything in their path.
Tourists were left stranded at Alicante Airport as flights were delayed or cancelled, with 78-year-old diabetic Haydn Harding from Northern Ireland, saying: "We've been in the queue here four or five hours. It's very difficult to get to the toilet, impossible to get anything to eat."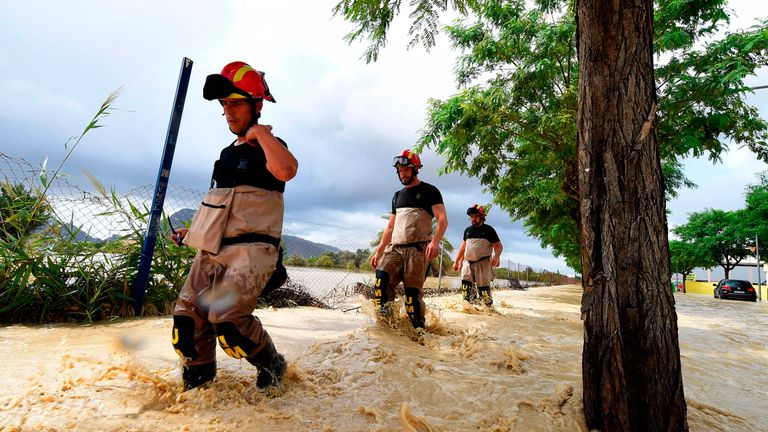 Some affected areas saw record daily rainfall for the month of September and remained flooded all of Friday.
Mario Cervera, mayor of Alcazares, a heavily affected town in Murcia, told Spain's state-run TVE channel: "The situation is critical, all the municipality is full of water".
More than 1,500 soldiers were involved in the rescue operation, which involved helicopters and boats in various areas.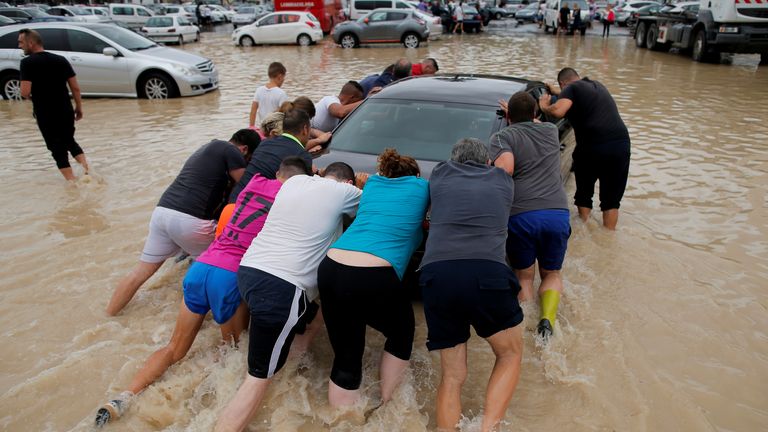 "This man was holding onto a traffic sign… The officer and I jumped to take him out," one rescue worker told Reuters.
Following the evacuation of 1,500 people in Murcia, another 2,000 residents of the town of Santomera were told to leave their homes due to a controlled release from a local dam to prevent it from overflowing, Mr Marlaska said.
"The forecasts are now more positive than around midday. We have reports that point to diminishing dangers and risks of further flooding," he told reporters while visiting the affected areas, while also warning residents and authorities to remain cautious.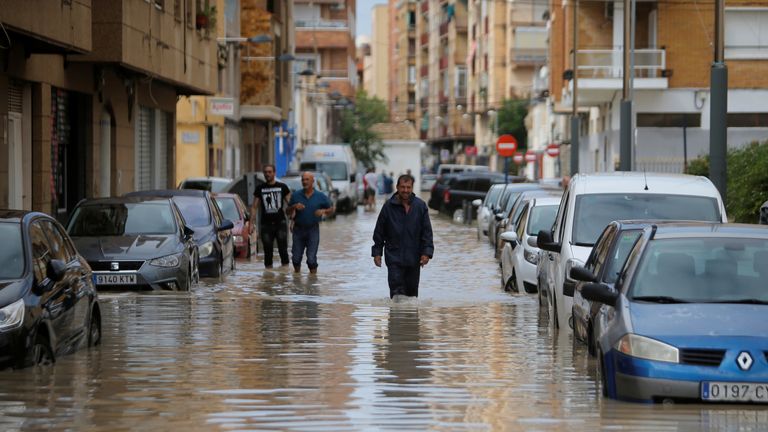 Citizens in the affected areas have been advised to stay at home and avoid using their cars.
"All the region of Murcia is flooded. We have never seen this situation before," regional leader Fernando Lopez Miras told TVE.
The rain was forecast to ease on Saturday.
Syria: IS fighters escape from jail as 130,000 people flee Turkish forces | World News
Islamic State (IS) fighters have fled a Syrian prison and more than 700 IS family members escaped a camp during a Turkish offensive – as the UN said more than 130,000 Kurds have been displaced.
The terror group said it was behind a car bombing on Friday in Qamishli, the largest city in Kurdish-held northern Syria, which allowed some of the thousands of IS fighters held in Syria to escape.
On Sunday, about 100 women and children affiliated with IS escaped the Ain Issa camp guarded by Kurdish-led forces after it was shelled by Turkish forces and their allies, the UK-based Syrian Observatory for Human Rights (SOHR) said.
Their escape came as the UN said more than 130,000 people have been displaced from the region in the four days since Turkish forces and their Syrian rebel allies started the offensive.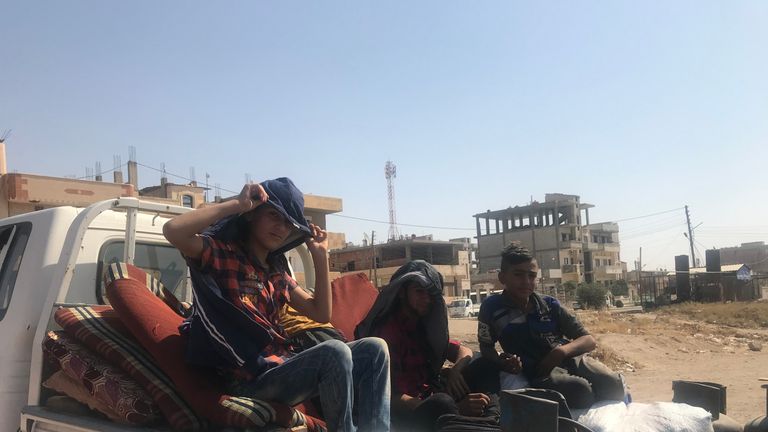 More than 30,000 people were forced out of their homes on Sunday after Turkey seized large parts of the town of Suluk, following the capture of the border towns of Tel Abyad and Ras al Ain.
Turkey said it plans to continue the offensive for a further nine days.
The SOHR said 104 Kurdish-led fighters have been killed in the fighting, while 49 Turkey-backed Syrian rebels have died and 30 civilians have been killed in Syria.
In Turkey, 18 civilians have been killed in cross-border bombardment, Turkish media and officials say.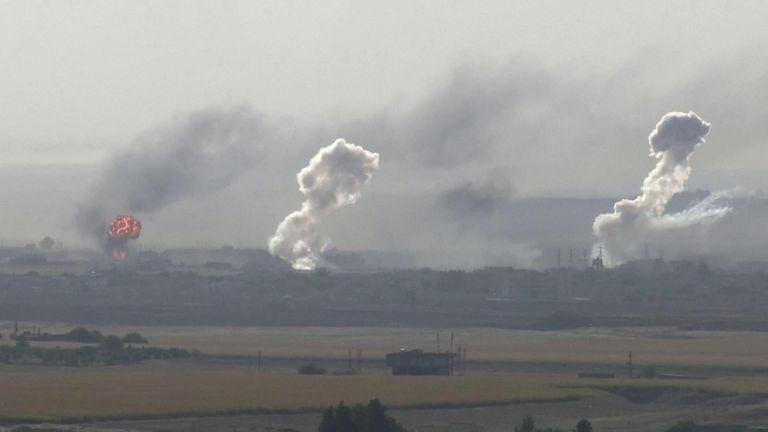 As Turkish forces advanced into the area, video released by Kurdish supporters, seen by Sky News, showed two prisoners being executed by the side of a road by Turkish-backed Syrian rebels.
The unverified images showed the rebels stamping on a Kurdish flag and using a rifle butt to deface a picture of their leader.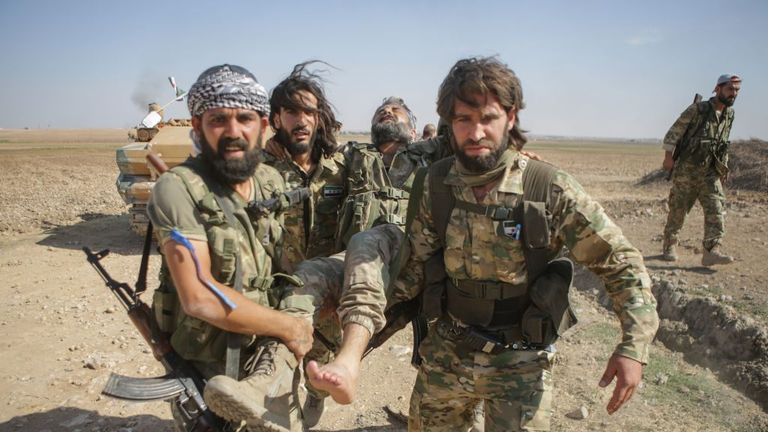 Sky News foreign affairs editor Deborah Haynes, who is on the Turkey-Syria border, said: "If these images are found to be true, they show an undisciplined force.
"It is further evidence of the real ethnic dangers of releasing this in a country that is so unstable.
"It raises questions of ethnic cleansing – that Kurdish families could be indiscriminately targeted."
Turkey is facing fierce international opposition after its president, Recep Tayyip Erdogan, launched the offensive when US president Donald Trump announced he was pulling US troops out of northern Syria.
Mr Trump has defended his decision, which left its Kurdish allies, the Syrian Defence Force, at risk because Turkey views them as a terrorist threat due to their link to the Syrian Kurdish People's Protection Units (YPG), deemed a terror group by Turkey.
At a rally on Saturday Mr Trump said the US cannot fight "endless wars" and announced the it has sent $50m (£39.5m) in emergency aid for Syria to support Christians and other religious minorities there.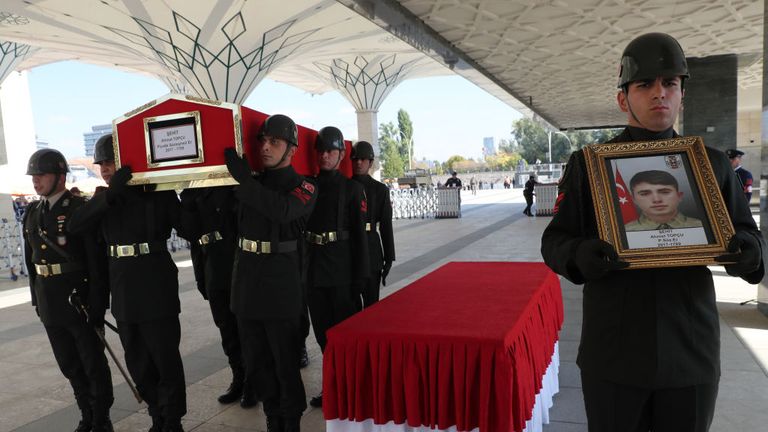 The US has threatened Turkey with sanctions unless it calls off the incursion.
In the UK, Boris Johnson expressed "grave concern" about the offensive as he urged President Erdogan to end the operation during a phone call on Saturday evening.
France and Germany announced they would stop selling weapons to Turkey that could be used in the conflict.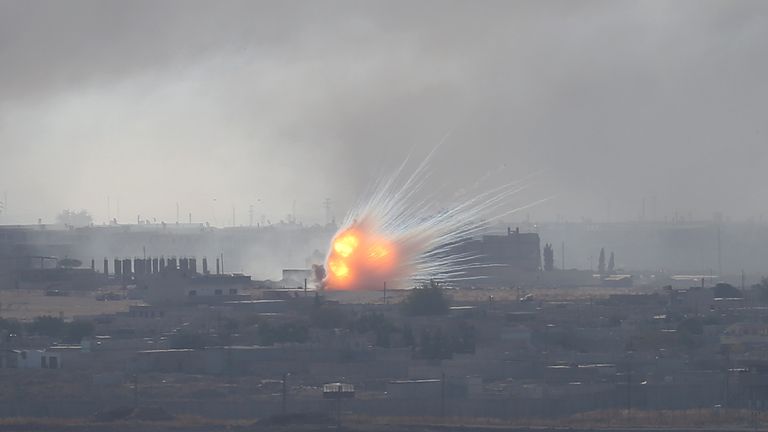 The humanitarian situation has escalated dramatically since Turkey launched the offensive, but the International Rescue Committee warned it could get "more dire" as Turkey advances further into the region.
Misty Buswell, IRC's policy director, told Sky News: "These towns, Ras al Ain and Tal Abyad, have become basically empty of people.
"Everyone has left, they're moving into areas that are already overstretched and under Islamic State for four years previous to this.
"People are really suffering and now they're seeing mass displacement into areas that were just beginning to recover."
:: Listen to the Daily podcast on Apple Podcasts, Google Podcasts, Spotify, Spreaker
She added hospitals in the most impacted areas have been forced to close and those that remain open are becoming overwhelmed.
A water station which provides water for drinking and washing to up to 400,000 people in the area was hit by Turkish government forces, prompting fears of disease spreading as people resort to unclean sources.
Mr Erdogan says the military action is necessary for national security, saying on Saturday: "We will never stop this step we have taken… We will not stop it no matter what anyone says."
Nine famous athletes who switched sports… to varying degrees of success | UK News

Former footballer Petr Cech will embark on his surprise new career on Sunday when he makes his debut as an ice hockey player.
The ex-Chelsea and Arsenal goalkeeper raised eyebrows after announcing he had signed for ice hockey team Guildford Phoenix, and is due to make his first appearance against Swindon Wildcats 2.
But the 37-year-old is not the first successful athlete to decide to switch sports.
From basketball great Michael Jordan to sprint champion Usain Bolt, Sky News looks at nine stars who attempted new sporting careers with varying degrees of success.
Tap or click on the images below.
Neighbours creator Reg Watson dies aged 93 | Ents & Arts News

Reg Watson, the creator of popular Australian soap Neighbours, has died.
His death was announced by the show on Twitter, just a few months before it is due to begin celebrating its 35th anniversary year in 2020.
Executive producer Jason Herbison paid tribute, describing Watson, who was 93, as "a pioneer of drama, prolific in his output and by all accounts a lovely person to work with".
'Everyone at Neighbours is sad to hear of the passing of our creator, Reg Watson. He was a pioneer of drama, prolific in his output and by all accounts a lovely person to work with. His legacy lives on in Ramsay Street to this day.' – Jason Herbison – Neighbours EP pic.twitter.com/BbfkFwKN6Q

— Neighbours (@neighbours) October 12, 2019
Herbison said his "legacy lives on in Ramsay Street" – the fictional road on which the long-running drama has been set since it made its debut in 1985.
The show premiered on Channel 7 before moving to the Ten Network due to poor ratings, but it quickly picked up and later found an audience in the UK.
Some of the biggest stars of Australian entertainment launched their careers via Neighbours, including Kylie Minogue and actress Margot Robbie.
Jason Donovan, who played Scott Robinson in the show, tweeted: "Many Australian careers have a lot to thank for this man, a legend… Mr Reg Watson."
Remembering Reg Watson 1926-2019 | ATV Today
Many Australian Entertainment careers have a lot to thank for this man. A legend .. Mr Reg Watson. https://t.co/qzKk3P02cs

— Jason Donovan (@JDonOfficial) October 12, 2019
Away from Neighbours, Watson also created Prisoner: Cell Block H, The Young Doctors and Sons And Daughters before his retirement in 1992.
The producer and screenwriter, who grew up in Queensland, was given a Member for the Order of Australia in 2010 for his services to media.