Mugabe's funeral will be tricky because there are so many narratives | World News
As the dictatorial president of Zimbabwe, Robert Mugabe occupied the national pulpit and wrote his own colourful story.
It is a well-tuned narrative about a man who liberates a nation from the grasp of white supremacists. It's a story of defiance as the hero stares down the west over the invasion of white-owned farms. It's a tale about a president who sacrifices everything for his people and promises to never retire.
But there are some serious issues with the story and they are causing all sorts of difficulties as the country prepares to bury its former president.
Ask any church minister about a funeral and they will tell you that there is plenty of selective storytelling involved – but the problem in Zimbabwe is that Mugabe's family members and government officials cannot agree on which story they are telling.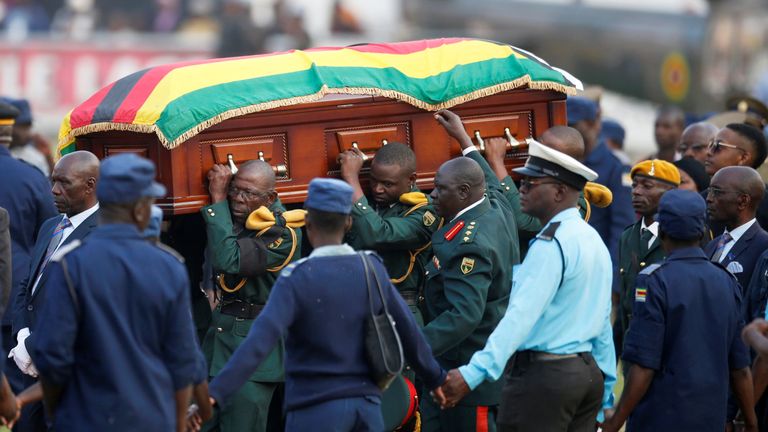 President Emmerson Mnangagwa has got a tale about how he served Mugabe as his loyal lieutenant for 40 years, working to develop a unified and patriotic nation respected by the rest of the world. It is also works as propaganda with the country now struggling with hyper-inflation, widespread electricity blackouts, and general economic chaos.
Mr Mnangagwa will roll out his message at a day-long commemorative event at Harare's National Sports Stadium on Saturday. But the family and friends of Mr Mugabe do not accept the thesis.
Instead they accuse Mr Mnangagwa of betrayal after he dislodged the former president in a coup in November 2017. It left him, "a very bitter man," says Leo Mugabe, the former strongman's nephew.
This is a different narrative, laced with accusations of ingratitude and greed – and it has led some members of the Mugabe family to demand a private burial to protect the memory of their loved one. "Imagine people you trusted, people that were guarding you, looking after you, (turning) against you," said Leo Mugabe.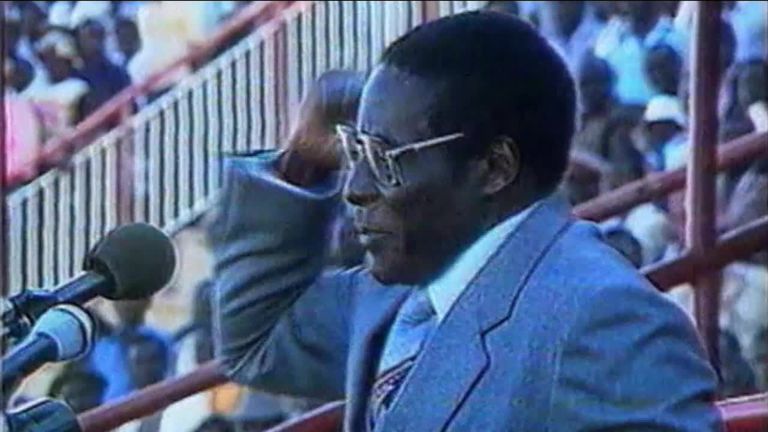 Relatives demanded that Mugabe be buried in his home village, Zvimba, but President Mnangagwa wants his former boss interred at the national cemetery, Hero's Acre. It seems Mr Mnangagwa may have won the argument when he tweeted "we're building a mausoleum for our founding father at… the Hero's Acre." You probably saw that one coming.
Members of the opposition MDC party, who have their own stories to tell of beatings and abductions at the hands of Robert Mugabe's thugs, were surprisingly charitable after the dictator's death. The leader of the MDC, Nelson Chamisa, said he was "rising above political differences and personal animosities", adding "this is the time for mourning not political point scoring."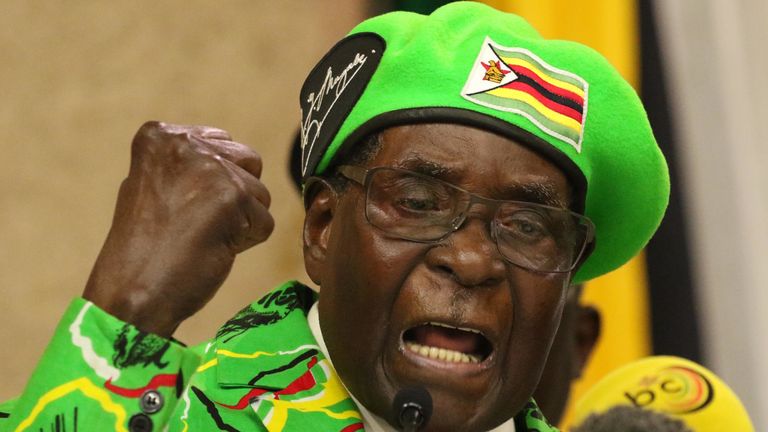 Everyone in Zimbabwe has got a story to tell about Mugabe and they usually defy the selective storytelling which features at commemoration services.
One woman, called Sheron, told me she has been waging her own internal argument about the former president.
"He was a good man even though there were many things that (went) wrong. Every country has tough times but we want to forgive him and try and concentrate on what is happening now."
Funerals can be tricky when the story is not clear and Zimbabweans will be disagreeing about Robert Mugabe's for years and years to come.
Beirut explosion: Lebanon PM to resign within hours – as entire government steps down | World News

Lebanon's Prime Minister Hassan Diab is set to resign within hours, Sky News understands, after the entire government stepped down.
Anti-government protesters had demanded political change after an explosion in Beirut killed more than 160 people and injured around 6,000 last week.
Action needed to stop the use of killer robots, report says | World News
Calls are growing for an international ban on the creation of killer robots, which could pose a "grave threat to humanity".
An increasing number of countries want action to prevent the development of fully autonomous weapons and to ensure human control is retained, a new report shows.
Research has shown that 30 countries want the introduction of an international treaty over such weapons systems, which would be able to select and engage targets without any meaningful human intervention.
The US and Russia are said to be among a small number of military powers to have "firmly rejected proposals" around the introduction of any regulation.
A report by Human Rights Watch reviewed the policies of 97 countries that have publicly discussed killer robots since 2013.
Although it does not name the UK among the countries calling for an outright ban on autonomous weapons, the report says British policy is that there must always be "human oversight" when using such systems.
However, the research noted the UK is developing weapons with some "autonomous solutions".
Mary Wareham, of Human Rights Watch and of the Campaign To Stop Killer Robots, said urgent action was needed as technology such as artificial intelligence continues to be developed.
She said: "Removing human control from the use of force is now widely regarded as a grave threat to humanity that, like climate change, deserves urgent multilateral action.
"An international ban treaty is the only effective way to deal with the serious challenges raised by fully autonomous weapons.
"It's abundantly clear that retaining meaningful human control over the use of force is an ethical imperative, a legal necessity, and a moral obligation.
"Many governments share the same serious concerns over permitting machines to take human life on the battlefield, and their desire for human control provides a sound basis for collective action.
"While the pandemic has delayed diplomacy, it shows the importance of being prepared and responding with urgency to existential threats to humanity, such as killer robots."
The Campaign To Stop Killer Robots was formed in 2012 and then launched in London the following year. It is a coalition of organisations working to ban fully autonomous weapons.
Terminally ill Canadians win right to use magic mushrooms for end-of-life stress | World News
Four terminally ill Canadians have won the right to take psychedelic drugs to treat end-of-life anxiety and distress.
They will be allowed to take the hallucinogenic drug psilocybin, derived from magic mushrooms, after Canada's health minister Patty Hajdu approved the landmark application more than 100 days after the request was made.
The patients are thought to be the first Canadians to be given the legal right to use the recreational drug since the country outlawed it back in 1974.
In June, one of the patients, Thomas Hartle, from Saskatoon, applied directly to Ms Hajdu to be able to use the drug after exhausting other options to treat his anxiety around dying.
The 52-year-old, who has stage four colon cancer, said in a video pleading with the government "there isn't anything available that can treat existential dread", but added the hallucinogenic would help ease his anxieties.
Responding to the new ruling, he said: "This is the positive result that is possible when good people show genuine compassion. I'm so grateful that I can move forward with the next step of healing."
Another patient, Laurie Brooks from British Colombia, said: "The acknowledgement of the pain and anxiety that I have been suffering with means a lot to me, and I am feeling quite emotional today as a result.
"I hope this is just the beginning and that soon all Canadians will be able to access psilocybin, for therapeutic use, to help with the pain they are experiencing."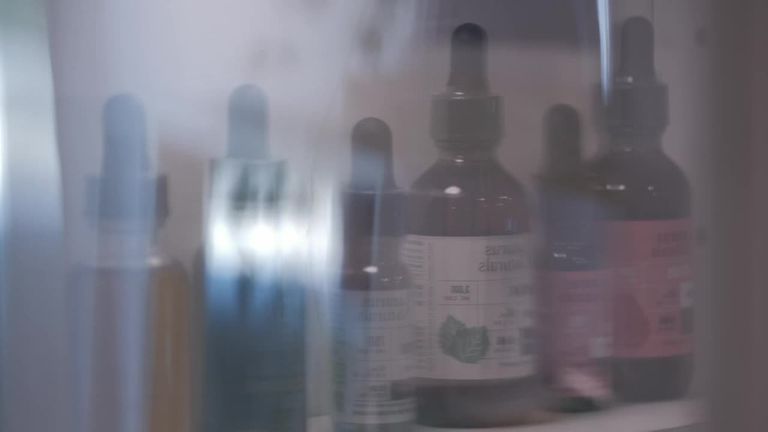 A 2017 study led by Imperial College London found that the use of psilocybin helped treat stress and depression in cases where conventional therapy had failed.
And earlier this year, researchers at New York University's Grossman School of Medicine said a single dose of the compound can have anti-anxiety and anti-depressant effects which can last for nearly five years.
Mushrooms containing psilocin or psilocybin are designated as Class A drugs in the UK – the maximum penalties are seven years imprisonment and a fine for possession, and life imprisonment and a fine for supply.