Mugabe's funeral will be tricky because there are so many narratives | World News
As the dictatorial president of Zimbabwe, Robert Mugabe occupied the national pulpit and wrote his own colourful story.
It is a well-tuned narrative about a man who liberates a nation from the grasp of white supremacists. It's a story of defiance as the hero stares down the west over the invasion of white-owned farms. It's a tale about a president who sacrifices everything for his people and promises to never retire.
But there are some serious issues with the story and they are causing all sorts of difficulties as the country prepares to bury its former president.
Ask any church minister about a funeral and they will tell you that there is plenty of selective storytelling involved – but the problem in Zimbabwe is that Mugabe's family members and government officials cannot agree on which story they are telling.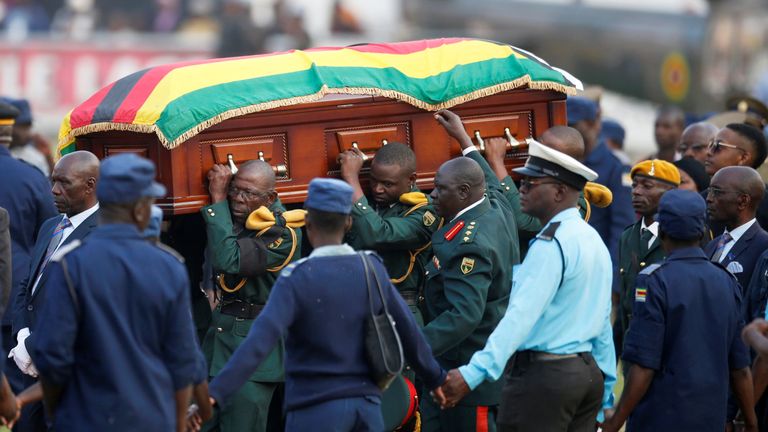 President Emmerson Mnangagwa has got a tale about how he served Mugabe as his loyal lieutenant for 40 years, working to develop a unified and patriotic nation respected by the rest of the world. It is also works as propaganda with the country now struggling with hyper-inflation, widespread electricity blackouts, and general economic chaos.
Mr Mnangagwa will roll out his message at a day-long commemorative event at Harare's National Sports Stadium on Saturday. But the family and friends of Mr Mugabe do not accept the thesis.
Instead they accuse Mr Mnangagwa of betrayal after he dislodged the former president in a coup in November 2017. It left him, "a very bitter man," says Leo Mugabe, the former strongman's nephew.
This is a different narrative, laced with accusations of ingratitude and greed – and it has led some members of the Mugabe family to demand a private burial to protect the memory of their loved one. "Imagine people you trusted, people that were guarding you, looking after you, (turning) against you," said Leo Mugabe.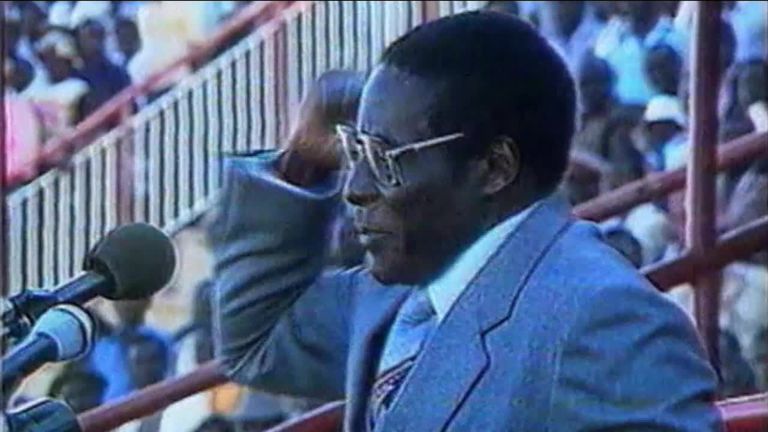 Relatives demanded that Mugabe be buried in his home village, Zvimba, but President Mnangagwa wants his former boss interred at the national cemetery, Hero's Acre. It seems Mr Mnangagwa may have won the argument when he tweeted "we're building a mausoleum for our founding father at… the Hero's Acre." You probably saw that one coming.
Members of the opposition MDC party, who have their own stories to tell of beatings and abductions at the hands of Robert Mugabe's thugs, were surprisingly charitable after the dictator's death. The leader of the MDC, Nelson Chamisa, said he was "rising above political differences and personal animosities", adding "this is the time for mourning not political point scoring."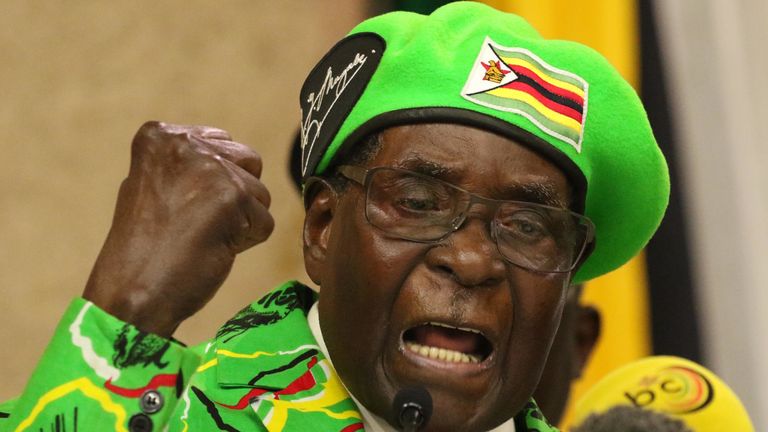 Everyone in Zimbabwe has got a story to tell about Mugabe and they usually defy the selective storytelling which features at commemoration services.
One woman, called Sheron, told me she has been waging her own internal argument about the former president.
"He was a good man even though there were many things that (went) wrong. Every country has tough times but we want to forgive him and try and concentrate on what is happening now."
Funerals can be tricky when the story is not clear and Zimbabweans will be disagreeing about Robert Mugabe's for years and years to come.
More than 2,000 preserved foetal remains found at dead doctor's home | World News

More than 2,000 medically preserved foetal remains have been found at the home of a late Indiana abortion clinic doctor, leading to calls for a federal investigation.
The gruesome discovery was made after Dr Ulrich Klopfer died on 3 September and family members began sorting through his property in Illinois.
The county coroner's office has taken possession of the 2,246 preserved remains.
State Republican Ron Bacon has called for the Indiana attorney general's office to investigate the now-closed clinics in Fort Wayne, Gary and South Bend, where Klopfer had performed abortions.
He described the discovery as "seriously disturbing" and expressed concern that "there may be other remains".
A spokeswoman for the Will County Sheriff's Office said its investigation was ongoing and no further information would be released until it is complete.
She called it "a very sensitive situation" involving the sheriff's department, coroner's office and prosecutors.
Klopfer was believed to be Indiana's most prolific abortion doctor, performing thousands of procedures over several decades.
His three clinics closed years before his death.
The state revoked the South Bend clinic's licence in 2015 and the Indiana State Department of Health had previously issued complaints against the clinic, accusing it of lacking a patient register, policies regarding medical abortion, and a governing body to determine policies.
Klopfer's licence was suspended by Indiana's Medical Licensing Board in November 2016 after it found a number of violations, including a failure to ensure that qualified staff were present when patients received or recovered from medications given before and during abortion procedures.
He was no longer practising by that time, but told the panel he had never lost a patient in 43 years of doing abortions.
Have scientists found a way to stop the common cold? | Science & Tech News

Scientists believe they have found a way to stop the common cold – as well as a number of other potentially fatal viral diseases.
Researchers at Stanford University and the University of California-San Francisco discovered the best way to tackle them was temporarily disabling a single protein inside our own cells.
Colds are the world's most common infectious illness and many are the result of rhinovirus infections which are mutation-prone and quick to develop resistance to drugs.
It is this problem that has led scientists to try host-directed therapy which would make our bodies difficult for certain viruses to survive in.
The US experts identified a component in human cells which the viruses were dependent on through gene-editing.
They discovered a number of viruses could not replicate in human cells lacking the enzyme SETD3.
The team created genetically modified mice that were unable to produce that enzyme which made them immune to viral infection.
Published in the journal Nature Microbiology, the findings showed despite lacking SETD3 the mice lived normal and healthy lives.
The technique also stopped viruses associated with asthma, encephalitis and polio developing.
Saudi Arabia says 'Iranian weapons' used in drone attack on oil facilities | World News
Oil prices have fallen after an initial spike following a drone attack on Saudi Arabia's oil facilities, as finger pointing continues over who was responsible.
Global prices surged nearly 20% following the bombing of two oil plants, before dropping around 10% when markets calmed in reaction to Donald Trump's suggestion that America's stockpile could be used if required.
Yemen's Houthi rebels, who are backed by Iran, say they are responsible and have warned of more strikes.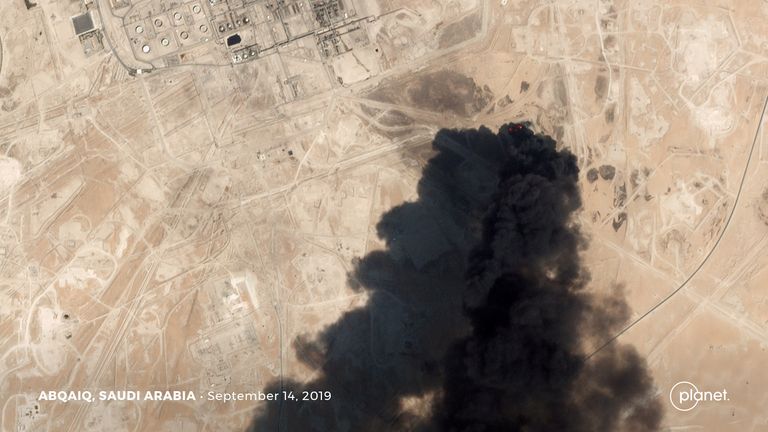 However, Saudi Arabia and the US have accused Iran of being behind the attacks on the Abqaiq facility and the Khurais oil field in the early hours of Saturday.
Saudi military spokesman Colonel Turki al-Malki said their initial investigation suggests "Iranian weapons" were used and were "not launched from Yemen".
His comments were echoed by the US ambassador to the United Nations, who told the security council that information "indicates that responsibility lies with Iran" and there was no evidence the attack came from Yemen.
Iran has denied it is to blame and said it was ready for "full-fledged war" if necessary, while countries including Russia have warned against pinning the blame on Tehran.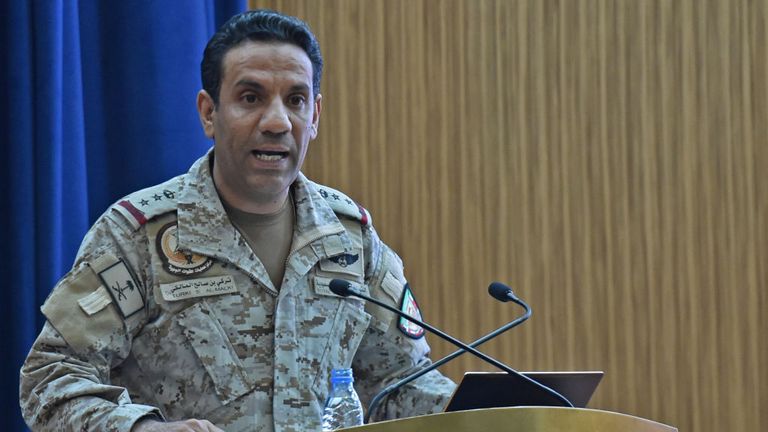 It comes as Iranian news agency INSA also reported that the country's Revolutionary Guards had seized a ship in the Gulf for allegedly smuggling diesel to the United Arab Emirates.
Iran and Saudi Arabia are locked in a long-standing power struggle in the region.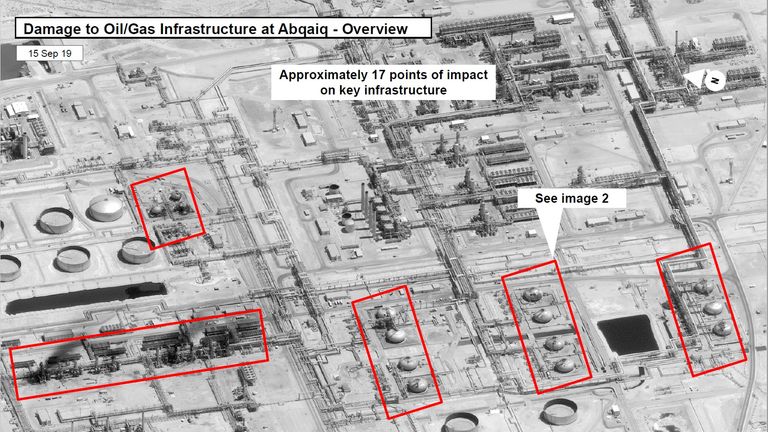 Saudi Arabia is leading a coalition, which includes the UAE, in a war against the Houthi rebels in Yemen. It is often described as a proxy war between Saudi Arabia and Iran.
The strike on Saudi Aramco's main processing facility has cut its production of crude oil by 5.7 million barrels a day – more than half its daily exports and more than 5% of the world's daily production.
The oil market's confidence was knocked by how easy it appeared to be to attack and damage the Saudi facilities.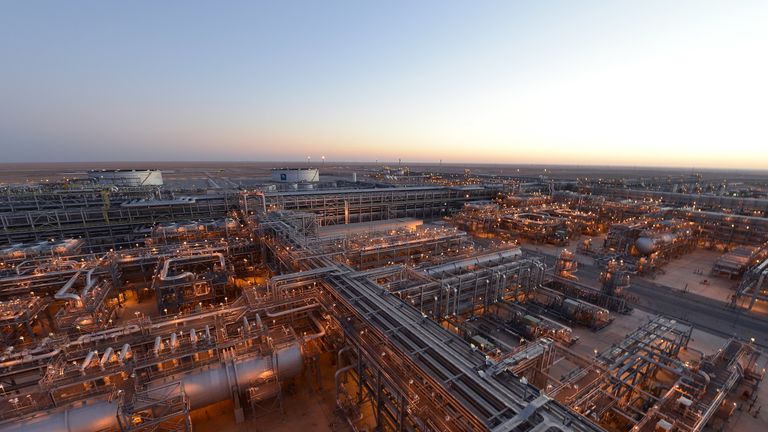 It remains unclear how long it will take to carry out repairs, with some suggesting it could take months.
The country has stockpiles that will enable it to meet its export commitments in coming weeks. However it took some action to clamp down on supplies, including shutting down its pipeline to Bahrain.
US President Donald Trump helped calm markets when he said oil from America's emergency fuel storage would be released if needed.
He tweeted: "We don't need Middle Eastern Oil & Gas, & in fact have very few tankers there, but will help our Allies!"
He also said the US was "locked and loaded" and that he is unwilling to meet Iran, who he re-imposed sanctions on last year after pulling out of a landmark nuclear deal.
The president went on to accuse Iran of lying over its involvement, tweeting: "Remember when Iran shot down a drone, saying knowingly that it was in their 'airspace' when, in fact, it was nowhere close.
"They stuck strongly to that story knowing that it was a very big lie.
Because we have done so well with Energy over the last few years (thank you, Mr. President!), we are a net Energy Exporter, & now the Number One Energy Producer in the World. We don't need Middle Eastern Oil & Gas, & in fact have very few tankers there, but will help our Allies!

— Donald J. Trump (@realDonaldTrump) September 16, 2019
"Now they say that they had nothing to do with the attack on Saudi Arabia. We'll see?"
Senior US officials said satellite images and other intelligence showed the strike was inconsistent with one launched from Yemen, where the Houthis are based, and suggested instead that it came from Iran or Iraq.
Iraq has denied the attack originated from their territory.
Dominic Raab, the UK foreign secretary, told Sky News: "The attack on the installations was a wanton violation of international law.
"It's despicable and we stand firmly in support of our Saudi partners and other international players who are outraged.
"The picture is not entirely clear, we are working it up, and before I talk about who is responsible and the implications I want to have a very clear picture, which we will be getting shortly."
Russia's foreign ministry expressed "grave concern" and said it condemned attacks on vital infrastructure or any action that could disrupt global energy supplies.
However, Moscow warned against putting the blame on Iran and said military retaliation would be unacceptable.
Saudi neighbour Qatar also condemned the attacks, despite being on the receiving end of a Saudi boycott.