'IS-infested' island wiped out by 40 tonnes of explosives | World News
US warplanes have dropped 40 tonnes of explosives on an island in northern Iraq to annihilate an Islamic State hideout.
F-15 and F-35 fighter jets were used in the joint operation between US-led coalition forces and the Iraqi Counter-Terrorism Service, which targeted Qanus Island in the Tigris River.
Footage of the attack on IS – also known as Daesh and ISIS – was released by the coalition in a tweet, saying: "Here's what it looks like when @USAFCENT #F15 and #F35 jets drop 36,000 Kg of bombs on a Daesh infested island."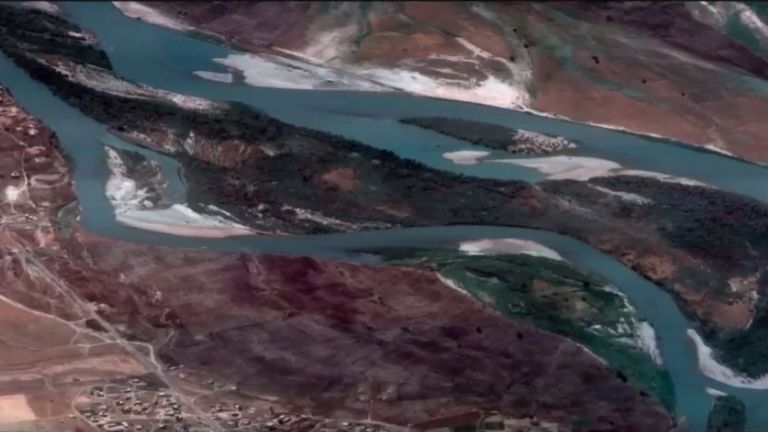 It showed aerial views of the mile-and-a-half-long island before, during and after its obliteration.
The island lit up as several dozens of bombs were dropped in quick succession, creating large explosions which unleashed huge plumes of fire and smoke into the sky.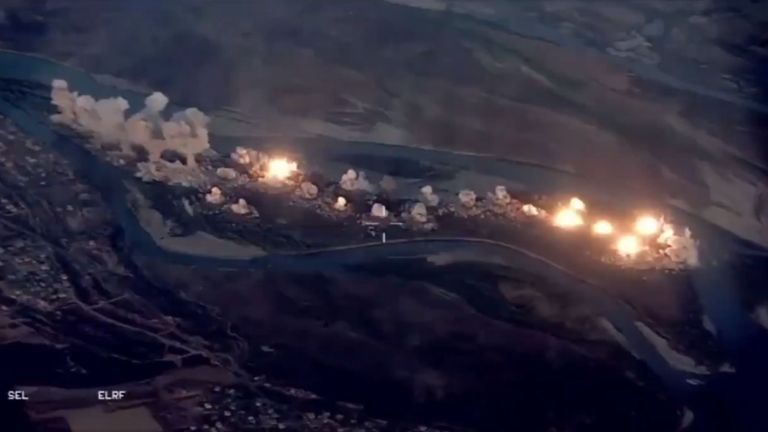 Soldiers and military vehicles could also be seen on the ground, against the backdrop of the airstrikes.
Based on the footage, the island did not appear to be inhabited, but areas on either side of the river, on the mainland, appeared to be settled. It is unclear if civilians were moved before the attack.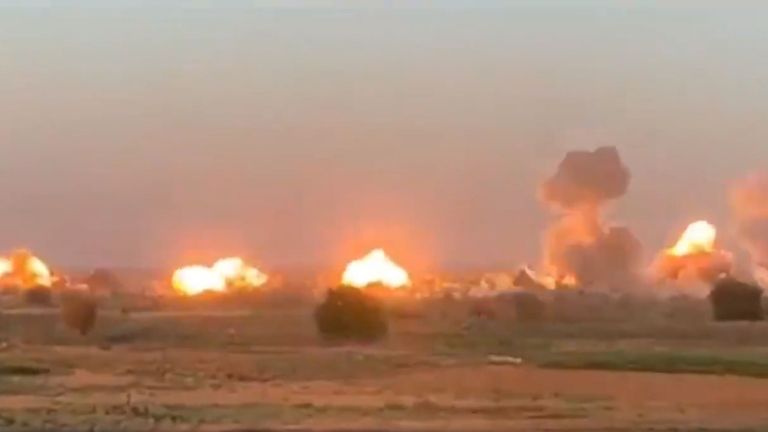 Major General Eric T Hill said: "We're denying Daesh the ability to hide on Qanus Island.
"We're setting the conditions for our partner forces to continue bringing stability to the region."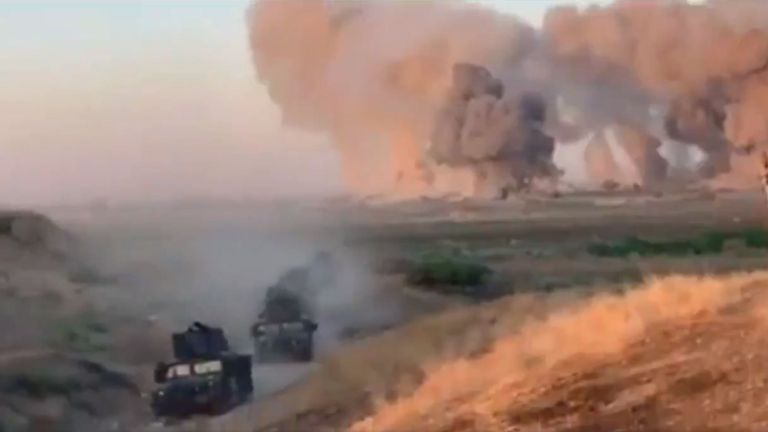 Follow-on ground clearance operations are currently being led by the 2nd Iraqi Special Operations Forces Battalion to destroy a major transit hub for IS fighters moving from Syria and the Jazeera desert into Mosul, Makhmour and the Kirkuk region.
In February, US President Donald Trump said coalition forces had "liberated virtually all of the territory previously held by ISIS in Syria and Iraq".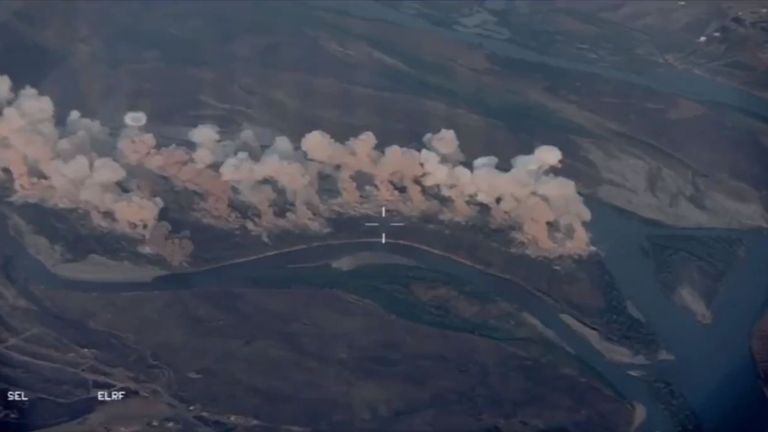 However, elements of the group remain active and it has been tied to numerous incidents in Iraq since.
The attack took place on the same day as Mr Trump announced that he had sacked his national security adviser John Bolton.
Mr Bolton – who was a strong supporter of the 2003 Iraq war – gave his own version of events, saying he had resigned.
Kanye West performs songs from Jesus Is King for tearful prison inmates | Ents & Arts News
Never mind dancing to the jailhouse rock, Kanye West moved some inmates to tears during a surprise show at a prison in Texas.
Almost everybody in the whole cell block at Harris County jail were treated to a performance by the rapper, who reportedly turned up for an exclusive presentation for 200 selected prisoners and staff at the facility.
West shared tracks from his new gospel album Jesus Is King during his visit, with a number of people in the audience seen welling up in a video released by Harris County Sheriff's Office.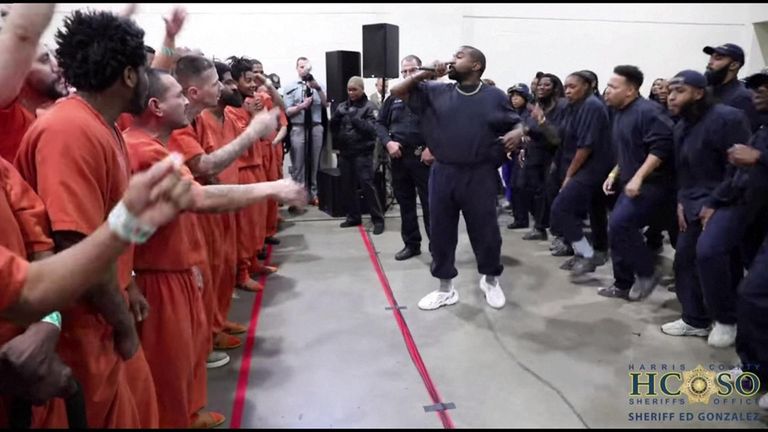 The 42-year-old performed with the backing of a choir, and then moved on to another facility across the street where a smaller selection of female inmates were treated to a show.
West was said to have used a secret tunnel to get to the site of his second concert on Friday, which were kept secret from the public and organised with the approval of prison officials.
Harris County Sheriff Ed Gonzalez said representatives of the music star got in touch about doing the performances, which were reminiscent of jailhouse concerts given by country singer Johnny Cash in California.
Cash performed twice at Folsom State Prison in January 1968 and the 17 total tracks from the shows were later released as part of a live album titled At Folsom Prison.
Unlike At Folsom Prison, Jesus Is King has received a mixed critical reaction since its release earlier this week.
The album, which suffered two delays before finally coming out, holds an average score of just 55 on the reviews aggregation website Metacritic – although it does have its fans.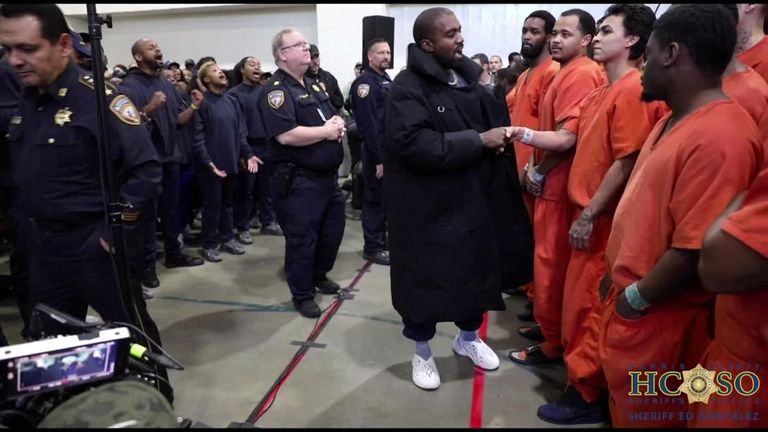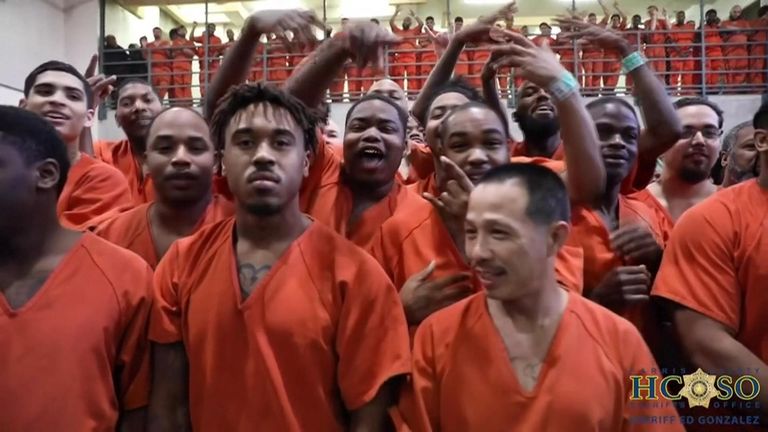 British music magazine-turned-website NME gave the album – billed by West as "an expression of the gospel" – a four star review and said it was a step-up from the 2018 release dubbed Ye.
It has also been praised by members of the Christian community – and West is due to speak about the album during a trip to the vast 17,000-seat Lakewood Church in Houston on Sunday.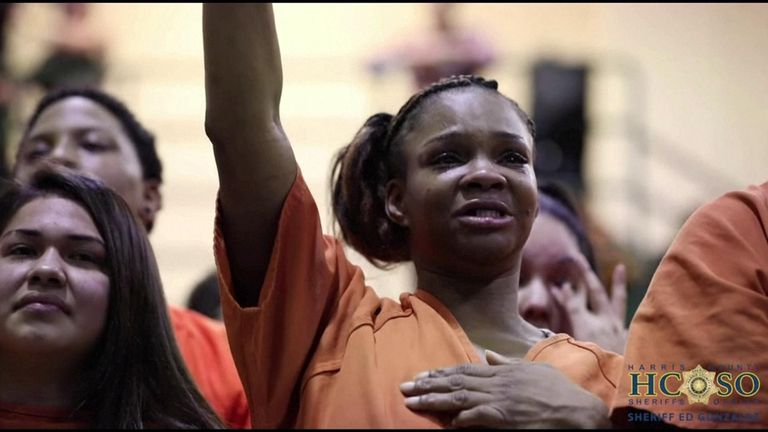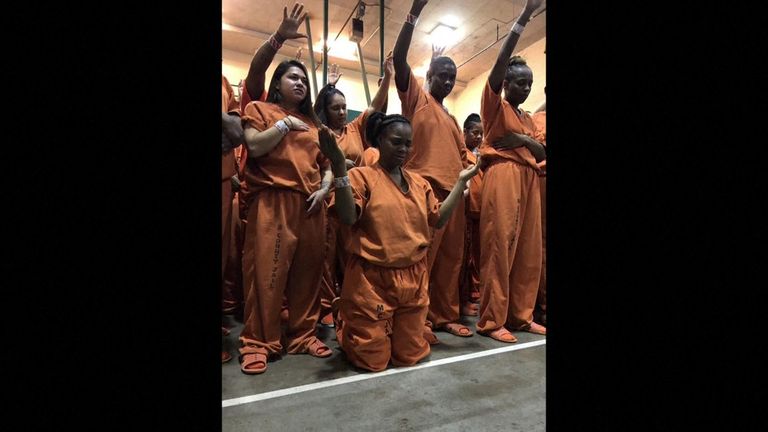 The album opened at number one on the US Billboard 200, giving West – who is one of the most successful and influential artists of the 21st century – his ninth consecutive album to debut atop the rankings.
It remains to be seen whether Jesus Is King enjoys any awards success, potentially helping West – who shares four children with his reality TV star wife Kim Kardashian West – add to a haul that already includes 21 Grammys.
At least seven killed in gas explosion in Bangladesh | World News

At least seven people have been killed after a gas pipeline exploded in the Bangladeshi port city of Chittagong.
The gas pipeline exploded in front of a five-storey building, blowing walls off the building, a local police official said, citing witnesses.
Eight people who were injured in the blast have been taken to hospital.
More to follow…
Australia bushfires: Meet the koalas lucky to be alive after devastating blazes | World News
Over the edge of a little knitted pouch, two bright eyes peer out.
Next, a tiny grey paw wriggles free and then a fluffy grey and white ear pops forward.
They belong to a koala joey named Haze.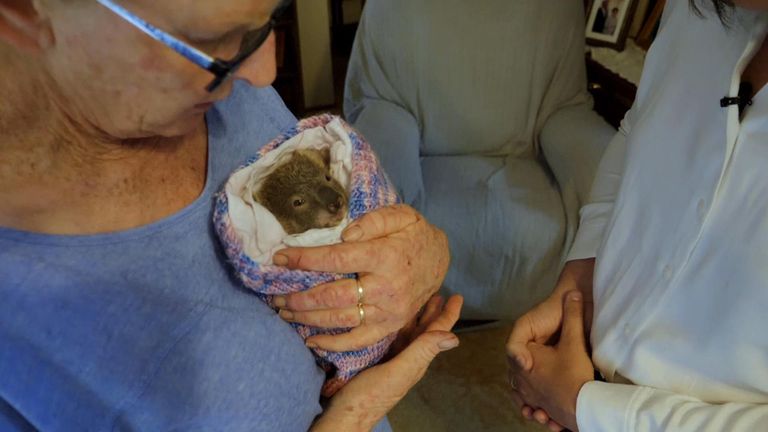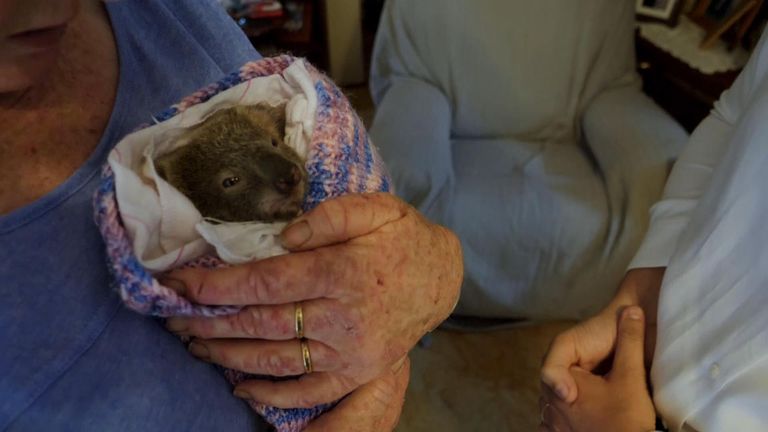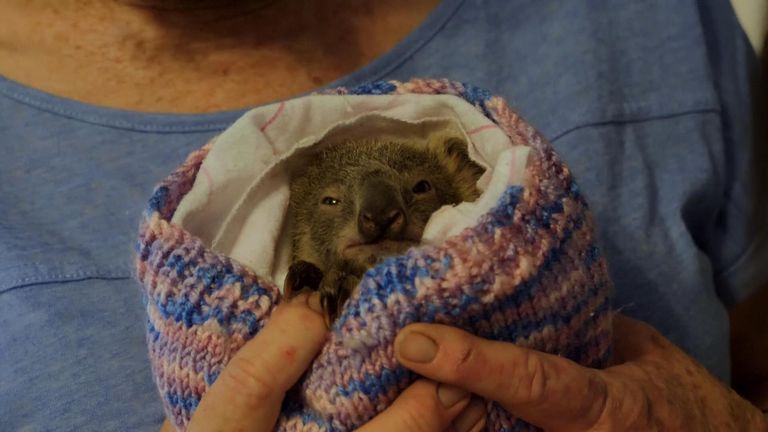 At just a few months old she weighs less than half a bag of sugar.
Her mother is dead, killed in the recent bushfires in the Australian state of New South Wales.
Haze should be still in her mother's pouch, but a firefighter spotted her and rescued her from the flames.
"She was very ill when she arrived, in fact I didn't think she was going to survive," her carer Christeen McLeod explains.
"If she hadn't have been found, she would have been baked. An owl, a fox, wild dogs would have just got her and that would have been the end of her if she hasn't perished in the fires."
She and her husband Paul are currently caring for 25 koalas at their home in the east coast town of Taree.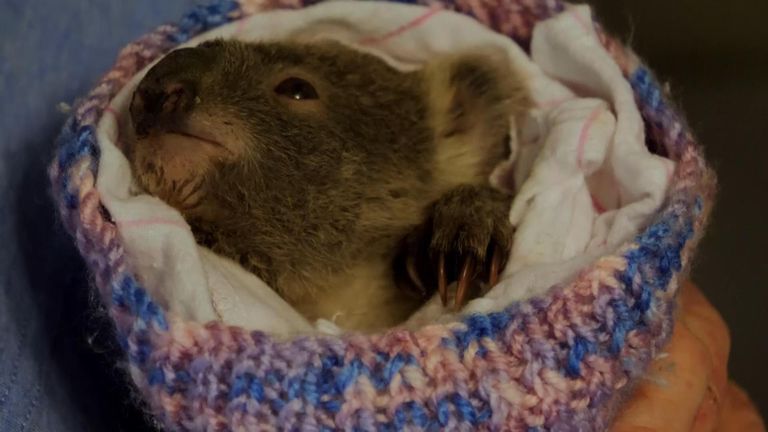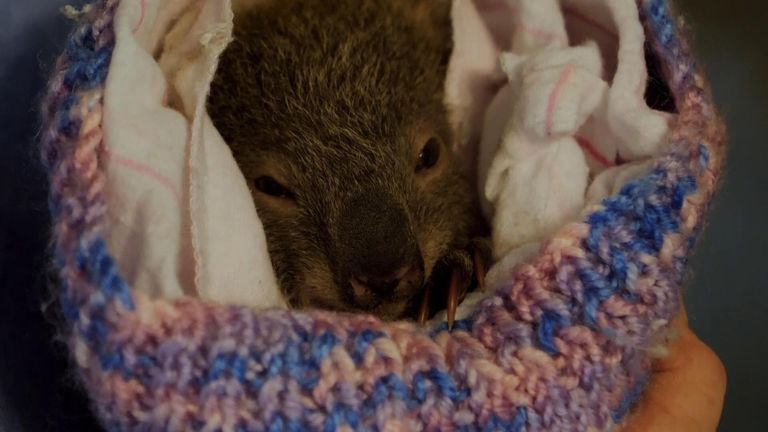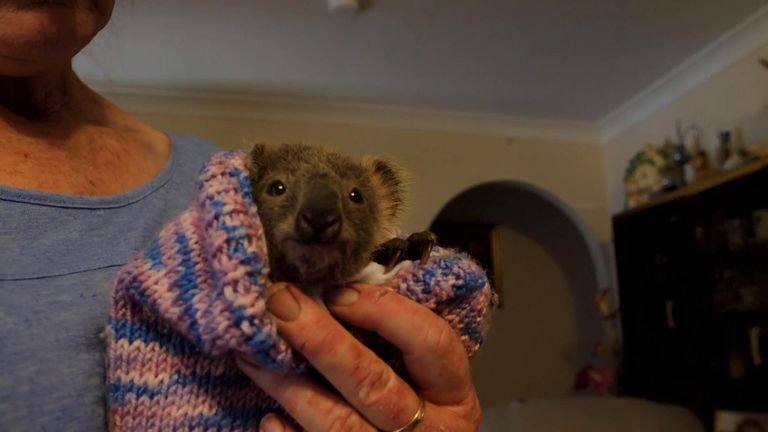 They run the charity Koalas in Care, providing 24 hour treatment to injured animals every day of the year.
But the bushfire crisis has led to a surge in patients, with nine new cases being admitted in the last few days alone.
In their lounge, big washing baskets, packets of nappies and breathing equipment stand ready and waiting for next emergency. A room to the side of the house has been transformed into a critical care ward.
In two of the cages another set of joeys snuggle down into their hand knitted pouches, next to them a bigger koala sits on a padded branch chewing eucalyptus leaves.
"This is Sparky, he's from the Harrington fire," Christeen says, opening the door of the cage.
Sparky has been with them for around two weeks.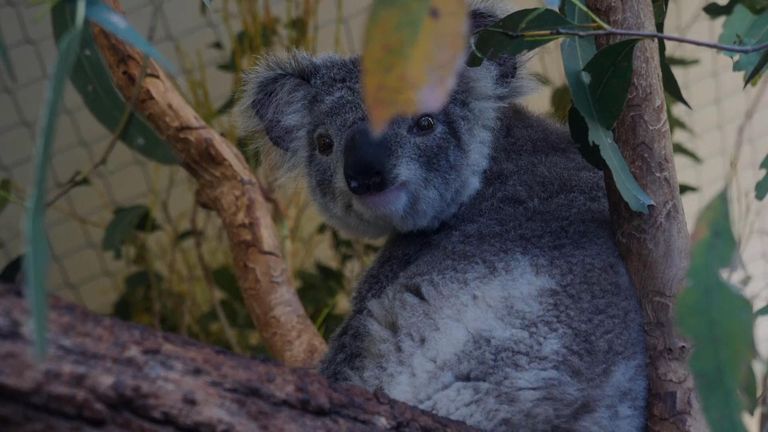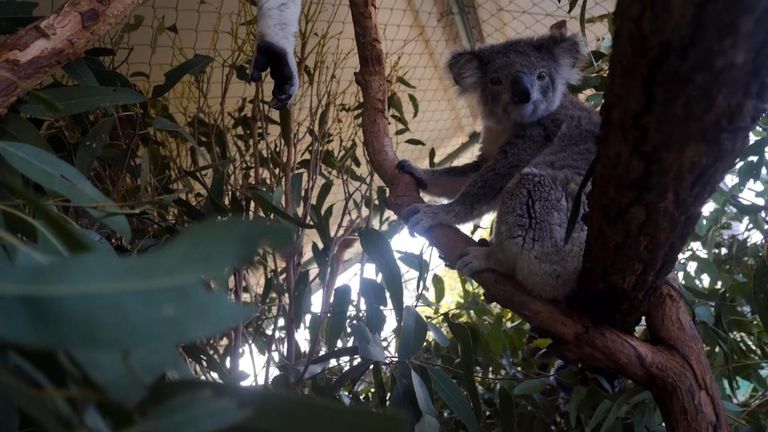 His fur was singed and his nose and paws were badly burnt, he's lucky to be alive.
The fires burning around Taree have been some of the biggest of the past week and some of the animals brought in have such severe injuries they're being transferred to clinics outside the danger zone.
It's estimated at least 350 have been killed in blazes in New South Wales.
"Other animals will run out of the fire zone, koalas will go to the top of the tree so if you've got a crown fire you're gonna have an incinerated koala," Christeen says.
Earlier this year, World Wildlife Fund Australia warned the continued threat to their habitat means koalas could be extinct in the state by 2050.
The McLeods fear the surge in fires could accelerate the problem.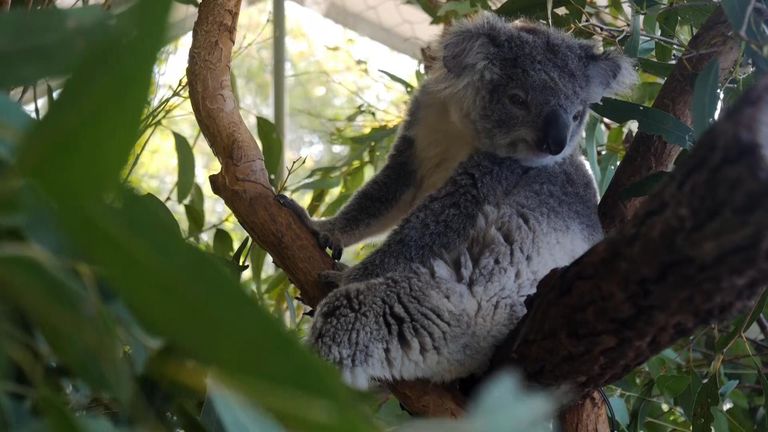 "These might be the insurance policy for the next generation," Paul says, showing me a group of juveniles who are ready for release, adding: "They virtually could be the only ones left out of the whole population."
The ongoing threat means it's too dangerous to release the healthy, their habitat has been decimated by flames and there's currently nowhere safe to go.
With fires still burning it's difficult to gauge the full impact but here they fear the worst.
"This is going to devastate our koala population," Christeen sadly warns.