'IS-infested' island wiped out by 40 tonnes of explosives | World News
US warplanes have dropped 40 tonnes of explosives on an island in northern Iraq to annihilate an Islamic State hideout.
F-15 and F-35 fighter jets were used in the joint operation between US-led coalition forces and the Iraqi Counter-Terrorism Service, which targeted Qanus Island in the Tigris River.
Footage of the attack on IS – also known as Daesh and ISIS – was released by the coalition in a tweet, saying: "Here's what it looks like when @USAFCENT #F15 and #F35 jets drop 36,000 Kg of bombs on a Daesh infested island."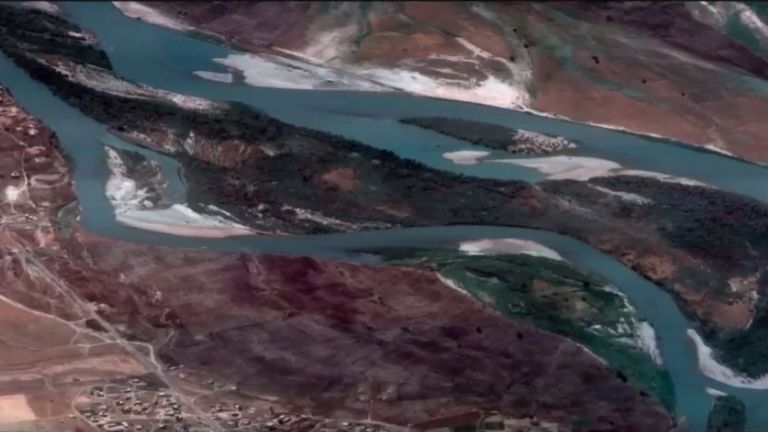 It showed aerial views of the mile-and-a-half-long island before, during and after its obliteration.
The island lit up as several dozens of bombs were dropped in quick succession, creating large explosions which unleashed huge plumes of fire and smoke into the sky.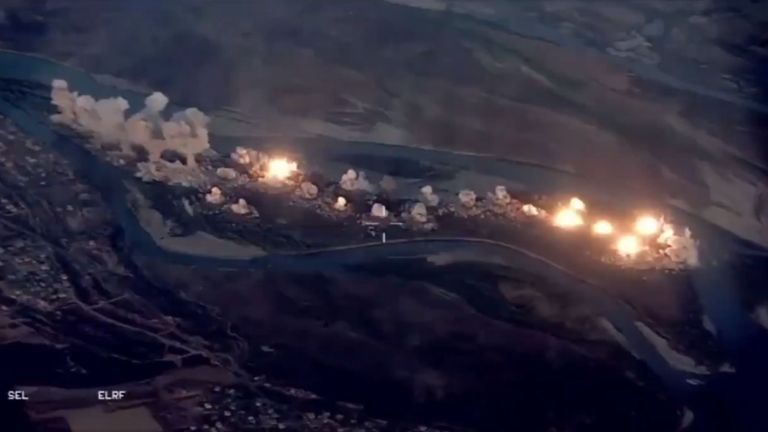 Soldiers and military vehicles could also be seen on the ground, against the backdrop of the airstrikes.
Based on the footage, the island did not appear to be inhabited, but areas on either side of the river, on the mainland, appeared to be settled. It is unclear if civilians were moved before the attack.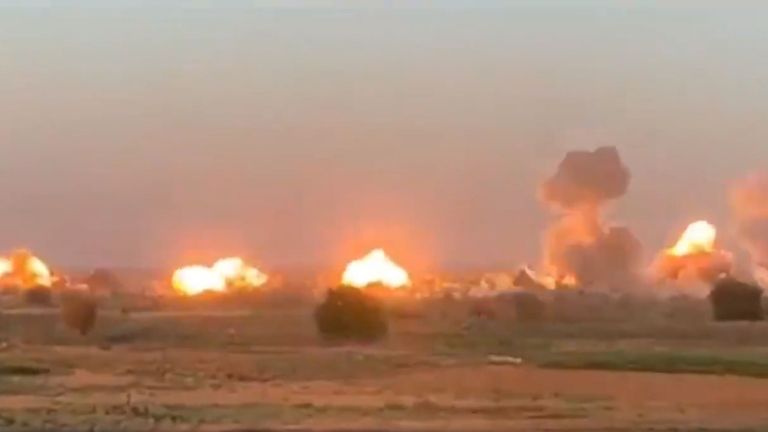 Major General Eric T Hill said: "We're denying Daesh the ability to hide on Qanus Island.
"We're setting the conditions for our partner forces to continue bringing stability to the region."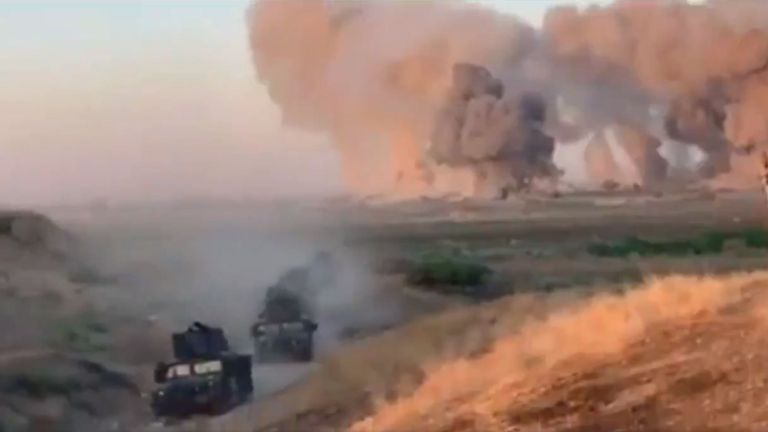 Follow-on ground clearance operations are currently being led by the 2nd Iraqi Special Operations Forces Battalion to destroy a major transit hub for IS fighters moving from Syria and the Jazeera desert into Mosul, Makhmour and the Kirkuk region.
In February, US President Donald Trump said coalition forces had "liberated virtually all of the territory previously held by ISIS in Syria and Iraq".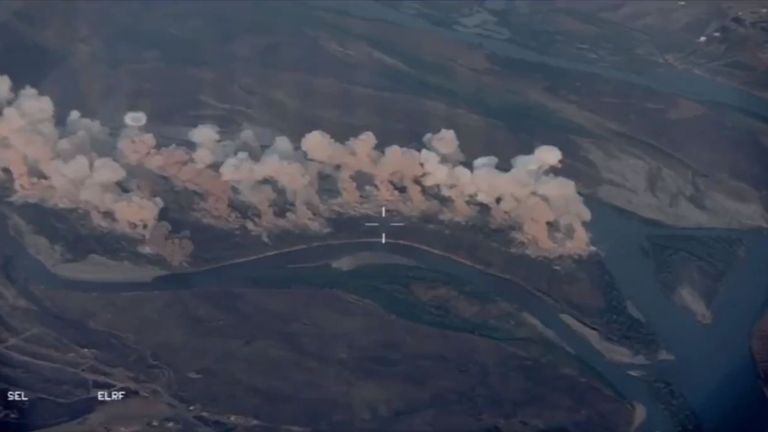 However, elements of the group remain active and it has been tied to numerous incidents in Iraq since.
The attack took place on the same day as Mr Trump announced that he had sacked his national security adviser John Bolton.
Mr Bolton – who was a strong supporter of the 2003 Iraq war – gave his own version of events, saying he had resigned.
Beirut explosion: Lebanon PM to resign within hours – as entire government steps down | World News

Lebanon's Prime Minister Hassan Diab is set to resign within hours, Sky News understands, after the entire government stepped down.
Anti-government protesters had demanded political change after an explosion in Beirut killed more than 160 people and injured around 6,000 last week.
Action needed to stop the use of killer robots, report says | World News
Calls are growing for an international ban on the creation of killer robots, which could pose a "grave threat to humanity".
An increasing number of countries want action to prevent the development of fully autonomous weapons and to ensure human control is retained, a new report shows.
Research has shown that 30 countries want the introduction of an international treaty over such weapons systems, which would be able to select and engage targets without any meaningful human intervention.
The US and Russia are said to be among a small number of military powers to have "firmly rejected proposals" around the introduction of any regulation.
A report by Human Rights Watch reviewed the policies of 97 countries that have publicly discussed killer robots since 2013.
Although it does not name the UK among the countries calling for an outright ban on autonomous weapons, the report says British policy is that there must always be "human oversight" when using such systems.
However, the research noted the UK is developing weapons with some "autonomous solutions".
Mary Wareham, of Human Rights Watch and of the Campaign To Stop Killer Robots, said urgent action was needed as technology such as artificial intelligence continues to be developed.
She said: "Removing human control from the use of force is now widely regarded as a grave threat to humanity that, like climate change, deserves urgent multilateral action.
"An international ban treaty is the only effective way to deal with the serious challenges raised by fully autonomous weapons.
"It's abundantly clear that retaining meaningful human control over the use of force is an ethical imperative, a legal necessity, and a moral obligation.
"Many governments share the same serious concerns over permitting machines to take human life on the battlefield, and their desire for human control provides a sound basis for collective action.
"While the pandemic has delayed diplomacy, it shows the importance of being prepared and responding with urgency to existential threats to humanity, such as killer robots."
The Campaign To Stop Killer Robots was formed in 2012 and then launched in London the following year. It is a coalition of organisations working to ban fully autonomous weapons.
Terminally ill Canadians win right to use magic mushrooms for end-of-life stress | World News
Four terminally ill Canadians have won the right to take psychedelic drugs to treat end-of-life anxiety and distress.
They will be allowed to take the hallucinogenic drug psilocybin, derived from magic mushrooms, after Canada's health minister Patty Hajdu approved the landmark application more than 100 days after the request was made.
The patients are thought to be the first Canadians to be given the legal right to use the recreational drug since the country outlawed it back in 1974.
In June, one of the patients, Thomas Hartle, from Saskatoon, applied directly to Ms Hajdu to be able to use the drug after exhausting other options to treat his anxiety around dying.
The 52-year-old, who has stage four colon cancer, said in a video pleading with the government "there isn't anything available that can treat existential dread", but added the hallucinogenic would help ease his anxieties.
Responding to the new ruling, he said: "This is the positive result that is possible when good people show genuine compassion. I'm so grateful that I can move forward with the next step of healing."
Another patient, Laurie Brooks from British Colombia, said: "The acknowledgement of the pain and anxiety that I have been suffering with means a lot to me, and I am feeling quite emotional today as a result.
"I hope this is just the beginning and that soon all Canadians will be able to access psilocybin, for therapeutic use, to help with the pain they are experiencing."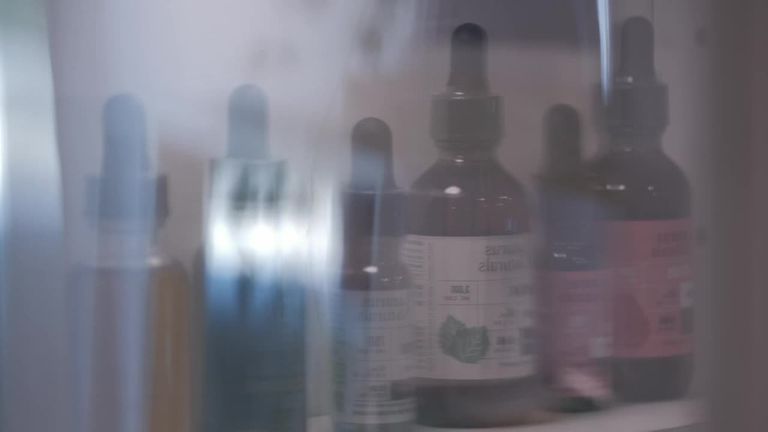 A 2017 study led by Imperial College London found that the use of psilocybin helped treat stress and depression in cases where conventional therapy had failed.
And earlier this year, researchers at New York University's Grossman School of Medicine said a single dose of the compound can have anti-anxiety and anti-depressant effects which can last for nearly five years.
Mushrooms containing psilocin or psilocybin are designated as Class A drugs in the UK – the maximum penalties are seven years imprisonment and a fine for possession, and life imprisonment and a fine for supply.