North Korea test-fires 'super-large multiple rocket launcher' | World News
Kim Jong Un has overseen the test-firing of what North Korea has called a "newly developed super-large multiple rocket launcher".
The weapons test was successful and the leader said the launcher was "indeed a great weapon", according to the country's Central News Agency.
Photos released by state media showed rockets launching from large tubes mounted on the back of an eight-wheel vehicle.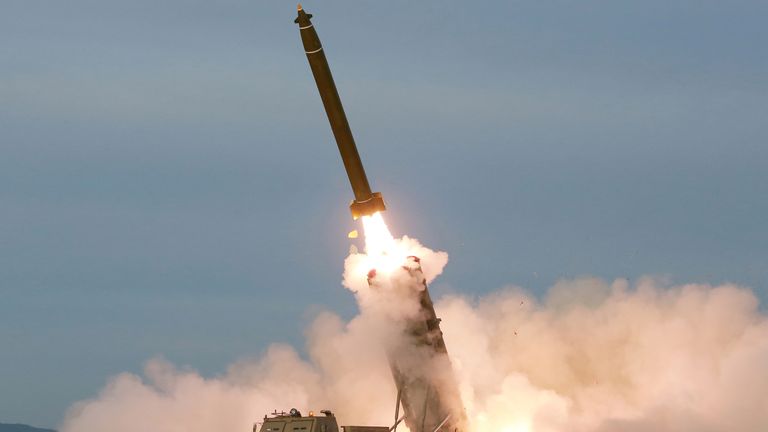 South Korea's military said the North fired two suspected short-range ballistic missiles off its east coast and they flew for 236 miles (380km) at a maximum height of 60 miles (97km).
It was the seventh known weapons test in about a month.
And analysts said it appeared to be at least the fourth new missile system unveiled by Pyongyang since denuclearisation talks stalled at a February summit in Vietnam between Mr Kim and US President Donald Trump.
The head of the secretive state said on Saturday his country must step up the development of new strategic and tactical weapons to combat "ever-mounting military threats and pressure offensive of the hostile forces".
The "hostile forces" are thought to refer to the US and South Korea – two countries which recently carried out annual military drills that infuriated Pyongyang.
The North has called the drills a rehearsal for an invasion and has hit back by conducting a number of missile and rocket tests.
Mr Kim also claimed the country's young defence scientists who developed the missiles are a "precious treasure and wealth of the country which cannot be bartered for anything".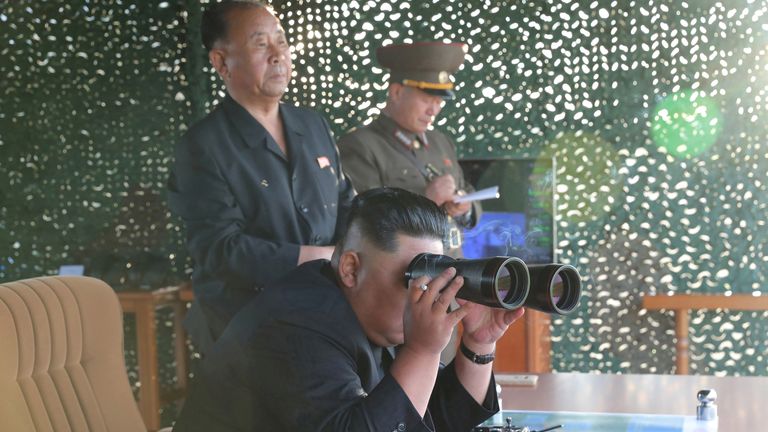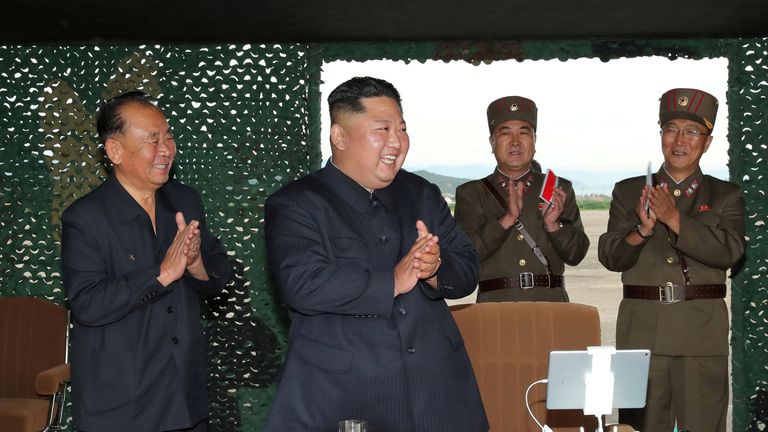 Experts have said North Korea is showing off its weapons to try to get an upper hand before a possible restart of negotiations with the US over Pyongyang's controversial nuclear weapons programme.
Mr Kim and Mr Trump met at the Korean border in late June and agreed to resume talks.
The president played down the latest launch, saying: "Kim Jong Un has been, you know, pretty straight with me… He likes testing missiles but we never restricted short-range missiles. We'll see what happens."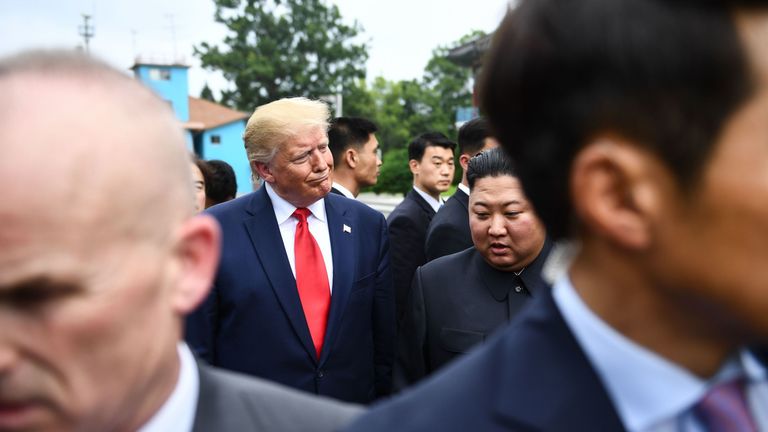 Meanwhile, South Korea's military has begun two days of drills around a group of islets that are also claimed by Japan.
The action sparked a protest from Tokyo just days after Seoul scrapped an intelligence-sharing pact with its neighbour amid worsening relations.
The two countries have long argued over the sovereignty of the islets, called Takeshima in Japanese and Dokdo in Korean, which are located halfway between the countries in the Sea of Japan, also known as the East Sea.
:: Listen to the Behind the Headline podcast on Apple Podcasts, Google Podcasts, Spotify, Spreaker
Edward Snowden calls on Macron to grant him asylum in France | World News
Edward Snowden, the US whistleblower who leaked classified documents detailing government surveillance programmes, is calling on France to grant him asylum.
The former US National Security Agency contractor is currently living in Russia to avoid prosecution in the US.
"Protecting whistleblowers is not a hostile act", he told France's Inter radio on Monday, as he appealed to French President Emmanuel Macron.
"Welcoming someone like me is not an attack on the United States".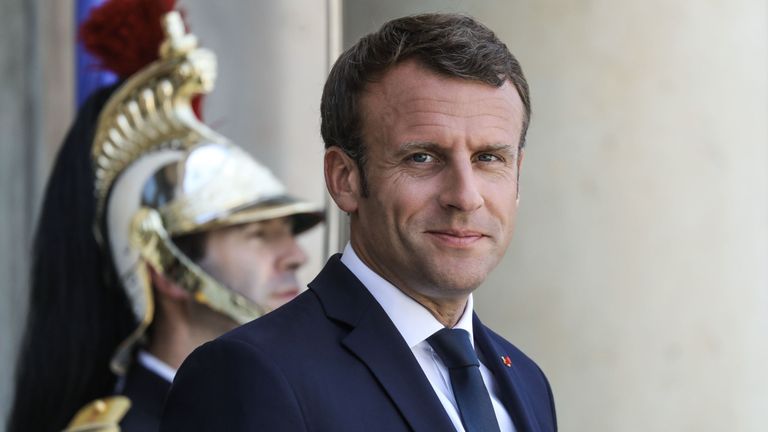 He unsuccessfully applied for asylum in France in 2013 under Mr Macron's predecessor, Francois Hollande, and has also sought asylum in several other countries.
Mr Snowden was accused of "very damaging" leaks after handing tens of thousands of top secret documents to journalists in 2013.
The first story based on those documents was published six years ago and revealed a secret court order allowing the US National Security Agency (NSA) to collect the data of more than 120 million phone calls between ordinary Americans.
More surveillance revelations based on top secret documents were published in the days and weeks which followed, all sourced through material which Mr Snowden had taken from the NSA while working as a contractor.
The stories were published in newspapers including The Guardian, The Washington Post and The New York Times.
He was charged in June 2013 of two counts of violating the Espionage Act of 1917 and theft of government property, and his passport was revoked.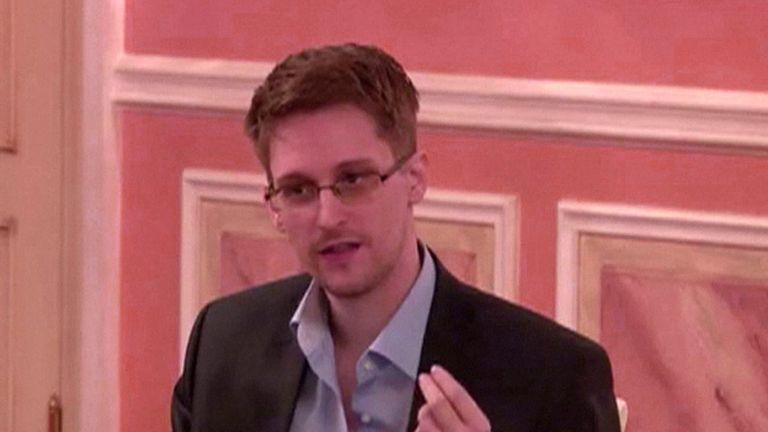 Days later he flew to Moscow where Russian authorities noted that his passport had been cancelled, and he was restricted to the airport terminal for over a moth. Russia later granted him the right of asylum and he is permitted to stay until at least 2020.
Mr Snowden's memoir Permanent Record, which tells his life story in detail for the first time, will be released on Tuesday in around 20 countries, including France.
The French presidency did not comment.
Pakistan: Three arrested after mob ransacks temple, school and homes over 'blasphemy' | World News
A school, a Hindu temple and several homes in Pakistan have been ransacked after a Hindu principal was accused of blasphemy, police said. 
The violence led to the arrests of three people in the southwestern town of Ghotki.
A student accused Notan Lal of blasphemy after he made comments about the Muslim prophet Muhammad a crime in Pakistan which carries a mandatory death penalty.
Although those accused of blasphemy are rarely executed, mobs have killed people they believe are guilty.
The educator, who denies blasphemy, was taken into custody for his own protection while police investigate the alleged comments and the actions of those who damaged two buildings in Sindh province.
"It seems the principal had not done anything intentionally," district police chief Furrukh Ali said.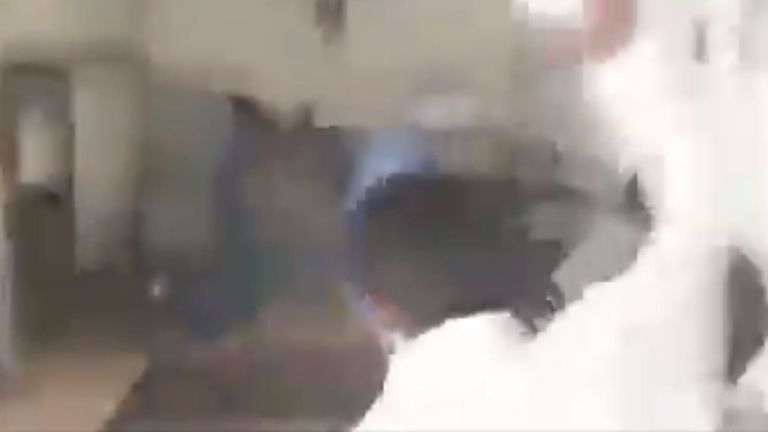 The independent Human Rights Commission of Pakistan said: "The authorities must take prompt action to quell the violence and ensure the safety of the school principal being targeted.
"The video circulated earlier is chilling: mob violence against a member of a religious minority is barbaric, unacceptable."
In January, a Christian was allowed to leave Pakistan after the country's top court upheld her acquittal on blasphemy charges.
Asia Bibi, who spent eight years on death row, will now be free to join her daughters who fled to Canada and were granted asylum there.
The 54-year-old was acquitted in October – eight years after she was convicted for allegedly insulting the Prophet Muhammad in a dispute with her neighbours.
Oil prices surge after Saudi drone attacks as US-Iran row deepens | World News
Global oil prices surged by nearly 20% following the bombing of two massive Saudi energy plants.
Analysts have warned US motorists are likely to feel the effects in coming days as pump prices are set to rise, with Californian motorists to be hit the hardest as the state relies on Saudi oil imports more than any other.
Brent crude futures soared by 19.5% as trading opened in New York on Sunday evening, with a session high of $71.95 (£57.58) a barrel – the highest level since May and the biggest jump in 28 years.
It then settled to a 13% jump at $68.06 (£54.6) per barrel.
Drones bombed the Abqaiq facility in Saudi Arabia and the Khurais oil field, operated by the state-owned Saudi Aramco, in the early hours of Saturday, according to the kingdom's interior ministry.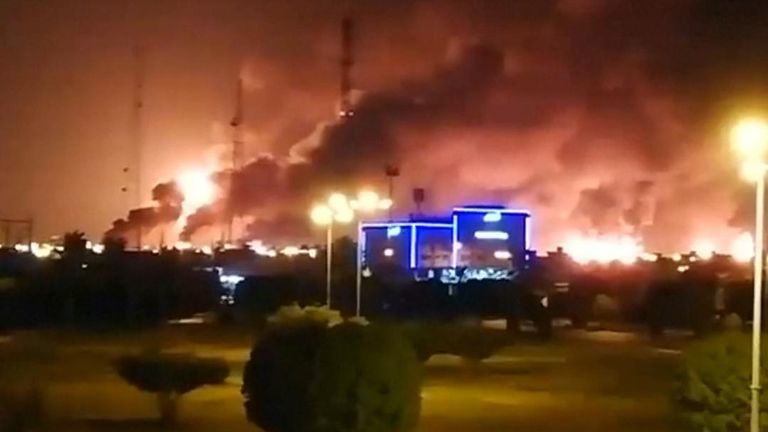 The plants produce nearly 6% of the world's oil, and half of Saudi's oil, with the attack cutting output by 5.7 million barrels a day.
Saudi Arabia has promised to fill in the production gap with its reserves, but Aramco said the damage could take weeks to repair.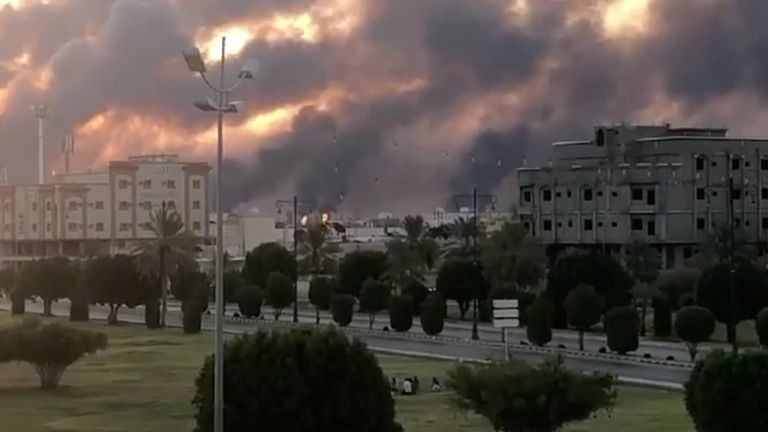 A Saudi official told the Wall Street Journal a third of output could be restored on Monday.
On Sunday US President Donald Trump said oil from the US's emergency fuel storage of 640 million barrels, held in Louisiana and Texas, will be released if needed.
The bombing has heightened tensions in the region, with the US claiming Iran was responsible for the assault which was almost immediately claimed by Iran-backed Houthi rebels from Yemen.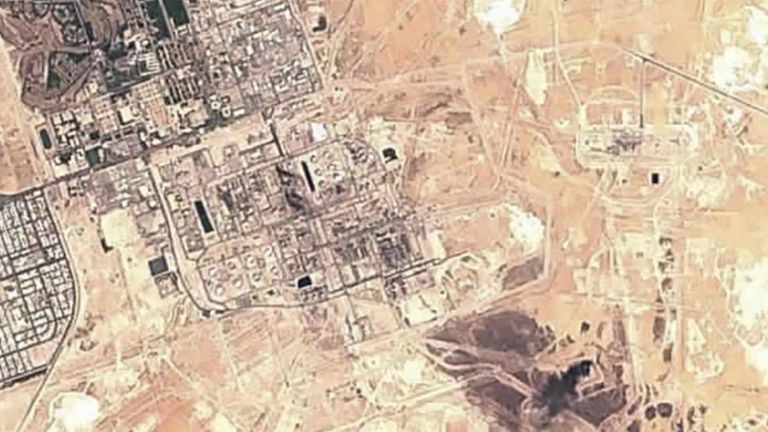 Mr Trump said the US had fresh evidence to back up Secretary of State Mike Pompeo's allegation made the day before that Iran was responsible.
Mr Trump tweeted the US is "locked and loaded" – depending on verification – and he is waiting to hear from the Saudis about who they believe attacked the plants.
He added he is not willing "to meet with Iran".
Senior US officials said satellite imagery and other intelligence showed the strike was inconsistent with one launched from Yemen, where the Houthis are based.
Photos showed what officials said were at least 19 points of impact at the two Saudi oil plants which were consistent with coming from Iran or Iraq, rather than Yemen to the south.
They also said more devices were recovered from northwest of the facilities after not reaching their targets.
Iran responded by saying the US claims are "maximum lies", while a commander in its paramilitary Revolutionary Guard warned its forces could strike US military bases across the Middle East with their ballistic missiles.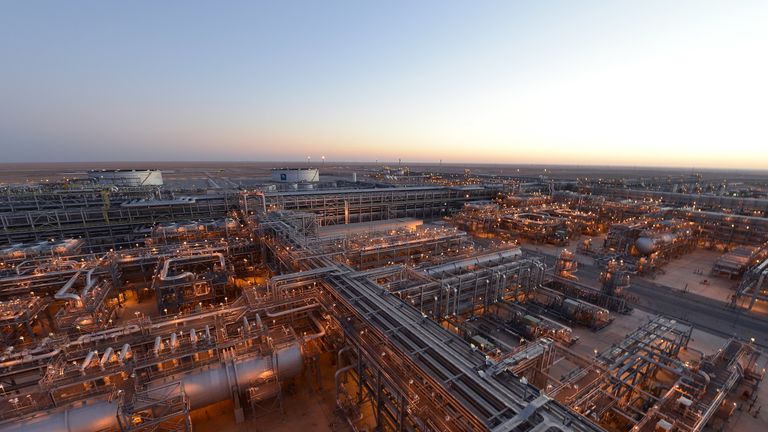 Iranian Brigadier General Amir Ali Hajizadeh said: "Because of the tension and sensitive situation, our region is like a powder keg.
"When these contacts come too close, when forces come into contact with one another, it is possible a conflict happens because of a misunderstanding."
He told Iranian media Revolutionary Guard forces were ready for a counterattack if America responded.
The incursion adds to a number of incidents which have inflamed tensions over the past months.
Several oil tankers have been hit, with America blaming Tehran, and there has been at least one suspected Israeli strike on Shiite forces in Iraq.
Iran also shot down a US military surveillance drone.