Five Britons arrested and 100kg of drugs confiscated in Malaga | UK News
A British criminal network has been foiled in Spain, with more than 100kg of drugs confiscated. 
Five Britons – three men and two women aged between 38 and 62 – have been arrested in connection with the network by the National Police in Malaga.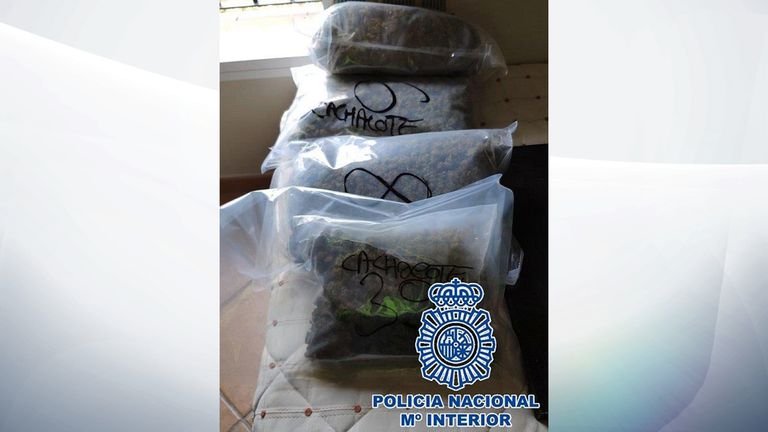 Officers said they intercepted 52kg of a mix of marijuana and hash, and 51kg of vacuum-packed marijuana buds.
The police operation also saw the seizure of 23,000 euros (£21,000) in cash.
Drugs were being sent across Europe through couriers based in Malaga, and it is thought they were destined for countries including the UK, Sweden, Poland and Denmark.
The suspects allegedly took steps to avoid police, including frequently changing which vehicles they used and the homes they rented, officers said.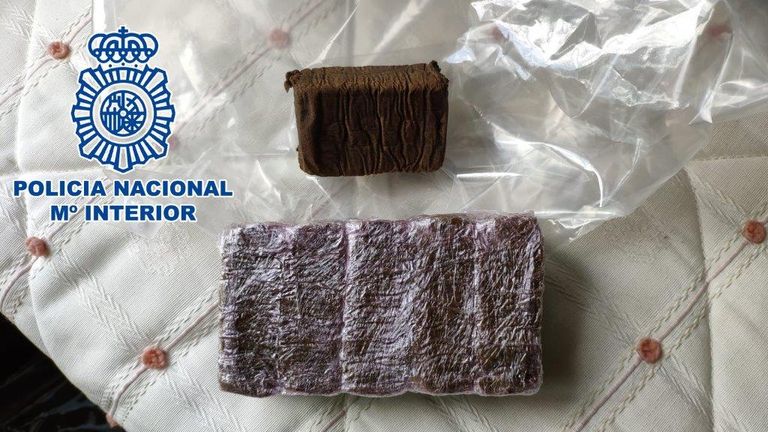 A long-running police operation saw two parcel shipments intercepted at courier agencies in May, containing 58kg of drugs in seven boxes intended for Sweden, Poland and Denmark.
In subsequent shipments, the last one intercepted earlier in August, three packages containing 17kg of the drugs were prevented from reaching Sweden and the UK, the force said.
Police then carried out home searches once the suspects were identified, with a further 28kg uncovered in the raids.
Major tennis tournament postponed due to Hong Kong unrest | World News
The Women's Tennis Association (WTA) has postponed an event in Hong Kong "in light of the present situation".
The semi-autonomous Chinese region has seen months of political unrest and violence, which started with opposition to a controversial extradition bill and has snowballed into a wider backlash against Chinese rule and calls for greater democracy.
Millions have taken part in the demonstrations since June as banks, shopping malls and even government buildings had to shut down in response to increasingly more violent clashes between protesters and police.
Hong Kong's busy airport has also been targeted by protesters, resulting in flight disruptions – and now the Hong Kong Open, due to be held between 5-13 October, has been pulled.
"The Open is the flagship event on our annual calendar and one of the most popular international sporting events in the city, attracting thousands of local fans and overseas travellers every year," the WTA said in a statement released Friday.
"We strive to maintain a high standard of the event for all participants, players and fans in particular. However, after extensive discussions with our key stakeholders, we conclude that a smooth running of the tournament can be better assured at a later time."
The WTA says the decision was made jointly with the Hong Kong Tennis Association.
The tournament is a prestigious event that has been previously won by Denmark's Caroline Wozniacki and Serbia's Jelena Jankovic, both former world number ones.
"We sincerely apologise for any inconvenience caused to our players, fans, partners and supporters," WTA said, adding that they are looking for an alternate week to hold the event.
A Davis Cup tie at the same venue, Victoria Park Tennis Stadium in Hong Kong, will still take place this weekend as planned.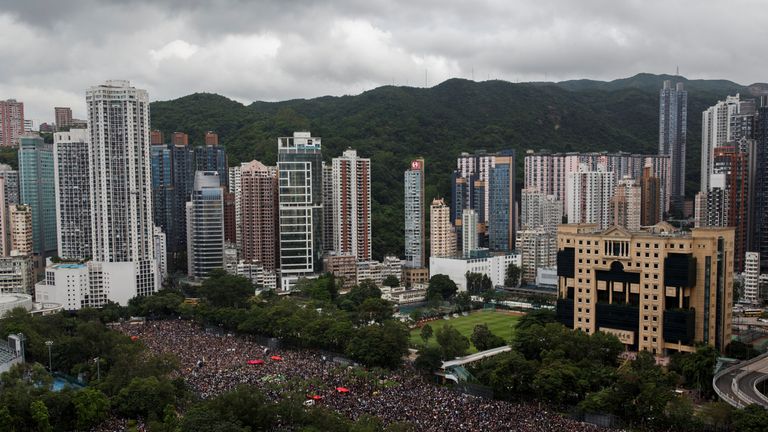 The postponement of Hong Kong Open comes just a day after London's iconic production of Matilda the Musical had to cancel its upcoming month-long run in Hong Kong because of the ongoing protesters.
Lunchbox Theatrical Productions, the Hong Kong presenter of the musical, said in a statement Thursday: "Sadly the 14 weeks of civil unrest in Hong Kong have decimated ticket sales, and more importantly we cannot guarantee the safety and well-being of our international company, which comprises a large number of young children."
Hong Kong, a vibrant business and tourism hub, has been plunged into its worst crisis since it reverted from British to Chinese rule in 1997, and there have been warnings its economy and reputation have taken a significant hit as a result of the ongoing protests.
Hand-holding skeletons dubbed Lovers of Modena 'were both men' | World News

Two ancient skeletons known as the Lovers of Modena, who were buried hand-in-hand, were both men, according to new research.
The pair, who are believed to have died between the 4th and 6th centuries, had previously been thought to be a male and a female.
But researchers from the University of Bologna in Italy used a new technique to determine their gender by analysing proteins in their tooth enamel.
"Upon discovery, mass media had immediately assumed they were a male-female couple, even if bad preservation of the bones did not allow an effective sex classification," according to the paper, which was published in the Nature research journal.
The way the pair were laid to rest "represents a voluntary expression of commitment between two individuals" and was not a common burial practice, it added.
They were discovered in 2009 in the Ciro Menotti necropolis in Modena alongside 11 other skeletons, some of which showed signs of injuries that were likely to have been sustained during war.
Researchers believe the two "lovers" could therefore have been "war comrades or friends who died together during a skirmish and thus, buried within the same grave".
They added the burial was a "unique representation of commitment between two men" during the period.
They could also have been family members, the researchers said.
And while it could not be ruled out that the pair were lovers, it was unlikely they would have been buried hand-in-hand because of attitudes to homosexuality at the time.
Two dead and widespread destruction as record storms hit Spain | World News
Flash flooding in southeast Spain has left at least two people dead and caused widespread destruction in what some authorities have called the heaviest rainfall on record.
The regional emergency service said a 51-year-old woman and her 61-year-old brother were found dead inside an overturned car that floodwaters washed away in Caudete, about 60 miles (100km) south of Valencia.
A spokesman for Valencia fire department said in a tweet that emergency crews also pulled three people from a river, including a 57-year-old man and his 33-year-old son.
The Spanish weather service AEMET has said the region is "at extreme risk" of further torrential downpours with the storm set to pass over Valencia, Alicante and Murcia over the next 24 hours.
One of the first places to be hit was Ontinyent, a town south of Valencia, where the River Clariano flooded the streets Wednesday night washing away cars and damaging buildings and bridges.
Mayor Jorge Rodríguez said the town had endured its heaviest rainfall on record, with more than 400mm by Thursday afternoon.
The town is expected to ask the national government to declare a catastrophe in the area, which would entitle local people to emergency aid and long-term financial help to rebuild.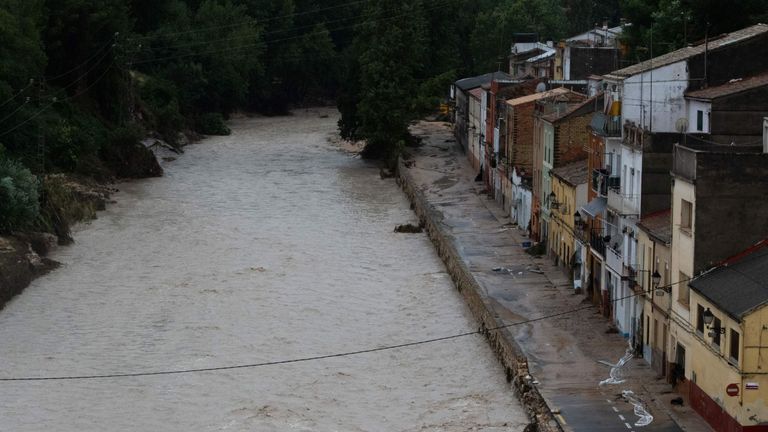 Across the region, emergency services received hundreds of calls for help leading to the Military Emergencies Unit being deployed.
In Murcia, where classes were cancelled for more than 300,000 pupils, residents were advised to take "maximum precaution".