Child among 22 migrants rescued from Channel by French authorities | World News

French authorities have rescued 22 migrants who got into trouble while trying to cross the Channel.
The group, which included a woman and a child, was found roughly two miles off the coast of Dunkirk at about 1.30am on Sunday.
Authorities were alerted to the migrants' plight by a ferry just after midnight and sent out search and rescue teams.
They were safely recovered and taken back to Dunkirk on board the RIAS Bee Languedoc.
Earlier this week, Boris Johnson warned migrants not to attempt the Channel crossing, saying: "We will send you back."
The prime minister said: "Clearly the most important thing is to stop them coming across from France so we are working very closely with the French authorities.
"The point I would just make to people thinking of making this journey – one, it is very hazardous, you may think the weather looks great but it's a very, very dangerous thing to do.
"The second thing is – we will send you back. The UK should not be regarded as a place where you could automatically come and break the law by seeking to arrive illegally."
His comments came after dozens of migrants were rescued off the British south coast on Thursday.
One witness told Sky News dozens of people were picked up and taken to Dover, in Kent.
The Home Office confirmed 37 migrants were rescued after four small boats were intercepted.
It said Home Secretary Priti Patel would be raising the issue with her French counterpart.
Mugabe's funeral will be tricky because there are so many narratives | World News
As the dictatorial president of Zimbabwe, Robert Mugabe occupied the national pulpit and wrote his own colourful story.
It is a well-tuned narrative about a man who liberates a nation from the grasp of white supremacists. It's a story of defiance as the hero stares down the west over the invasion of white-owned farms. It's a tale about a president who sacrifices everything for his people and promises to never retire.
But there are some serious issues with the story and they are causing all sorts of difficulties as the country prepares to bury its former president.
Ask any church minister about a funeral and they will tell you that there is plenty of selective storytelling involved – but the problem in Zimbabwe is that Mugabe's family members and government officials cannot agree on which story they are telling.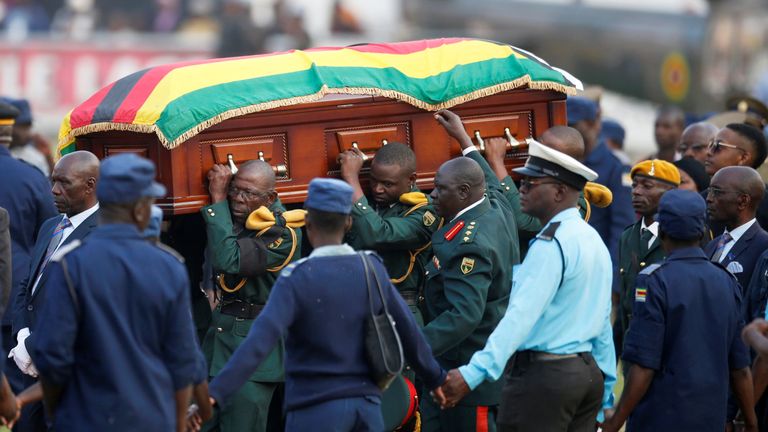 President Emmerson Mnangagwa has got a tale about how he served Mugabe as his loyal lieutenant for 40 years, working to develop a unified and patriotic nation respected by the rest of the world. It is also works as propaganda with the country now struggling with hyper-inflation, widespread electricity blackouts, and general economic chaos.
Mr Mnangagwa will roll out his message at a day-long commemorative event at Harare's National Sports Stadium on Saturday. But the family and friends of Mr Mugabe do not accept the thesis.
Instead they accuse Mr Mnangagwa of betrayal after he dislodged the former president in a coup in November 2017. It left him, "a very bitter man," says Leo Mugabe, the former strongman's nephew.
This is a different narrative, laced with accusations of ingratitude and greed – and it has led some members of the Mugabe family to demand a private burial to protect the memory of their loved one. "Imagine people you trusted, people that were guarding you, looking after you, (turning) against you," said Leo Mugabe.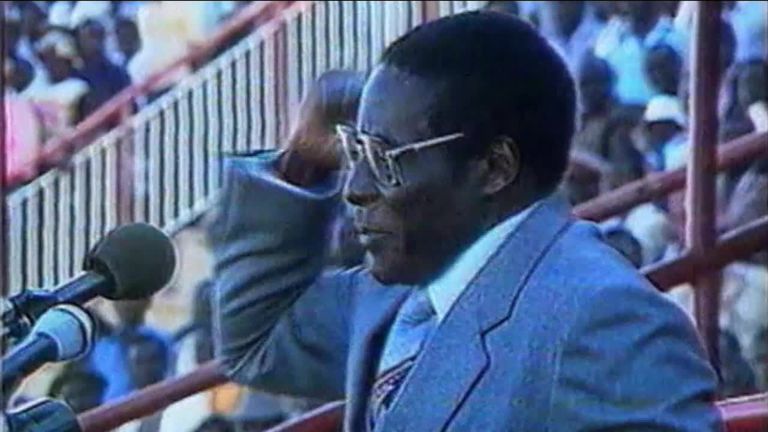 Relatives demanded that Mugabe be buried in his home village, Zvimba, but President Mnangagwa wants his former boss interred at the national cemetery, Hero's Acre. It seems Mr Mnangagwa may have won the argument when he tweeted "we're building a mausoleum for our founding father at… the Hero's Acre." You probably saw that one coming.
Members of the opposition MDC party, who have their own stories to tell of beatings and abductions at the hands of Robert Mugabe's thugs, were surprisingly charitable after the dictator's death. The leader of the MDC, Nelson Chamisa, said he was "rising above political differences and personal animosities", adding "this is the time for mourning not political point scoring."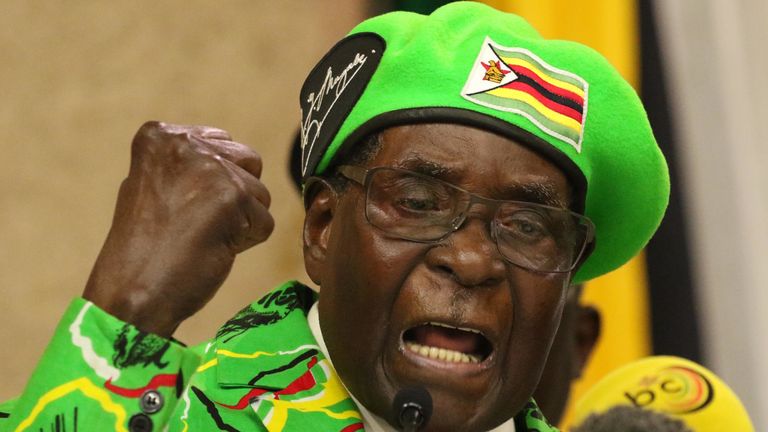 Everyone in Zimbabwe has got a story to tell about Mugabe and they usually defy the selective storytelling which features at commemoration services.
One woman, called Sheron, told me she has been waging her own internal argument about the former president.
"He was a good man even though there were many things that (went) wrong. Every country has tough times but we want to forgive him and try and concentrate on what is happening now."
Funerals can be tricky when the story is not clear and Zimbabweans will be disagreeing about Robert Mugabe's for years and years to come.
Moscow election: Was Russian with same name as jailed activist invented as spoiler candidate? | World News
Looking through the list of newly-elected deputies to the Moscow city council, I was surprised to see the name Alexander Solovyov on the list.
I knew an Alexander Solovyov who was an associate of exiled former oligarch and Putin critic Mikhail Khodorkovsky, and was, until recently, chairman of his Open Russia movement. As far as I knew, he was also in jail.
This was confirmed when I sent him a text: "Alexander is imprisoned until the evening of 24 September. Thanks."
The Solovyov I knew was one of the liberal opposition activists barred from running in Moscow City elections. He had been vocal in the protests which followed and, like scores of others, was then jailed for participating in mass rallies. He had hoped to run in Moscow's District Number 3.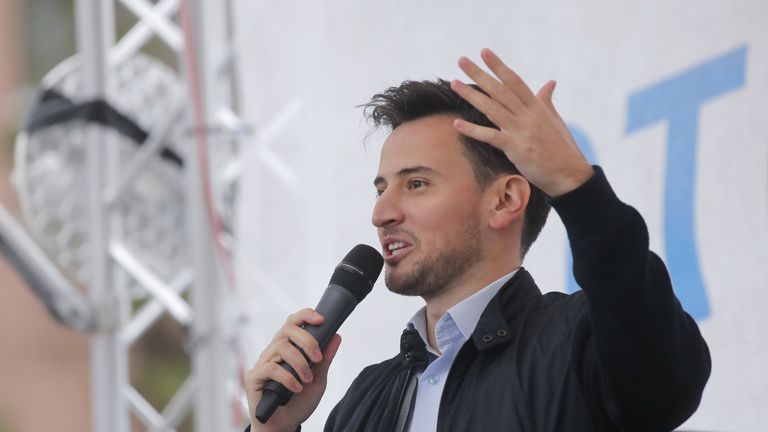 So who was the Alexander Solovyov who had won in District Number 3? Apart from a few hesitant campaign videos, he seemed to be a complete unknown. He also went to ground directly after his election win, prompting a media hunt to check whether he was even real.
Victor Yemelyaninkov, head of the electoral commission for his area, told us to stop calling: "Everyone here is calling me non-stop. I don't know where he is or where to find him."
Aleksey Obukhov, from the other Solovyov's press team, is convinced he was a spoiler.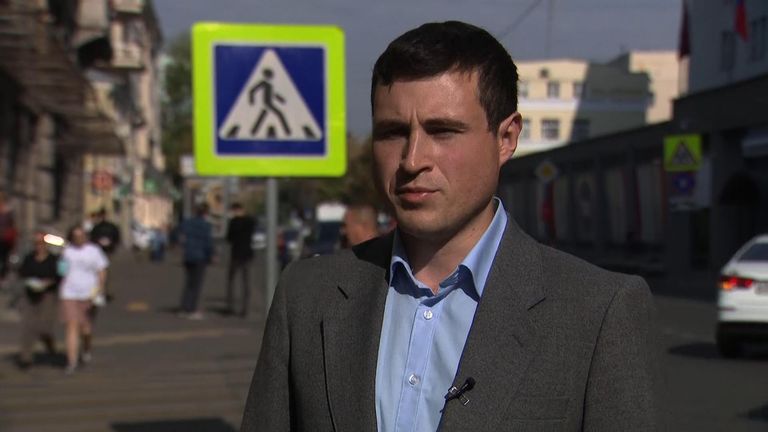 "He was invented just to take away the votes from the real Solovyov. We ran his campaign on the streets and the real Solovyov was widely recognised," he said.
"They were looking for someone with the same name and surname from that area, and the only person they found was this engineer."
Solovyov, the newly-elected deputy, re-surfaced on Thursday. He said he had needed a rest after the election and had been spending time with his family.
He dismissed notions he was a spoiler candidate, saying: "The other Solovyov started running later and he could have run in a different electoral district."
This Solovyov said he had decided to run in July, and had approached the 'A Just Russia' party because he liked their agenda and would not then need to gather the signatures to run as an independent.
Ironically, he may have snatched victory from the ruling party candidate because of the smart-vote system introduced by Alexey Navalny and his anti-corruption team, FBK. This involved voters registering to see who was most likely to beat the ruling party candidate in any given district and tick that name on the ballot.
In District number 3, both the jailed Solovyov and Alexey Navalny had called on voters to back Solovyov over the incumbent. It seemed to work. Solovyov won. And across Moscow, United Russia took a hit in the polls.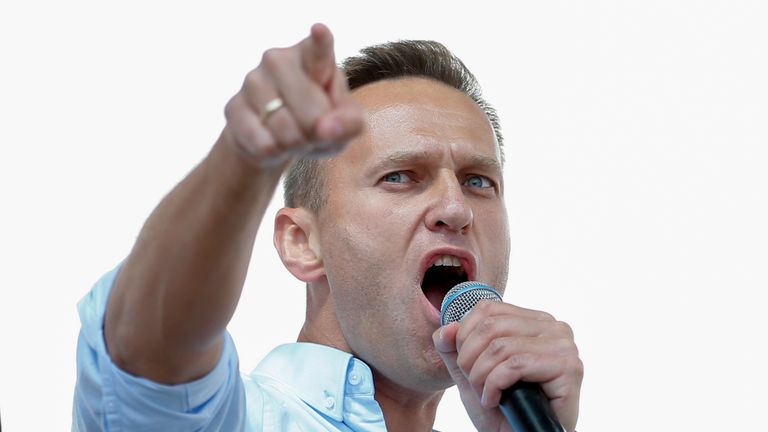 On Thursday, the state hit back. Masked security men swinging sledgehammers conducted raids at Navalny's campaign offices in more than 40 cities across Russia.
Navalny HQ put the unprecedented crackdown down to the success of the smart-vote scheme.
"Putin is very angry and is stamping his feet," Navalny said in a videotaped response.
"Do you remember ever seeing in our country an operation on this scale against terrorism, corruption or drug dealers as you're seeing now against us? That must mean we're cooler than a drug cartel!"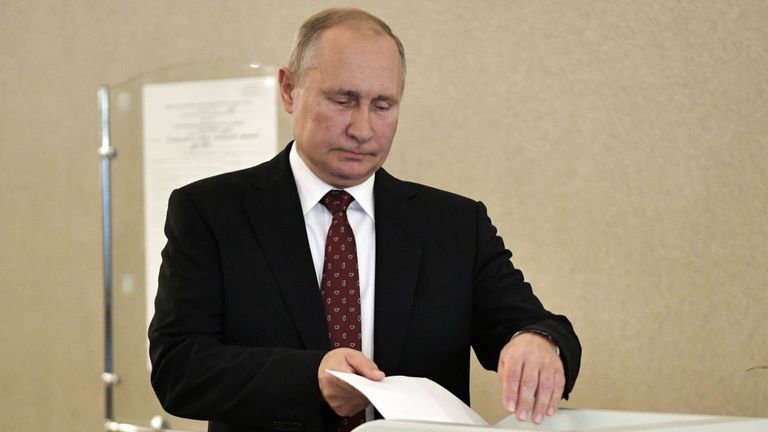 As of last month, Navalny's foundation is under investigation for alleged money laundering. Navalny is promising the investigation won't stop him but it appears as though the state is looking for a way to deal with the problem he and his associates represent once and for all.
The raids also send a message to the regions, heard loud and clear already in Moscow after a summer of detentions and draconian jail terms for an unlucky few, that opposition will not be tolerated.
If the crackdown around these elections belongs more to Soviet times, spoiler candidates are a feature of the post-Soviet age.
The Solovyovs weren't the only twins in the Moscow poll. There was also a pair of Alexandra Andreyevas. It is possible these are striking coincidences, but given the way the Russian state stage-manages the democratic process, it does not seem likely.
Whether or not he expected to win though, Solovyov the deputy says he'll give it the best he's got.
Robert Mugabe's burial site chosen after 'dispute between Zimbabwean government and family' | World News
Robert Mugabe will be laid to rest at the state burial site following reports of a bitter dispute between the Zimbabwean government and his family.
The former president's nephew, Leo Mugabe, said the decision over the final resting site had been made after relatives held discussions with influential traditional chiefs.
It will be a private family burial but a date has not yet been chosen.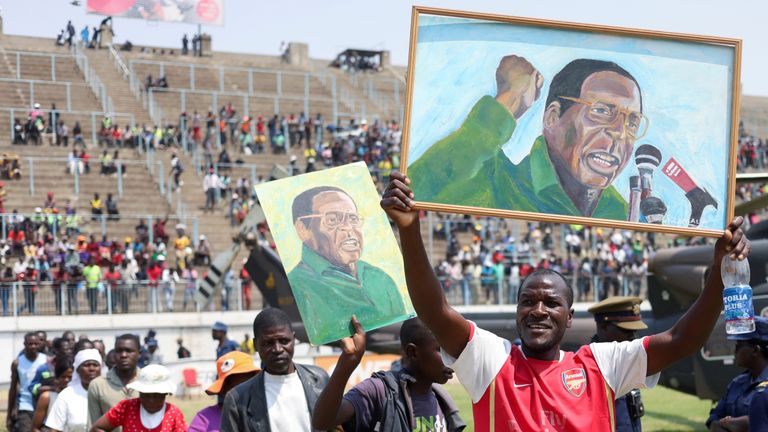 Mr Mugabe died aged 95 in Singapore last week.
The national Heroes' Acre monument in the capital Harare which has been chosen for the burial is reserved for top officials of Zimbabwe's ruling ZANU-PF party who helped to end white colonial rule.
A gravesite next to where Mr Mugabe's first wife, Sally, is buried has long been reserved for the former leader.
Mr Mugabe oversaw the construction of the monument, which sits at the top of a large hill and features a towering sculpture of guerrilla fighters designed by North Korean architects.
But some family members wanted the former leader to be buried in his birth village of Kutama, 55 miles (85 km) from Harare, in line with Zimbabwean tradition.
It was a tussle which highlighted friction between current president Emmerson Mnangagwa and Mr Mugabe's relatives.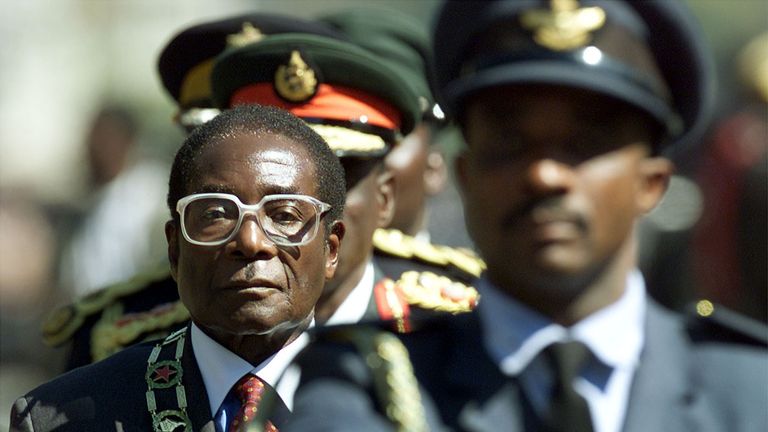 Mr Mnangagwa, who was a once-trusted deputy of Mr Mugabe but helped to oust him from power in 2017, met the family and said he would consult with the ex-president's widow, Grace, over the dispute.
He said on Thursday he would respect the family's wishes and they have "the full support of the government".
Mr Mugabe's body is currently on view at a stadium in Harare for supporters to pay their respects.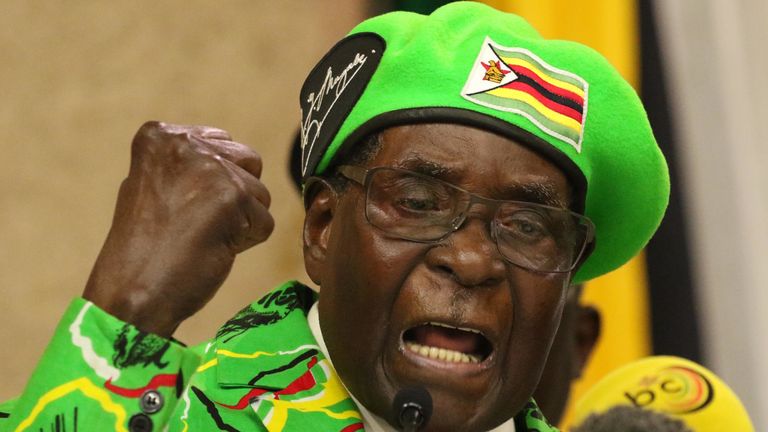 Several people were injured in a stampede while trying to view the body on Thursday.
There will be a state ceremony on Sunday which several African heads of state and other dignitaries are expected to attend.
The actual burial will occur several days later, said his nephew.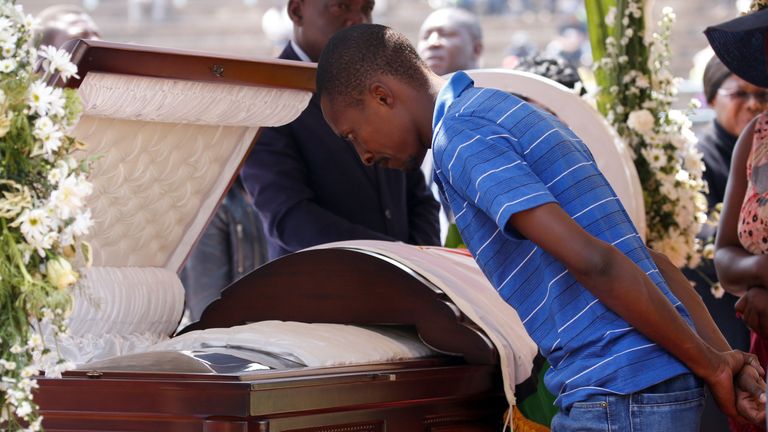 Mr Mugabe fought to end white minority rule and led Zimbabwe for 37 years, although there were mixed feelings on news of his death.
Despite earning respect for liberating his country, he was also accused of human rights abuses and being responsible for the deaths of thousands of his political opponents.