Australia to block websites hosting terror content during attacks | World News
Websites and social media companies that host terrorist material during attacks will be blocked, Australian officials have said.
The government plans to crack down on extremists exploiting digital platforms to post very violent content.
And it is considering bringing in legislation to force the platforms to improve safety.
Prime Minister Scott Morrison said: "We are doing everything we can to deny terrorists the opportunity to glorify their crimes."
The clampdown comes after suspected gunman Brenton Tarrant allegedly live-streamed on Facebook an attack on two mosques in March which claimed 51 lives in the New Zealand city of Christchurch.
This led to increased scrutiny of websites and social media companies.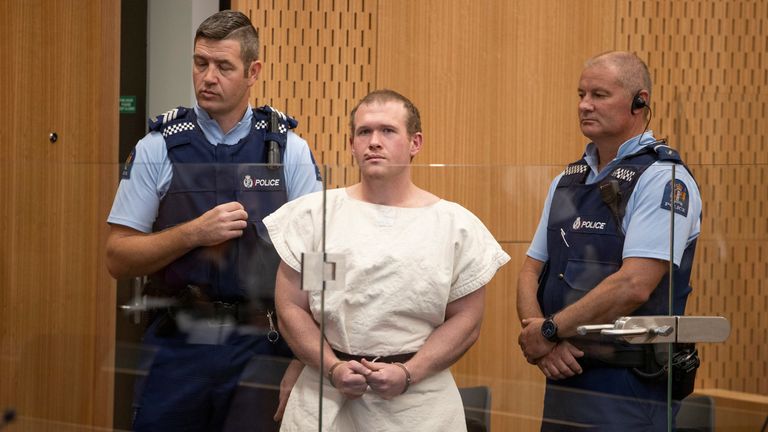 Internet domains hosting any abhorrent violent material – content showing murder, attempted murder, rape, torture, or kidnapping – recorded by those involved would also be blocked, the government said.
A crisis coordination centre would also be set up to monitor the online world for extreme violence or terrorist material.
Mr Morrison is outlining his plans at the G7 summit in the French town of Biarritz, where the leaders of Canada, France, Germany, Italy, Japan, the UK and US gathered.
He is trying to push countries to take more action against terrorist and violent extremist material during a series of meetings on the sidelines of the summit.
The Australian government has not elaborated on what legislative options would be used if digital platforms failed to improve safety.
Tech giants including Facebook, YouTube, Amazon, Microsoft and Twitter, and telecoms firms Telstra, Vodafone, TPG and Optus are set to tell the government next month how they plan to carry out the recommendations.
Acres of empty seats as Zimbabwe says goodbye to Robert Mugabe | World News
As Zimbabwean president, Robert Mugabe knew how to fill Harare's cavernous National Sports Stadium.
But we soon realised that public interest in his commemoration service was decidedly modest.
Members of the ruling party, ZANU-PF, were bussed in from the countryside but there wasn't much enthusiasm on display.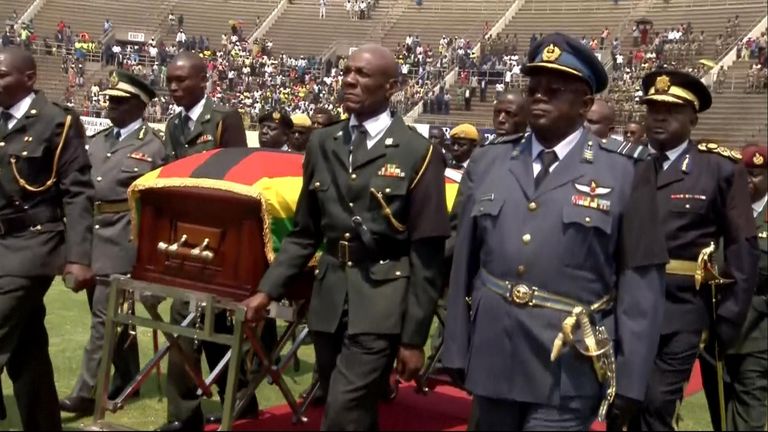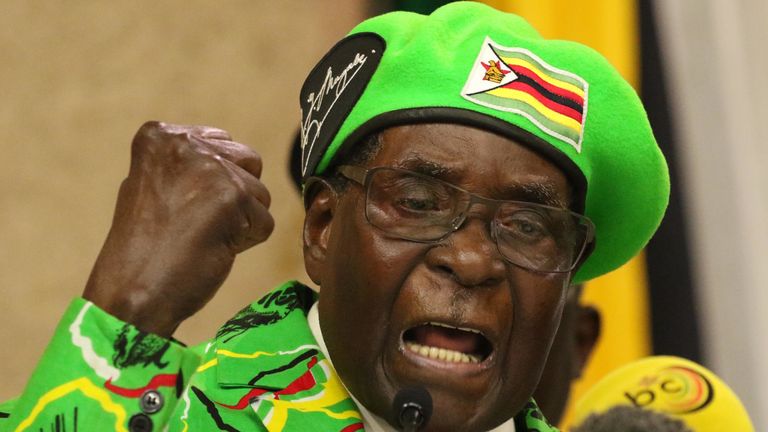 It was intended as an opportunity for Zimbabweans to say goodbye to the man who ran their country for 37 years and we watched as a dance troupe tried to lift proceedings in a stadium featuring acres of empty seats.
For the government, it was an opportunity to bury the past after the current president, Emmerson Mnangagwa, deposed Mugabe in a coup in 2017.
But some of Mugabe's supporters had not forgotten. One group tried to disrupt the proceedings with a boisterous display of singing and dancing.
Regardless, Mugabe's body arrived as part of the funeral parade with the coffin carried by a group of 3-star generals.
The invited dignitaries – a sort of who's who of African presidents and former presidents – praised Mugabe as liberator, a unifier, as an African hero. "He was unwavering in his insistence that Africa's problems demanded African solutions," said Kenyan President Uhuru Kenyetta.
The guest speakers were on message but the story is contested of course. For example, Mugabe's second wife, Grace, is still thought to be angry about his removal from power.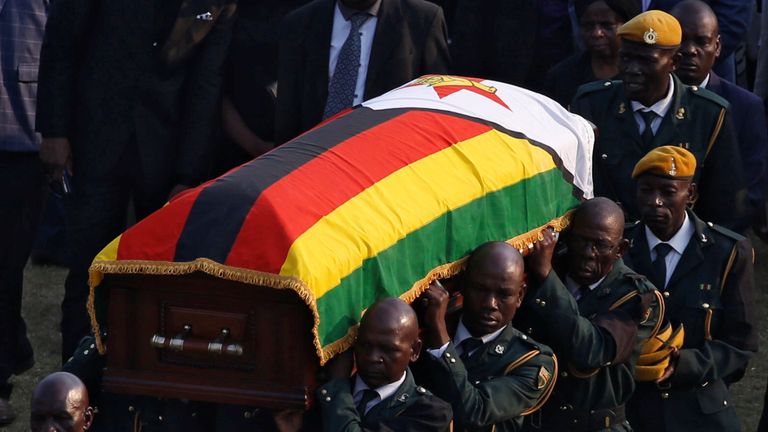 But President Mnangagwa told us to stick with the official version of events, warning of "a retrogressive narrative falsely framing the late Comrade Mugabe, giving him many false names, routinely and systematically vilifying him".
Other activities closely associated with Mugabe's reign – like rigged elections and the intimidation of political opponents – did not get a mention during his commemoration and a grand 21-gun salute was offered before the coffin left the stadium.
Outside the complex, we did speak to some Zimbabweans who felt the need to say goodbye.
"That you lord, thank you lord for the great days you have given us living with that great guy," said one man.
"But he did some terrible things," I replied.
"For every living person can do something bad."
Where and when Robert Mugabe will be buried is still subject to debate – something the family and Mnangagwa's administration are still working on.
We can be certain that debate and controversy will continue to haunt his legacy.
British-Australian woman held in Iran named as Kylie Moore-Gilbert | World News
A British-Australian woman being held in an Iranian jail has been named as a Melbourne academic who published books on the 2011 Arab uprisings and authoritarian governments.
Kylie Moore-Gilbert, the third person revealed this week to be detained in Iran, has been held in Tehran's notorious Evin prison for nearly a year after reportedly being given a 10-year sentence.
The Cambridge-educated academic, who specialises in Middle Eastern politics, lectures in Islamic Studies at Melbourne University.
It has not been publicly revealed what she is charged with but 10-year sentences are often handed out for spying.
Earlier this week, the Australian government said two other people – named as British-Australian Jolie King and her boyfriend Mark Firkin – were also being held in Iran.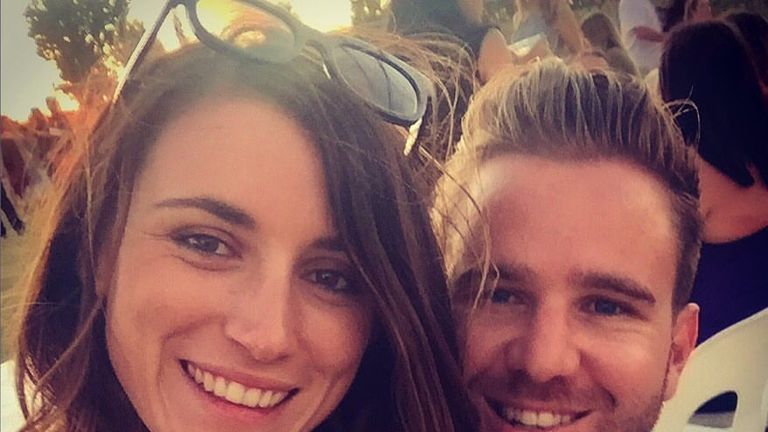 The couple were blogging their travels across 36 countries when they were arrested for allegedly flying a drone without a licence in an unrelated incident.
They have been in prison for 10 weeks.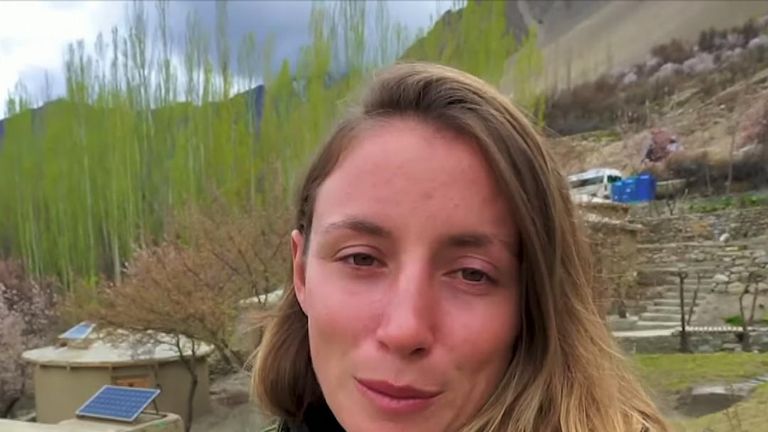 The family of Dr Moore-Gilbert released a statement saying they were in "close contact" with the Australian government, adding: "We believe that the best chance of securing Kylie's safe return is through diplomatic channels."
The Australian government has said it is lobbying Tehran to ensure the wellbeing of the three detainees.
Foreign minister Marise Payne said the cases were a "matter of deep concern" and insisted she had spoken about them a number of times to her Iranian counterpart Javad Zarif.
She did not believe the arrests were politically motivated, despite reports the trio were being held as part of a plan to facilitate a prisoner swap with Australia.
"We have no reason to think that these arrests are connected to international concern over Iran's nuclear programme, United Nations sanction enforcement or maritime security concerning the safety of civilian shipping," Senator Payne said.
News of the three detainees comes as relations have soured between Britain and Iran.
The recent friction was sparked when British forces helped to seize an Iranian oil tanker near Gibraltar which they believed was carrying oil to President Bashar al-Assad's regime in Syria.
In response, Iran seized the British-flagged tanker Stena Impero in the Strait of Hormuz.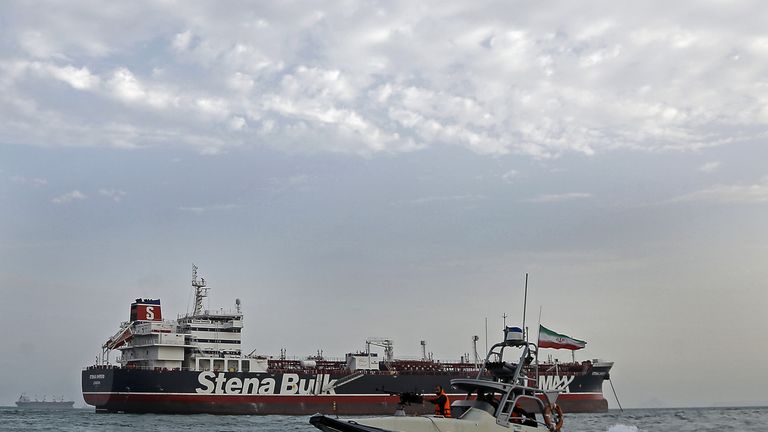 Although the Iranian tanker has since been released, the Stena Impero is still being held by Iran.
The UK is still seeking the release of British-Iranian mother Nazanin Zaghari-Ratcliffe, who has been held on spying charges in Evin prison since 2016.
Vast swathes of Mugabe's funeral stadium empty as coffin on display | World News
African leaders are paying their respects to Zimbabwe's founder Robert Mugabe at his funeral, while many ordinary people are opting to stay away.
The controversial leader, who ruled the country for 37 years before he was ousted by his own army in 2017, died in Singapore aged 95 last week.
A state funeral is being held for the former president in the country's national stadium. Many of the seats remained empty as his flag-draped coffin was carried through.
Speaking from the stadium, Sky's Africa correspondent Jonathan Sparks said: "The atmosphere has picked up a little bit… [but] vast swathes of [the stadium] remain empty, something of an embarrassment for the government of Emmerson Mnangagwa."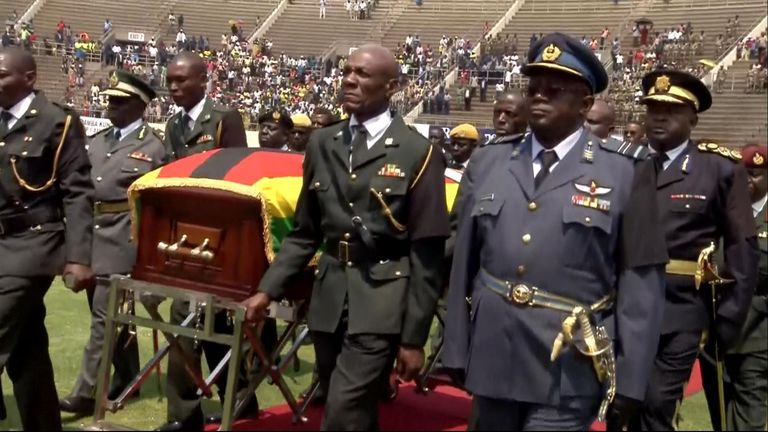 As leaders and politicians arrived, a choir began to sing to commemorate the polarising figure.
The state funeral comes amid a row over his burial.
Mugabe's nephew has contradicted earlier reports that the former leader would be buried on Sunday.
Instead he will be buried in a mausoleum at the National Heroes Acre shrine in Harare in about 30 days, Leo Mugabe said.
The disagreement has threatened to undermine current President Mnangagwa, who conspired to overthrow Mugabe.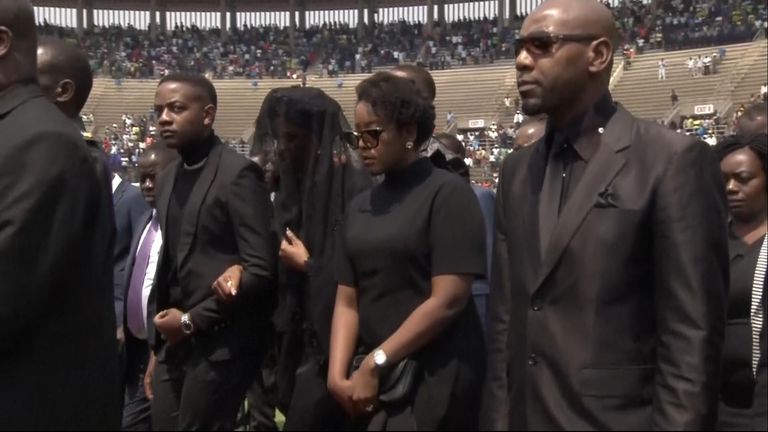 Mr Mnangagwa argued that building a mausoleum would be too much of a delay but agreed that the burial should take place at the national monument.
His view was at odds with some family members, who wanted the former leader to be buried in his birth village of Kutama, 55 miles (85 km) from Harare, in line with Zimbabwean tradition.
On the morning of the funeral, Mr Mnangagwa tweeted: "Today, let us put aside our differences and come together as we remember the past and look to the future as one proud, independent and free nation."
Despite the empty seats on Saturday, several people were injured in a stampede trying to view Mr Mugabe's body when it was on display earlier this week.
Writing ahead of the funeral, Sparks reflected on the number of differing narratives.
He wrote: "As the dictatorial president of Zimbabwe, Robert Mugabe, occupied the national pulpit and wrote his own colourful story.
"It is a well-tuned narrative about a man who liberates a nation from the grasp of white supremacists. It's a story of defiance as the hero stares down the west over the invasion of white-owned farms. It's a tale about a president who sacrifices everything for his people and promises to never retire.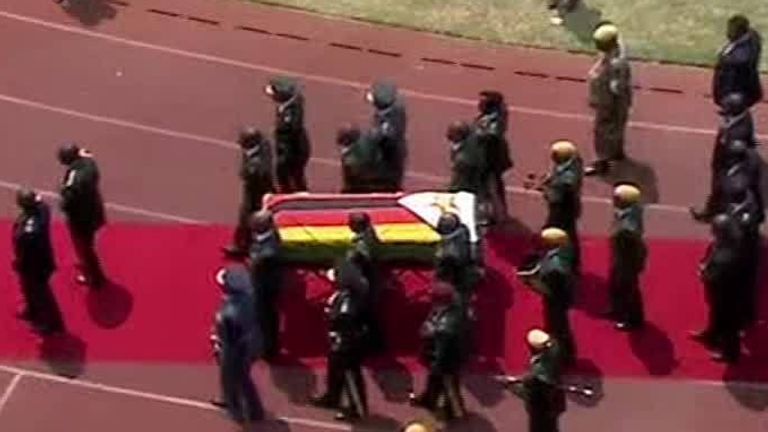 "But there are some serious issues with the story and they are causing all sorts of difficulties as the country prepares to bury its former president."
He added: "Everyone in Zimbabwe has got a story to tell about Mugabe and they usually defy the selective storytelling which features at commemoration services."