Boy bitten on the head by mountain lion outside his home | US News
A boy has been bitten on the head by a mountain lion in Colorado – the third such attack in the state this year.
The eight-year-old had been playing on a trampoline with his brother outside their home in the town of Bailey, 35 miles southwest of Denver, on Wednesday evening.
A friend had called his name from a house nearby – and when the boy ran over the mountain lion pounced, Colorado Parks and Wildlife (CPW) investigators said.
When the boy's father came outside, the mountain lion was on top of the child, but it ran away when it saw the man approaching.
Rebecca Ferrell, a spokeswoman for CPW, said the man had been "quite heroic" and had done "everything we would ask somebody to do".
She added: "His efforts almost certainly saved his son's life."
The mountain lion had probably thought the playing children were prey, she said, with the attack instinct triggered by the boy running to his friend's home.
The boy is in a stable condition in hospital.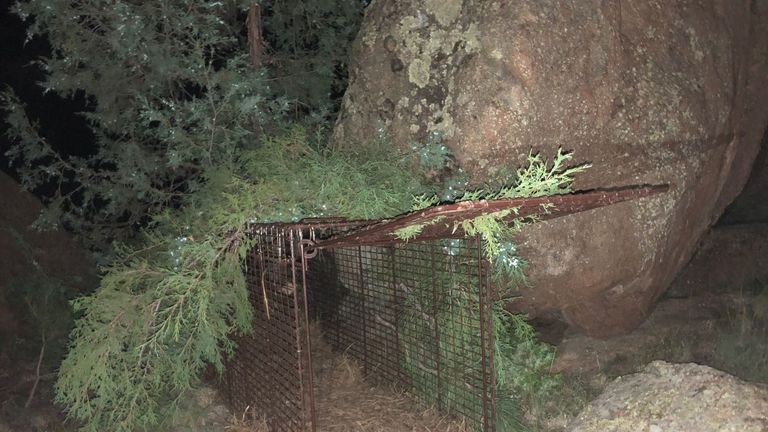 The mountain lion is thought to have been one of two trapped and euthanised after the attack.
Both cats matched the description given by the boy's father, wildlife officials said.
CPW said the lions would be sent to a lab in Wyoming for DNA analysis, adding: "That is how we would be able to confirm with absolute certainty that we got the mountain lion from the attack."
The attack comes a week after a man in Big Horn Park, northwest of Denver fought off a mountain lion with a pocket knife.
In February, a mountain lion attacked a runner near the city of Fort Collins, but the victim managed to escape.
There have been 22 mountain lion attacks on people in Colorado since 1990, three of them fatal.
Ms Ferrell said it was rare for mountain lions to attack people, although it was becoming more common as Colorado's cities and towns continued to expand.
She said: "When you think about it in that context – that we have more and more people coming in and more and more people moving to those exurban areas where wildlife is quite abundant – the opportunity for human-wildlife interactions will just increase by sheer numbers alone."
Coronavirus: 'We're here to work and to fight' – final words of Italian doctor who died on the front line | World News
At least 66 medical workers have died in Italy as the country battles to slow the spread of coronavirus. 
Italian health staff are on the front line of the fight in the country with the most recorded COVID-19 deaths in the world.
Since the outbreak began earlier this year more than 11,500 Italians have lost their lives.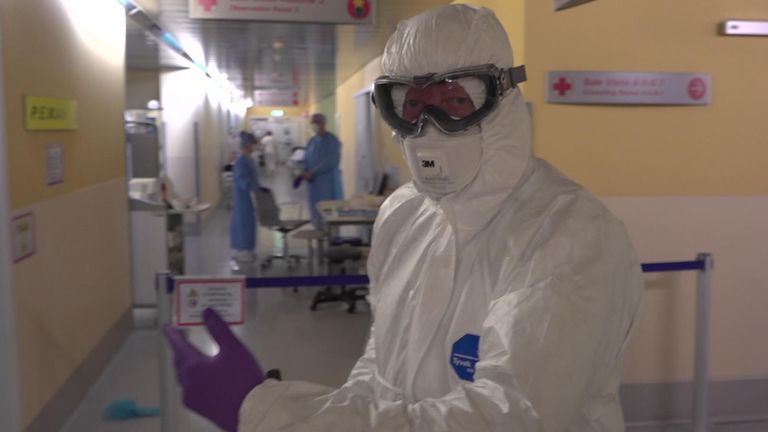 Hospitals have been overwhelmed.
A national doctors' association, Federazione Nazionale degli Ordini dei Medici Chirurghi e degli Odontoiatri (FNOMCeO), has been recording the number of health workers to die while trying to save the lives of coronavirus patients.
Their data suggests at least 66 medical staff have lost their lives in the process of getting treatment to patients across Italy.
The first to die was Roberto Stella, aged 67, on 11 March.
A colleague and friend has said his last words were: "We're here to work and to fight."
Speaking before he fell ill, he told another: "We have run out of masks. But we don't stop. Let's be careful and go on."
Hailed as a hero, he left behind a family including a 24-year-old son who is currently studying to be doctor. In his tribute, he told the Italian press he had dreamt of making his father proud when he eventually graduated.
Saverio Chiaravalle, vice-president of the Varese doctor's order, told Italian newspaper Corriere della Sera: "He died a hero, like other colleagues who have died in recent days."
Dr Stella was from near Bergamo, one of the hardest hit regions of the country.
When Sky News went to the main hospital in Bergamo, one doctor us: "I have never felt so stressed in my life, I'm an intensivist, and I am quite used to intense moments… But when you are at this point you realise that you are not enough."
:: Listen to the Sophy Ridge on Sunday podcast on Apple Podcasts, Google Podcasts, Spotify, Spreaker
The efforts of the health workers prompted the Italian minister of foreign affairs to say: "It should make us understand that this is not a game and that there are people who are dying, and women and men who are risking their lives to save others."
The latest data released by Italy's Higher Institute of Health (ISS) states at least 6,414 health workers have been infected, with an average age of 49.
There have been concerns raised about staff not having access to enough protective clothing.
Marcello Natal, 57, was working in a hospital in the town of Codogno and died on 18 March after testing positive for coronavirus.
Before his death, he gave an interview to EuroNews where he raised that he and his colleagues did not have basic equipment like gloves. "They are finished," he said simply.
"We certainly weren't prepared to face such a situation. Especially those of our generation, that of the post-antibiotic era, who grew up thinking that a pill against disease was enough," he told the broadcaster.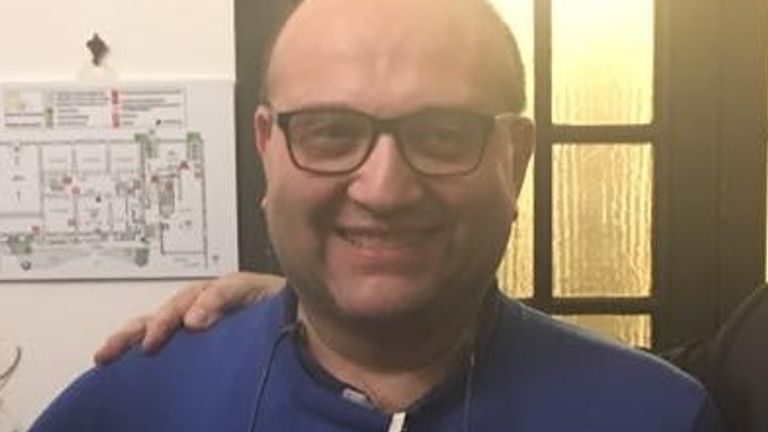 The youngest known health practitioner to die is Ivano Garzena, 48, a dentist from Turin. He passed away on 17 March.
He had a passion for model aircraft and used to drop candy for children when flying his hobby planes on a Sunday over the park near Turin, according to Italian publication La Stampa. In a tribute, his friends told Mr Garzena to "now fly like your planes".
Coronavirus: Deaths will pass 50,000 in 'the next few days', WHO says | World News
The number of deaths due to coronavirus will pass 50,000 within the "next few days", according to the World Health Organization.
The organisation's director-general Dr Tedros Adhanom Ghebreyesus told reporters on Wednesday evening that the growing number of COVID-19 deaths was "deeply concerning".
He said: "As we enter the fourth month since the start of the pandemic, I'm deeply concerned about the rapid escalation and global spread of infection.
"Over the past five weeks we have witnessed a near exponential growth in the number of new cases reaching almost every country, territory, and area.
"The number of cases has more than doubled in the past week. In the next few days, we will reach one million confirmed cases and 50,000 deaths."
His words came as the number of confirmed cases worldwide sat at around 911,000 and the number of deaths more than 45,000.
While China, where the virus originated, initially had by far the most cases, it has now been overtaken by the US (203,000), Italy (110,000) and Spain (102,000). Germany, France, Iran and the UK are closing in behind.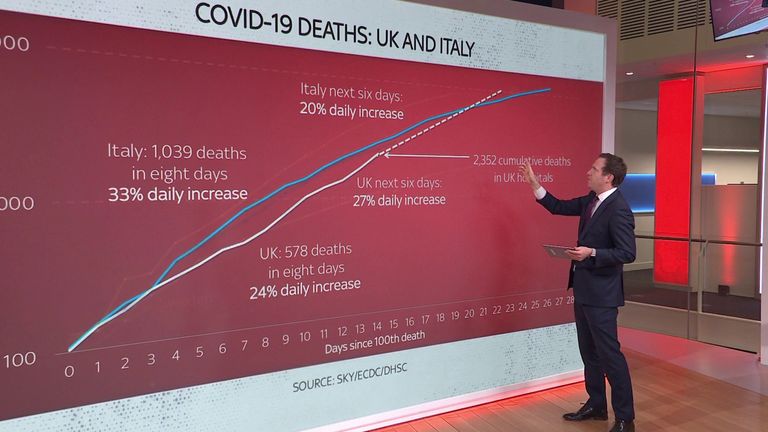 On Wednesday the Department of Health said 29,474 people had tested positive for coronavirus in the UK, 4,324 more than the 24 hours before.
563 people were confirmed to have died after testing positive for the disease – bringing the total number of deaths to 2,352.
:: Listen to the Daily podcast on Apple Podcasts, Google Podcasts, Spotify, Spreaker
Dr Tedros called for more help to be directed at developing countries, including those in Africa and Central and South America, where he said COVID-19 "could have serious social, economic, and political consequences".
He said it was "critical" that those countries were well equipped to detect, test and isolate cases, as well as identifying contacts of those confirmed to have been infected.
"Many countries are asking people to stay at home and are shutting down population movement, which can help limiting transmission of the virus but can have unintended consequences on poor and vulnerable people," he added.
But he did offer some hope, saying that the organisation – thanks to worldwide co-operation – was learning more about the disease every day.
He said: "Three months ago we knew almost nothing about this virus but collectively we have learned an enormous amount and every day we learn more."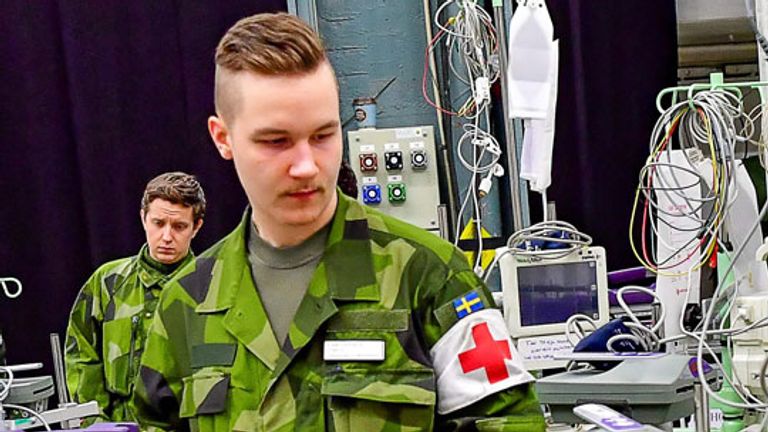 He said there had been an "extraordinary response" to the WHO's call for countries to join trials aimed at finding cures and vaccines against the disease.
Some 74 countries have joined the trials so far – or are in the process of joining – with more than 200 patients so far being assigned to one of the "study arms".
Dr Tedros added: "Each patient who joins the trial gets us one step closer to knowing which drugs work."
Coronavirus: FBI investigating after pornography used to 'Zoombomb' video conferences | Politics News
The FBI has issued a warning about so-called "Zoombombing" following incidents in which video conferences were hijacked by trolls playing pornographic videos and shouting profanities.
Use of the Zoom app in particular has surged during the coronavirus lockdown, which comes as more than 37,000 cases of COVID-19 have been confirmed in New York state – the worst affected state in the country.
Suspected and confirmed coronavirus cases in America now number above 136,000 on a national basis.
Donald Trump said coronavirus deaths in the US are expected to peak in two weeks – as his top scientific adviser warned the outbreak could kill up to 200,000 Americans.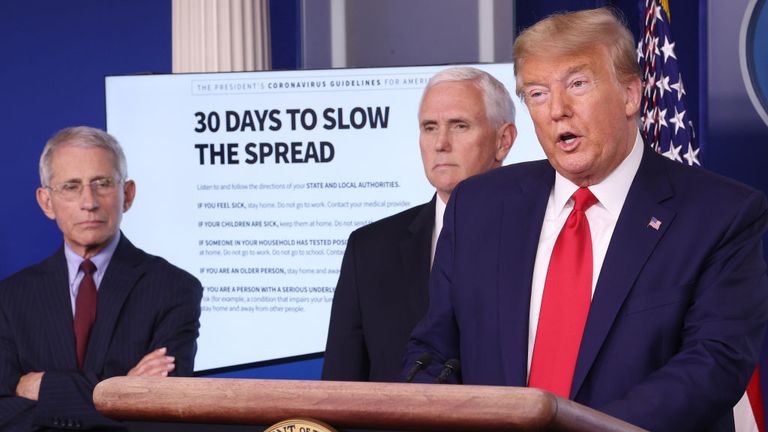 As citizens following social distancing guidelines are increasingly using remote-working tools to speak to colleagues, New York's attorney general Letitia James is to investigate the Zoom app over its privacy and security practices.
It comes amid a growing number of incidents in which trolls have used Zoom's screen-sharing feature to hijack meetings which didn't have appropriate security standards to prevent unknown users from joining the call.
Among the incidents shared with Sky News was an Alcoholics Anonymous meeting in which an elderly woman in recovery was interrupted from sharing her experiences by trolls playing graphic pornography.
Ms James sent a letter to the company on Monday articulating her concerns about Zoom being slow to address software flaws which "could enable malicious third parties to, among other things, gain surreptitious access to consumer webcams".
In its warning to the public, the FBI described two incidents in which school classes which were being taught remotely were interrupted by trolls – one shouting profanities and revealing the teacher's home address – while another showed an individual with swastika tattoos.
The FBI has issued the following guidance to prevent Zoom meetings from being hijacked:
Do not make meetings or classrooms public. In Zoom, there are two options to make a meeting private: require a meeting password or use the waiting room feature and control the admittance of guests
Do not share a link to a teleconference or classroom on an unrestricted publicly available social media post. Provide the link directly to specific people
Manage screensharing options. In Zoom, change screensharing to "Host Only"
Ensure users are using the updated version of remote access/meeting applications. In January 2020, Zoom updated their software. In their security update, the teleconference software provider added passwords by default for meetings and disabled the ability to randomly scan for meetings to join.
In the UK, non-classified cabinet meetings have been taking place remotely using the Zoom software.
This has prompted concerns as the Ministry of Defence (MoD) has ordered all workers in the department to immediately stop using Zoom while "security implications" were investigated.
An email sent to staff also told them to be "cautious about cyber resilience" in "these exceptional times".
A source said after the revelation: "It is astounding that thousands of MoD staff have been banned from using Zoom only to find a sensitive government meeting like that of the prime minister's cabinet is being conducted over it."
A government spokesperson said: "The MoD uses Zoom to conduct cross-government meetings for official level business. There are no plans to review this.
"In the current unprecedented circumstances the need for effective channels of communication is vital.
"National Cyber Security Centre guidance shows there is no security reason for Zoom not to be used for meetings of this kind."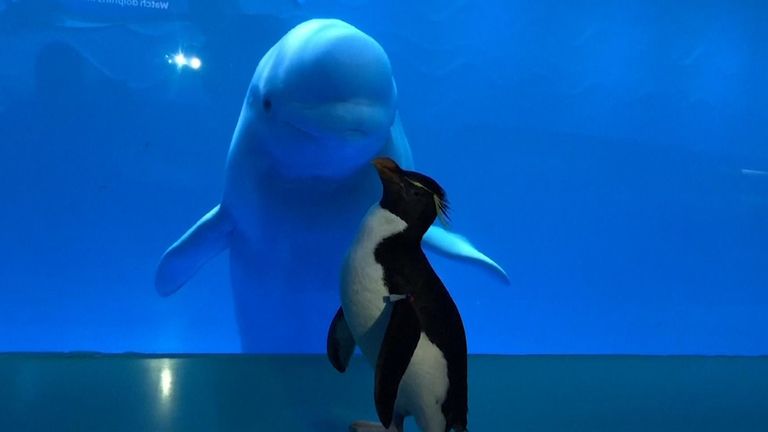 Zoom said it takes users' security "extremely seriously" and that 2,000 institutions – from leading telecoms providers to government agencies and universities – have done exhaustive security reviews of the service.
A spokesperson added: "Zoom are in close communication with the UK Ministry of Defence and National Cyber Security Centre and are focused on providing the documentation they need."