Protesters gather in Hong Kong for anti-government rally | World News

Tens of thousands of protesters have gathered in Hong Kong's Victoria Park ahead of a major anti-government rally.
The demonstration is being led by the Civil Human Rights Front, which organised marches in June that attracted a million people.
Hundreds of thousands of people are expected to attend on Sunday, and medical tents have been set up amid concerns about potential violence.
Many of those gathering are carrying umbrellas, which have become a symbol of the protests.
Organiser Bonnie Leung said the police would be to blame if chaos ensued.
She added that it was a "day of peace" and that "we hope we can show the world that Hong Kong people can be totally peaceful".
There was a brief stand-off on Saturday night between police and protesters outside a police station in the Mong Kok district. No tear gas was used but officers said they fired one baton round.
Initially, the demonstrations were over a now-suspended bill that would allow criminal suspects in Hong Kong to be extradited to mainland China.
But broader concerns about the erosion of freedoms under the "one country, two systems" formula – enacted after Britain handed Hong Kong back to China in 1997 – are now part of a series of concerns.
The protesters want democratic reforms and the city's Beijing-backed leader, Carrie Lam, to resign.
More follows…
Coronavirus: Putin seeks political point-scoring in COVID-19 world crisis | World News
Why doesn't Vladimir Putin stop sending medical aid abroad and start worrying about his own health workers?
Hardly a week goes by without another Russian dispatch of medical supplies to a country in need.
Serbia is the latest recipient. On Saturday they welcomed eleven military cargo planes loaded with supplies and medical staff.
Last month, it was Italy. China and Iran before that. "From Russia with love" is now the slogan for the Kremlin's apparent munificence.
Beyond promising Russians a week's paid leave, and then extending it to the whole of April, Vladimir Putin has shown little sign of rising to the challenge COVID-19 poses his country.
He seems more interested in political point-scoring than he does the public health implications of the virus's spread through almost every Russian region, with community transmission in half of those.
He has delegated responsibility to regional governors, granting them more autonomy in their decision-making on how to fight COVID-19. That leaves him to focus on what is more within his comfort zone, Russia on the world stage.
Imagine the delight then inside the Kremlin as ventilators made by a subsidiary of Russian state defence giant Rostec were unloaded onto the tarmac at New York's JFK airport this week.
They were part of a 60 ton delivery of medical supplies – masks and ventilators – to the United States.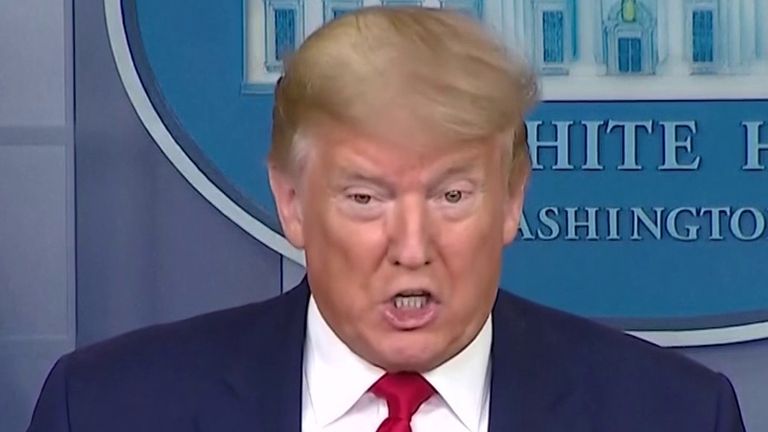 Rostec is on the US sanctions list. Any US purchase of Rostec's products is a breach of Washington's own sanctions.
There must be a delicious irony for President Putin that sanctioned Russian products can serve as a temporary salve to a US in crisis. A tweet from the Russian Embassy in the US sums it up perhaps best. "Goodnight America" it says over a photo of a city subsumed by water. Kremlin trolling par excellence.
"The Russians had excess supplies," the US president said. "This was a very nice gesture." Was he worried about Russian propaganda? "No, not even a little bit."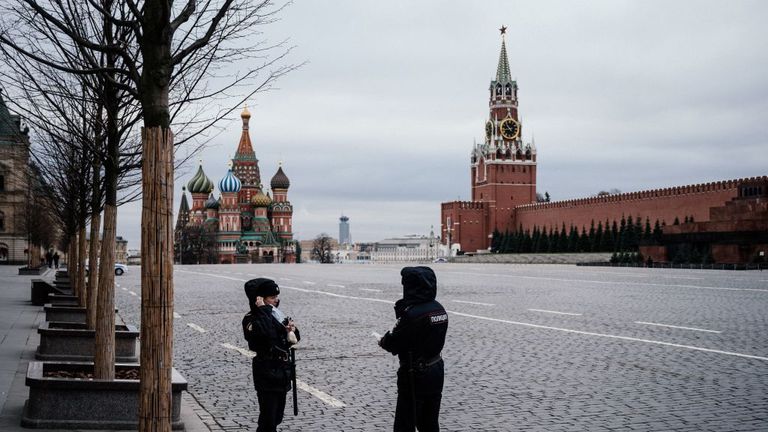 Speak to Russian healthcare workers though and they'll tell you there is no excess of medical supplies.
Anastasia Vasilyeva from the Alliance of Doctors union has consistently and publicly called the Kremlin out for allegedly downplaying the number of cases in Russia. On Thursday, she was arrested as she tried to deliver masks and PPE to hospitals in the Novgorod region.
"The medicine in the country is terrible. We don't have hospitals, we don't have the staff, we don't have a medical industry," she told Sky News two weeks ago.
"Of course it's not good for the government to say we have coronavirus and these are the real numbers of deaths. It will just prove the fact that they, the government, President Putin, caused all this to happen.
"We'll have a death toll a few times higher than in developed countries because medicine here is so bad."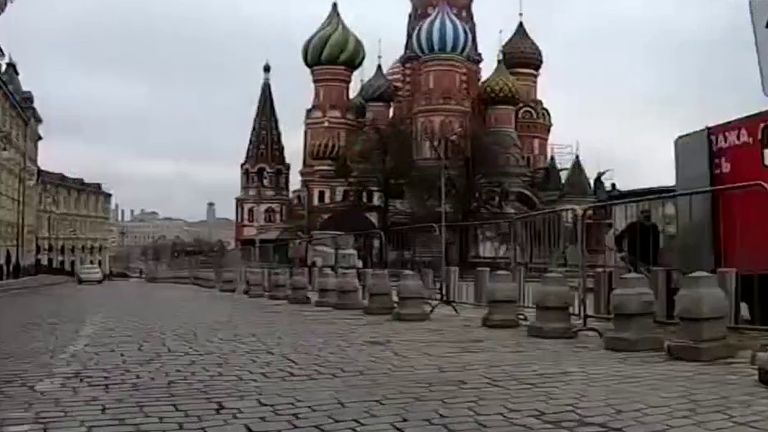 In the city of Syktyvkar in Russia's Komi Republic, 53 people, patients and medical staff, caught the virus inside one hospital. The patient zero was reportedly one of the doctors. Two have died, one of them a nurse.
Vasily Shtabnitsky, a Moscow based pulmonologist, says infection control is a huge problem.
"I do think that Russian doctors have expertise in managing severe pneumonia or Acute Respiratory Distress Syndrome (ARDS). I think the main challenge is infection control and lack of nurses and other staff.
"There are not enough nurses in ICU and in general care, usually we need a nurse to patient ratio of one to one and I do not know many hospitals with that.
"Many doctors and nurses are in their 50s or 60s, which means they are extremely vulnerable to COVID-19," Dr Shtabnitsky added.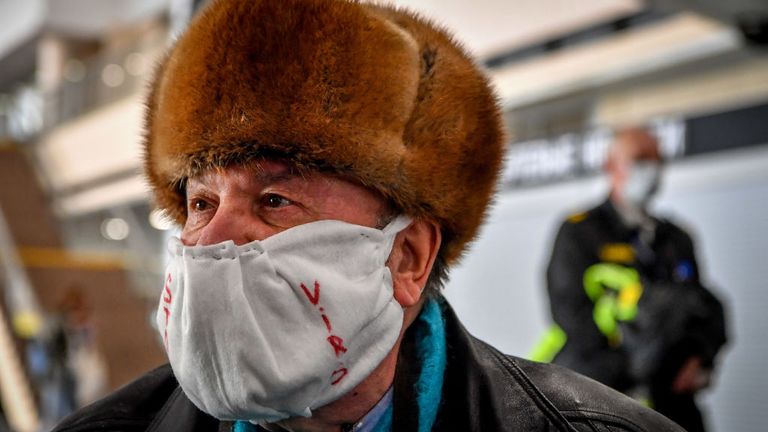 On Friday a group of medical staff at one of St Petersburg's top hospitals posted an online video message begging for more PPE so that they can treat patients with COVID-19.
As President Putin mulls his next international aid delivery, he would do well to listen to the growing alarm of his own healthcare workers and make sure they are catered for first.
Coronavirus: Light lamps to dispel the 'darkness', Indian PM tells citizens | World News
Indian Prime Minister Narendra Modi has urged citizens to switch off the lights in their homes and light candles and oil lamps instead on Sunday night to dispel the "darkness" of the coronavirus epidemic and look forward with hope.
In a video message, he thanked the country's 1.3 billion people for contributing to the success of a nationwide coronavirus lockdown.
He said: "On the 5th of April at 9pm, turn off all the lights in your homes, stand at your doors or in your balconies, and light candles or diyas (oil lamps), torches or use your mobile flashlights for nine minutes.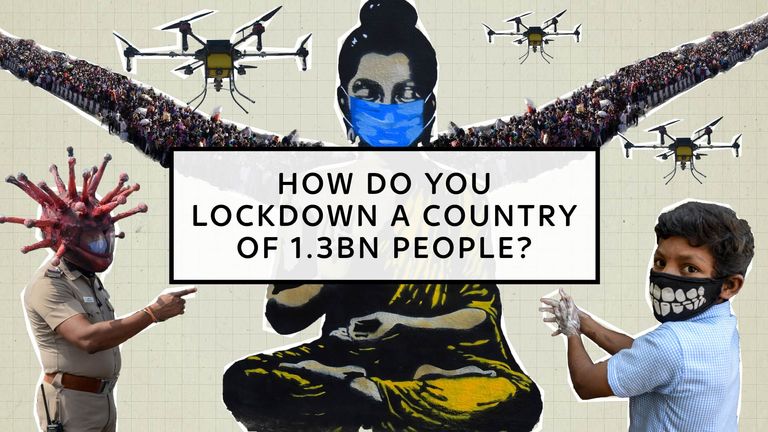 "We will experience the superpower of light, clearly illuminating the common purpose we are all fighting for. In that light, in that lustre, in that radiance, let us resolve in our minds that we are not alone, that no one is alone."
Mr Modi also appealed for people to stay at home and continue to adhere to the social distancing restrictions currently in place.
An earlier appeal to applaud those on the frontline of the COVID-19 battle was widely criticised after scores of people came out on the streets and celebrated the event.
In a video news conference, Pawan Khera, a spokesman of the opposition Congress party, responded to Mr Modi's fresh appeal: "The country was expecting answers from the prime minister on the issues of shortage of personal protection equipment and on helping the poor and migrant labourers who were without food and money."
In a direct message to the PM, he added: "The country was dejected today, people did not get any information they were expecting from you on critical questions."
There have been more than 3,000 confirmed cases of coronavirus across the country, as well as 86 deaths.
The cases have been largely driven by a congregation of members of the Tablighi Jammat, a Muslim missionary group in Delhi.
In violation of the government restrictions this 2,500-strong group which included about 1,000 foreign nationals from Malaysia, Indonesia, Bangladesh, the US and Kyrgyzstan among others had gathered at a complex located in a crowded area of Nizammudin in the city.
At least 647 among these so-called "superspreaders" have tested positive in 14 states.
Officials are still trying to find more people associated with the event.
The group's leader, Maulana Saad Kandhalvi, and six others involved are believed to be in hiding and the government has launched a manhunt.
Their base has been sealed off and health workers have been disinfecting the dozens of rooms and quarters of the building.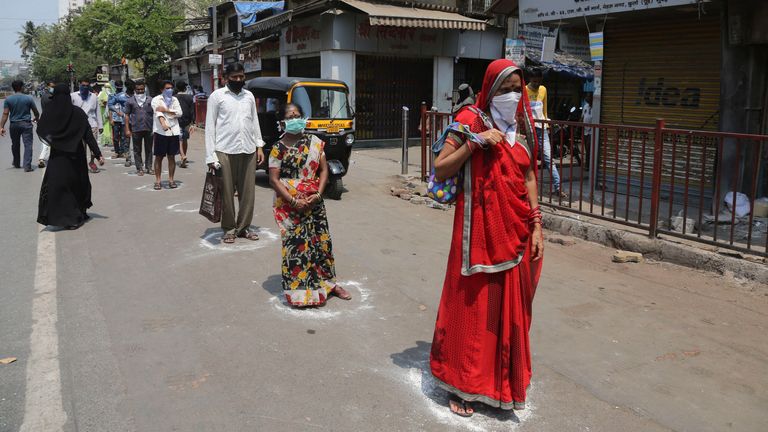 It comes as officials recorded the first coronavirus-related death in India's largest slum, Dharavi, in the financial capital of Mumbai.
The 56-year-old's death has been linked to the Delhi group. Ten of its members had stayed at a house belonging to the victim.
A 35-year-old doctor who treated the man has also tested positive for COVID-19.
Dharavi, a slum with almost a million people living and working in a 2.2 square kilometre area, is one of the most densely populated parts of India. A spread of the virus there would put medical facilities under a massive strain.
India is midway through its 21-day nationwide lockdown. Only key workers are allowed to leave their homes. The rest of the population can only venture out to buy food and medicines.
The government failed to factor the very large migrant population comprising daily wage earners and contract workers. This informal sector forms almost 81% of India's working population.
After Mr Modi announced the measure, tens of thousands of migrant workers crammed into buses or walked for days to get back to their native villages.
The government was severely criticised for an ill-judged policy towards migrant labour.
In a radio address Mr Modi apologised for the trouble caused, but said the lockdown was necessary to stop the spread of the virus and save lives.
Coronavirus: Twins born during India lockdown named 'Corona and Covid' | World News
A couple in India have named their twins born amid the global coronavirus pandemic Corona and Covid.
The siblings – a girl and a boy – were born to Preeti and Vinay Verma in the Indian state of Chhattisgarh on 27 March during the ongoing nationwide lockdown, according to NDTV.
"The delivery happened after facing several difficulties and therefore, my husband and I wanted to make the day memorable," the twins' 27-year-old mother told news agency Press Trust of India.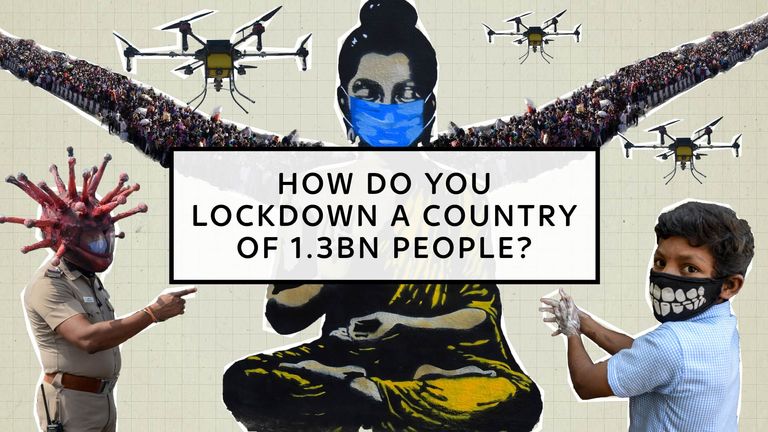 She said the coronavirus was "dangerous and life-threatening", but the COVID-19 outbreak had also made people focus on sanitation, hygiene and instil other good habits.
"When the hospital staff also started calling the babies Corona and Covid, we finally decided to name them after the pandemic," she added.
The twins were born at Dr Bhim Rao Ambedkar Memorial Hospital in the state capital, Raipur.
The couple, originally from Uttar Pradesh, live in a rented house in the Purani Basti area of the city.
They said the names would remind them about the hardships they faced during the lockdown.
The lockdown in India has effectively kept 1.3 billion Indians at home for all but essential trips to places like markets or pharmacies.
There have been more than 3,000 confirmed cases of coronavirus across the country, including 86 deaths.
But some health experts say India could be weeks away from a surge that could overwhelm its already strained public health system.
Prime Minister Narendra Modi ordered a three-week lockdown across the country on 24 March to prevent the spread of the virus.
The lockdown, which the PM says is necessary to avoid a humanitarian catastrophe, has brought further hardship to the poor. Many have lost their jobs, families are low on food and homeless shelters are overflowing.