Donald Trump confirms interest in buying Greenland in 'large real estate deal' | World News
Donald Trump has confirmed he is interested in buying Greenland, saying it would be "essentially a large real estate deal".
Asked about reports that he was exploring the purchase of the 850,000 sq mile island from Denmark, the US president said he was "looking at it" as "strategically for the US it would be nice".
Mr Trump's interest in the Danish territory emerged this week when he reportedly discussed it in a private meeting with advisers.
Danish politicians poured scorn on the idea, with former prime minister Lars Lokke Rasmussen describing it as an "April Fool's Day joke".
However, that does not appear to have put Mr Trump off.
Speaking to reporters in New Jersey, he said: "It is something we talked about. Denmark essentially owns it, we are very good allies with Denmark, we protect Denmark like we protect large portions of the world.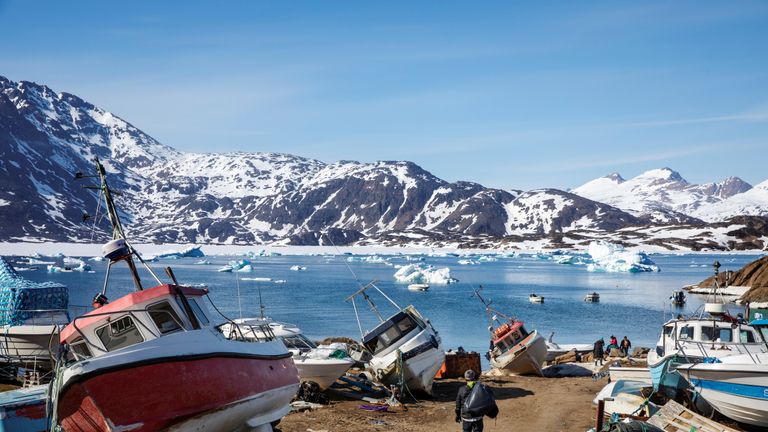 "The concept came up – strategically it would be interesting. We'll talk to them a little bit, it is not number one on the burner at the minute I can tell you that.
"Alot of things could be done, essentially it is a large real estate deal. It's hurting Denmark very badly because they are losing almost $700m a year carrying it."
America has had an air base in Greenland for decades as part of its global network of missile radars and space surveillance.
The island's foreign ministry tweeted on Friday: "#Greenland is rich in valuable resources such as minerals, the purest water and ice, fish stocks, seafood, renewable energy and is a new frontier for adventure tourism.
"We're open for business, not for sale."
Mr Trump is due to visit Denmark in September as part of a European trip but any attempt to raise the idea of buying the huge island is likely to be shot down.
#Greenland is rich in valuable resources such as minerals, the purest water and ice, fish stocks, seafood, renewable energy and is a new frontier for adventure tourism. We're open for business, not for sale❄️🗻🐳🦐🇬🇱 learn more about Greenland on: https://t.co/WulOi3beIC

— Greenland MFA 🇬🇱 (@GreenlandMFA) August 16, 2019
Before Mr Trump confirmed he was interested in buying Greenland, Soren Espersen, a foreign affairs spokesperson for the Danish People's Party, told broadcaster DR that if he was serious about the idea it would be "final proof that he has gone mad".
"The thought of Denmark selling 50,000 citizens to the United States is completely ridiculous," he added.
Martin Lidegaard, an MP for the Danish Social Liberal Party and former foreign minister, called the idea "a grotesque proposal".
"We are talking about real people and you can't just sell Greenland like an old colonial power," he said.
It is not the first time a US president has raised the idea of purchasing the island.
In 1946, president Harry Truman offered to buy Greenland for $100m (£82.4m).
Greenland, a self-ruling part of Denmark, is dependant on Danish economic support and is situated between the North Atlantic and Arctic oceans.
It handles its own domestic affairs, while Copenhagen heads it defence and foreign policy.
McDonald's to launch 'evolved' paper straw after customer backlash | Business News
McDonald's says it is to launch an "evolved" paper straw across Europe following a backlash from customers over its first attempt.
The fast food chain, which recently hit headlines over the controversial departure of its British-born chief executive Steve Easterbrook, said the change it was bringing in was part of a wider commitment to the environment by reducing plastic and waste.
McDonald's replaced its plastic straws with paper versions in the UK from late last year following, what it said were, successful trials.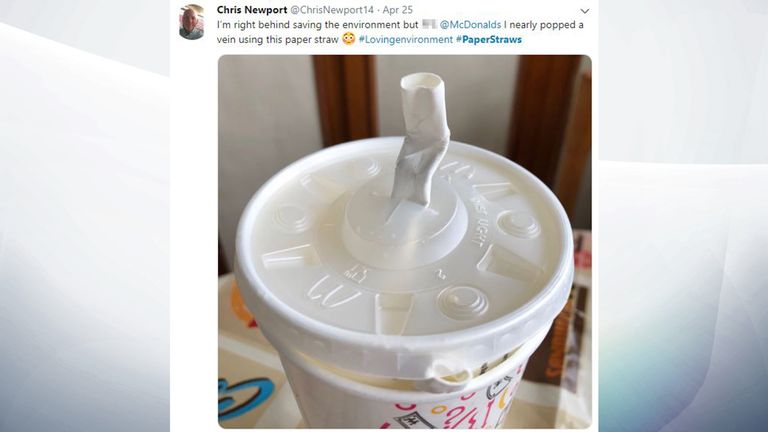 But tens of thousands of customers called for the move to be scrapped, claiming the straws became soggy too quickly and even dissolved.
The chief executive of McDonald's UK, Paul Pomroy, appeared on Sky News at the time to defend the straws – saying he had checked them himself.
The company said on Thursday that the new, more sturdy, straw would be distributed to restaurants across Europe, though it declined to give a time frame.
It said: "Following feedback from customers, and as the packaging industry has evolved, the paper straws being rolled out are now stronger while remaining made of fully recyclable materials."
The straw initiative forms part of the chain's 'Better M' platform to support the environment.
Another change was a makeover of McFlurry packaging to eliminate the need for a separate plastic lid. This would involve the container having flaps at the top, the company explained.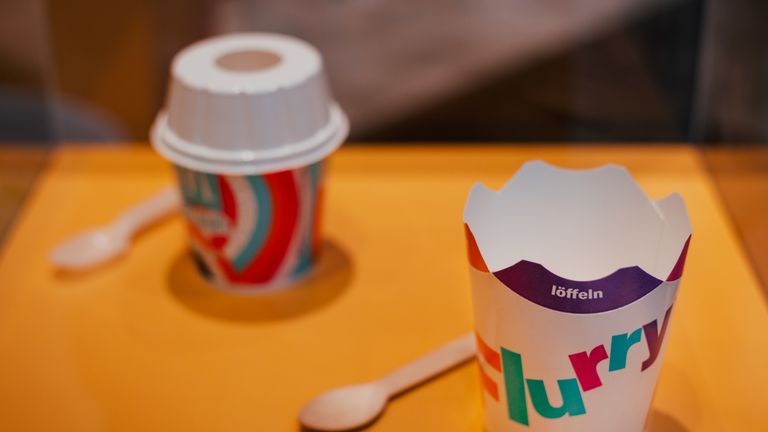 It said this would reduce more than 1,200 tonnes of plastic annually.
It also said it was also to stop plastic drink lids – but only in France.
The chain said they would be replaced by fibre. Edible packaging was to be trialled in Ukraine with its Sundae surround made from waffle.
Vice president of global sustainability at McDonald's, Keith Kenny, said: "We care about lessening our impact on the environment and know our customers do too.
"That's why we're finding new and innovative ways to reduce our use of packaging, switch to more sustainable materials and help our customers to reuse and recycle, too.
"The trials we are conducting across Europe are vital in helping us get first-hand feedback from customers on solutions that help them to be conscious consumers, without compromising on quality and the McDonald's experience they love."
EU legal case against UK over failure to name commissioner | World News

EU officials have launched a legal case against the UK for failing to name a new commissioner.
The commissioner would serve in the new European Commission that is due to take over from 1 December.
Officials have given Britain a deadline of November 22 to respond.
In a statement, the executive commission said: "The European Commission has today sent a letter of formal notice to the United Kingdom for breaching its EU Treaty obligations by not suggesting a candidate for the post of EU Commissioner."
More follows…
US high school shooting: Five wounded in attack at Saugus High School in Los Angeles | World News
At least five people have been injured in a shooting at a California school, and the gunman is still on the run, police have said.
Officers have said they are dealing with an "active scene" after the suspect opened fire at Saugus High School in Santa Clarita, Los Angeles County, around 30 miles northwest of downtown Los Angeles.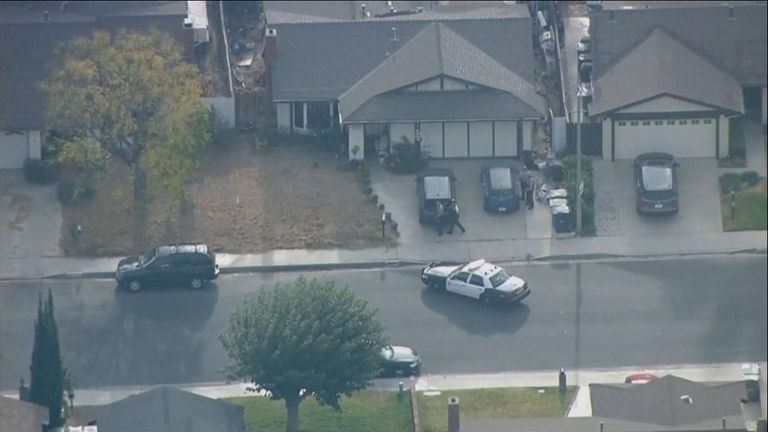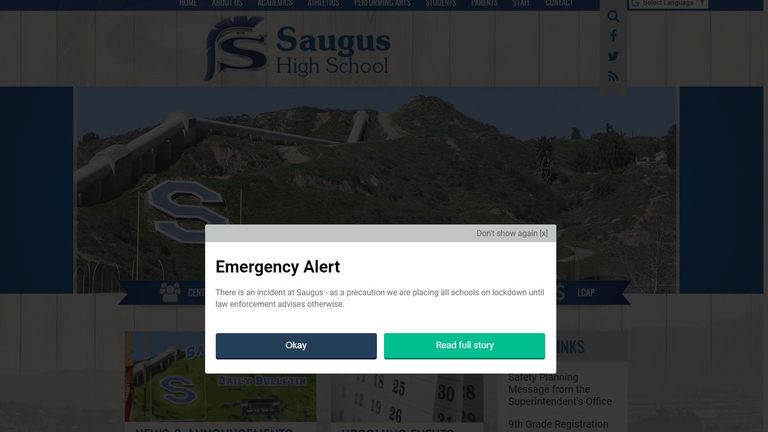 Helicopter footage aired on US television shows lines of students with their hands in the air, filing out of school buildings and being led by police officers.
Several pupils were placed on stretchers and taken to ambulances in the school's car park, according to the LA Times.
Lines of students were escorted away from the school by officers.
Other schools in the area have been placed on lockdown.
The suspect is a 15-year-old boy who was wearing black clothing and a black hat, according to the sheriff's office.
He is described as an Asian male.
Police are surrounding a property in the area in the hunt for the suspect.
More follows…