Donald Trump confirms interest in buying Greenland in 'large real estate deal' | World News
Donald Trump has confirmed he is interested in buying Greenland, saying it would be "essentially a large real estate deal".
Asked about reports that he was exploring the purchase of the 850,000 sq mile island from Denmark, the US president said he was "looking at it" as "strategically for the US it would be nice".
Mr Trump's interest in the Danish territory emerged this week when he reportedly discussed it in a private meeting with advisers.
Danish politicians poured scorn on the idea, with former prime minister Lars Lokke Rasmussen describing it as an "April Fool's Day joke".
However, that does not appear to have put Mr Trump off.
Speaking to reporters in New Jersey, he said: "It is something we talked about. Denmark essentially owns it, we are very good allies with Denmark, we protect Denmark like we protect large portions of the world.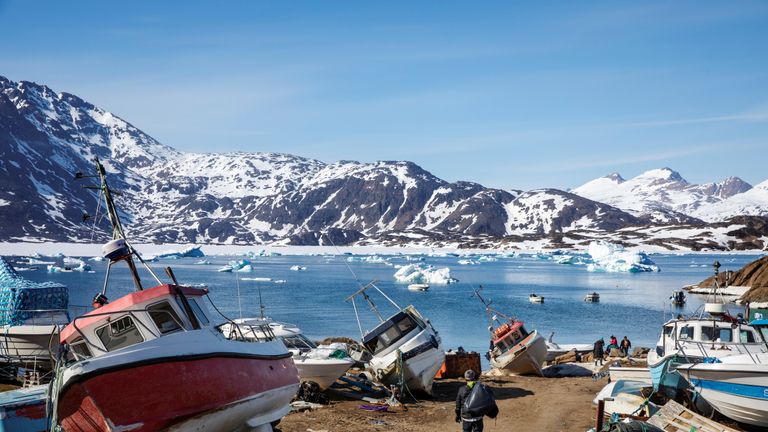 "The concept came up – strategically it would be interesting. We'll talk to them a little bit, it is not number one on the burner at the minute I can tell you that.
"Alot of things could be done, essentially it is a large real estate deal. It's hurting Denmark very badly because they are losing almost $700m a year carrying it."
America has had an air base in Greenland for decades as part of its global network of missile radars and space surveillance.
The island's foreign ministry tweeted on Friday: "#Greenland is rich in valuable resources such as minerals, the purest water and ice, fish stocks, seafood, renewable energy and is a new frontier for adventure tourism.
"We're open for business, not for sale."
Mr Trump is due to visit Denmark in September as part of a European trip but any attempt to raise the idea of buying the huge island is likely to be shot down.
#Greenland is rich in valuable resources such as minerals, the purest water and ice, fish stocks, seafood, renewable energy and is a new frontier for adventure tourism. We're open for business, not for sale❄️🗻🐳🦐🇬🇱 learn more about Greenland on: https://t.co/WulOi3beIC

— Greenland MFA 🇬🇱 (@GreenlandMFA) August 16, 2019
Before Mr Trump confirmed he was interested in buying Greenland, Soren Espersen, a foreign affairs spokesperson for the Danish People's Party, told broadcaster DR that if he was serious about the idea it would be "final proof that he has gone mad".
"The thought of Denmark selling 50,000 citizens to the United States is completely ridiculous," he added.
Martin Lidegaard, an MP for the Danish Social Liberal Party and former foreign minister, called the idea "a grotesque proposal".
"We are talking about real people and you can't just sell Greenland like an old colonial power," he said.
It is not the first time a US president has raised the idea of purchasing the island.
In 1946, president Harry Truman offered to buy Greenland for $100m (£82.4m).
Greenland, a self-ruling part of Denmark, is dependant on Danish economic support and is situated between the North Atlantic and Arctic oceans.
It handles its own domestic affairs, while Copenhagen heads it defence and foreign policy.
Musk claims 'pedo guy' slur about Thai cave diver unintended | World News
Elon Musk has said he did not intend to accuse a diver who helped rescue 12 Thai boys from a cave of being a paedophile – despite calling him a "pedo guy".
The Tesla Inc chief executive made the claim as he tried to get a defamation lawsuit against him dismissed.
Vernon Unsworth brought the case against the multi-billionaire after saying in an interview that Musk was throwing a "PR stunt" by offering to help his dive team rescue the boys and their football coach from a flooded Thai cave system in 2018.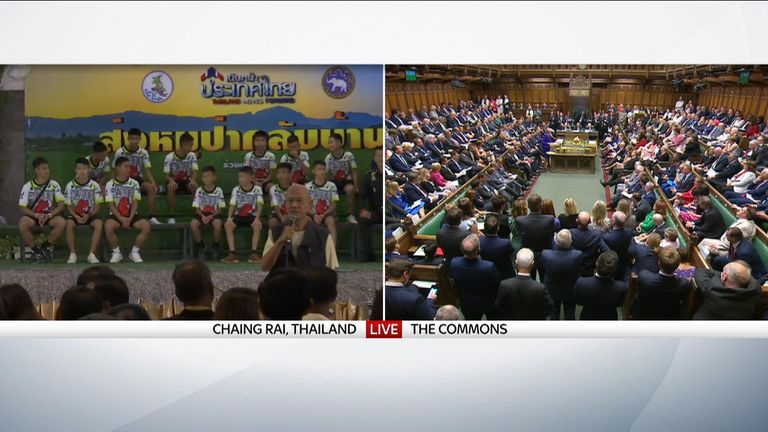 Mr Musk then called him a "pedo guy" on Twitter.
He has now said the term was "a common insult used in South Africa when I was growing up".
And he claimed it was "synonymous with 'creepy old man'", and was used to insult a person's appearance and demeanour.
"I did not intend to accuse Mr Unsworth of engaging in acts of paedophilia," he said.
"In response to his insults in the CNN interview, I meant to insult him back by expressing my opinion that he seemed like a creepy old man."
Mr Musk also sent an email to a BuzzFeed News reporter after the slagging match, asking them to "stop defending child rapists".
He has now claimed that was an "off the record" email based on an aide's summary of a private investigator's report on Mr Unsworth, which he did not know was false.
Mr Unsworth is seeking compensatory and punitive damages.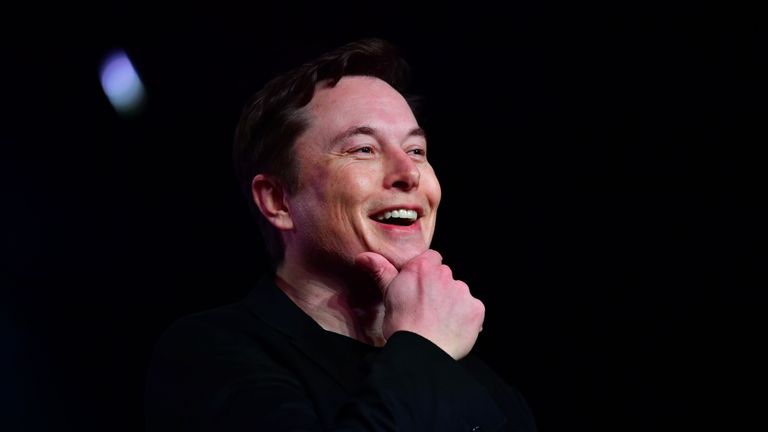 His lawyer, L Lin Wood, said he will reply to Musk's claims in three weeks, but aded: "I'll keep my powder dry for now, but I can assure you it will be explosive."
Mr Wood called Mr Musk's motion "as offensive to the truth as was his original tweet".
He added Mr Unworth is "a good man whose efforts saved the lives of 13 people".
Mr Musk has claimed Mr Unworth is a public figure when it comes to the cave rescue, which would require him showing clear and convincing evidence that Mr Musk made his statements with "actual malice".
Earlier this year Mr Musk agreed to seek his lawyers' approval before tweeting about Tesla's finances after saying he had secured funding to take the company private in 2018 at $420 (£325) a share, despite not having the money to pull off the deal.
<a href='https://news.sky.com/story/hope-and-fear-will-fuel-global-climate-change-strikes-11811713'>Hope and fear will fuel global climate change strikes</a>


<a href='https://news.sky.com/story/hope-and-fear-will-fuel-global-climate-change-strikes-11811713'>Hope and fear will fuel global climate change strikes</a>

Source link
More than 2,000 preserved foetal remains found at dead doctor's home | World News

More than 2,000 medically preserved foetal remains have been found at the home of a late Indiana abortion clinic doctor, leading to calls for a federal investigation.
The gruesome discovery was made after Dr Ulrich Klopfer died on 3 September and family members began sorting through his property in Illinois.
The county coroner's office has taken possession of the 2,246 preserved remains.
State Republican Ron Bacon has called for the Indiana attorney general's office to investigate the now-closed clinics in Fort Wayne, Gary and South Bend, where Klopfer had performed abortions.
He described the discovery as "seriously disturbing" and expressed concern that "there may be other remains".
A spokeswoman for the Will County Sheriff's Office said its investigation was ongoing and no further information would be released until it is complete.
She called it "a very sensitive situation" involving the sheriff's department, coroner's office and prosecutors.
Klopfer was believed to be Indiana's most prolific abortion doctor, performing thousands of procedures over several decades.
His three clinics closed years before his death.
The state revoked the South Bend clinic's licence in 2015 and the Indiana State Department of Health had previously issued complaints against the clinic, accusing it of lacking a patient register, policies regarding medical abortion, and a governing body to determine policies.
Klopfer's licence was suspended by Indiana's Medical Licensing Board in November 2016 after it found a number of violations, including a failure to ensure that qualified staff were present when patients received or recovered from medications given before and during abortion procedures.
He was no longer practising by that time, but told the panel he had never lost a patient in 43 years of doing abortions.