Detained oil tanker at centre of US power struggle set to depart Gibraltar tonight, says Iran | World News
The Iranian oil tanker which has been detained off Gibraltar since early last month is expected to depart this evening, Iran's ambassador to Britain has said.
"With the arrival of two specialised engineering teams to Gibraltar… the vessel is expected to leave tonight," Hamid Baeidinejad tweeted.
The Adrian Darya-1 – previously known as the Grace 1 – has been in Gibraltar since 4 July amid speculation that it planned to transport its cargo to Syria, in breach of European Union sanctions.
The detention of the vessel prompted Iran to retaliate by seizing the British-flagged oil tanker Stena Impero, heightening already increased tensions in the region.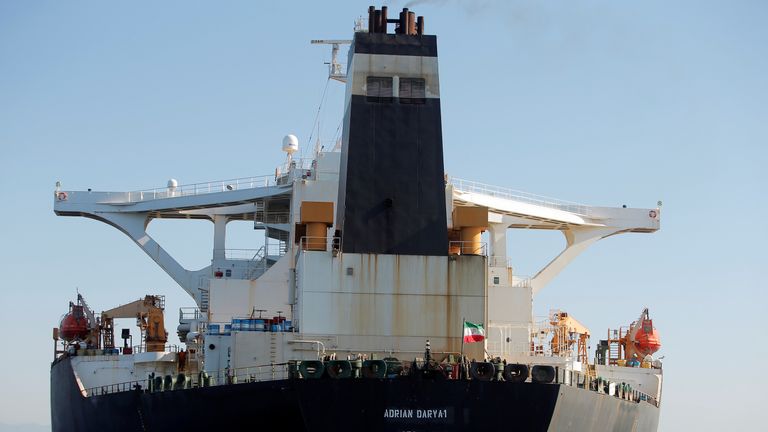 Earlier, Iran threatened to dispatch its naval fleet to collect the vessel.
"The era of hit and run is over," said Iran's navy commander Rear Admiral Hossein Khanzadi.
He added: "If top authorities ask the navy, we are ready to escort our tanker Adrian," the Mehr news agency reported.
The authorities in Gibraltar said they had rejected a renewed request from the US to keep the tanker under detention.
It emerged on Saturday that the US had issued a warrant to seize the Adrian Darya-1.
The US said it could seize the vessel, its oil cargo, and almost $1m (£823,000) on the grounds of terrorism and violations of the International Emergency Economic Powers Act.
It claimed the tanker had links to the Islamic Revolutionary Guard Corps (IRGC), which it deems a terrorist organisation.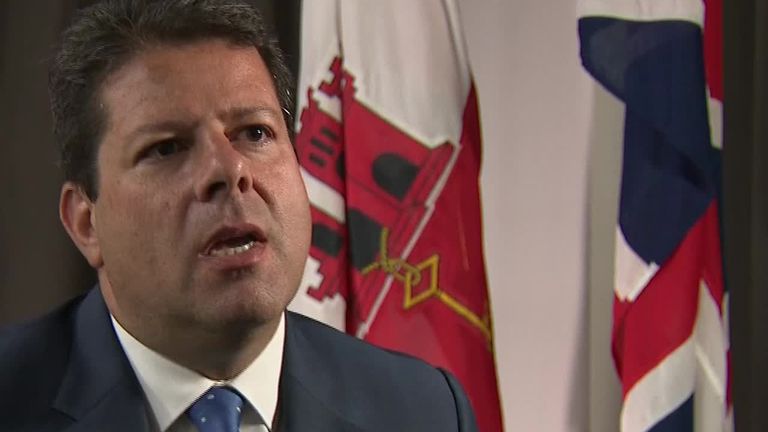 But in a statement earlier today, Gibraltar's government said US sanctions had no equivalent in the UK or the rest of the EU.
"The EU sanctions regime against Iran… is much narrower than that applicable in the US," it said.
"The Gibraltar Central Authority is unable seek an Order of the Supreme Court of Gibraltar to provide the restraining assistance required by the United States of America."
Anchored off Gibraltar, the Adrian Darya-1 is laden with 2.1 million barrels of Iranian light crude oil.
It is expected that a new crew will arrive to sail the tanker to an undisclosed destination.
Pictures of the tanker taken on Sunday showed the new name painted in white on its hull, and the previous name painted over.
It was flying the Iranian flag.
Vast swathes of Mugabe's funeral stadium empty as coffin on display | World News
African leaders are paying their respects to Zimbabwe's founder Robert Mugabe at his funeral, while many ordinary people are opting to stay away.
The controversial leader, who ruled the country for 37 years before he was ousted by his own army in 2017, died in Singapore aged 95 last week.
A state funeral is being held for the former president in the country's national stadium. Many of the seats remained empty as his flag-draped coffin was carried through.
Speaking from the stadium, Sky's Africa correspondent Jonathan Sparks said: "The atmosphere has picked up a little bit… [but] vast swathes of [the stadium] remain empty, something of an embarrassment for the government of Emmerson Mnangagwa."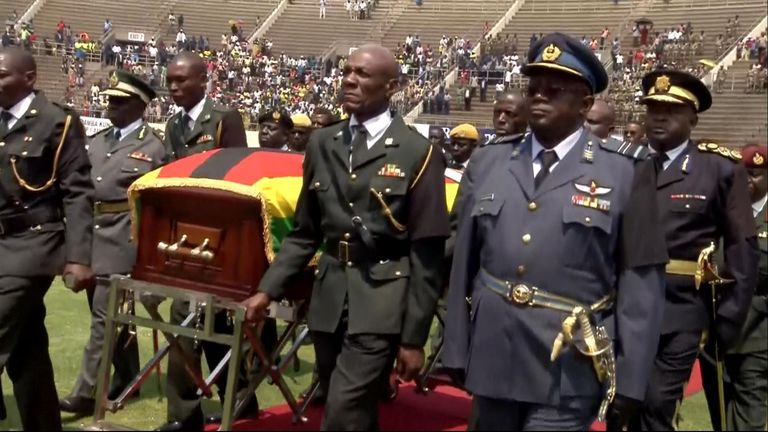 As leaders and politicians arrived, a choir began to sing to commemorate the polarising figure.
The state funeral comes amid a row over his burial.
Mugabe's nephew has contradicted earlier reports that the former leader would be buried on Sunday.
Instead he will be buried in a mausoleum at the National Heroes Acre shrine in Harare in about 30 days, Leo Mugabe said.
The disagreement has threatened to undermine current President Mnangagwa, who conspired to overthrow Mugabe.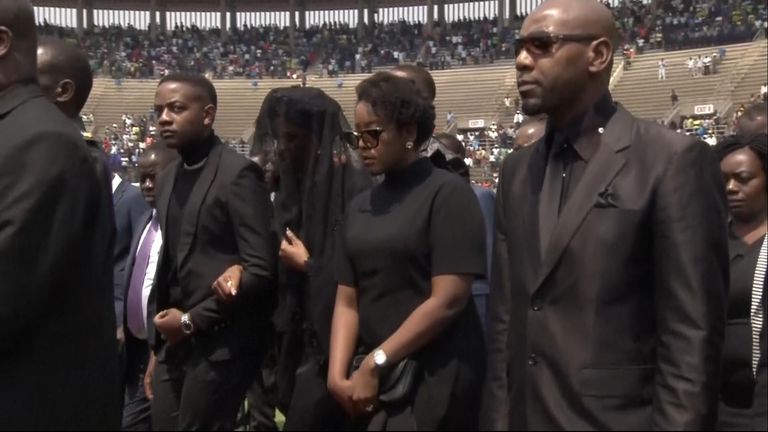 Mr Mnangagwa argued that building a mausoleum would be too much of a delay but agreed that the burial should take place at the national monument.
His view was at odds with some family members, who wanted the former leader to be buried in his birth village of Kutama, 55 miles (85 km) from Harare, in line with Zimbabwean tradition.
On the morning of the funeral, Mr Mnangagwa tweeted: "Today, let us put aside our differences and come together as we remember the past and look to the future as one proud, independent and free nation."
Despite the empty seats on Saturday, several people were injured in a stampede trying to view Mr Mugabe's body when it was on display earlier this week.
Writing ahead of the funeral, Sparks reflected on the number of differing narratives.
He wrote: "As the dictatorial president of Zimbabwe, Robert Mugabe, occupied the national pulpit and wrote his own colourful story.
"It is a well-tuned narrative about a man who liberates a nation from the grasp of white supremacists. It's a story of defiance as the hero stares down the west over the invasion of white-owned farms. It's a tale about a president who sacrifices everything for his people and promises to never retire.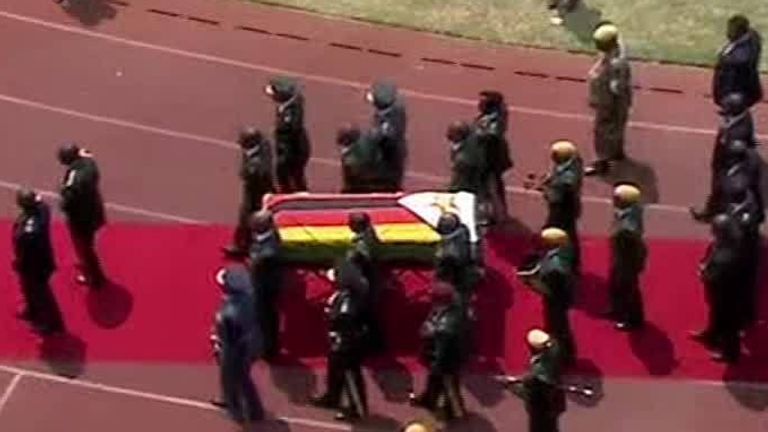 "But there are some serious issues with the story and they are causing all sorts of difficulties as the country prepares to bury its former president."
He added: "Everyone in Zimbabwe has got a story to tell about Mugabe and they usually defy the selective storytelling which features at commemoration services."
Spain floods: At least five dead and thousands evacuated as torrential rain batters the south | World News
At least five people have been killed and around 3,500 others evacuated in two days of torrential rain in southeastern Spain.
Emergency services rescued people stuck in flooded highway tunnels as many roads, railways and an airport closed on Friday due to the severe weather conditions.
Floods swept away cars and debris in the regions of Valencia, Murcia and eastern Andalucia, while motorway tunnels in some areas were flooded almost up to the tunnel lighting.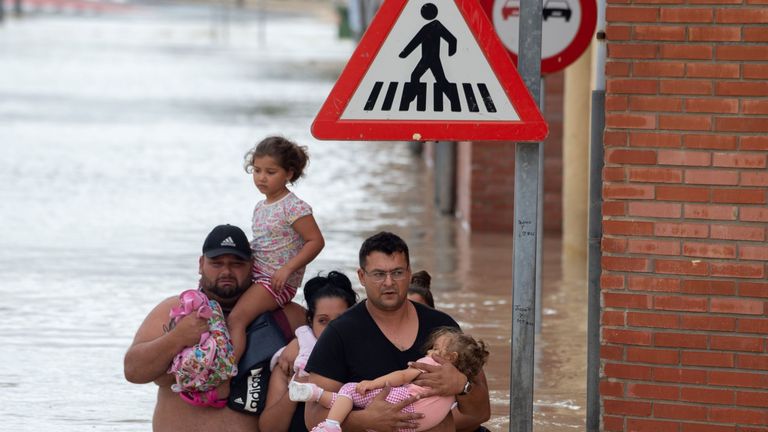 A man was found dead in the village of Redovan in Valencia after leaving his home on foot earlier on Friday, while another was found in Granada province after his car was swept off a motorway.
A third man died in Almeria after trying to drive his car through a flooded tunnel, rescue services said.
On Thursday, a 51-year-old woman and her 61-year-old brother died when torrential rain dragged their car away.
A total of 74 roads were closed, along with the entire Murcia regional railway service and airport. The railway link between Alicante and Spain's two cities – Madrid and Barcelona, was also shut.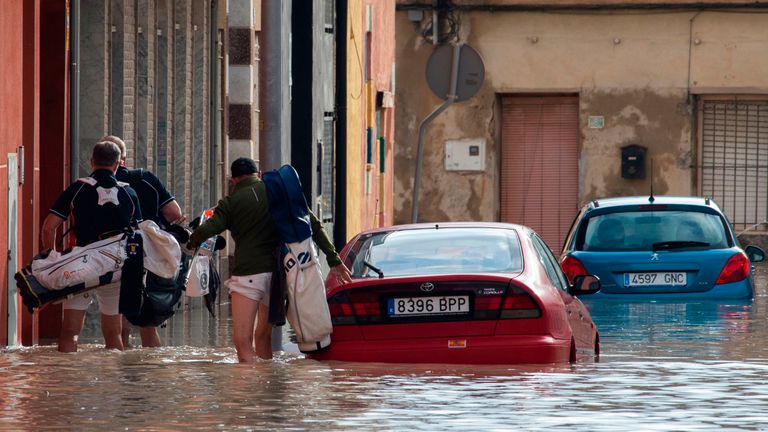 Interior Minister Fernando Grande Marlaska described the floods as "a serious tragedy".
The storms in this region of Spain are an annual metrological phenomenon, however they have been particularly fierce, turning roads into muddy rivers that sweep away everything in their path.
Tourists were left stranded at Alicante Airport as flights were delayed or cancelled, with 78-year-old diabetic Haydn Harding from Northern Ireland, saying: "We've been in the queue here four or five hours. It's very difficult to get to the toilet, impossible to get anything to eat."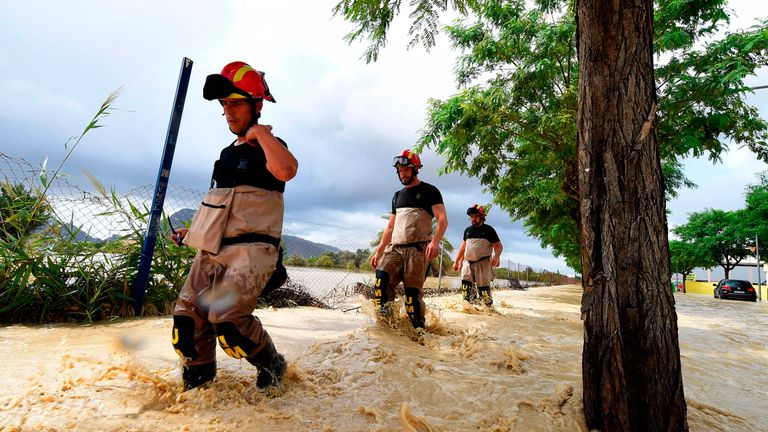 Some affected areas saw record daily rainfall for the month of September and remained flooded all of Friday.
Mario Cervera, mayor of Alcazares, a heavily affected town in Murcia, told Spain's state-run TVE channel: "The situation is critical, all the municipality is full of water".
More than 1,500 soldiers were involved in the rescue operation, which involved helicopters and boats in various areas.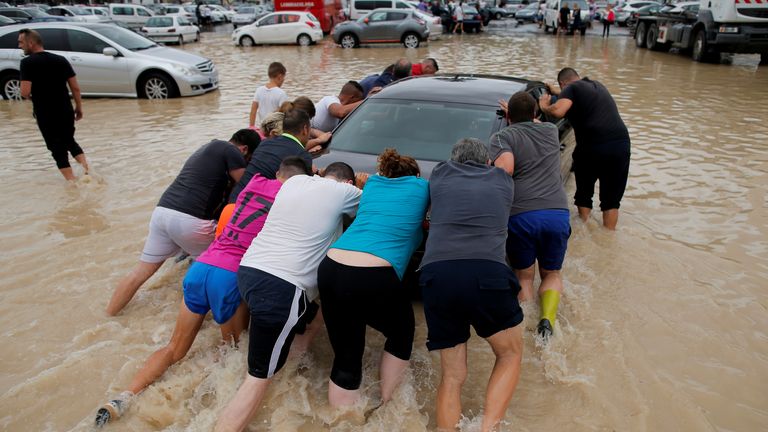 "This man was holding onto a traffic sign… The officer and I jumped to take him out," one rescue worker told Reuters.
Following the evacuation of 1,500 people in Murcia, another 2,000 residents of the town of Santomera were told to leave their homes due to a controlled release from a local dam to prevent it from overflowing, Mr Marlaska said.
"The forecasts are now more positive than around midday. We have reports that point to diminishing dangers and risks of further flooding," he told reporters while visiting the affected areas, while also warning residents and authorities to remain cautious.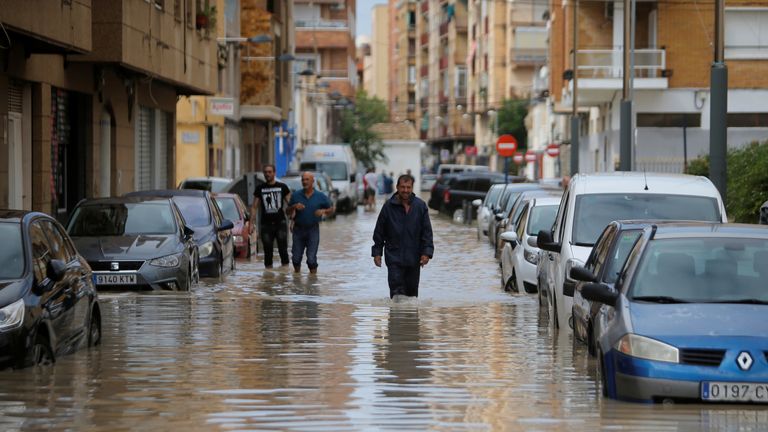 Citizens in the affected areas have been advised to stay at home and avoid using their cars.
"All the region of Murcia is flooded. We have never seen this situation before," regional leader Fernando Lopez Miras told TVE.
The rain was forecast to ease on Saturday.
Two asteroids to pass by Earth in a day, says NASA | World News

An asteroid double the size of the Shard will pass by Earth on Saturday night, NASA scientists have said.   
The space rock, known as Asteroid 2000 QW7, is set to fly by around three million miles from Earth at 14,361mph, according to the US space agency's jet propulsion laboratory.
The asteroid is approximately between 300 and 600 metres wide, according to NASA data, but it poses no danger.
In comparison, the Shard, the tallest building in the UK, stands at 309.7 metres high.
The 2000 QW7 will be the second of two relatively medium-sized asteroids to pass Earth in a day.
The other asteroid, 2010 CO1, is somewhat smaller, being between 120 and 260 metres, and was due to pass Earth early Saturday morning.
"These asteroids have been well observed – one since 2000 and the other since 2010 – and their orbits are very well known," said Lindley Johnson, planetary defence officer at NASA.
"Both of these asteroids are passing at about 14 lunar distances from the Earth, or about 3.5 million miles away, but small asteroids pass by Earth this close all the time."
The asteroids are being carefully tracked by space experts, with the bigger one expected to pass Earth at around 12.54am on Sunday morning.
NASA has been aware of the asteroid since 2000 and is confident that it is not a threat.
The asteroid will continue to orbit the sun and is next expected to pass Earth in October 2038.