European Commission president Jean-Claude Juncker cuts short holiday for urgent gallbladder surgery | World News
European Commission President Jean-Claude Juncker has cut short his holiday to have urgent surgery to remove his gallbladder.
The 64-year-old was taken back to Luxembourg from Austria to undergo an urgent cholecystectomy.
Mr Juncker, who is due to leave his post as the EU's figurehead in October, has had to respond to speculation about his health before.
Last year he swayed and stumbled at a dinner for NATO leaders in Brussels and had to be supported on his feet.
His spokesman later said it was caused by sciatica and cramps as he hit back at claims Mr Juncker was drunk.
The gallbladder operation is common and usually happens if a person develops painful gallstones
The gallbladder is a small, pouch-like organ in the upper right part of the stomach which stores bile – a fluid produced by the liver that helps break down fatty foods.
According to the NHS, the patient can usually leave hospital the same day or the next morning if keyhole surgery is used.
Mr Juncker will be replaced as European Commission on 31 October by German conservative Ursula von der Leyen.
The Commission's role includes proposing new laws, managing EU policies and supervising how its money is spent, negotiating trade deals and representing the EU on the world stage.
Coronavirus: France moves patients on high-speed trains to ease pressure on worst-hit hospitals | World News
Thirty-six critically-ill coronavirus patients have been transferred across France in two high-speed trains.
They were transported from eastern France, where hospitals risk becoming overwhelmed, to the Nouvelle-Acquitaine region in the southwest.
"We urgently need to relieve congestion in the region's intensive care units, because you have to stay one step ahead," Francois Braun, head of SAMU paramedics, told RTL radio.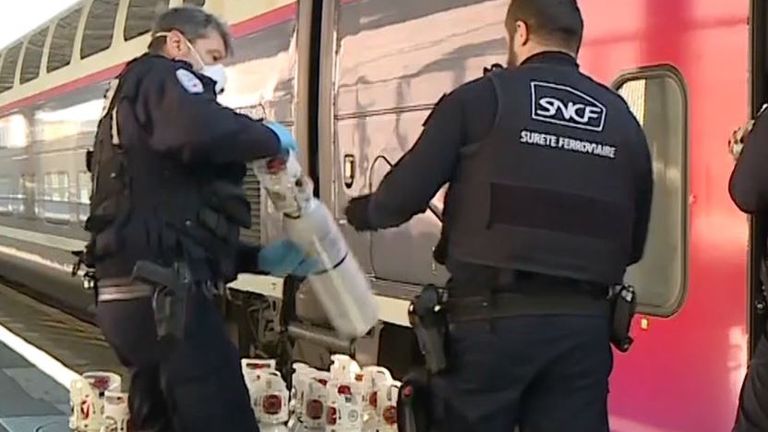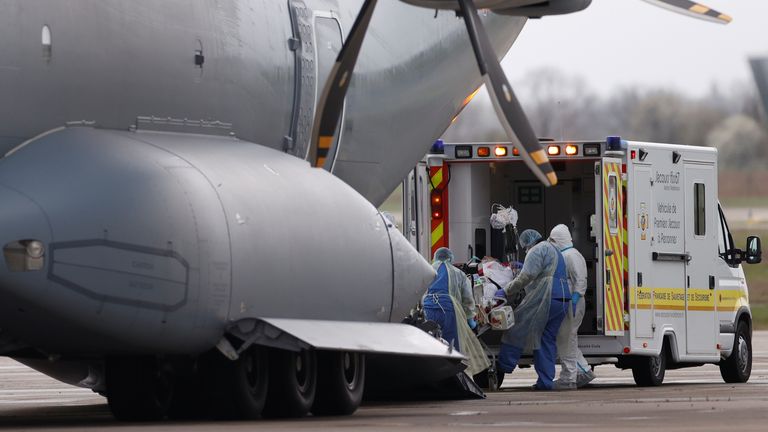 Carriages carrying 36 people were specially converted, and a line of ambulances waited outside Bordeaux station on their arrival.
Paramedics in hazmat suits also loaded several patients on life-support onto a German Airbus A400M aircraft in Strasbourg and transferred them across the border to the German city of Ulm.
The first region to be hit by coronavirus was Grand Est in northeastern France, before the pandemic moved west and began to engulf the Paris area.
French health authorities reported another 292 new deaths from COVID-19 on Sunday – a 13% rise on the previous day.
The total number of deaths since 1 March is now 2,606, with known infections reaching 40,174.
Prime Minister Edouard Philippe has warned the country's 67 million people that the toughest weeks are still ahead.
Ventilators are being removed from operating theatres and student doctors are being drafted in.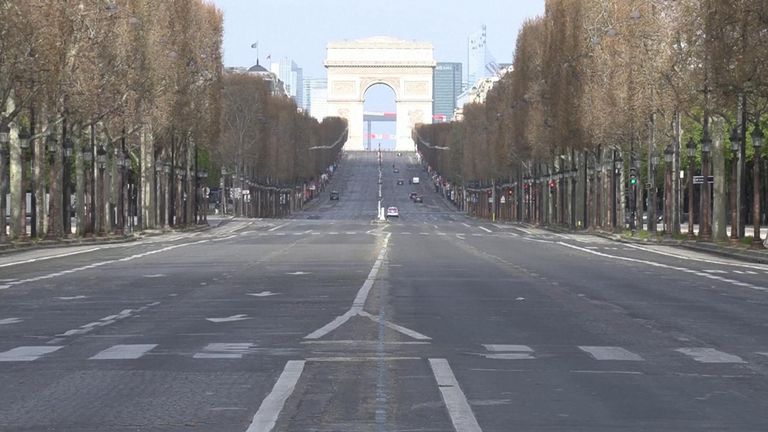 As in the UK, retired doctors are returning to the wards.
President Emmanuel Macron has brought in the army to help move those unwell with COVID-19, while a field hospital has been set up in the eastern city of Mulhouse.
Coronavirus: The funeral home overwhelmed by New York's conveyor belt of death | US News
The phone doesn't stop ringing at the Gerard J Nuefeld funeral home in New York City.
Those who turn up at the door look bewildered and deeply anxious. Robert Lugo arrives sobbing into his protective mask.
He, like so many you see in this neighbourhood, is wearing gloves.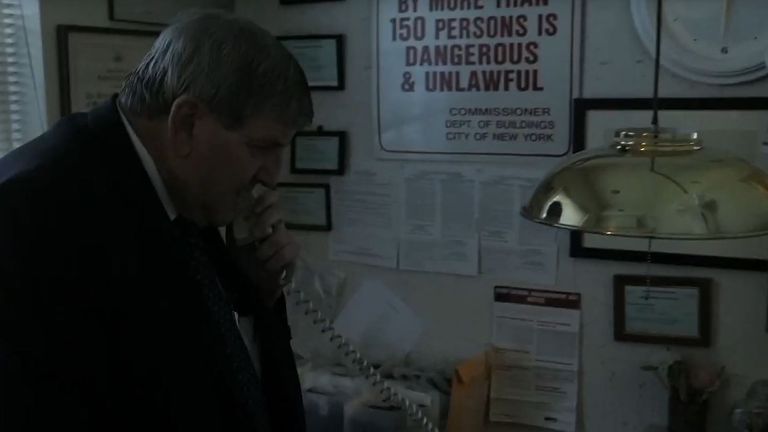 Robert is visibly shaken and it turns out his loss is especially raw. His grandmother, Ana Diaz, died last night at Elmhurst Hospital.
The hospital is at the centre of the COVID-19 outbreak. Staff there are exhausted dealing with the surge in patients, and protective equipment is in desperately short supply. One doctor described the situation as apocalyptic.
Robert breaks down as he tells me that this grandmother – "the glue" in his family – died without any family by her side.
It is an unfathomable burden for him to bear, and sadly, it is one so many are now forced to endure.
"My grandmother died alone," he tells me, his voice breaking. "We didn't even see her and couldn't touch or talk to her. We couldn't give her that boost of morale to say, hey, you know, you got to come out of this. We need you to come out of this. There was nothing."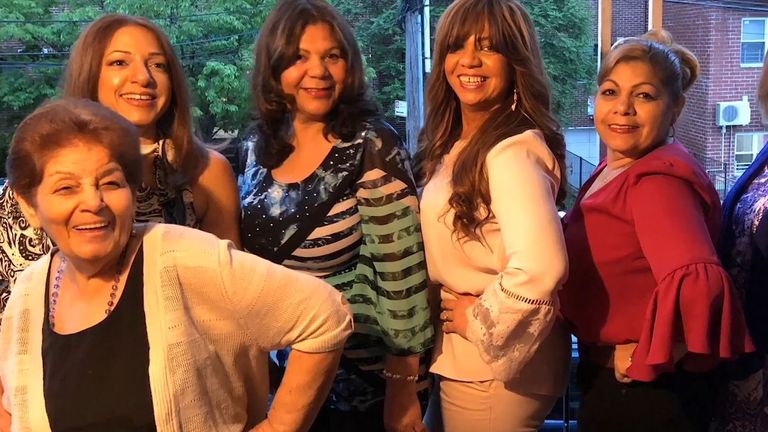 Little over a week ago, his family were all together celebrating her 80th birthday.
"She embraced every life she touched," Robert says.
Now, half of her family have tested positive. They're not only deprived of the chance to grieve her passing, but they're isolated and struggling with their own symptoms too.
Joe Nuefeld Jr is working all hours alongside his father, trying to offer dignity to the dead and support their distraught families.
"The crematoriums really aren't letting anybody in," he tells me. "The cemeteries are, for the most part, telling people to stay in their cars and just watch the burial from the gravesite."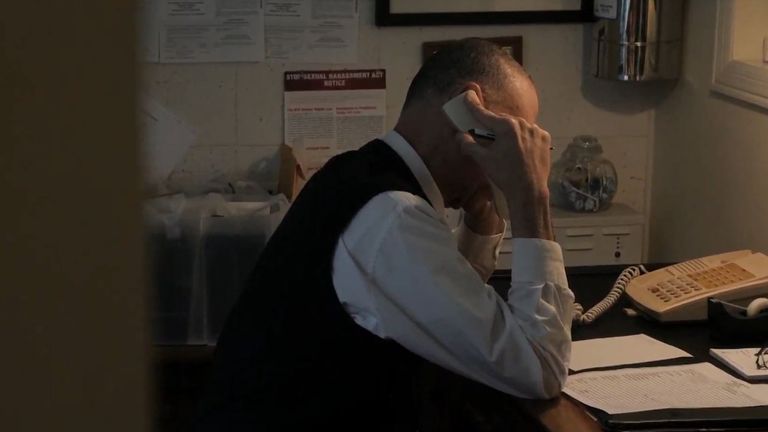 He drives us to St Michael's Crematorium.
A family that is following him in a car behind have turned up hoping they can get in, but they're not even allowed through the gates.
Instead, they're forced to hand over their candle to Joe so he can place it next to the coffin. He clutches it protectively in his hands as he drives through the grounds – conscious of how fleeting it feels for the relatives watching on.
"Sometimes when it's so brief, it almost leaves them still feeling hollow," Joe says. "Like, you know, what just happened? They don't have enough time to process it. It's heartbreaking. It's really sad."
Back at the funeral home, his father Joseph Sr says their work has been non-stop for a fortnight.
"It just got crazy… people are unfortunately passing away in big numbers," he said.
"Because they live in this area and I'm the only funeral home left in this area, they're coming to me.
"I'm trying to accommodate them as best I can… I think we had about 12 services scheduled. And shortly after I left the office, within two hours, I had three more services. And then this morning, as soon as we came in, we put on three or four more services."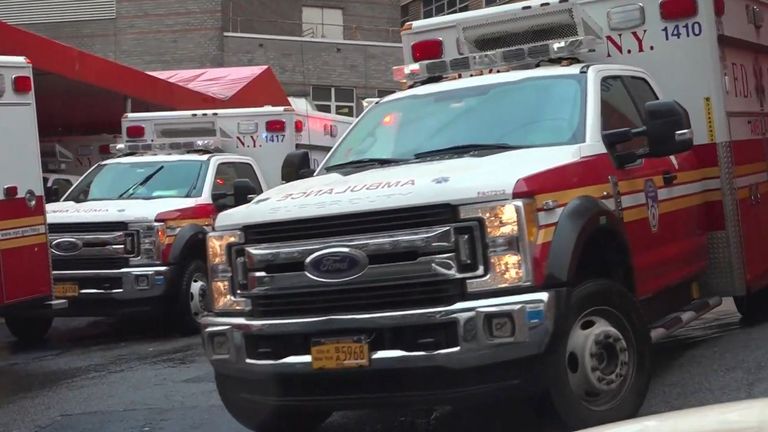 I'm struck by just how stressful their job has become. This is a father and son who take pride and comfort in accommodating the many ceremonies and rituals this diverse neighbourhood desires.
There are more than 100 nationalities in the area – many who traditionally hold large gatherings to say goodbye to their relatives.
Joe Sr says they are trying to let individuals briefly see the caskets before they take them away, but they know they have to closely monitor numbers.
The father and son wear protective clothing where embalming the bodies. But like all undertakers, they are vulnerable to infected bodies.
Nonetheless, they are desperately determined to help a community that's coming to terms with being separated at the most demanding of moments – a surreal and cruel consequence of this pandemic. Watching them work is both humbling and exhausting.
With the predicted peak of this virus two weeks away, their days aren't getting any shorter.
Coronavirus: Belarus president refuses to cancel anything – and says vodka and saunas will ward off COVID-19 | World News
Few measures have been enforced to curb coronavirus in Belarus – instead, people are being urged to drink vodka and go to saunas.
The country – specifically its president – has shrugged off concerns about the COVID-19 outbreak, starkly illustrated on Sunday with the nation's football matches continuing as normal.
As most countries enforce strict measures to curb the spread of the coronavirus, fans continued to shuffle into football grounds as they would any other weekend.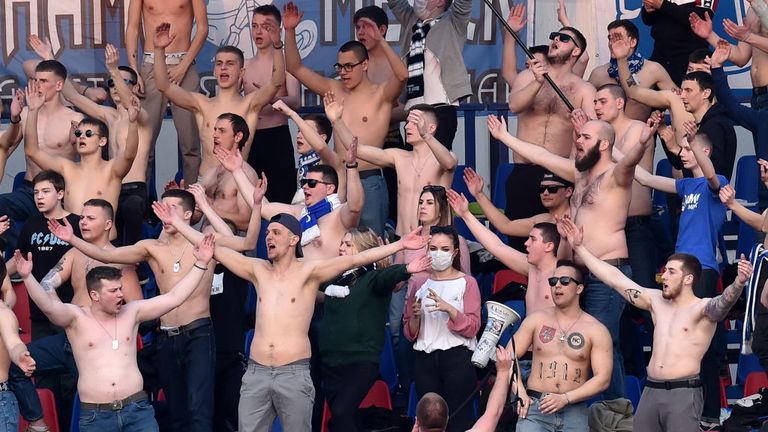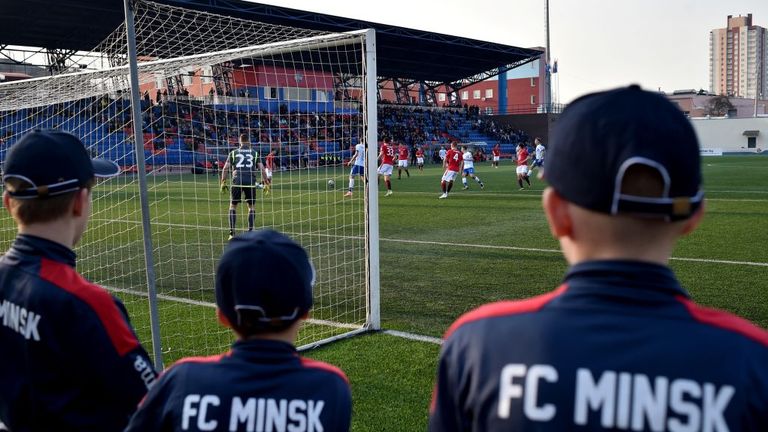 Few social distancing measures appear to be in force, but spectators at some grounds did have their temperatures checked before being granted entry.
A small number of fans opted to wear face masks while huddled together in packed stands, but they were few and far between.
Belarusian football organisers have said they have no intention of postponing matches or cancelling the season – and the country's leader has also shown that he is keen for sporting fixtures to continue.
President Alexander Lukashenko took part in an ice hockey match on Saturday – controversially declaring that sport "is the best anti-virus remedy".
At the event, he told a reporter: "It's better to die standing on your feet than to live on your knees."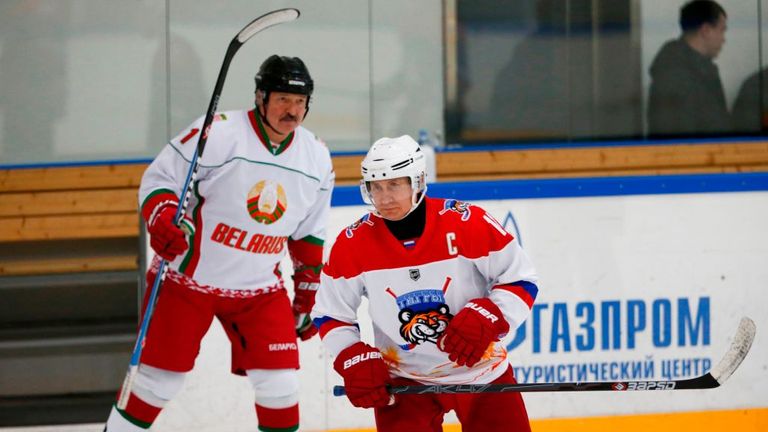 When asked if there was anything that would stop him playing ice hockey, Mr Lukashenko replied: "It is possible, but why? I don't understand. There are no viruses here.
"Did you see any of them flying around? I don't see them too. This is a fridge."
So far, 94 coronavirus cases have been reported in Belarus, a former Soviet nation that is home to 9.5 million people.
Mr Lukashenko, an avid ice hockey player who has been in power since 1994, has downplayed the need for social distancing – and Belarus is one of the only countries that has taken few measures to curb COVID-19's spread.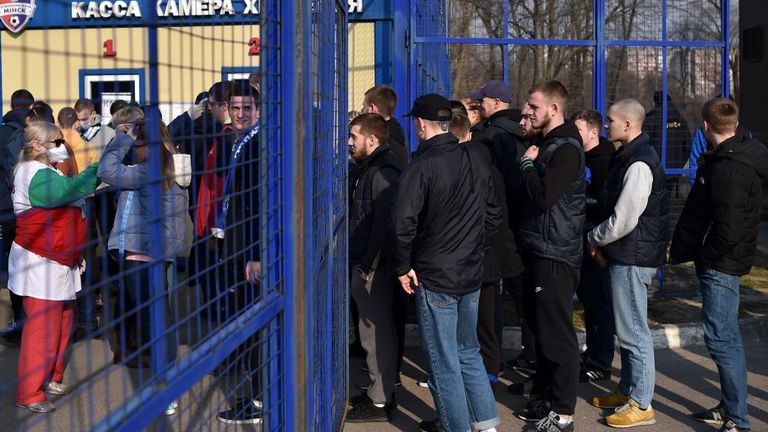 In recent weeks, the president has suggested that Belarusians should drink 50ml of vodka a day to ward off the virus, but not at work – advice that is completely at odds with recommendations from the World Health Organisation.
He has also stated that regular trips to the sauna, working in the fields and having breakfast on time are the best ways to stay healthy – dismissing stricter measures imposed in neighbouring Russia and elsewhere as "frenzy and psychosis".
Mr Lukashenko has also vowed that Belarus will still celebrate Victory Day on 9 May – a day when elderly veterans from World War Two parade through the streets. This is despite data that shows older people are more susceptible to contracting coronavirus in public spaces.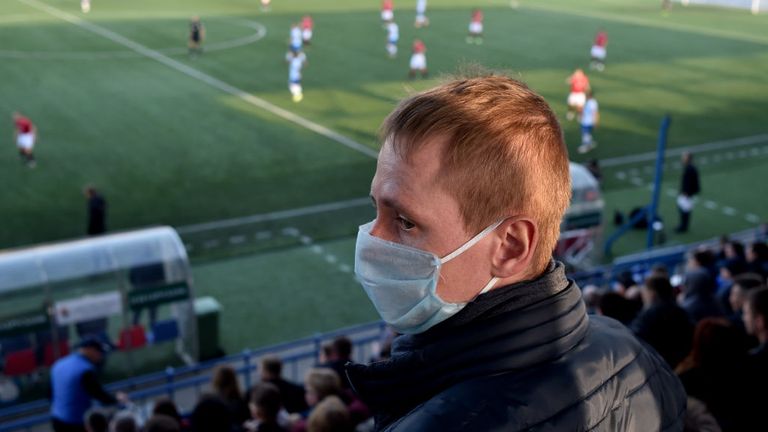 According to the Belarusian Telegraph Agency, the president said: "We are not cancelling anything. We will host all the events we have planned … Let God protect us from the coronavirus."
In separate remarks on Friday, Mr Lukashenko said he "really liked" Donald Trump's statements calling for US businesses to reopen and Americans to get back to work.
"There were many people urging me to close borders, enterprises and begin a nationwide quarantine. Back then I made a principled decision: we will implement a quarantine only when it is really needed," he added.