Iranian supertanker released by Gibraltar – report


Gibraltar has released the Iranian supertanker Grace 1, according to the Gibraltar Chronicle.

Source link
Coronavirus will be devastating for poorest nations – World Bank | World News
The managing director of the World Bank has told Sky News that the coronavirus could wreak devastation on populations in the developing world.
Axel van Trotsenberg says poorer countries urgently need financial support to fight the pandemic – and that the job losses crippling the US economy will be felt across the globe.
More than one million cases of coronavirus have been reported around the world, but the figure is likely to be much higher.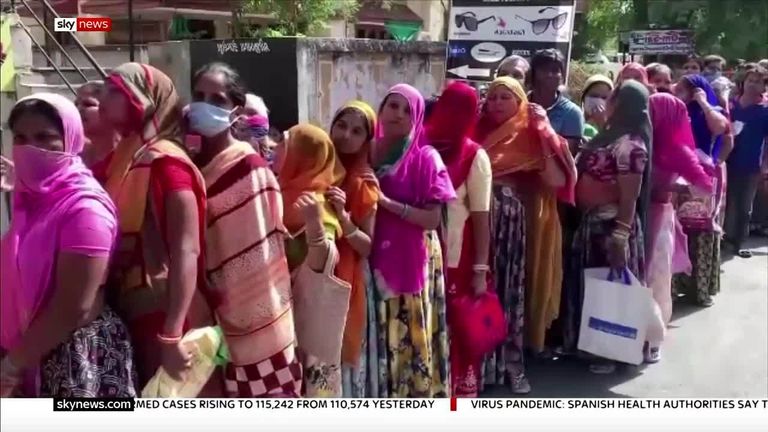 Over 10 million people in the US have already applied for unemployment benefits.
Mr van Trotsenberg told Sky News' US correspondent Amanda Walker: "The concerning part is in the poorest countries where health systems are very weak.
"In fragile states they are even weaker so this coronavirus can have a devastating effect on populations.
"They will be affected by the economic turndown but what you are going to see with the very poor is that they need food."
Nearly 51,500 people have died from after testing positive for Covid-19.
The US accounts for about 236,000 of the confirmed cases – more than any other country, according to the tally.
The World Bank has said it is prepared to spend $160bn (£129bn) in emergency aid to help developing nations cope with the challenges they face as COVID-19 spreads further.
India, the third largest economy in Asia, will receive the largest share of the initial funding – $1bn (£800m) – to support better screening for the virus, contact tracing and laboratory diagnostics; pay for personal protective equipment; and set up new isolation wards for those infected, the bank said.
"There are huge challenges for the very poor to get even the basic needs after all, the poorest countries they represent a quarter of the world – 2.5 billion people," said Mr van Trotsenberg.
The UN General Assembly has unanimously approved a resolution recognising "the unprecedented effects" of the coronavirus pandemic and calling for "intensified international cooperation to contain, mitigate and defeat" COVID-19.
The resolution also recognises COVID-19's "severe disruption to societies and economies, as well as to global travel and commerce, and the devastating impact on the livelihood of people," and that "the poorest and most vulnerable are the hardest hit".
Mr van Trotsenberg said everywhere will be affected: "In general the US is one of the biggest economies, representing 70% of the overall wealth economy, so clearly this will have a major impact but so is the European economy.
"All of these economies are going to see a recession this year."
:: Listen to the Daily podcast on Apple Podcasts, Google Podcasts, Spotify, Spreaker
But he added that he believes the world can recover from this: "I'm an eternal optimist. I think with our force and our working together, yes I believe we can recover and we will recover stronger.
"I think this is unprecedented. It is more severe than the financial crisis 11 years ago."
Coronavirus: Cruise ship with suspected patients on board allowed to dock in Florida | US News
A cruise ship which has been floating at sea carrying passengers with suspected coronavirus after it was turned away from South American ports has finally been given permission to dock in Florida.
The Zaandam and sister ship the Rotterdam, which was sent to help it, were given the green light to disembark people at Port Everglades after days of negotiation with local officials.
Passengers have not been able to step on dry land for almost three weeks.
Four elderly people died on the Zaandam – including a British man – and at least two from COVID-19 – according to William Burke, chief maritime officer for Carnival Corp., which owns the ships.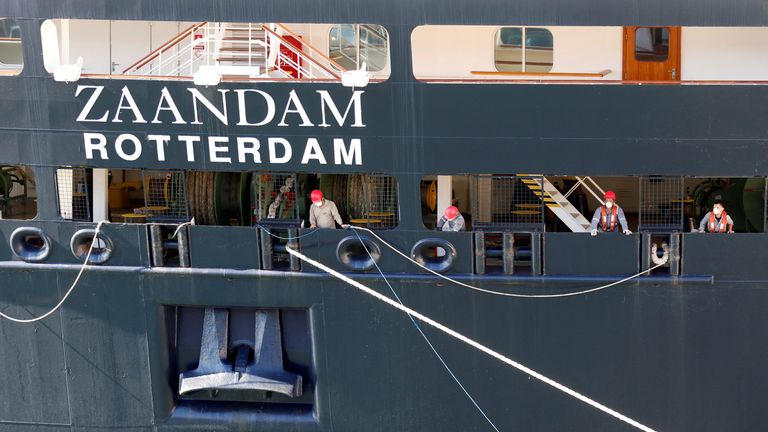 Earlier this week, he said nine people had tested positive for the virus.
There were 442 guests and 603 crew on the Zaandam, and 808 guests and 583 crew on the Rotterdam.
An elderly British couple aboard the Zaandam previously issued a desperate plea to the United States to allow the vessel to dock.
Tony and Jennie Wills from Earls Barton in Northamptonshire, spoke out after the state's governor, Ron DeSantis, signalled he did not want the vessel's passengers and crew dumped on his doorstep.
"This is a real humanitarian crisis and we appeal, we pray, we implore America, all the governments around the world, please America, please let us land somewhere," Mrs Wills, 74, said in a video message shared with Sky News.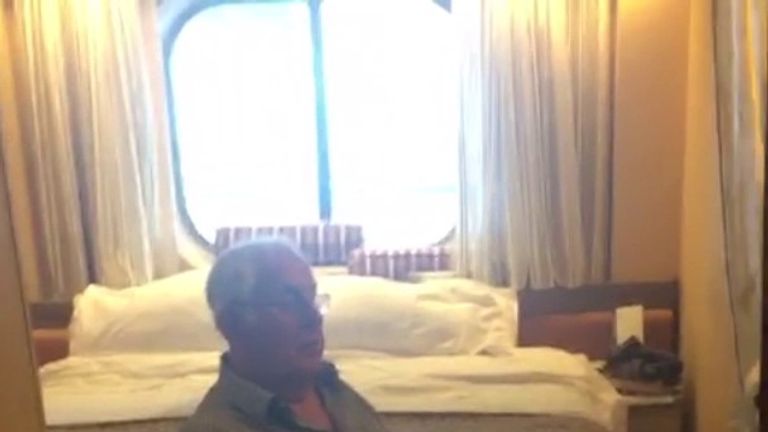 "Please, please, we just so all want to come home. This is on behalf of absolutely everybody on board the two ships."
Her husband, 80, had previously said information from the captain and the cruise operator, Holland America Line, had been poor.
Mr Willis added: "We are obviously realising there is a hell of a lot more illness on this boat than we ever realised and we are getting very, very worried. We need to get off."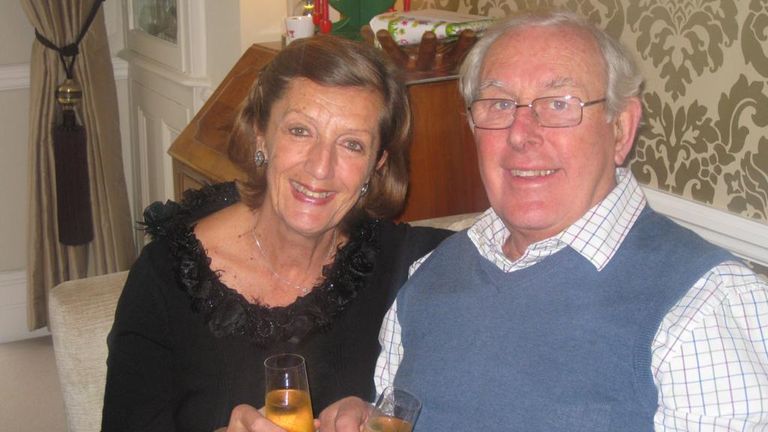 Mr DeSantis previously told a news conference: "Just to drop people off at the place where we're having the highest number of cases right now just doesn't make a whole lot of sense."
However, speaking at the White House's daily coronavirus briefing, President Trump said he would ask the governor to allow the ships to dock in Florida, saying: "They're dying on the ship.
"I'm going to do what's right. Not only for us, but for humanity."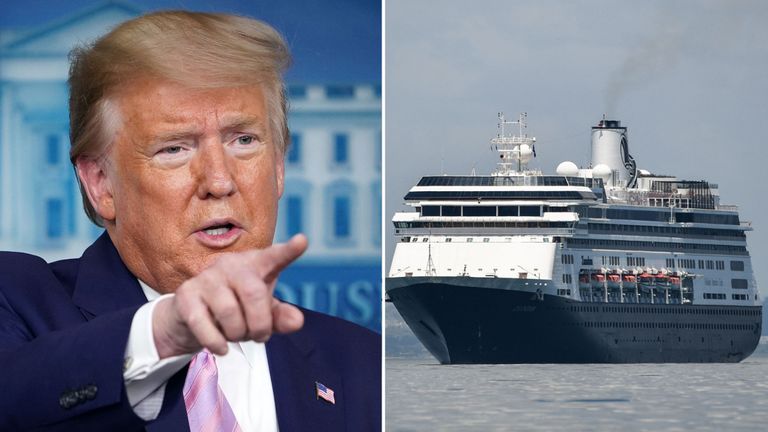 Holland America has said 45 passengers who were mildly sick would stay on board until they recovered, but that it needed 10 people to be taken to a Fort Lauderdale hospital for immediate medical care.
Broward County Commissioner, Michael Udine, said the agreement only allowed for fewer than five people to be taken to a hospital.
Mr DeSantis said passengers and crew who have no symptoms would be taken to airports by bus, but would not be allowed inside the terminals, and instead would directly board planes.
"You can't just release them into the general public if they have been exposed," he said.
Holland America has said that guests fit for travel under guidelines from the US Centers for Disease Control would transfer "straight from the ship to flights for onward travel home, the majority on charter flights".
In a statement, it said: "Out of an abundance of caution, these guests will be transported in coaches that will be sanitized, with limited person-to-person contact and while wearing masks."
Guests have not left the ship since 14 March, and have self-isolated in their cabins since 22 March.
:: Listen to Divided States on Apple podcasts, Google Podcasts, Spotify, and Spreaker
The Zaandam set sail from Buenos Aires on 7 March, and was originally scheduled to end the first leg of the voyage at San Antonio, Chile, on 21 March, before departing again for Fort Lauderdale.
The cruise was stranded off the coast of Panama after it was not allowed to dock in Chile and other ports along its path.
Coronavirus: COVID-19 cases worldwide top one million | World News
The coronavirus pandemic has reached a grim landmark, with more than one million cases confirmed worldwide.
Almost a quarter of that number (236,000) are people diagnosed with COVID-19 in the US, according to figures compiled by Johns Hopkins University.
Italy and Spain make up nearly another quarter between them (225,000), with China, Germany and the UK also having a high number of cases.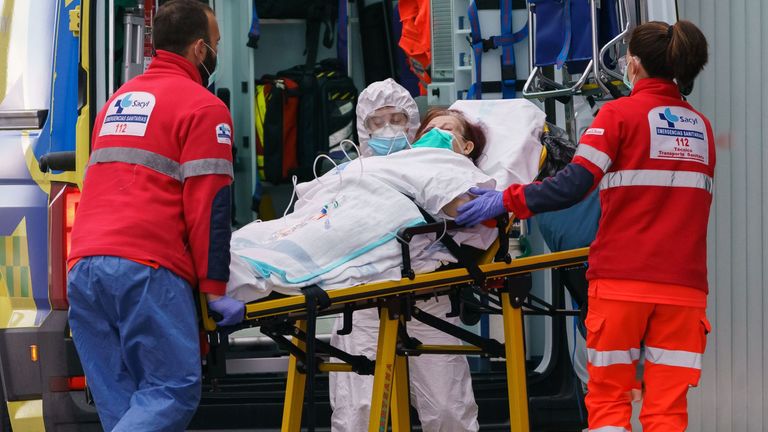 On Thursday, Spain's death toll rose above 10,000 after a record 950 people died overnight – but health officials are encouraged by a slowdown in daily increases in infections and deaths.
Spain has the world's second-highest number of deaths after Italy at 10,003 – but today's one-day toll is the highest for any country since the start of the pandemic.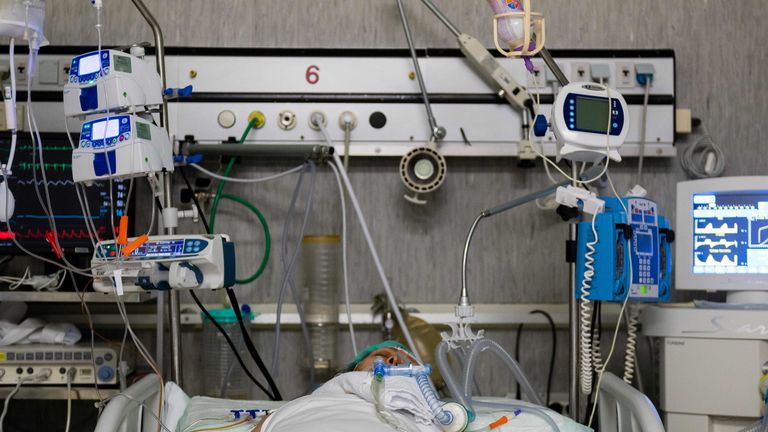 Italy recorded 760 more deaths, and now has a total of almost 14,000 – the worst of any nation – but new infections continued to level off.
More than 10,000 medical personnel in the country have been infected, and 69 doctors have died.
COVID-19 – the respiratory illness that is caused by the coronavirus – originated in China late last year and, over the past four months, has spread to almost every country in the world.
In the UK, another 569 people have died after being diagnosed – meaning the total number is 2,921.
The number of deaths, tallied in the 24 hours up to 5pm on Wednesday, is Britain's largest daily increase so far.
The Department of Health said as of 9am on Thursday, 33,718 people had tested positive across the UK.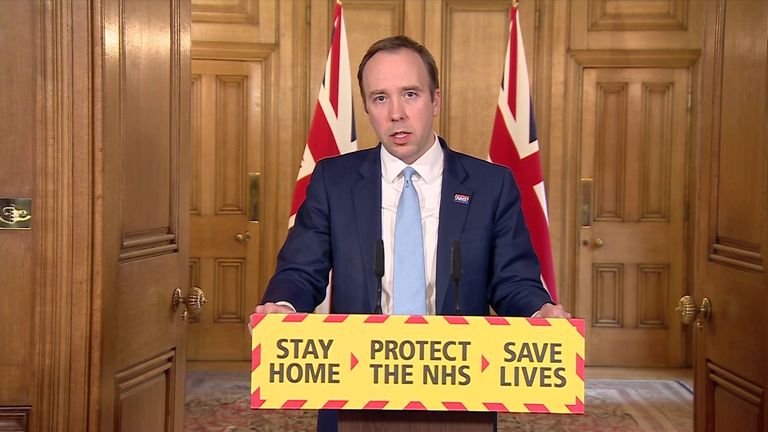 Meanwhile, in the US, President Donald Trump has warned Americans to expect a "painful two weeks" as coronavirus deaths in the US peak – before suggesting people wear scarves as face masks in the fight against the virus.
The White House has projected between 100,000 and 240,000 people will die in the US from the pandemic, if social distancing guidelines are maintained.
Canada faces "a critical week" – Deputy Prime Minister Chrystia Freeland said on Thursday, after the country saw the number of deaths rise to 161, from 105 yesterday, while it is reported the number of confirmed cases jumped to 11,131 from 9,017.
Canada's public health agency is particularly concerned by the spread of the coronavirus in seniors' residences, which are turning into hotspots in Ontario, Quebec and British Columbia – the three biggest provinces by population.
The Mayor of Toronto, John Tory, has said anyone caught walking within two meters (6ft) of another person in a public park in the city, or square, will be fined up to $5,000 (around £2,850), claiming the public has been warned many times.
:: Listen to the Daily podcast on Apple Podcasts, Google Podcasts, Spotify, Spreaker
He also said he does not want Toronto to become New York, which has been the epicentre of the outbreak in the US.
There is no proven vaccine for COVID-19, but pharmaceutical companies in various countries have joined the race for a vaccine.
The World Health Organisation said on Wednesday evening that 74 countries had also volunteered to take part in trials to find a cure for the virus.