Priest suspended after baby suffers scratches in violent baptism | World News

A Russian priest has been suspended and police are investigating after a one-year-old boy suffered scratches during a violent baptism.
Video showed of Father Foty Necheporenko, a Russian Orthodox abbot, plunge the child roughly into a font that appeared to be too small.
He is seen pushing on his face to submerge him and knocking his head against the sides.
The boy's mother Anastasia Alexeeva, 24, desperately tried to intervene – saying "let him go, he's in pain" – but the priest continued.
Following the incident involving her son Demid at the Marienburg Church in Gatchina near St Petersburg: "He did everything to hurt the child. He saw that he was big, that it was not possible to dive him into such a small font.
"He had to splash the water on his head. But still he decided to do it his way. The little one was crying and wriggling.
"I was afraid, I ran to him. I tried to take the child away. I nearly caught fire myself because my scarf touched the candles around the font."
Ms Alexeeva says Demid sustained scratches on his shoulder and neck and suffers from "panic and hysteria".
But Fr Necheporenko defended his actions and said: "The baby did not swallow any water, he did not hit the walls of the baptismal font.
"I have been serving for 26 years and I have always christened children like this. I performed my church duty."
The church has suspended Fr Necheporenko for a year and police are now investigating.
Hong Kong protests: Police use water cannon for first time against demonstrators | World News
Hong Kong police have used water cannon against anti-government protesters for the first time during a second successive day of demonstrations in the former British colony.
There have been skirmishes between officers and brick-throwing activists following a pro-democracy march in Kwai Fong in the New Territories, where tens of thousands of people took to the streets.
A large crowd attended a rally in a park but another group of protesters took over a main street nearby, putting up barricades with traffic barriers and cones.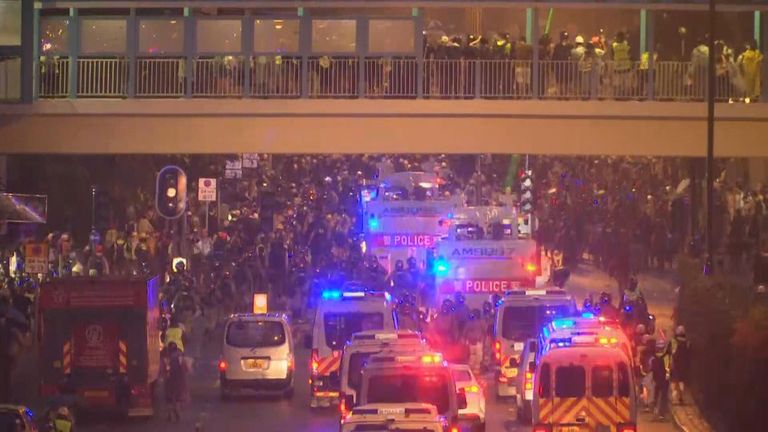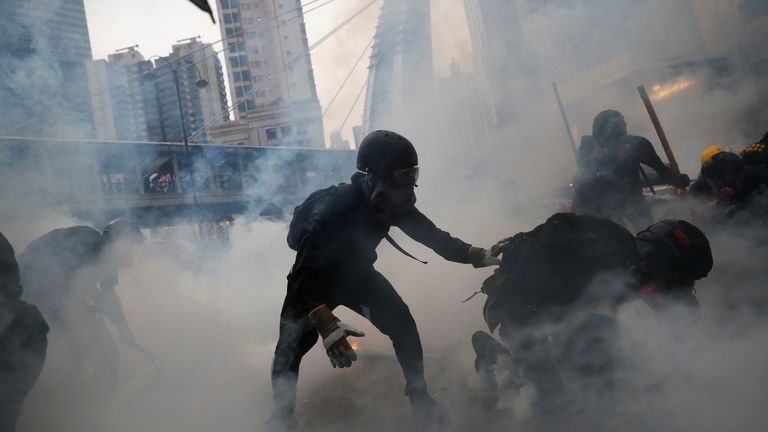 Police tried to disperse them by firing tear gas but protesters reacted by hurling bricks and other objects towards the officers in the Tsuen Wan area.
At least one petrol bomb was thrown by protesters, some of whom then moved down narrow side streets where the water cannon could not follow.
Police said: "Some radical protesters have removed railings… and set up barricades with water-filled barriers, bamboo sticks, traffic cones and other objects.
"Such acts neglect the safety of citizens and road users, paralysing traffic in the vicinity."
The violence came a day after similar clashes in the Kowloon Bay district, where authorities arrested 29 people for offences including unlawful assembly, possession of offensive weapons and assaulting police officers.
Two crowd-control vehicles fitted with water cannons were deployed on the streets on Sunday.
The South China Morning Post reported the custom-built French trucks have 15 high-pressure cannons each.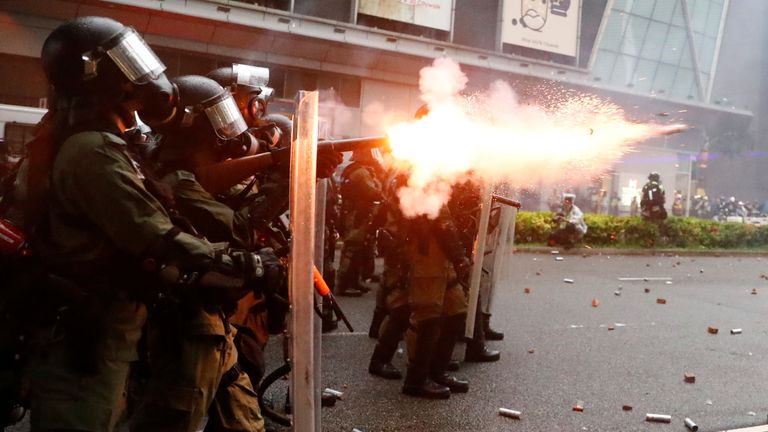 Two cannons on the roof can fire more than 1,200 litres of water a minute over a distance of 50 metres. The water can be mixed with tear gas or liquid dye as well.
The cannons should only be aimed at the lower limbs of the protesters, according to guidelines.
An assistant commissioner of police overseeing operations is allowed to authorise deployment of the water cannon after assessing threats.
The trucks arrived in the city in May last year.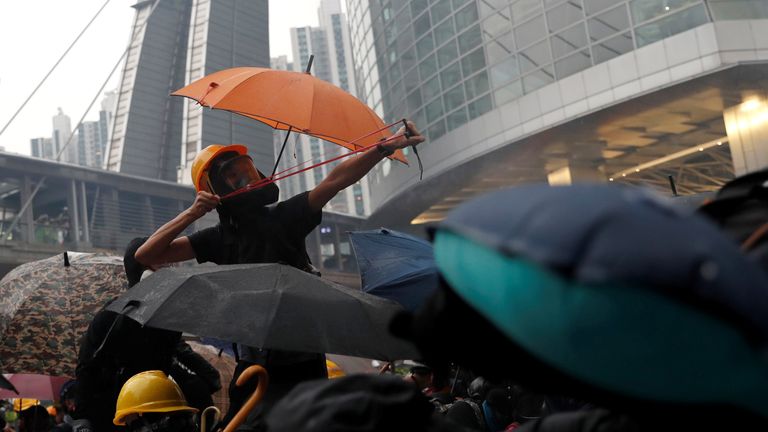 The latest wave of demonstrations began almost three months ago over a now-suspended bill which would allow criminal suspects in Hong Kong to be extradited to mainland China.
The protests are also fuelled by concerns about the erosion of freedoms guaranteed under the "one country, two systems" formula that was put in place after the territory returned from UK to Chinese rule in 1997.
:: Listen to the Daily podcast on Apple Podcasts, Google Podcasts, Spotify, Spreaker
Child among 22 migrants rescued from Channel by French authorities | World News

French authorities have rescued 22 migrants who got into trouble while trying to cross the Channel.
The group, which included a woman and a child, was found roughly two miles off the coast of Dunkirk at about 1.30am on Sunday.
Authorities were alerted to the migrants' plight by a ferry just after midnight and sent out search and rescue teams.
They were safely recovered and taken back to Dunkirk on board the RIAS Bee Languedoc.
Earlier this week, Boris Johnson warned migrants not to attempt the Channel crossing, saying: "We will send you back."
The prime minister said: "Clearly the most important thing is to stop them coming across from France so we are working very closely with the French authorities.
"The point I would just make to people thinking of making this journey – one, it is very hazardous, you may think the weather looks great but it's a very, very dangerous thing to do.
"The second thing is – we will send you back. The UK should not be regarded as a place where you could automatically come and break the law by seeking to arrive illegally."
His comments came after dozens of migrants were rescued off the British south coast on Thursday.
One witness told Sky News dozens of people were picked up and taken to Dover, in Kent.
The Home Office confirmed 37 migrants were rescued after four small boats were intercepted.
It said Home Secretary Priti Patel would be raising the issue with her French counterpart.
Five Britons arrested and 100kg of drugs confiscated in Malaga | UK News
A British criminal network has been foiled in Spain, with more than 100kg of drugs confiscated. 
Five Britons – three men and two women aged between 38 and 62 – have been arrested in connection with the network by the National Police in Malaga.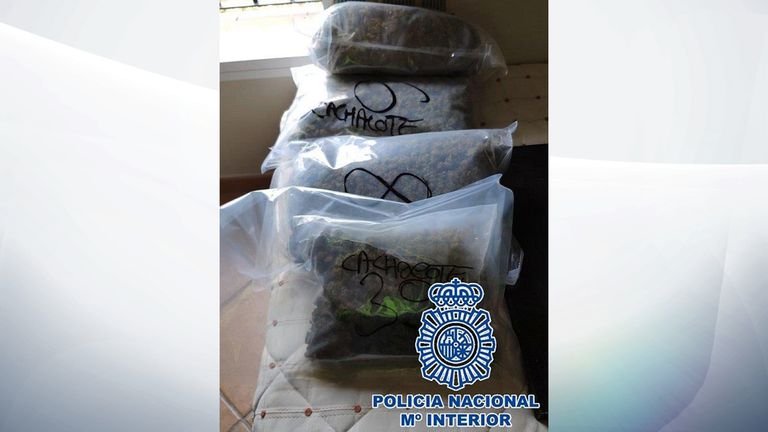 Officers said they intercepted 52kg of a mix of marijuana and hash, and 51kg of vacuum-packed marijuana buds.
The police operation also saw the seizure of 23,000 euros (£21,000) in cash.
Drugs were being sent across Europe through couriers based in Malaga, and it is thought they were destined for countries including the UK, Sweden, Poland and Denmark.
The suspects allegedly took steps to avoid police, including frequently changing which vehicles they used and the homes they rented, officers said.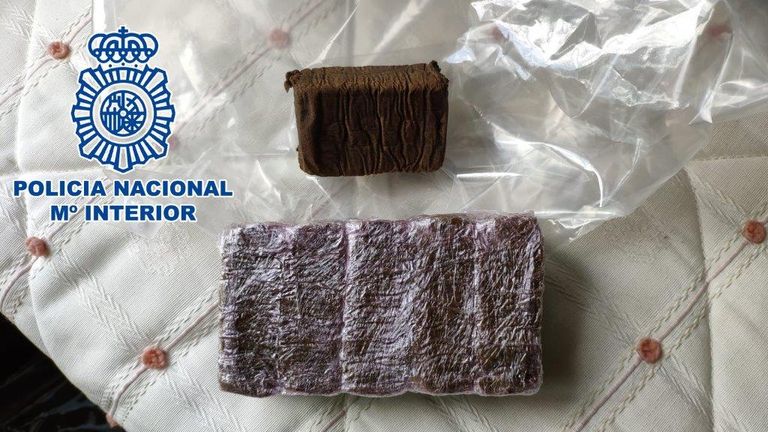 A long-running police operation saw two parcel shipments intercepted at courier agencies in May, containing 58kg of drugs in seven boxes intended for Sweden, Poland and Denmark.
In subsequent shipments, the last one intercepted earlier in August, three packages containing 17kg of the drugs were prevented from reaching Sweden and the UK, the force said.
Police then carried out home searches once the suspects were identified, with a further 28kg uncovered in the raids.