Instagram: Time to up your stories game as app adds augmented reality effects | Science & Tech News
Get ready to see your friends turn into a Terminator and take a selfie in outer space as Instagram adds augmented reality (AR) effects.
Much like the visual tricks seen in smartphone games like Pokemon Go, which allows players to see Pikachu and pals as if they were appearing in the real world, Instagram users will soon be able to up their stories game by overlaying a whole host of weird and wacky effects on to their photos and videos.
Instagram stories differ from regular photo or video posts that appear in the app's timeline with them appearing at the top of the app in a slideshow format containing a stream of pictures and clips for just 24 hours.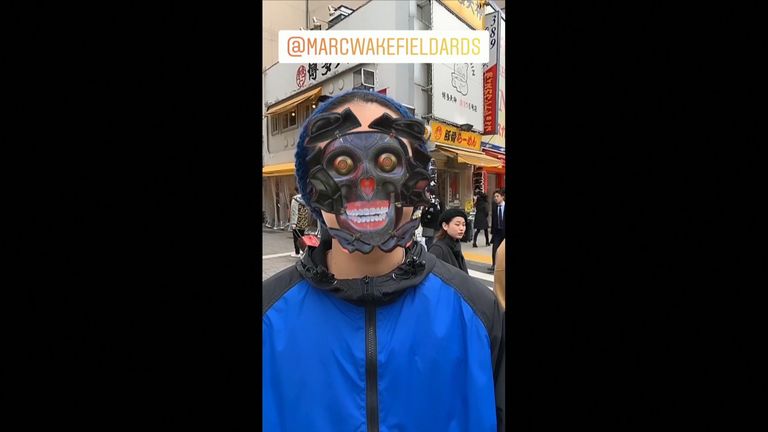 The photo-sharing platform is owned by Facebook and will use the tech giant's in-house AR platform called Spark to produce the effects, which will also allow people to create their own designs.
Existing filters, smileys, stickers and other overlays featured in Instagram have all been pre-made, but the company is hoping the AR functionality will allow for even greater creativity.
New creations can also be shared with friends and followers, with an effects gallery to be introduced so that users can browse and use anything they fancy.
In a showreel built by Instagram to get the creative juices flowing, people are seen chilling with a virtual pet on their shoulder, taking a selfie as it rains fire, and unmasking their face to reveal a Terminator-style android.
One youngster is seen gradually turning invisible like Harry Potter in the restricted section, while another snaps a selfie in outer space while reacting wildly to a surge of gherkins falling from above – all standard internet fare.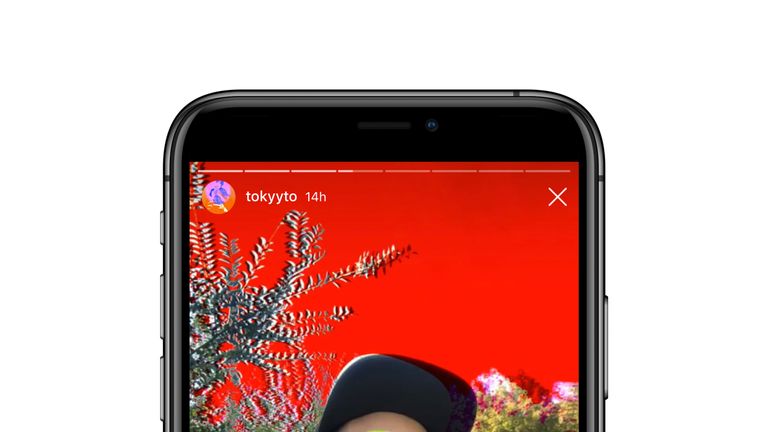 The company said: "Whether you want to add a new layer of fun to an event like a wedding, birthday party, or graduation with a custom filter or you're a professional who wants to continue to hone their craft, Spark AR Studio has everything you need to get started.
"And with Instagram stories being used by over 500 million users daily, there's no better place to express yourself with your own AR effects – or simply share the ways you're using them with your community."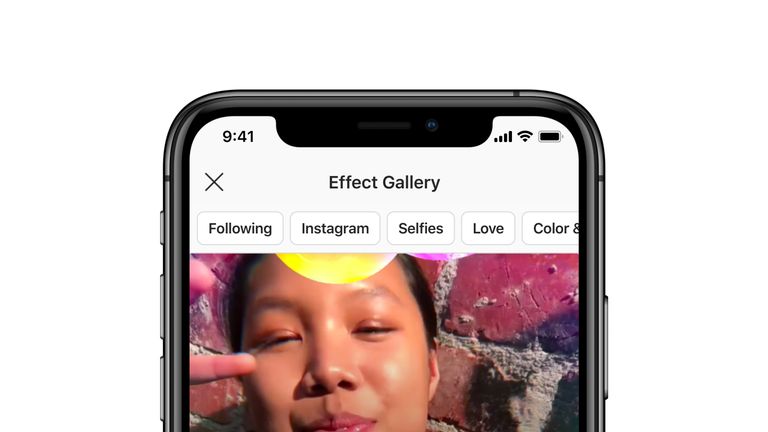 The update has been released on both the App Store and the Google Play Store, which have both become packed with apps featuring AR effects.
Some offer dedicated AR-only experiences, such as seeing how new furniture might fit in your living room or mapping the stars on a clear night, while others have begun adding AR features as a bonus.
Last week, Google said it was to more widely introduce AR tools to aid navigation in its Maps app.
The new feature will see AR arrows appear on the real-world scene as seen on your smartphone screen, to help with walking navigation.
Coronavirus: The South African township where people just won't follow the lockdown rules | World News
This is what I observed after spending the day in Alexandra, an impoverished and badly overcrowded township in Johannesburg.
The highly restrictive, 21-day lock-down ordered by South African president Cyril Ramaphosa will not work.
It will not work because a significant percentage of the population cannot or will not follow the rules and regulations stipulated by the shutdown, which has been put in place in response to the coronavirus outbreak.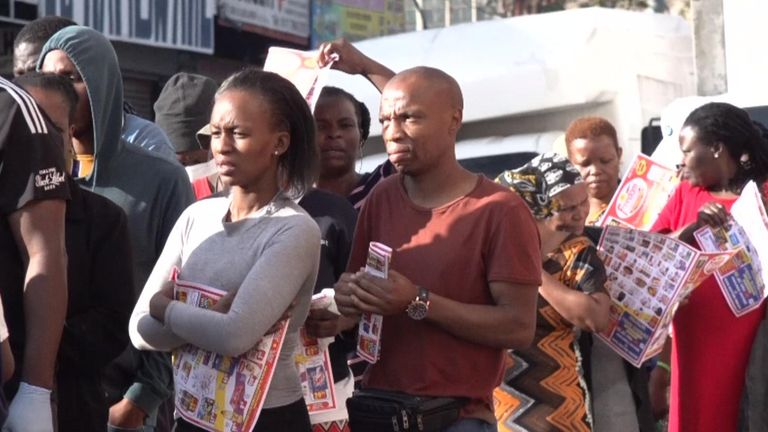 The South African government should refocus its approach and prepare with urgency for the worst case scenario where tens of thousands of people fall seriously ill.
After 12 hours in Alexandra, nothing else makes sense.
We began the day outside the Freedom Supermarket, where a 500m queue began at the front door.
Across the road, a similarly lengthy line ended at a metal gate which stood in front of the local bank.
Attempting to keep order was a solitary policeman, who screamed and pleaded with the shoppers to spread themselves out.
"Please, one metre away, keep one metre away."
No one seemed to pay much notice.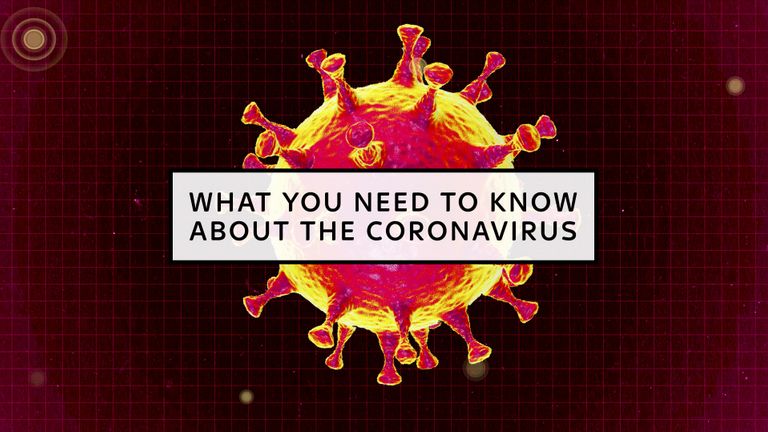 The people of Alexandra know what the coronavirus is doing in South Africa. The authorities have recorded an explosive rise in the number cases, increasing from 200 to over 1000 in seven days.
But residents also need to eat and they are permitted to buy food or medicine at the shops.
Still, the lockdown is not supposed to work like this. There was no social distancing in Alexandra and there were few facemasks or hand sanitizers to be seen. Plus, I could only spot one policeman on the scene.
"Not easy at all, not easy at all, not easy at all," he muttered.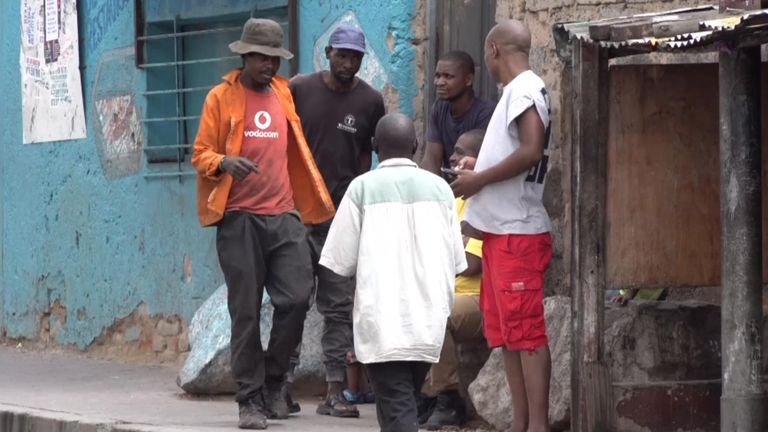 I spoke to one shopper called Tirello, in front of the Freedom Supermarket.
"We are out now, going shopping, we are meeting different people. If I am infected, maybe this man [in front of me] is not infected and I am spreading the virus to him. It is not going to work. It is not going to work."
The authorities changed tack in the afternoon.
Several hundred soldiers were bussed into Alexandra with orders to keep the township's residents indoors.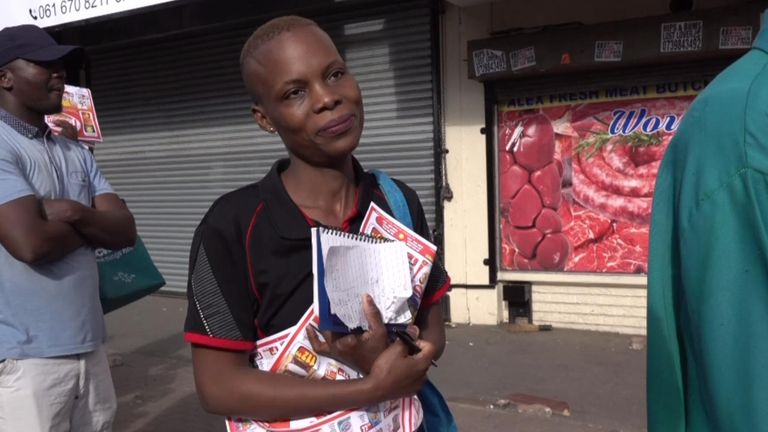 We tagged along with one detachment through a particularly rough part of "Alex" and it was clear the residents did not want them around.
"Go away, go away," they yelled. "We don't need this."
The rules and regulations are strict. Anyone caught outside their home faces six months in jail – or a fine – or both. But they are not taking this seriously in the townships.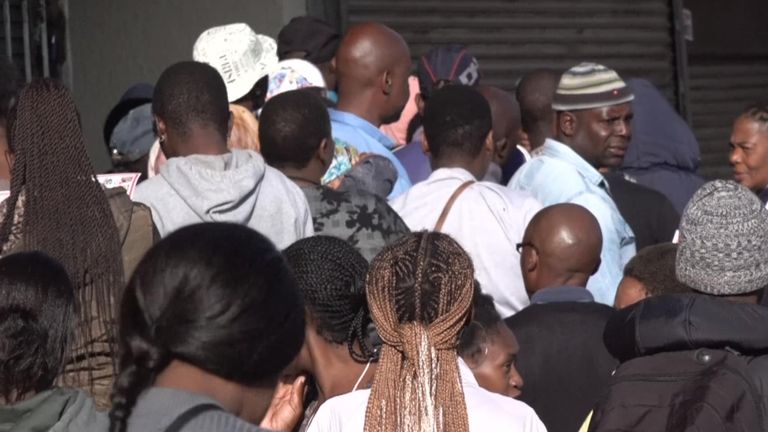 "The police minister says you could go to jail for being out here," I said to one man, who was drinking a beer in the street.
"I am staying in one room with five others, how can I stay in there all day? They must just come and arrest us," he replied.
The residents ebbed and flowed around the troops as they made their way down the township's sodden tracks.
Some took shelter in the alleyways and others perched on roofs. But when the soldiers had passed, the people retook the streets.
:: Listen to the Daily podcast on Apple Podcasts, Google Podcasts, Spotify, Spreaker
Some members of the infantry unit began to lose their patience. A woman in uniform targeted a man in a deckchair with a well-aimed slap and a barrage of expletives.
A few minutes later, a soldier walked up to a resident and aimed a punch at his head and swift kick at his legs.
It looked like a show of strength but in reality, it was a telling sign of weakness. Alexandra Township, like many other impoverished communities, cannot be policed and its residents will not self-isolate.
When the virus takes root here, as it almost certainly will, the national healthcare system will crack. South Africa possesses 1,000 intensive care beds. The population of Alexandra alone is estimated at 200,000 to 300,000.
Some 16,000 beds at 52 quarantine sites have been identified across South Africa, "as part of the government's preparations", but this does not go anywhere near enough.
You only need to visit "Alex" to see it.
Coronavirus: China is building a 'fortress' to make sure coronavirus is now a foreign problem | UK News
China is building a fortress against coronavirus.
If you want to know just how seriously they are still taking coronavirus, cross its borders.
On Thursday, the Ministry of Foreign Affairs announced that it would ban all foreigners from entering in 24 hours' time – we need to get to Beijing.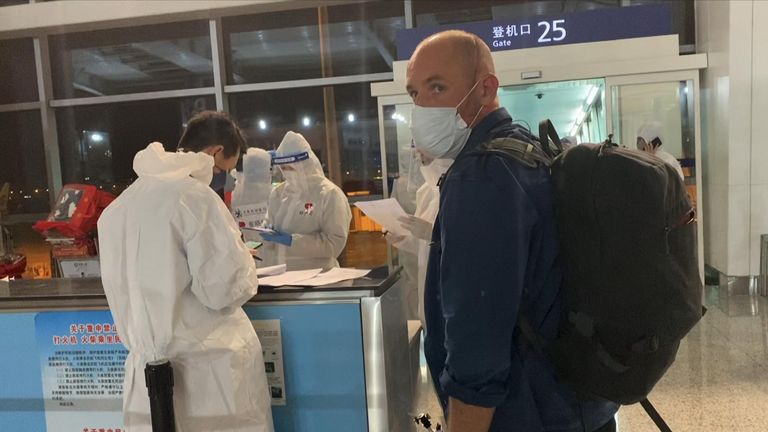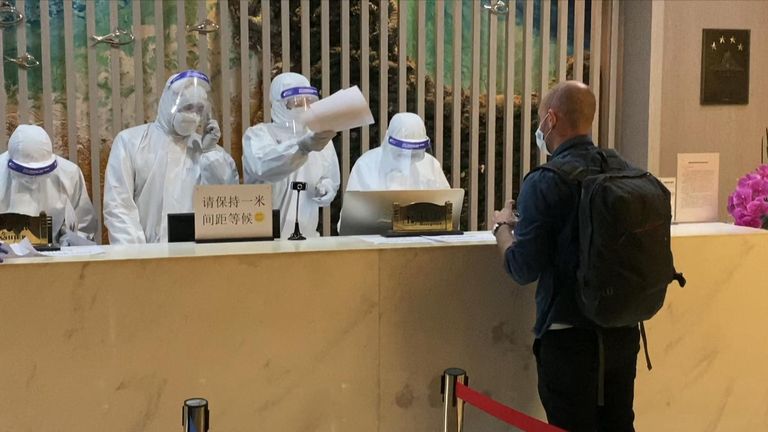 Our team was in Seoul and the screening process for COVID-19 started there.
At the check-in counter, our temperatures were taken – anything above 37C meant no boarding, and being locked out of our homes and workplace for weeks, maybe longer.
Each stage was more stringent. At the boarding gate, officials were wearing full personal protective equipment (PPE) – suits, masks, goggles and splash guards.
There were four more temperature checks before we were allowed on the plane.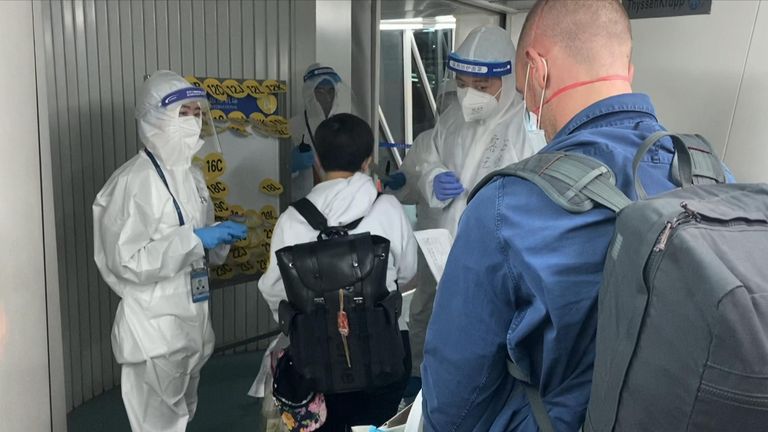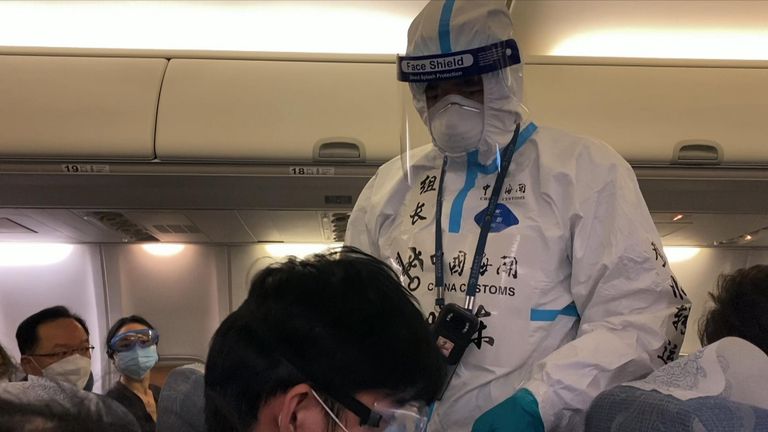 On board, all the Air China cabin crew were in full PPE too, their names written on the back of their suits and cartoons they had drawn. During the short flight, they took our temperature again.
We landed at Dalian, a seaside city about halfway between Beijing and Seoul.
The Chinese government is so anxious to avoid new COVID-19 cases in the capital that the quarantine process started there; the Citadel must be protected.
When we landed, customs officials boarded – again, they were suited up – and with thermometers once more in hand, before allowing us off the plane, row by row.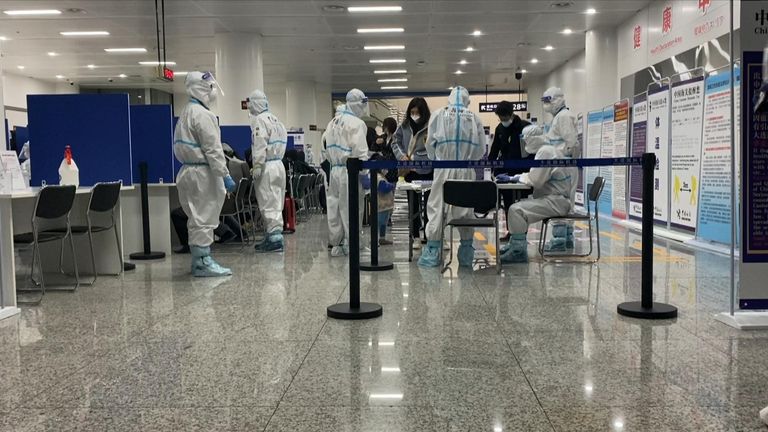 They were scenes that would be impossible to imagine two months ago and even now they feel other-worldly.
The arrival hall was even further in the realm of the unreal: more than 50 officials, customs and police, all in full suits and goggles, sitting at interview desks and manning checkpoints.
Every passenger was interviewed at length about their travel history and possible symptoms.
Then each of us was taken into a medical screening room for the COVID-19 test.
This was uncomfortable, a swab at the back of the throat, then at the back of the nose, enough to make the eyes water.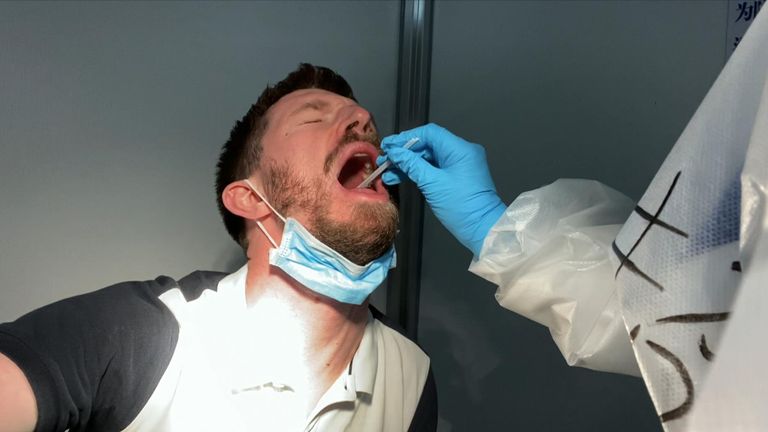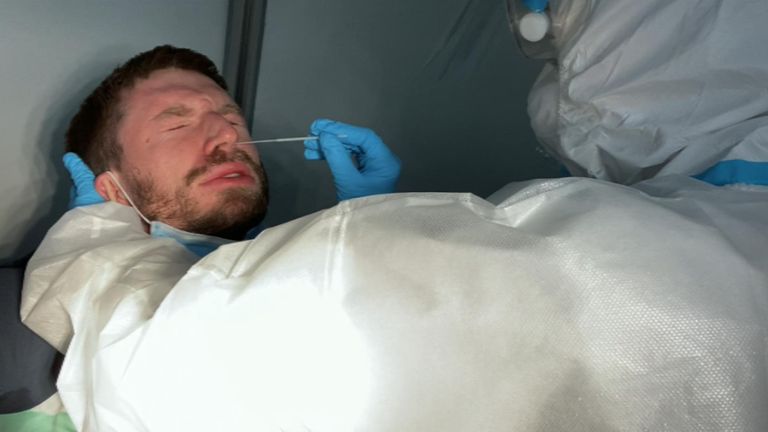 It was an extraordinary operation, late on a Friday night, and a stark contrast to European cities where people are allowed off flights with perhaps a temperature check at best.
That is what an authoritarian state with deep pockets can achieve.
But it was also remarkably efficient and even considerate – two words I never thought I would use to describe Chinese bureaucracy, or Chinese airports for that matter.
We made it through immigration about two hours after we landed, and only four hours before the ban came into effect.
We were in China but we would not be going to Beijing. A new policy.
We were driven in buses to a local hotel in Dalian requisitioned by the government, flanked by hazmat suits at every point, and checked into tired rooms where we will spend the next 14 days.
Everyone pays for their stay, 340 RMB (about £40) per night.
:: Listen to the Daily podcast with Dermot Murnaghan on Apple Podcasts, Google Podcasts, Spotify, Spreaker
It includes meals, which are delivered three times a day, left outside the door; if you are quick you can see the hazmat suit that delivered the food scurry off to a safe distance.
Twice a day the phone rings and they ask to take our temperature – thermometers are provided.
Our COVID-19 tests came back negative. We will have another in 10 days' time.
Inaction and cover-up marred China's response to the outbreak inside its borders.
Now the virus is a foreign menace, they will go to every length to keep it at bay.
Coronavirus: US navy ship to treat non-COVID-19 patients as LA hospitals struggle | US News
Non-coronavirus patients will start being transferred onto a US Navy hospital ship moored off the coast of Los Angeles to help the city's overburdened hospitals.
A handful of patients will be taken to the USNS Mercy, one of the navy's two hospital ships, on Saturday as the Californian city struggles to cope with the COVID-19 outbreak.
The captain of the ship, which has 1,100 hospital beds, said they would gradually take on more patients over time to free up space in hospitals for coronavirus patients.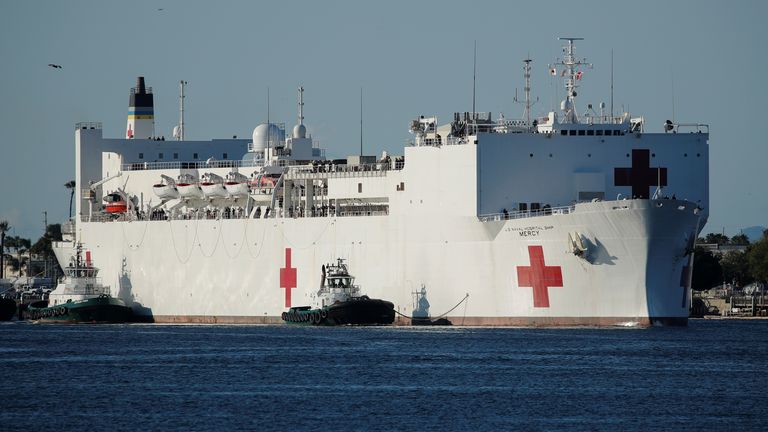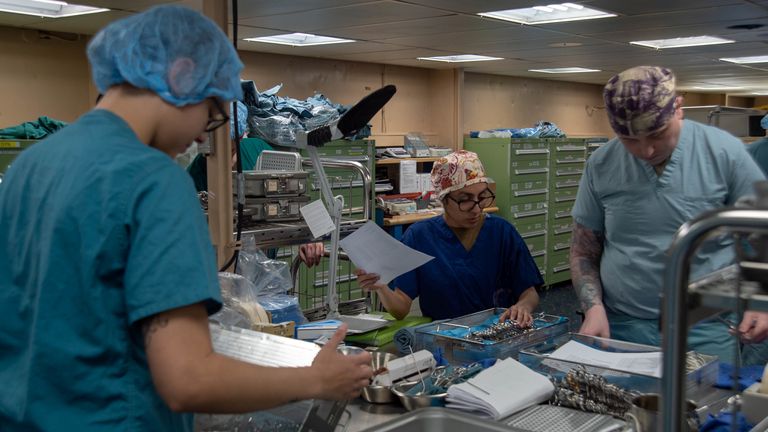 "We would start slowly with a number like five for the first day, then doubling that and doubling again," Navy Captain John Rotruck said.
The Mercy's 1,000 sailors, of which two-thirds are medical staff, have spent the last week training at sea as it is the first time many of them have worked together.
California's 40 million residents were placed on lockdown on 19 March, with its governor estimating 56% of the state's population would be infected over eight weeks.
Listen to Divided States on Apple podcasts, Google Podcasts, Spotify, and Spreaker
It is the third hardest hit state in the country, after New York and New Jersey, with a total of 4,905 coronavirus cases confirmed and 102 deaths in California by Thursday evening.
Los Angeles has been the state's hardest hit city, with 1,482 confirmed cases and 26 deaths.
On Friday the US overtook China and Italy in the number of confirmed cases, which reached 104,860 on Saturday and 1,581 deaths.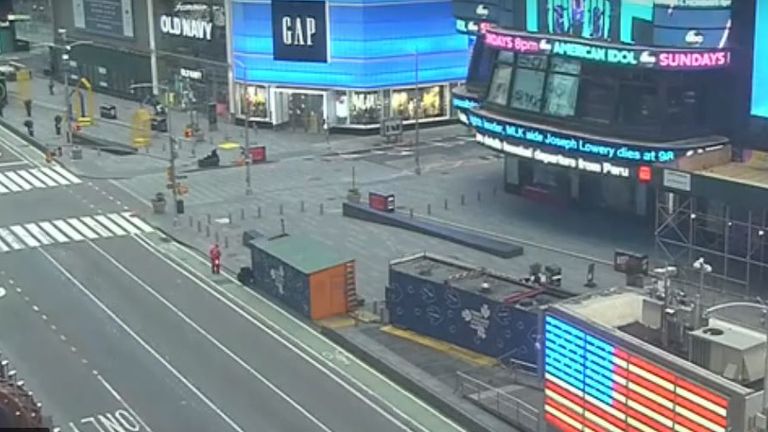 The country now has just over 17% of the world's 615,519 cases.
The US Navy's other hospital ship, the USNS Comfort, is preparing to leave Virginia on Saturday to head to New York City which is the worst hit area of the US.