Hong Kong: The protesters' strategy seemed to have worked. Then, things soured | World News
As soon as the police arrived, everything changed.
Tensions at Hong Kong international airport had been high all day. The protesters had clearly chosen it under the impression that police would hold back (at least from firing tear and pepper gas) if the protesters were in close contact with civilians who were trying to go about their journeys.
At first it seemed like their strategy had worked. When the announcement came over the tannoy that the airport was closed, cheers erupted from the demonstrators.
Then things began to sour.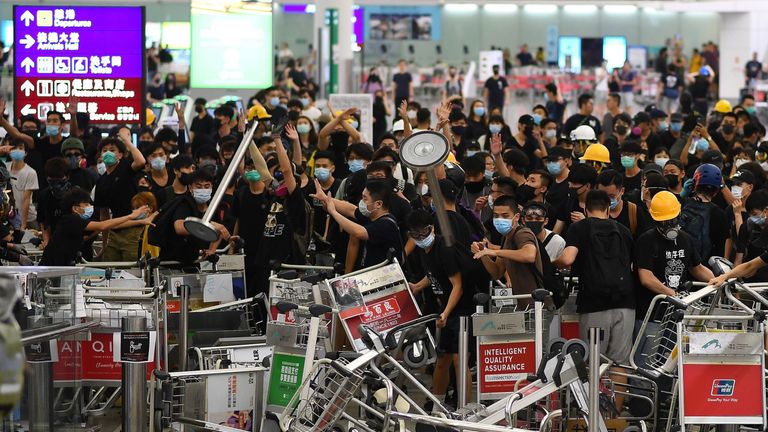 A group identified someone they thought was suspicious and mob mentality took over. They claimed he was a Chinese undercover policeman.
They beat him up badly and bound him with cable ties. The man was surrounded by a rabid pack of demonstrators. Some of the protesters wanted to protect him, but others had serious intentions of harm.
The man could well have been a policeman, as shortly after police began to arrive and tried to get inside.
What unfolded next was unlike anything I have ever witnessed in a building like an airport in all my years of reporting.
It was already remarkable that this number of people were able to shut an airport for two days and get away with it. The demonstrations had already been violent, including police having full-on fights with protesters and carrying out very physical arrests.
We all assumed this would simply be a clear-out operation, although I wondered how a situation like this – with many civilians present and thousands of demonstrators, could be dispersed. It would clearly be a big operation.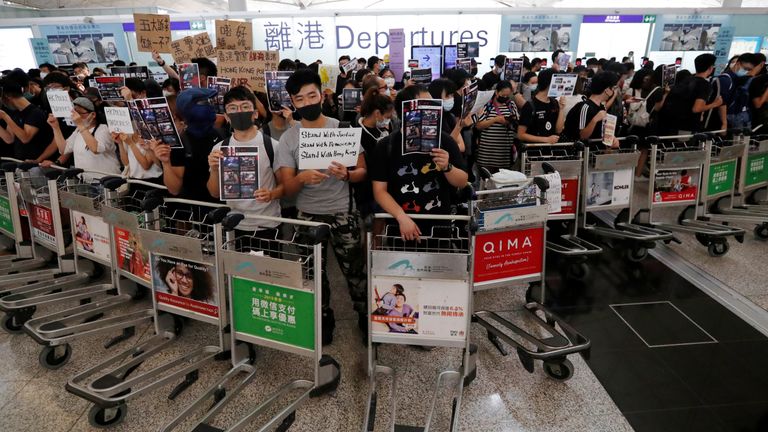 When the first officers arrived – just nine or 10 of them, if that – and stepped into the main airport building, pandemonium erupted.
As paramedics tried to weave through to reach the man, more chaos raged in the crowd.
The police drew back. The mob drove forward. Luggage, trolleys, umbrellas were lobbed like missiles at the officers.
In full retreat, this small group of cops dove back into their vans and attempted to escape but were blocked in by barricades erected by the protesters, who then tried to smash the windows.
I would not be surprised if the officers inside the vans were frightened for their lives.
Luckily for them, reinforcements arrived and riot officers poured out, smacking into protesters to clear a route. They were on a mission to get the stuck police out of danger.
The atmosphere changed. More and more arrived. This was going to be a confrontation.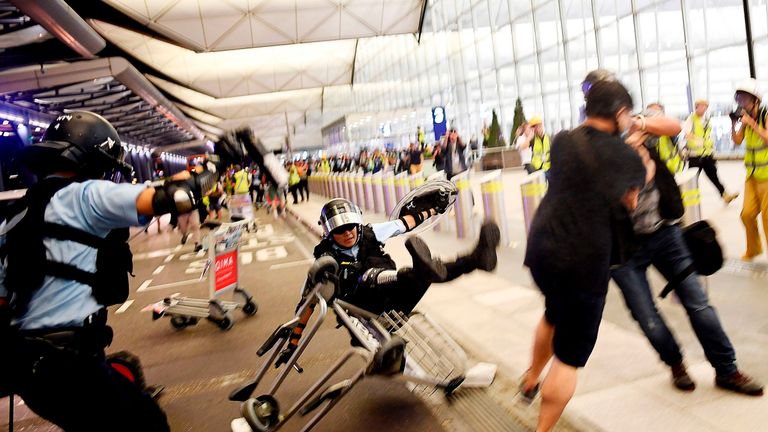 Some of the protesters realised and ran back inside, but others tried to keep charging forward only to be beaten back.
All the time police kept arriving and now seemed to know who they were looking for, ignoring some but grabbing others and throwing them into detention in the back of their vans.
To add to this scene of chaos, because only outbound flights were cancelled at this stage, an enormous jet arrived and passengers began to get off – greeted by the wall of noise coming from the protest.
What tipped the scales for the police was the arrival of a special forces unit. Dressed all in black and highly skilled in martial arts, these guys are serious business. They really are rock hard and you would not be surprised if they could kill a man with one punch.
No one went anywhere near them.
They calmly grabbed the other officers still stuck outside and disappeared.
Meanwhile, inside, a scene from earlier appeared to replay. Another group caught a man they found suspicious. Again, they cable tied him and beat him furiously. He was in a pretty serious condition and not well at all.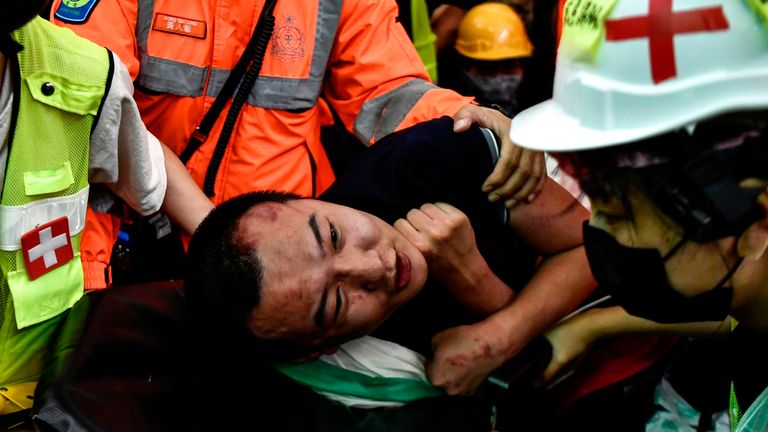 Some people seemed to be considering killing him. Among the items used to hit him with, they pelted him with the now famous symbol of their resistance – umbrellas.
Throughout this 10-week battle, paramedics have assisted both sides and have managed to stay as neutral as possible. Because of this, a group of medics managed to reach the injured man, despite some of the protesters not liking it.
They got him on a gurney and tried to get out. Hands of demonstrators could be seen grabbing and pulling at the man in an attempt to slide him off this life-saving raft.
But the medics managed to save him. Without them, he would probably still be here and dead.
As I write this, many protesters have left. The smell of pepper spray lingers in the air and on my clothes, still involuntarily making my eyes water.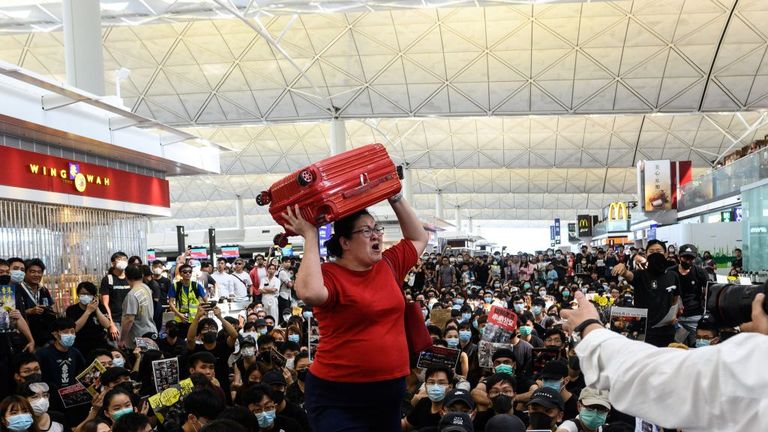 A surreal scene of dazed, frustrated and tired passengers wondering around waiting for check-ins to open and glancing at the boarding signs is beginning to replace the mass of bodies that filled almost every inch of this cavernous airport entrance.
The question now is what is going to happen next?
Child among 22 migrants rescued from Channel by French authorities | World News

French authorities have rescued 22 migrants who got into trouble while trying to cross the Channel.
The group, which included a woman and a child, was found roughly two miles off the coast of Dunkirk at about 1.30am on Sunday.
Authorities were alerted to the migrants' plight by a ferry just after midnight and sent out search and rescue teams.
They were safely recovered and taken back to Dunkirk on board the RIAS Bee Languedoc.
Earlier this week, Boris Johnson warned migrants not to attempt the Channel crossing, saying: "We will send you back."
The prime minister said: "Clearly the most important thing is to stop them coming across from France so we are working very closely with the French authorities.
"The point I would just make to people thinking of making this journey – one, it is very hazardous, you may think the weather looks great but it's a very, very dangerous thing to do.
"The second thing is – we will send you back. The UK should not be regarded as a place where you could automatically come and break the law by seeking to arrive illegally."
His comments came after dozens of migrants were rescued off the British south coast on Thursday.
One witness told Sky News dozens of people were picked up and taken to Dover, in Kent.
The Home Office confirmed 37 migrants were rescued after four small boats were intercepted.
It said Home Secretary Priti Patel would be raising the issue with her French counterpart.
Five Britons arrested and 100kg of drugs confiscated in Malaga | UK News
A British criminal network has been foiled in Spain, with more than 100kg of drugs confiscated. 
Five Britons – three men and two women aged between 38 and 62 – have been arrested in connection with the network by the National Police in Malaga.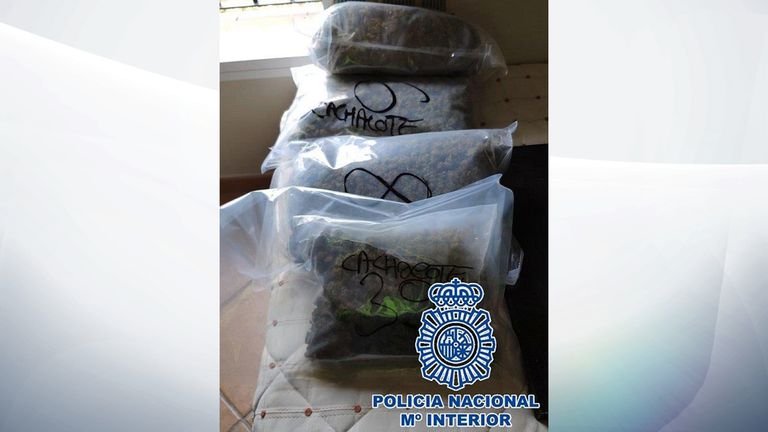 Officers said they intercepted 52kg of a mix of marijuana and hash, and 51kg of vacuum-packed marijuana buds.
The police operation also saw the seizure of 23,000 euros (£21,000) in cash.
Drugs were being sent across Europe through couriers based in Malaga, and it is thought they were destined for countries including the UK, Sweden, Poland and Denmark.
The suspects allegedly took steps to avoid police, including frequently changing which vehicles they used and the homes they rented, officers said.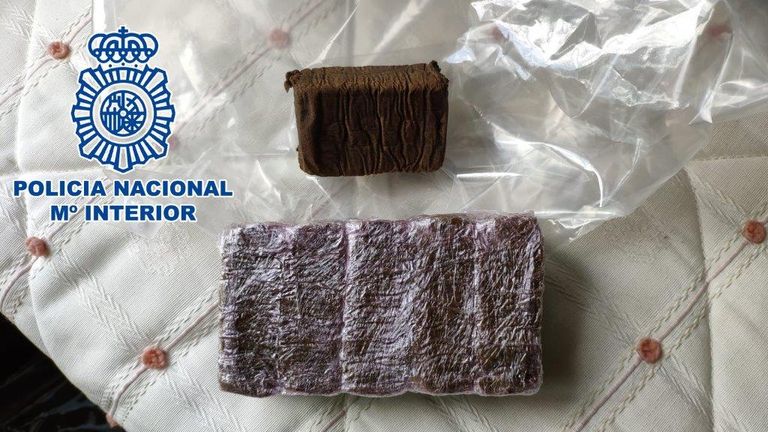 A long-running police operation saw two parcel shipments intercepted at courier agencies in May, containing 58kg of drugs in seven boxes intended for Sweden, Poland and Denmark.
In subsequent shipments, the last one intercepted earlier in August, three packages containing 17kg of the drugs were prevented from reaching Sweden and the UK, the force said.
Police then carried out home searches once the suspects were identified, with a further 28kg uncovered in the raids.
Hong Kong: Police use water cannon for first time against protesters | World News

Hong Kong police have used water cannon against anti-government protesters for the first time during a second straight day of demonstrations.
There have been skirmishes between activists and officers following a pro-democracy march in an area known as the New Territories where tens of thousands took to the streets.
A large crowd then attended a rally in a park but another group of protesters took over a main street, putting up barricades with traffic barriers and cones.
Police tried to disperse them by firing tear gas but protesters reacted by throwing bricks and other objects towards the officers.
The violence came a day after similar clashes in the Kowloon Bay district where authorities arrested 29 people for offences including unlawful assembly, possession of offensive weapons and assaulting police officers.
According to the South China Morning Post, the custom-built French trucks have 15 high-pressure cannons.
Two cannons on the roof can fire more than 1,200 litres of water a minute over a distance of 50 metres. The water can be mixed with tear gas or liquid dye as well.
According to guidelines, the cannons should only be aimed at the lower limbs of the protesters.
An assistant commissioner of police overseeing operations is allowed to authorise deployment of the water cannon after assessing threats.
The trucks arrived in the city in May last year.
More follows…