Hong Kong protesters raise £1.5m in a day to fund global ad campaign | World News
A crowdfunding campaign launched by protesters in Hong Kong has raised more than £1.5m in less than 24 hours.
Organisers say it will be used to raise awareness of the protests in the UK and the US.
The campaign, which was started on 11 August, has raised $1,908,980 (£1,580,635) – almost double its initial goal of $1m (£830,000).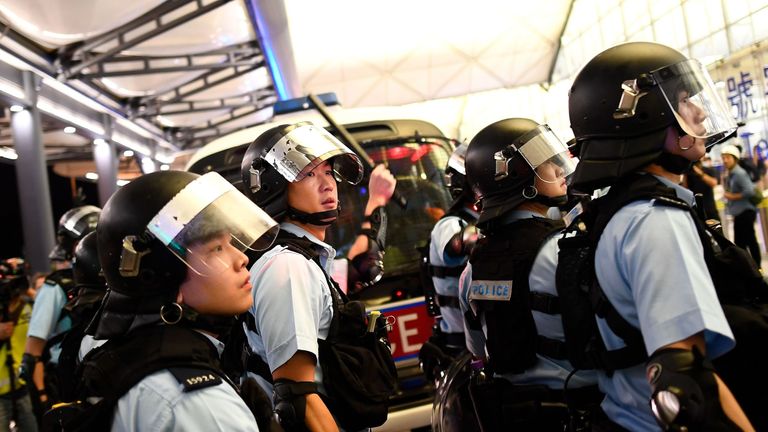 The group responsible for the campaign, which calls itself Freedom Hong Kong, says the money will be used to fund a "worldwide advertisement campaign on 17 August".
The campaign – the third organised by the group, which also goes by the name Stand With Hong Kong – is being hosted on American crowdfunding site GoFundMe.
An anonymous spokesperson for Freedom Hong Kong told Sky News: "This platform allows donors to contribute to our cause anonymously due to a perceived possibility of retribution from state machinery.
"The success of our crowdfunding campaigns highlights the burning desire of many Hongkongers to elevate our cause onto an international level."
A previous GoFundMe campaign calling for funds to advertise in the United Kingdom raised £319,513 earlier in the month.
The money was used to buy adverts in UK publications including the Evening Standard, The New Statesman and The Guardian calling on the British government to "declare a Chinese breach against the Sino-British Joint Declaration".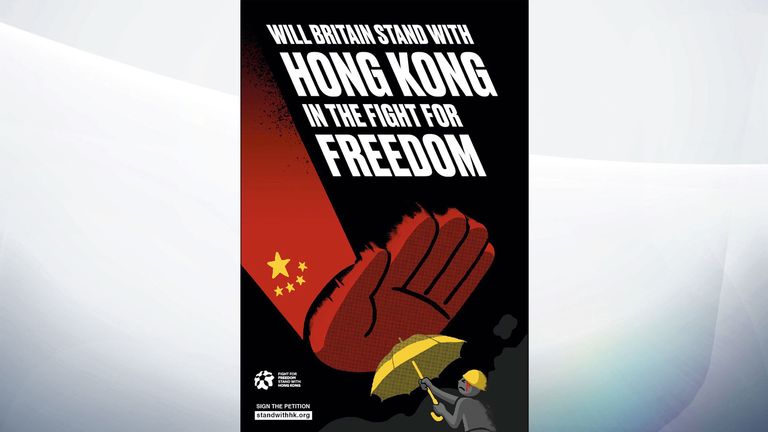 The Sino-British Joint declaration is a treaty, signed by the UK and China in 1984, which guaranteed that "the city's rights and freedoms would be protected" for 50 years.
Freedom Hong Kong has also advertised on social media.
According to data released by Facebook, the Freedom Hong Kong group has spent £13,729 on ads in the last 30 days.
The ads call on UK citizens to sign a petition to "Tell your MP to stand up for the rights of all Hongkongers."
Another crowdfunding campaign aiming to publish an open letter in international newspapers at the time of the G20 Osaka summit raised over £700,000 in nine hours, according to the organisers.
The digital campaign is just one part of the online battle being waged alongside increasingly volatile street protests.
Protesters use discussion forum LIHKG to plan protests, then rely on encrypted app Telegram to communicate during them.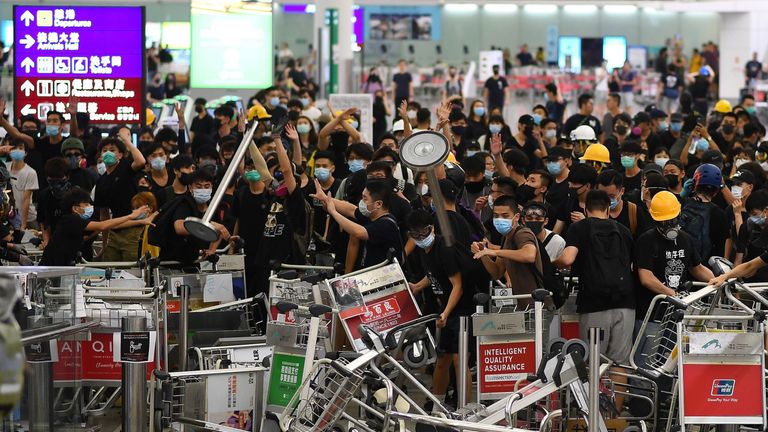 The anonymous spokesperson added: "Technology has been very important for protesters to anticipate and meet each others' needs.
"And of course, protesters have used technology to share informational resources in various languages to let the world know how Hong Kong is doing.
"But of course technology can be a double-edged sword.
"Hongkongers remain concerned that the government may enact an internet shutdown, following reports of DDOS and hacking attacks of various platforms.
"Given that Hong Kong is an international finance centre, an internet shutdown over a long period of time is unlikely but we can certainly see it forming part of police tactics during clashes."
As soon as the crowdfunding campaign reached its goal, some pro-China websites accused its organisers of working for foreign governments.
The Dimsum Daily website reported that the domain owner of the Freedom Hong Kong website was registered in the US, warning as a result that "these student protesters may be without their knowledge used as tools by the powerful nation to achieve their own agendas".
According to the protesters, the website appears to be registered in the US as it uses a service called Privacy Guardian to protect the organisers' identity.
Coronavirus: Mainland China cases now exceed SARS as death toll hits 132 | World News
The coronavirus death toll in China has risen to 132 and the total number of confirmed cases has reached just shy of 6,000, making it more widespread on the mainland than the notable SARS outbreak of 2002 and 2003.
Twenty-six people have died in the last 24 hours, health authorities said on Wednesday – and there has been been an increase in confirmed cases of 1,459, taking that total to 5,974.
The latest figures emphasise just how quickly the virus has spread in mainland China, where severe acute respiratory syndrome (SARS) infected 5,327 people and killed 349 between November 2002 and July 2003.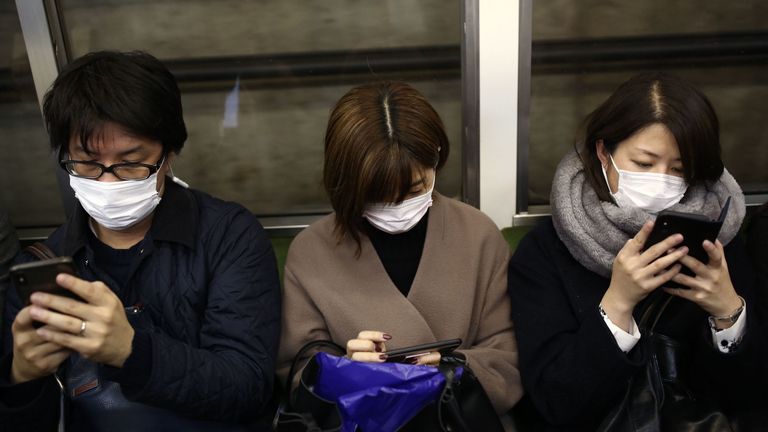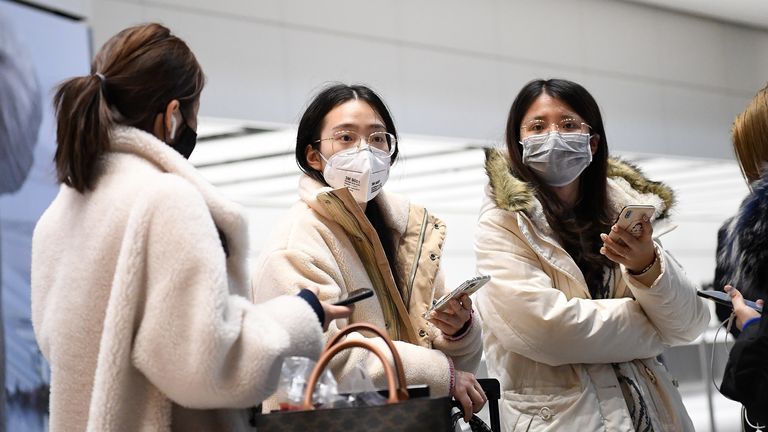 All but one of the newly recorded deaths came in Hubei province, which is where the city of Wuhan is located.
Wuhan is the epicentre of the virus and was placed under lockdown by the Chinese government, prompting other countries including Britain and the US to start evacuating their nationals from the city.
Governments around the world are advising people not to travel to China as uncertainty remains over how dangerous the mystery virus is and how easily it spreads between humans.
It is from the same family as the common cold as well as more serious illnesses like SARS.
There have been confirmed cases in countries across Asia, North America and Europe, although there have been no fatalities outside China.
Despite spreading, the World Health Organisation (WHO) has not classified the virus as a global emergency.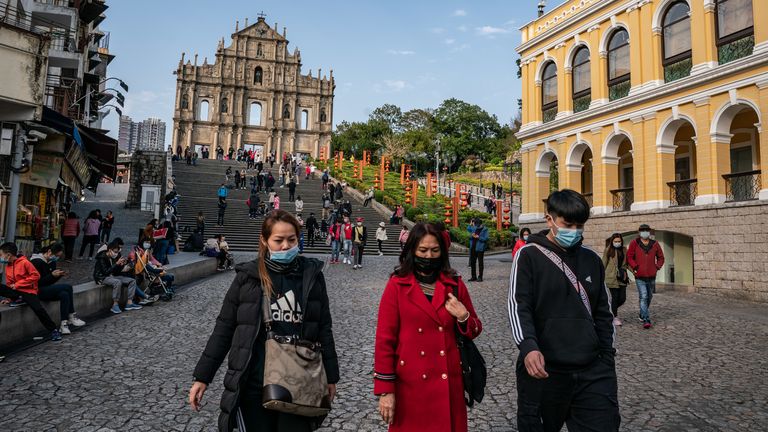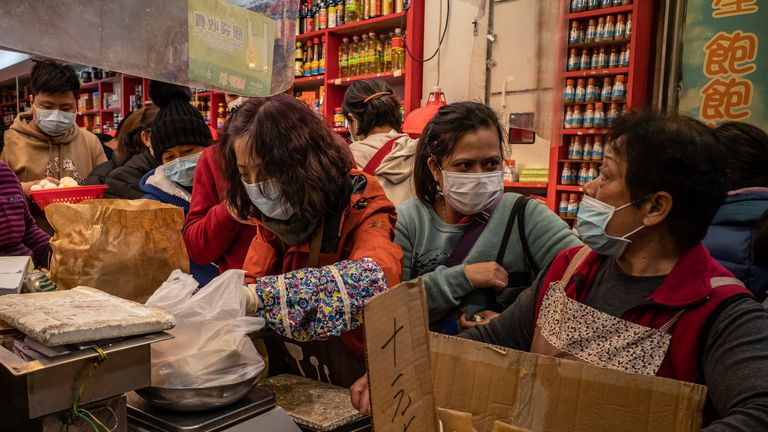 On Tuesday, UK health officials said 97 had been tested for the virus but all were negative, but England's director for health protection later warned it may still be present in the country.
People who have recently returned from Wuhan recently have been urged to "self-isolate".
Some nations are taking more drastic action than others in their bid to avoid any major outbreaks among their citizens, with the Philippines having issued a temporary blanket ban on tourist visas for Chinese nationals.
Hong Kong will cut all rail links to mainland China and halve the number of flights, South Korea will send a plane for its citizens and many other governments have also planned evacuations.
Australia is among them, but Prime Minister Scott Morrison has said those who are flown out of Hubei province will be quarantined on Christmas Island.
British officials believe up to 200 citizens currently in Wuhan will want to return to the UK, and the Foreign Office is advising people in other parts of China to "make decisions based on their own personal circumstances".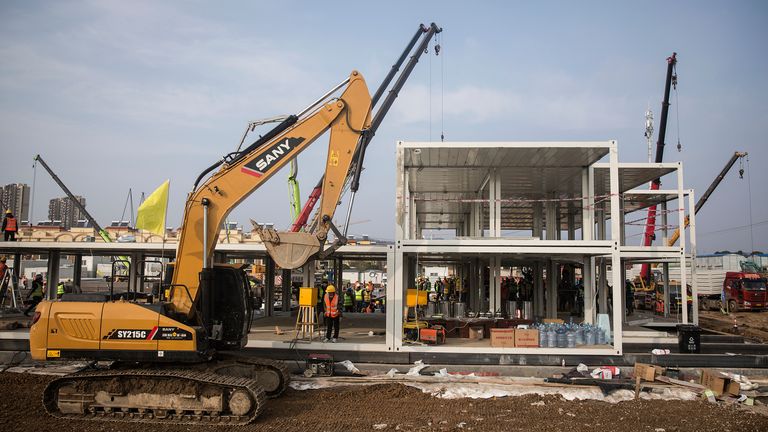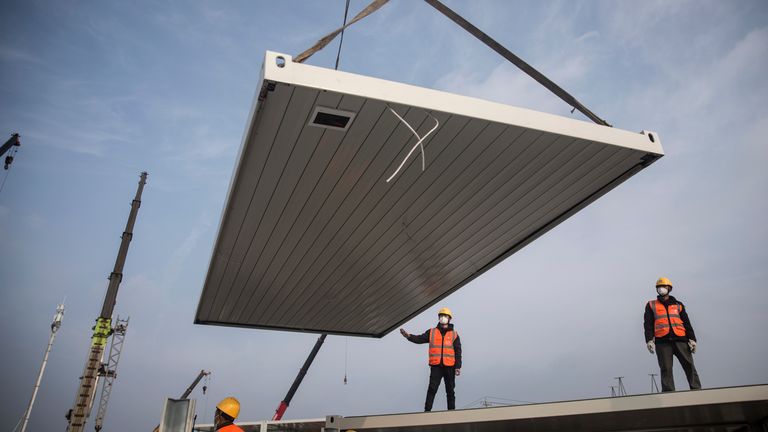 Wuhan is one of 17 cities in Hubei province that China has cut off access to, trapping more than 50 million people in the most far-reaching disease control measures ever imposed.
Wuhan is building two hospitals in a matter of days to add 2,500 beds for treatment of patients with the virus, with authorities having warned that the virus is getting stronger and that they are unclear on its potential to mutate.
China responded similarly to the SARS outbreak, which eventually killed nearly 800 people around the world.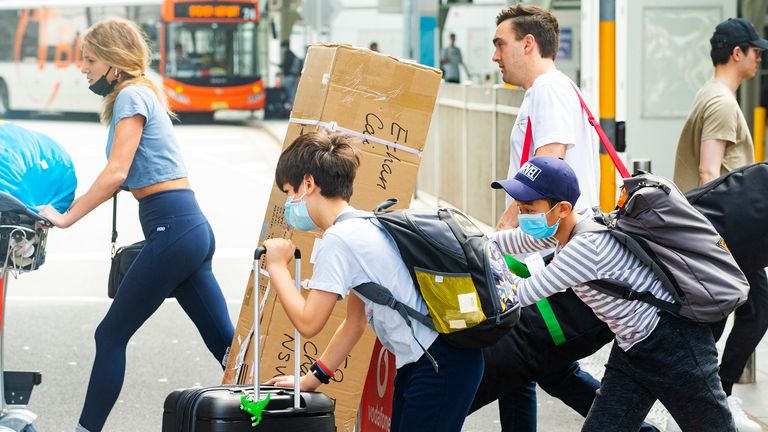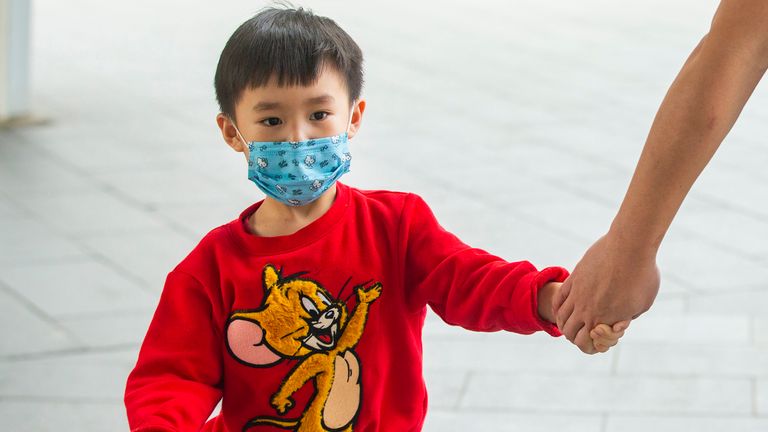 While anxiety continues to grow in tandem with the number of confirmed cases, there is already hope among some scientists that there could be a vaccine in the offing.
Researchers from The Peter Doherty Institute for Infection and Immunity in Melbourne have said they have grown a version of the virus that could be used to develop a vaccine.
It was grown from a patient sample received last week and will be used to generate an antibody test, which allows detection of the virus in patients who have not yet displayed any symptoms.
Dr Julian Druce said: "The virus will be used as positive control material for the Australian network of public health laboratories, and also shipped to expert laboratories working closely with the WHO in Europe."
Airbus takes €3.6bn hit to settle bribery and corruption claims | Business News

Airbus has agreed to settle bribery and corruption allegations by UK, US and French authorities in a deal that will cost it €3.6bn (£3bn).
The European aeroplane maker, based in Toulouse, disclosed the scale of the financial hit hours after confirming that it had reached an "agreement in principle" with authorities in each country.
Court hearings will take place in each of the three jurisdictions on Friday to give final approval to the deal.
Airbus said it would book a €3.6bn provision for the penalties in its annual accounts for 2019.
It did not give a breakdown in its statement of how much would go to each country or what part of the total was accounted for by other costs.
Still, the scale of the provision makes it likely that the settlement surpasses the £671m penalties handed to Rolls-Royce for similar allegations two years ago.
Airbus said its case related to "allegations of bribery and corruption and to inaccuracies in filings made with the US authorities pursuant to the US international traffic in arms regulations".
In Britain, the Serious Fraud Office confirmed in a separate statement that it had reached a deferred prosecution agreement in principle with the company, subject to court approval.
It said no further information could be provided until after the hearing.
The SFO and the French financial prosecutor's office had begun investigating Airbus in 2016 with the US Department of Justice joining in 2018.
The allegations related to irregularities concerning third party consultants.
Airbus employs more than 130,000 people worldwide including 13,500 in the UK at sites in Bristol, north Wales, Newport, Portsmouth and Stevenage.
Trump's plan means an end to the 'two-state' solution | World News

There's no question that Mr Trump's peace plan was in no small part about distraction. 
The American President has his impeachment to deflect from. Israeli PM Netenyahu has a corruption and bribery trial ahead of him.
It's also about domestic politics. Both leaders face elections – Netanyahu's is in just a few weeks.
The plan they jointly unveiled, and without the Palestinians, appeals to their domestic bases – Israeli right wingers and American Jewish voters.
In truth, it's not a viable plan for peace. It's an aspiration.
It's one that the Palestinians won't accept. Palestinian President Mahmoud Abbas made that clear "1000 times over" moments after it was revealed.
Even if the Palestinians are being offered economic sweeteners and Israeli desert land near Egypt as compensation, this won't fly.
The idea alone that they would sign up to a plan where the whole of Jerusalem – west and east – is formally declared as the capital of the Jewish State of Israel is a fantasy now and for many years to come.
The Trump plan is a radical new approach, weighted hugely towards the Israelis, at a time when sympathy for the Palestinian cause globally, even among Arab states is dwindling.
The awfulness of Syria, Yemen and Iraq has moved the focus away from the decades-old Palestinian struggle.
And Israel has successfully cast itself as the regional policeman vis-a-vis Iran. Gulf Arab states now quietly talk to Israel as they all work out how to counter Iran.
Again, this makes it harder for the Palestinian voice to be heard – if the Arabs in the Gulf don't have their back, then what?
That's why America and Israel think that now is the moment to reframe the debate; to reset the Israel/Palestinian argument and to do so in their own interests.
A final thought: Is there a chance that at some point in the future, a majority of Palestinians will decide that their own rights outweigh their quest for sovereignty and statehood?
Polls suggest the young in Palestine already care more about their rights than they do about having their own country.
They believe in a one state solution, a nation that incorporates everyone. Call it Israel, call it something else – long as they have rights entirely equal to Israeli Jews.
That could be where we are heading. One thing is clear though – the two state solution as we have known it for 30 years is dead with Donald Trump's Deal of the Century.