Hong Kong 'on path of no return' as violent protests hit busy airport | World News
Pro-democracy protesters and riot police have clashed for a second day at Hong Kong airport – one of the world's busiest transport hubs.
Thousands of demonstrators, many wearing black and covering their faces, barricaded entrances with luggage trolleys – and at least 120 flights were cancelled after check-ins were suspended.
At the peak of Tuesday's violence, officers swinging batons and armed with pepper spray entered the terminal, with a policeman pulling out a gun at one point.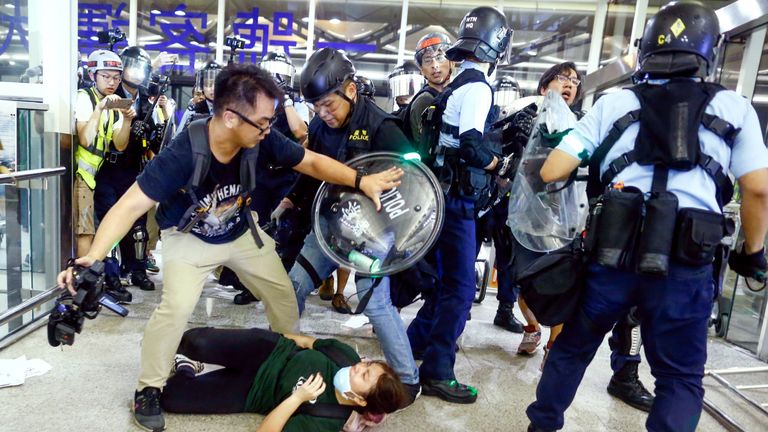 The police seemed overwhelmed at times – and were pelted with bottles as they tried to restore order.
Sky's chief correspondent Stuart Ramsay, who was at the scene, said: "Eventually riot police were deployed to help police buses full of officers get away as they were being attacked and they were dangerously close to getting their doors kicked in."
Protesters beat up at least two men they suspected of being undercover agents – and of one of them was tied to a trolley as activists rifled through his bag.
It took two hours for paramedics to reach the bound man, who was hurried into an ambulance after a "tug-of-war battle". The editor-in-chief of the pro-China Global Times newspaper later said he was one of their journalists, and not a police officer.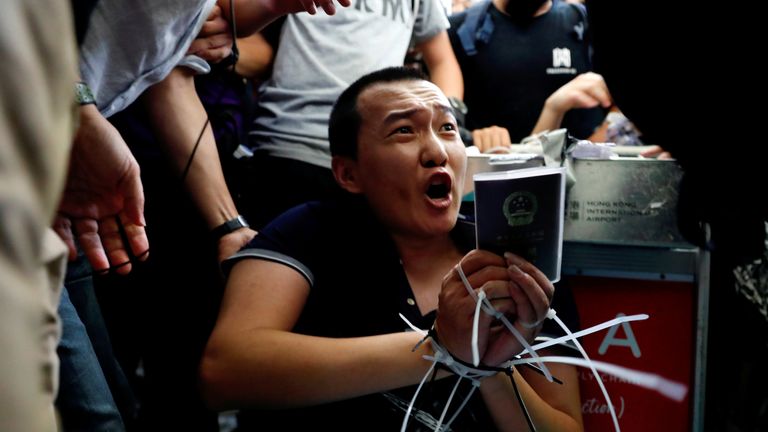 Activists in the former British colony have been protesting for weeks. The protests began over a controversial law that would allow suspects to be sent to mainland China. Demonstrators want that extradition bill to be scrapped, amid fears that suspects could face torture or unfair, politically charged trials.
Protesters are also calling for the resignation of Carrie Lam, Hong Kong's leader.
She has warned that the continuing instability, chaos and violence have placed the city on a "path of no return".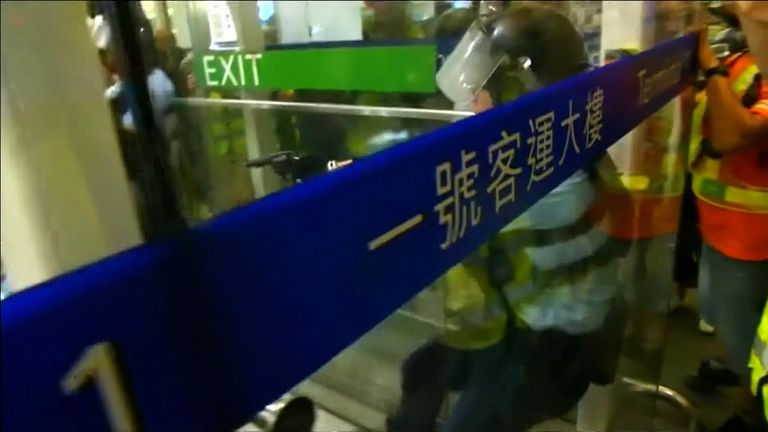 A third day of demonstrations is set to take place on Wednesday – potentially resulting in further travel disruption.
Some flights were still scheduled to take off early on Wednesday morning, but Cathay Pacific said flights might still be cancelled at short notice.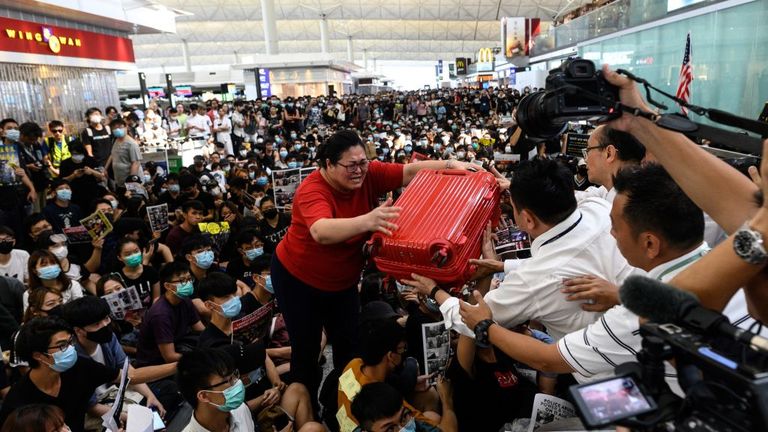 On Twitter, US President Donald Trump wrote: "Our intelligence has informed us that the Chinese Government is moving troops to the Border with Hong Kong. Everyone should be calm and safe!"
Harvey Weinstein accused of breaching bail conditions by mishandling electronic tag | US News
Harvey Weinstein breached his bail conditions by mishandling an electronic tag which had been fitted to monitor his whereabouts, a New York prosecutor has argued.
The Oscar-winning producer's location was unrecorded for hours at a time because of the "manipulation" of the ankle bracelet, prosecutor Joan Illuzzi said.
Ms Illuzi made the claim at Friday's pre-trial hearing for Weinstein, 67, while asking a judge to increase his bail from $1m (£760,000) to $5m (£3.8m).
She accused the movie producer of leaving a piece of the monitoring technology that keeps the ankle bracelet activated at home.
Defence lawyer Donna Rotunno denied it was deliberate and blamed "technical glitches" such as dead batteries.
Ms Rotunno said after leaving court: "It has nothing to do with any manipulation of the bracelet."
She acknowledged that on at least one occasion Weinstein forgot part of the device when he left the house, and added: "The minute he realised he forgot it, he made a phone call."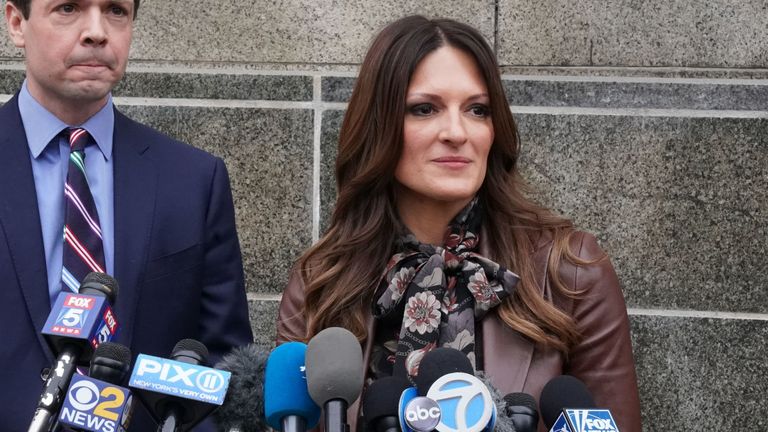 The judge adjourned any decision about whether he should face stricter bail conditions over the alleged electronic tag violations until next week.
Weinstein was in court for one of many proceedings scheduled across the state to inform defendants of reforms to New York's bail system.
The reforms are set to take effect on 1 January.
State politicians passed a law this year eliminating cash bail for most non-violent crimes.
For poorer defendants facing lesser charges these appearances could mean release from jail in the New Year, or refunds for those who have posted bail.
The reforms are unlikely to affect Weinstein's case, which is scheduled to go to trial in January.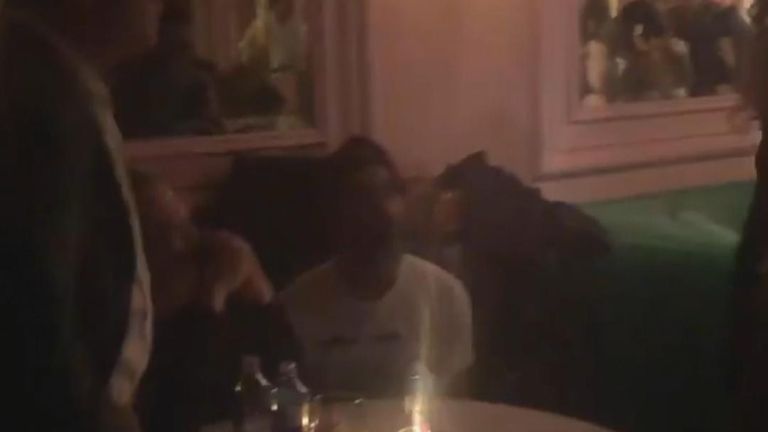 The producer has pleaded not guilty to charges he raped a woman in a Manhattan hotel room in 2013 and performed a forcible sex act on a different woman in 2006.
He is free on $1m bail (£761,200) and denies that any sexual activity was non-consensual.
Weinstein's wealth has given him plenty of freedom as he awaits trial on the charges, which could put him in jail for the rest of his life.
He has been socialising at New York City nightclubs and was jeered at a recent actors showcase.
One dead, several injured as gunman opens fire at Florida navy base | US News

One person has been killed and several others are injured after a gunman opened fire in a navy base in Florida.
Escambia Sheriff's spokeswoman Amber Southard confirmed the gunman had also been killed after the shooting at the Naval Air Station in Pensacola.
News outlets are reporting that 10 people have been taken to area hospitals.
Pensacola Police spokesman Mike Wood confirmed that law enforcement responded to the gunman.
A spokesman for the navy base, Jason Bortz, said both gates are closed and the base is on lockdown.
NAS Pensacola employs more than 16,000 military and 7,400 civilian personnel, according to its website.
More follows…
Blind killer Lee Hall who set fire to ex-girlfriend is executed in Tennessee | US News

A blind convicted killer who murdered his ex-girlfriend by setting her on fire has been executed in the US.
Lee Hall is only the second blind inmate to be executed in America since the country reinstated the death penalty in 1976.
He was put to death by electric chair – after choosing the method over lethal injection – at a maximum-security prison in Nashville, Tennessee on Thursday evening.
Hall was convicted of killing 22-year-old Traci Crozier by setting her on fire in her car in April 1991.
The 53-year-old, who was formerly known as Leroy Hall Jr, had his sight upon entering prison, but lawyers say he became functionally blind from improperly treated glaucoma.
In his final words, Hall said: "People can learn forgiveness and love and will make this world a better place."
According to court documents, Hall set Ms Crozier's car alight while she was inside the vehicle after she had tried to leave him.
She suffered burns across more than 90% of her body and died in hospital the next day.
Ms Crozier's sister, Staci Wooten, and her father, Gene Crozier, watched Hall's execution. Hall's brother David and the killer's "spiritual adviser" also attended.
Ms Wooten said: "Hopefully today ending this monster's life will bring some peace within everyone who has had to suffer throughout these 28 years without my beautiful sister."
Lawyers for Hall had asked federal courts in the US to stop him from being put to death after other attempts in state courts and with Tennessee's governor had failed.
Those attempts officially came to a halt less than hour before Hall's execution when the US Supreme Court declined to intervene.
A statement from Hall's brother David said: "We are devastated by the loss of Traci and now Lee.
"Lee loved Traci more than anything and we welcomed her into our family and love her too. We also love Lee and wish that we could have changed the events of that tragic day."
Hall's lawyers fought for months to delay the execution plan, arguing that courts should have had the opportunity to consider new questions about one of the jurors in his case.
The juror – a woman known as "Juror A" – helped hand down the death sentence against Hall.
She acknowledged publicly for the first time this year that she failed to disclose during Hall's jury selection process that she had been repeatedly raped and abused by her former husband.
Hall's lawyers argued the omission deprived him of a fair and impartial jury, a right protected in both the Tennessee and US constitutions
However, both the Tennessee Supreme Court and Tennessee Governor Bill Lee declined to intervene.