Pakistan: Nine people killed in complex attack involving female suicide bomber | World News
At least nine people have been killed and 30 others were injured in Pakistan after a complex attack involving a suicide bomber, believed to be a woman wearing a burqa.
The bomber struck outside a hospital as the wounded were being brought in from an earlier shooting targeting police.
The assault in Dera Ismail Khan, early on Sunday morning, was claimed by Tehrik-e-Taliban also known as the Pakistani Taliban.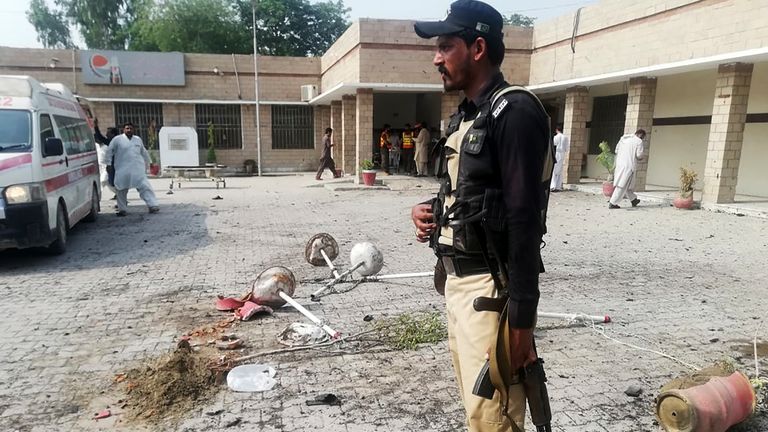 Police said gunmen on motorcycles opened fire on officers at a checkpoint, killing two.
A bomber then struck at the entrance to the hospital, killing another four officers and three people who were visiting relatives.
Mr Khan said many of the wounded were in a critical condition.
Waqar Ahmad, a local police officer said: "When their bodies were taken to the main hospital, a suicide bomber, believed to be a female, wearing a burqa, triggered an explosive-laden jacket and caused huge losses."
Forensics expert Inayat Ullah said the attacker set off 7kg (15.4lbs) of explosives packed with nails and ball bearings.
The blast damaged the hospital emergency room and forced it to shut down, according to a hospital official, and the wounded were then transferred to a military hospital.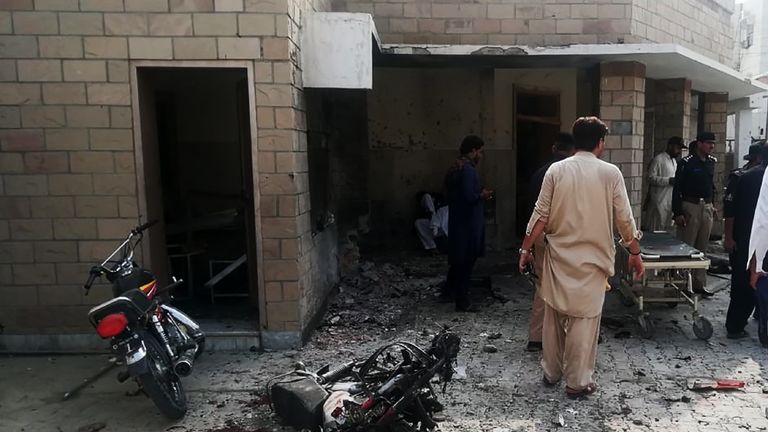 The Pakistani Taliban claimed the attack but did not acknowledge the bomber was a woman.
The group has launched dozens of attacks over decades but rarely uses women to carry them out.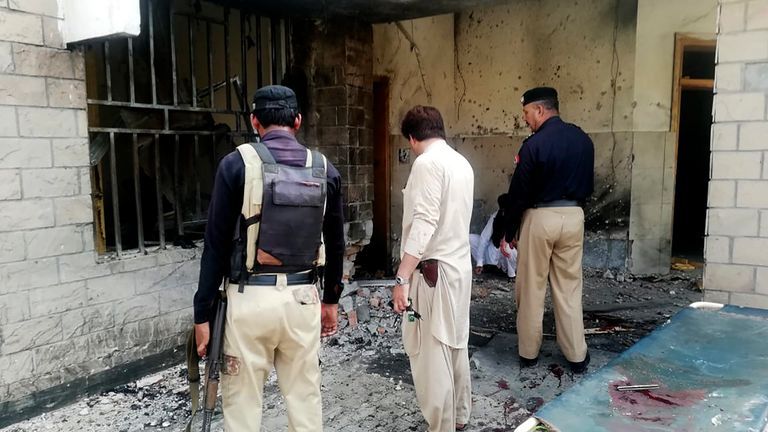 Pakistan's military has carried out several major operations in recent years against the Pakistan Taliban and other militants in areas along the border with Afghanistan.
Violence has declined by militants make their presence known through occasional attacks.
Boris Johnson heading to his first international summit as PM | World News
Boris Johnson is heading to his first international summit as prime minister – and meetings with Donald Trump, the EU and other world leaders on the agenda.
International issues such as climate change, inequality and security are likely to dominate the three-day G7 summit in the French seaside town of Biarritz.
But it will also be a chance for Mr Johnson to talk Brexit and trade on the global stage.
He is expected to tell the US president that the NHS will not be on the table in any future trade deal.
Speaking ahead of the summit in southern France, the prime minister said some people "question" the UK's choice to leave the EU and fear it will cause the country to "retreat from the world".
But he insisted those who "think Britain's best days are behind us" are "gravely mistaken" – adding that the UK will "remain at the heart of the alliances that span the world".
The event is Mr Johnson's first international summit in the job and will bring him face to face with Mr Trump.
In a phone call last night ahead of the meeting on Friday night, the two men discussed foreign policy and global trade.
When they sit down on Sunday, talk is expected to turn to the possibility of a post-Brexit free trade agreement, with Boris Johnson expected to tell the president that the NHS and animal welfare standards will need to be protected in the negotiations.
The summit will also see Mr Johnson's first meeting with European Council President Donald Tusk.
Downing Street has been playing down any chance of a Brexit breakthrough, with the prime minister warning on Friday that people should "not hold their breath" for progress any time soon.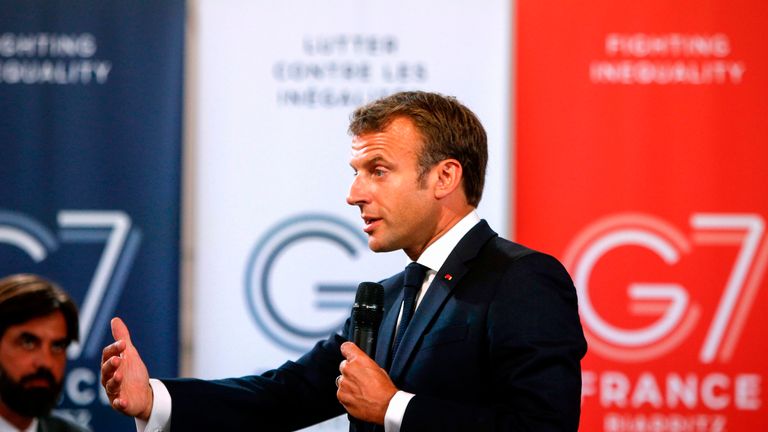 The summit host, French President Emmanuel Macron, has already sought to put the environment on the agenda calling for leaders to discuss how to tackle fires in the Amazon rainforest.
But that's one of a number of topics that could cause arguments between Mr Trump and other world leaders.
Security and economic issues, such as how to handle Iran and Russia as well as the ongoing trade war between China and the US, may also prove to be flashpoints.
Speaking to Sky News, former diplomat Sir Ivor Roberts said Mr Johnson's attempts to get a Brexit deal may cause him to "tack towards the Europeans" and away from Mr Trump.
"On relations with Iran for instance, America is out of step with all of its European allies and… Boris Johnson will want to side with the Europeans," Sir Ivor said.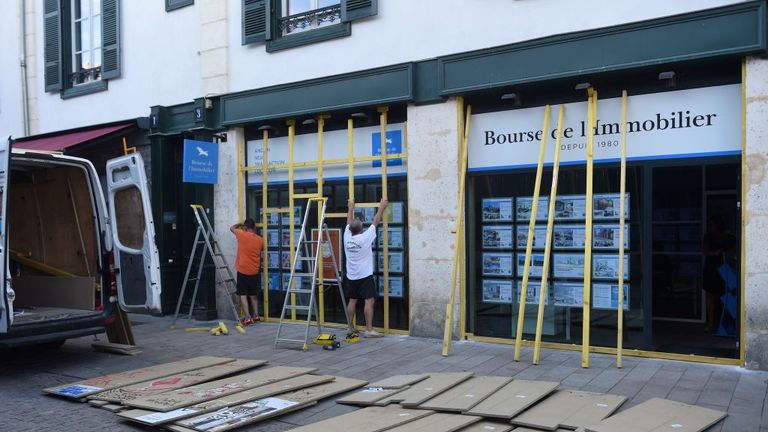 Labour leader Jeremy Corbyn said the prime minister's "Trump first policy" risked putting the UK "at the mercy of a US administration that threatens peace, prosperity and the future of our planet".
Protesters have already arrived in the south of France and are setting up a "counter-summit" to discuss the environment and capitalism.
Speaking in Biarritz, Cecile Duflot, director general of Oxfam France, said "inequalities and climate change are two fires on the planet" adding they are "big threats for us all".
Campaigners are being kept away from the world leaders by more than 13,000 police officers alongside soldiers and drones.
German boy, eight, crashes parents' car in second high-speed joyride of the week | World News

An eight-year-old boy is receiving counselling after crashing his parents' car on his second high-speed drive of the week.
After stealing the keys to the family's Volkswagen Golf in the early hours of Friday morning, the child, from Soest, in northwestern Germany, drove 31 miles (50km) to the city of Dortmund, police in the city said.
He reached speeds of up to 110mph (180kmh) on the motorway, officers added.
"Red traffic lights and traffic laws in general did not seem to interest the driver," police said in a statement, quoting a motorist who spotted the youngster.
However, the joyride ended badly when, with officers searching for him, he drove out of town and crashed the vehicle into the trailer of a parked truck.
Nobody was injured but the Golf was badly damaged in what was his second such jaunt in less than a week.
His mother said on Wednesday she had given her son a "stern talking-to" after waking up to find him and the car gone.
That time he was clocked at 87mph (140kph) on the motorway.
The youngster was eventually found on a motorway where he had pulled up and put the hazard lights on.
Police said the boy, who has experience driving bumper cars and go-karts, will now be given psychological counselling.
Hong Kong: Foreign Office warns travellers' phones could be checked at border | World News

The Foreign Office has updated its travel advice for people travelling to Hong Kong amid continuing protests.
British travellers heading there have been warned that their electronic devices could be checked at the border between the city and mainland China.
The online advice reads: "In light of ongoing protests and demonstrations in Hong Kong, there are reports of greater scrutiny from mainland authorities at border crossings between the mainland and Hong Kong.
"This includes reports that travellers' electronic devices have been checked at border crossings.
"You should be aware that the thresholds for detention and prosecution in China differ from those in Hong Kong."
The updated advice comes as supporters of Hong Kong's pro-democracy movement created human chains on both sides of the city's harbour, inspired by a historic protest 30 years ago in the Baltic states against Soviet control.
More follows…