Man, 65, made fake bomb threat to get date with flight attendant | World News

A 65-year-old man has admitted making a fake bomb threat in the hope of getting a date with a flight attendant.
The Serbian man's telephone call caused Lufthansa's flight LH1411 to be evacuated on Thursday before its take-off from Belgrade to Frankfurt.
All 130 passengers and five crew members had to leave the aircraft while it was searched by a special police squad and sniffer dogs.
The man, who has not been named, had met two flight attendants and invited them for dinner, but they refused.
He confessed to the hoax in court on Saturday, saying he had especially liked one of the women and after he failed to track her down at her hotel, he made a desperate bid to keep her in the country.
The police traced his call after he made the threat and he was arrested a day later.
A spokesman for the prosecutor told Serbian media that the prosecution asked for him to be kept in custody pending charges of causing panic and disorder.
On Thursday, Serbia's interior ministry released a statement about the incident, which said: "This morning at 6am an unknown person called and reported there was a bomb on the plane bound for Frankfurt.
"The police are investigating whether it is a false alarm and are also working to identify the person who called."
Passengers had an eight-hour delay to their journey after the hoax, with some booking alternative flights rather than wait for their plane to leave.
Coronavirus outbreak: Britons set to be evacuated from Wuhan | World News

UK officials will try to evacuate all Britons from the epicentre of the coronavirus outbreak on Thursday – as the Foreign Office warns against all but essential travel to mainland China.
Hong Kong and Macau are not affected by the new travel advice.
There are believed to be about 300 UK citizens still in the city of Wuhan and the surrounding Hubei province.
China said a total of 106 people have now died in the country following the crisis, with more than 4,515 confirmed cases across the nation.
Both numbers rose dramatically in the latest update from the National Health Commission, with most of those affected hailing from Wuhan – the centre of the outbreak.
More follows…
Trump unveils Middle East peace plan which is 'win-win' for Israel and Palestinians | World News
Donald Trump has unveiled his long-awaited Middle East peace plan, saying the "realistic" two-state solution is a "win-win opportunity" for both Israel and the Palestinians.
Speaking at the White House, the US president said his administration's vision would form the basis of direct negotiations between the two sides which was a "historic breakthrough".
The proposal calls for the creation of a State of Palestine with its capital in parts of east Jerusalem and it more than doubles the territory currently under Palestinian control.
But it also recognises Israeli sovereignty over major settlement blocs in the West Bank, something to which the Palestinians will almost certainly object.
The Palestinians have already rejected the proposal, accusing Mr Trump of being biased in favour of Israel as he has adopted policies that boost Israel at their expense.
However, the US president, speaking alongside Israeli Prime Minister Benjamin Netanyahu, said Israel was taking a "giant step toward peace" and Palestinians deserved the chance for a better life.
Mr Trump said the deal was a "historic opportunity" for Palestinians to achieve an independent state of their own.
He said his vision will end the cycle of Palestinian dependence on charity and foreign aid, as he urged peaceful co-existence between the two sides.
The American leader said he told Palestinian President Mahmoud Abbas that if he chooses peace then the US and other countries "will be there every step of the way to help".
And urging peace in the region, Mr Trump said it was time for "this sad chapter in history to end".
Mr Netanyahu said he has agreed to negotiate with the Palestinians because the peace plan "strikes a balance".
However, an official with the ruling Hamas group in Gaza called Mr Trump's statement "aggressive" and said the Jerusalem plan was "nonsense".
More follows…
Thailand 'not able to stop the spread' of new coronavirus | World News
Subtle changes are seeping into daily life in Bangkok.
Thermal scanners now stand at the doors of luxury malls and attendants pump disinfectant into the hands of visitors as they stream in.
With 14 cases, Thailand now has the highest confirmed number of coronavirus infections outside China and people are starting to worry.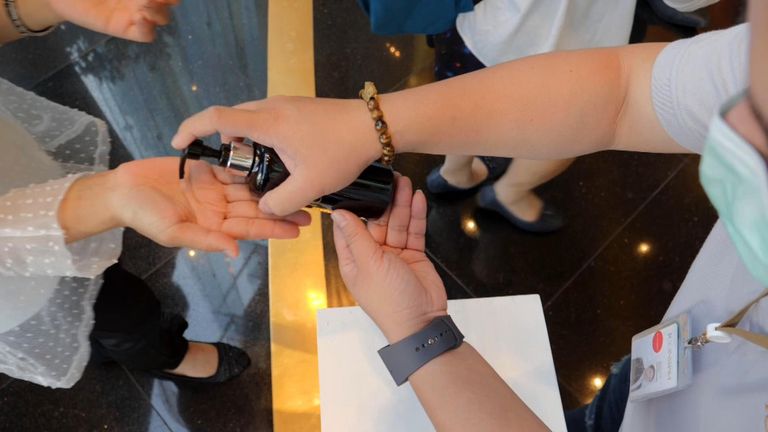 "It's spreading so fast and the information is so hidden, we don't know the whole picture," young mother Cathy told me.
Even her four-year-old son obediently wears a surgical mask.
"I'm worried that I'll get sick and stay in hospital and there isn't a vaccine," commuter Nan added.
Already popular because of pollution, face masks are selling out.
The armour of choice, there are none to be found in one of the main shopping districts
"Finished," shop assistants tell us again and again as we search for fresh supplies.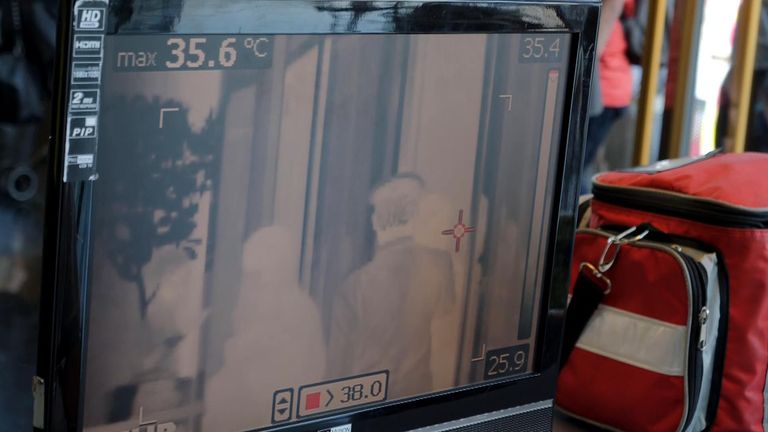 Thailand is a top foreign holiday destination for tourists from Wuhan.
About 22,000 people from the city at the centre of the coronavirus outbreak have visited in January alone.
Six new cases were confirmed today, five of them involving a family from China's Hubei province, and the sixth from Chongqing province.
:: Listen to the Daily podcast on Apple Podcasts, Google Podcasts, Spotify, Spreaker
While all arrivals from China will now be screened and thermal scanned for signs of the disease, the coronavirus is believed to be contagious during the incubation period.
Thus it is feared that while visitors may not have any symptoms, they could in theory be spreading the infection.
That concern is helping to prompt criticism of the government's response to the crisis.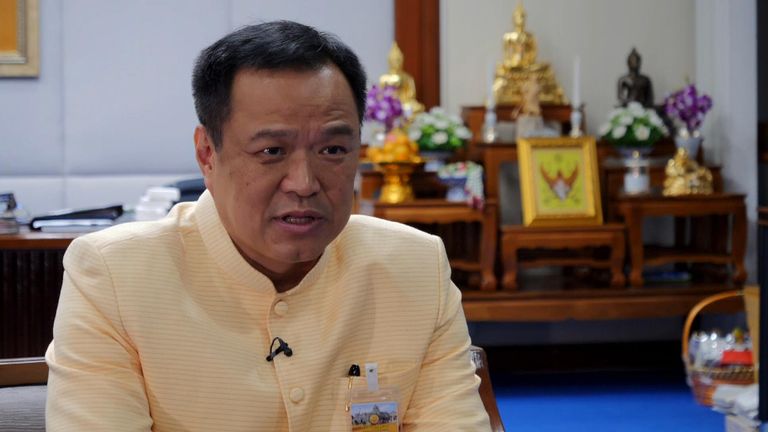 The hashtag #crapgovernment was trending top on Twitter in Thailand at the weekend as users complained about the management of the virus and other health issues.
The country's prime minister says the situation is under control but public health minister Anutin Charnvirakul admitted to Sky News that he expects the number of infections to rise.
"We are not able to stop the spread," he said.
"Our target is we will be able to detect all carriers entering Thailand and we will apply necessary measures as the situation develops.
"Of course we expect more people to get sick but we are able to identify all of them."
There is no way of knowing how many more coronavirus infections will emerge in the coming days and weeks, so residents must continue to protect themselves as best they can.