Parliament's intelligence committee says new PM must make Huawei decision quickly | Science & Tech News
The intelligence and security committee of parliament has called for the next prime minister to quickly make a decision on Huawei's role in the UK's 5G infrastrucutre.
In a three-page statement published on Friday, the committee said the debate about Huawei "has been unnecessarily protracted" and "damaged our international relationships", although it did not explain which relationships had been damaged.
The ongoing campaign to replace Theresa May as the leader of the Conservative Party and as prime minister is expected to conclude within days, with a winner announced on Tuesday.
At that point the British decision on what role, if any, the Chinese telecoms giant's equipment could play in the UK's 5G network is required, amid concerns it might allow Beijing to spy and sabotage UK networks.
Suggestions in April that Mrs May had, during a National Security Council meeting, decided to allow Huawei to take part in "non-core" elements of the 5G infrastructure have since been dismissed by the government.
The then defence secretary Gavin Williamson was accused of leaking the claim about Mrs May's decision and was subsequently fired. He has denied being behind the leak.
Another parliamentary committee – the joint committee on national security – has now launched another inquiry into Huawei's role in 5G. The stage of this inquiry, receiving written submissions, won't conclude until 13 September.
Explaining its concerns about the impact of a potential ban on competition, the intelligence committee wrote: "The telecoms market has been consolidated down to just a few players: in the case of 5G there are only three potential suppliers to the UK – Nokia, Ericsson and Huawei.
"Limiting the field to just two… would increase over-dependence and reduce competition, resulting in less resilience and lower security standards.
"Therefore including a third company – even if you may have some security concerns about them and will have to set a higher bar for security measures within the system – will, counter-intuitively, result in higher overall security."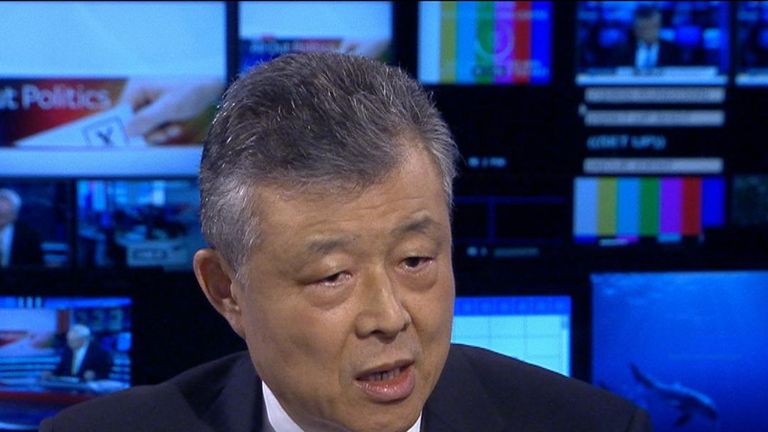 Speaking to Sky News last week, Huawei's head of government affairs, Victor Zhang, said: "I am confident that the UK will choose Huawei for the future 5G development."
Mr Zhang did not comment on whether he believed the company's role would be limited to those parts of the network which perform less critical functions, and are thus less valuable to a hostile party trying to conduct espionage or sabotage.
However the intelligence committee, like the science and technology committee last week, expressed concerns about the UK aligning its policy with that of fellow Five Eyes partners who have banned Huawei from being involved in their domestic 5G networks.
This question "is not about any risk to the communication channels which are used for intelligence exchange – these would always be kept entirely separate", the committee explained.
"It is about perception as much as anything: our Five Eyes partners need to be able to trust the UK and we must not do anything which puts that at risk – the value of the partnership cannot be overstated."
The Five Eyes intelligence-sharing nations are, in addition to Britain, Australia, Canada, the US and New Zealand.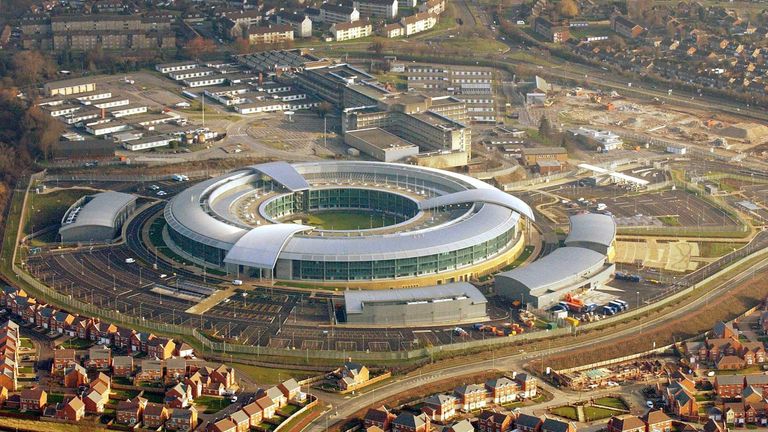 Speaking to journalists on Thursday, the US deputy assistant secretary for cyber security, Robert Strayer, said Washington would have to reassess its information sharing with the UK if Huawei was allowed any role at all in its 5G infrastructure.
He said: "We consider Huawei to be a substantial risk to the communications infrastructure.
"Therefore any country that deploys Huawei equipment in any part of its 5th generation infrastructure will be a network… that we need to assess ourselves and make a determination about how we will respond going forward."
A review of the telecommunication supply chain in the UK has been conducted by the government, with input from the security and intelligence agencies, as well as from industry.
Although it is not expected to be published in full, the result of that review – and its recommendations – have been awaited for several months.
A spokesperson for the government told Sky News: "The security and resilience of the UK's telecoms networks is of paramount importance.
"We have robust procedures in place to manage risks to national security and are committed to the highest possible security standards.
"The telecoms supply chain review will be announced in due course. We have been clear throughout the process that all network operators will need to comply with the government's decision," they added.
Coronavirus outbreak: Britons set to be evacuated from Wuhan | World News

UK officials will try to evacuate all Britons from the epicentre of the coronavirus outbreak on Thursday – as the Foreign Office warns against all but essential travel to mainland China.
Hong Kong and Macau are not affected by the new travel advice.
There are believed to be about 300 UK citizens still in the city of Wuhan and the surrounding Hubei province.
China said a total of 106 people have now died in the country following the crisis, with more than 4,515 confirmed cases across the nation.
Both numbers rose dramatically in the latest update from the National Health Commission, with most of those affected hailing from Wuhan – the centre of the outbreak.
More follows…
Trump unveils Middle East peace plan which is 'win-win' for Israel and Palestinians | World News
Donald Trump has unveiled his long-awaited Middle East peace plan, saying the "realistic" two-state solution is a "win-win opportunity" for both Israel and the Palestinians.
Speaking at the White House, the US president said his administration's vision would form the basis of direct negotiations between the two sides which was a "historic breakthrough".
The proposal calls for the creation of a State of Palestine with its capital in parts of east Jerusalem and it more than doubles the territory currently under Palestinian control.
But it also recognises Israeli sovereignty over major settlement blocs in the West Bank, something to which the Palestinians will almost certainly object.
The Palestinians have already rejected the proposal, accusing Mr Trump of being biased in favour of Israel as he has adopted policies that boost Israel at their expense.
However, the US president, speaking alongside Israeli Prime Minister Benjamin Netanyahu, said Israel was taking a "giant step toward peace" and Palestinians deserved the chance for a better life.
Mr Trump said the deal was a "historic opportunity" for Palestinians to achieve an independent state of their own.
He said his vision will end the cycle of Palestinian dependence on charity and foreign aid, as he urged peaceful co-existence between the two sides.
The American leader said he told Palestinian President Mahmoud Abbas that if he chooses peace then the US and other countries "will be there every step of the way to help".
And urging peace in the region, Mr Trump said it was time for "this sad chapter in history to end".
Mr Netanyahu said he has agreed to negotiate with the Palestinians because the peace plan "strikes a balance".
However, an official with the ruling Hamas group in Gaza called Mr Trump's statement "aggressive" and said the Jerusalem plan was "nonsense".
More follows…
Thailand 'not able to stop the spread' of new coronavirus | World News
Subtle changes are seeping into daily life in Bangkok.
Thermal scanners now stand at the doors of luxury malls and attendants pump disinfectant into the hands of visitors as they stream in.
With 14 cases, Thailand now has the highest confirmed number of coronavirus infections outside China and people are starting to worry.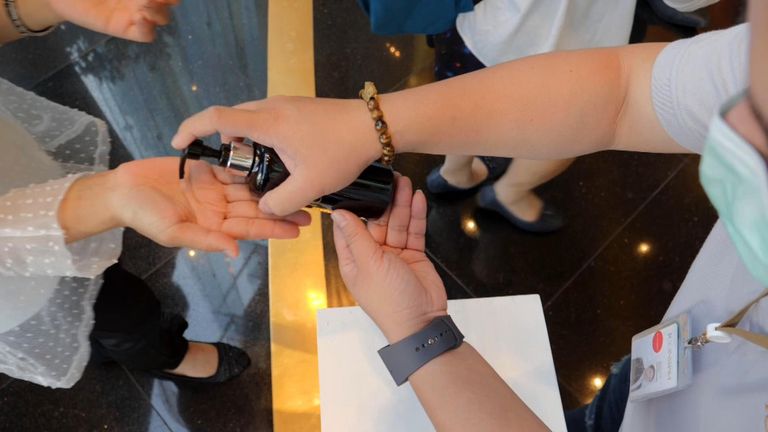 "It's spreading so fast and the information is so hidden, we don't know the whole picture," young mother Cathy told me.
Even her four-year-old son obediently wears a surgical mask.
"I'm worried that I'll get sick and stay in hospital and there isn't a vaccine," commuter Nan added.
Already popular because of pollution, face masks are selling out.
The armour of choice, there are none to be found in one of the main shopping districts
"Finished," shop assistants tell us again and again as we search for fresh supplies.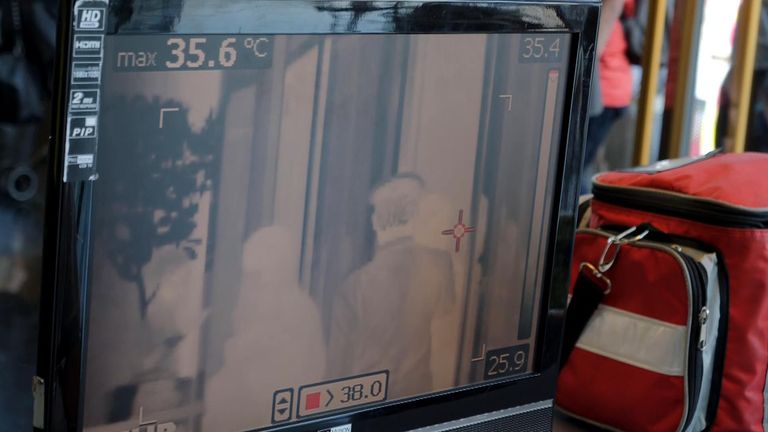 Thailand is a top foreign holiday destination for tourists from Wuhan.
About 22,000 people from the city at the centre of the coronavirus outbreak have visited in January alone.
Six new cases were confirmed today, five of them involving a family from China's Hubei province, and the sixth from Chongqing province.
:: Listen to the Daily podcast on Apple Podcasts, Google Podcasts, Spotify, Spreaker
While all arrivals from China will now be screened and thermal scanned for signs of the disease, the coronavirus is believed to be contagious during the incubation period.
Thus it is feared that while visitors may not have any symptoms, they could in theory be spreading the infection.
That concern is helping to prompt criticism of the government's response to the crisis.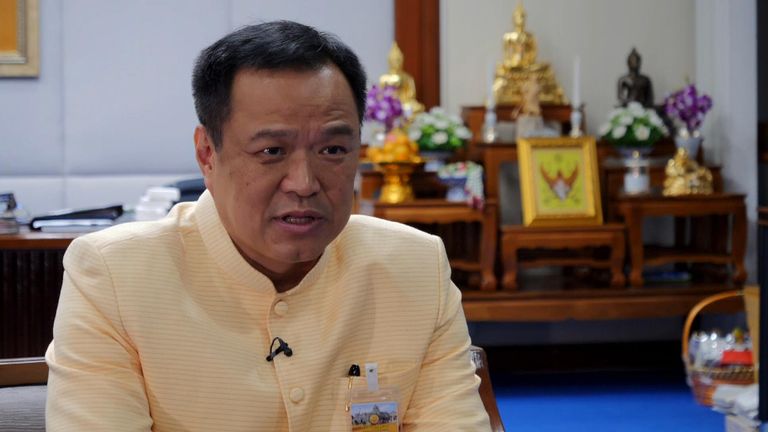 The hashtag #crapgovernment was trending top on Twitter in Thailand at the weekend as users complained about the management of the virus and other health issues.
The country's prime minister says the situation is under control but public health minister Anutin Charnvirakul admitted to Sky News that he expects the number of infections to rise.
"We are not able to stop the spread," he said.
"Our target is we will be able to detect all carriers entering Thailand and we will apply necessary measures as the situation develops.
"Of course we expect more people to get sick but we are able to identify all of them."
There is no way of knowing how many more coronavirus infections will emerge in the coming days and weeks, so residents must continue to protect themselves as best they can.