NHS 'needs to step up flu plans' after hundreds die in 'scary' Australian outbreak | UK News
NHS bosses are being urged to step up anti-flu preparations after a "scary" rise in the number of virus cases in Australia.
So far in 2019, there have been at least 135,952 cases Down Under, compared with an average of 17,349 in the previous five years.
Nearly 300 people are believed to have died in the outbreak this year, a big rise on the 125 for the whole of the 2018 flu season.
Doctors in Britain say the increase in Australia could be a sign of what is to come in the UK this winter.
They said more work needs to be done on vaccination uptake for healthcare workers and at-risk groups, such as patients with diabetes or asthma.
And they have called for an increase in the number of hospital beds.
Dr Nick Scriven, president of the Society for Acute Medicine, said the Australian figures "make grim reading and, if extrapolated to the UK, will cause major stress to an already overburdened system in terms of numbers if not severity".
He added: "One concern is that last year we saw predominantly one strain of influenzas but already there are reports of two or three strains significantly circulating in the population that could complicate vaccination."
The president of the Royal College of Emergency Medicine, Dr Taj Hassan, told the Health Service Journal (HSJ) that the Australian figures look "very scary indeed".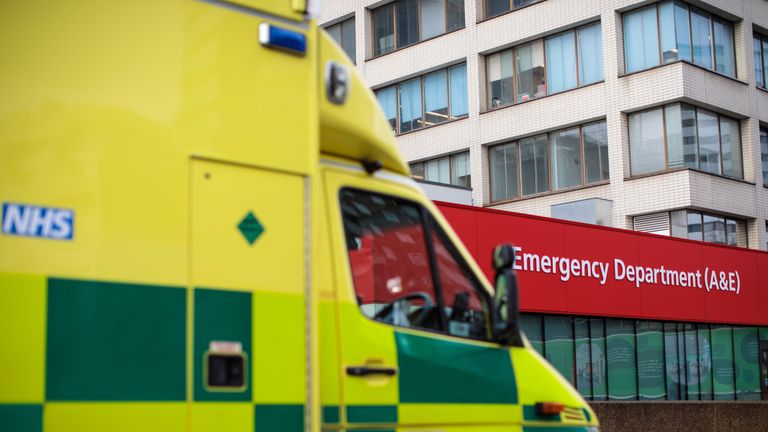 He went on: "We struggled last year (in A&Es) in incredibly benevolent circumstances.
"I am not sure that is going to happen this year. It is very important that we prepare. Perhaps we need to start vaccination early and set aside some money."
Saffron Cordery, deputy chief executive of NHS Providers, said: "The spike in flu we are seeing in Australia could be a worrying signal of what is to come for health and care services this winter.
"Trusts are already working hard to improve vaccination uptake among staff, and will strive to improve this further.
"We must get immunisation rates as high as possible. We must also get our resilience plans in place as early as we can."
But Public Health England (PHE) claimed flu activity in Australia was not necessarily a sign of what will happen in the UK.
"We are monitoring closely, to see if the high levels of activity continue or if this early activity represents the peak for this season," said Dr Richard Pebody, head of PHE's flu surveillance.
Meanwhile, England's A&E departments have recorded their worst June performance since current records began, with just 86.4% of patients seen within four hours.
McDonald's to launch 'evolved' paper straw after customer backlash | Business News
McDonald's says it is to launch an "evolved" paper straw across Europe following a backlash from customers over its first attempt.
The fast food chain, which recently hit headlines over the controversial departure of its British-born chief executive Steve Easterbrook, said the change it was bringing in was part of a wider commitment to the environment by reducing plastic and waste.
McDonald's replaced its plastic straws with paper versions in the UK from late last year following, what it said were, successful trials.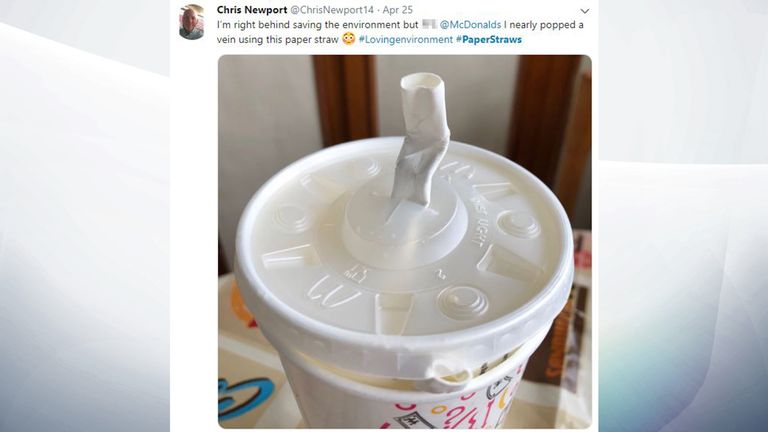 But tens of thousands of customers called for the move to be scrapped, claiming the straws became soggy too quickly and even dissolved.
The chief executive of McDonald's UK, Paul Pomroy, appeared on Sky News at the time to defend the straws – saying he had checked them himself.
The company said on Thursday that the new, more sturdy, straw would be distributed to restaurants across Europe, though it declined to give a time frame.
It said: "Following feedback from customers, and as the packaging industry has evolved, the paper straws being rolled out are now stronger while remaining made of fully recyclable materials."
The straw initiative forms part of the chain's 'Better M' platform to support the environment.
Another change was a makeover of McFlurry packaging to eliminate the need for a separate plastic lid. This would involve the container having flaps at the top, the company explained.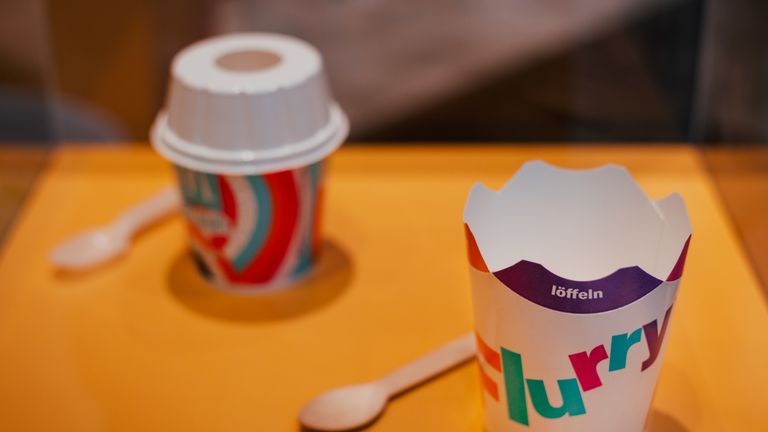 It said this would reduce more than 1,200 tonnes of plastic annually.
It also said it was also to stop plastic drink lids – but only in France.
The chain said they would be replaced by fibre. Edible packaging was to be trialled in Ukraine with its Sundae surround made from waffle.
Vice president of global sustainability at McDonald's, Keith Kenny, said: "We care about lessening our impact on the environment and know our customers do too.
"That's why we're finding new and innovative ways to reduce our use of packaging, switch to more sustainable materials and help our customers to reuse and recycle, too.
"The trials we are conducting across Europe are vital in helping us get first-hand feedback from customers on solutions that help them to be conscious consumers, without compromising on quality and the McDonald's experience they love."
EU legal case against UK over failure to name commissioner | World News

EU officials have launched a legal case against the UK for failing to name a new commissioner.
The commissioner would serve in the new European Commission that is due to take over from 1 December.
Officials have given Britain a deadline of November 22 to respond.
In a statement, the executive commission said: "The European Commission has today sent a letter of formal notice to the United Kingdom for breaching its EU Treaty obligations by not suggesting a candidate for the post of EU Commissioner."
More follows…
US high school shooting: Five wounded in attack at Saugus High School in Los Angeles | World News
At least five people have been injured in a shooting at a California school, and the gunman is still on the run, police have said.
Officers have said they are dealing with an "active scene" after the suspect opened fire at Saugus High School in Santa Clarita, Los Angeles County, around 30 miles northwest of downtown Los Angeles.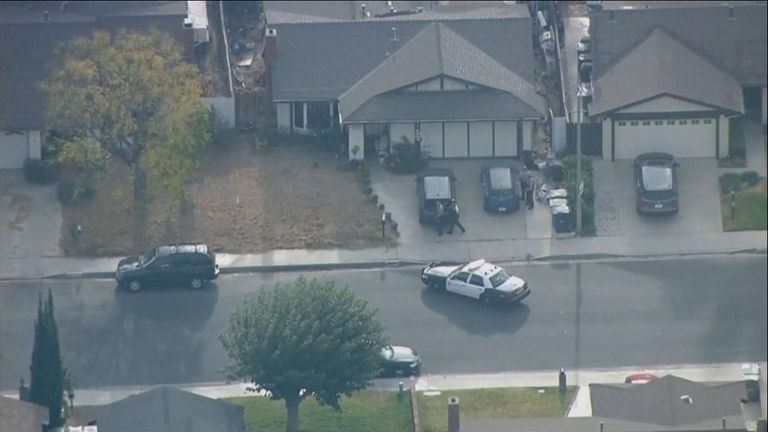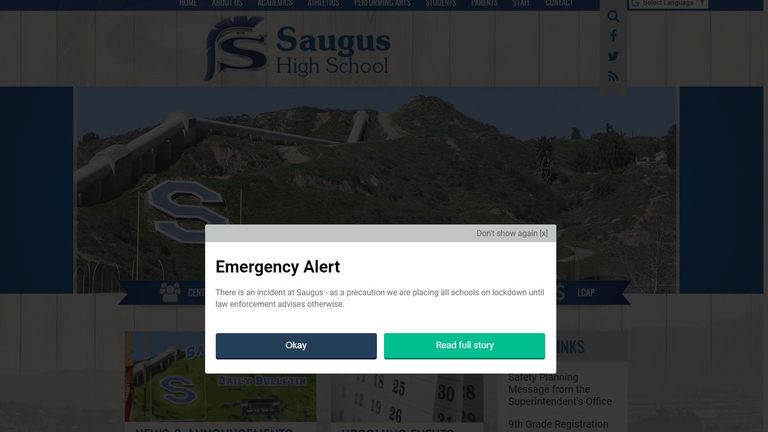 Helicopter footage aired on US television shows lines of students with their hands in the air, filing out of school buildings and being led by police officers.
Several pupils were placed on stretchers and taken to ambulances in the school's car park, according to the LA Times.
Lines of students were escorted away from the school by officers.
Other schools in the area have been placed on lockdown.
The suspect is a 15-year-old boy who was wearing black clothing and a black hat, according to the sheriff's office.
He is described as an Asian male.
Police are surrounding a property in the area in the hunt for the suspect.
More follows…