NHS 'needs to step up flu plans' after hundreds die in 'scary' Australian outbreak | UK News
NHS bosses are being urged to step up anti-flu preparations after a "scary" rise in the number of virus cases in Australia.
So far in 2019, there have been at least 135,952 cases Down Under, compared with an average of 17,349 in the previous five years.
Nearly 300 people are believed to have died in the outbreak this year, a big rise on the 125 for the whole of the 2018 flu season.
Doctors in Britain say the increase in Australia could be a sign of what is to come in the UK this winter.
They said more work needs to be done on vaccination uptake for healthcare workers and at-risk groups, such as patients with diabetes or asthma.
And they have called for an increase in the number of hospital beds.
Dr Nick Scriven, president of the Society for Acute Medicine, said the Australian figures "make grim reading and, if extrapolated to the UK, will cause major stress to an already overburdened system in terms of numbers if not severity".
He added: "One concern is that last year we saw predominantly one strain of influenzas but already there are reports of two or three strains significantly circulating in the population that could complicate vaccination."
The president of the Royal College of Emergency Medicine, Dr Taj Hassan, told the Health Service Journal (HSJ) that the Australian figures look "very scary indeed".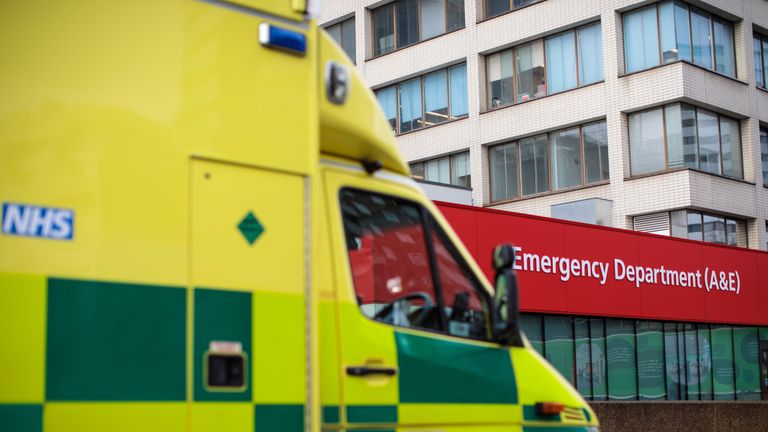 He went on: "We struggled last year (in A&Es) in incredibly benevolent circumstances.
"I am not sure that is going to happen this year. It is very important that we prepare. Perhaps we need to start vaccination early and set aside some money."
Saffron Cordery, deputy chief executive of NHS Providers, said: "The spike in flu we are seeing in Australia could be a worrying signal of what is to come for health and care services this winter.
"Trusts are already working hard to improve vaccination uptake among staff, and will strive to improve this further.
"We must get immunisation rates as high as possible. We must also get our resilience plans in place as early as we can."
But Public Health England (PHE) claimed flu activity in Australia was not necessarily a sign of what will happen in the UK.
"We are monitoring closely, to see if the high levels of activity continue or if this early activity represents the peak for this season," said Dr Richard Pebody, head of PHE's flu surveillance.
Meanwhile, England's A&E departments have recorded their worst June performance since current records began, with just 86.4% of patients seen within four hours.
Iran sentences 'CIA spies' to death after 'breaking ring'


Iran says it has broken up a CIA spying ring and sentenced some of the 17 suspects to death.

Source link
<a href='https://news.sky.com/story/sky-views-11768048' target='_blank'>Podium protest against China's 'poster boy' shames swimming's governing body</a>

<a href='https://news.sky.com/story/sky-views-11768048' target='_blank'>Podium protest against China's 'poster boy' shames swimming's governing body</a>

Source link
Thirty injured as 1,000 firefighters battle wildfires in Portugal | World News
More than 1,000 firefighters are tackling wildfires spreading in east Portugal, which have injured 30 people.
Homeowners tried to protect their properties from the huge fires with buckets of water and hosepipes as strong winds fanned the winds on Sunday.
Portugal's Civil Protection Authority said more than 1,150 firefighters were working to contain the blazes, which broke out on Saturday across three fronts in the district of Castelo Branco, 124 miles (200km) north east of the capital Lisbon.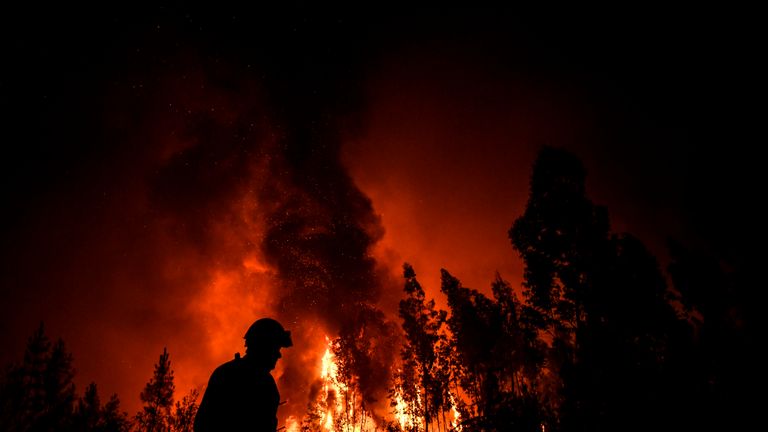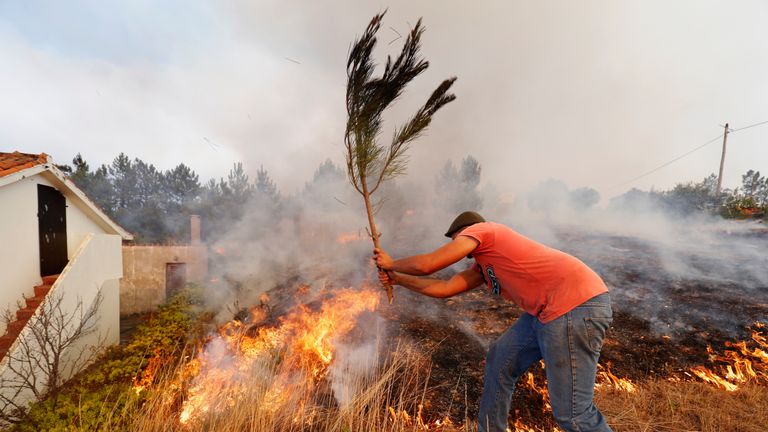 Authorities said one injured civilian was taken to hospital and is in a serious condition after suffering first and second-degree burns.
Villages and fluvial beaches were evacuated as a precaution and 30 people are known to be injured.
Firefighters were being supported by 10 firefighting aircraft as well as hundreds of vehicles.
Some houses were affected by the fires but Portugal's Civil Protection did not provide a specific number.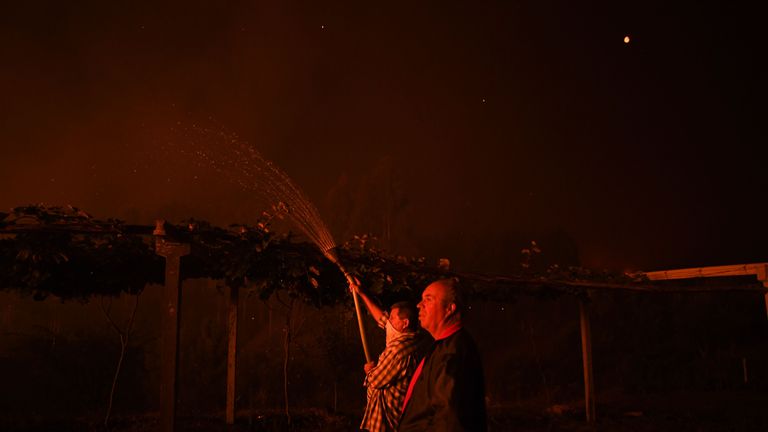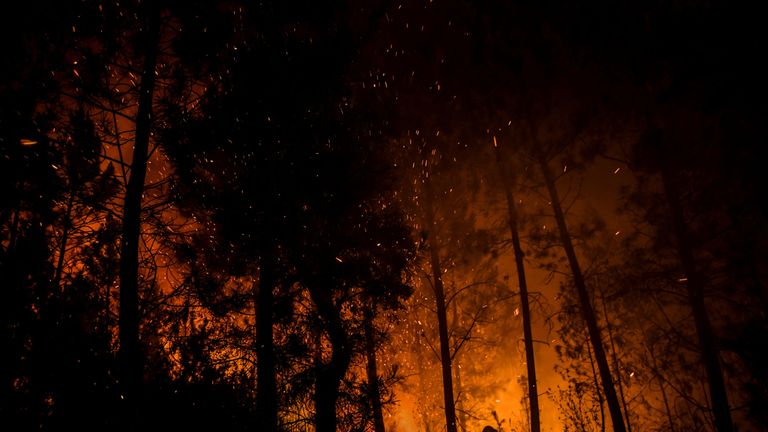 "The fire is out of control, without resources on the ground, and the population at risk," Vasco Estrela, the mayor of Macao, told Portuguese radio station TSF. "We never thought we would live through this again."
Marcelo Rebelo de Sousa, the Portuguese president, said he would be in contact with the mayors in the affected areas.
A statement on the presidential website said: "Aware of adverse weather conditions, the President of the Republic conveys all solidarity to the men and women who fight them, as well as to the most directly affected populations, accompanied by all the Portuguese."
Strong winds have made it more difficult for firefighters to tackle the blaze, but authorities said they hoped to have them under control soon.
One wildfire made its way to Macao, an area in the district of Santarum, in western Portugal where temperatures reached 34C (93.2F) on Sunday.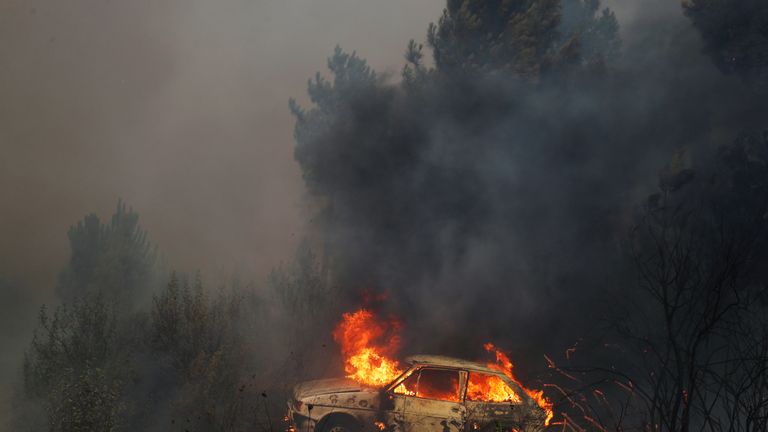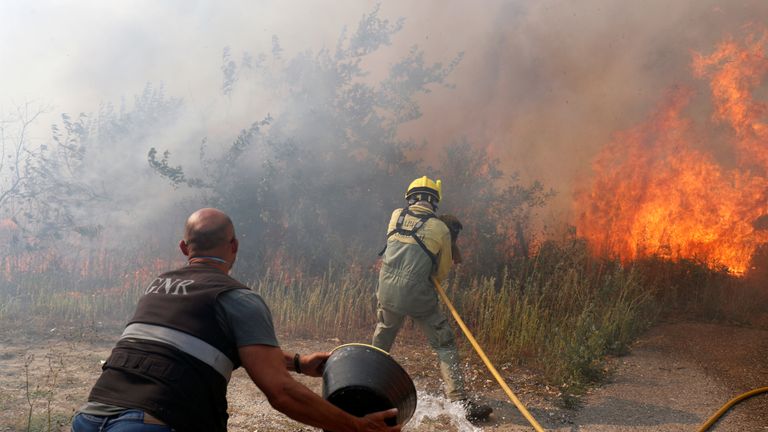 Images broadcast by Portuguese TV channel TVI showed villagers in Macao trying to protect their houses and animals as smoke filled the air, forcing many to wear masks.
"(It will be) an afternoon of intense work," Belo Costa, a Civil Protection official, told reporters.
Police have opened an investigation on the fires, with local authorities considering it unusual that all blazes had started in a narrow time frame between 2.30pm and 3.30pm local time on Saturday in the same area.
In a statement, police said that a 55-year-old man was detained on suspicion of starting a blaze in the Portuguese district of Castelo Branco.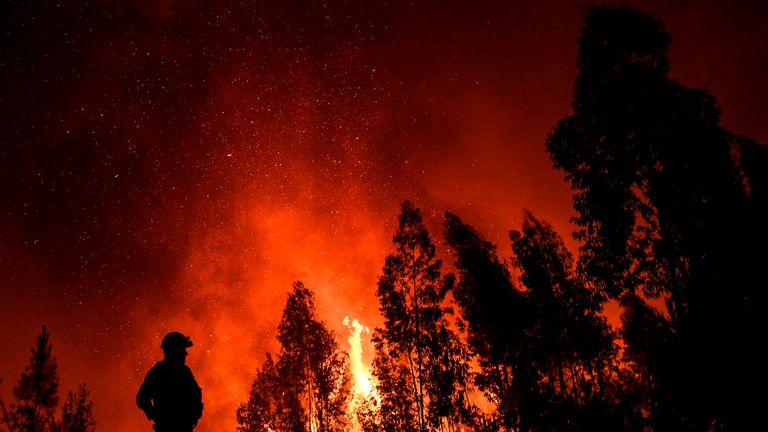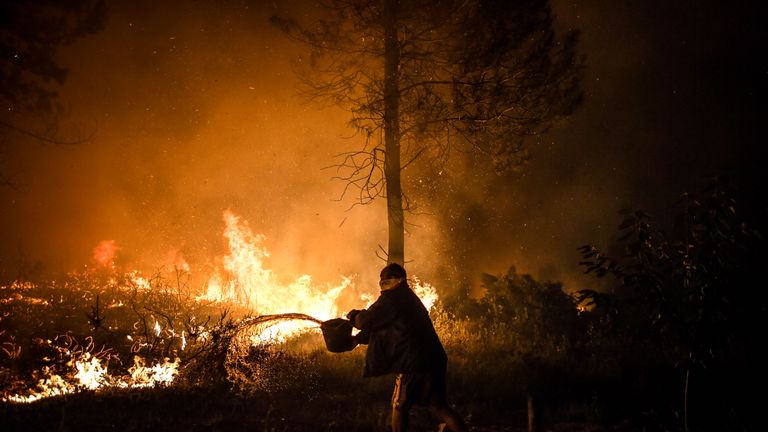 One resident said: "The wildfire came with force. We [the residents] had to fight the flames."
He said there were not enough firefighters, a worry echoed by Ricardo Aires, the mayor of Vila de Rei which has been affected.
The army is sending 20 soldiers and four bulldozers to help with the operation.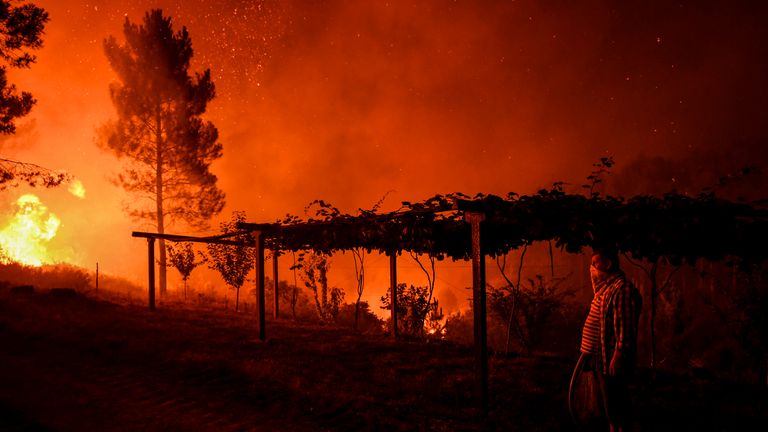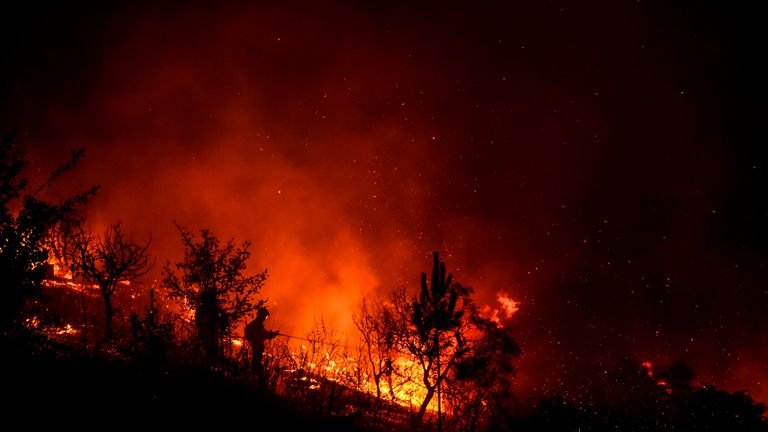 This is the first major wildfire in Portugal this year.
In 2017, 106 people were killed in some of the country's deadliest fires on record.
The Portuguese government backed stronger firefighting prevention methods after the heavy death toll of that year and there were no wildfire deaths in 2018.