Italy's League party faces investigation over claims of Russian oil deal | World News
Italy's ruling party is facing an investigation into claims it tried to funnel money into its coffers from Moscow via a secret oil deal.
Public prosecutors in Milan launched the probe after a leaked recording emerged of a meeting between a close aide to the deputy prime minister, Matteo Salvini, and Russian businessmen.
According to BuzzFeed, they discussed a Russian energy giant selling $1.5bn (£1.2bn) of oil to an Italian oil firm, buying and selling through intermediaries, to divert a sum worth $65m to Mr Salvini's far-right League party.
Mr Salvini, who is the interior minister in a coalition-government with the populist 5-Star Movement, has denied his party received any money from Moscow.
His former spokesman, Gianluca Savoini, admitted to meeting a group of unnamed businessmen in Moscow last October but denied the League had received any funds.
Two sources with knowledge of the case told Reuters that magistrates have now opened a probe into the allegation of international corruption.
Italian law forbids political parties from accepting donations from foreign entities.
Mr Salvini is facing calls from the opposition centre-left Democratic Party to appear in parliament to address the allegations.
The speaker of the Senate, who is a member of the League's longstanding political ally, Forza Italia, refused to summon Mr Salvini.
She has dismissed the controversy as "journalistic gossip".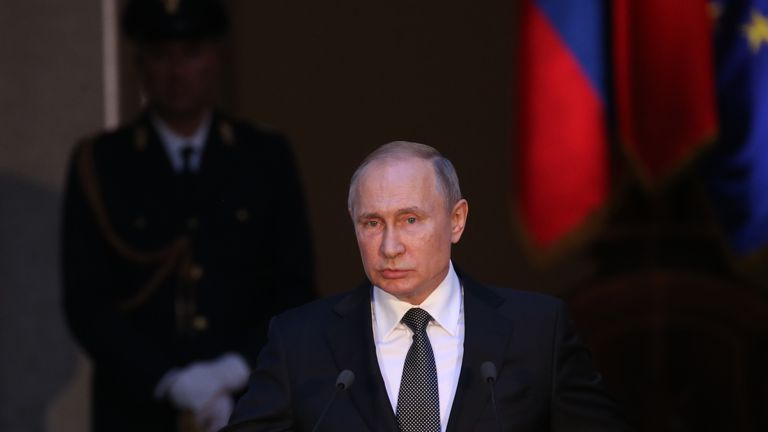 Vladimir Putin visited Rome last week and praised Mr Salvini, telling the Corriere della Sera newspaper he was "in constant contact" with the League.
"Salvini has a welcoming attitude towards our country," the Russian president said.
Tough financing laws in Italy aimed at stamping out years of corruption have left parties struggling to fill their bank accounts.
An Italian court last year gave the League 75 years to pay back some €49m it owes the state following a trial.
<a href='https://news.sky.com/story/sky-views-11768048' target='_blank'>Podium protest against China's 'poster boy' shames swimming's governing body</a>

<a href='https://news.sky.com/story/sky-views-11768048' target='_blank'>Podium protest against China's 'poster boy' shames swimming's governing body</a>

Source link
Thirty injured as 1,000 firefighters battle wildfires in Portugal | World News
More than 1,000 firefighters are tackling wildfires spreading in east Portugal, which have injured 30 people.
Homeowners tried to protect their properties from the huge fires with buckets of water and hosepipes as strong winds fanned the winds on Sunday.
Portugal's Civil Protection Authority said more than 1,150 firefighters were working to contain the blazes, which broke out on Saturday across three fronts in the district of Castelo Branco, 124 miles (200km) north east of the capital Lisbon.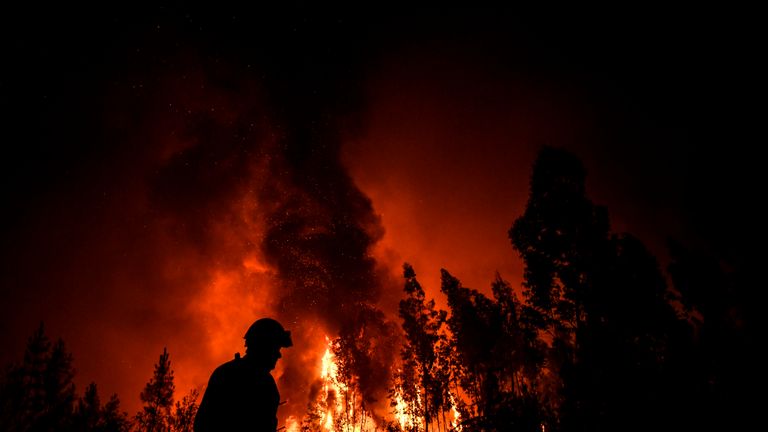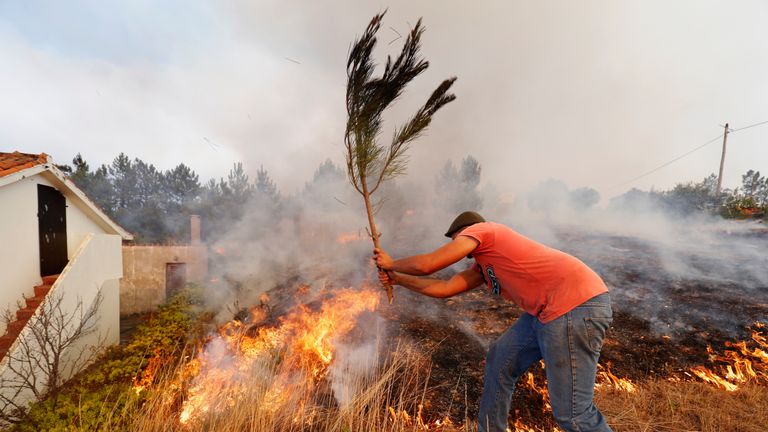 Authorities said one injured civilian was taken to hospital and is in a serious condition after suffering first and second-degree burns.
Villages and fluvial beaches were evacuated as a precaution and 30 people are known to be injured.
Firefighters were being supported by 10 firefighting aircraft as well as hundreds of vehicles.
Some houses were affected by the fires but Portugal's Civil Protection did not provide a specific number.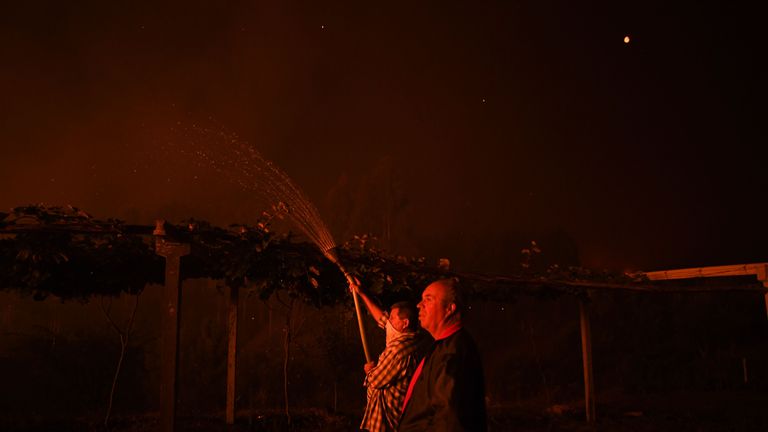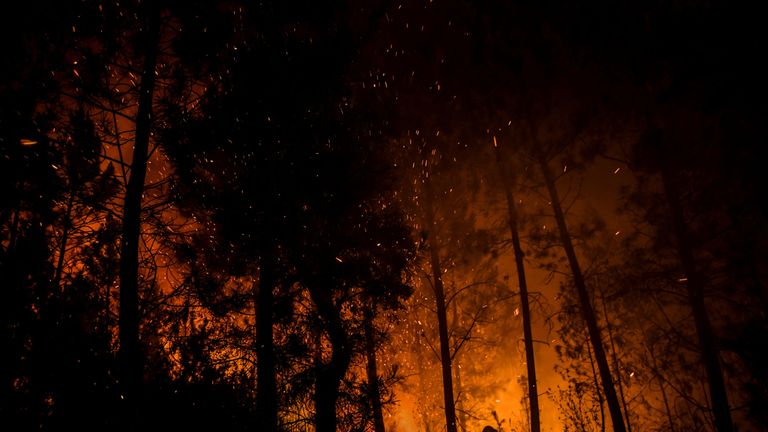 "The fire is out of control, without resources on the ground, and the population at risk," Vasco Estrela, the mayor of Macao, told Portuguese radio station TSF. "We never thought we would live through this again."
Marcelo Rebelo de Sousa, the Portuguese president, said he would be in contact with the mayors in the affected areas.
A statement on the presidential website said: "Aware of adverse weather conditions, the President of the Republic conveys all solidarity to the men and women who fight them, as well as to the most directly affected populations, accompanied by all the Portuguese."
Strong winds have made it more difficult for firefighters to tackle the blaze, but authorities said they hoped to have them under control soon.
One wildfire made its way to Macao, an area in the district of Santarum, in western Portugal where temperatures reached 34C (93.2F) on Sunday.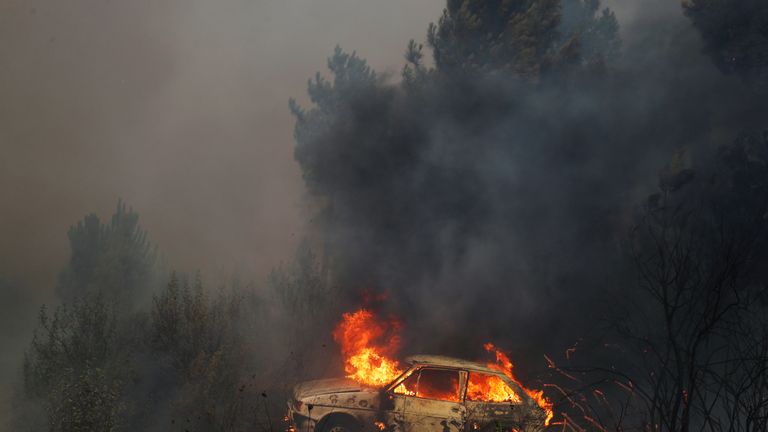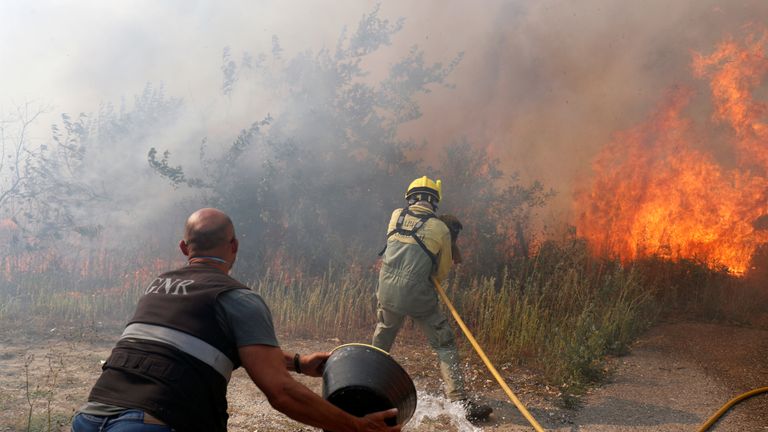 Images broadcast by Portuguese TV channel TVI showed villagers in Macao trying to protect their houses and animals as smoke filled the air, forcing many to wear masks.
"(It will be) an afternoon of intense work," Belo Costa, a Civil Protection official, told reporters.
Police have opened an investigation on the fires, with local authorities considering it unusual that all blazes had started in a narrow time frame between 2.30pm and 3.30pm local time on Saturday in the same area.
In a statement, police said that a 55-year-old man was detained on suspicion of starting a blaze in the Portuguese district of Castelo Branco.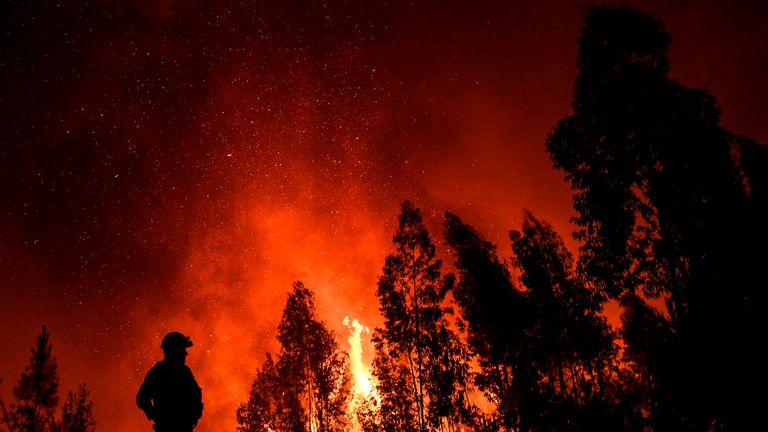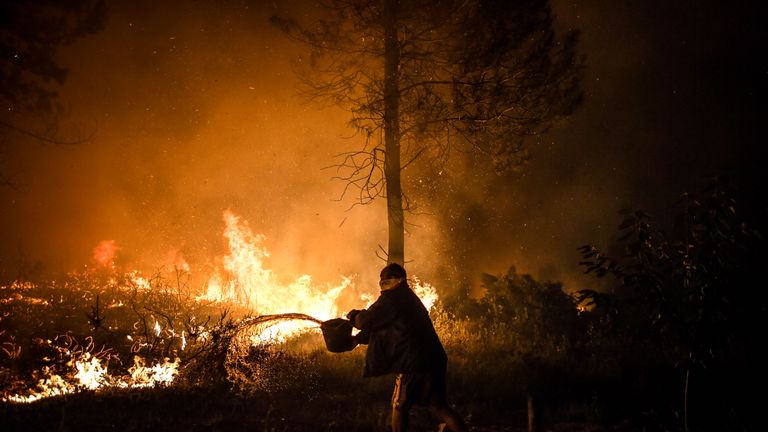 One resident said: "The wildfire came with force. We [the residents] had to fight the flames."
He said there were not enough firefighters, a worry echoed by Ricardo Aires, the mayor of Vila de Rei which has been affected.
The army is sending 20 soldiers and four bulldozers to help with the operation.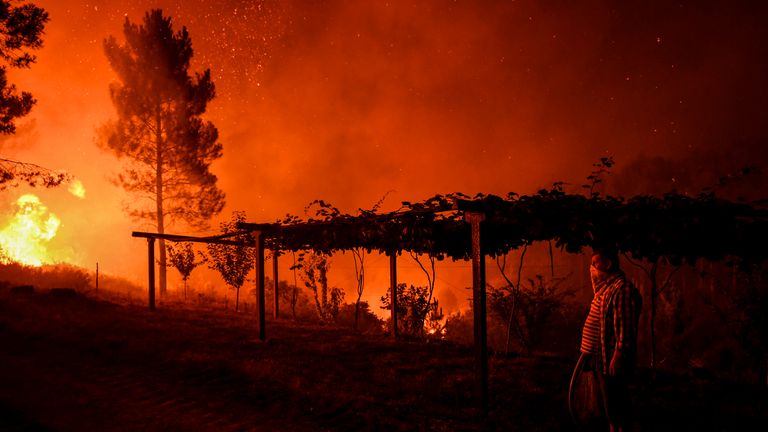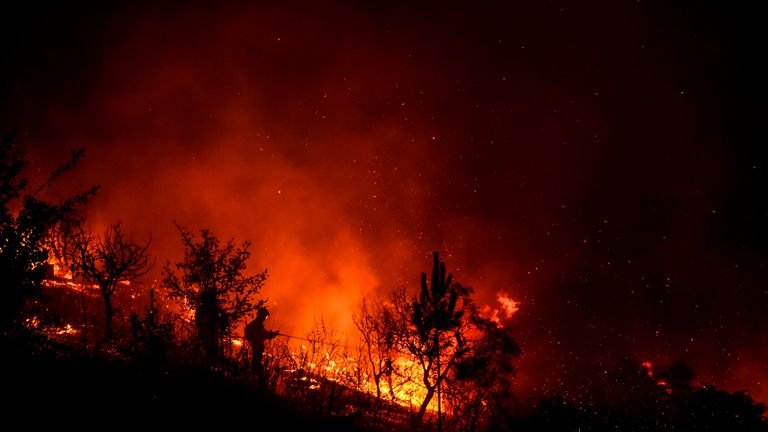 This is the first major wildfire in Portugal this year.
In 2017, 106 people were killed in some of the country's deadliest fires on record.
The Portuguese government backed stronger firefighting prevention methods after the heavy death toll of that year and there were no wildfire deaths in 2018.
UK to send 250 troops to Mali for dangerous peacekeeping mission | World News
The UK is to send 250 troops to Mali in the biggest peace-keeping deployment since Bosnia and potentially the most dangerous mission for British forces since Afghanistan.
The soldiers will form a long-range reconnaissance task group, specifically chosen for their ability to operate in small teams and in violent, contested areas of the country.
They will be asked reach parts of Mali that most militaries cannot, to feed on-the-ground intelligence back to the mission headquarters in Gao. They will arrive in the country early next year.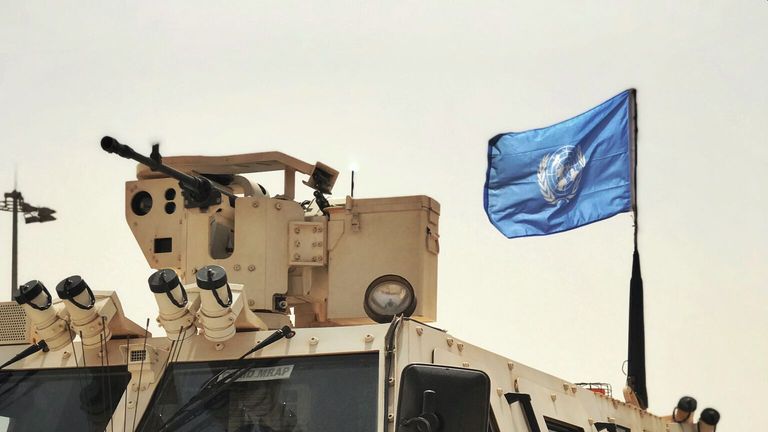 "They will do the part of the heavy lifting. They will do the operations in very contentious areas… where we have a great deal of uncertainty. They will do operations where we face threats to us and to the civilian populations," the UN Force Commander Lieutenant General Dennis Gyllensporre explained.
Although wearing the distinctive light blue UN helmets and deployed with a peace-keeping mandate, it's privately acknowledged that they will likely be targeted by extremist groups fighting for power in one of the world's poorest and most dangerous countries.
The British deployment comes as security in Mali and the wide Sahel region has deteriorated rapidly in recent months, causing thousands of people to be displaced and a dramatic spike in deaths.
A range of violent factions – some allied to al Qaeda – are vying for influence, and Islamic State in West Africa has successfully established a foothold in Mali.
Such is the concern within the British government that a Joint Sahel Task Group has been established in London to address the potential threats from what is known as the G5: Mali, Niger, Chad, Burkina Faso and Mauritania.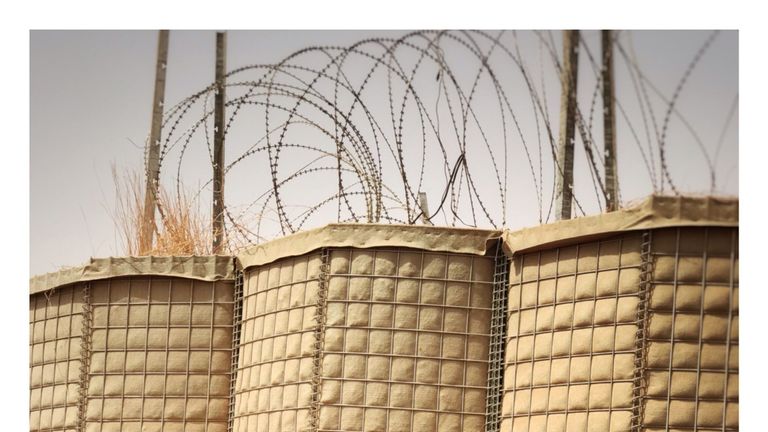 A regional hub has been set up in Dakar and two new British embassies will open in Niger and Chad. Close to £10m will be spent on security and humanitarian initiatives in the region this year.
Albeit relatively small, the deployment has been welcomed by the UN in New York and is being seen in the British government as one of the most significant military commitments since Afghanistan and the fight against Islamic State.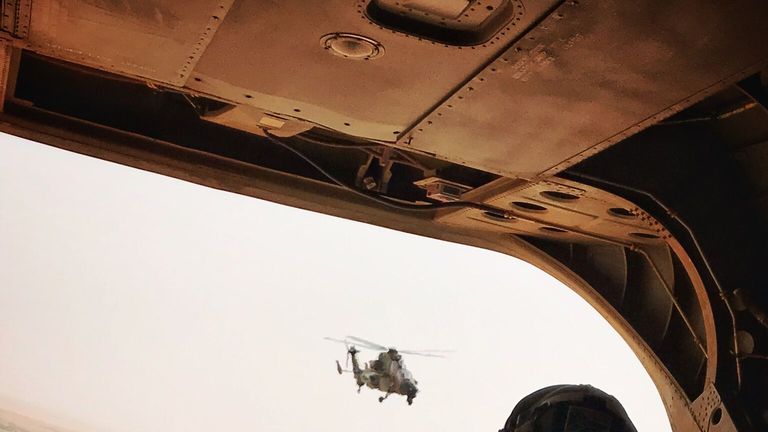 Defence Secretary Penny Mordaunt travelled to Mali to make the announcement in person.
She said: "In one of West Africa's poorest and most fragile regions it is right that we support some of the world's most vulnerable people and prioritise our humanitarian and security efforts in the Sahel."
France, with historical links in Mali, is the biggest military force in the country with more than 4,500 troops fighting Islamist extremists. The Paris government has paid a heavy toll for the five-year commitment, losing 15 soldiers and many more injured.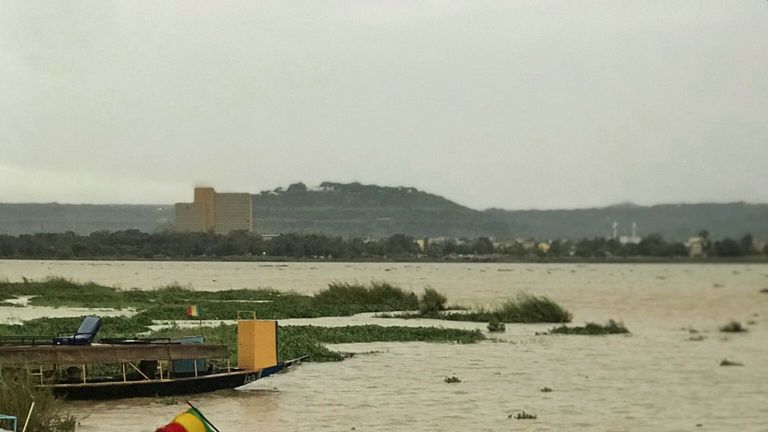 Three RAF Chinook helicopters and around 100 personnel have been operating with French forces in the north of the country since 2018, in a non-combat role. The Chinooks have provided valuable heavy-lift to the mission, a capability the French don't have.
That commitment was recently extended by a further six months to June 2020, viewed as a gesture of Anglo-French goodwill post-Brexit.