Bird with toe bigger than its leg found fossilised in amber | Science & Tech News

A 99-million-year-old bird with a toe longer than its leg has been found fossilised in amber.
Researchers in China found the tiny-winged animal with an unusually large digit on each foot, and believe it was used to hook grubs out of tree trunks.
They said it's the first time they have seen a structure of toe and foot like it in birds, either extinct or living.
Lida Xing, of China University of Geosciences in Beijing, said: "I was very surprised when I saw the amber.
"It shows that ancient birds were way more diverse than we thought. They had evolved many different features to adapt to their environments."
The study found the bird's third toe, measuring 9.8mm, was 41% longer than its second toe, and 20% longer than its tarsometatarsus, a bone in the lower legs of birds.
Based on the fossil, the team thinks the bird, which they named Elektorornis, was smaller than a sparrow and would have spent most of its time in trees.
Elektor is from the Greek meaning amber, while ornis is the same language, meaning bird.
The co-author of the report, published in Current Biology, Jingmai O'Connor at the Chinese Academy of Sciences, said: "Elongated toes are something you commonly see in arboreal animals because they need to be able to grip these branches and wrap their toes around them."
The amber the foot was found it was discovered at the Hukawng Valley in Myanmar, formerly known as Burma, in 2014.
The area around it was full of trees which produced a gooey resin from the bark.
Small animals like geckos and spiders, as well as plants, get trapped in the resin and become fossilised after millions of years.
The team got the piece of amber from a local tradesman, who had no idea what animal the foot belonged to. Some traders through it was a lizard's foot because of the length of the toe, according to the scientists.
However, the foot in the amber has four toes, like most birds, while lizards have five.
The only known animal with disproportionately long digits is the aye-aye, a lemur, which has long middle fingers it uses to fish larvae and insects out of tree trunks to eat.
McDonald's to launch 'evolved' paper straw after customer backlash | Business News
McDonald's says it is to launch an "evolved" paper straw across Europe following a backlash from customers over its first attempt.
The fast food chain, which recently hit headlines over the controversial departure of its British-born chief executive Steve Easterbrook, said the change it was bringing in was part of a wider commitment to the environment by reducing plastic and waste.
McDonald's replaced its plastic straws with paper versions in the UK from late last year following, what it said were, successful trials.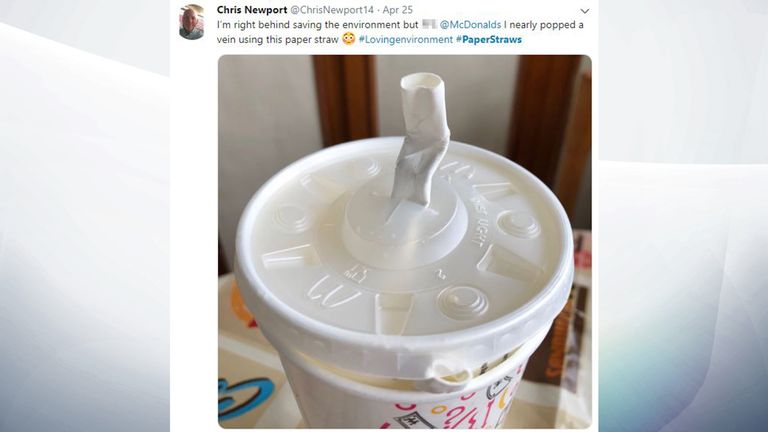 But tens of thousands of customers called for the move to be scrapped, claiming the straws became soggy too quickly and even dissolved.
The chief executive of McDonald's UK, Paul Pomroy, appeared on Sky News at the time to defend the straws – saying he had checked them himself.
The company said on Thursday that the new, more sturdy, straw would be distributed to restaurants across Europe, though it declined to give a time frame.
It said: "Following feedback from customers, and as the packaging industry has evolved, the paper straws being rolled out are now stronger while remaining made of fully recyclable materials."
The straw initiative forms part of the chain's 'Better M' platform to support the environment.
Another change was a makeover of McFlurry packaging to eliminate the need for a separate plastic lid. This would involve the container having flaps at the top, the company explained.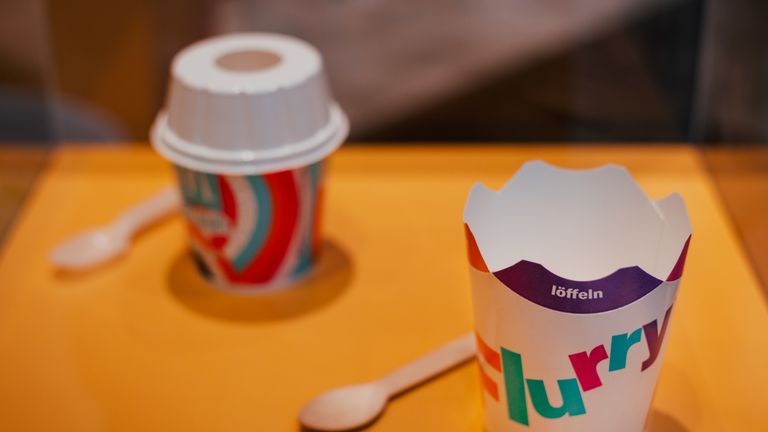 It said this would reduce more than 1,200 tonnes of plastic annually.
It also said it was also to stop plastic drink lids – but only in France.
The chain said they would be replaced by fibre. Edible packaging was to be trialled in Ukraine with its Sundae surround made from waffle.
Vice president of global sustainability at McDonald's, Keith Kenny, said: "We care about lessening our impact on the environment and know our customers do too.
"That's why we're finding new and innovative ways to reduce our use of packaging, switch to more sustainable materials and help our customers to reuse and recycle, too.
"The trials we are conducting across Europe are vital in helping us get first-hand feedback from customers on solutions that help them to be conscious consumers, without compromising on quality and the McDonald's experience they love."
EU legal case against UK over failure to name commissioner | World News

EU officials have launched a legal case against the UK for failing to name a new commissioner.
The commissioner would serve in the new European Commission that is due to take over from 1 December.
Officials have given Britain a deadline of November 22 to respond.
In a statement, the executive commission said: "The European Commission has today sent a letter of formal notice to the United Kingdom for breaching its EU Treaty obligations by not suggesting a candidate for the post of EU Commissioner."
More follows…
US high school shooting: Five wounded in attack at Saugus High School in Los Angeles | World News
At least five people have been injured in a shooting at a California school, and the gunman is still on the run, police have said.
Officers have said they are dealing with an "active scene" after the suspect opened fire at Saugus High School in Santa Clarita, Los Angeles County, around 30 miles northwest of downtown Los Angeles.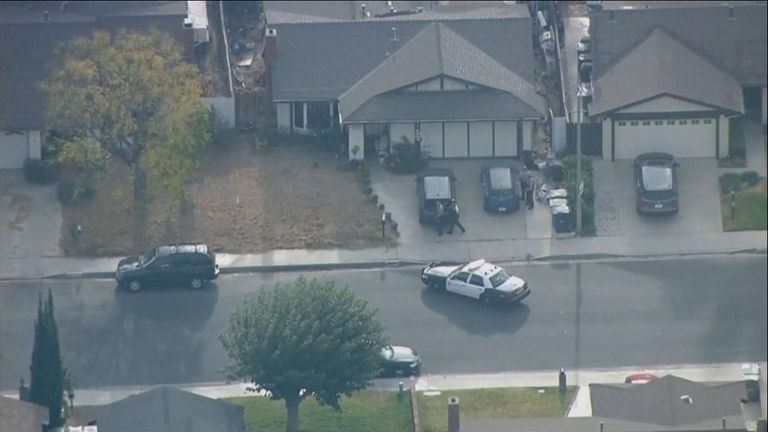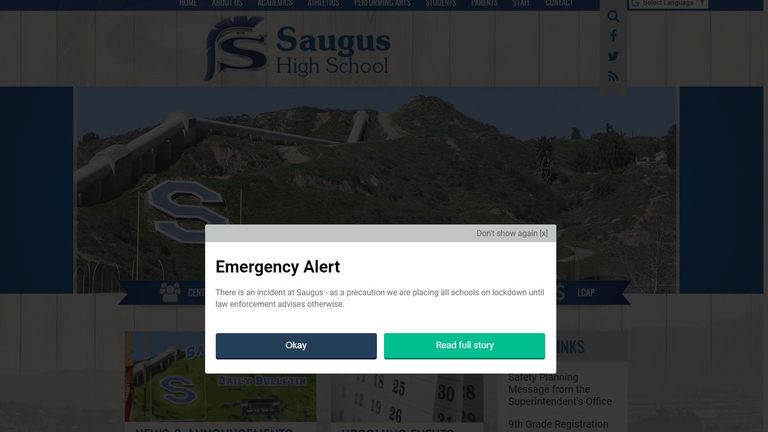 Helicopter footage aired on US television shows lines of students with their hands in the air, filing out of school buildings and being led by police officers.
Several pupils were placed on stretchers and taken to ambulances in the school's car park, according to the LA Times.
Lines of students were escorted away from the school by officers.
Other schools in the area have been placed on lockdown.
The suspect is a 15-year-old boy who was wearing black clothing and a black hat, according to the sheriff's office.
He is described as an Asian male.
Police are surrounding a property in the area in the hunt for the suspect.
More follows…