How to make your mark at work through 5 simple steps
All of us are looking to make a good impression when it comes to advancing our careers, and thanks to the digital age, there are all sorts of techniques to embrace if you're looking to stand out from the crowd.
Yet, one of the fundamental attributes you should have at your disposal is knowing how to market yourself effectively.
"Your personal brand is your business armor — it's how you get recognized and remembered. It is shorthand for everything you stand for," writes Anna Jones, co-founder of networking club AllBright, in the recently-published book she co-wrote called "Believe. Build. Become. "
Ultimately, this concise rundown of what you represent professionally allows you to showcase your personality, values and unique selling propositions (USPs).
In "Believe. Build. Become. ", AllBright co-founders Anna Jones and Debbie Wosskow, offer practical advice for those hoping to develop their skills and mentality, to thrive as leaders and entrepreneurs — including how to construct your own personal brand.
Crafting your personal brand
Perfecting your USPs and elevator pitch
Whether you're selling a product or pitching an idea, having a unique selling point is paramount if you want to be memorable — and the same goes for creating a stellar personal brand.
Consider what makes you stand out — whether that's certain skills, achievements or characteristics that make you who you are — and then refine it into a succinct summary.
For AllBright co-founder Debbie Wosskow, who launched three businesses prior to establishing the networking club for businesswomen, the serial entrepreneur has her own way of crafting an elevator pitch.
"For me, it's always (about having) three key messages and practice this in front of the mirror. And I would really think about what that is," Wosskow told CNBC over the phone.
She added that it's important to play this pitch out with your support network and ask for feedback.
"It's something Anna and I do a lot, asking 'How did I come across?' and 'What do you think?' And use that to define your USP and construct your personal brand," Wosskow said, adding that jotting it all down is essential.
Power of communication
You may have an excellent personal summary, but if you cannot effectively communicate it, success may be a lot harder to obtain. As Jones notes, your communication style can illustrate a lot about who you are, and in the book, she recommends assertive communication, over passive or aggressive.
"You can be forthright without being a bully, but equally you need to be empathetic without being submissive," Jones writes, adding that it's important to gauge how others will respond.
Consider your body language and what signals it gives off to others. One way to go about this is power posing, which involves various parts of the body, like posture, maintaining eye contact and delivering confident handshakes. Meantime, listening to what others say and don't say, can help boost relationships and potentially provide you with more insight into the other person's intentions.
Another aspect to consider is how you communicate through what you write. As Jones states, "everything you write down should follow the same rules." A CV for instance is the initial window into impressing a potential employer, so this professionalism and choice of language should be upheld throughout other work activities, whether that's penning an email or report.
Finally, practice makes perfect. To refine your communication style, keep speaking up.
Be authentic
Being true to who you are and your values while owning your actions not only offers others an insight into what to expect from you, but also can establish trust.
In "Believe. Build. Become. ", Jones notes that while authenticity is essential, it should align with professionalism, meaning "acting in a way appropriate for the job." One example Jones offers is being "a loud joker" — this behavior may help you bond with colleagues, but it's unlikely that it'll be appropriate for boardrooms.
Another key point: Don't undersell yourself.
"What we can see with women and from what I've seen from being on the other side of the table as an investor, is women being apologetic or underselling themselves and their vision. A lot of this is around language and how they feel about themselves," Wosskow tells CNBC, explaining the importance of having clear focus, while not being apologetic or unauthentic.
Appearance
In 2006, Princeton University researchers Alex Todorov and Janine Willis, conducted a study which suggested that our brains can decide whether a person is trustworthy or attractive within a tenth of a second.
So, if you're trying to impress a future employer or investor, it's important to consider dressing the part.
One key example is the job interview, and management expert Suzy Welch has several tips on dressing the part, including doing your homework beforehand, not fretting about being overdressed and wearing confidence-boosting clothes.
"During an interview, you should feel good about yourself," Welch previously told CNBC. At the end of the day, it's not only important to dress the part, but to feel comfortable — and let your confidence shine through.
Standing out online
How you present yourself online is important now, more than ever. Whether it's your professional LinkedIn page or personal networking accounts, your online profile is "a very clear, very instant representation of your personal brand," Jones writes.
If you're looking to win over a prospective employer or a future work contact, keep your online profile updated and professional. According to a 2018 survey by CareerBuilder, 70 percent of employers polled admitted to using social networking sites to research candidates who applied for a role.
In addition, half or more of those bosses were checking to see the candidate's qualifications matched their resume or if they had professional online persona.
After you've created an online profile that reflects you, make sure it sells you in the best light. Think of it this way: you are the best person who can pitch yourself to others. For Wosskow, the most crucial tool to have in your personal brand toolkit is "being memorable."
As Jones notes, everybody can be searched for online, so make sure that "your digital footprint is one that you are happy with. If it's not, change it, now."
Thomas Barwick | DigitalVision | Getty Images
America is ignoring Iraq's protests at its peril: security experts
A demonstrator carries an Iraqi flag during ongoing anti-government protests in Baghdad, Iraq November 4, 2019.
Thaier Al-Sudani | Reuters
Iraq is descending into its most violent days since the battle against ISIS concluded in late 2017 — and the world is completely underestimating its significance, regional experts told CNBC at the Middle East's premier oil and gas conference this week.
The second-largest OPEC producer has seen protests every summer for the last several years over economic grievances, met time and time again with empty government promises of reform that go unfulfilled. But this year's demonstrations are different, spilling over into demands for a full-on political overhaul and attracting elements like Iranian-backed forces and other extremists that threaten to hijack the protest movement and potentially bring the U.S. into deeper involvement.
"From a security perspective, I would say that the Iraq story is the most under-covered story in the region right now," Amos Hochstein, former special envoy for international energy affairs under the Obama administration, told CNBC on Wednesday.
"Because the forces that are outside, the external forces that have decades of interest (in Iraq) are not going to go away quietly. They will affect the economics of the region potentially, and they can affect the security beyond the region of Europe and eventually the United States."
Some 300 people have been killed and more than 2,000 injured as protests rocking the country of 38 million draw a harsh response from state security forces and other unidentified entities. Authorities have taken extreme measures like shutting down the internet and using live ammunition against protesters in an attempt to crack down on the uprising.
Amnesty International has described the government response as "nothing short of a bloodbath."
Protesters report plainclothes snipers shooting and killing civilian demonstrators, with many Iraqis pointing to Iranian-backed paramilitary fighters or "anonymous thugs" as some of the forces sowing further violence and confusion.
What we do know is that our adversaries, both groups like ISIS, al-Qaeda or Iran, thrive in chaos and a vacuum. What we're seeing in Iraq today is vacuums being created and then occupied.
Amos Hochstein
fmr U.S. special envoy for international energy affairs
Iraqis across the country, particularly in Baghdad and cities of the country's oil-rich south, are angry over grievances that lie at the heart of protests similarly taking place in Lebanon and Algeria: rampant state corruption, high unemployment, and a lack of basic services provision.
Iraqi cities regularly suffer power cuts, garbage is left uncollected and there is a broad consensus that the state serves the interests of the elites, not the people — and all this in a country that is a major crude oil producer, sitting on the world's fifth-largest proven oil reserves and pumping nearly 5 million barrels per day. Its southern Basra province, afflicted with some of the worst poverty and lack of public services in the country, hosts international oil hegemons like Exxon, BP and Total.
Rocket attacks on US forces?
The comments come just days after 17 Katyusha rockets were fired at an Iraqi military base south of Mosul that houses U.S. troops. Some 5,000 American troops remain in the country, providing training and security assistance and supporting a U.S.-led coalition fighting what remains of ISIS.
Responsibility for the rocket attack has not been claimed and no casualties have been reported, but commodities expert and former CIA analyst Helima Croft sees this as a dangerous risk that could bring the U.S. into further confrontation with Iran. Hardline Iranian-backed Iraqi militias regularly threaten to attack Americans inside the country.
"If they hit that base and if you had dead U.S. servicemen, that would certainly be a red line where we could be hitting something in Iran, could we be bombing (Iranian port) Bandar Abbas? Potentially," Croft said. "Iraq is where I think this whole thing comes to a head."
The rocket attack, and protester anger at the corruption bred in a government system the Americans helped set up, is a sobering reminder that 16 years after its invasion, the U.S. remains tethered to the turbulent story of Iraq.
'If you break it, you own it'
The protesters in Iraq are also fed up with foreign influence in their country's affairs — many protest signs and chants say "No America, no Iran." Observers say this presents a threat to Iran's deeply held influence in the country, something that Tehran is not likely to take lightly.
"You have a battle for who is going to win the proxy war in the Middle East," Croft said. "Think about Lebanon and Iraq, these two places where Iran has a strong foothold. The question is, are they going to want to surrender their foreign policy and strategic influence? I don't think they will."
For Hochstein, who opposed the 2003 U.S. invasion of Iraq, the U.S. has a serious responsibility — and the Donald Trump administration is ignoring it.
"There is a basic rule of if you break it, you own it," Hochstein said. "It was us who broke it. And the consequences of that, we are living through today."
Demonstrators run as Iraqi security forces use tear gas during a protest after lifting of the curfew, following four days of nationwide anti-government protests turned violent, in Baghdad, Iraq October 5, 2019.
Thaier Al-Sudani | Reuters
The solution, the former diplomat believes, is engagement — but that doesn't need to be boots on the ground.
"We have come to this dichotomy now, we've come to this extreme where it's either we have to be involved, meaning troops, or the alternative is nothing. And that is not the case here. What we're seeing now is that during the Trump administration, we're seeing no troops and no diplomacy."
Hochstein stressed the need for American engagement to "at least put the path of dialogue on the table so that you can see a horizon for solutions, versus a total absence from the scene that allows the protests and the violence to take on a life of its own."
"And then you don't know where it ends. And what we do know is that our adversaries, both groups like ISIS, al-Qaeda or Iran, thrive in chaos and a vacuum. What we're seeing in Iraq today is vacuums being created and then occupied. And the more we retreat, both militarily and diplomatically, the more vacuums we're creating to be occupied by our opponents."
'All of them out'
Former Secretary of State Condoleezza Rice, speaking at the Abu Dhabi International Petroleum Exhibition & Conference (ADIPEC) this week, told CNBC, "We certainly have a responsibility in Iraq."
"The Iraqi situation is one I have great sadness for because I think the Iraqis have a chance to govern wisely. Unfortunately they've not really delivered the services the people expect, the jobs people expect," she said.
Rice was a leading proponent of the 2003 Iraq invasion, and remains a controversial figure from the Bush administration. Critics of the Iraq War say the former diplomat remains responsible for the chaos and violence that engulfed the country as a result.
Iraqi Prime Minister Adel Abdul Mahdi, who came to power only a year ago, has promised more public sector jobs and limited economic reforms, but the pledges have failed to satisfy popular anger. The U.S. embassy in Baghdad on Sunday called for new elections, but Iraqis protesting say that will only result in the same faces reappearing in power. The leaderless movement has seen demands ranging from a new generation of leaders to a return to military dictatorship.
"It reminds me of what we saw in Lebanon — protester demands have morphed into 'all of them out'," Croft said, referring to the mass protests sweeping neighboring Lebanon where citizens are calling for the removal of the entire political class. She noted the same happening in Algeria, where popular protests have endured since last spring.
"'All of them out' seems to be a movement sweeping across the region. And I think this is an under-reported story," Croft said. "A movement sweeping across the Middle East."
Airbnb CEO Brian Chesky on the most bizarre customer complaint
Since launching Airbnb in 2008, CEO Brian Chesky has pretty much heard and seen it all when it comes to customer complaints.
But one stands out as the most bizarre.
"One day, a customer calls us and says they want a full refund. We say, 'why do you want a full refund?' They said because the house is haunted and there's a ghost," Chesky said at The New York Times DealBook event on Nov. 6.
As with any other complaint, Chesky's team called the hosts to relay the message and find out what happened. Chesky said he expected the hosts to say there was no ghost and that would be the end of it. But that's not what happened.
"The host confirms the ghost [but] says that it's a friendly ghost named Stanley and that the ghost is in its listing description," Chesky said.
Sure enough after reading the listing, Stanley "the ghost" was mentioned, Chesky said.
"So we go back to the guests and the guest says, 'Yes, we knew about Stanley. That's why we booked it, but Stanley has been harassing us all night,'" Chesky told the crowd at DealBook. They were upset he wasn't a friendly ghost. "How do you adjudicate that?" Chesky said. (He didn't say whether the guests received a refund.)
For Chesky, the story is not just funny, it also illustrates that in today's sharing economy, where businesses are built on trust — Airbnb only works if people are willing to trust their homes to complete strangers — companies need to be flexible and open to a wide range of issues.
"There is no playbook for this stuff," he said.
Like this story? Like CNBC Make It on Facebook.
Don't miss:
Airbnb CEO: These are 2 things that caused WeWork's fall
Ex-Yankees performance coach turned executive coach gives his top tips for success
10 principles for great leadership, according to Disney's CEO
Customers cautious due to trade war, Brexit
Cisco Systems Chairman and CEO Chuck Robbins told CNBC on Thursday the company's larger customers are pausing their spending plans due to global economic uncertainties.
"They're just expressing caution that they're concerned about what's going on in the macro environment," Robbins said on "Squawk on the Street."
Dow stock Cisco tumbled after the technology conglomerate late Wednesday reported fiscal second-quarter earnings that came in below estimates and lowered forward guidance. Cisco blamed the disappointing results on reticence in the face of a slowing global growth — partly based on fears of that Britain's exit from the European Union and the U.S.-China trade war won't get solved.
"We don't see anything in the short term that will definitively resolve the issues we're seeing around the world," Robbins said. Though he did says that progress on a "phase one" trade deal between the world's two largest economies "would help" with customer confidence.
Shares of Cisco were down more than 7% on Thursday morning and on pace for their worst day since mid-August. Cisco is up almost 5% year-to-date compared to the S&P 500's nearly 24% advance in 2019.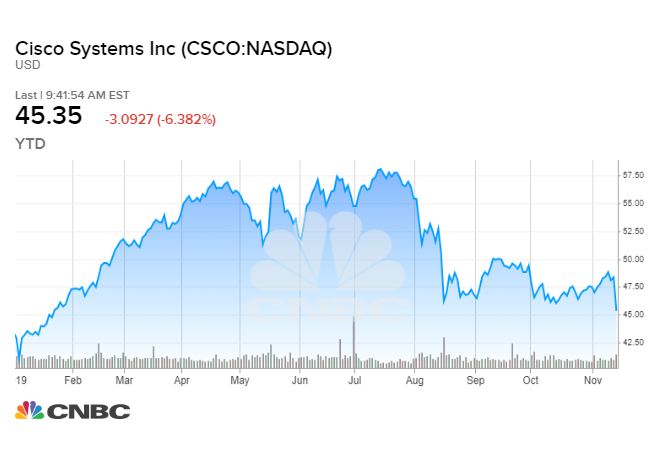 Robbins cited similar global pressures when speaking to analysts on Wednesday's post-earnings conference call. Cisco saw "a bit of a pause" in the quarter and that some large deals were made but "got done smaller," he said.
Beijing and Washington are working to cement a "phase one" trade deal, which was announced in principle last month. However, negotiations have hit a snag over a number of issues.
The U.S. is trying to secure stronger commitments from China on intellectual property protections, amounts of agriculture purchases, and an end to what it sees as forced technology transfers. China wants a rollback of tariffs, while reportedly balking on putting a specific number on farm good buys. Washington has placed tariffs on more than $500 billion in Chinese goods. Beijing has put duties on about $110 billion in American products.
In August, Robbins told CNBC that Cisco saw an impact on its business in China due to the ongoing trade war.
"We certainly saw an impact on our business in China this quarter. A lot of state-owned enterprises, I think where they have options, they're choosing local manufacturers," Robbins said at the time. "We don't know if that's a short-term thing or a long-term thing."
— CNBC's Jordan Novet contributed to this report.