Half of Britons say we should only trade with those respecting human rights | Politics News

Half of Britons believe the country should only trade with those that have a good record on human rights – even if it hurts the economy.
The opinion comes in response to a survey of 17,000 people in 24 countries that also showed the US is seen as one of the countries most likely to use its power for bad purposes.
Globally more than a third (36%) of people said their country should only trade with nations with a good human rights record but 33% said their country should instead trade freely regardless of human rights concerns.
Britons and Swedes were most likely to say a country's human rights record should be taken into account before trading is agreed.
Addressing the figures during the annual Fulbright lecture in Edinburgh, former foreign secretary David Miliband said: "The poll shows that around the world large numbers of people are looking for commitment to human rights and global engagement.
"However, it should be shocking that the US should be perceived to have descended to the level of Russia as a global spoiler."
He added: "Britain is in Brexit baulk – neither positive nor negative, more likely to be ignored."
The US ranked one of the worst for using its influence for bad purposes, with 22% agreeing that this is the case.
Other badly-ranked countries were Russia and Saudi Arabia both on 25% and Israel on 24%.
One in 10 respondents said Britain uses its influence mostly to bad ends, while 27% believe it mostly uses it for good.
Countries seen as most likely to use their influence for good were Germany (32%) and Canada (37%).
The UN got a positive report from 35% of respondents.
But the poll also found that just 38% of people around the world believed their country should always follow international laws on human rights.
Just over half of the respondents agreed that if a country commits war crimes, other countries should intervene to stop it – even if that infringes on sovereignty – but only four in 10 were as keen on such global policing if it meant their own country should act.
'I call him Jorge' – Pope's missionary cousin to welcome him on Thailand trip | World News
Pope Francis is making his first trip to Thailand this week – only the second papal visit to the mainly Buddhist country.
Among those greeting him is a 77-year-old nun who's been living in Thailand for 54 years.
But Sister Ana Rosa Sivori isn't just a missionary, she's the Pope's second cousin. They both grew up in Buenos Aires and had the same great-grandfather.
She spoke to Sky News about her famous relative.
We are a big family and we'd all get together for feasts, for celebrations.
Pope Francis is six years older than me, so by the time I was born he was already a boy. We were a middle-class Catholic family.
Of course, we were all involved with the church and we'd see each other there.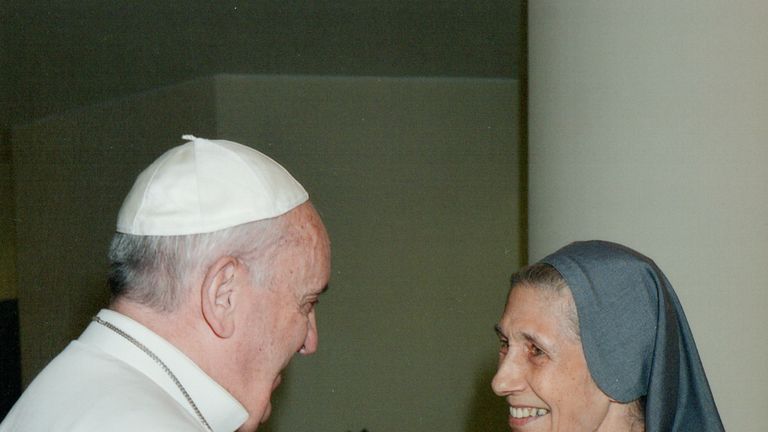 He was more or less a quiet child. He wasn't very talkative as a boy. He just said what he needed to say. He had a normal life with normal friends.
He was maybe mischievous, but only in the way that all boys are, a normal teenager.
He spoke about the day he got the inspiration to be a priest: He was out with his friends and went for confession in a church.
That was when he realised who he was and started to think about becoming a priest. So from that moment, it was the life he followed.
He was a good student and now is a very intellectual man. He likes to read and has written many books. When he talks to important people you can feel how intellectual he is.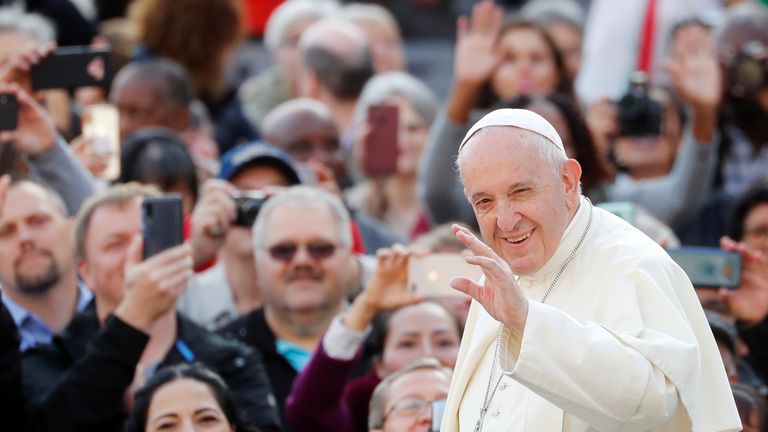 When he was 75, he thought he had finished his work.
Then Pope Benedict resigned and he was called to Rome for the conclave to elect the new Pope.
He thought he'd only be gone from Argentina for a few days. He thought he would come back and continue his work as a Cardinal until the new Pope said he could retire.
I saw him in March last year. The last two times I've been home to Argentina from Thailand I've stopped at The Vatican to see him.
He's my cousin, but he's also the Pope. We talk about the things that all relatives do when they meet.
I talk to him in the way I talk to my family, like when I chat with my brother and sister.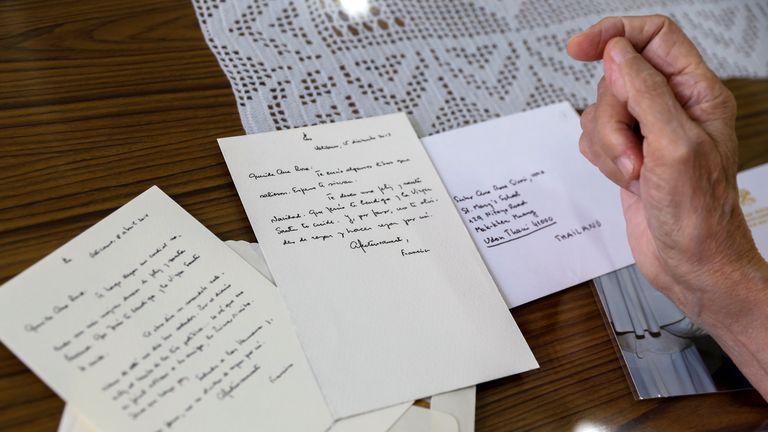 I don't call him His Holiness, I call him Jorge.
When we see each other In Thailand (where she will translate for him) I'll say: 'Hola Jorge. Como estas? Que lindo que estas aqui en Tailandia!' (Hi Jorge. How are you? It's so nice that you're in Thailand).
We write to each other two or three times a year.
He doesn't use email or text, so I write to him via the Vatican embassy. I address him as 'Dear Jorge' but then in brackets, 'Pope Francis'. If I need to get in touch with him urgently then I email his secretary.
I think people here in Thailand want to hear good thoughts from the Pope, thoughts that will help them with their lives.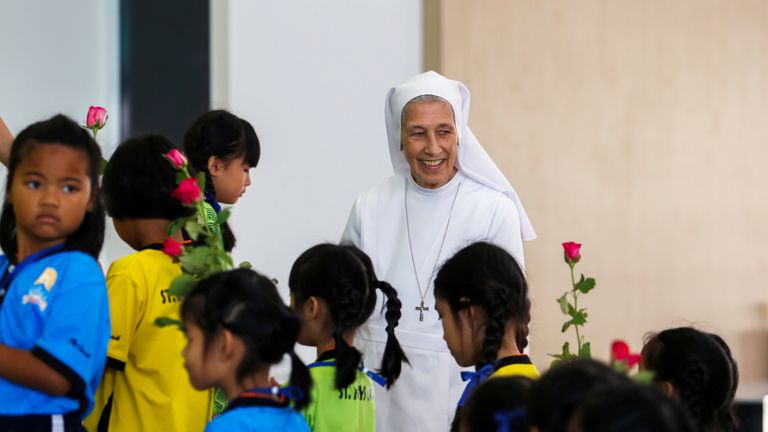 They are excited to see him, to listen to him. They are also curious. I don't know why he decided to visit Thailand, I believe it's God's inspiration.
I feel sad that he won't get to see the real Thailand.
He's going to see a lot of grand buildings in Bangkok, a lot of luxury. It would be nice if he could look around more and get a different view.
I wish that he could go the provinces in the north to see the tribes in the hills. There are so many poor people.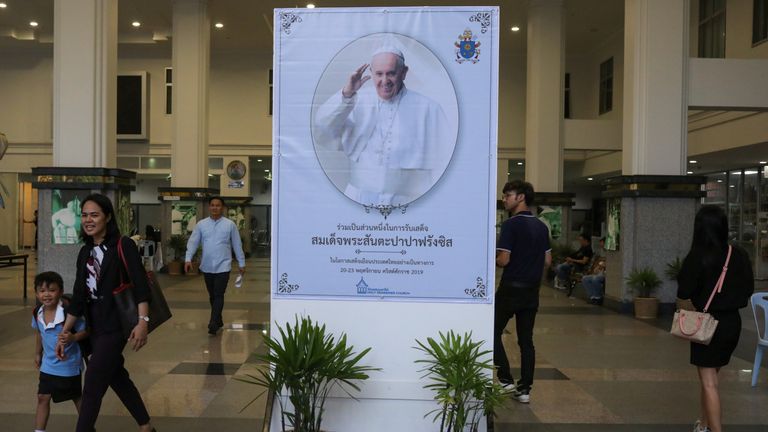 Even in Bangkok there are a lot of poor people. That's who he is working for. Nobody talks about the poor. But he's doing whatever he can for them.
He is a Pope for this era, for this time. The whole world is upside down. I see his sorrow when he talks about Syria, Africa and Chile where they are killing each other.
He wants everyone to pardon each other and live in peace. He's working for peace, promoting friendship. He wants to build bridges to join people.
UK support of Egypt's president could lead to bloodshed, whistleblower Mohamed Ali warns | UK News
An Egyptian whistleblower who prompted mass protests against President Abdel Fattah el-Sisi has told Sky News that Britain must stop supporting him, warning it could lead to bloodshed and mass immigration to Europe.
Mohamed Ali's videos exposing high-level corruption in the Egyptian government went viral and prompted huge protests in Egyptian cities.
Thousands demonstrated calling for the end of the Sisi regime. More than 4,000 have since disappeared into Egyptian jails.
Mr Ali is an unlikely revolutionary. He has no political expertise. He was an actor then worked in construction. But because he had been a contractor to the government he claimed to have evidence of its dark secrets.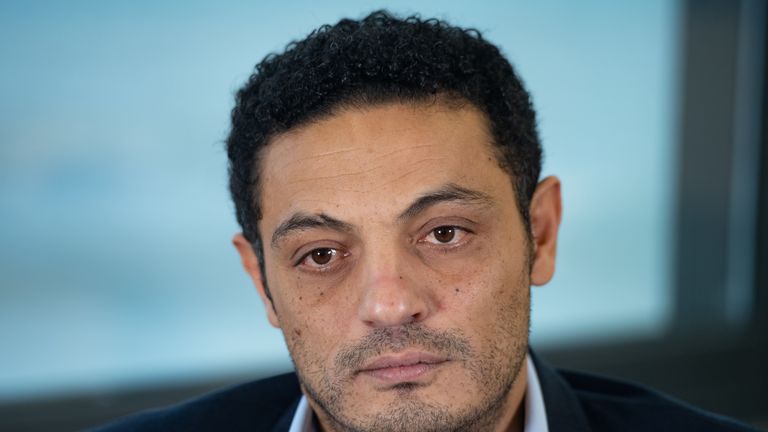 In passionate, handheld videos he mocked the Egyptian leader for lavish spending on palaces and hotels benefiting regime members.
"We will continue this mission until we remove Sisi," he told Sky News.
"We must have hope that our country can become a respectable one, which holds a status in the region. All we want is to become like countries in Europe, therefore we must continue our mission and we will not stop".
The videos, which he made in exile in Spain, caused outrage back home and led to Egyptians pouring onto the streets in September to vent their anger.
Now he says it is time to form a more organised opposition and bring Mr Sisi down.
He is hoping to join up with other opposition figures and draw up plans for Egypt once the Sisi government has been brought down.
The British government says that Mr Sisi's government has brought stability to his country and some economic improvement.
Mr Ali says that's mistaken. He says Egypt is sliding into total economic collapse and chaos. He warns that could lead to a wave of mass migration out of Egypt and into Europe.
"The nation is extremely angry. The level of poverty is rising, murder and crime is on the rise, violence increasing, so which stability has he brought to the region? Can't the British government see all that? On the contrary, it is supporting the wrong man."
He has this message for Boris Johnson: "Your interests with Abdel Fattah el-Sisi inside Egypt will fail, the situation is going to cause bloodshed and you will witness an immigration flow towards Europe not like any other in the history of Europe."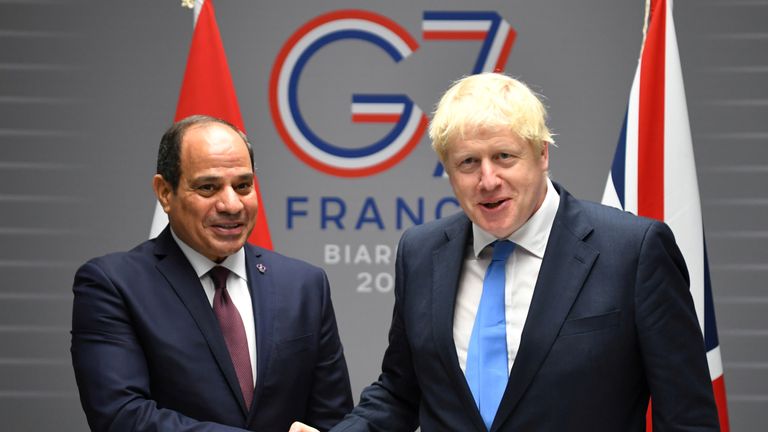 Human Rights Watch says the Sisi regime have hounded relatives of people criticising it from abroad, with detentions, house raids and travel bans. Mr Ali says he fears for his life.
Mr Sisi was an army general when the Egyptian military seized power in a violent counterrevolution that was supported by some sectors of the Egyptian population.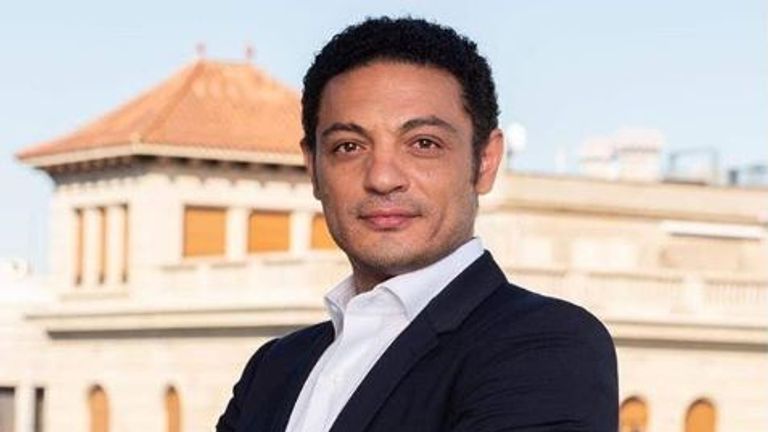 To seize power it carried out a series of massacres, using military snipers to kill hundreds of protesters. The dead included Sky News cameraman Mick Deane who was killed by a marksman's bullet.
It has maintained its grip on power through the detention and disappearance of tens of thousands of people arrested in protests, and a totalitarian control of the country's media.
Despite all this it continues to enjoy the support of the British government, both diplomatically and financially.
'Naive and trusting' Grace gave list of fetishes to man on BDSM dating site, court hears | World News
British backpacker Grace Millane gave a list of her sex fetishes to a man she met on a BDSM dating website, her murder trial has heard.
Just months before she was killed during a Tinder date, the university graduate from Essex spelled out exactly what she wanted to learn, including bondage, electrical nerve stimulation and "breathplay" using a gas mask.
The man gave a statement to New Zealand police which was read to the jury at Auckland High Court after they were told he has refused to cooperate with defence lawyers.
He described Miss Millane, 21, as "naive and trusting" after she contacted him via the Whiplr website for BDSM enthusiasts in the summer of 2018, just before she left Britain on a worldwide adventure.
She told him her interest in BDSM began with a past boyfriend but he said she was still quite naive and, unusually, used her full name on another messaging app they had used.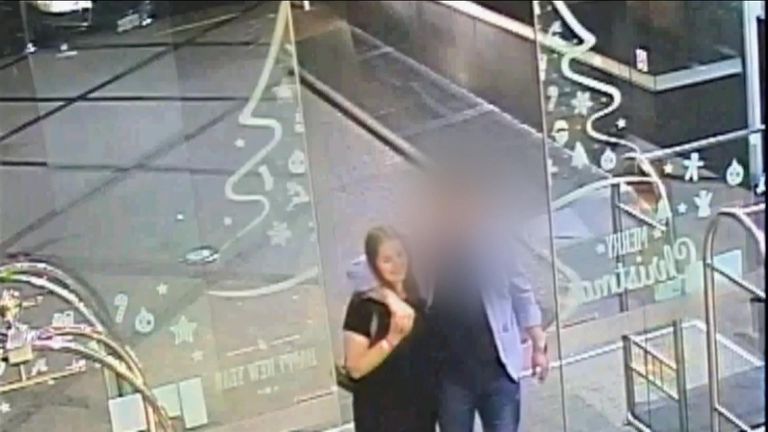 The man, whose identity is protected, told police: "Grace told me she was interested in everything to do with BDSM and her main area of interest was restraint.
"In Grace's Whiplr profile she outlined her sub kink interests as: giving full control, sounds, accessories, restraints, control and massages.
"I can't remember discussing any specific BDSM interests with Grace in detail but I think she was into Daddy Dom.
"I think Grace was at an explorative stage and quite open to suggestions. Grace seemed quite keen to know what things were and what sort of things I owned pertaining to BDSM.
They had planned to meet for a drink but she had changed her mind, he said.
"BDSM probably became more popular after 50 Shades of Grey but that is more the soft end of BDSM," he said. "I don't recall if Grace ever mentioned 50 Shades of Grey. I felt like Grace was more naive and trusting in the BDSM area.
"When you're using these apps, the users do not have to provide any details at all so you have to be aware. The users could be any undesirable person online and Grace seemed to have a naivety."
The court has already heard from Miss Millane's former partner, who said they had an established practice of choking using safe words and "tapping out" which meant it had never put her in danger.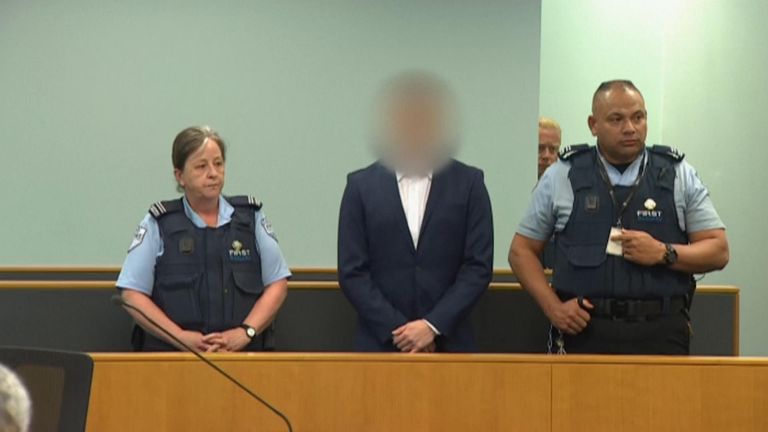 A 27-year-old man is on trial accused of Miss Millane's murder on 1 December last year, the night before her 22nd birthday, after a night of heavy drinking which ended in his hotel room.
The man, whose identity is also protected, denies murder, claiming Miss Millane died accidentally after asking him to apply pressure to her neck.
In a police interview, however, said he was unaware she had died until he found her on the floor the next morning.
He admits disposing of her body in a suitcase he buried in the woods.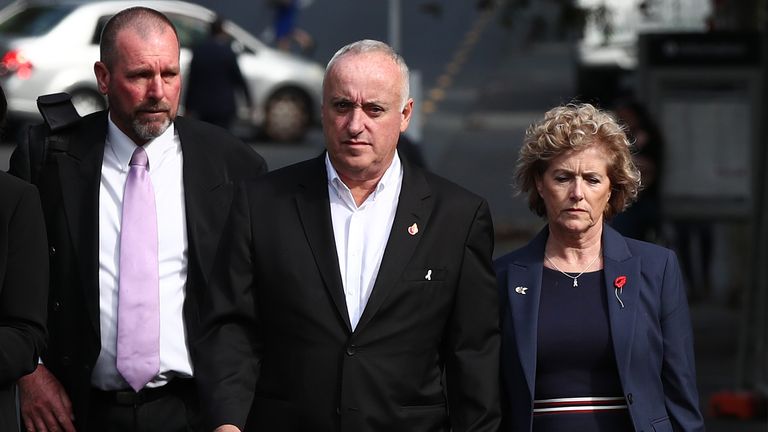 The jury today also heard from sexual culture and pornography expert Professor Clarissa Smith from the University of Sunderland.
Speaking via a video link, she said erotic asphyxiation, like other forms of BDSM, was becoming a more mainstream interest for young people following the 50 Shades of Grey book, which has sold 125 million copies.
She described it as "a form of play that practitioners call edge play".
"It makes the heart race, makes the skin tingle, had very significant elements of feeling powerless and offers lightheadedness and exhilaration."
But she added: "It's very important that consent is given."
She told the court younger women were increasingly open about sexuality and saying what they wanted and that "hook up" apps were part of "a gamification of dating and sexuality".
"We are no longer living in the era of 'lay back and think of England'," she said.
Another witness told the trial he and Miss Millane had slept together the night before she died after meeting at the backpackers' hostel where she was staying.
The man, who name is suppressed, said they went to McDonalds before going to his house to watch a movie, then having sex.
He said he may have held her around the neck during sex but not at her request, adding that it was something he had "potentially" done because it was a habit of his "because girls usually enjoy it".
The defence has closed its case, with the defendant choosing not to give evidence. Prosecution and defence will give closing speeches on Thursday before the judge sums up on Friday.
The trial continues.