Headteacher suspended for 'plagiarising Ashton Kutcher speech' | US News

A headteacher has been suspended without pay after allegedly plagiarising a speech by Hollywood star Ashton Kutcher.
Kenny DeMoss, headteacher at Parkersburg High School in West Virginia, is said to have given the address to pupils in their graduation year.
He was suspended for five days at a Wood County Board of Education meeting, the News and Sentinel reports.
Mr DeMoss has apologised for heavily basing his May speech on one made by Kutcher at the 2013 Nickelodeon Teen Choice Awards.
He said he should have cited his sources, but maintained the ideas were his own.
Kutcher tweeted that "imitation is the sincerest form of flattery that mediocrity can pay to greatness" and cited Oscar Wilde for the quote on Saturday.
He then quipped that "kids and faculty" should cite their sources.
A Facebook video highlighting the alleged plagiarism spliced the speeches together.
Mr DeMoss said the video excluded a disclaimer that multiple sources informed his address.
Footage of Kutcher's speech shows him telling an audience he wants to share some "amazing things" he learned while making a film.
He adds: "It's really three things.
"The first thing is about opportunity, the second thing is about being sexy, and the third thing is about living life."
Footage of Mr DeMoss's speech shows him telling pupils he is going to share some advice with them, before adding: "The first thing is about opportunity, the second thing is about being intriguing, and the third thing is about living life."
Kutcher says in his speech: "I believe that opportunity looks a lot like hard work.
"When I was 13 I had my first job carrying shingles to the roof."
Mr DeMoss says in his address: "I believe that opportunity looks a lot like hard work."
He adds that at one stage he "got a job carrying shingles up and down a ladder to a roof".
Mr DeMoss and Kutcher both say "build a life, don't live one" as they close their speeches.
Moscow election: Was Russian with same name as jailed activist invented as spoiler candidate? | World News
Looking through the list of newly-elected deputies to the Moscow city council, I was surprised to see the name Alexander Solovyov on the list.
I knew an Alexander Solovyov who was an associate of exiled former oligarch and Putin critic Mikhail Khodorkovsky, and was, until recently, chairman of his Open Russia movement. As far as I knew, he was also in jail.
This was confirmed when I sent him a text: "Alexander is imprisoned until the evening of 24 September. Thanks."
The Solovyov I knew was one of the liberal opposition activists barred from running in Moscow City elections. He had been vocal in the protests which followed and, like scores of others, was then jailed for participating in mass rallies. He had hoped to run in Moscow's District Number 3.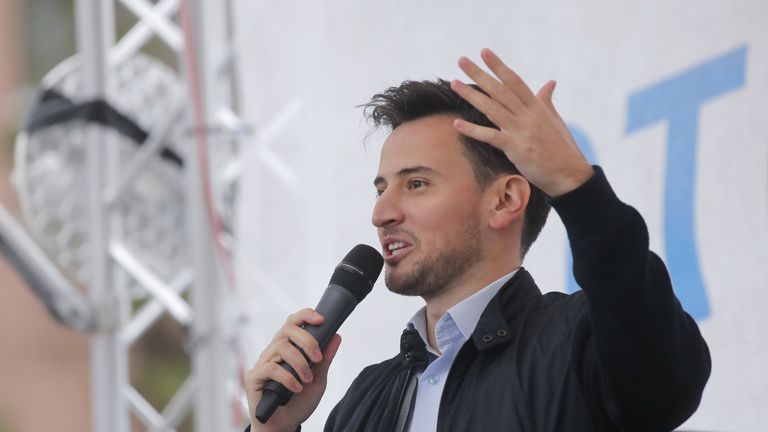 So who was the Alexander Solovyov who had won in District Number 3? Apart from a few hesitant campaign videos, he seemed to be a complete unknown. He also went to ground directly after his election win, prompting a media hunt to check whether he was even real.
Victor Yemelyaninkov, head of the electoral commission for his area, told us to stop calling: "Everyone here is calling me non-stop. I don't know where he is or where to find him."
Aleksey Obukhov, from the other Solovyov's press team, is convinced he was a spoiler.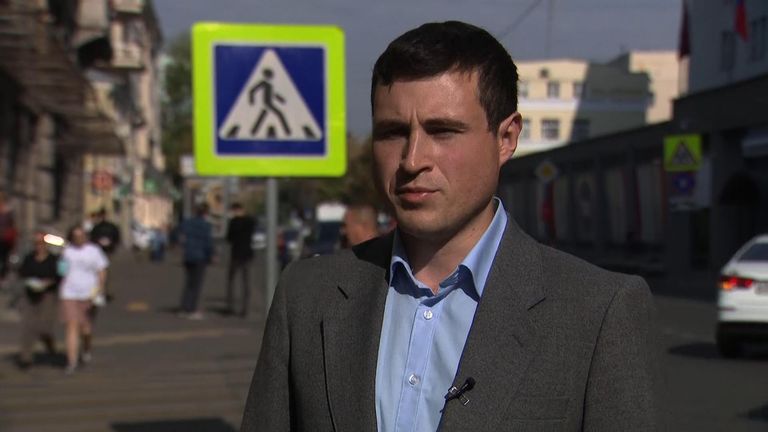 "He was invented just to take away the votes from the real Solovyov. We ran his campaign on the streets and the real Solovyov was widely recognised," he said.
"They were looking for someone with the same name and surname from that area, and the only person they found was this engineer."
Solovyov, the newly-elected deputy, re-surfaced on Thursday. He said he had needed a rest after the election and had been spending time with his family.
He dismissed notions he was a spoiler candidate, saying: "The other Solovyov started running later and he could have run in a different electoral district."
This Solovyov said he had decided to run in July, and had approached the 'A Just Russia' party because he liked their agenda and would not then need to gather the signatures to run as an independent.
Ironically, he may have snatched victory from the ruling party candidate because of the smart-vote system introduced by Alexey Navalny and his anti-corruption team, FBK. This involved voters registering to see who was most likely to beat the ruling party candidate in any given district and tick that name on the ballot.
In District number 3, both the jailed Solovyov and Alexey Navalny had called on voters to back Solovyov over the incumbent. It seemed to work. Solovyov won. And across Moscow, United Russia took a hit in the polls.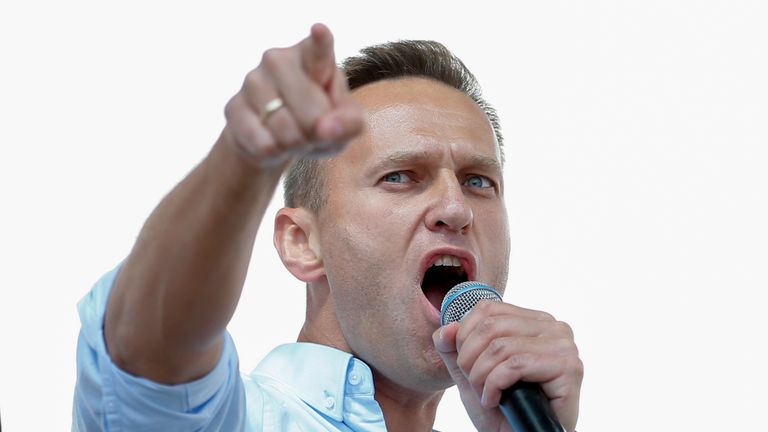 On Thursday, the state hit back. Masked security men swinging sledgehammers conducted raids at Navalny's campaign offices in more than 40 cities across Russia.
Navalny HQ put the unprecedented crackdown down to the success of the smart-vote scheme.
"Putin is very angry and is stamping his feet," Navalny said in a videotaped response.
"Do you remember ever seeing in our country an operation on this scale against terrorism, corruption or drug dealers as you're seeing now against us? That must mean we're cooler than a drug cartel!"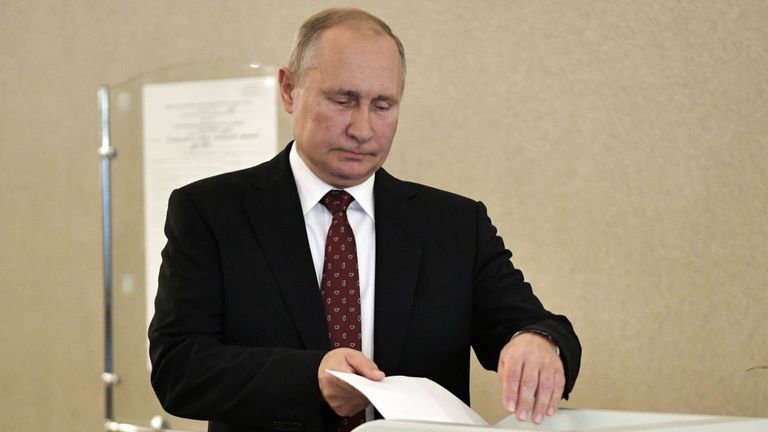 As of last month, Navalny's foundation is under investigation for alleged money laundering. Navalny is promising the investigation won't stop him but it appears as though the state is looking for a way to deal with the problem he and his associates represent once and for all.
The raids also send a message to the regions, heard loud and clear already in Moscow after a summer of detentions and draconian jail terms for an unlucky few, that opposition will not be tolerated.
If the crackdown around these elections belongs more to Soviet times, spoiler candidates are a feature of the post-Soviet age.
The Solovyovs weren't the only twins in the Moscow poll. There was also a pair of Alexandra Andreyevas. It is possible these are striking coincidences, but given the way the Russian state stage-manages the democratic process, it does not seem likely.
Whether or not he expected to win though, Solovyov the deputy says he'll give it the best he's got.
Robert Mugabe's burial site chosen after 'dispute between Zimbabwean government and family' | World News
Robert Mugabe will be laid to rest at the state burial site following reports of a bitter dispute between the Zimbabwean government and his family.
The former president's nephew, Leo Mugabe, said the decision over the final resting site had been made after relatives held discussions with influential traditional chiefs.
It will be a private family burial but a date has not yet been chosen.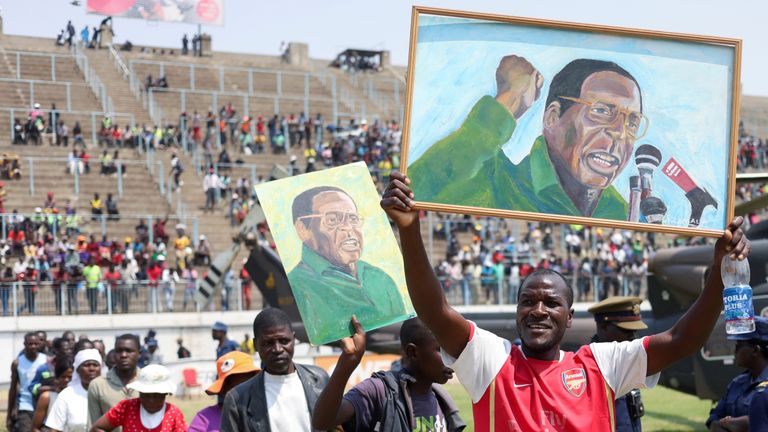 Mr Mugabe died aged 95 in Singapore last week.
The national Heroes' Acre monument in the capital Harare which has been chosen for the burial is reserved for top officials of Zimbabwe's ruling ZANU-PF party who helped to end white colonial rule.
A gravesite next to where Mr Mugabe's first wife, Sally, is buried has long been reserved for the former leader.
Mr Mugabe oversaw the construction of the monument, which sits at the top of a large hill and features a towering sculpture of guerrilla fighters designed by North Korean architects.
But some family members wanted the former leader to be buried in his birth village of Kutama, 55 miles (85 km) from Harare, in line with Zimbabwean tradition.
It was a tussle which highlighted friction between current president Emmerson Mnangagwa and Mr Mugabe's relatives.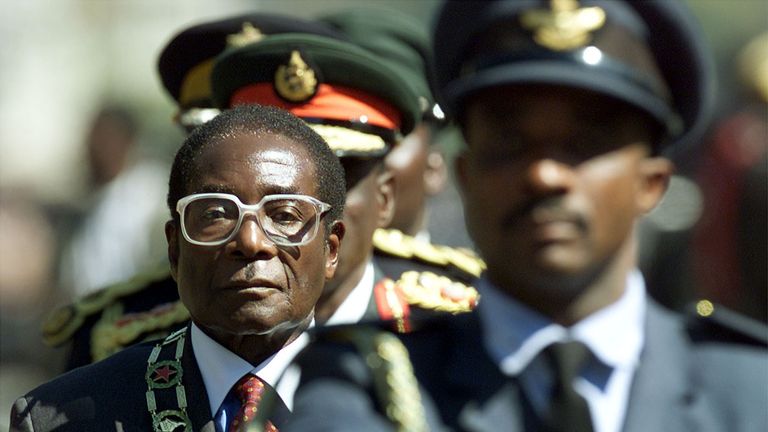 Mr Mnangagwa, who was a once-trusted deputy of Mr Mugabe but helped to oust him from power in 2017, met the family and said he would consult with the ex-president's widow, Grace, over the dispute.
He said on Thursday he would respect the family's wishes and they have "the full support of the government".
Mr Mugabe's body is currently on view at a stadium in Harare for supporters to pay their respects.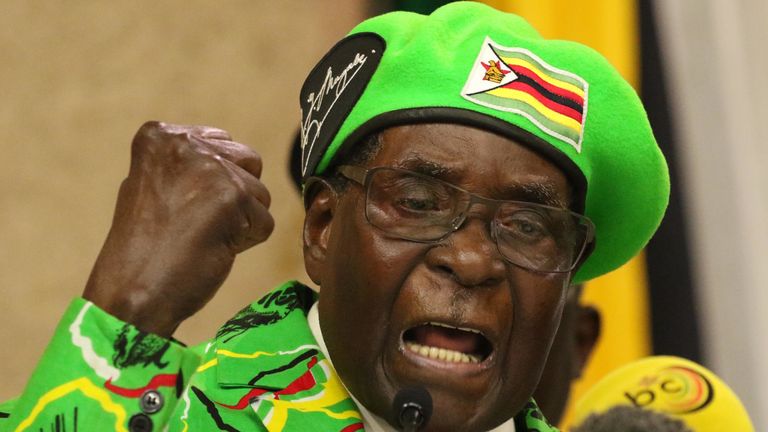 Several people were injured in a stampede while trying to view the body on Thursday.
There will be a state ceremony on Sunday which several African heads of state and other dignitaries are expected to attend.
The actual burial will occur several days later, said his nephew.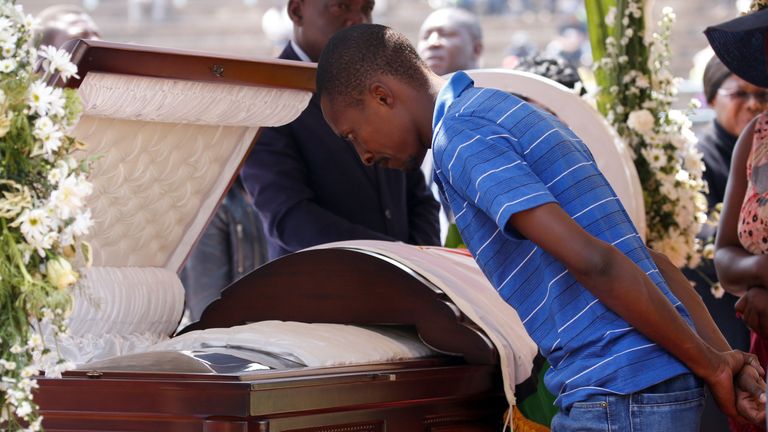 Mr Mugabe fought to end white minority rule and led Zimbabwe for 37 years, although there were mixed feelings on news of his death.
Despite earning respect for liberating his country, he was also accused of human rights abuses and being responsible for the deaths of thousands of his political opponents.
Major tennis tournament postponed due to Hong Kong unrest | World News
The Women's Tennis Association (WTA) has postponed an event in Hong Kong "in light of the present situation".
The semi-autonomous Chinese region has seen months of political unrest and violence, which started with opposition to a controversial extradition bill and has snowballed into a wider backlash against Chinese rule and calls for greater democracy.
Millions have taken part in the demonstrations since June as banks, shopping malls and even government buildings had to shut down in response to increasingly more violent clashes between protesters and police.
Hong Kong's busy airport has also been targeted by protesters, resulting in flight disruptions – and now the Hong Kong Open, due to be held between 5-13 October, has been pulled.
"The Open is the flagship event on our annual calendar and one of the most popular international sporting events in the city, attracting thousands of local fans and overseas travellers every year," the WTA said in a statement released Friday.
"We strive to maintain a high standard of the event for all participants, players and fans in particular. However, after extensive discussions with our key stakeholders, we conclude that a smooth running of the tournament can be better assured at a later time."
The WTA says the decision was made jointly with the Hong Kong Tennis Association.
The tournament is a prestigious event that has been previously won by Denmark's Caroline Wozniacki and Serbia's Jelena Jankovic, both former world number ones.
"We sincerely apologise for any inconvenience caused to our players, fans, partners and supporters," WTA said, adding that they are looking for an alternate week to hold the event.
A Davis Cup tie at the same venue, Victoria Park Tennis Stadium in Hong Kong, will still take place this weekend as planned.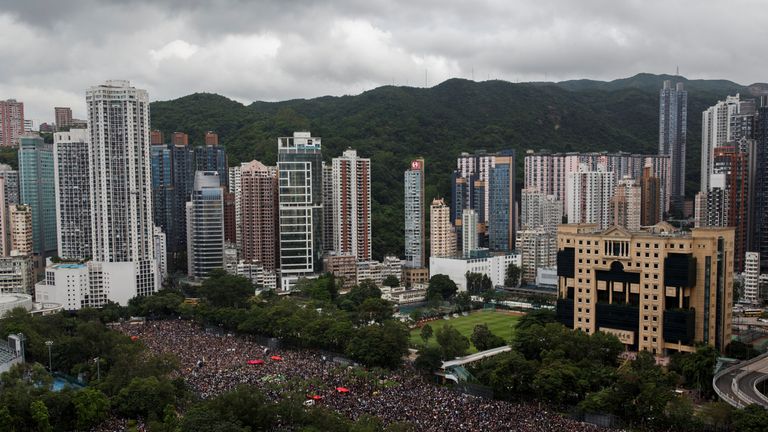 The postponement of Hong Kong Open comes just a day after London's iconic production of Matilda the Musical had to cancel its upcoming month-long run in Hong Kong because of the ongoing protesters.
Lunchbox Theatrical Productions, the Hong Kong presenter of the musical, said in a statement Thursday: "Sadly the 14 weeks of civil unrest in Hong Kong have decimated ticket sales, and more importantly we cannot guarantee the safety and well-being of our international company, which comprises a large number of young children."
Hong Kong, a vibrant business and tourism hub, has been plunged into its worst crisis since it reverted from British to Chinese rule in 1997, and there have been warnings its economy and reputation have taken a significant hit as a result of the ongoing protests.