Headteacher suspended for 'plagiarising Ashton Kutcher speech' | US News

A headteacher has been suspended without pay after allegedly plagiarising a speech by Hollywood star Ashton Kutcher.
Kenny DeMoss, headteacher at Parkersburg High School in West Virginia, is said to have given the address to pupils in their graduation year.
He was suspended for five days at a Wood County Board of Education meeting, the News and Sentinel reports.
Mr DeMoss has apologised for heavily basing his May speech on one made by Kutcher at the 2013 Nickelodeon Teen Choice Awards.
He said he should have cited his sources, but maintained the ideas were his own.
Kutcher tweeted that "imitation is the sincerest form of flattery that mediocrity can pay to greatness" and cited Oscar Wilde for the quote on Saturday.
He then quipped that "kids and faculty" should cite their sources.
A Facebook video highlighting the alleged plagiarism spliced the speeches together.
Mr DeMoss said the video excluded a disclaimer that multiple sources informed his address.
Footage of Kutcher's speech shows him telling an audience he wants to share some "amazing things" he learned while making a film.
He adds: "It's really three things.
"The first thing is about opportunity, the second thing is about being sexy, and the third thing is about living life."
Footage of Mr DeMoss's speech shows him telling pupils he is going to share some advice with them, before adding: "The first thing is about opportunity, the second thing is about being intriguing, and the third thing is about living life."
Kutcher says in his speech: "I believe that opportunity looks a lot like hard work.
"When I was 13 I had my first job carrying shingles to the roof."
Mr DeMoss says in his address: "I believe that opportunity looks a lot like hard work."
He adds that at one stage he "got a job carrying shingles up and down a ladder to a roof".
Mr DeMoss and Kutcher both say "build a life, don't live one" as they close their speeches.
North Korea has 'probably' developed mini nuclear devices to fit missile warheads, says UN report | World News
North Korea has "probably developed miniaturised nuclear devices to fit
into the warheads of its ballistic missile", according to a confidential UN report.
It says several unidentified countries believe North Korea's past six nuclear tests have likely helped it to develop such a capability.
An interim version of the report – by an independent panel monitoring United Nations sanctions – was submitted to the UN Security Council on Monday and has been seen by the Reuters news agency.
It also accuses North Korea of continuing its nuclear ambitions, despite it not carrying out a nuclear test for nearly three years.
The report states: "The Democratic People's Republic of Korea is continuing its nuclear program, including the production of highly enriched uranium and construction of an experimental light water reactor.
"A Member State assessed that the Democratic People's Republic of Korea is continuing production of nuclear weapons."
One country – not identified – believes North Korea "may seek to further develop miniaturisation in order to allow incorporation of technological improvements… or, potentially, to develop multiple warhead systems".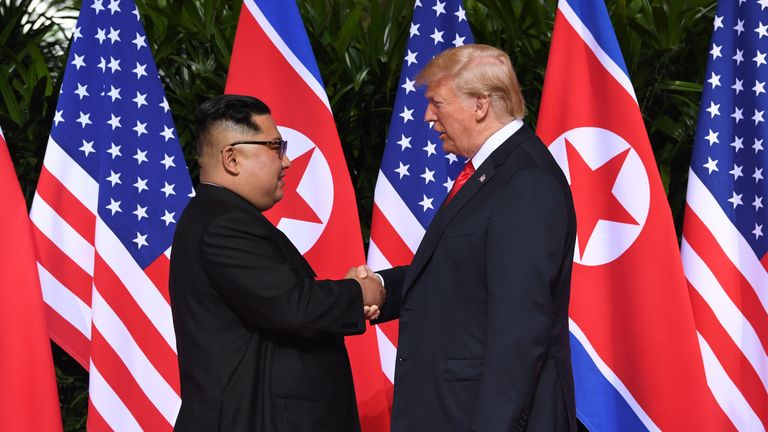 The secretive communist state has been subject to UN sanctions for many years over its ballistic and nuclear missile programmes.
North Korean leader Kim Jong Un has met Donald Trump three times since 2018 in the hope that sanctions could be eased if it denuclearises, but a deal has proved elusive.
A summit in Vietnam in 2019 was cut short, with Mr Trump saying it was because his counterpart wanted all sanctions lifted – a claim denied by North Korea.
The UN report also casts doubt on the effectiveness of the destruction of tunnels at North Korea's main nuclear site, Punggye-ri, in May 2018.
International experts were not allowed in, and the report says only tunnel entrances are known to have been destroyed rather than a complete demolition.
One country is said to have assessed that it would take only three months for North Korea to get the site capable of conducting a nuclear test again.
With North Korea's economy still punished by sanctions, the report says it continues to break the rules and generate money through "illicit maritime exports of coal", as well as widespread hacking.
It is estimated to have stolen $2bn (£1.7bn) through cyber attacks targeting banks and cryptocurrency exchanges.
"The Panel continues to assess that virtual asset service providers and virtual assets will continue to remain lucrative targets for the Democratic People's Republic of Korea to generate revenue, as well as mining cryptocurrencies," it said.
Genoa replacement bridge inaugurated despite boycott by victims' families | World News
Two years after a bridge collapse killed 43 people in Italy, a replacement bridge has been inaugurated – but families of the victims boycotted the event.
A stretch of the Morandi Bridge in Genoa collapsed on 14 August 2018 during a torrential rainstorm, sending cars and trucks crashing into the dry riverbed below.
The new structure was put up following round-the-clock construction, even during the COVID-19 pandemic.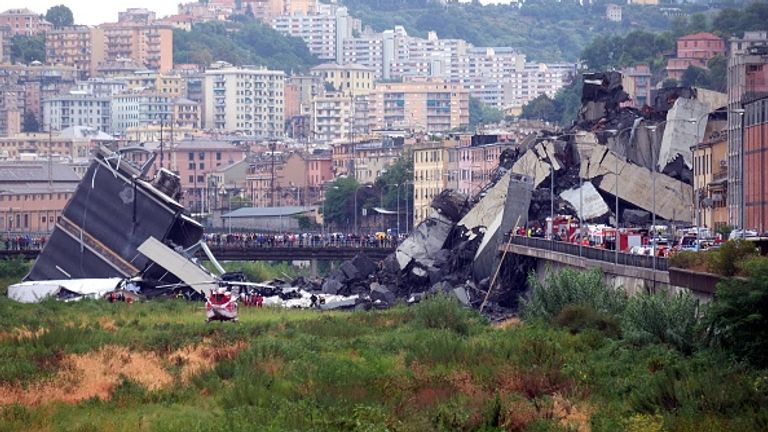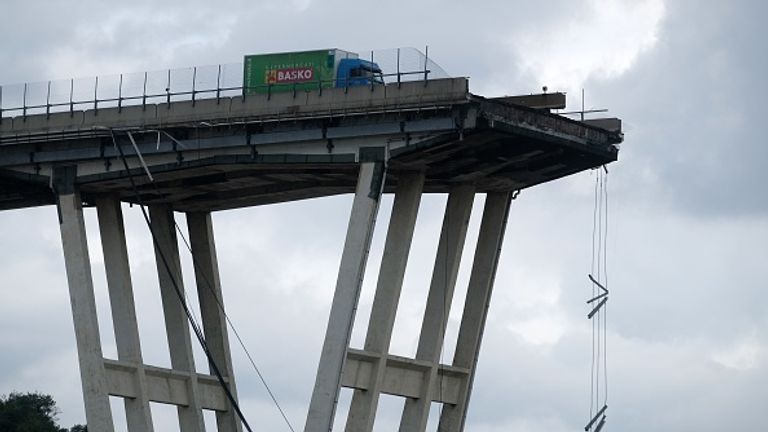 Monday's ceremony for the new San Giorgio Bridge started with the reading out of the names of the dead.
"We are suspended between grief" over the tragedy and "pride for the construction of the new bridge", its renowned architect, Renzo Piano, said in a speech at the ceremony.
The victims' families agreed to meet Italy's President Sergio Mattarella privately, but announced they were skipping the actual ceremony.
The families are unhappy that the company which maintained the old bridge will be running the new structure for a while, despite poor maintenance being investigated as a possible cause of the collapse.
Firefighters who worked to extract survivors and bodies from tonnes of twisted metal also boycotted the ceremony in solidarity with the families, according to Sky TG24.
Egle Possetti, who leads an association of the bridge victims' families, said: "No one can give us back our dead".
Ms Possetti, who lost a sister and other family members in the tragedy, said she hoped the attention would stay focused on the ongoing criminal investigation into the collapse.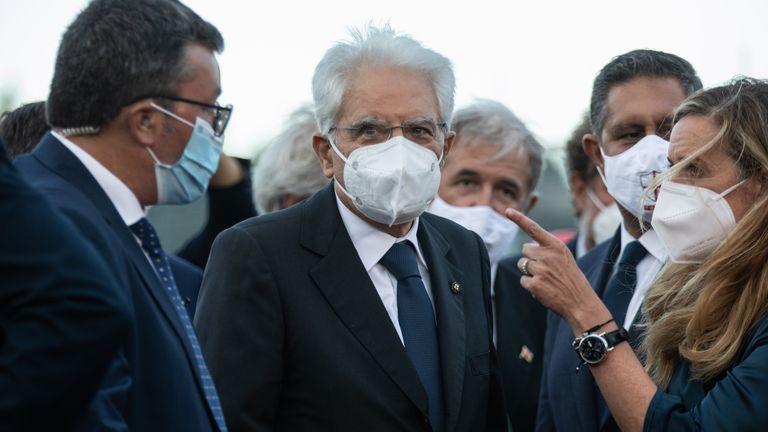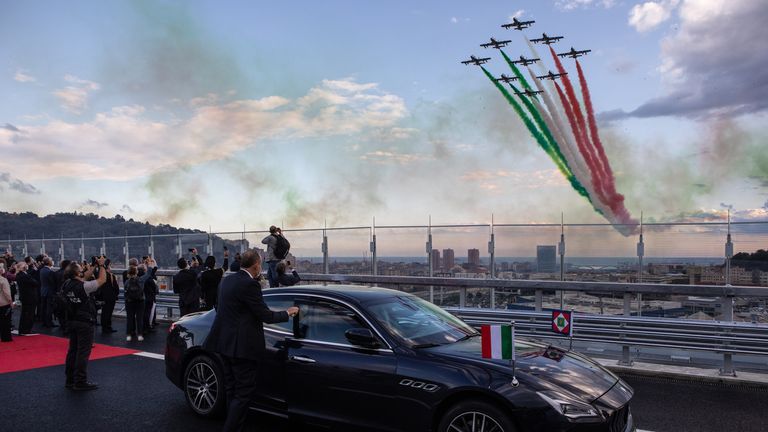 Mayor Marco Bucci also dedicated a few words to those who lost loved ones in the collapse, saying: "Our message to them is very simple. This must never happen again."
Nine Italian Air Force jets flew in formation over the bridge to mark the inauguration, trailing smoke in the red, white and green colours of the country's flag.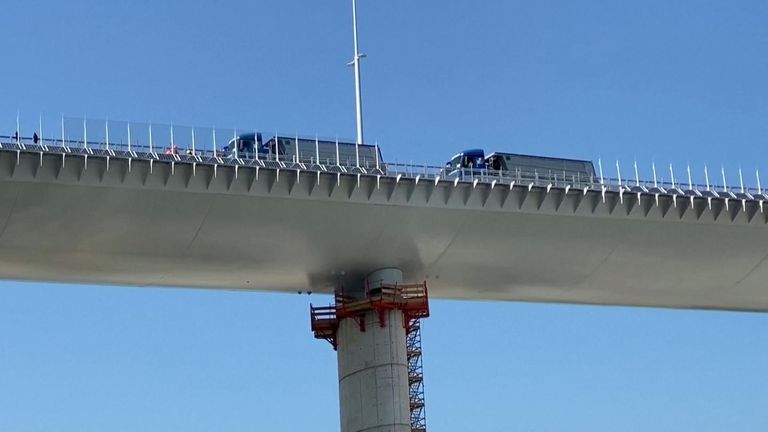 Prosecutors are investigating what caused Morandi Bridge to collapse and if proper maintenance was carried out consistently.
Riccardo Morandi, the engineer who designed the bridge which was built in the 1960s, had recommended continual maintenance of the structure due to the corrosive effect of sea air in the port city and pollution.
Traffic will start crossing the new San Giorgio Bridge, named after St George, a saint popular in Genoa, on Wednesday.
New Zealand: Drawing featuring typed forward slashes wins art competition | World News
A woman has reportedly won £12,000 for a piece of art featuring thousands of forward-slash characters on an A4 piece of paper.
Poppy Lekner, who was born in England but moved to New Zealand, got the prize money for coming first in what local media called a prestigious competition.
Her "Forward Slash" creation was chosen out of 482 entries to win the 2020 Parkin Drawing Prize – and with it $25,000 (£12,647).
She admitted it may not be "everyone's cup of tea", according to the New Zealand Herald.
Ms Lekner revealed she only created it the day before entries closed in June, the newspaper reported.
"I have worked on lots of different explorations using the typewriter but I hadn't committed as much time previously as I had in this work, which required dedication because using a typewriter to mark make is quite a laborious thing," she said.
"I had to really concentrate the entire time.
"It's very easy to make a mistake on a very detailed, very fine thing."
Ms Lekner added the piece was "a different way to look at what drawing can be".
According to the Herald, the annual competition has had controversial winners before – such as a jumbled pile of carpet from an old state house.
Charlotte Davy, who judged this year's entries and is head of art at New Zealand's national museum, Te Papa, explained her thinking.
"It's such a beautiful… minimal work where she's really exploring a kind of meditation of process, literally just repeating forward-slash over and over again … creating a beautiful woven pattern," Stuff website reported her saying.
"I felt it was really delicate, strong, and it spoke a lot to me about finding a place of contemplation in a world that feels quite chaotic."