Artists challenge Facebook's fake video policy with Mark Zuckerberg speech | Science & Tech News

Artists are challenging Facebook's policy of refusing to take down videos which have been manipulated to misrepresent their subjects by creating one about Mark Zuckerberg.
The stunt follows criticism of Facebook for refusing to remove a video of US Democratic politician Nancy Pelosi, a prominent critic of President Donald Trump, which had been slowed down to make her appear inebriated.
Artists Bill Posters and Daniel Howe, working with an advertising company, created the video featuring Facebook's founder and chief executive giving a speech about his desire to control the world's data.
The so-called "deepfake" speech features the Facebook founder appearing to revel in knowing social media users' "secrets" before thanking the artists behind the clip.
"Imagine this for a second: One man, with total control of billions of people's stolen data," Mr Zuckerberg appears to say.
"All their secrets, their lives, their futures. I owe it all to Spectre. Spectre showed me that whoever controls the data, controls the future."
As in many manipulated videos which use artificial intelligence software to manipulate the frames of an existing video to change someone's appearance, there are strange movements around Mr Zuckerberg's mouth which give the game away.
Journalists who check the origin of such footage can see that it is a doctored version of a speech which Mr Zuckerberg gave in September 2017, fittingly about manipulation on Facebook during the US presidential election.
The video was created, alongside others featuring Kim Kardashian and Donald Trump, by advertising company CannyAI's video dialogue replacement (VDR) technology for an exhibition in Sheffield.
Although it is possible to detect the VDR technology in the clip of Mark Zuckerberg, the Kim Kardashian clip is exceptionally convincing.
The sophistication of the technology is expected to improve with time which has prompted concerns that it will be used to spread fake news and disinformation.
At the time Ms Pelosi's altered video was spreading online – amplified by a tweet from Donald Trump – critics noted that Facebook was alone among social media companies refusing to take it down.
Instead the company merely de-prioritised it so that it did not appear high in users' news feeds, and was presented alongside information from third-party fact checkers.
Currently no such information appears alongside the Mark Zuckerberg video, but it may be coming if the video gains traction.
A spokesperson for Instagram told Sky News they would not be removing the video.
They said: "We will treat this content the same way we treat all misinformation on Instagram. If third-party fact-checkers mark it as false, we will filter it from Instagram's recommendation surfaces like Explore and hashtag pages."
Some MacBooks banned from US flights over battery fire risk | Science & Tech News
Certain models of the MacBook Pro have been banned from flights in the United States over fears their batteries may overheat and pose a fire risk.
Apple recalled some of the 15-inch variants of the 2015 edition of its popular laptop earlier this summer, affecting those sold between September 2015 and February 2017.
The tech giant said the devices "may overheat and pose a safety risk" and asked people to stop using them, and they will now not be allowed to be taken on planes in the US unless the battery has been replaced.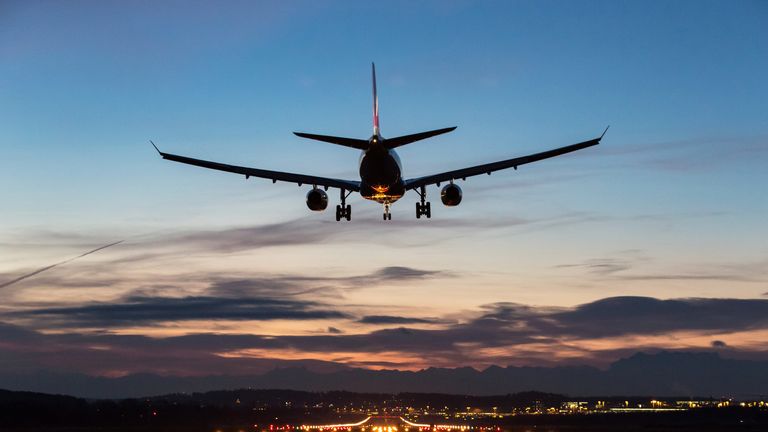 The US Federal Aviation Administration said it was advising airlines to adhere to its safety rules regarding products with recalled batteries, meaning they cannot be placed in carry-on luggage or in the cargo hold.
It comes after similar guidelines issued by the European Union Aviation Safety Agency, which advised owners of the laptops to seek a replacement battery from Apple.
Apple said at the time of the recall that affected customers could get a new battery free of charge, and advised people to visit its website and enter their product serial number to find out if their MacBook was faulty.
Four European airlines with the same cargo operations manager implemented their own bans on the laptops this week, according to an internal notice seen by Bloomberg.
Total Cargo Expertise reportedly wrote to employees to say those affected would no longer be allowed on flights operated by Thomas Cook Airlines, Air Italy, Air Transat and TUI Group Airlines.
Staff will remind passengers at the gate and before take-off.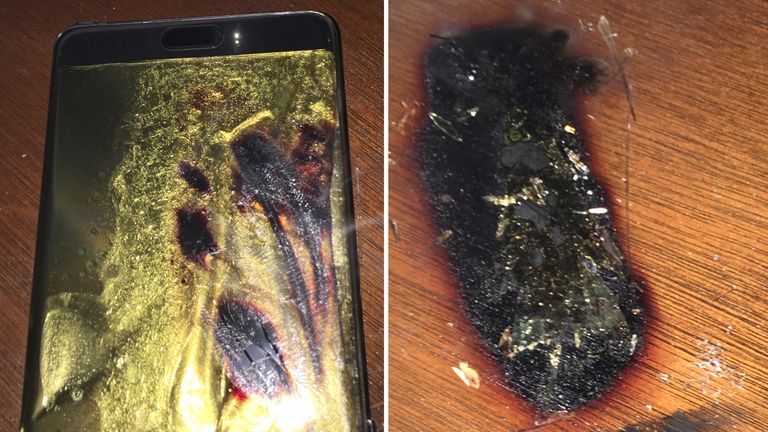 The ban echoes one handed down to the Samsung Galaxy Note 7 smartphone back in 2016, which was barred from flights, recalled and eventually ceased production after widespread reports its batteries were catching fire and exploding.
The South Korean firm said at the time that its profits would take a £4.3bn hit from costs associated with its failed device, but it has since bounced back and last week unveiled its highly-anticipated Galaxy Note 10 range.
Emiliano Sala exposed to harmful levels of carbon monoxide on board plane | World News

Footballer Emiliano Sala and his pilot were exposed to harmful levels of carbon monoxide inside the cockpit of their private plane before it crashed in to the Channel in January, air accident investigators said.
The plane went down on 21 January off the coast of Guernsey, killing him and his pilot, David Ibbotson.
Toxicology tests of Sala showed a carboxyhaemoglobin (a mixture of carbon monoxide and haemoglobin) saturation level of 58%.
According to investigators, this is enough to cause seizures, unconsciousness and a heart attack.
Investigators also assume that the pilot would also have been affected by exposure to the gas.
More follows…
'Mistake made' after New Zealand mosque attack suspect sends letter from prison cell | World News
Officials in New Zealand have admitted making a mistake after the Christchurch mosque attack suspect was allowed to send a handwritten letter from his Auckland prison cell.
The six-page letter written by Brenton Tarrant was posted on the controversial website 4chan earlier this week – a platform that contains threads on white supremacy.
It comes as suspected gunmen in the recent El Paso and Norway attacks cited Tarrant as inspiration for their own alleged assaults on the public.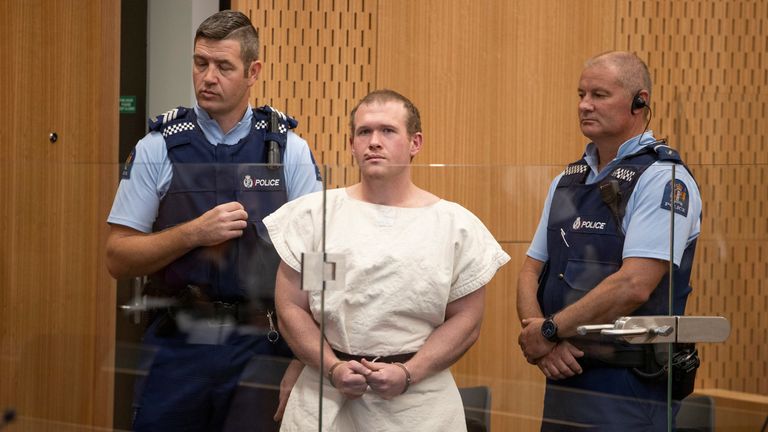 The letter, which looks to have been written in pencil on a small notepad, is addressed to "Alan" in Russia.
Most of the letter is seemingly innocuous, and talks about a one-month trip Tarrant took to Russia in 2015. However he also warns that a "great conflict" is coming, and uses language that could be seen as a call to arms.
Corrections minister Kelvin Davis believes that the prison system should not have allowed Tarrant to send the letter, saying: "I have made myself clear that this cannot happen again."
However, he also added that inmates in New Zealand have the right to send and receive post but some correspondences can be withheld from inmates – and had been in Tarrant's case.
"We have never had to manage a prisoner like this before – and I have asked questions around whether our laws are now fit for purpose and asked for advice on what changes we may now need to make," Mr Davis said.
In the letter, which is dated 4 July, Tarrant thanks "Alan" for the stamps he allegedly sent, saying they are the only two pieces of colour in an otherwise grey cell, adding he will have to hide them from guards.
He also cites Greek philosopher Plato, as well as others, as inspiration for his views, adding he "cannot go into any great detail about regrets or feelings as the guards will confiscate my letter if I do" and use it as evidence.
Opposition spokesman David Bennett said Mr Davis should demand immediate answers about how a such a letter could be sent from inside a maximum-security prison.
He said: "This man is accused of carrying out one of the most heinous crimes in New Zealand history.
"New Zealanders will be horrified that Corrections allowed him to send a letter which includes a call to action and has subsequently been posted online."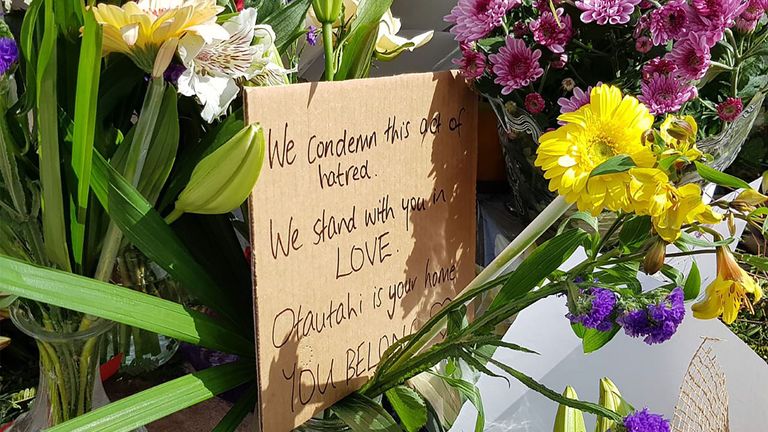 The New Zealand corrections department said the law only allows prisons to withhold an inmate's post in a "very limited" range of circumstances.
"On review, we acknowledge that this letter should have been withheld," the department said.
"We have made changes to the management of this prisoner's mail to ensure that our robust processes are as effective as we need them to be."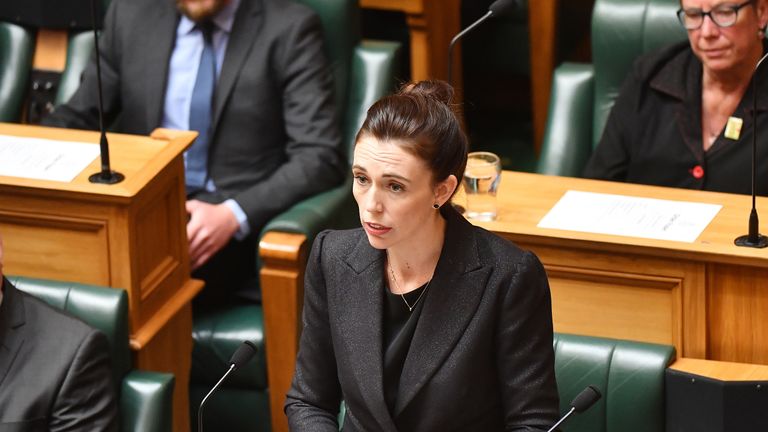 Prime Minister Jacinda Ardern, who vowed never to say the suspect's name, said: "I think every New Zealander would have an expectation that this individual should not be able to share his hateful message from behind bars."
Some 51 people were killed when two mosques were attacked in Christchurch on 15 March this year.
8chan, which is touted as a more radical version of 4chan, was taken offline earlier this month, after the suspected El Paso gunman, who allegedly killed 22 people on 3 August, posted a racist, anti-Latino essay on the site.