British deal with US over Chagos Islands not its finest hour | UK News
It was not Britain's finest hour.  In the mid-60s Harold Wilson wanted Polaris missiles, the US sought a base in the middle of the Indian Ocean.  
A deal was done. Britain was to detach a bunch of islands from other oceanic territory and together with the Americans build a military base on one of them, Diego Garcia.
There was a catch though. Between 1,500 and 2,000 catches. People who had lived there, for a few generations at least.
In a dispatch revealed by Wikileaks decades later one British official described them as "Tarzans and Men Fridays".
There were efforts to entice them off the islands, including apparently an effort to kill their pet dogs. And through a mixture of subterfuge and coercion they were cleared off the archipelago.
They have lived ever since as second class citizens in Mauritius and some of them in the UK.
Because they had not owned property at least on the islands, living in accommodation given them by absentee landlords, instead their compensation if any was less than generous.
They have campaigned ever since for the right to return. It has been a tortuously protracted battle but one that is now beginning to pay off.
And they have gathered more and more support in higher and higher places.
Welcoming the news from the UN General Assembly, MP Andrew Rosindell, for instance tweeted: "The outer islands of Chagos are a long way from Diego Garcia and that is where the dispossessed Chagosian people would like to return to – it is feasible for this to happen and the UK should end this shameful episode and allow them to return to their homeland!"
The vote in the UN GA is not binding but it puts greater pressure on the UK to hand over the Chagos Islands, including Diego Garcia to Mauritius.
The UK insists the archipelago was never a part of the Mauritius, because it was carved off before Mauritian independence.
Britain says its sovereignty goes back to 1814 and points out that the decision in 1965 to divide it from other territory was agreed with Mauritius in return for fishing and other rights.
And the UK insists the continued existence of the military base is vital for allied interests, to "combat conflict terrorism, drugs, crime and piracy" in the words of British ambassador to the UN Karen Pierce.
Air offensives on Iraq and Afghanistan have been launched from the base and it is thought to play an important role as a listening station for intelligence purposes.
Britain is not about to surrender its claim and let the islanders return. But critics say it shows the UK's waning diplomatic influence and America's too.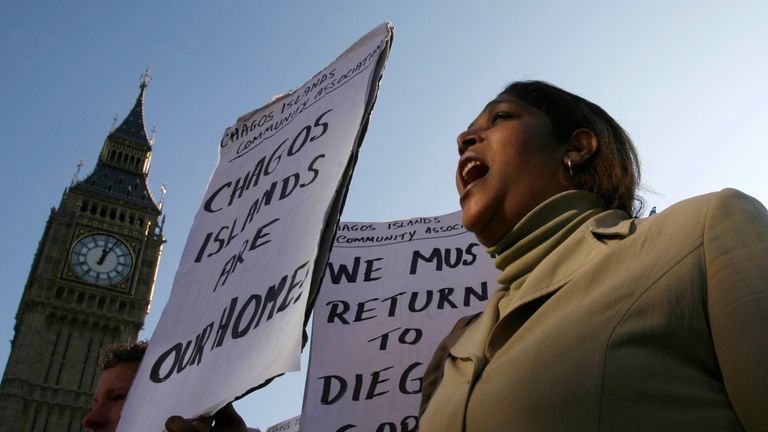 European allies who might in the past have supported the British case abstained. Only Hungary, Israel, the US, Australia and the Maldives voted with the UK.
For all the emotion surrounding the case, legally it boils down to two competing arguments.
Britain's critics say it is a question of decolonisation, a bit of unfinished British imperial business receiving its just desserts.
The UK says it is a matter of sovereignty that should be resolved bilaterally between itself and Mauritius and the vote sets an unfortunate precedent.
If the UN were able to adjudicate issues of sovereignty around the world by general assembly vote it is argued any number of territorial disputes could be reopened with the potential for renewed conflict and destabilisation.
Hong Kong protests: Crowds 'baying for blood' as mobs attack civilians | World News
Protests in Hong Kong have descended into violence once again – with demonstrators trampling on a Chinese flag, vandalising a train station and setting a fire across a street on Sunday.
As the 16th consecutive weekend of unrest continued, protesters were seen taking turns to run over a Chinese flag before defacing it, putting it in a bin, and pushing it into a nearby river.
At Sha Tin railway station, surveillance cameras were smashed, ticket sensors were knocked off gates and spray-painted, and the screens of ticket machines were smashed.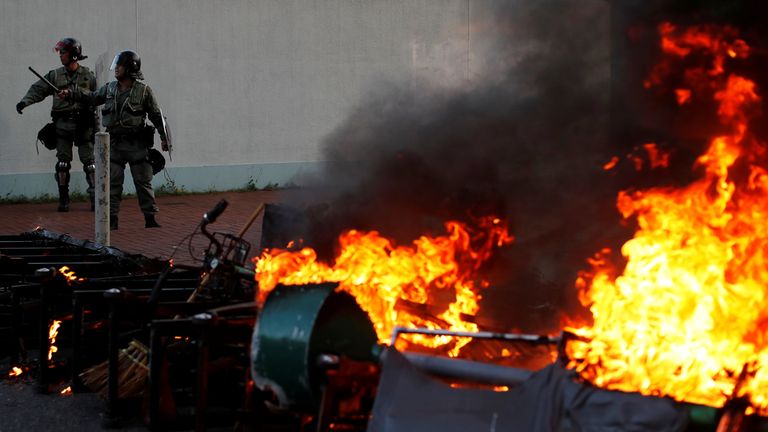 Many of the protesters used umbrellas to shield their identities.
A man suspected of advocating a pro-Beijing stance, who began attacking protesters, was beaten.
Police feared tear gas as they tried to advance on the protesters and disperse the crowds.
Inside a shopping centre in Sha Tin, objects were kicked over and fire extinguishers let off.
Police eventually moved in and many of the protesters were forced to run, with some of them being caught by heavily armed officers.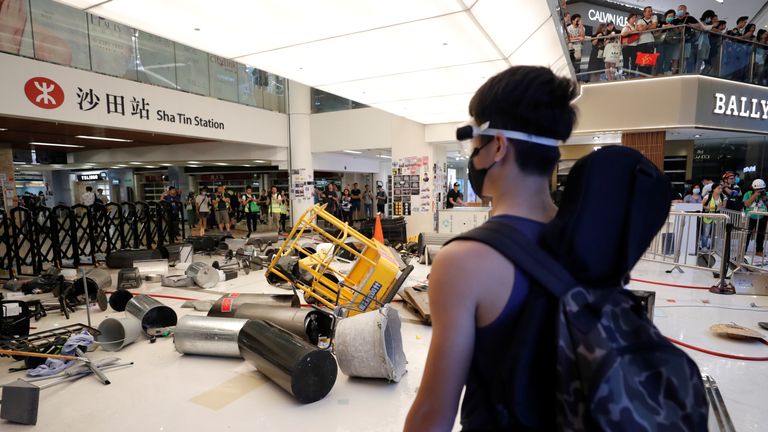 Sky's Tom Cheshire, who was inside the Sha Tin mall, said: "It's a pretty fast moving situation. They've been ripping bins off the wall, ready, because the police have been entering in full riot gear. It's getting very chaotic.
"This started earlier in the day with people singing, doing sit-ins.
"The airport has very high security. There was no way the protesters were going to go there.
"It's taken a really ugly turn. We were sitting when we saw a man with a bloody mess. He had been beaten up by the crowd. There was a mob around him baying for his blood. Eventually some of the protest medics came to his aid."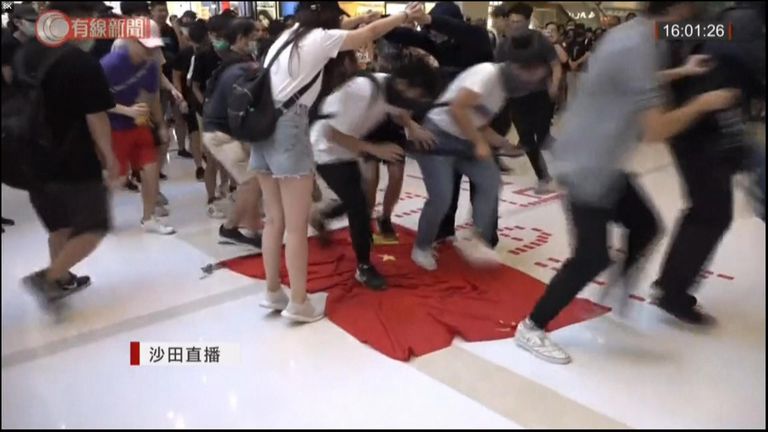 A hardcore group of protesters say violence is necessary to attract the government's attention. They are demanding the resignation of Hong Kong chief executive Carrie Lam, as well as an independent investigation into claims of police brutality.
Even though Ms Lam has agreed to withdraw a controversial extradition bill that triggered the protests back in June, the protesters are now calling for fully democratic elections in the semi-autonomous Chinese territory.
On Saturday night, police used tear gas and rubber rounds against protesters throwing gasoline bombs in their direction.
TV footage showed scenes of arguments and brawls, with people covered in blood.
At least three people were beaten with fists and umbrellas and kicked, and left bloodied and bruised.
Hard border on island of Ireland will return under no-deal Brexit, says EU's Juncker | Politics News
A hard border will return on the island of Ireland if Britain leaves the EU without a deal, Jean-Claude Juncker has told Sky News.
The European Commission president said he would not be the architect of no-deal but the bloc would have to act to protect its citizens' health and safety.
He hit out at unnamed MPs who "are forgetting about the history" of the peace brought to Ireland by the Good Friday Agreement, but warned them if a hard border did return "history will be back immediately".
Speaking exclusively to Sophy Ridge on Sunday, Mr Juncker denied the EU would be responsible for the return of violence seen in The Troubles when tensions between Northern Ireland and the Republic of Ireland flared.
He insisted: "The EU is in no way responsible for any kind of consequences by Brexit – that was a British decision.
"A sovereign decision we are respecting but don't try to charge the EU with responsibility.
"The EU is not leaving the UK, the UK is leaving the EU."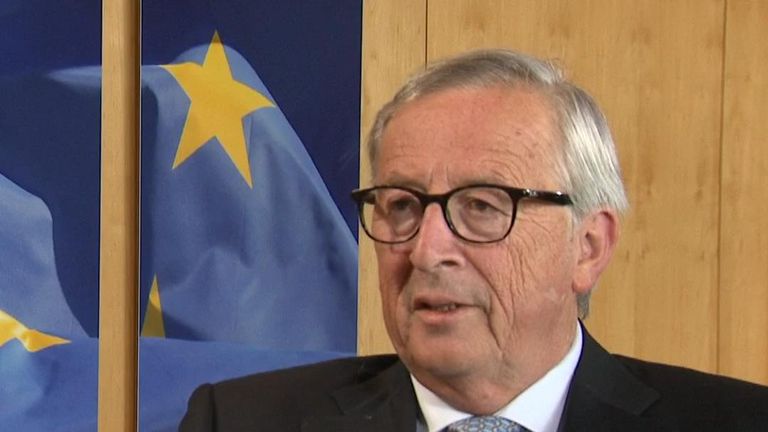 Asked directly if a no-deal divorce on 31 October would mean the return of a hard border, Mr Juncker said "yes".
He added:"I myself am not an architect of new border stations.
"The British have to tell us exactly the architectural nature of this border.
"I don't like it, a hard border. Because after the Good Friday Agreement – and this [agreement] has to be respected in all its parts.
"The situation in Ireland has improved; we should not play with this.
"Sometimes I have the impression that some people are forgetting about the history. But history will be back immediately."
Pressed to say who he was talking about, Mr Juncker simply said: "Some members of the British parliament.
"I'm not criticising them, I have the highest respect possible for Westminster because it's the mother of all parliaments – although not being in session."
Last year, Sky News uncovered a leaked cabinet letter from then foreign secretary Boris Johnson saying "it is wrong to see the task as maintaining 'no border'" in Ireland post-Brexit.
He added that the government's task would be to "stop this border becoming significantly harder".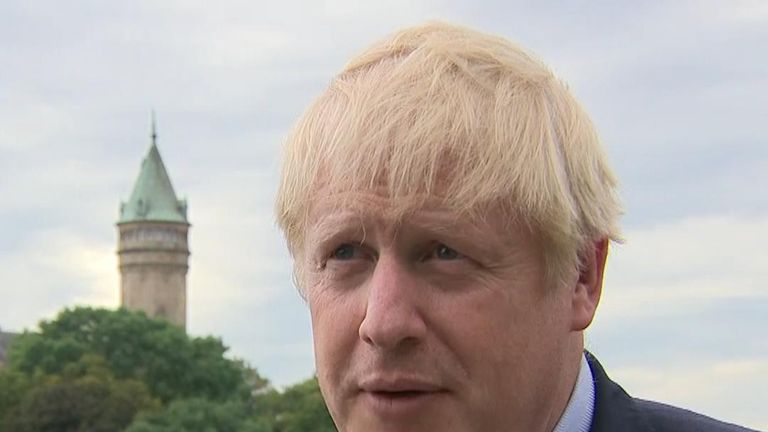 Mr Johnson's new administration is aiming for a Brexit deal but has insisted the UK will leave the EU with or without a deal "do or die" on Halloween.
One suggested way of avoiding a hard border is to keep Northern Ireland closely aligned with the EU in certain areas while creating a border with Great Britain in the Irish Sea.
This would be contentious for many Northern Ireland unionists and Mr Johnson's official spokesman said officials were "not seeking" such an arrangement.
:: Listen to All Out Politics on Apple Podcasts, Google Podcasts, Spotify, Spreaker
Earlier this week Sky News revealed how Mr Juncker said he was doing "everything to get a deal" but warned Britain leaving the EU without a withdrawal agreement would have "catastrophic consequences".
He also said he did not have "an erotic relation" to the so-called Irish backstop – the insurance plan that only kicks in if Britain leaves with a deal to stop a hard border re-forming in Ireland.
Pence visits island that banned cars 100 years ago… with a motorcade | US News
Vice President Mike Pence has taken an eight-car motorcade through a island which banned cars more than 100 years ago.
Mr Pence was on Mackinac Island in Michigan where cars – except for emergency vehicles, snowmobiles and government-owned service vehicles – have been banned since 1898.
Despite this, Donald Trump's deputy defied the ban and brought several cars to the island, which sits in Lake Huron, between Michigan's upper and lower peninsulas.
Detroit Free Press reported it was the first-ever motorcade on the island, where residents usually walk or cycle.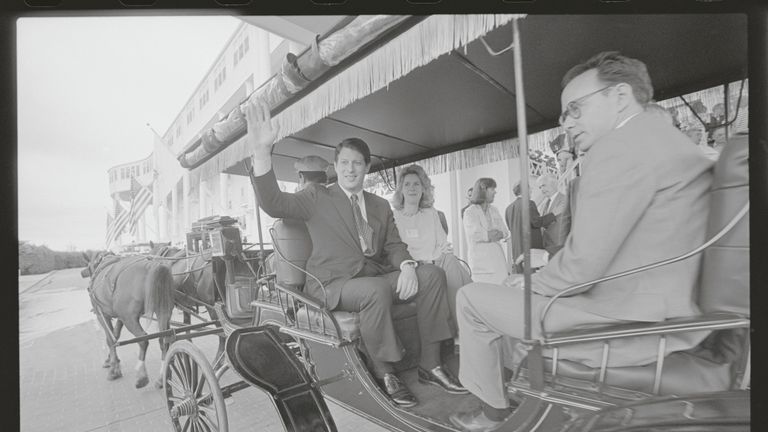 Gerald Ford is the only person to have visited the island while a sitting president, but he travelled by horse.
Other presidents – including George HW Bush, Harry Truman and John F Kennedy – also visited the island before or after their time in the Oval Office, and also travelled by horse.
Mr Pence was on the island to speak at the Michigan Republican Party's leadership conference, the first ever sitting vice president to address it in its 60-year history, according to the Washington Examiner.
He was there on 21 September, the day before World Car Free Day.
Some American voters on social media were furious. One said: "An eight car motorcade on Mackinac Island. Breaking 121 year tradition of no motor vehicles on the island in order to make a show.
"Even President Gerald Ford rode in a horse drawn carriage. Is there no limit to the crass elitist raised middle finger to America?"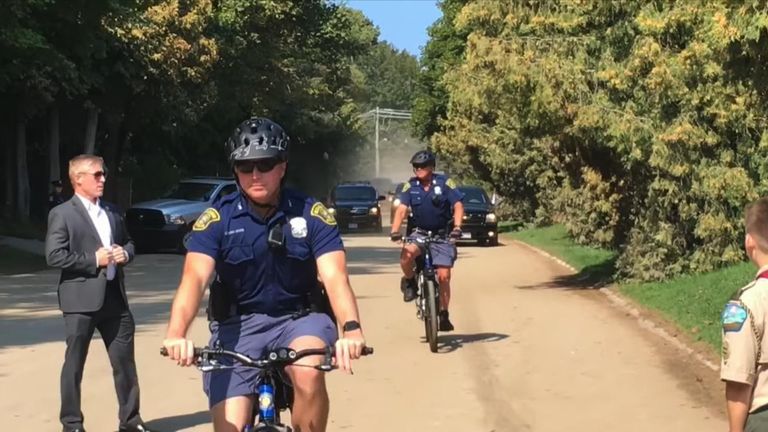 Another said: "You sir have lost my vote forever! Disrespecting the tradition of no motor vehicles on #MackinacIsland by bringing a entourage of an 8 vechile [sic] motorcade."
But Phil Anderson from Minnesota, who was on the island over the weekend, told Detroit Free Press: "It's not an issue at all.
"The wonderful president and the wonderful vice president have to get out and meet people and they can't walk from the airport."
Zach Gorchow, editor of Gongwer News Service in Michigan tweeted: "You got to love seeing Secret Service on a tandem bike on Mackinac Island."
He later covered Mr Pence's speech, which included a "crowd-pleasing line" that Karen Pence had told him not to bother coming home if he didn't have fudge, and mentioned that the couple had been to the island multiple times.