Billionaire who lost three children in Sri Lanka blasts takes out newspaper ad in Scotland | UK News
Britain's biggest private landowner has thanked the people of Scotland for their messages of support following the death of three of his children in the Sri Lanka terror attacks.
Two of Anders Holch Povlsen's daughters, Agnes, 12, and Alma, 15, and his five-year-old son Alfred, were among 253 people killed in a series of blasts targeting churches and hotels in the country on Easter Sunday.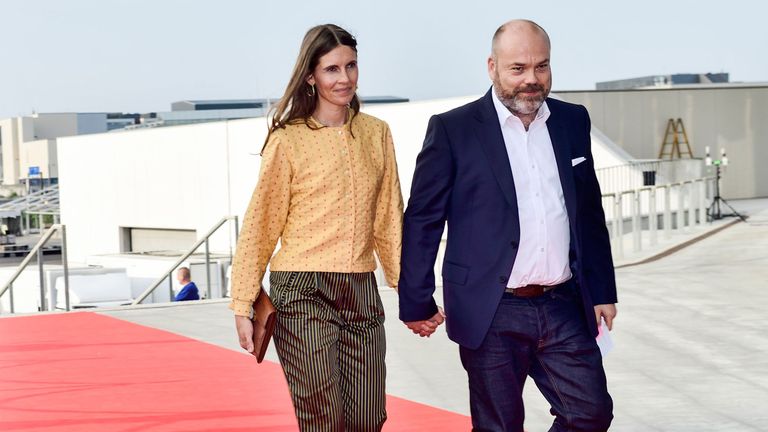 He and his wife Anne said the messages they received had "fortified" them and "touched our hearts".
Their youngest daughter, 10-year-old Astrid, survived.
Mr Povlsen, who is Danish, has a stake in the internet fashion retailer ASOS and is the CEO of Bestseller, another clothing company.
He owns more than 220,000 acres of land in Scotland.
In full page adverts in The Scotsman and Press and Journal newspapers, he and his wife extend their "heartfelt gratitude for the condolences, sympathy and many warming thoughts we have received following the tragic loss of our three beloved children; Alfred, Agnes and Alma".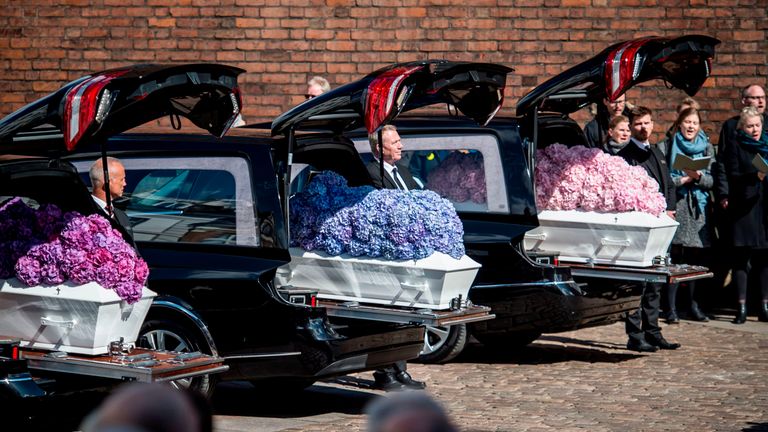 They add: "The Scottish Highlands has granted us abiding, special memories for our family. It is for this reason that the many words of comfort have fortified us and touched our hearts.
"Our thoughts and condolences go to the many other innocent families who also lost their loved ones in the tragedy in Sri Lanka."
I was used by IAAF as a human guinea pig, Caster Semenya says | World News
Caster Semenya says the global athletics governing body has used her as "a human guinea pig" by forcing her to take medication that would limit her testosterone levels. 
The double Olympic gold medallist made the comment after the Court of Arbitration for Sports (CAS) released its 163-page report on Tuesday, explaining why it rejected her appeal last month to scrap rules that cap an athlete's natural level of the primary male hormone.
Eligibility requirements laid out by the International Association of Athletics Federations (IAAF) stipulate that female athletes with differences in sexual development (DSD) must take medication to suppress testosterone when competing in events from 400m to a mile.
But Semenya, who has XY chromosomes, says the medications make her feel "constantly sick", recalling the period between 2011 and 2015 when she was forced to comply with regulations.
Stricter testosterone limits have since been devised, which Semenya has warned hold "unknown health consequences".
She added: "I am concerned that other female athletes will feel compelled to let the IAAF drug them and test the effectiveness and negative health effects of different hormonal drugs."
"This cannot be allowed to happen."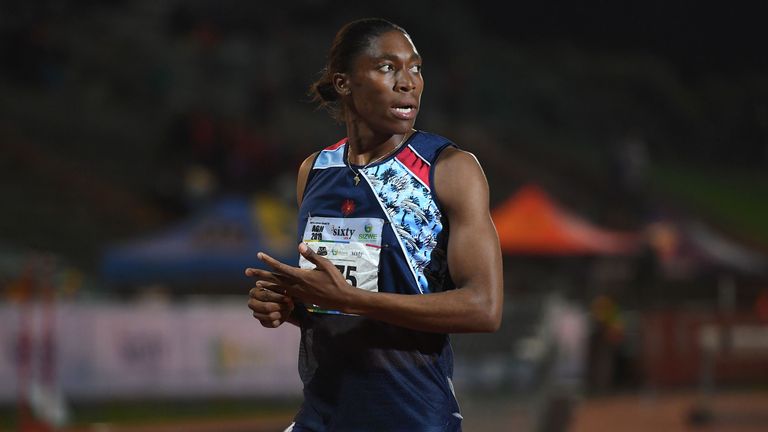 Earlier this year, the IAAF said DSD athletes should not be considered as "biologically male", but Tuesday's report suggests this opinion has been reversed.
In response, Semenya's lawyers criticised the athletics body for "taking it upon itself to decide who is, and who is not, woman enough in the eyes of the IAAF, and to discriminate on that basis".
It said the regulations amounted to "sex testing" that had "plagued women's sport for decades" and had "caused profound harm to women athletes".
But the IAAF has defended its regulations, maintaining that "biology has to trump gender identity to ensure fairness" in sport.
It added: "To define the female category based on something other than biology would be category defeating and would deter many girls around the world from choosing competitive and elite sport after puberty.
"The IAAF considers that the DSD Regulations are a necessary, reasonable and proportionate means of protecting fair and meaningful competition in elite female athletics, and the CAS agreed."
The South African athlete is set to appeal last month's decision in a Swiss Federal Court, but a date is yet to be set.
Until then, the 28-year-old is able to compete in all events without taking the hormone-suppressing medication.
Patrick Shanahan: Donald Trump's choice for defence secretary resigns amid 'painful' family situation | US News
Donald Trump's preferred candidate for defence secretary has announced his withdrawal from the nomination process for the top Pentagon job. 
Patrick Shanahan, who has been acting defence secretary since January, cited a "painful and deeply personal family situation" that led to his decision to step down.
It came after months of unaccounted delays to the process, which was overshadowed by questions about Mr Shanahan's eligibility for the role, potential conflicts of interest, and reports of domestic violence incidents.
In a tweet, Donald Trump praised the 56-year-old for doing a "wonderful job", but said he had stepped down in order to "devote more time to his family".
The US president has since appointed army secretary Mark Esper as the acting defence secretary replacement.
He said: "I know Mark, and have no doubt he will do a fantastic job!"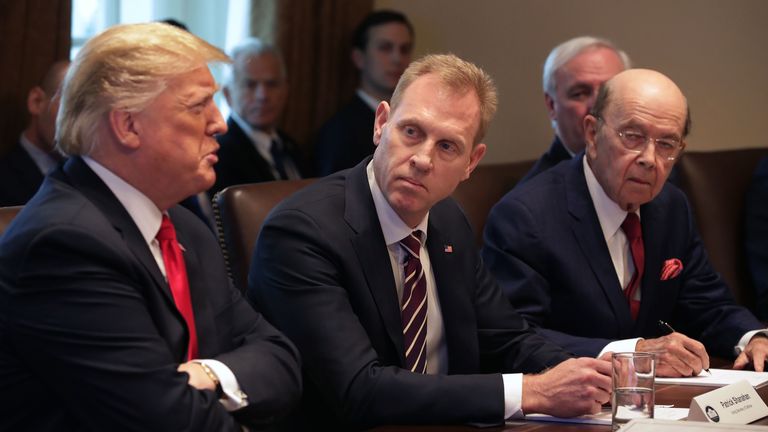 Mr Shanahan, an ex-Boeing executive, did not give specific reasons for his resignation, but reports later published in US media said the FBI had been looking into domestic violence disputes from 2010 and 2011.
It was part of the routine background checks ahead of Mr Shanahan's possible assignment to the defence secretary job.
According to USA Today and the Washington Post, the investigation related to an incident in which Mr Shanahan and his ex-wife Kimberley Jordinson accused the other of punching them.
Mr Shanahan rejects the accusation from Ms Jordinson.
Another incident involved Mr Shanahan defending the actions of his then-17-year-old son, who hit his mother in the head with a baseball bat, fracturing her skull and elbow.
The Washington Post quoted Mr Shanahan as writing in a memo at the time that his son had "acted in self-defence".
In his statement, Mr Shanahan said a continuation of the confirmation process would force his three children to "relive a traumatic chapter" of their family life "and would reopen wounds we have worked for years to heal".
He added: "Ultimately, their safety and wellbeing is my highest priority."
NASA captures closest-ever photo of massive asteroid Bennu flying near Earth | World News

A US spacecraft has captured its closest and most detailed image yet of the 78 billion kilogram asteroid Bennu which gets closer to Earth every six years.
It is the second time NASA's OSIRIS-REx spacecraft managed to orbit around the asteroid, snapping a shot at a distance of 0.4 miles (0.6km) from the asteroid's surface.
Researchers behind OSIRIS-REx observing Bennu said the view is the closest orbit a spacecraft has ever made around a small planetary body in our solar system.
It means it has broken its own record set late in December in which it came as close as 0.8 miles (1.3km).
The latest image was captured by the agency's OSIRIS-REx spacecraft on 13 June.
It shows half of the rock lit up by sunlight while the other half sits in the shadows.
It is also possible to see Bennu's largest boulder protruding from the southern hemisphere.
OSIRIS-REx – which stands for Origins, Spectral Interpretation, Resource Identification, and Security – Regolith Explorer – arrived at Bennu on 3 December, after it launched from Earth in September 2016.
Asteroids orbit the sun but are much smaller than planets and are among the oldest objects in the solar system which have the potential provide answers as to how the Earth evolved.
Bennu was originally part of a much larger asteroid which broke away from around 700 million to two billion years ago, scientists believe.