White House refuses to back New Zealand call to block extremist content online | Science & Tech News
The White House has refused to back an international commitment to prevent the spread of terrorist and violent extremist content online.
A dozen countries including the UK, France, New Zealand, Australia and Canada, as well as technology giants such as Facebook, Twitter, YouTube, Google, Amazon and Microsoft, have supported the "Christchurch Call".
But the US has not, with the Trump administration saying it was not "currently in a position to join the endorsement".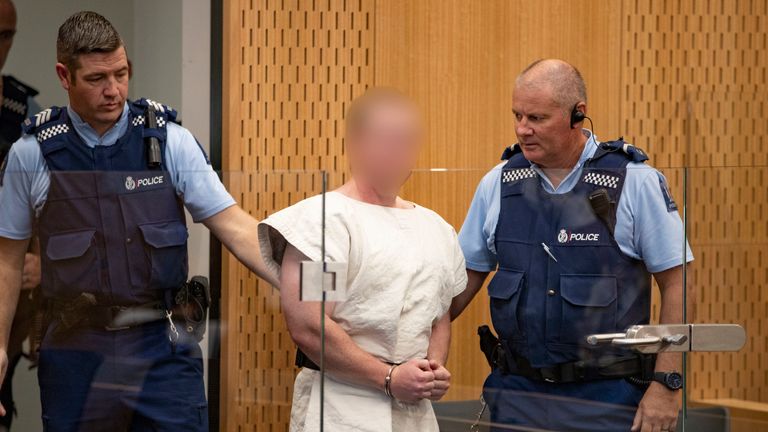 This may be down to broader right-wing concerns over taking some conservative commentators off social media platforms.
Earlier this month, Facebook banned far-right commentators and conspiracy theorists like Alex Jones and Milo Yiannopoulos.
And some Republicans in the US have suggested the approach disproportionately targets conservatives.
The new call to action, drafted by the French and New Zealand governments, is named after March's Christchurch shootings targeting two mosques, where 51 people were killed by a suspected white nationalist.
Australian Brendon Tarrant is accused of carrying out the massacre.
Some of the attack was shown live on Facebook, sparking public outrage and fuelling the debate about how to better regulate social media.
The new agreement, which is not legally binding, aims to prevent similar abuses of the web while preserving "the principles of a free, open and secure internet, without compromising human rights and fundamental freedoms".
Facebook, which owns Instagram and Whatsapp, said it is investing $7.5m (£5.8m) to improve technology to discover videos and photos which were manipulated to avoid detection.
This was the case with the Christchurch shooting, where the attacker live-streamed the massacre.
New Zealand Prime Minister Jacinda Ardern welcomed Facebook's pledge, saying: "There is a lot more work to do, but I am pleased Facebook has taken additional steps today… and look forward to a long-term collaboration to make social media safer."
The tech companies may join forces to develop technology or expand the use of shared digital signatures.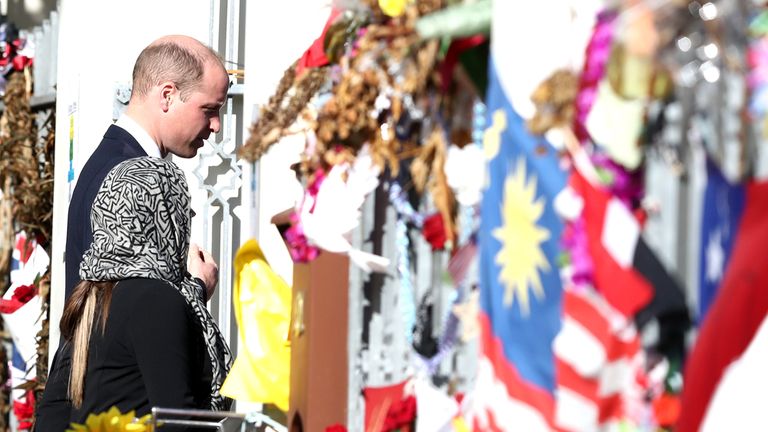 They have promised to reduce the risk that such content is livestreamed, including flagging it up for real-time review.
And they pledged to study how algorithms promote extremist content so they can intervene more quickly.
The White House said it will "stand with the international community in condemning terrorist and extremist content" and thanked Mrs Ardern and French President Emmanuel Macron for their efforts.
It added: "We continue to be proactive in our efforts to counter terrorist content online… while also continuing to respect freedom of expression and freedom of the press."
Russia used social media to target 2014 European Parliament election, evidence suggests | World News

Evidence of Kremlin efforts to use social media to target the 2014 European Parliament elections have been uncovered by researchers at Cardiff University.
They tracked the activities of Twitter accounts identified by the United States as being linked to the Kremlin's Internet Research Agency (IRA).
This is the Russian organisation accused of running fake Twitter and Facebook accounts that targeted the 2016 US presidential election in support of Donald Trump.
Cardiff University found that one of the IRA accounts "appears to have been engaging in reconnaissance activities of European Parliamentary election processes in Greece in 2014".
It discovered messages sent by whoever was operating the account that included photographs from inside polling stations of ballot boxes and pictures of ballot papers.
The team also noted that by 2016 these accounts were posting messages in a number of European languages, including French, German, Italian and Estonian.
"Collectively, these IRA Twitter accounts were displaying high levels of interest in the American elections, but there were also significant levels of interest in a series of elections and democratic events across Europe in 2016," Cardiff University said in a report.
It added: "Based upon the maxim that the best guide to future behaviour is past conduct, the evidence presented suggests a strong potential for similar kinds of activities to be directed towards the 2019 European Parliamentary elections."
Professor Martin Innes, director of the Crime and Security Research Institute at the university, said the research presented in two reports "clearly evidence a sustained and wide-ranging interest in European politics from social media accounts covertly run on behalf of the Kremlin".
"By examining in forensic detail some of the tactics and techniques featuring in their historic information-influence operations, this research affords urgent insights about the future threats to the integrity of the democratic process as we approach the 2019 European elections."
Pentagon: US could send 10,000 more troops to Middle East to counter 'Iran threat' | US News
The Pentagon is preparing to send as many as 10,000 more troops to the Middle East as tensions with Iran continue to rise, according to reports.
The move is not in response to any new threat but is aimed at strengthening security in the region, according to officials quoted by The Associated Press.
A final decision has not been made on the deployment, which could include additional weapons and ships.
Any increase in US troop numbers would contrast sharply with US President Donald Trump's previous stated aim of reducing America's military presence overseas.
Air Force Colonel Patrick Ryder, spokesman for the Joint Chiefs of Staff, said: "As a matter of long-standing policy, we are not going to discuss or speculate on potential or alleged future operations or plans."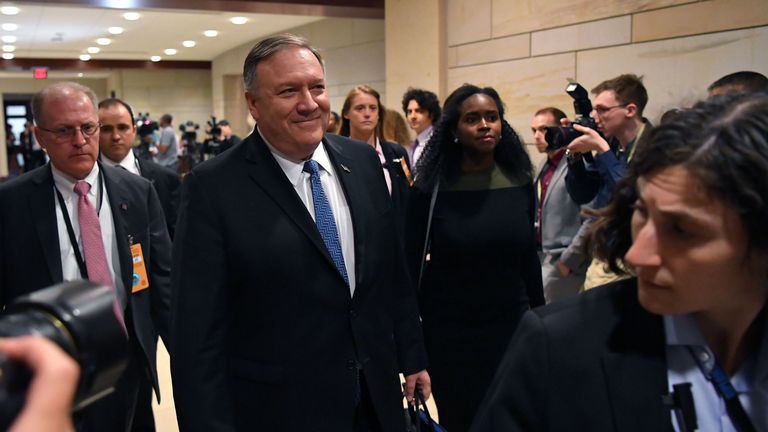 Secretary of State Mike Pompeo said the situation was being evaluated "every day", telling Fox And Friends: "We're evaluating the risks, making sure that we have it right."
Meanwhile, the German foreign ministry's political director Jens Ploetner headed for Tehran on Thursday for talks with Deputy Foreign Minister Abbas Araghchi in an effort to stop the nuclear deal from falling apart.
The deal, signed under the Obama administration in 2015, had offered economic incentives in exchange for Iran curtailing its nuclear production.
But Mr Trump pulled the US out of the deal last year and has reimposed sanctions, hurting Iran's struggling economy.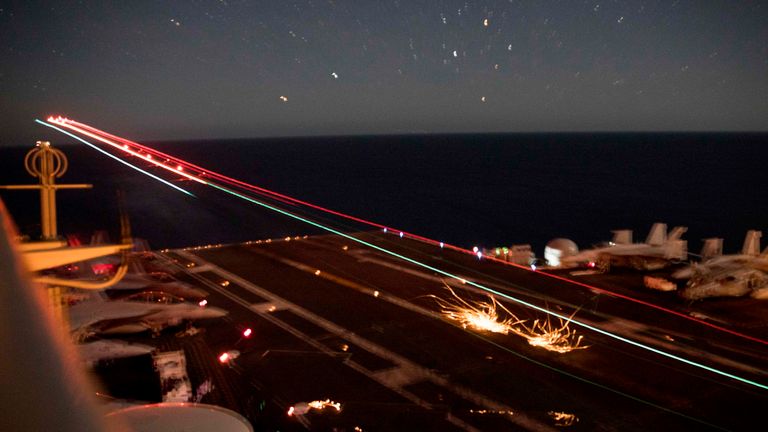 Iran – which has obeyed the deal's conditions according to a February report by the International Atomic Energy Agency – gave the remaining signatories Germany, France, Britain, China and Russia two months to develop a plan to shield it from the effect of sanctions.
The German foreign ministry said in an email: "The situation in the Persian Gulf and the region, and the situation surrounding the Vienna nuclear agreement, is extremely serious.
"There is a real risk of escalation – including due to misunderstandings or an incident. In this situation, dialogue is very important."
On Monday, Iran said it had increased its production capacity of low-enriched uranium but that it would not be enriched beyond the 3.67% limit in the nuclear deal. This would mean it can be used for power but not for an atomic weapon.
Earlier this month, the US accelerated the deployment of an aircraft carrier to the Middle East and sent four B52 bombers to the region.
Non-essential US personnel have been told to leave Iran's neighbour Iraq, due to what the Trump administration described as threats from Iranian-backed militias.
Geoffrey Rush: Oscar-winning actor awarded record £1.5m damages in defamation case | World News
Geoffrey Rush is set to receive the largest ever damages payout to a single person in Australia's history following a defamation case against a newspaper publisher and journalist. 
The judge awarded Rush 2.9m Australian dollars (£1.5m) on Thursday, up from the original amount of 484,000 Australian dollars (£263,000), after taking the actor's loss of earnings into consideration.
In the case, Oscar-winning Rush successfully sued Australia's Nationwide News and journalist Jonathon Moran over its reporting in 2017 of accusations that he sexually abused actress Eryn Jean Norvill.
The pair appeared together in a production of Shakespeare's King Lear in 2015 and 2016, where Norvill alleged the four-time Academy Award nominee had touched her inappropriately on several occasions, and had made lewd comments.
Rush has denied the accusations against him.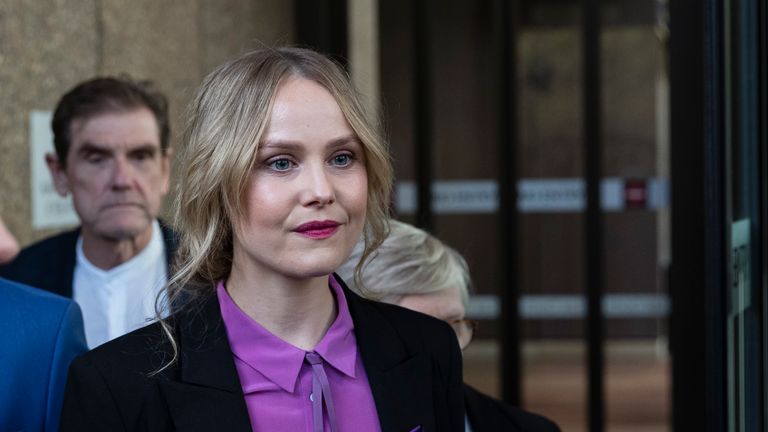 Judge Michael Wigney found two reports and a poster by the company, which publishes the Daily Telegraph, to be defamatory toward the Shine actor.
He called the reporting, in an article headlined "King Leer", a "recklessly irresponsible piece of sensationalist journalism of… the very worst kind", according to The Sydney Morning Herald.
Both Nationwide News and Mr Moran intend to appeal the court's decision.
In early 2018, Rush's legal team said it would be happy to settle the case with an apology and a £27,000 payout from Nationwide News, but the outlet did not respond.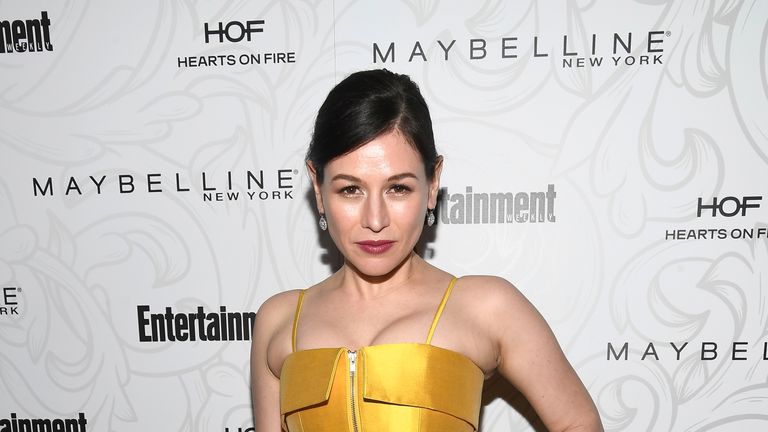 The media publisher later lost a key element in the almost two-week trial after Judge Wigney refused to allow Netflix actress Yael Stone to give evidence of her own personal experiences with Rush.
Stone alleges that the Australian actor behaved inappropriately toward her when they appeared together in a stage production of The Diary of a Madman in 2010. Rush denies the allegation.
However, Judge Wigney said Stone's evidence created new allegations that would cause Rush "manifest and palpable" prejudice.
Rush said at the time that Stone's allegations were "incorrect" and had in some cases "been taken completely out of context".
He added: "I sincerely and deeply regret if I have caused her any distress.
"This, most certainly, has never been my intention."
A record-breaking damages payout for Australia was awarded to actress Rebel Wilson in a defamation case against Bauer Media last year.
She was originally awarded £2.55m, but this was cut back to £327,000 following an appeal.