Tiger Woods awarded Presidential Medal of Freedom | US News
Controversial golfing figure Tiger Woods has been awarded the US's highest civilian honour – the Presidential Medal of Freedom.
Donald Trump, a keen golfer and owner of several courses, presented the medal on Monday evening in the White House's Rose Garden.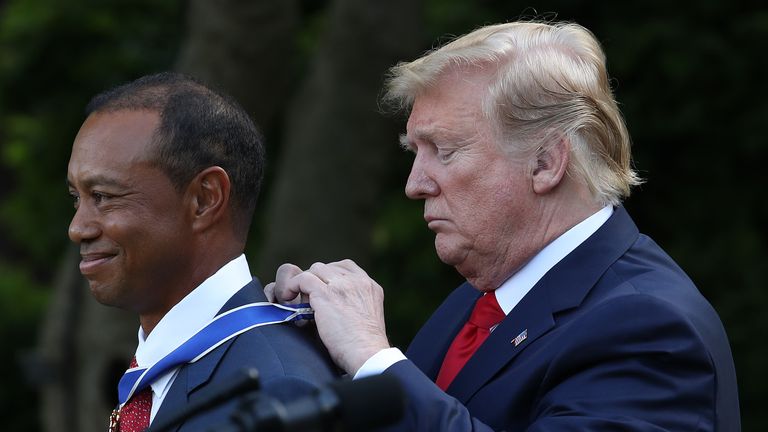 The Medal of Freedom is awarded to those who have made a significant contribution to the security or national interest of the US, towards world peace, culture or other significant action.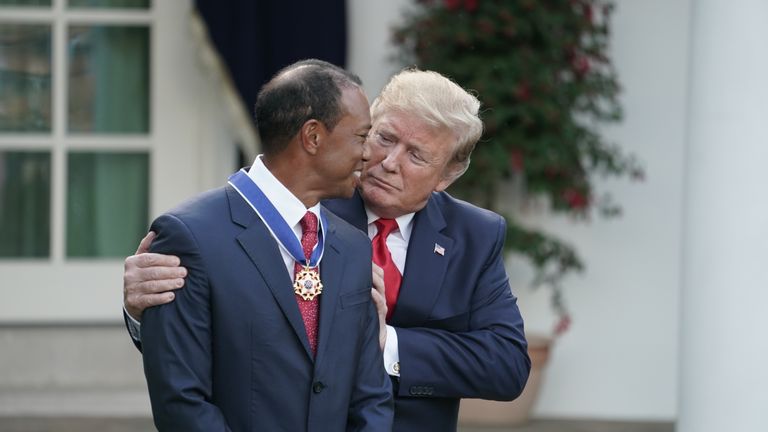 Mr Trump announced he would be awarding it to Woods in a tweet after the golfer made a victorious comeback when he won the Masters last month.
At the time the President said: "Spoke to @TigerWoods to congratulate him on the great victory he had in yesterday's @TheMasters, & to inform him that because of his incredible Success & Comeback in Sports (Golf) and, more importantly, LIFE, I will be presenting him with the PRESIDENTIAL MEDAL OF FREEDOM!"
Spoke to @TigerWoods to congratulate him on the great victory he had in yesterday's @TheMasters, & to inform him that because of his incredible Success & Comeback in Sports (Golf) and, more importantly, LIFE, I will be presenting him with the PRESIDENTIAL MEDAL OF FREEDOM!

— Donald J. Trump (@realDonaldTrump) April 15, 2019
Woods' golfing career slumped around a decade ago after rumours emerged that he had multiple affairs and substance problems, his wife divorced him, he crashed his car and was recovering from knee surgery. He lost a string of lucrative endorsements and dropped out of the top 50 world ranking of golfers.
A few attempts to return to golf faltered, until the sportsman – often called one of the best golfers of all time – finally broke through with his Masters win.
Mr Trump's decision to bestow such a grand honour on the 43-year-old raised some eyebrows.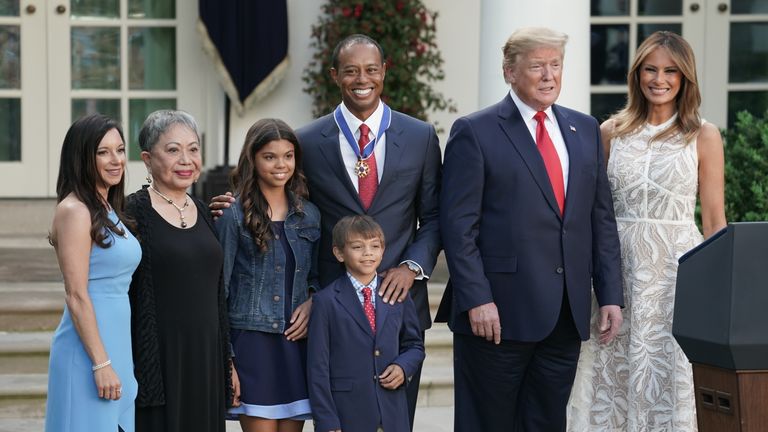 Woods, who Mr Trump played a round with in February, is considered a business associate of The Trump Organization.
The golfer has lent his name to a villa at one of the president's clubs and has designed an 18-hole course in Dubai which will be managed by the organisation.
However, Woods is not the first professional golfer to receive the award, others including Arnold Palmer and Jack Nicklaus.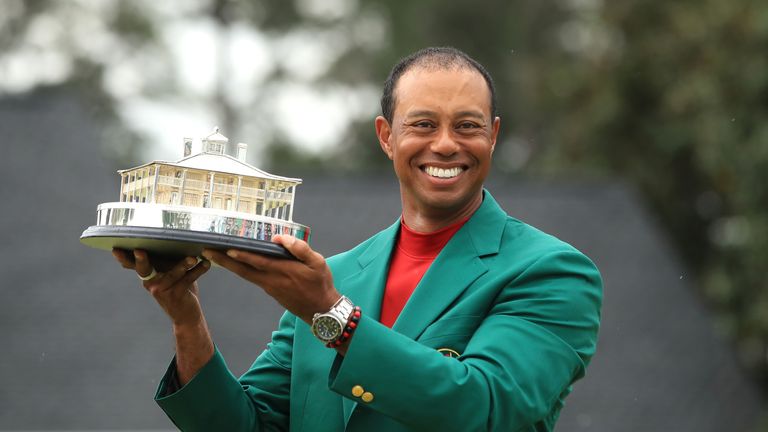 Nor is Woods the first celebrity who offered support to a presidential campaign -Barack Obama awarded the Medal of Freedom to Bruce Springsteen, who performed in concerts to support his election efforts.
The Ashes: Steve Smith forced off field after being struck by 92mph delivery | UK News
Australian batsman Steve Smith was forced off the field during the second Ashes Test after being struck by a 92.4mph delivery.
The ball from English paceman Jofra Archer hit Smith on his neck when he was on 80 not out.
Smith immediately hit the ground and remained there for an extended period before stumbling to his feet.
After being examined by team doctors, the 30-year-old was persuaded to leave the field, despite his reluctance.
He left his side on 203 for six, 55 behind England on the fourth afternoon of the Test.
Smith returned 40 minutes later after Peter Siddle fell to Chris Woakes, hitting his first two balls for four.
He eventually fell LBW to Woakes for 92.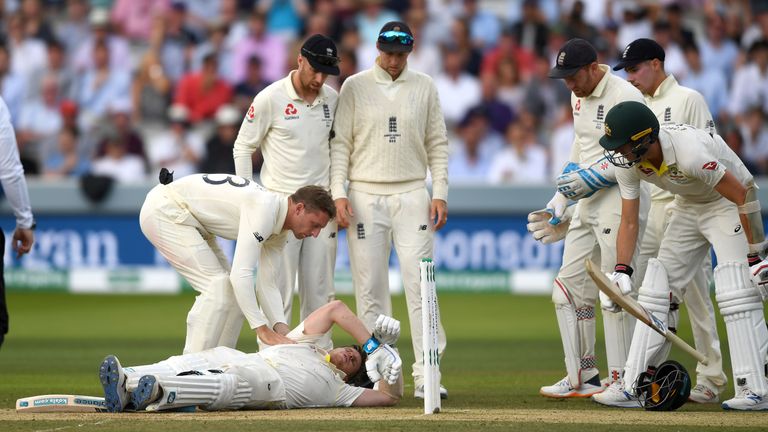 By tea on Saturday, England had bowled out Australia for 250.
A statement from Cricket Australia said: "Steve was hit on the neck below the left ear.
"He was assessed lying on the pitch at the instructions of team doctor Richard Saw.
"Dr Saw made the precautionary decision to remove Steve from the field of play to have him further assessed under Cricket Australia's head impact protocol.
"Steve then passed his assessments and will now be monitored on an ongoing basis, as is routine."
Archer had been bowling at speeds of up to 96mph (154 kph) in what was reportedly the fastest bowling seen from an English bowler in a generation.
One of his earlier balls had struck Smith on the forearm.
Smith scored two centuries during the first Test, helping his side to victory over the English.
Army and civilians clinch power-sharing deal in Sudan | World News
A power-sharing agreement has been signed in Sudan between the ruling military council and the main opposition coalition.
Sudan has been hit by months of protests which have seen dozens of demonstrators killed.
The signing, at a ceremony in the capital Khartoum, sets up a joint military and civilian council to rule for a little over three years until elections can be held.
It was agreed that a military leader would head the 11-member council for the first 21 months, followed by a civilian leader for the next 18.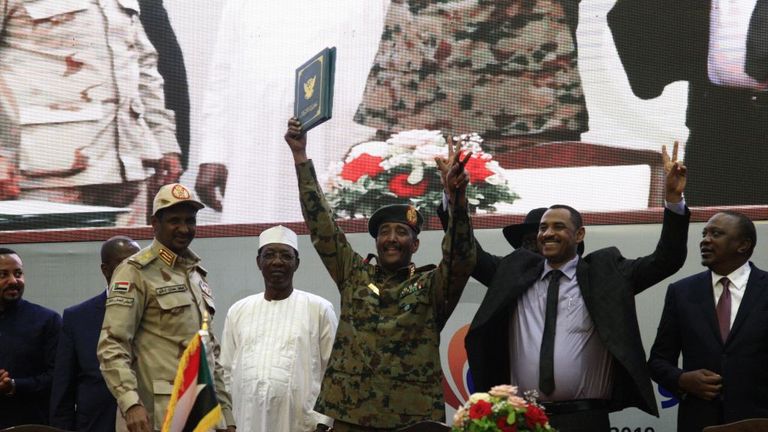 A cabinet appointed by the activists would also be established, and a legislative body is set to be assembled within three months.
The coalition that was behind the protests would have a majority in that body.
A statement on the Twitter account of the Sudanese Professionals Association, one of the groups that had been leading the protests, called for celebrations.
It said: "It was incumbent upon us all to unite in order to build a homeland as long as we dreamed of it.
"God has given us a country with countless good things, but we need hands that extend to benefit from them and direct them for the benefit of all."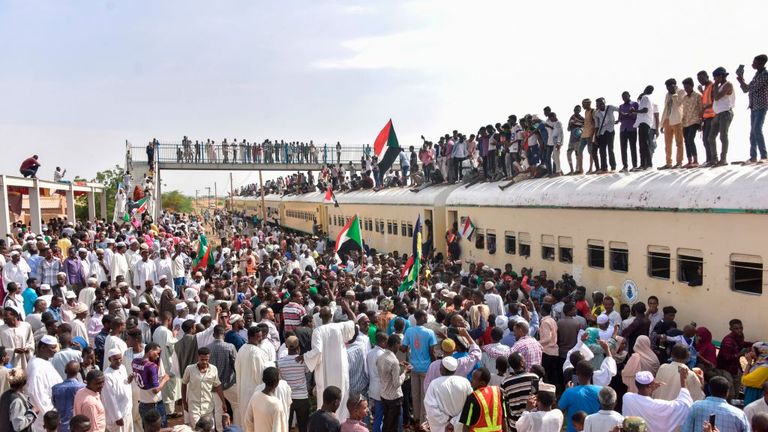 There were reports people were streaming into the capital in order to mark the event.
There were growing concerns the political crisis could ignite civil war and Ethiopia and the African Union jointly-led efforts to bring about a deal.
Ethiopian Prime Minister Abiy Ahmed was among those who attended Saturday's ceremony.
In April, the military overthrew the former dictator Omar al Bashir amid ongoing protests against his three-decade hold on power.
The protesters then stayed on the streets, calling for civil rule.
The agreement has been criticised by the Sudan Revolutionary Front, an alliance of the largest rebel groups in Darfur, where a conflict has left hundreds of thousands dead, according to the UN.
NASA scientist slams man on dating app who asked if she was a receptionist | World News
A planetary scientist who worked for NASA has slammed a man on a dating app after he asked her if she was "like, the receptionist?"
Dr Lauren McKeown matched with a man named Mikey on Hinge who left a comment on the part of her profile where she mentions she worked for NASA.
"F*** me that's cool," he wrote, "wait till I tell my parents".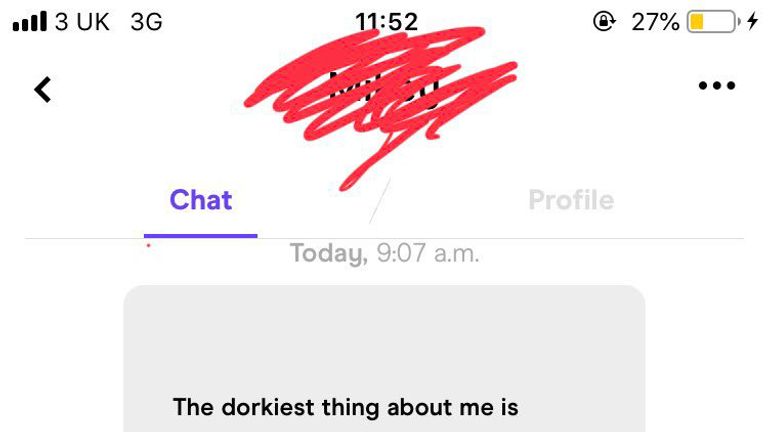 Dr McKeown then invited him to start a conversation with her – an option within the app that lets users tell other people they are open to talking to them.
Once Mikey had been invited to start the conversation, his opening line was: "So what are you, like the receptionist?"
He then continued his charm offensive, saying "Jk" – which means "just kidding" or "joking", and added: "You look reasonably smart".
Sharing screenshots of the romantic exchange on Twitter, Dr McKeown said: "And this, ladies and gentlemen, is why I am single," with a facepalm emoji.
Dr McKeown was polite enough to reply.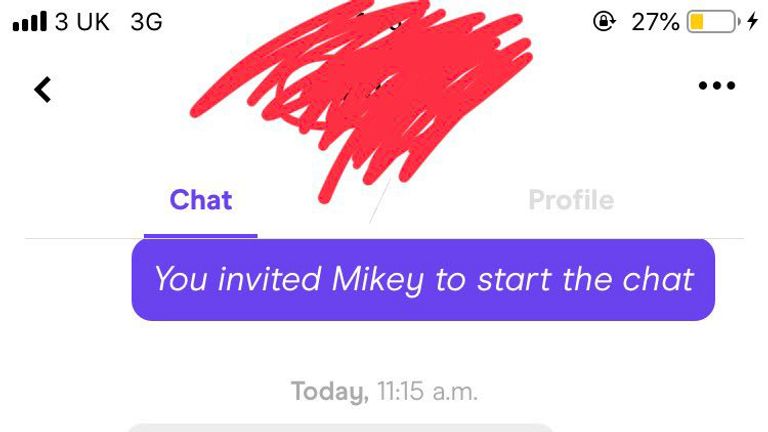 "Smart enough to know at least, that judging a woman's intelligence based on her appearance might not be the best way to initiate conversation.
"P.S. my mother is a primary school receptionist and is the wisest, most inspirational and kindest person I know. So much so in fact, my PhD thesis in planetary science is dedicated to her.
Burn!
Whoever the mystery Mikey is, he hasn't responded (that we know of).
The people at Hinge were not pleased with this unpleasant user experience and have offered to pay for Dr McKeown's next date.
They responded: "Yikes. Hinge has a zero tolerance policy for behaviour like this. We're on it. And while we're at it, your next Hinge date is on us. DM us! We hope you find someone worth deleting Hinge for soon."