Semenya ruling may bring death of women's sport, warns Paula Radcliffe | World News
Paula Radcliffe believes the verdict of a landmark legal case involving Olympic champion Caster Semenya could open the door for transgender athletes to compete in women's categories without lowering their testosterone levels. 
The decision of a battle between Semenya and the IAAF athletics world governing body is expected next week.
Double Olympic champion Semenya has differences in sexual development, or DSD, which means she has elevated naturally occurring levels of testosterone.
The IAAF want her to take hormone suppressing medication in order to continue competing but Semenya, supported by Athletics South Africa and the South African government, says she just wants to "run free".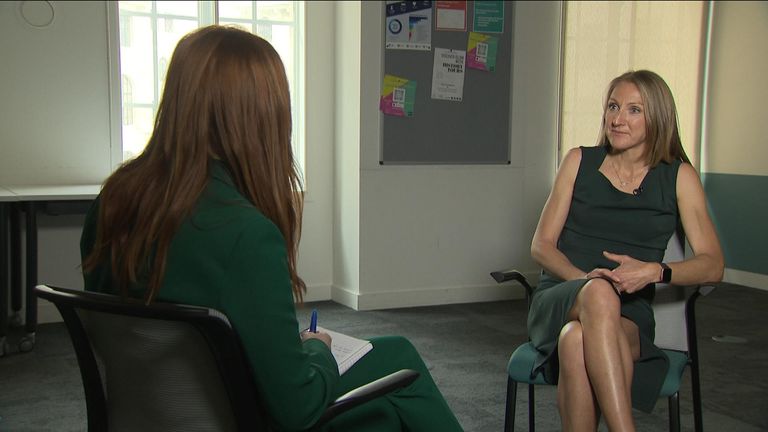 Marathon world record holder Radcliffe thinks that if the verdict falls in Semenya's favour it will embolden the case of transgender athletes to compete freely in women's categories.
She told Sky News: "The IAAF has come in for a lot of vilification but there are probably a lot of other sporting federations, particularly where its contact and a physical strength sport, who are really watching this.
"They want to see what it means for the future of female sport and also what it will do in terms of the whole transgender question.
"Will it open the door up there to transgender athletes actually being able to say: 'You know what, we don't need to bring our [testosterone] levels down either, we don't need to have any surgery, we can just identity how we feel and we can come in and compete in women's sport?'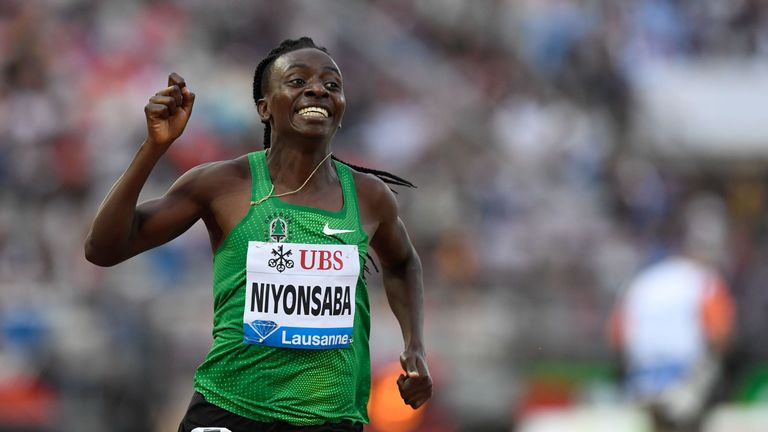 "That would be the death of women's sport."
The ruling will also directly affect Semenya's closest rival Francine Niyonsaba. The Burundi runner won silver behind Semenya at the Rio Olympics but revealed this week that she also has the same condition.
Some would argue that Semenya simply has a physiological advantage in the same way Usain Bolt does with his height combined with fast twitch fibre muscles, or swimmer Michael Phelps' wingspan.
But Radcliffe says: "If it was one athlete with a one off raised level of testosterone, I don't think we'd be in this situation but it's a number of athletes and it could be a growing number who have those elevated levels of testosterone.
"It's not just about that either, it's the fact that essentially you have a body that has almost gone through male puberty and is stronger, physiological differences, the bone mass, the strength, not having to deal with periods, not having to worry about managing with your menstrual cycle around competitions.
"Those are all things that female athletes have to deal with and have to work around and you just do because you have to but if you're competing against somebody that isn't doing that, that isn't fair either."
Radcliffe says she has received abuse online since making her feelings known about transgender women competing without lowering their testosterone levels.
It follows similar abusive message sent to other former athletes such as Sharron Davies, Martina Navratilova and Kelly Holmes.
"A lot of these people that are attacking me wouldn't stand in front of me and say those things to me," Radcliffe said.
"It's very dangerous because there are vulnerable athletes out there who can't make the distinction between what's reality and what's not and what somebody truthfully stands by and someone just being a troll.
"That can have a huge impact and that isn't understood enough in this world and as a mum, that worries me about my children growing up."
EU: Britain will suffer most if there is a no-deal Brexit | Politics News
The European Union is ready for a no-deal Brexit and Britain would suffer most under such a scenario, Brussels has claimed.
European Commission spokeswoman Natasha Bertaud said no deal would never be the bloc's preferred outcome.
Prime Minister Boris Johnson has promised to take Britain out of the EU on 31 October, with or without an agreement in place.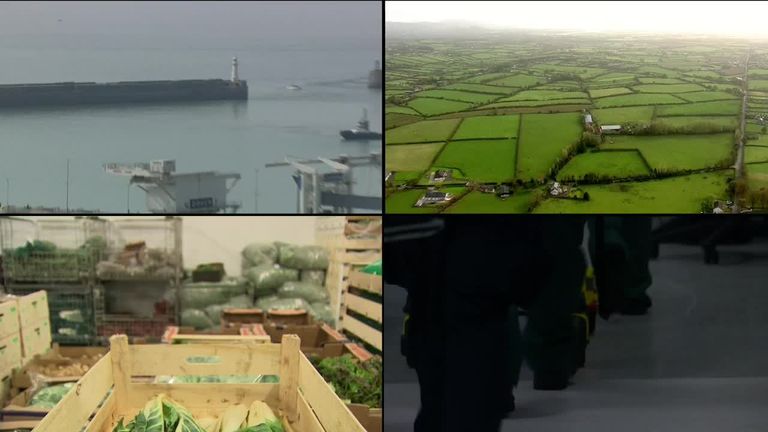 Speaking on Monday, Mr Johnson said Britain can "definitely" get ready for no deal.
But the EU was decidedly more downbeat on the prospect of this happening.
"This will obviously cause significant disruption both for citizens and for businesses and this will have a serious negative economic impact," Ms Bertaud said, referring to a no-deal Brexit.
"That would be proportionally much greater in the United Kingdom than it would be in the EU 27 states."
She cited European Commission President Jean-Claude Juncker as having said that if it a no-deal Brexit happened "it is the British who will unfortunately be the biggest losers".
The comments come after a British government document detailing the potential impacts of a no-deal divorce was leaked at the weekend.
According to the Operation Yellowhammer assessment published in the Sunday Times, Britain could be hit with a three-month "meltdown" at its ports, a hard Irish border and shortages of food and medicine.
Downing Street said on Monday that the dossier was "out of date" and the government was "making all necessary preparations ahead of 31 October".
A "large-scale public information campaign" is expected to begin shortly, Number 10 said.
A spokeswoman said: "In relation to business we have been engaging widely and will continue to do so and that's been significantly stepped up in recent weeks.
"We have published numerous documents on how businesses can prepare.
"You can expect to see further information being published in the coming weeks in relation to how the public… can further prepare and the changes that they are likely to see across a range of areas."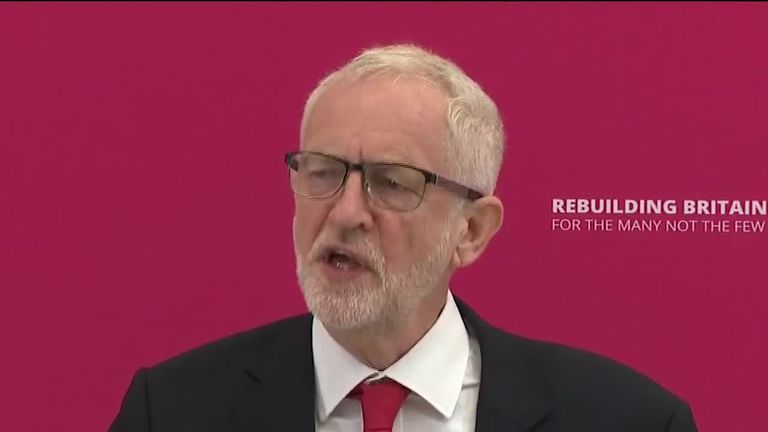 Asked about the leaked dossier, Mr Johnson said: "If you look at the preparations the UK had made by March 29, we were very far advanced.
"Things then slipped back a bit, but we're very confident that by 31 October we will be ready and that's the crucial thing.
"I think that's what people want. People are very confident themselves that they can do it.
"I'm not pretending that there won't be bumps on the road, there will be. I said that on the steps of Downing Street.
"But if everybody puts their minds to it, I have absolutely no doubt that we can get ready."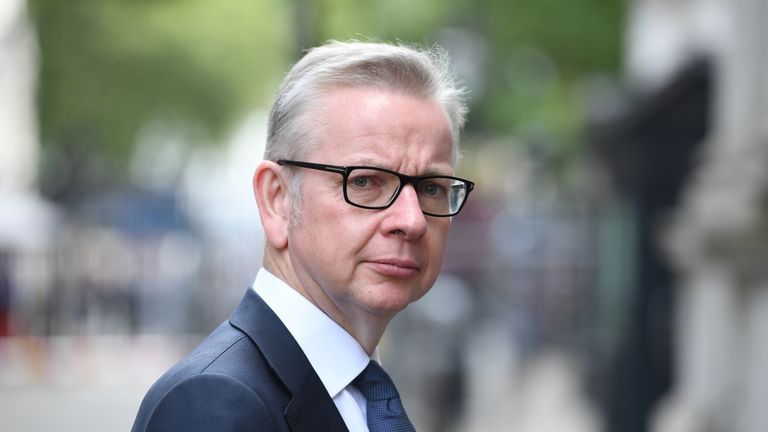 Mr Johnson will this week head to Berlin and Paris as he tries to secure a new Brexit deal.
During trips to Germany and France, the PM will tell Angela Merkel and Emmanuel Macron "there must be a new deal to replace the failed Brussels deal" – but if one cannot be struck, the UK is prepared to leave the EU without an agreement.
Number 10 said it expected there to be "very little discussion" of Brexit during the visit to Berlin on Wednesday and Paris on Thursday, with other topics to be the focus.
Why does Donald Trump want to buy Greenland? | US News
Donald Trump may be in the Oval Office now, but his recent interest in buying Greenland suggests his heart is still in real estate.
The president's intentions emerged last week when he reportedly discussed buying the Danish territory in a private meeting with advisers.
So, why would Mr Trump want to buy Greenland, and what do we really know about it?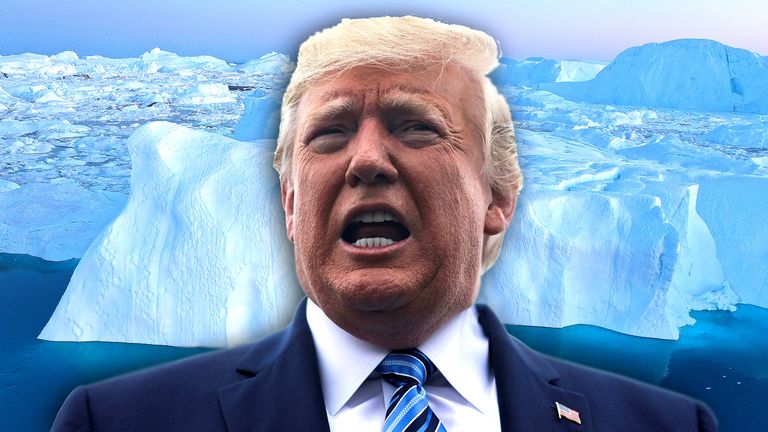 :: It's untapped
Greenland's ice sheet is melting. And quickly.
The land is thought to be rich in gold, rubies, diamonds, coppers, olivine, marble and oil.
The rapidly melting ice means previously out-of-reach energy and minerals are now more accessible.
China has shown an interest in recent years too…
:: For his legacy?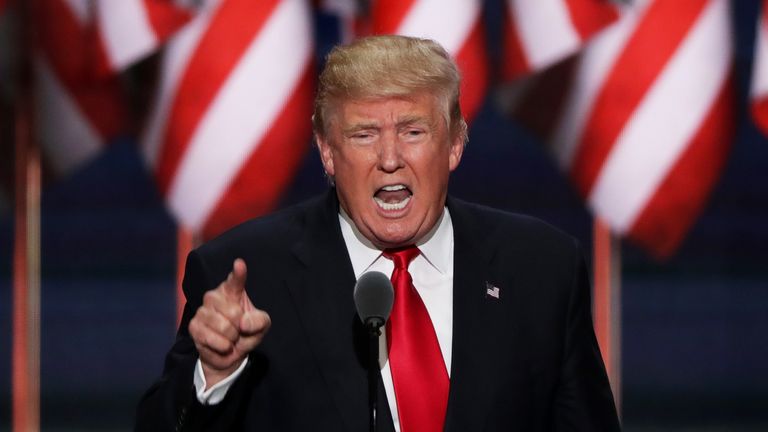 Mr Trump might think it would be pretty cool to buy Greenland.
Former US president Harry Truman offered to buy it in 1946 so Mr Trump would probably like to be the one to pull it off.
But it seems unlikely.
:: 'It would be nice'
Mr Trump's own words.
When asked about reports that he was exploring the purchase of the 850,000 square mile island from Denmark, the US president said he was "looking at it" as "strategically for the US it would be nice".
:: To do Denmark a favour?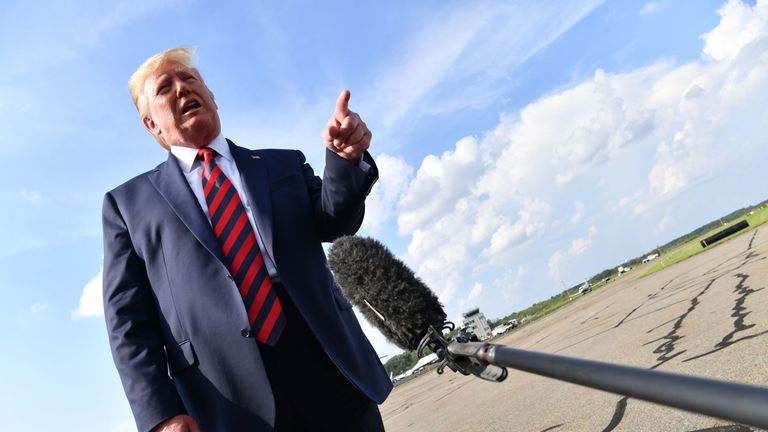 The president has suggested he has Denmark's best interests at heart by wanting to buy Greenland.
He said: "A lot of things could be done, essentially it is a large real estate deal. It's hurting Denmark very badly because they are losing almost $700m a year carrying it."
:: How much would it cost?
President Truman offered $100m for it in 1946 – which in today's money would be about $1.3bn.
:: What else do we know about Greenland?
Population: It's home to 56,000 people. Greenlanders call themselves "Kalaallit" and are an indigenous Inuit people. Inuit means "human being" or "people". According to Greenland's government, the indigenous Inuit people make up 85% of the population – the rest are primarily Danes.
The land: It's officially the world's largest island that's not a continent. About 80% of Greenland is covered by ice and snow. People mostly live in the 20% of the country that isn't – mainly on the coast.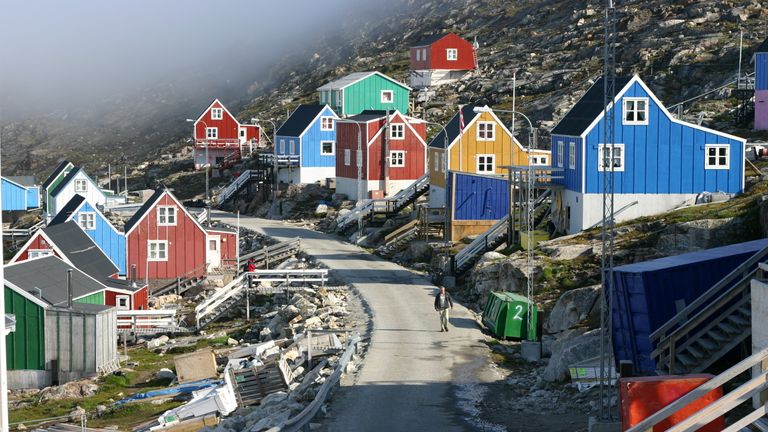 Weather: Average temperatures rarely exceed 10C (50F) during the summer, and that's usually just in July – the only month when the temperature reaches above freezing. The longest day of the year is 21 June – which is also a national holiday. Donald Trump's birthday is on 14 June so maybe he'd make it a week-long celebration. The nation celebrates on 21 June because that's the day the flag received its official introduction in 1985.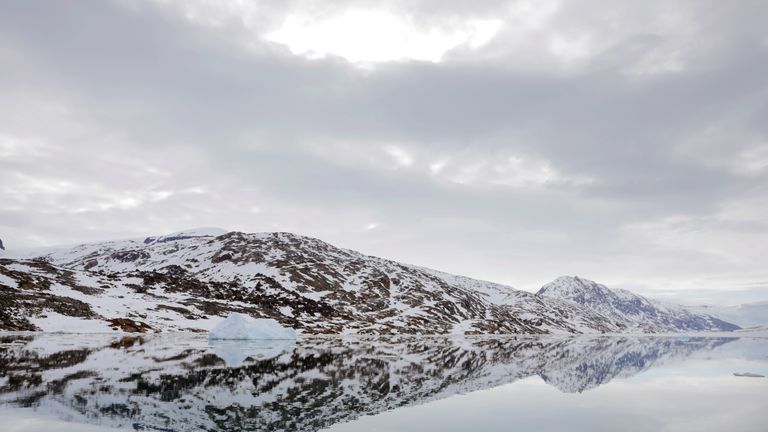 Speaking of flags: The white half of the flag symbolises Greenland's icecap. The red half symbolises the rising and setting sun.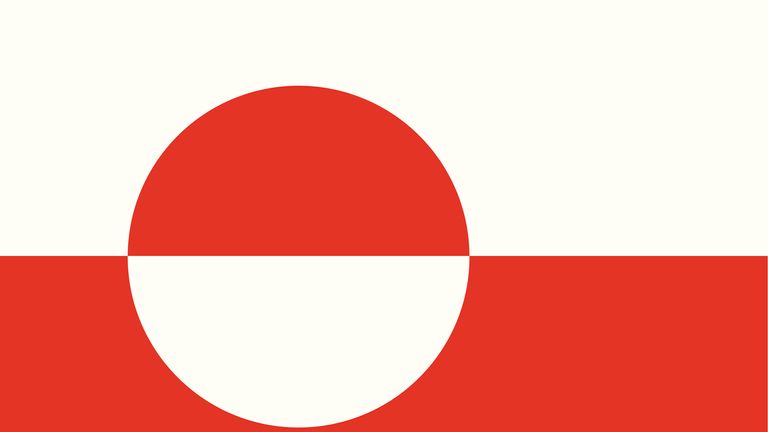 And speaking of the sun: It doesn't set from 25 May to 25 July. Good for people with low vitamin D.
Language: The official language is Greenlandic. Children learn Greenlandic at school as well as Danish and English. West Greenlandic is the official language but there are dialects spoken in Eastern and Northern Greenland.
Lidl suppliers on the hook for potential no-deal Brexit tariffs | Business News

Lidl's Irish business has said that British suppliers will be responsible for additional tariffs in the event of a no-deal Brexit.
The discount supermarket chain says its contracts with suppliers includes a "delivery duty paid" clause that mandates those companies must pay for delivery costs and import taxes.
At the moment, no tariffs are paid because both countries are members of the European Union but this will change if Britain crashes out without a deal on 31 October and begins to trade on World Trade Organisation terms.
The discount supermarket said it had been holding workshops with suppliers to ensure they have "all necessary information" and that it was "committed to delivering the best prices for Irish customers".
Lidl said it had been working with consultants over the past two years to not only prepare itself for Brexit but also bring its suppliers up to speed.
Lidl Ireland in a statement said: "We held a number of workshops with our suppliers to ensure they have all necessary information, certification and documentation to avoid any disruption to their respective supply chains.
"All existing Lidl contracts contain a DDP (Delivered Duty Paid) clause.
"In an effort to understand the level of preparedness of key UK suppliers we are communicating proactively with them and working together to resolve any potential barriers to supply. We are committed to delivering the best prices for Irish customers."
Meanwhile, Sky News revealed earlier this month that two-thirds of UK exporters are yet to take basic steps to prepare for a no-deal Brexit.
Government documents leaked this week shows "Operation Yellowhammer" suggests food and water supplies are "areas of risk" for the country.
Meanwhile, Michael Gove, the minister in charge of no-deal planning, has said there "will be some bumps in the road" if the UK leaves the EU without a deal as the government has "taken steps" to prevent a crisis.