Outrage as baby T-Rex listed on eBay for £2.3m | World News
A fossil hunter in the US has caused outrage after trying to sell the remains of a baby Tyrannosaurus Rex on eBay for £2.3m.
In his listing, Alan Detrich claimed it was "most likely the only baby T-Rex in the world" and said the discovery was made near the town of Jordan, Montana.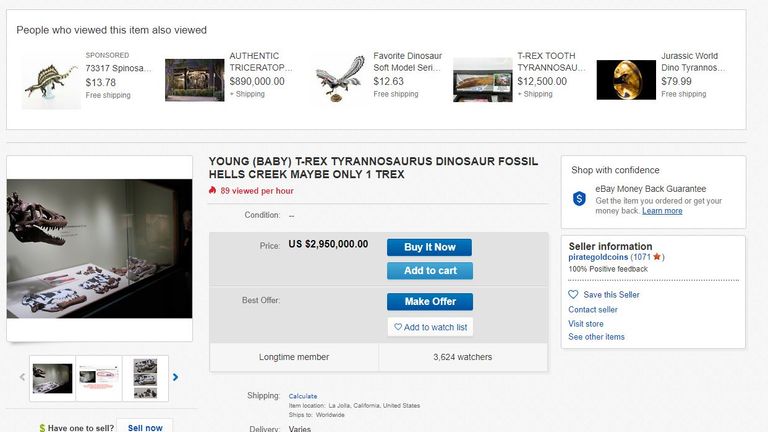 He said the dinosaur skeleton has a "15ft-long body and a 21-inch skull with serrated teeth" – and claimed it was a "rare opportunity indeed to ever see a baby Rex".
Anyone wanting to "buy it now" can at a cost of $2.95m or "make an offer".
Mr Detrich added: "Histology shows the specimen to be approximately four years old upon death. Reconstruction of the skull has been done by curator of vertebrate paleontology (from Natural History Museum in Florida). "
But the post has faced a backlash on social media with one tweet from Patricia Holroyd saying: "As an alum, I am disappointed to see the state's most important natural history museum acting as a shill for commercial fossil sales."
This is seriously embarrassing for @kunhm As an alum, I am disappointed to see the state's most important natural history museum acting as a shill for commercial fossil sales. https://t.co/03AEKexbML

— Patricia Holroyd (@PatriciaHolroyd) 9 April 2019
In a reply to Dr Holroyd, the museum said: "We do not sell or mediate the sale of specimens to private individuals.
"The specimen on exhibit-loan has been removed and is being returned to the owner. We have asked the owner to remove any association w/us from his sale listing."
Hi Dr. Holroyd – we do not sell or mediate the sale of specimens to private individuals. The specimen on exhibit-loan has been removed & is being returned to the owner. We have asked the owner to remove any association w/us from his sale listing.

— KU Natural History (@kunhm) 9 April 2019
The listing has had over 3,600 "watchers" and at one point had 91 views per hour.
But anyone thinking about make a bid is being warned that Mr Detrich "does not accept returns".
60 old TVs dumped outside homes… by man dressed as an old TV | World News
Old television sets have been dumped outside the homes of dozens of people in the US… by a man wearing an old TV on his head.
According to NBC12, at least 60 residents in Virginia have woken up in the morning to see the retro screens sitting outside their front door.
Adrian Garner, who caught the culprit on a home security camera, said: "It was a guy dressed in a jumpsuit with a TV for a head. It's the weirdest thing. He squats down, puts the TV there and walks off. It's really weird.
"My first reaction was: 'Did we order this?' Not in an Amazon box, it was just kind of strange."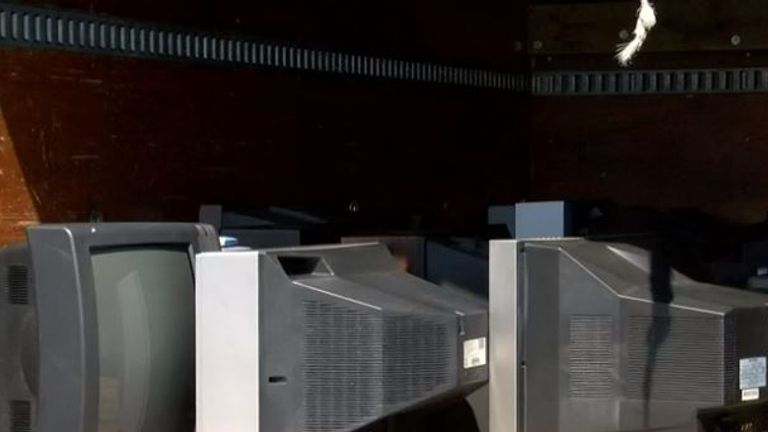 Police officers have been doing the rounds to collect the abandoned TV sets.
"We have a team of officers out here working together, collecting the TVs. We're upwards of 60 TVs so far," Lieutenant Matt Pecka said.
Another resident Michael Kroll told NBC12 the prank was "kind of funny".
He said: "I'm thinking it's a senior prank, maybe senior year going in high school, or bored college kids before they go back to school trying to create a big buzz before they go back to college and say 'Hey, look what I did."
Police reportedly say they believe there is more than one culprit – and warn they could face charges of littering on private property or illegal dumping.
Instagram: Time to up your stories game as app adds augmented reality effects | Science & Tech News
Get ready to see your friends turn into a Terminator and take a selfie in outer space as Instagram adds augmented reality (AR) effects.
Much like the visual tricks seen in smartphone games like Pokemon Go, which allows players to see Pikachu and pals as if they were appearing in the real world, Instagram users will soon be able to up their stories game by overlaying a whole host of weird and wacky effects on to their photos and videos.
Instagram stories differ from regular photo or video posts that appear in the app's timeline with them appearing at the top of the app in a slideshow format containing a stream of pictures and clips for just 24 hours.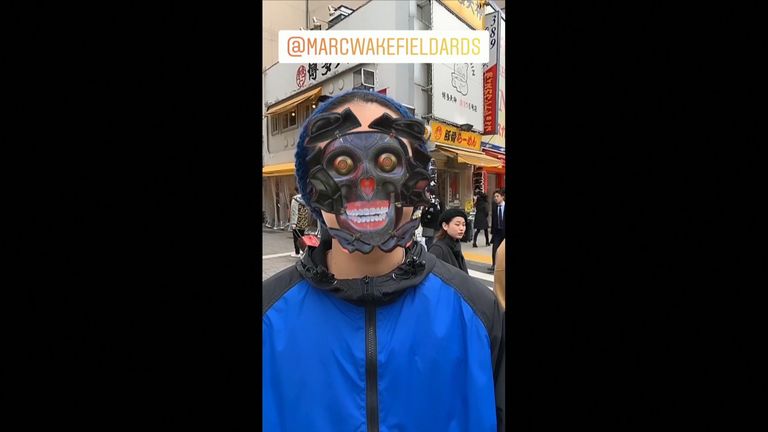 The photo-sharing platform is owned by Facebook and will use the tech giant's in-house AR platform called Spark to produce the effects, which will also allow people to create their own designs.
Existing filters, smileys, stickers and other overlays featured in Instagram have all been pre-made, but the company is hoping the AR functionality will allow for even greater creativity.
New creations can also be shared with friends and followers, with an effects gallery to be introduced so that users can browse and use anything they fancy.
In a showreel built by Instagram to get the creative juices flowing, people are seen chilling with a virtual pet on their shoulder, taking a selfie as it rains fire, and unmasking their face to reveal a Terminator-style android.
One youngster is seen gradually turning invisible like Harry Potter in the restricted section, while another snaps a selfie in outer space while reacting wildly to a surge of gherkins falling from above – all standard internet fare.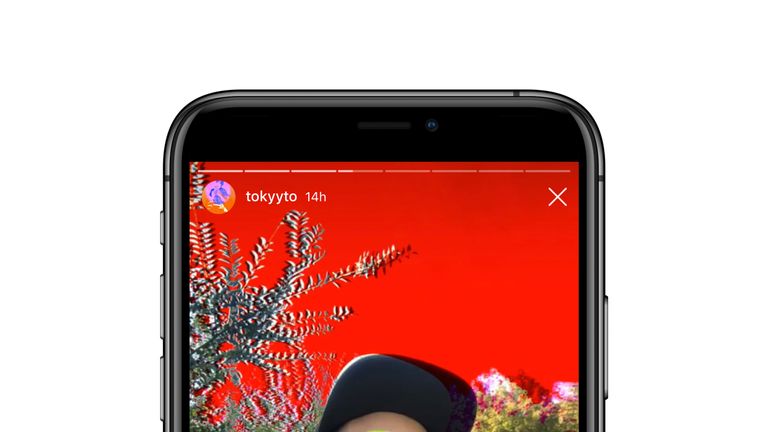 The company said: "Whether you want to add a new layer of fun to an event like a wedding, birthday party, or graduation with a custom filter or you're a professional who wants to continue to hone their craft, Spark AR Studio has everything you need to get started.
"And with Instagram stories being used by over 500 million users daily, there's no better place to express yourself with your own AR effects – or simply share the ways you're using them with your community."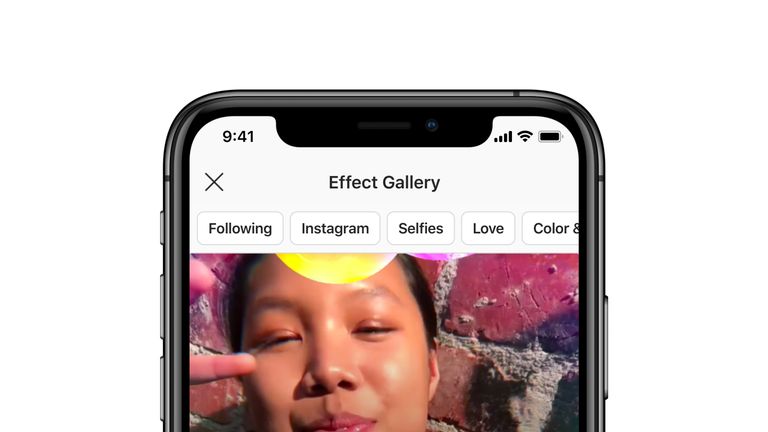 The update has been released on both the App Store and the Google Play Store, which have both become packed with apps featuring AR effects.
Some offer dedicated AR-only experiences, such as seeing how new furniture might fit in your living room or mapping the stars on a clear night, while others have begun adding AR features as a bonus.
Last week, Google said it was to more widely introduce AR tools to aid navigation in its Maps app.
The new feature will see AR arrows appear on the real-world scene as seen on your smartphone screen, to help with walking navigation.
Whitney Cummings: Comedian shuts down blackmail attempts by sharing photo of nipple | Ents & Arts News

A comedian has posted a picture of her nipple online after she received messages trying to extort money from her over the image.
Whitney Cummings said she accidentally uploaded an Instagram Story that included her nipple back in April.
She deleted the post once she realised what had happened, but later wrote on Twitter: "The people who took screengrabs are trying to get money from me, some said they have offers to sell them, some are asking for money to not post the photo."
In a follow-up tweet, she included a screenshot of one message, which said: "How much would it cost to not share this photo?"
Cummings re-posted the image in question with the caption: "They all must think I'm way more famous than I am, but they also must think I'm way more easily intimidated than I am.
"If anyone is gonna make money or likes off my nipple, it's gonna be me.
"So here it all is, you foolish dorks."
Expanding on her reasons for posting the photo, Cummings added: "When a woman in the public eye is extorted, we have to spend time, money and energy dealing with it, hiring lawyers and security experts, and living with a pit in our stomach about when and how we will be humiliated.
"Y'all can have my nipple, but not my time or money anymore."
She said she would not be posting the names of the individuals she had received messages from "because some of them might be dumb kids".
The comedian received a number of messages of support, with many people using #IStandWithWhitney.
One of those was fellow comedian Bert Kreischer, who shared a photo of his testicles with the caption: "#IStandWithWhitney Hey @WhitneyCummings I hate what those dorks tried to do to you – here's an embarrassing picture of my testicles after I fell on a waterslide."
Cummings later added that she had received further threats from people claiming to have access to her iCloud online storage account, but declared: "I'll be honest, I stand by most of my nudes. Frankly I'm way more embarrassed by all the inspirational quotes I've screengrabbed."