UK deploys Apache attack helicopters to Estonia to deter 'very credible' Russian threat | UK News
The UK has sent five Apache attack helicopters to Estonia as a deterrent to "a very credible threat" from Russia.
Defence Secretary Gavin Williamson watched the aircraft take off from Wattisham Airfield in Suffolk.
Upon arrival in Estonia they will be supported by Wildcat battlefield reconnaissance helicopters and form part of the NATO enhanced forward presence, which was established to ward off potential Kremlin aggression.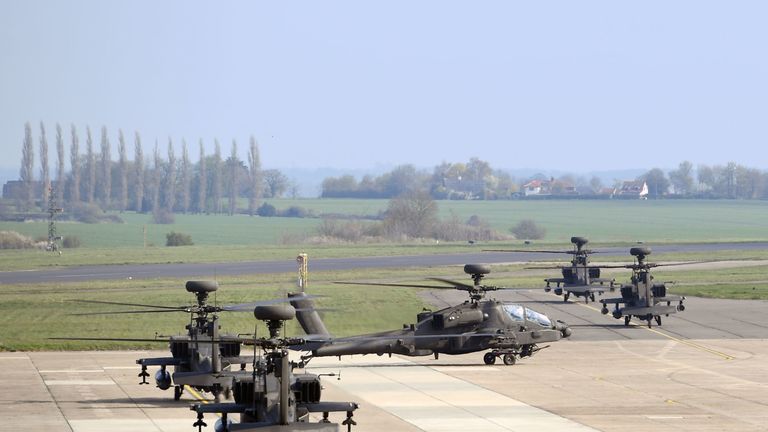 The Apaches will be stationed in the country, which borders Russia to the east and Latvia to the south, for three months and Mr Williamson said their deployment was "really vital".
He said: "It's a very credible threat that we see from Russia and part of the reason that we're deploying five Apache attack helicopters is making sure that we're constantly adapting to a changing situation.
"But this is about deterrents. This is about NATO nations standing together in unity as one and you see Great Britain playing the largest role in enhanced forward presence with the largest number of service personnel deployed.
"The enhancement of that deployment with the Apache attack helicopters is really vital and very, very important and it's been very warmly welcomed by so many nations."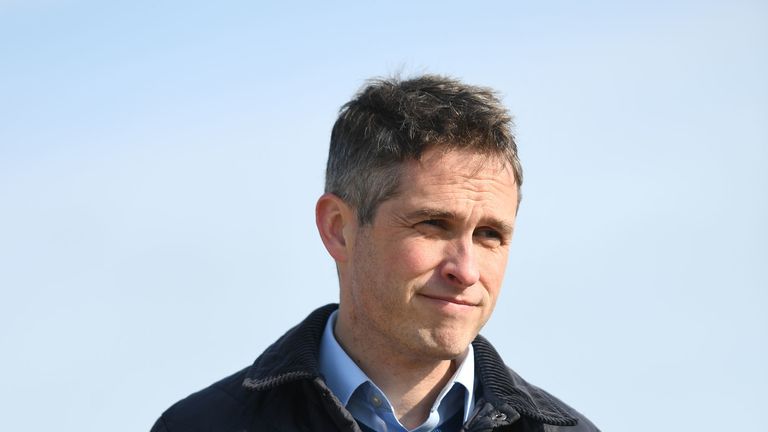 NATO created the enhanced forward presence after a summit in Warsaw in July 2016, amid concerns about Russian activity following its annexation of Crimea from Ukraine in 2014.
It has resulted in the deployment of defensive but combat-capable forces in Estonia, Latvia, Lithuania and Poland, with multinational battle groups led by Britain, Canada, Germany and the US.
While in Estonia, the Apaches will take part in training exercises across the Baltic states – including Exercise Iron Wolf, involving 14 nations in Lithuania.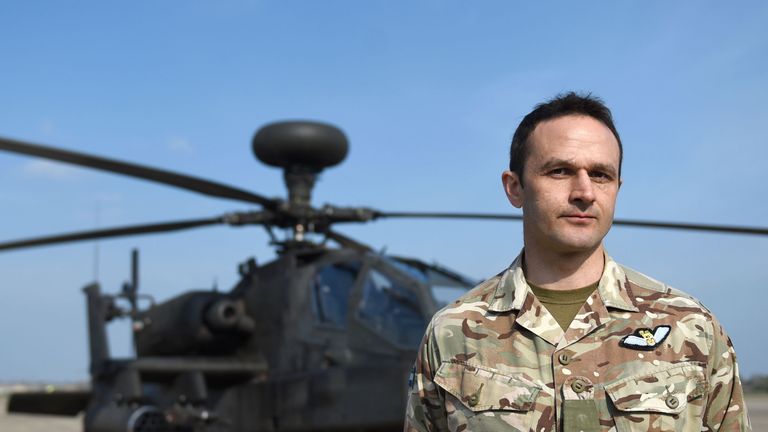 Major David Lambert, commanding officer of 663 Squadron, 3 Regiment Army Air Corps, said: "Whenever you go somewhere new, there's always things that you learn about how to operate.
"Your fieldcraft needs to change and in the UK we train very much in rolling countryside, it favours us in what we do.
"Actually putting ourselves in a really flat area in close proximity to the Russian border brings some new, complex challenges that we need to look at.
"I'm really excited by the whole prospect."
In addition to the helicopters, the UK is sending 110 extra military personnel to the Baltics as part of Operation CABRIT, taking the total number of British forces there to around 1,000.
British woman Faye Mooney killed by kidnappers in Nigeria | World News

Kidnappers in Nigeria have shot dead a British woman and a Nigerian man, and abducted three others, officials have said.
Police and the British High Commission have named the woman as Faye Mooney and said they were aware of an incident which took place at a holiday resort on Friday but added that they would not speculate on a motive.
Her next of kin have been informed.
The Briton was working in Nigeria as a communications specialist for aid group Mercy Corps and had travelled to the northern city of Kaduna from Lagos as a tourist, police said.
In a statement, Mercy Corps said it was "utterly heartbroken" by the killing.
Police said Ms Mooney, who worked in the west African nation for nearly two years, had been attending a party before the incident.
A Kaduna state police spokesman said: "Some suspected kidnappers armed with dangerous weapons gained entry into a recreational resort called Kajuru Castle in Kajuru local government area shooting sporadically and in the process shot dead two persons, including an expatriate lady, and took away three others."
Officers have not yet named the other person killed in the incident.
No individuals or groups have said they are behind the killing and police are yet to identify the kidnappers.
Northern Nigeria has been dealing with a Boko Haram and Islamic State insurgency and clashes between farmers and herders, in which hundreds have died.
In a statement, the British High Commission said: "We are engaging with the Nigerian authorities, and we understand an investigation is under way."
More follows…
Comedian Volodymyr Zelenskiy wins Ukraine presidential election by landslide – exit poll | World News

Comedian Volodymyr Zelenskiy has won Ukraine's presidential election with 73% of the vote, according to an exit poll.
An exit poll showed Mr Zelenskiy had beaten Petro Poroshenko by a landslide with the incumbent winning just 25% of the vote.
More follows…
Gorillas appear to pose for selfie with park ranger in the Democratic Republic of Congo | World News

A photo has emerged of what a park ranger claims to be a selfie with two gorillas in the Democratic Republic of Congo.
Ranger Mathieu Shamavu says the picture was taken at Virunga National Park, a UNESCO World Heritage Site in the Democratic Republic of Congo.
A spokesperson for the park told Sky News the pair both lived in a specially designed unit which cares for gorilla orphans who have been victimised by poachers or animal traffickers.
Mr Shamavu described his captivating composition as just "another day in the office".
He is part of the park's Elite Anti-Poaching Units And Combat Trackers group, which is tasked with protecting the animals.
A team of more than 600 rangers undergoes "intensive training, risking their lives on a daily basis to safeguard the park's exceptional wildlife", according to the Virunga National Park website.
Around one third of the world's population of critically endangered mountain gorillas live in the park's lush volcanic forests.
The rangers have previously posted several photos of them exceptionally close to gorillas.
A Virunga National Park spokesperson said the pair were "friendly" because they were used to human contact in the Senkwekwe Centre for Gorilla Orphans.
Yvonne Ndege, a spokesperson for UNHCR Kenya, re-posted the image on Twitter, writing: "Selfie of the Year no question!"
Thousands of people responded to the image on Facebook, with one user saying: "Wow, that is an awesome office you've got there. Stay safe and thank you for the amazing work you do."
Another user simply said: "Now that's a selfie!"
With the photograph being shared thousands of times across social media, supporters have urged people to "make a difference" and donate to Virunga's conservation efforts.