Drake promises to clean his room in childhood note on sale for $7,500 | Ents & Arts News
A childhood note written by rapper and singer Drake is on sale for $7,500 (£5,725).
In the handwritten message reportedly to his mother, the Canadian star – full name Aubrey Drake Graham – promises to clean his room in return for lifts in the mornings – something which, after shifting more than 20 million albums worldwide, he probably doesn't need to worry about anymore.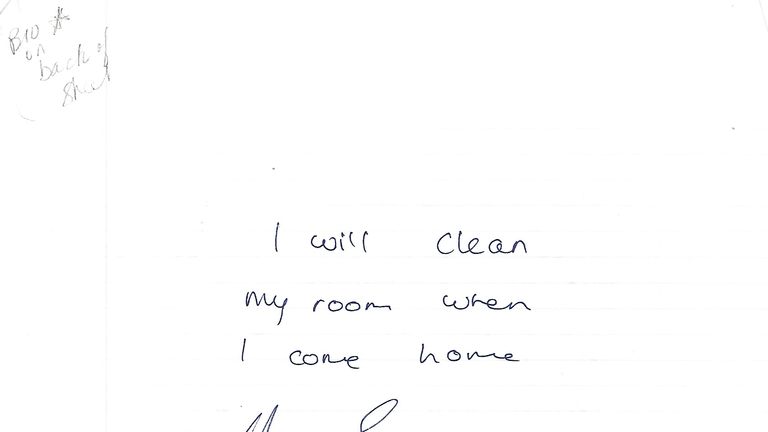 "I will clean my room when I come home," Drake's message says – and it's signed, which means he must have been serious.
The young Aubrey's words are followed by the reply: "In order to receive 8.15am rides this week – room must be clean + bathroom must be clean AS PROMISED FRI JAN. 18th!!!"
The then aspiring rapper also lists his achievements for his future biography, saying that he "sings, acts and raps" and that he "lives for music".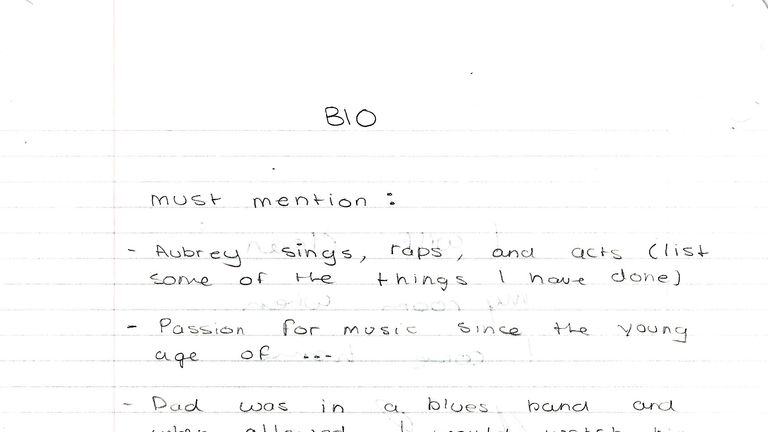 He also lists some of his "idols", including Will Smith, Notorious BIG, Jay Z, Usher and Al Green.
Now 32, the star has achieved worldwide fame thanks to hits including One Dance, Hotline Bling, God's Plan and In My Feelings.
The note is being sold by memorabilia company Moments in Time.
According to TMZ, it has been taken from an old rhyme book which was found in a rubbish bin near his grandfather's old furniture factory in Toronto, where he used to work.
Drake has come a long way since he started from the bottom, and is now reported to be worth up to $140m (£107m).
Last year, he donated $25,000 (£19,000) to a high school and surprised a student with a $50,000 (£38,000) scholarship while filming the video for God's Plan in Miami.
On top of that, he paid the shopping bills for everyone inside a supermarket in the city, and also reportedly donated $50,000 to a homeless shelter and bought $150 gift cards for all of its 130 female residents.
British woman Faye Mooney killed by kidnappers in Nigeria | World News

Kidnappers in Nigeria have shot dead a British woman and a Nigerian man, and abducted three others, officials have said.
Police and the British High Commission have named the woman as Faye Mooney and said they were aware of an incident which took place at a holiday resort on Friday but added that they would not speculate on a motive.
Her next of kin have been informed.
The Briton was working in Nigeria as a communications specialist for aid group Mercy Corps and had travelled to the northern city of Kaduna from Lagos as a tourist, police said.
In a statement, Mercy Corps said it was "utterly heartbroken" by the killing.
Police said Ms Mooney, who worked in the west African nation for nearly two years, had been attending a party before the incident.
A Kaduna state police spokesman said: "Some suspected kidnappers armed with dangerous weapons gained entry into a recreational resort called Kajuru Castle in Kajuru local government area shooting sporadically and in the process shot dead two persons, including an expatriate lady, and took away three others."
Officers have not yet named the other person killed in the incident.
No individuals or groups have said they are behind the killing and police are yet to identify the kidnappers.
Northern Nigeria has been dealing with a Boko Haram and Islamic State insurgency and clashes between farmers and herders, in which hundreds have died.
In a statement, the British High Commission said: "We are engaging with the Nigerian authorities, and we understand an investigation is under way."
More follows…
Comedian Volodymyr Zelenskiy wins Ukraine presidential election by landslide – exit poll | World News

Comedian Volodymyr Zelenskiy has won Ukraine's presidential election with 73% of the vote, according to an exit poll.
An exit poll showed Mr Zelenskiy had beaten Petro Poroshenko by a landslide with the incumbent winning just 25% of the vote.
More follows…
Gorillas appear to pose for selfie with park ranger in the Democratic Republic of Congo | World News

A photo has emerged of what a park ranger claims to be a selfie with two gorillas in the Democratic Republic of Congo.
Ranger Mathieu Shamavu says the picture was taken at Virunga National Park, a UNESCO World Heritage Site in the Democratic Republic of Congo.
A spokesperson for the park told Sky News the pair both lived in a specially designed unit which cares for gorilla orphans who have been victimised by poachers or animal traffickers.
Mr Shamavu described his captivating composition as just "another day in the office".
He is part of the park's Elite Anti-Poaching Units And Combat Trackers group, which is tasked with protecting the animals.
A team of more than 600 rangers undergoes "intensive training, risking their lives on a daily basis to safeguard the park's exceptional wildlife", according to the Virunga National Park website.
Around one third of the world's population of critically endangered mountain gorillas live in the park's lush volcanic forests.
The rangers have previously posted several photos of them exceptionally close to gorillas.
A Virunga National Park spokesperson said the pair were "friendly" because they were used to human contact in the Senkwekwe Centre for Gorilla Orphans.
Yvonne Ndege, a spokesperson for UNHCR Kenya, re-posted the image on Twitter, writing: "Selfie of the Year no question!"
Thousands of people responded to the image on Facebook, with one user saying: "Wow, that is an awesome office you've got there. Stay safe and thank you for the amazing work you do."
Another user simply said: "Now that's a selfie!"
With the photograph being shared thousands of times across social media, supporters have urged people to "make a difference" and donate to Virunga's conservation efforts.