Big promises expected from Netanyahu as he woos enemies to form new government | World News
Election promises and the hangover of the night before.
Benjamin Netanyahu will be in celebration mode but he will also be aware that the right-wing coalition he's about to build will demand a high price for loyalty.
Under the country's system of proportional representation no single party has ever had, since the violent birth of the state in 1948, an overall majority – building alliances is key.
Mr Netanyahu is Marmite on steroids, a highly divisive figure, and his many years in power have made enemies of people he will now be trying to woo.
The vote is one thing then, but the horse trading starts now and despite his electoral success it's expected the man known in Israel as "Bibi" will have to make some pretty big promises to form a government.
Acting on his pledge to annex parts of the occupied West Bank, where there are Jewish settlements, may just be the opening gambit demand of his new right-wing partners.
There's also suspicion he may link that bargain, along with throwing in baubles of cabinet positions, to something else, which could have huge implications for Israeli democracy.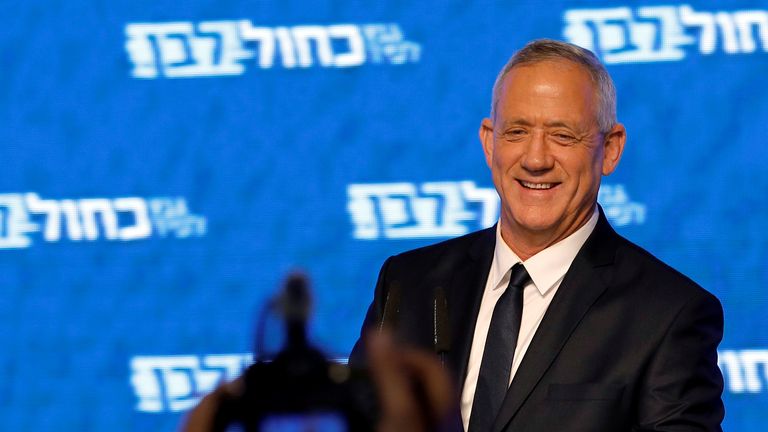 There is speculation he may attempt to force through legislation giving himself immunity from prosecution.
Another option would be to convince his partners not to ditch him if he goes on trial – no easy task.
He is facing serious criminal allegations of corruption and bribery.
Mr Netanyahu has always maintained his innocence, characterising the investigations against him as a left-wing conspiracy cooked up by his enemies.
But his judicial problems will not go away easily and it could mean that his record fifth term in office is cut short.
If he cannot slip the legal knot he may be forced to resign early; the weight of the law and his prime ministerial duties becoming too much to bear.
British ski instructor jailed for 10 years after raping woman in Australia | UK News

A British ski instructor who punched and bit a woman while raping her in the street after violently attacking her male friend has been jailed for 10 years.
Matthew James Williams, 29, who pleaded guilty in April, committed the vicious attack in July, last year, in Jindabyne, a resort town in the Snowy Mountains around 110 miles (180km) south of the capital Canberra.
His victims suffered injuries so severe that police initially thought they were attacked by more than one person.
CCTV footage showed him following the 22-year-old woman and her male friend who were walking from a pub to their hotel at around 1am.
Williams attacked the 25-year-old man first, knocking him unconscious, before punching the woman several times in the face.
Local media reported that the woman screamed and said: "What do you want? Do you want money? Take what you want."
He then punched the woman, knocking her to the floor, before biting her breast as he raped her next to her friend.
While the woman was being assaulted, the man regained consciousness and tried to stop Williams, but he was knocked to the ground and kicked again, a court heard.
Williams also hit the woman several times and laughed in her face as he tried to stop her from escaping, police said.
He fled the scene after the male victim regained consciousness and ran to get help from a passing car.
A day after the attack, Williams is said to have been upset and told a work colleague: "I had a rough, rough night last night."
Another colleague noticed he had injured his hand and struggled to put on his ski gloves.
The ski instructor initially denied committing the attack in New South Wales, but pleaded guilty earlier this year to aggravated sexual assault, inflicting actual bodily harm with intent to have sexual intercourse with another and possessing prohibited drugs.
Images of him approaching the couple were later retrieved from CCTV. DNA testing also identified him as the rapist.
Justice Nicole Norman sentenced him to 10 years on Friday and condemned the violent attack.
"[It] must have been horrifying in its intensity and severity," she said in remarks reported by ABC.
Williams will not be eligible for parole for seven years.
He was incarcerated at Goulburn maximum security prison and reportedly submitted a letter apologising to his victims.
He had been on a temporary visa working as a ski-cross and alpine racing teacher at the resort since 2014.
Elderly couple and dog injured in 'horrific, freak' attack by large lizard | World News

An elderly couple and their dog have been injured in a "horrific and freak" attack by a large lizard.
The 72-year-old man suffered significant blood loss when he tried to break up a fight between the goanna and the couple's Jack Russell cross in Queensland.
Australian emergency services flew the man to hospital with serious leg and arm injuries after the attack on Thursday afternoon.
His wife was treated in hospital for leg injuries – and their dog Lily was badly hurt.
It was initially reported that the dog had died, but it later emerged she had survived – which the injured woman described as "the best news I've heard all day".
Queensland Ambulance Service spokesman Shane Tucker said: "Apparently the family dog went chasing this goanna and they got into an altercation and the gentlemen tried to save his dog.
"His partner was also on the scene and was trying to separate the dog from the goanna as well, and she also sustained some minor injuries to her foot."
Officials said the man had a very serious laceration wound to his leg that was bleeding heavily, as well as a possible broken arm.
They described the incident as a "horrific and freak ordeal".
#RACQ #CQRescue is now airlifting an injured man to Mackay Base Hospital after he was bitten on the arm and leg by a large goanna which was attacking his dog in his yard at Flametree near Shute Harbour this afternoon. pic.twitter.com/chBnh1Flko

— RACQ CQ Rescue (@cq_rescue) August 15, 2019
Mr Tucker said the attack could have caused life-threatening injuries and the man was lucky to be in stable condition.
He said that while the incident was "definitely out of the ordinary", goannas are "quite an aggressive animal".
Goannas can grow to over 2m (6.5ft) in length and have sharp teeth and claws, but are generally wary of humans and are likely to flee danger, according to Australia Walkabout Wildlife Park.
Attacks on humans are rare – and in January this year, an eight-year-old girl was bitten at a beachside camp south of Brisbane.
It took two people to wrestle the lizard off the child.
Woman survives one-mile plunge after parachute fails to open | World News

A woman in Canada has survived a fall of nearly a mile after her parachute failed to open.
The 30-year-old has not yet been named but witnesses described seeing her plunge more than 4,900ft (1,500m) to the ground and crashing into trees.
The incident happened on 10 August at a skydiving centre in Trois-Rivieres, Quebec.
Witness Denis Demers told Radio-Canada he saw the woman falling: "It's a miracle. I don't know how a person can survive a fall from an airplane like that."
He said it appeared that neither the main parachute nor the emergency back-up had opened.
Local police told the Canadian Broadcasting Corporation that the woman was an experienced skydiver but that her life is not in danger. She was admitted to hospital with several fractures, including broken vertebrae.
Another witness, Oceane Duplessis, told CBC she was getting ready to get on another plane when she saw the woman.
"We watched all the way to the end. We kept hoping something would happen," she said. "We were very worried. Very."
Police are investigating to see if there was any criminal negligence.
The company involved is investigating the cause of the incident and has so far not commented.