Joe Biden says he's running for president – then corrects himself | US News
Joe Biden appeared to announce he was running for the Democratic presidential nomination – only to quickly correct himself.
The former US vice-president was giving a speech at a dinner in Delaware when he claimed he has "the most progressive record of anybody running".
But so far the 76-year-old has not officially said if he is running in 2020, after two previous failed bids in 1988 and 2008.
And after the slip of the tongue, he soon clarified his remark, saying "anybody who would run, I didn't mean it. Anybody who would run", as he was cheered by the crowd.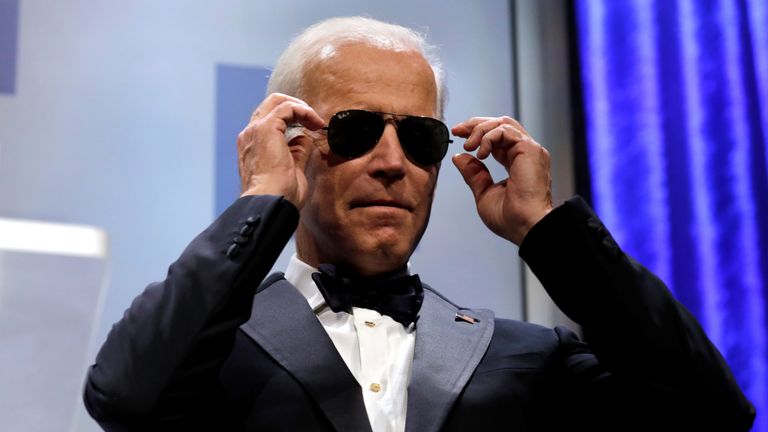 Although Mr Biden, who was vice president to Barack Obama, has been known to go off script, his remark is likely to be viewed as a case of accidentally telling the truth.
More than a dozen Democrats have already launched formal presidential campaigns, including rising star Beto O'Rourke last week.
Mr Biden, who is his party's best-known presidential prospect, is the last major contender to remain on the sidelines.
During the rest of his speech, the politician, who represented Delaware in the US Senate from 1973 to 2009, sounded like a candidate-in-waiting.
He launched repeated attacks on President Donald Trump, accusing him of stoking division and anger.
And Mr Biden also hit out at the "new left" in his own party after they criticised him for being cordial towards Republicans.
He said: "The only thing strong enough to tear America apart is America itself and we've seen its start."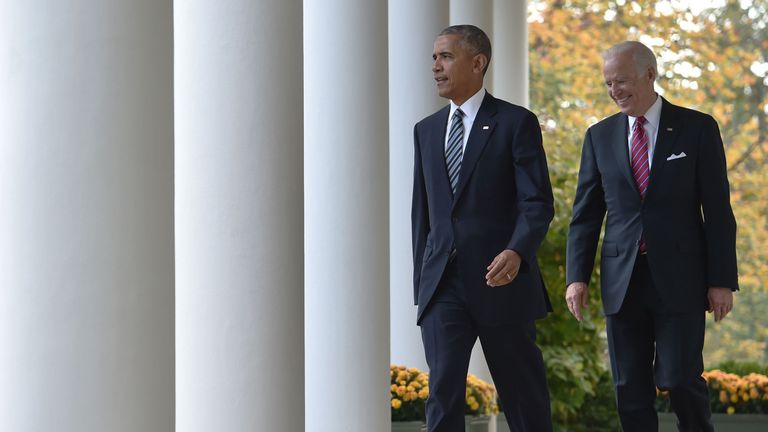 Mr Biden accused Mr Trump of backing away from America's role as a leader on the world stage and abandoning its allies.
He said it was no coincidence that "fake news" – one of Trump's favourite lines – "has become the phrase of choice for every despot terrorising his people".
"We're literally in a battle for the soul of America," he said.
Delaware Governor John Carney said Mr Biden "doesn't just look like he's back. He looks like he's ready for a fight".
Mourners wail in grief amid mass funeral for victims of Ethiopian Airlines Flight ET302 | World News
A mass funeral ceremony has taken place for victims of the Ethiopian Airlines crash, with 17 empty caskets draped in the nation's flag carried through the streets of Addis Ababa.
Thousands of mourners attended the service in the capital city, and some of the victims' relatives fainted and fell to the ground.
Flight ET302 crashed shortly after take-off on Sunday 10 March, killing 157 people. The victims came from 35 countries, and many humanitarian workers were on board.
On Saturday, officials began delivering bags of scorched mud from the crash site to relatives of those who died – amid warnings that identifying their remains is expected to take a long time.
Forensic DNA work to identify those who died may take six months, but authorities say they will issue death certificates within two weeks.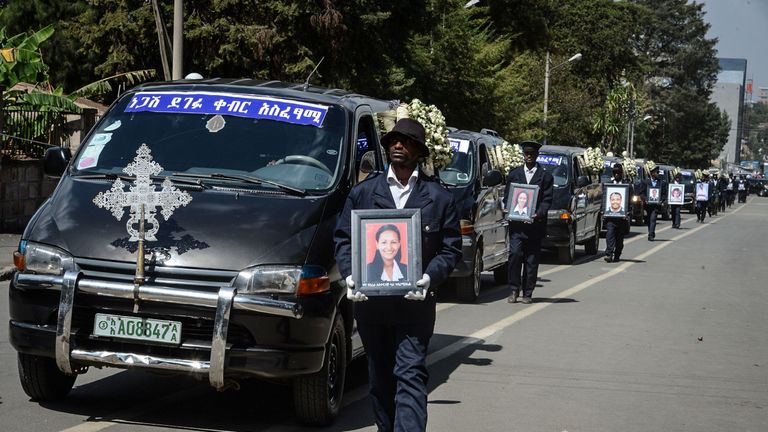 Relatives said they would not be content until work had been carried out to reunite them with their loved ones' remains.
One family member said: "The soil came as it became impossible to identify bodies and hand over remains to family members.
"We will not rest until we are given the real body or body parts of our loved ones."
At Bole International Airport, weeping women held white roses in their shaking hands before lunging forward, wailing in grief over caskets.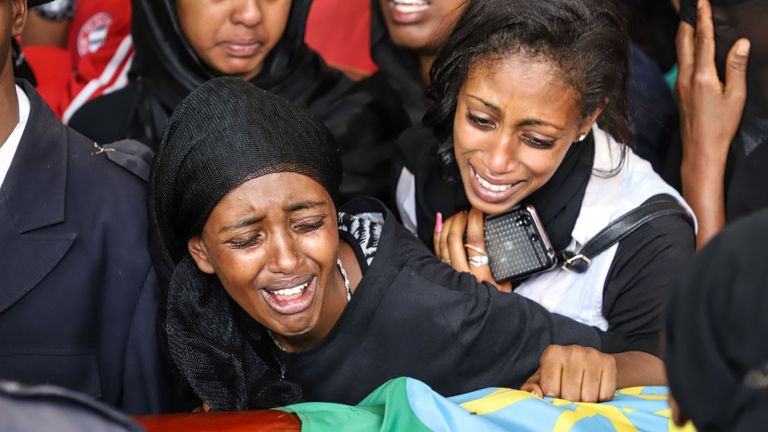 On Saturday night, French air accident investigators confirmed they had successfully downloaded data from the jet's cockpit voice recorder.
The French agency said they had sent the audio files to Ethiopian authorities without listening to them.
A source who listened to the recording in Addis Ababa told the Reuters news agency that a voice from the cockpit had requested to climb to 14,000ft above sea level – about 6,400ft above the airport – before urgently asking to return.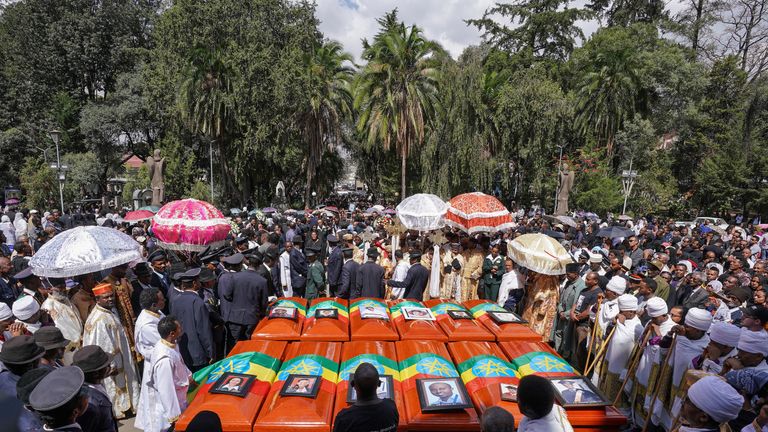 The US Federal Aviation Administration (FAA) says satellite tracking data shows the plane made similar manoeuvres to those of another flight involving a Boeing 737 MAX 8 plane that crashed.
Lion Air Flight 610 came down into the sea off Indonesia in October, killing all 189 people on board.
Both crashes flew with erratic altitude changes that could indicate the pilots struggled to bring the aircraft under control.
Shortly after take-off, both crews tried to return to the airports but crashed.
The US and many other countries, including the UK, have now grounded MAX 8s.
There are suspicions faulty sensors and software contributed to the two crashes.
Christchurch shootings: Prime minister hugs mourners as number of dead rises to 50 | World News
New Zealand's prime minister has hugged mourners outside a mosque as the country paid tribute to the victims of the Christchurch shootings.
Jacinda Ardern also laid a wreath outside the mosque in Kilbirnie, Wellington, where people sang a Maori rendition of Hallelujah.
There were emotional scenes across New Zealand as people came out to remember the victims of Friday's shootings, which left 50 people dead and scores injured.
The fatalities at the al Noor mosque and the Linwood Islamic Centre include two boys, aged three and four, and a woman who was shielding her disabled husband.
A 28-year-old Australian, Brenton Tarrant, is accused of carrying out the mass shootings and live-streaming part of the atrocity on Facebook. He also posted a 74-page anti-immigrant manifesto on social media.
Tarrant appeared in court on Saturday charged with one murder, with a judge saying more charges will likely follow.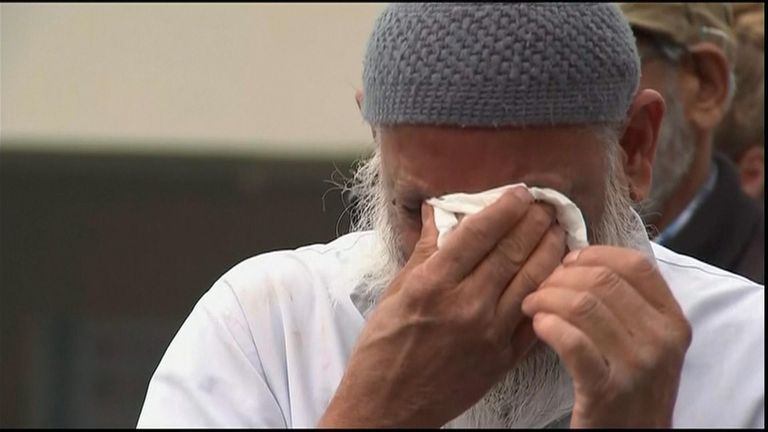 Ms Ardern has said her office was one of more than 30 recipients of the suspect's manifesto just nine minutes before guns were fired.
She said: "It did not include location. It did not include specific details. Within two minutes of receipt it was conveyed directly to parliamentary security."
"Had it provided details that could have been acted on immediately it would have been, but unfortunately there were no such details in the email."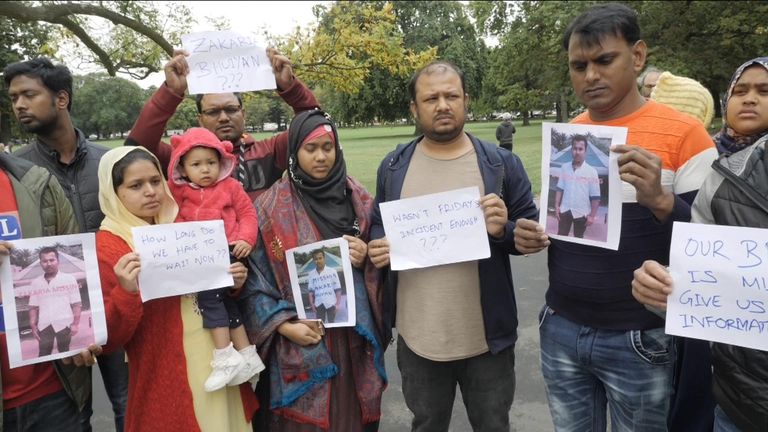 Ms Ardern has said New Zealand's gun laws will change as a result of the shootings.
At least 31 shooting victims have been identified so far as the process of returning bodies to their families is under way.
Ms Ardern said she expected all bodies to be returned to families by Wednesday.
Islamic law calls for bodies to be cleansed and buried as soon as possible after death, usually within 24 hours.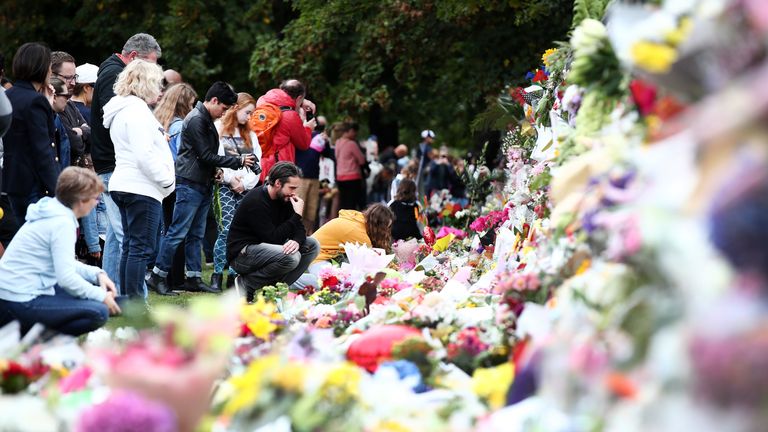 Police Commissioner Mike Bush has said police were in attendance within six minutes of receiving calls and the armed offenders squad was mobilised within 10 minutes.
Tributes were pouring in from across New Zealand, a peaceful nation where the outburst of violence came as a shock.
Maoris performed an emotional haka outside the al Noor mosque on Sunday where at least 41 people were shot dead.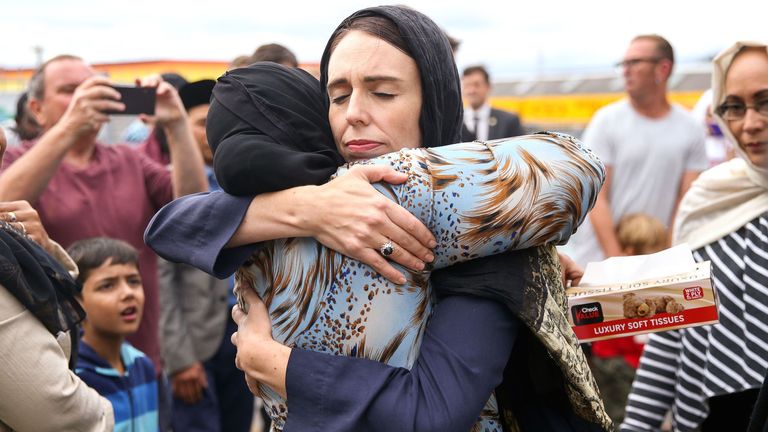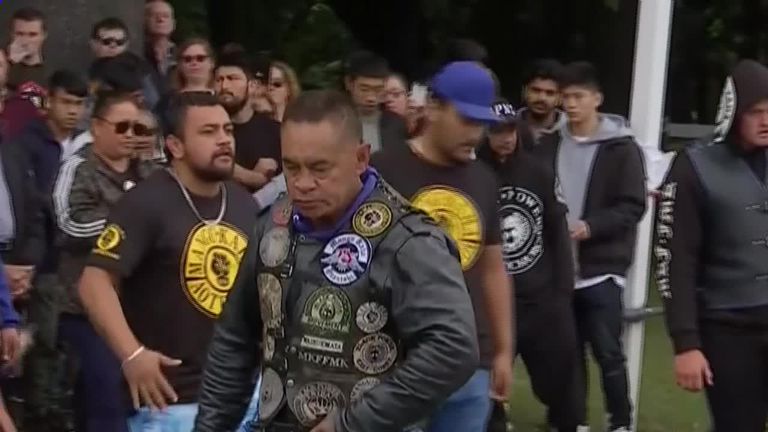 A young woman sang John Lennon's Imagine as bystanders sobbed and embraced each other.
A wall of flowers from well-wishers has formed at Christchurch's botanical gardens.
Tributes have also taken place across the world, with the Sydney Opera House being lit up with New Zealand's national symbol the silver fern.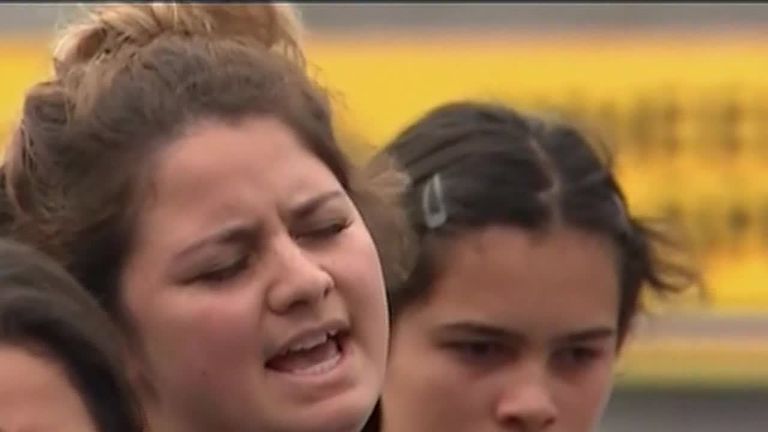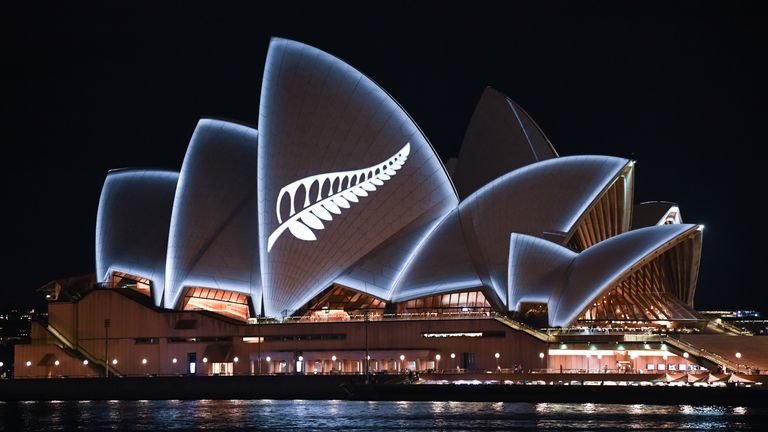 A vigil was held in the Pakistani city of Lahore and Bosnia's historical Old Bridge was lit up with the New Zealand flag.
A fund to support the families of victims has so far raised 4.3m New Zealand dollars (£2.2m).
The page on the site Givealittle was created by a council of victim support groups.
Mosque attacks: Family of Christchurch shootings suspect say they are 'gobsmacked' | World News
The family of the alleged Christchurch gunman has apologised to the victims of the mosque attacks and say they are "devastated" and "shattered".
Australian Brenton Tarrant has been charged with murder over Friday's atrocity in which at least 50 people were killed and another 50 hurt.
His uncle Terry Fitzgerald told Australian broadcaster Nine News: "We are so sorry for the families over there, for the dead and the injured.
"What he has done is just not right."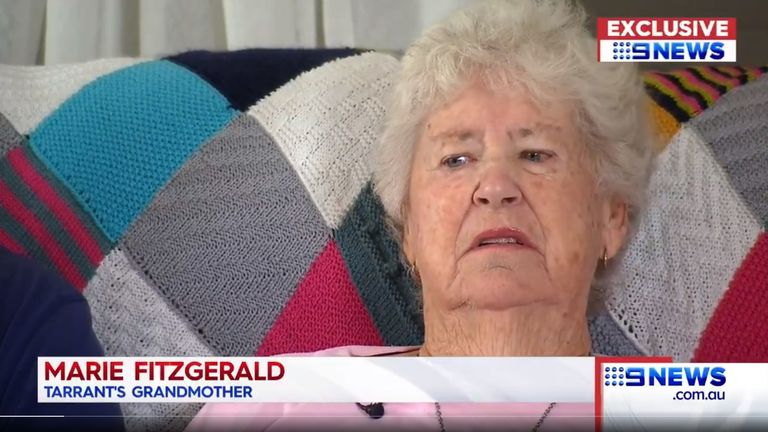 The suspect's 81-year-old grandmother, Marie Fitzgerald, said the family was "devastated" and "shattered" that Tarrant had been charged with murdering Muslims at two mosques in Christchurch.
Speaking in the Australian town of Grafton, she said: "We are all gobsmacked, we don't know what to think. The media is saying he has planned it for a long time so he is obviously not of sound mind.
"It's just so much of everything to take in that somebody in our family would do anything like this."
Tarrant, 28, is believed to have travelled overseas, including to Europe, after his father died of cancer in 2010 but did not come back the same man, according to Mrs Fitzgerald.
"It's only since he travelled overseas I think, that that boy has changed completely to the boy we knew," she said.
During his school years he spent most of his time on computer games rather than being interested in girls, his grandmother said.
Investigators believe he was planning the attacks for two years after moving to New Zealand.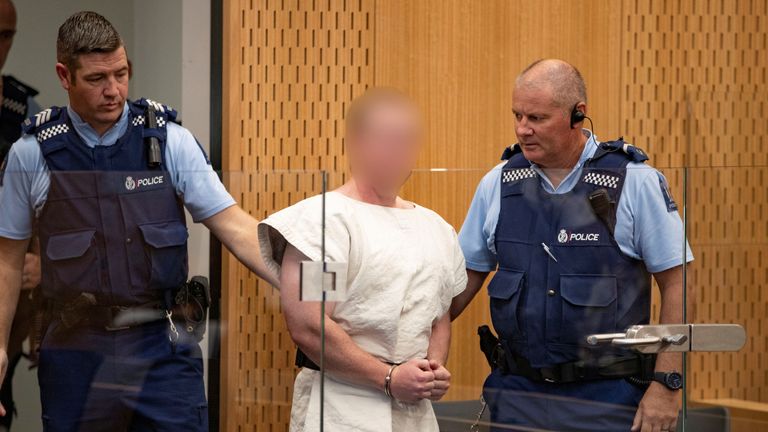 He returned to his hometown of Grafton, in New South Wales, 12 months ago for his sister's birthday but there was nothing untoward about him.
Mrs Fitzgerald said: "He was just his normal self."
His sister and mother have been put under police protection after the terror attacks.