This is what the end of the so-called IS caliphate looks like | World News
US-backed Syrian fighters say a "large number" of Islamic State militants and their families are surrendering a day after intense fighting in the only area the extremists still hold in eastern Syria. Sky News Middle East correspondent Alex Rossi watched as they retreated:
They escape in their hundreds, each one of them struggling to clamber up a ridge on the edge of Baghouz.
They are broken, hungry and disconsolate.
This is what the end of Islamic State's so-called caliphate looks like.
The thin shapes, their clothes ragged, carry what they can.
Some are so exhausted they struggle to walk.
Others, who are severely injured, are scooped into blankets and carried up the hill overlooking a makeshift tented city they called home just hours ago.
The young appear shell-shocked. A young girl just stops. She's completely dazed.
For weeks they have existed under heavy bombardment in trenches and tunnels.
Some of the children emerge alone – their parents presumed to be dead.
And as this mass of people clamber up to safety it is the very young you notice most.
A boy is carried up the ridge by relatives.
He appears listless, with a primitive chest drain used to relieve internal bleeding swinging below him.
The fanatics that survived have had weeks to surrender but instead they chose to sacrifice their children to the brutality of war.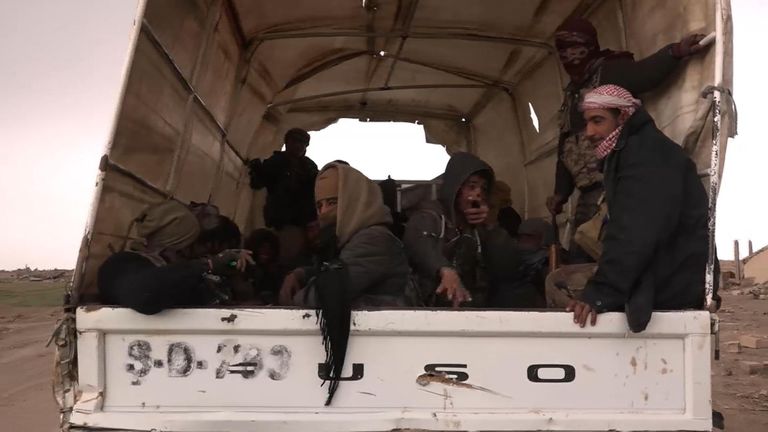 Most of the men we see are wounded – and almost certainly fighters – their limbs badly bandaged.
We ask a group how many are left inside?
"Lots" comes back the answer.
For five years IS has spread fear across these lands but now it is in its final days.
But even in the organisation's death-throes it is still resisting the inevitable.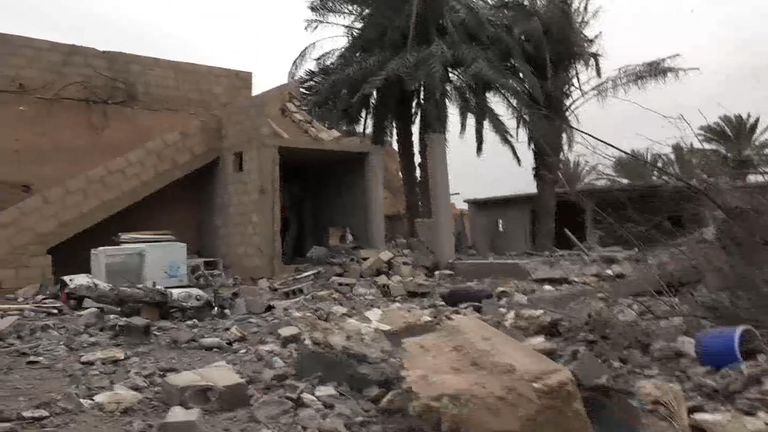 The fractured skyline of Baghouz still thunders with the sound of war.
But so far the Syrian Democratic Forces (SDF) and coalition jets have not been able to deliver the decisive blow.
Daesh (Islamic State) has just a tiny piece of land in this nowhere place and they are encircled yet they refuse to give up.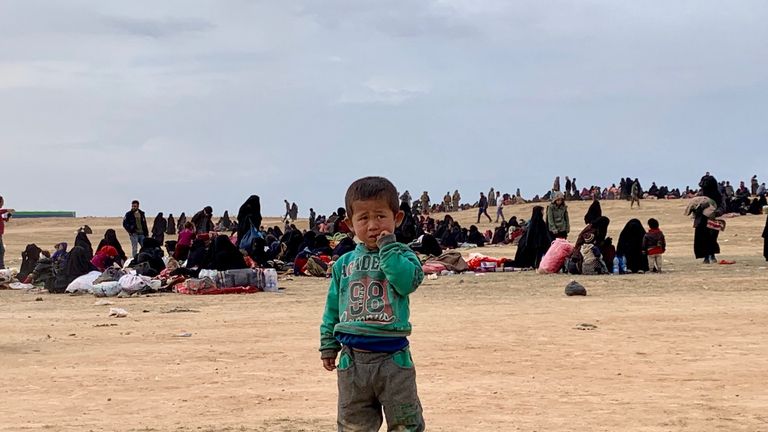 For days Kurdish and Arab Forces, supported by coalition air power, have battered Baghouz but have been unable to declare victory.
But SDF fighters know this battle is over in all but name. A group of fighters huddled in the back of a pick-up truck are joyous. We ask them whether Daesh are finished.
"It's over," they yell back. "They are finished."
In the days to come more IS fighters will surely be forced to give up and join those who've already surrendered.
For an organisation that used to project power through video propaganda, its militants now look weak and some can barely stand.
Three-year-old boy among the missing after NZ terror attack | World News
Fears are growing for a missing three-year-old boy as families appeal for information on relatives after the New Zealand terror attacks.
Mucad Ibrahim, 3, was at the al Noor mosque in Christchurch with his brother and father when the shooting started and was confirmed missing by family members.
The toddler's brother, Abdi, told New Zealand news site Stuff that he ran out of the mosque as fast as he could and rushed to hospital, believing his family would be there.
In a post on Facebook, he later shared a picture of the two of them with the caption: "Verily we belong to God and to Him we shall return. Will miss you dearly brother".
A spokesman for Pakistan's Ministry of Foreign Affairs confirmed that five Pakistani citizens are also missing after the attacks.
One of those is Syed Jahandad Ali, 34, who was confirmed missing by the Pakistan Association of New Zealand (PANZ).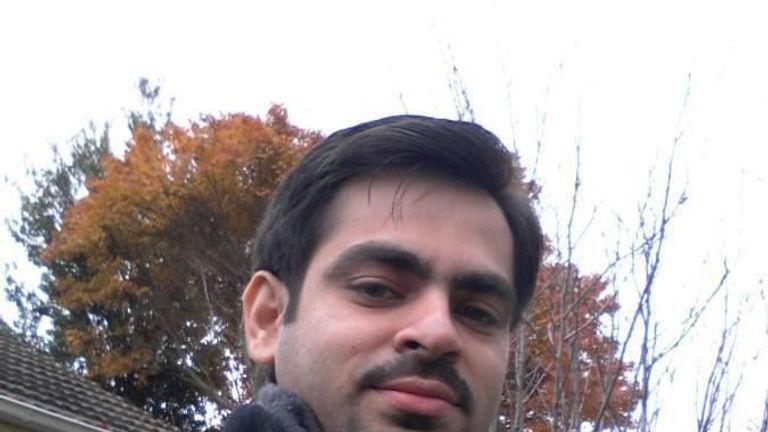 His wife, Amna Ali, told Stuff that she last spoke to her husband on Friday morning, before he left work to head to the al Noor mosque.
She spoke to friends and members of the community but could not find any information about his whereabouts.
Nine Indian citizens are also missing, according to a tweet posted by the Indian envoy to New Zealand, Sanjiv Kohli.
He said: "As per updates received from multiple sources there are 9 missing persons of indian nationality/origin. Official confirmation still awaited. Huge crime against humanity. Our prayers with their families."
Politician Asaduddin Owaisi tweeted that Farhaj Ahsan, of Indian origin, was reported missing and requested assistance for his family in Hyderabad.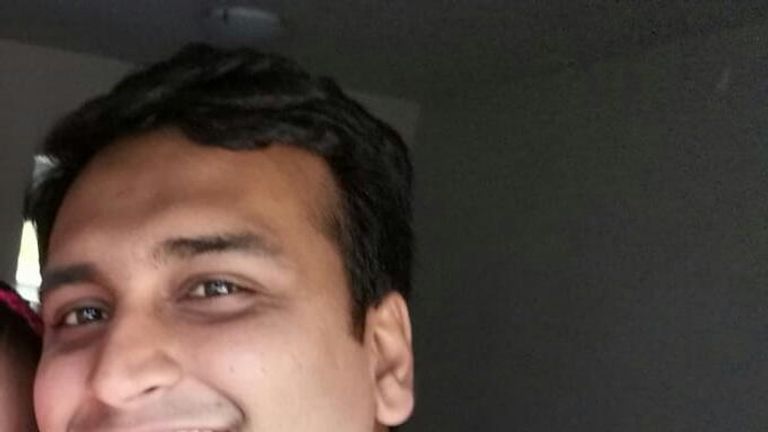 He also asked for the family of Ahmed Jehangir, who is believed to have been shot in the attack, to be flown out to New Zealand.
Another person believed to be missing is Ali Elmadani, 66, who was born in Palestine.
His wife, Nuha Assad, has not heard from him since he went to the al Noor mosque to pray.
"I asked people on the street if I could use their phone," she told Stuff.
"I called my husband and he didn't pick up, but I'm sure he didn't want his phone at the mosque."
The family of Indonesian-born Lilik Abdul Hamid have also issued an appeal on Facebook to confirm his whereabouts.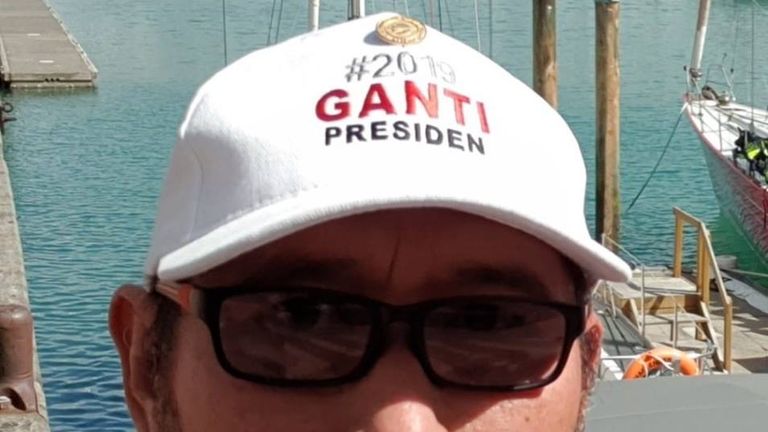 Lilik Abdul Hamid is a practising Muslim and lives in Christchurch.
Haji-Daoud Nabi – who runs the Afghan Association – is also among the missing, according to his son Omar Nabi.
Others believed to be missing are 28-year-old Vora Ramiz, 36-year-old Hussain al Umari and a boy who attends Cashmere High School.
The Bangladeshi consulate has confirmed that three of its citizens are among the dead and one is missing.
A Red Cross page has been set up so that those caught up in the attack can be marked as 'safe' or 'missing'.
'Many more would have died': Hero mosque worker grabs NZ attacker's gun | World News
An unidentified man wrestled a gun from the hands of the man involved in the terror attack in New Zealand and prevented further deaths, according to witnesses.
Hours after dozens of people were shot dead at two mosques in Christchurch, witnesses described how a young mosque worker risked his life as he tried to apprehend the gunman.
Survivor Syed Mazharuddin told the New Zealand Herald that he was praying with about 60 to 70 people at the Linwood mosque when he heard gunshots.
People began screaming and he "tried to take cover" as the attacker came through the entrance, he said.
"Just around the entrance door there were elderly people sitting there praying and he just started shooting at them."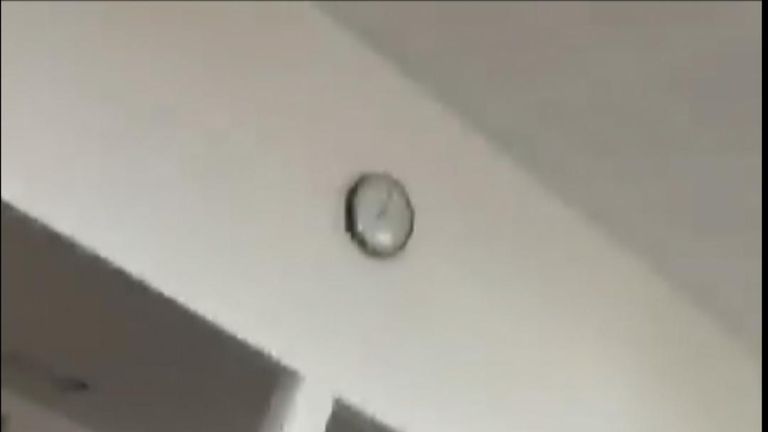 Mr Mazharuddin said the gunman was wearing body armour and shooting indiscriminately.
"There was a lady screaming 'help, help' and he shot her point blank in the face," he said.
"At just that moment, there was one young guy who usually takes care of the mosque and helps with parking and other stuff, so (the man) saw an opportunity and he pounced over to him and grabbed his gun.
"The hero tried to chase and he couldn't find the trigger in the gun… he ran behind him but there were people waiting for him in the car and he fled."
Mr Mazharuddin said one of his friends had died at the scene and another was bleeding heavily as he tried to contact emergency services.
A second witness, Faisal Sayed, also described seeing the mosque worker's heroic actions.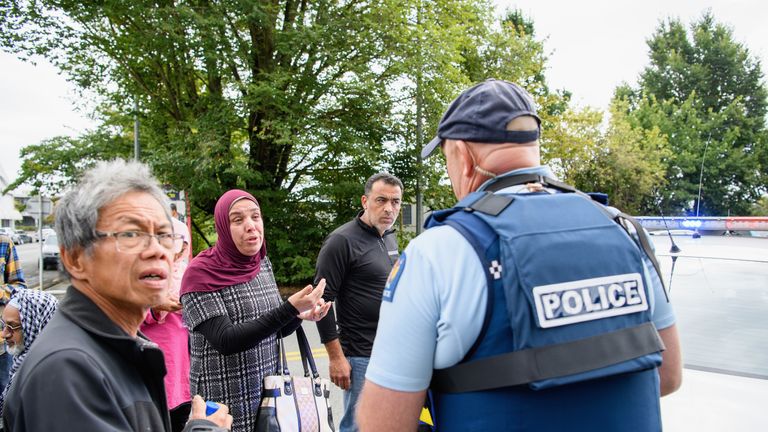 Mr Sayed, who has been living in New Zealand for over 10 years, told Indian broadcaster NDTV that he had witnessed the man "creep up behind the shooter and hold him until his gun dropped".
"If that hadn't happened, many more would have died and I wouldn't be here now," he said.
"Hats off to that man. I will definitely try and look him up."
He added that one of his friends had died of his injuries and another is still in hospital.
:: New Zealand terror attack: Special programme on Sky News at 7pm
New Zealand mosque shootings: Suspected killer is fascist who 'had contact with Breivik' | World News
The suspect in the New Zealand mass shooting is a self-styled fascist and racist who calls himself an "ordinary white man" prepared to die in the attacks.
The suspect posted a video on social media live-streaming his actions as he approached his targets and carried out his attacks.
In it, the blond-haired man, dressed in tactical gear, talks to the camera. Images uploaded to Twitter under the name Brenton Tarrant show the arsenal of weapons apparently used in the attack.
Scrawled on those weapons in white pen are the dates of historic Christian battles and the men who fought in them, names of well-known far right extremists and phrases, including "here's your migration compact!" – an apparent reference to the Global Compact for Migration, an agreement for safe and orderly migration.
Neo-Nazi symbols are attached to an armoured vest.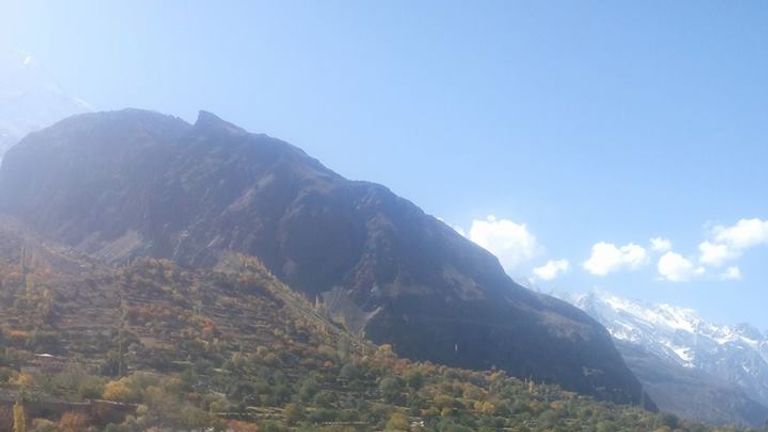 Tarrant also posted online a 74-page manifesto called The Great Replacement. Sky News has chosen not to publish it.
In it he says, among other things:
:: He is not part of any political groups or movements
:: He was prepared to die during his attack
:: He spent three months planning this attack, but had wanted to do it for two years
:: He was radicalised after reading about terror attacks in Europe
:: Although he is born in Australia, he sees himself as European and highlights his British and Irish heritage
:: He wants America to return to racial segregation
:: He compares himself to Nelson Mandela and says he expects the Nobel Peace prize.
Any quotes from the manifesto below retain the spelling and grammar of the original text.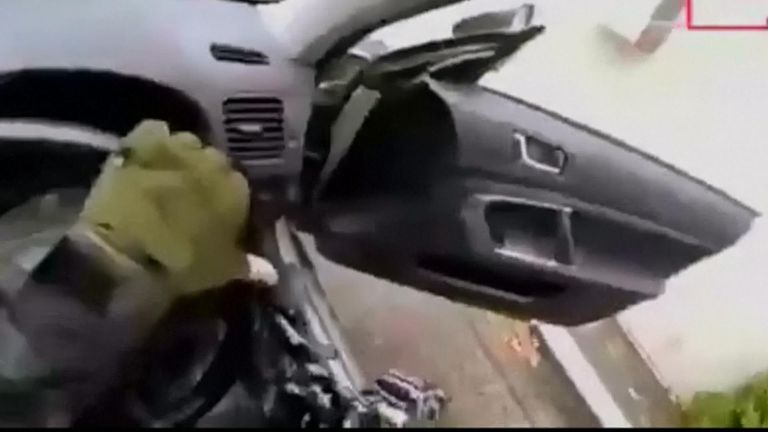 The three-section, almost 17,000-word document opens with Dylan Thomas poem Do Not Go Gentle Into The Good Night – a poem written for Thomas' father, begging him not to die.
Tarrant then goes on to write about how he believes a white genocide is happening and cites terror attacks in Europe as the cause of his radicalisation.
He says he made the decision to attack by himself, describing his actions as "anti-ethnic replacement" and "anti-cultural replacement".
There is a 17-page section where he interviews himself and talks about who he is and what his beliefs are, including the statement: "I am a racist."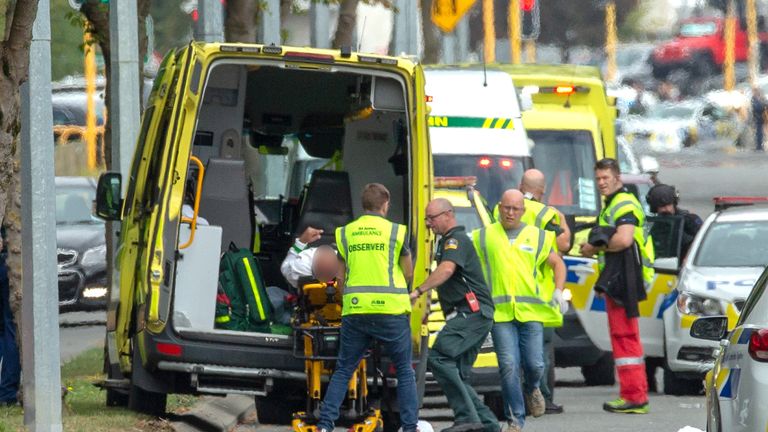 At one point, he makes clear he is addressing his "people/supporters", all the while professing to be humble.
He describes himself as "just a ordinary White man,28 years. Born in Australia to a working class,low income family".
Tarrant claims his ancestors are Scottish, Irish and English and says he had a "regular childhood".
On his political beliefs, he says he is pro-Brexit and admits to being a fascist, saying he feels an affinity with Oswald Mosley, the leader of the British Union of Fascists who died in 1980.
He denies being a xenophobe – citing his extensive holidays abroad – Islamophobe, homophobe or conservative. He rejects the label of Nazi, saying "actual Nazis do not exist" and adds that he doesn't believe he is a neo-Nazi as "the definition is fuzzy".
He says he's not an antisemite, but adds that "a jew living in israel is no enemy of mine" – possibly implying that a Jewish person who does not live in Israel would be.
He says he supports Donald Trump "as a symbol of renewed white identity and common purpose" but disagrees with the US president's policies and leadership style.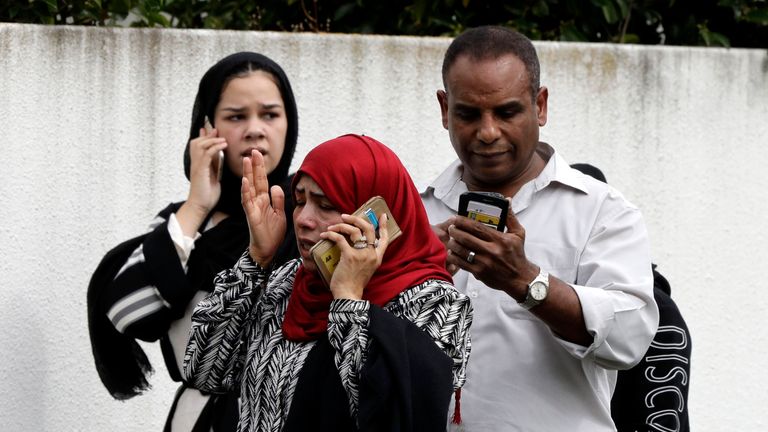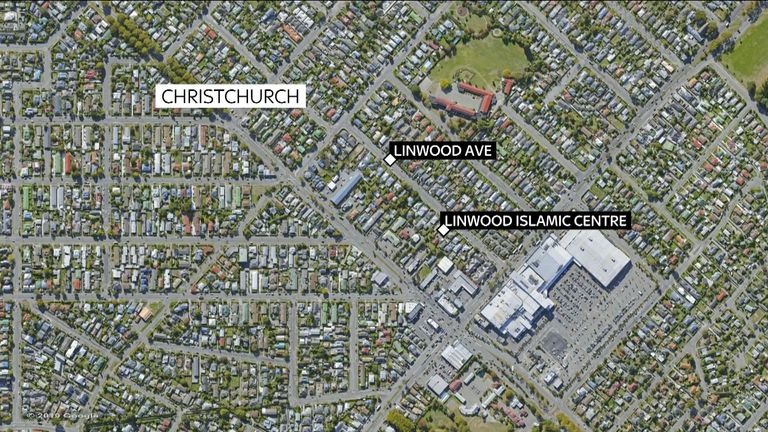 He makes claims of "brief contact" with far-right terrorist and Norway mass-killer Anders Breivik, and says he supports other violent far-right men.
One of his aims, he said, was to "create conflict" in the US debate over gun ownership and lead to civil war in America – ultimately causing racial separation and stopping Americans from fighting wars alongside Muslims.
The country he feels he has the "closest political and social values" to is China.
On religion, he calls himself a Christian but says it "is complicated" and "when I know, I will tell you."
At one point, he asks himself "if you survived, did you intend to go to trial?" (Answer: yes, and to plead not guilty… "I am a lawful, uniformed combatant").
He writes that he does not expect to be released from prison, but adds: "I also expect an eventual Nobel Peace prize".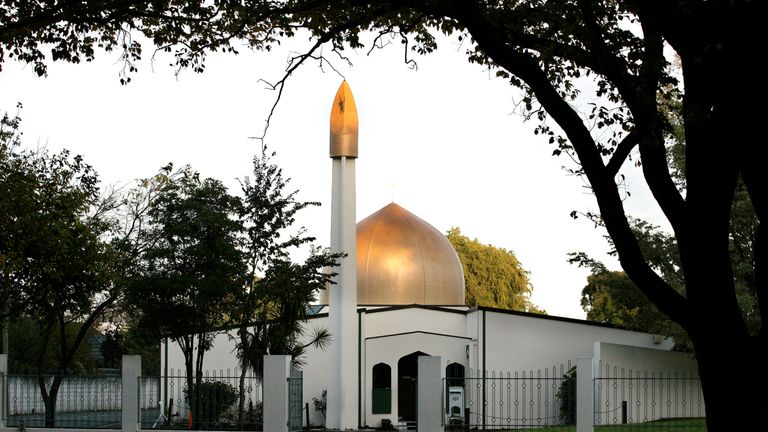 He repeatedly says his attack is revenge for what he perceives as threats to Europeans.
Throughout the manifesto he makes "joking" references to all manner of topics, often tropes of far-right extremists, such as the ethnic cleansing of Muslims in Bosnia or being radicalised by playing children's game Sypro. He talks about learning to do the dance move "the floss" over the dead as featured in the survival video game Fortnite.
He also repeats a response seen on online forums, including 4Chan and Reddit, where a poster fabricates an elaborate and supposedly intimidating backstory, writing: "I'll have you know I graduated top of my class in the Navy Seals, and I've been involved in numerous secret raids on Al-Quaeda, and I have over 300 confirmed kills."
In this final section, he makes a number of threats on named European politicians and unnamed non-white business leaders.
He ends his paper with a page of pictures pulled from the internet of smiling white women and children, men sitting among nature and with armed soldiers. On top of the images are two neo-Nazi symbols.