'Serious firearms incident' ongoing in New Zealand – public urged to stay indoors | World News

Police in New Zealand are urging the public to stay indoors as they respond to a "serious ongoing firearms incident" in Christchurch.
Shots have been fired inside or near a mosque in the city, and all schools in the area have been placed on lockdown.
More follows…
This is what the end of the so-called IS caliphate looks like | World News
US-backed Syrian fighters say a "large number" of Islamic State militants and their families are surrendering a day after intense fighting in the only area the extremists still hold in eastern Syria. Sky News Middle East correspondent Alex Rossi watched as they retreated:
They escape in their hundreds, each one of them struggling to clamber up a ridge on the edge of Baghouz.
They are broken, hungry and disconsolate.
This is what the end of Islamic State's so-called caliphate looks like.
The thin shapes, their clothes ragged, carry what they can.
Some are so exhausted they struggle to walk.
Others, who are severely injured, are scooped into blankets and carried up the hill overlooking a makeshift tented city they called home just hours ago.
The young appear shell-shocked. A young girl just stops. She's completely dazed.
For weeks they have existed under heavy bombardment in trenches and tunnels.
Some of the children emerge alone – their parents presumed to be dead.
And as this mass of people clamber up to safety it is the very young you notice most.
A boy is carried up the ridge by relatives.
He appears listless, with a primitive chest drain used to relieve internal bleeding swinging below him.
The fanatics that survived have had weeks to surrender but instead they chose to sacrifice their children to the brutality of war.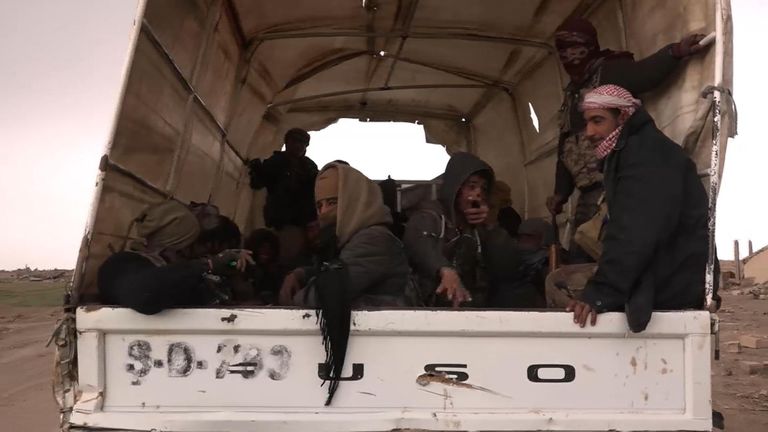 Most of the men we see are wounded – and almost certainly fighters – their limbs badly bandaged.
We ask a group how many are left inside?
"Lots" comes back the answer.
For five years IS has spread fear across these lands but now it is in its final days.
But even in the organisation's death-throes it is still resisting the inevitable.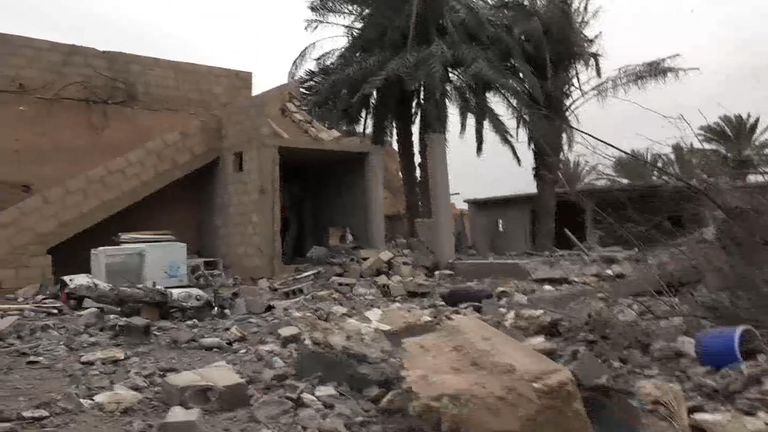 The fractured skyline of Baghouz still thunders with the sound of war.
But so far the Syrian Democratic Forces (SDF) and coalition jets have not been able to deliver the decisive blow.
Daesh (Islamic State) has just a tiny piece of land in this nowhere place and they are encircled yet they refuse to give up.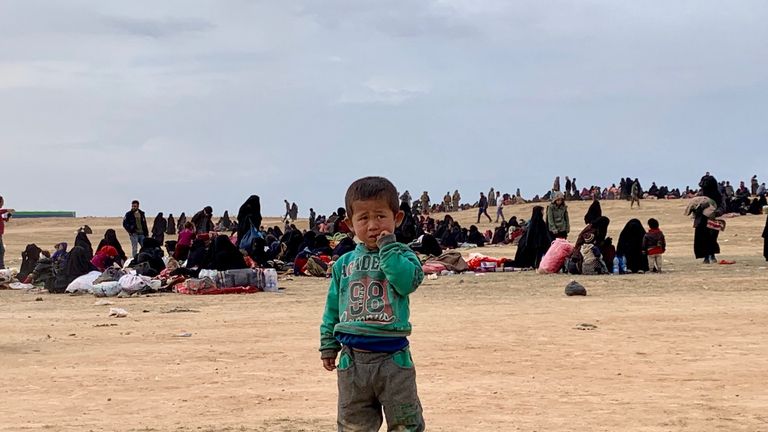 For days Kurdish and Arab Forces, supported by coalition air power, have battered Baghouz but have been unable to declare victory.
But SDF fighters know this battle is over in all but name. A group of fighters huddled in the back of a pick-up truck are joyous. We ask them whether Daesh are finished.
"It's over," they yell back. "They are finished."
In the days to come more IS fighters will surely be forced to give up and join those who've already surrendered.
For an organisation that used to project power through video propaganda, its militants now look weak and some can barely stand.
Investigators to begin analysing crashed Ethiopia Airlines flight's black box | World News
The two recorders from the crashed Ethiopian Airlines jet are set to be analysed by a French accident investigation team.
BEA officials will study the flight data recorder and cockpit voice recorder which were recovered from the Boeing 737 MAX 8.
A photograph of the flight data recorder has been released showing damage on one side – but the crash-proof housing protecting the critical recording chip seemed to be intact.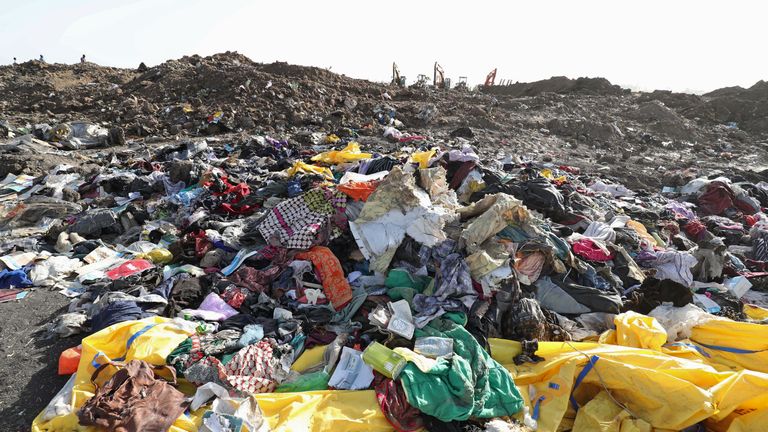 A BEA spokesperson said it was unclear whether the data is retrievable and said no time frame has been given on how long the analysis could take.
US investigators will also be taking part in the investigation.
More than 40 countries, including the UK and the US, have grounded the Boeing 737 MAX 8 planes or refused to let them into their airspace following Sunday's crash that left all 157 people on board dead.
It comes just six months after the same model was involved in the Lion Air crash in Indonesia which killed 189 people.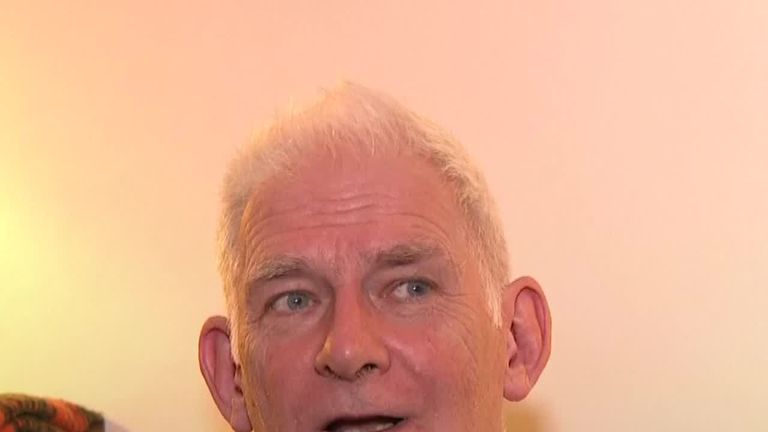 Japan joined the countries banning the aircraft on Thursday, a day after the US issued an emergency order grounding all MAX 8 and 9 planes.
US authorities said the aircraft would be grounded for "weeks" at a minimum and cited new information which showed similarities between the two crashes.
Lion Air officials said sensors on their plane produced erroneous information on its last four flights, triggering an automatic nose-down command which the pilots of the fatal crash struggled with.
Ethiopian Airlines CEO Tewolde Gebremariam said its pilots received training to deal with the problem, and Boeing sent further instructions to pilots after the crash.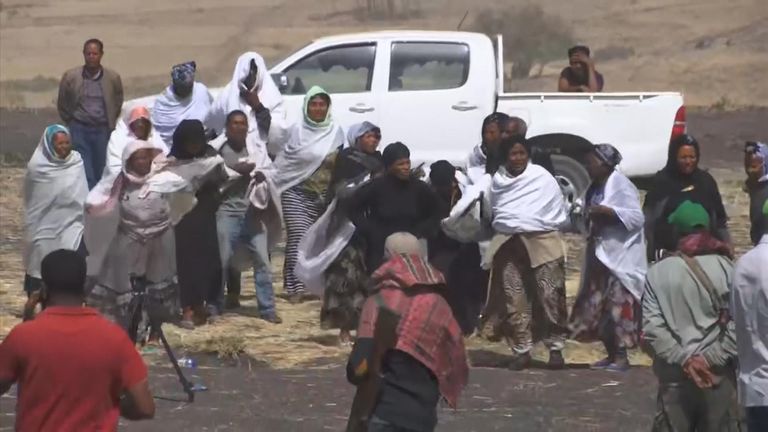 About 200 family members of those killed in the latest crash stormed out of a briefing with Ethiopian Airlines officials, saying they were frustrated by a lack of answers.
The airline has opened a call-in centre which is open 18 hours a day to respond to family members' questions.
Relatives also visited the site of the crash and were seen picking through the rubble for any sign of their loved ones.
No need for international investigators into Khashoggi murder, says Saudi Arabia | World News
Saudi Arabia has refused to allow any international investigators to look into the murder of journalist Jamal Khashoggi, saying those responsible are already facing justice.
Bandar bin Mohammed al Aiban, president of the Saudi Arabia's human rights commission, described Mr Khashoggi's killing as both an "unfortunate accident" and a "heinous crime".
He said those on trial in connection have had three hearings with their lawyers present but he neglected to provide further information.
Mr Khashoggi was murdered in the Saudi consulate in Istanbul. Turkey said Saudi authorities should disclose the names of defendants and the charges they face if it wanted to avoid questions over the "sincerity of judicial proceedings in the kingdom".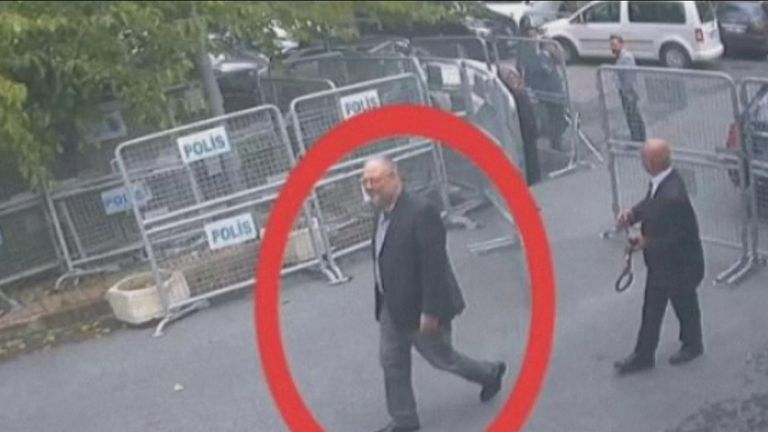 Mr al Aiban's comments formed part of the Saudi response during the UN's periodic review in Geneva, where countries offer recommendations to others to improve their human rights record.
Some 258 recommendations of areas to improve were made, with the Saudis accepting 182 of them and noting (essentially disagreeing with) 76.
Mr al Aiban rebuffed recommendations made by a number of UN countries for steps to, as the UK requested, "ensure [a] comprehensive and transparent investigation", with, as Iceland suggested, "international experts" into the murder.
Mr al Aiban also said the case of the detained women's rights activists was based in law and was not an attack on human rights. Saudi Arabia says the detainees are "traitors".
Allegations of torture against the detainees was denied again by the Saudis, with Mr al Aiban saying "legislation in our country criminalised torture in all forms and aspects" and that if anyone was found to have been tortured then Saudi Arabia "provides them with all means of redress".
He also denied the existence of secret detention centres in his country.
Three of the women among the detained, Nouf Abdulaziz, Loujain Al-Hathloul and Eman Al-Nafjan, have been awarded the PEN America/Barbey Freedom to Write Award, a prestigious accolade from the long-standing organisation dedicated to free speech through writing.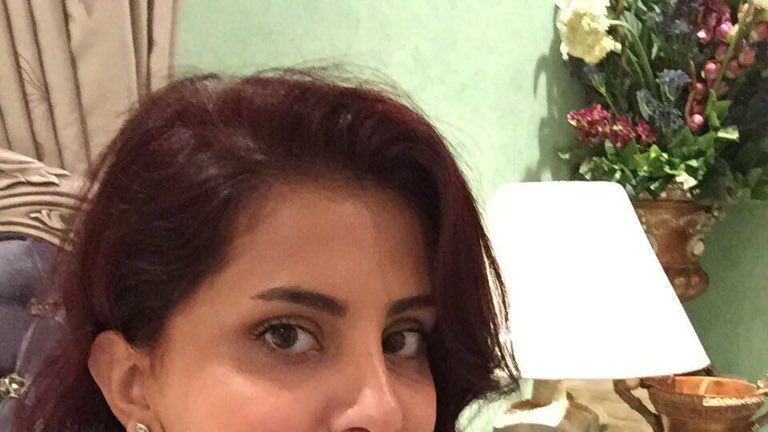 "These gutsy women have challenged one of the world's most notoriously misogynist governments, inspiring the world with their demand to drive, to govern their own lives, and to liberate all Saudi women from a form of medieval bondage that has no place in the 21st century," said Suzanne Nossel, CEO of PEN America.
The human rights review coincided with reports from Yemeni military officials that the Saudi-led coalition launched airstrikes which mistakenly killed and wounded forces allied with the government, who the coalition support.
Eight border guards were killed and 33 others wounded when the coalition bombed an area along the Yemen-Saudi border on Thursday.
Saudi Arabia and Arab allies have been fighting in Yemen for more than four years against the Iran-backed Houthis, who drove a Saudi-backed government into exile in 2014.