17 minutes of terror: Shootings video was livestreamed | World News
A gunman live-streamed for 17 minutes from a helmet camera as he entered a mosque in New Zealand and began shooting worshippers. Here is how part of the terror attack unfolded.
:: A white, blond man is seen driving to Al Noor mosque as music plays in the background.
:: He walks down the pavement towards the entrance.
:: As he slowly approaches the mosque door, he draws his weapon – and points it at those stood inside.
:: The graphic footage shows the gunman shooting down a corridor, before turning into a room full of worshippers and firing at them.
:: More than a dozen bodies were in one room alone.
:: Witnesses said a room in the mosque reserved specifically for women was among those targeted.
:: He returns to the corridor and approaches the mosque's central room. Several people are shot at and fall as they try to run away from the attack. One man is shot as tries to escape, brushing past the gunman.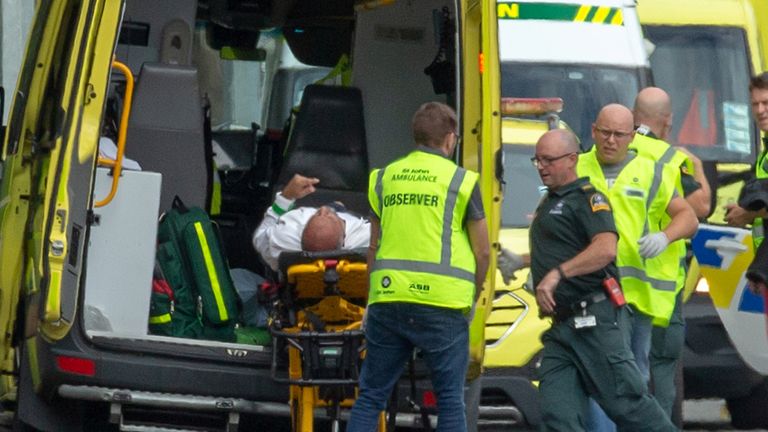 :: The gunman fires multiple times. He repeatedly shoots at bodies already motionless on the ground.
:: A number of bodies are seen in the corners of a large room.
:: After five minutes of shooting, he returns to the car and changes guns.
:: He then returns to the mosque and shoots people who show signs of life.
:: The footage shows inscriptions – including the names of mass killers – written in white on his black weapon and the guns' magazines.
:: He returns to the car and drives off at speed.
:: The video shows him then firing at parked cars and a building.
:: Red petrol canisters are in the back of the gunman's car, along with weapons.
:: Police then confirm they have neutralised improvised explosive devices found strapped to vehicles around Christchurch.
:: New Zealand's Prime Minister Jacinda Ardern says 30 people were killed in the Al Noor mosque shooting, with 10 others losing their lives in an attack at another mosque in Christchurch.
:: The number of dead is later confirmed as 49.
:: Witnesses described the Al Noor attacker as blond, white, dressed in black, and wearing a helmet as well as a bulletproof vest.
:: A 73-page manifesto appearing to belong to the gunman emerges, in which he identifies himself as a 28-year-old white male born in Australia.
:: In the document, seen by Sky News, he lists white nationalists as heroes.
New Zealand mosque shootings: Witnesses recount horror as dozens are killed | World News
Witnesses have spoken of their horror and shock as dozens of people were shot dead at two mosques in Christchurch, New Zealand.
Prime Minister Jacinda Ardern said it was "one of New Zealand's darkest days".
:: New Zealand's mosque attacks: Live updates
These are some of the accounts given by witnesses.
:: A survivor identified only as Nour told the New Zealand Herald the gunman shot multiple worshippers outside one of the mosques before continuing his rampage inside, where he shot people indiscriminately.
"I saw people drop dead in front of me," he said. "I was crawling to get away. It was hitting the walls."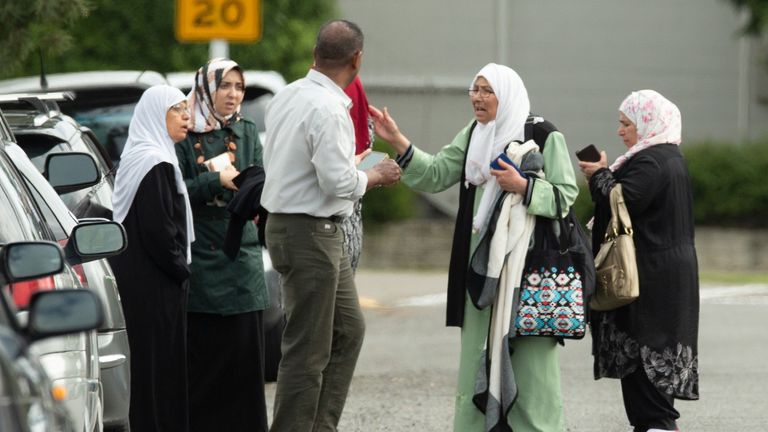 :: Radio New Zealand quoted a witness inside one of the mosques as saying he had heard shots being fired. There were at least four people lying on the ground and "there was blood everywhere".
:: Mohan Ibrahim said he was one of 200 people in the Masjid Al Noor mosque on Deans Avenue when he heard shots being fired.
He told the New Zealand Herald: "At first we thought it was an electric shock but then all these people started running."
He added: "I still have friends inside. I have been calling my friends but there are many I haven't heard from. I am scared for my friends' lives."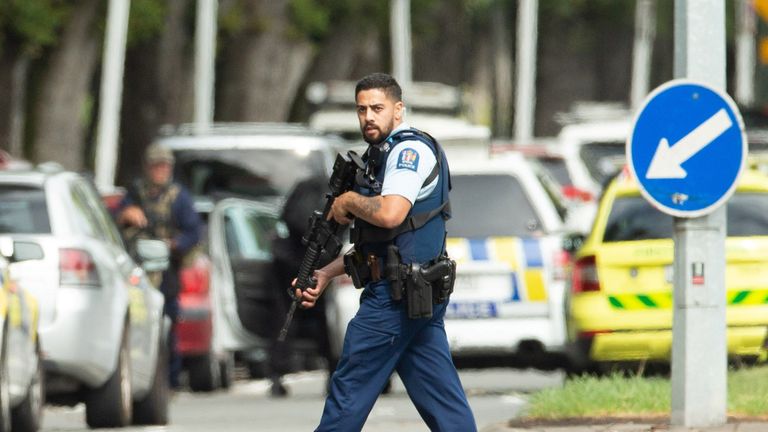 :: Len Peneha says he saw a man dressed in black enter the Masjid Al Noor mosque and then heard dozens of shots, followed by people running from the mosque in terror.
He says he also saw the gunman flee before emergency services arrived.
Mr Peneha says he went into the mosque to try to help: "There were three in the hallway, at the door leading into the mosque, and people inside the mosque.
"I don't understand how anyone could do this to these people – to anyone. It's ridiculous."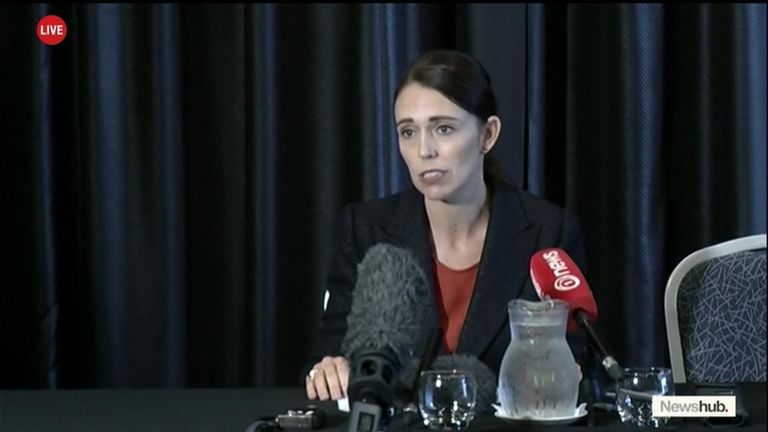 He said he helped about five people recover in his home, including one who was slightly injured.
"I've lived next door to this mosque for about five years and the people are great, they're very friendly," he said. "I just don't understand it."
::The visiting Bangladesh cricket team was arriving for prayers at one of the mosques when the shooting started. They were all safe.
Tamim Iqbal tweeted: "Entire team got saved from active shooters!!!
"Frightening experience and please keep us in your prayers."
Mushfiqur Rahim said: "Alhamdulillah Allah save us today while shooting in Christchurch in the mosque…we r extremely lucky…never want to see this things happen again….pray for us".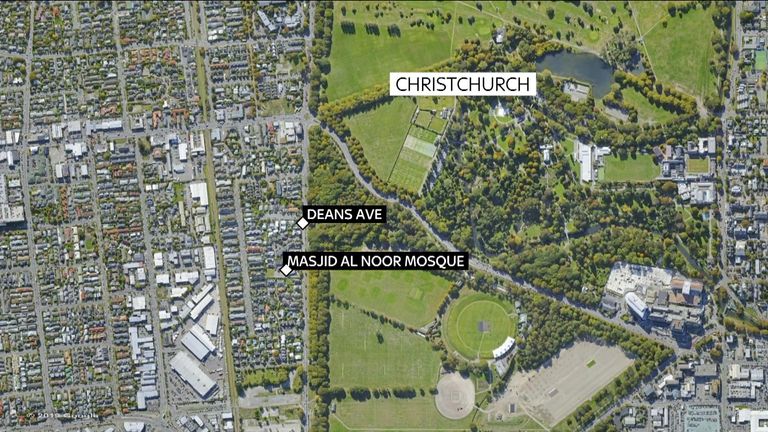 :: Mark Nichols told the New Zealand Herald he heard about five gunshots and that a Friday prayer goer returned fire with a rifle or shotgun.
Mr Nichols said he saw two injured people being carried out on stretchers past his automotive business and that both people appeared to be alive.
Mass shootings in New Zealand: What we know so far | World News
A number of people have died in mass shootings at two mosques full of people attending Friday prayers in New Zealand.
Here is what we know so far:
:: Two mosques in Christchurch were targeted, with the deadliest shooting unfolding at the Masjid Al Noor mosque in the city centre.
:: The number of those killed and injured is currently unclear.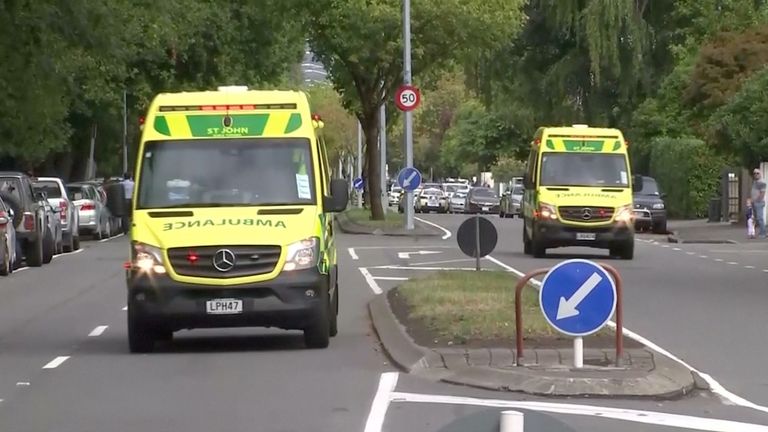 :: Witnesses said the shooting at the Masjid Al Noor mosque lasted for 20 minutes, with the gunman going from room to room.
:: Three men and one woman are in custody, and police say there may be other attackers at large.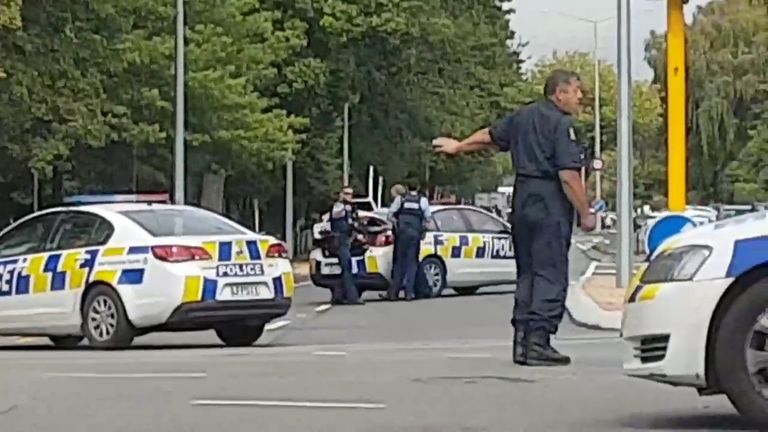 :: Schools are in lockdown across Christchurch and mosques nationally have been told to shut their doors. Armed police have been deployed across the city centre.
:: A number of improvised explosive devices strapped to vehicles have been made safe.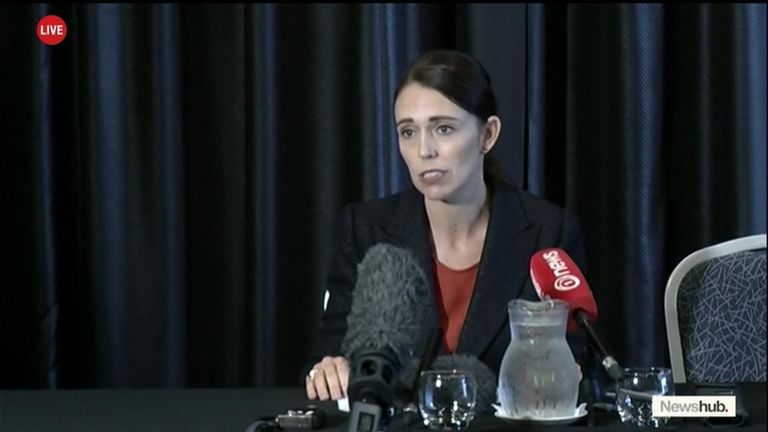 :: Footage on social media appears to show the gunman live-streaming as he entered the mosque with his weapon drawn.
:: Prime Minister Jacinda Ardern has said it is "one of New Zealand's darkest days".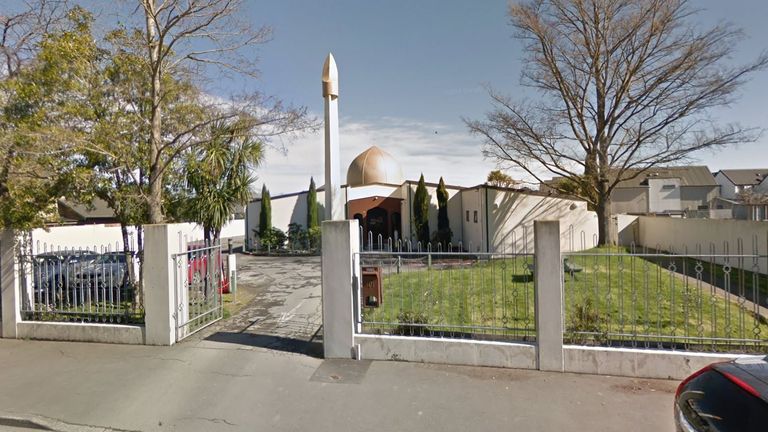 :: Bangladesh's cricket team was approaching the mosque for Friday prayers at the time of the shooting at the Masjid Al Noor mosque.
This is what the end of the so-called IS caliphate looks like | World News
US-backed Syrian fighters say a "large number" of Islamic State militants and their families are surrendering a day after intense fighting in the only area the extremists still hold in eastern Syria. Sky News Middle East correspondent Alex Rossi watched as they retreated:
They escape in their hundreds, each one of them struggling to clamber up a ridge on the edge of Baghouz.
They are broken, hungry and disconsolate.
This is what the end of Islamic State's so-called caliphate looks like.
The thin shapes, their clothes ragged, carry what they can.
Some are so exhausted they struggle to walk.
Others, who are severely injured, are scooped into blankets and carried up the hill overlooking a makeshift tented city they called home just hours ago.
The young appear shell-shocked. A young girl just stops. She's completely dazed.
For weeks they have existed under heavy bombardment in trenches and tunnels.
Some of the children emerge alone – their parents presumed to be dead.
And as this mass of people clamber up to safety it is the very young you notice most.
A boy is carried up the ridge by relatives.
He appears listless, with a primitive chest drain used to relieve internal bleeding swinging below him.
The fanatics that survived have had weeks to surrender but instead they chose to sacrifice their children to the brutality of war.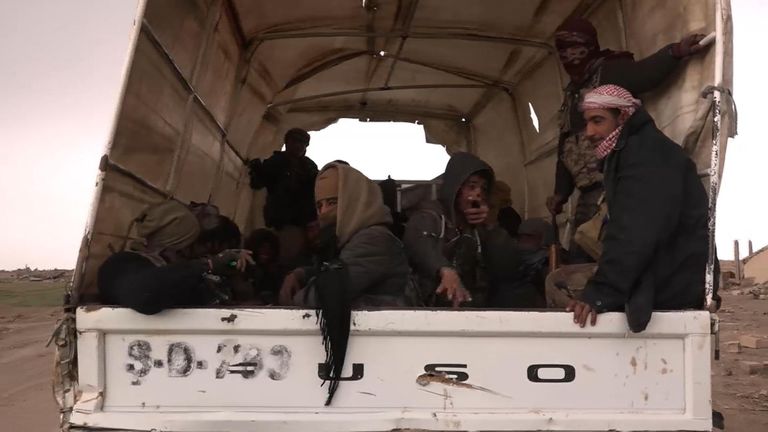 Most of the men we see are wounded – and almost certainly fighters – their limbs badly bandaged.
We ask a group how many are left inside?
"Lots" comes back the answer.
For five years IS has spread fear across these lands but now it is in its final days.
But even in the organisation's death-throes it is still resisting the inevitable.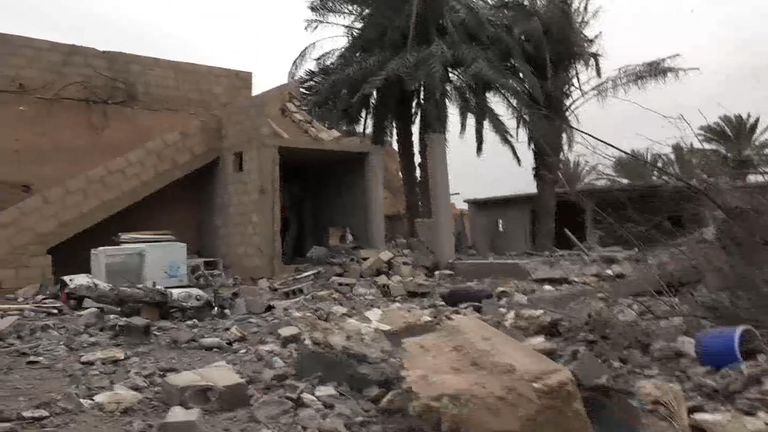 The fractured skyline of Baghouz still thunders with the sound of war.
But so far the Syrian Democratic Forces (SDF) and coalition jets have not been able to deliver the decisive blow.
Daesh (Islamic State) has just a tiny piece of land in this nowhere place and they are encircled yet they refuse to give up.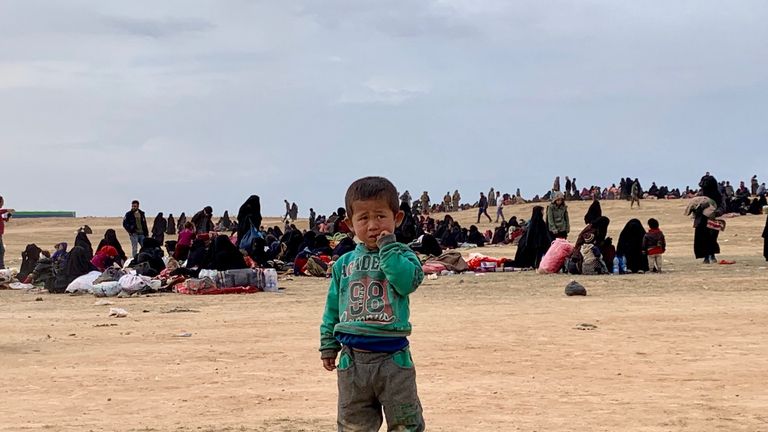 For days Kurdish and Arab Forces, supported by coalition air power, have battered Baghouz but have been unable to declare victory.
But SDF fighters know this battle is over in all but name. A group of fighters huddled in the back of a pick-up truck are joyous. We ask them whether Daesh are finished.
"It's over," they yell back. "They are finished."
In the days to come more IS fighters will surely be forced to give up and join those who've already surrendered.
For an organisation that used to project power through video propaganda, its militants now look weak and some can barely stand.