Vatican's banker Cardinal George Pell sentenced to six years for child abuse | World News
The former treasurer in the Vatican, Cardinal George Pell, has been sentenced to six years in prison for a string of sexual assaults on teenagers.
Cardinal Pell was found guilty of sexually abusing 13-year-old choir boys 22 years ago in the priests' sacristy of St Patrick's Cathedral in Melbourne, where he was archbishop at the time.
He was convicted of abusing two boys whom he had caught drinking sacramental wine in a rear room of a Melbourne cathedral in late 1996, as hundreds of worshippers were streaming out of Sunday services.
He was also found guilty of assaulting one of the boys in a corridor more than a month later.
He was actually convicted of five offences in December last year, but details of the verdicts were kept secret for fear they would prejudice a second trial he was facing. Those charges have now been dropped.
His convictions were revealed in February.
Sentencing him, Justice Peter Kidd said some of the offences had a "nasty element" and particularly drew on the fact that the victims were abused in front of others.
Justice Kidd said there had been no evidence that Cardinal Pell was impaired in any way during the offences, and that in evidence to the contrary, he had committed the first offences after delivering Sunday solemn mass.
Justice Kidd said: "What you did was so egregious that is fanciful to suggest you may not have fully appreciated it."
He said the decision to offend was "reasoned, albeit perverted".
The judge said that as an archbishop, Cardinal Pell was "profoundly revered" and held up as a pillar of the community.
He said Cardinal Pell's moral culpability was "high" and rejected the defence submission that the offences were to the lower end of the scale.
Sentencing him, Justice Kidd acknowledged that the offences were an "isolated incident" and that apart from them the 77-year-old was of good character.
He said the Cardinal was unlikely to reoffend, given he hadn't in the intervening 22 years between the offence and the sentencing, and his notoriety, advanced years, and registration as a sexual offender.
More follows…
Cyclone Idai may have killed 1,000 people in Mozambique, says country's president | World News
Four days after Cyclone Idai struck Mozambique, there are fears it may have killed more than 1,000 people in the country.
It is thought to have been the most destructive storm to have hit the southeast African nation in more than 10 years.
Widespread flooding has left whole villages submerged and bodies were floating in the water, as some areas were completely cut off by road.
Mozambique's president Filipe Nyusi said the official number of dead was 84 but added "it appears that we can register more than 1,000 deaths".
He also said it was a "real disaster of great proportions".
"The waters of the Pungue and Buzi rivers overflowed, making whole villages disappear and isolating communities, and bodies are floating," he said.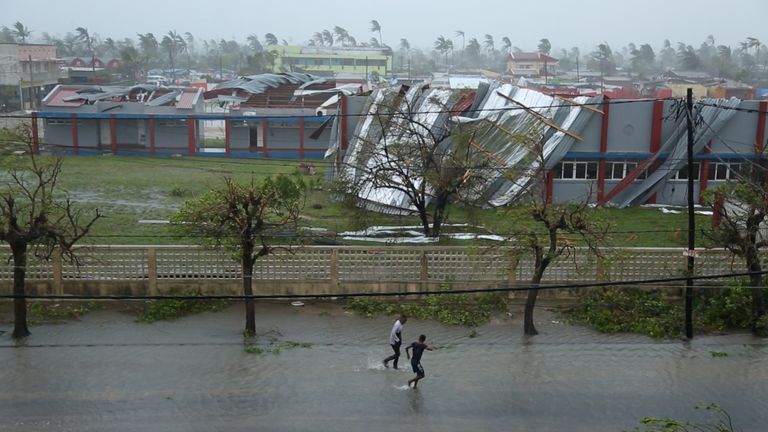 President Nyusi spoke after flying over the central port city of Beira and the rural provinces of Manica and Sofala, where there was severe flooding.
According to the Red Cross, 90% of Beira, which has 500,000 inhabitants, has been damaged or destroyed.
Jamie LeSueur, who led a Red Cross aerial assessment of the city, said the damage was "massive and horrifying".
"The situation is terrible," he said. "The scale of devastation is enormous."
"Communication lines have been completely cut and roads have been destroyed. Some affected communities are not accessible."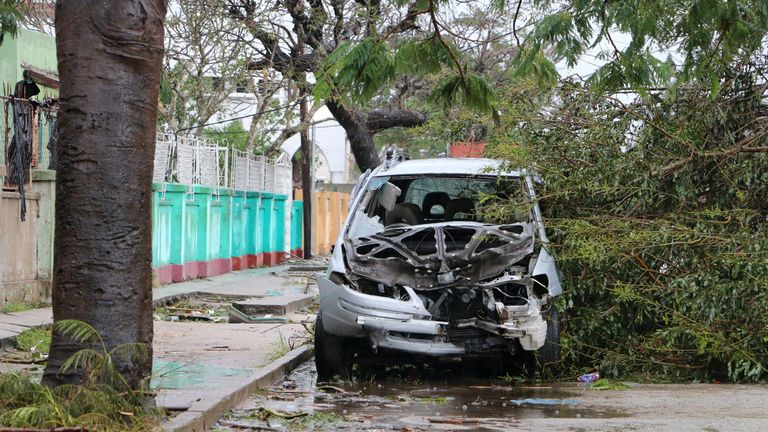 Mozambique was hit last Thursday before the cyclone moved inland to Zimbabwe and Malawi.
More than 215 people have been killed by the storm in the three countries, including 89 in Zimbabwe, official figures show. And hundreds more were reported missing.
In Zimbabwe's Chimanimani district, rescuers were struggling to reach people cut off after torrential rains and winds up to 105mph swept away roads, homes and bridges and knocked out power lines.
UN agencies and the Red Cross have been helping with the rescue efforts that included delivering food and medicine by helicopter in the impoverished countries.
Mozambique is a long, narrow nation with a population of 30 million people, and has a 1,500-mile coastline along the Indian Ocean.
This time of year, it is prone to cyclones and tropical storms, and was struck by severe flooding from Cyclone Eline in February 2000.
That storm killed 350 people and made 650,000 homeless across southern Africa, including Zimbabwe.
Utrecht tram shooting: Suspected gunman arrested | World News

A suspected gunman wanted over the Utrecht tram shooting has been arrested, a Dutch police chief says.
At a press conference, Prosecutor Rutger Jeuken confirmed that the Turkish-born suspect, identified as Gökmen Tanis, had previously been arrested, without giving further details.
Three people killed and five injured after the shooting on tram in Dutch city of Utrecht on Monday.
Turkey's official Andadolu news agency said the suspect's relatives believe the gunman's motive appeared to be family related.
Citing the gunman's relatives, it said the gunman fired at his relative over "family reasons" and later shot at others trying to help.
The father of the 37-year-old suspect said his son should be punished if he is to blame.
Mehmet Tanis, who lives in Turkey's central Kayseri province, told Demiroren news agency that he had not spoken to his son in 11 years.
"If he did it, he should pay the penalty," he said.
The city was put into lockdown after the deadly shooting shortly after rush house, which authorities said was an apparent terrorist attack.
Police conducted raids in several locations and helicopters hovered over the usually quiet town before the suspect's arrest.
Authorities raised the terrorism threat in Utrecht to its highest level as schools were told to shut their doors.
Paramilitary police also increased security at airports, other vital infrastructure and mosques.
Police released a photo of the suspect a few hours after the attack and said he was "associated with the incident".
Utrecht Mayor Jan van Zanen said there could be more than one attacker.
"We cannot exclude, even stronger, we assume a terror motive. Likely there is one attacker, but there could be more," Mr van Zanen said.
More follows…
Utrecht tram shooting: Three people killed in possible terror attack | World News
Three people have been killed and five injured in a shooting on a tram in the Dutch city of Utrecht.
The city's mayor Jan van Zanen said authorities were treating the incident, which happened just before 11am local time, as a terrorist attack.
He said: "We cannot exclude – even stronger, we assume – a terror motive.
"Likely there is one attacker, but there could be more," he added.
As he spoke, police were seen at a number of properties in the city but they seemed particularly interested in an apartment block a few hundred metres from the shooting.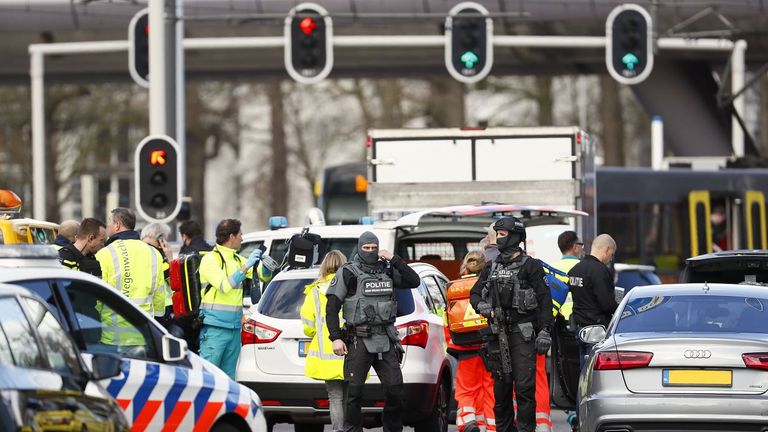 Local media reported that the building was connected to the gunman, but police did not confirm this.
During the afternoon, police released a CCTV image of Gökmen Tanis, a Turkish-born 37-year-old man whom they said was "associated with the incident". They warned he should not be approached by members of the public.
After the shooting, police moved quickly to close the scene and there were very few witness accounts reported by those who saw the incident.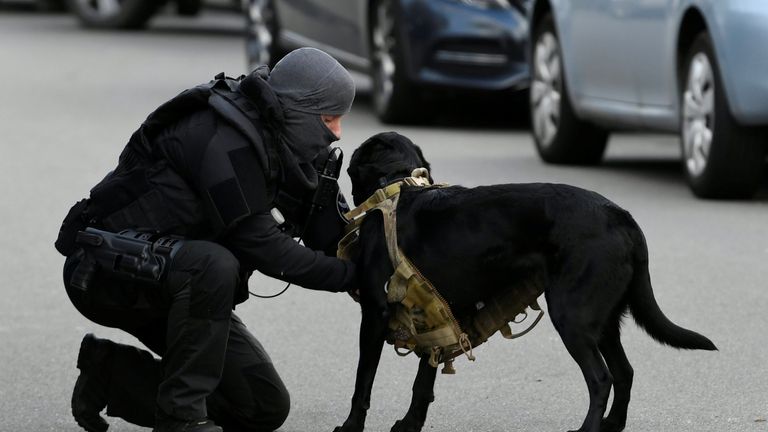 But Jimmy de Koster, who lives nearby, told RTV Utrecht that several shots had been fired and that he had seen a woman lying on the ground shouting: "I didn't do anything."
Mr De Koster said: "At that moment I heard pang pang pang three times, four men walked very fast towards her and they tried to drag her away and then I heard pang pang pang again and those guys let go of that woman again."
Bernhard Jens, a police spokesman, said one person may have fled the scene by car, and that the possibility of more than one gunman being involved had not been ruled out.
Soon after the attack, Dutch authorities raised the terror alert for the region to the maximum level and security was strengthened at key buildings in the country, such as the main airport near Amsterdam.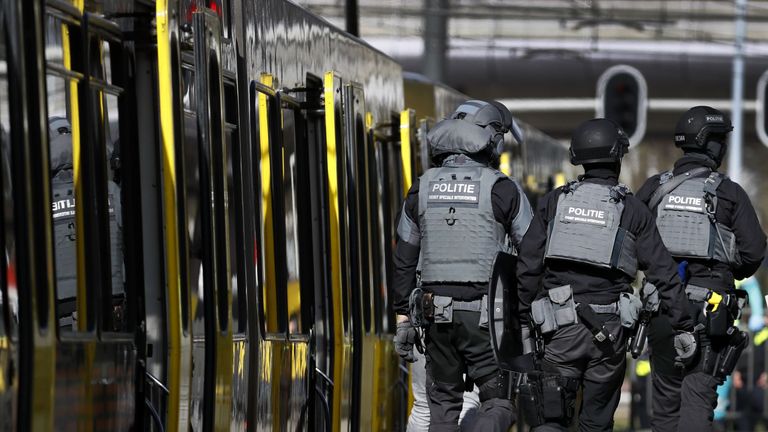 German authorities stepped up surveillance of the Dutch border, and were initially told to look out for a red Renault Clio car. It was later found abandoned in Utrecht.
Dutch Prime Minister Mark Rutte said: "Our nation was hit by an attack in Utrecht…a terror motive cannot be excluded.
"The first reports have led to disbelief and disgust. Innocent people have been struck by violence… we are now doing everything we can to find the perpetrator or perpetrators as soon as possible.
"That is now our complete focus."
Utrecht is the Netherlands' fourth largest city, with a population of around 340,000. The shooting took place in Kanaleneiland, a residential district on the outskirts of the city which has a large immigrant population.