Sri Lankan hangmen wanted as drug traffickers face death penalty | World News
Sri Lanka is trying to hire two hangmen after bringing back the death penalty for drug traffickers.
In a move inspired by Philippines President Rodrigo Duterte's war on drugs, Sri Lanka's President Maithripala Sirisena said last week he wants to resume the use of capital punishment for drug traffickers in the next two months.
A recruitment advert has appeared in the state-run Daily News offering the posts at 36,310 rupees (£158) per month, which is above average for a government job.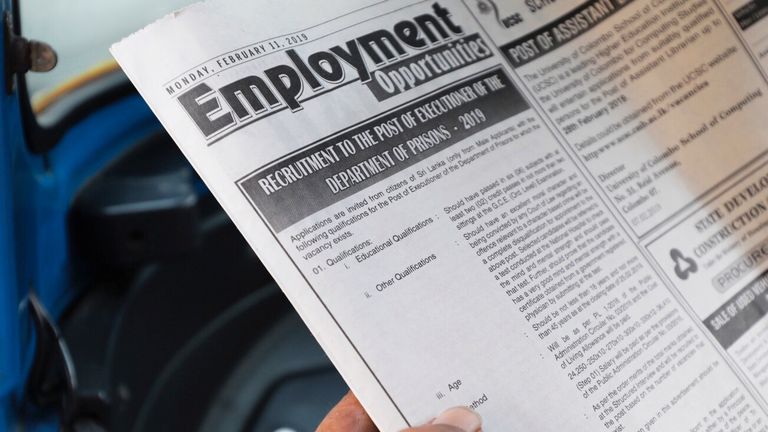 Drug trafficking is a capital offence in Sri Lanka, but the country's last execution for any crime took place in 1976. Death sentences have been commuted to life in prison since then.
Anyone wishing to apply for the role of executioner should be Sri Lankan, male, aged between 18 and 45, and have both "excellent moral character" and "mental strength," according to the ad.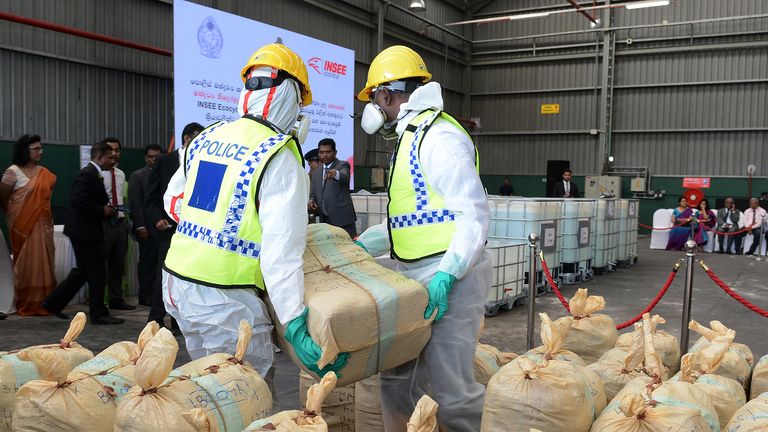 The country's recent history with executioners suggest it may prove difficult to fill the posts.
Sri Lanka's last hangman quit in 2014 without ever having to execute anyone, claiming he was too stressed out by the sight of the gallows, while another hired last year never turned up for work.
"We never know if the government will resume the death penalty, but we want to hire two hangmen to fill vacancies and be ready if the government wants to execute drug traffickers," said prison service spokesman Thushara Upuldeniya.
Job interviews will be conducted next month and at least 25 people convicted for drugs offences, including two drug dealers, could be executed, he added.
Last week, justice minister Thalatha Athukorale told parliament five drug convicts will be executed as soon as Mr Sirisena signs the death warrants and a hangman is appointed.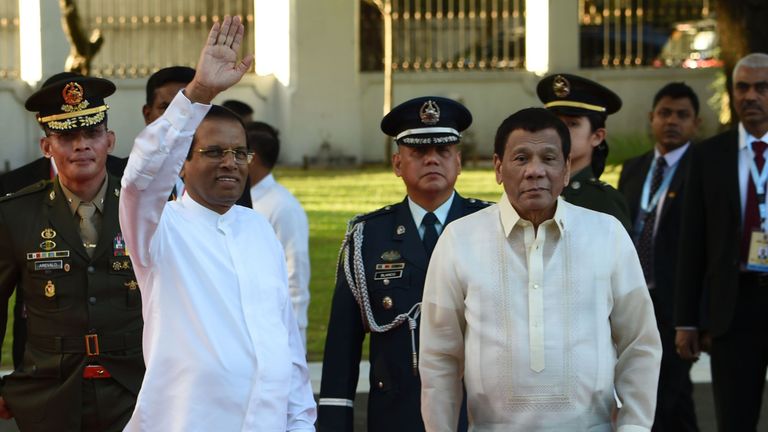 There were also 436 people, including six women, on death row for various crimes including murder, he said.
Mr Sirisena, who officials said has sought the advice of his counterpart, praised Mr Duterte's hardline policies during a state visit to the Philippines in January.
Official estimates put the number of dead from the Filipino president's widely-criticised war on drugs at 5,000, but a senator recently said it had claimed more than 20,000 lives.
Authorities, who fear Sri Lanka is becoming a transit hub for the narcotics trade in Asia, seized more than 1,500 kg of cocaine in 2017.
New Sudan leader promises civilian government amid deadly protests | World News
Protesters in Sudan have been promised the country will soon be led by a civilian government after the ousting of Omar al-Bashir.
The army suddenly removed Mr al-Bashir from office on Thursday after three decades of rule, as he was replaced by a transitional administration to oversee a more long-term change in regime.
General Abdel-Fattah Burhan, general inspector of the armed forces, is leading the military council in charge for the time being and has promised the arrangement will be over within two years.
In his first televised address since taking up the post, he said the timetable had been set following consultations with opposition figures and meetings with a coalition of groups spearheading the protests.
He made two other announcements – the cancellation of a night curfew, which was being largely ignored by protesters anyway, and the release of all prisoners jailed under emergency laws put in place by his predecessor.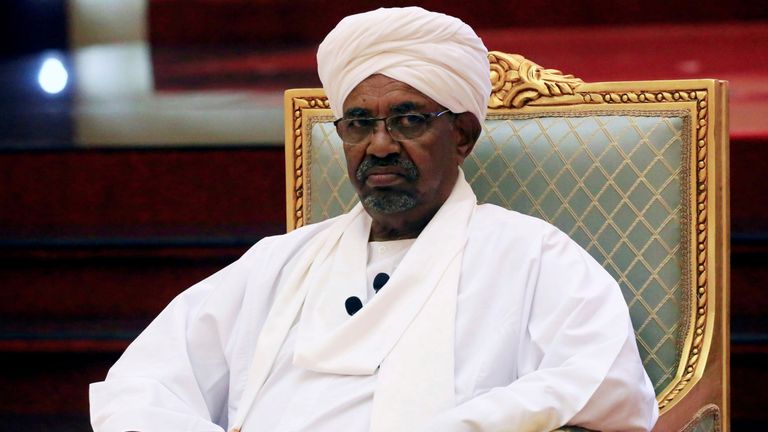 Both have been welcomed by the Sudanese Professionals Association (SPA), which has been leading the protests, but the group said its work was far from done.
"Today, we continue the march to finish the victory for our victorious revolution," it said on Saturday.
"We assert that our revolution is continuing and will not retreat or deviate from its path until we achieve. Our people's legitimate demands of handing over power to a civilian government."
The Sudan Doctors Committee said 16 people had been killed in the two days after the military forced Mr al-Bashir from power.
It said they died "at the hands of regime forces and its shadow militias".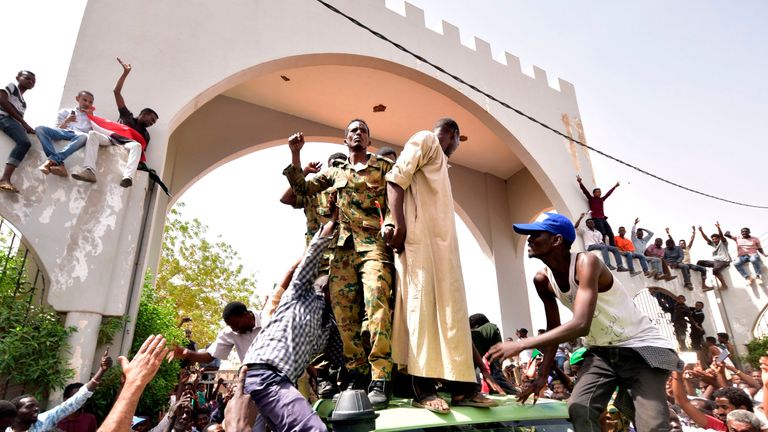 Further protests since Mr al-Bashir was forced out have already resulted in the departure of two other senior government figures, the intelligence chief and the defence minister, who have both resigned.
The latter, Awad Ibn Auf, stepped down as head of the transitional military council late on Friday after only a day in the post, sparking wild celebrations in the capital city of Khartoum.
His replacement, Mr Burhan, was the third most senior general in the Sudanese armed forces and has overseen troops fighting in the Saudi-led Yemen war.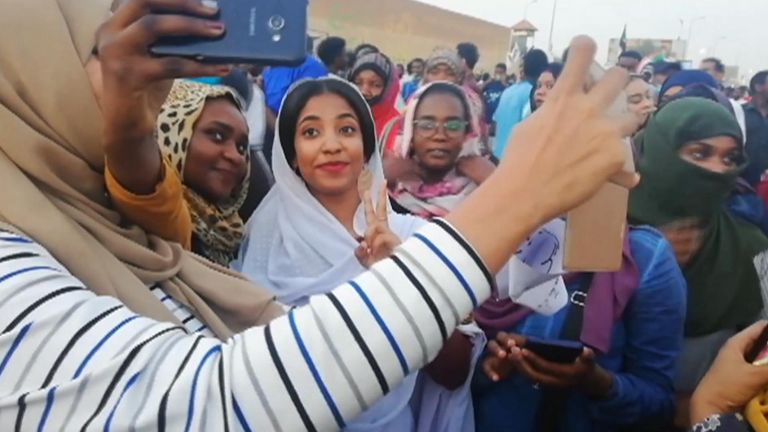 Protesters are determined not to allow him to get comfortable in his new role, and avoid history repeating itself regarding the last time a Sudanese leader fell victim to a successful military coup.
Mr al-Bashir, 75, seized power via those means in 1989 and oversaw a period of rising food costs, high unemployment and increasing repression, which eventually saw him deposed.
But an army spokesman has said he will not be extradited to The Hague to face war crimes charges, as it would be "an ugly mark on Sudan".
He is facing an arrest warrant from the International Criminal Court over his campaign against insurgents in Darfur.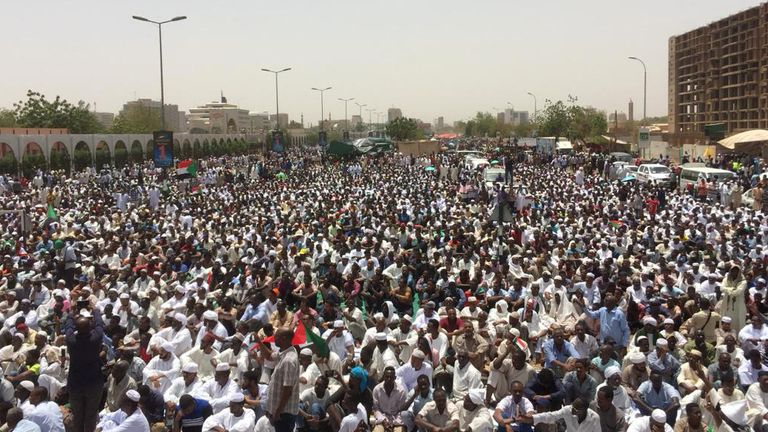 Despite the continued demonstrations, which have seen at least 16 people killed and 20 injured by stray bullets, one analyst does not expect a full civilian government to materialise.
Muhammad Osman, a Sudanese journalist and researcher, said: "The opposition are demanding a civilian government, but I think it will be a mixed government.
"The military would want to retain the defence and interior portfolios."
Bosnian Serb leader Milorad Dodik calls Srebrenica massacre of 8,000 people 'a myth' | World News

A Bosnian Serb leader has called the Srebrenica massacre – in which more than 8,000 Muslim men and boys were murdered – "a fabricated myth".
Milorad Dodik, who heads Bosnia's multi-ethnic joint presidency, told a conference discussing war crimes that the 1995 massacre was "something that does not exist."
His comments defy international court rulings that say genocide was committed in the eastern Bosnian enclave during Bosnia's 1992-95 war.
Mr Dodik said: "Bosniaks did not have a myth so they decided to construct one around Srebrenica."
The Srebrenica massacre was one of the bloodiest slaughters in Europe since the Second World War.
Some 8,000 Muslim men and boys were killed and their bodies dumped in mass graves in the days after Bosnian Serb forces captured the eastern town of Srebrenica on 11 July 1995.
It has been recognised as genocide by two international courts and Mr Dodik's comments have been condemned by Muslims in Bosnia.
"Srebrenica is a court-proven fact, just as is a court-proven fact that the military and political leadership of the Bosnian Serbs have been convicted of a joint criminal enterprise and genocide," said Ramiz Salkic, a Bosnian Muslim official.
"Those are historic facts, not a myth. And that is what Dodik should tell his people."
In March, former Bosnian Serb general Ratko Mladic was sentenced to life in prison for crimes against humanity committed during the Bosnian conflict.
His crimes included extermination and murder after he orchestrated massacres and ethnic cleansing in Bosnian towns.
Mladic was removed from court in The Hague prior to the verdicts being read out after he made an angry outburst denying the charges, shouting "this is all lies, you are all liars".
Mr Dodik is also currently subject to US sanctions for "actively obstructing" the Dayton Accords, the peace agreement which ended the Bosnian war.
UK envoy to India says Britain regrets Amritsar massacre, but does not apologise | World News
The British High Commissioner to India has said the UK regrets the massacre of hundreds of Indians by British troops in Amritsar 100 years ago.
Dominic Asquith was speaking at an event on the subcontinent to mark the 100th anniversary of the atrocity, which Theresa May told the Commons last week was a "shameful scar" in British-Indian history.
But the diplomat – the equivalent of the ambassador in Commonwealth countries – stopped short at an apology.
At the time Mrs May spoke in parliament, Labour leader Jeremy Corbyn said the people deserved an apology.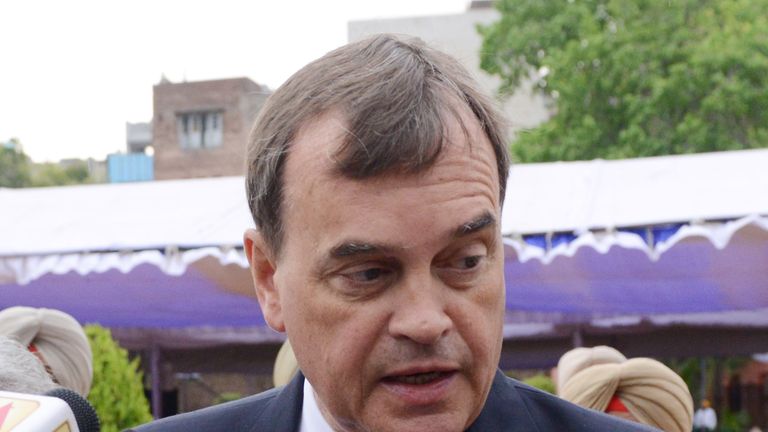 Historians are split about whether the UK should apologise for the massacre, which saw at least 379 Sikhs killed, according to official figures, as some believe it will allow the event to be forgotten.
Local residents at the time of the event, which is also called the Jallianwala Bagh massacre, said the death toll was far higher.
Mr Asquith, who was surrounded by reporters as he attended the memorial to pay tribute to the victims, said "the revulsion that we felt at the time is still strong today".
He added: "I would just ask you to respect what I came here to do, which was to commemorate those who died 100 years ago, to express the sorrow of the British Government and of the British people.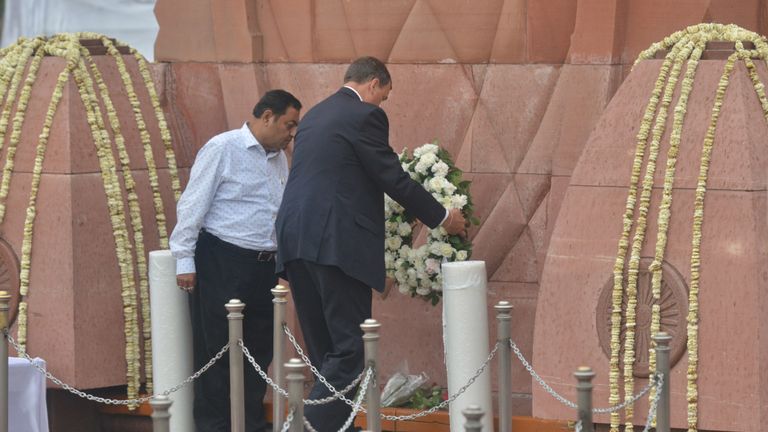 "But I would repeat what I said: both governments are committed to building a very strong relationship."
On Wednesday, Mrs May said in the Commons: "The tragedy of Jallianwala Bagh in 1919 is a shameful scar on British Indian history.
"As Her Majesty the Queen said before visiting Jallianwala Bagh in 1997, it is a 'distressing example' of our history with India. We deeply regret what happened and the suffering caused.
"I am pleased that today the UK-India relationship is one of collaboration, partnership, prosperity and security."
Mr Corbyn responded: "The people, in memory of those who lost their lives and the brutality of what happened, deserve a full, clear and unequivocal apology for what took place on that occasion."
Today, when we observe 100 years of the horrific Jallianwala Bagh massacre, India pays tributes to all those martyred on that fateful day. Their valour and sacrifice will never be forgotten. Their memory inspires us to work even harder to build an India they would be proud of. pic.twitter.com/jBwZoSm41H

— Chowkidar Narendra Modi (@narendramodi) 13 April 2019
The anniversary comes during a seven-phase voting period in India's general election.
Incumbent prime minister and BJP leader Narendra Modi and his challenger, Indian National Congress party leader Rahul Gandhi, were among those who attended the memorial event on Saturday.
Mr Gandhi said: "The cost of freedom must never ever be forgotten. We salute the people of India who gave everything they had for it."
The Chief Minister of the Punjab, which includes Amritsar, demanded "an unequivocal official apology from Britain".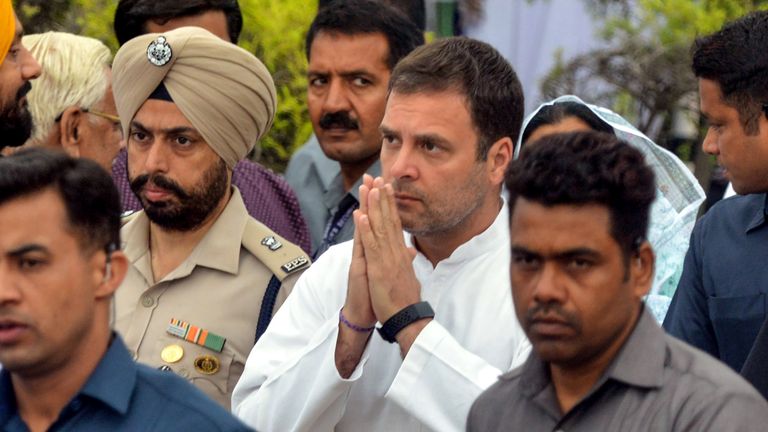 Amarinder Singh said on Twitter: "Remembering the martyrs of Jallianwala Bagh Massacre on the centenary of the most gruesome incident in Indian history. The sacrifice and valour of the martyrs of this tragedy will never be forgotten… The nation remains indebted to them."
The massacre occurred amid a period when Indians were becoming increasingly restive in the face of colonial government measures they found repressive.
Violent protests sparked by the arrests of Indian leaders were met with force by the British Indian army chief tasked with keeping order, Brigadier General Reginald Edward Harry Dyer.
On 13 April 1919, at least 10,000 unarmed people gathered in Amritsar's Jallianwala Bagh, an area surrounded by high walls.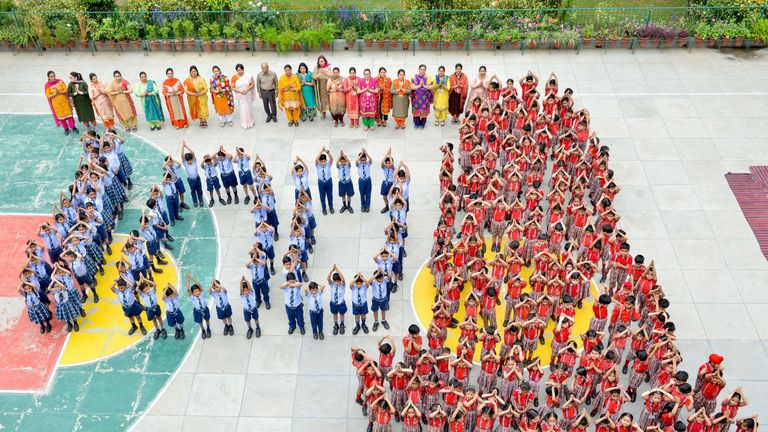 Brig Gen Dyer responded by ordering his troops to fire on the crowd, with hundreds of rounds being shot before they withdrew.
Dyer said later that the firing was "not to disperse the meeting but to punish the Indians for disobedience".
Winston Churchill, secretary of state for war at the time, described the massacre as "monstrous". Former prime minister Herbert Asquith said it was "one of the worst outrages in the whole of our history".
Dyer was forced into retirement after an inquiry, but many still feel that blaming what happened on one man undermines the idea that it was the colonial system that was at fault.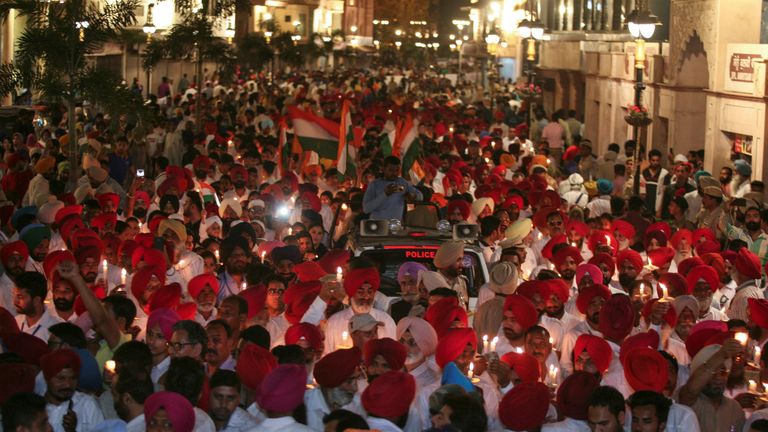 The Queen laid a wreath at a site during a tour of India in 1997. But the gesture was undermined by Prince Philip who reportedly said Indian estimates for the number killed were "wrong".
In 2013, David Cameron became the first serving British prime minister to visit the site, describing the massacre as "deeply shameful".
The incident is a key moment in several films and books about Indian history of the last few decades, including the Oscar-winning biopic Gandhi, ITV's BAFTA-winning drama series The Jewel In The Crown and Salman Rushdie's Booker prize-winning novel Midnight's Children, as well as several Bollywood movies.