Joe Root's reaction in gay sledging row 'more important than a win' | World News
Joe Root's reaction during a heated incident with Shannon Gabriel has been lauded as "more important than a victory".
Former England captain Nasser Hussain reacted on Twitter after Root told the West Indies fast bowler "there's nothing wrong with being gay" during an on-field incident on day three of the third Test in Saint Lucia.
Hussain tweeted about the alleged sledging incident: "I don't know who said what to whom… but boy do I applaud Joe Root's reaction here. For me his twelve words as a role model will be in the end more important than a test hundred or possible victory."
The Sky Sports cricket expert and columnist insisted that while there was currently no evidence of any wrong-doing by Gabriel, Root's reaction sent an important message.
He told Sky News: "Joe Root as a role model, as England captain, stood up in the middle of a Test match to what he thought was homophobic abuse and said 'I'm not having that'. He could have shrugged or laughed it off but he didn't.
"There's no room for homophobia on or off the cricket pitch which is why I applaud what Joe Root did."
Gabriel's part of the conversation was not picked up by the stump microphone but the Trinidadian was spoken to by at least one of the on-field umpires, Kumar Dharmasena and Rod Tucker, about his language.
Following the close of play, England's current skipper was asked to explain the tussle with Gabriel.
"It's Test cricket. He's an emotional guy trying to do everything he can to win a Test match.
"Sometimes people say things on the field that they might regret, but they should stay on the field.
"He's a good guy who plays hard cricket and is proud to be in the position he is. The battle was a good contest. He's had a wonderful series and he should be proud."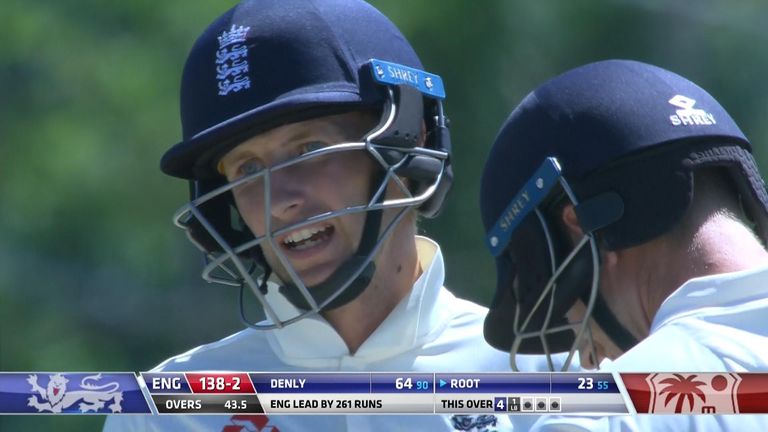 Robbie de Santos, head of campaigns for Stonewall, told Sky News: "What we've seen here is a genuine response from Joe Root that will be really heartening to LGBT people throughout sport that there are allies like this speaking up for us."
West Indies coach Richard Pybus was unaware of any potential controversy at close of play, but told the BBC: "Nothing has been reported to me but if a comment was made we'll review it and if it was untoward we'll be addressing it."
Sledging is a term used in cricket to describe how some players seek to gain an advantage by insulting or verbally intimidating an opposing player to try to affect their concentration.
Benjamin Netanyahu: Israeli PM in court accused of fraud, breach of trust and bribery | World News
A defiant Israeli prime minister has appeared in court for the first day of his corruption trial claiming that he is the victim of a conspiracy by media, police, prosecutors and judges to oust him.
In a televised statement made just before he entered the courtroom, Benjamin Netanyahu accused police and prosecutors of conspiring to "depose" him.
"The objective is to depose a strong, right-wing prime minister, and thus remove the nationalist camp from the leadership of the country for many years," he said.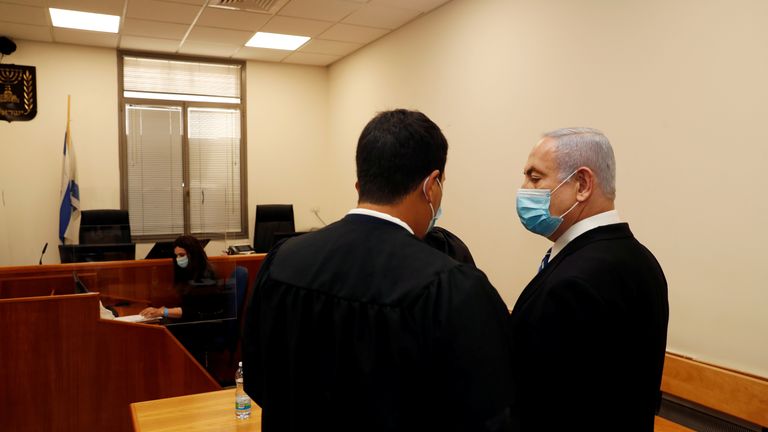 It was the opening day of a trial which could last years and marks a historic moment for Israel.
Mr Netanyahu is the first sitting Israeli leader ever to go on trial. He is accused of fraud and breach of trust in two cases and bribery, fraud and breach of trust in a third case. He denies all the charges.
The three cases against him – Case 1000, Case 2000 and Case 4000 – centre around his relationships with businessmen, media tycoons and a leading Israeli telecoms firm.
Since the charges were first brought against him by police investigators in December 2018, he has sought to avoid prosecution and the spectacle of appearing in the dock, calling the whole process an "attempted coup".
"They are not after the truth. They are after me," he said. "[It is a] terror attack against Israeli democracy."
When the charges were formally announced last year, Israel's Attorney General said he brought them "with a heavy heart – but wholeheartedly".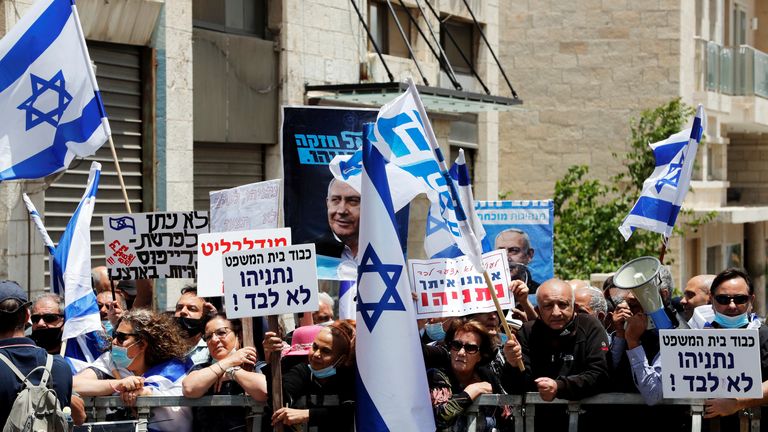 "It is not an issue of left wing or right. Enforcing the law isn't a matter of choice," Avichai Mandelblit said.
An attempt by Mr Netanyahu to secure parliamentary immunity from prosecution last year failed. The trial was then delayed by two months in March because of coronavirus restrictions.
Last week he argued, unsuccessfully, that attending today was unnecessary, costly and would violate social distancing rules.
The trial has hung over him through three election campaigns, none of which he managed to win outright.
This month the country's political deadlock was finally broken with the formation of a coalition government deal in which his political rival, Benny Gantz, will take over as Prime Minister in 18 months' time.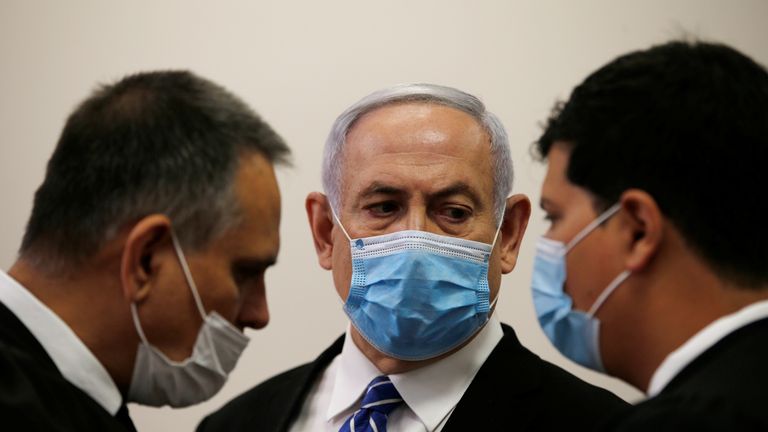 By law, a sitting Prime Minister does not have to resign until a final conviction and all appeals have been exhausted and this trial could go on for years. There are 333 prosecution witnesses.
A clause in the coalition agreement means even after Mr Netanyahu hands over power to Mr Gantz in 18 months, he is still not required to resign while on trial because of his position as the "alternate" Prime Minister.
In the courtroom on the first day, Mr Netanyahu and his co-defendants listened to charges against them. Defendants can enter plea bargain at any point before verdict.
Speaking outside court, Anshel Pfeffer, author of Bibi: The Turbulent Life and Times of Benjamin Netanyahu, told Sky News: "This is certainly a pivotal moment in his life.
"For four years, the investigation has been going on very slowly and finally we have reached the moment when he actually has to sit down in court," Mr Pfeffer said.
"We saw a very telling moment as he went in. For 50 minutes it was the judges and the prosecutors who were in charge of the proceedings. This was a very different Netanyahu sitting on his own on the defendants' bench doing what he was told. It was a metamorphosis for Netanyahu."
As a renowned and extraordinary political survivor, many expect Mr Netanyahu, "the magician", to conjure up some surprises.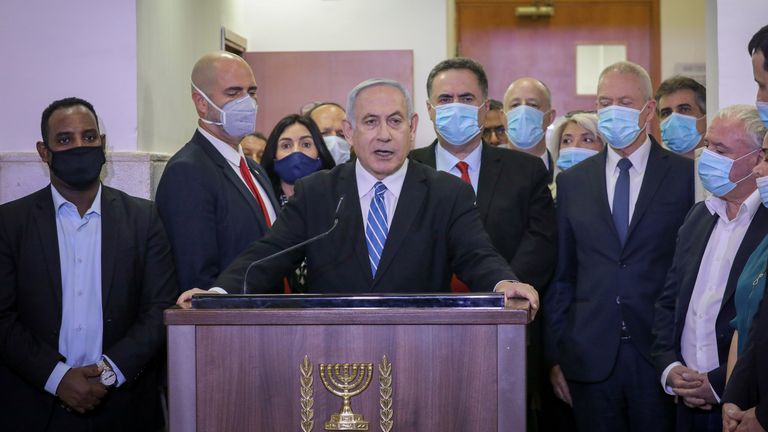 His lawyers complained to the judges that the investigation documents were not presented to them in time. The same complaint was made by the lawyers of the other defendants.
🇮🇱 History will be made in Israel today as Prime Minister @netanyahu walks into Jerusalem's District Court to become the country's first sitting leader to go on trial.
3 years of investigations, 3 separate cases & 3 elections. A witch-hunt says the PM; an attempted coup. pic.twitter.com/vvSI0DOTkG

— Mark Stone (@Stone_SkyNews) May 24, 2020
The three cases against Mr Netanyahu are:
Case 1000 – The Gifts Affair: Fraud & breach of trust. It is alleged that Mr Netanyahu received luxury goods including champagne and cigars totalling the equivalent of £162,000 from two businessmen over a continuous period amounting to a "supply channel". It is alleged that the prime minister "acted for the benefit" of businessmen. He insists gifts were "tokens of friendship" and that he did not act inappropriately.
Case 2000 – The Media Affair: Fraud & breach of trust. It is alleged that Mr Netanyahu held several meetings with Arnon Mozes, controlling shareholder of the Yedioth Ahronoth media group. It is claimed that they discussed promoting their common interests: favourable coverage in return for restrictions of rival paper. Both men deny wrongdoing.
Case 4000 – The Bezeq Affair: Bribary, fraud & breach of trust. It is alleged that there was a "reciprocal arrangement" between Mr Netanyahu and Shaul Elovitch, controlling shareholder in Bezeq, a leading Israeli telecoms firm. It is alleged that the prime minister was involved in the promotion of regulatory decisions that favoured Bezeq.
Proceedings will continue on 19 July in a trial which could last several years.
Western Australia battered by 'once-in-a-decade' storm | World News
Western Australia has been hit by the biggest storm in a decade, leaving around 50,000 homes and businesses without power as it brought wind gusts of more than 60 miles per hour.
Conditions were expected to worsen overnight as the severe storm progressed, officials said.
Jon Broomhall, acting assistant commissioner of Western Australia's department of fire and emergency services, described the storm as a "a once-in-a-decade-type system".
Prepare for an unusually widespread severe weather event along the west coast. Heavy rain and very gusty winds likely with dangerous surf and storm tides. By Sun night, severe weather will be confined to the SW of WA, easing during Mon. Latest warnings – https://t.co/X0UmpCmgQa pic.twitter.com/H8lTPQiTD7

— Bureau of Meteorology, Western Australia (@BOM_WA) May 23, 2020
He added: "Normally our storms come from the south-west, and this will come from the north-west, so it will test people's buildings, sheds and all those unsecured items, so we're asking people to secure property and make sure everything loose is tied down."
A Bureau of Meteorology official, James Ashley, said the weather formation was "dynamic and complex", adding the storm is a result of a system from Cyclone Mangga in the southern Indian Ocean interacting with a cold front.
The bureau warned people to prepare for "an unusually widespread severe weather event along the west coast", adding that "heavy rain and very gusty winds likely with dangerous surf and storm tides".
Electricity supply to around 37,000 homes and businesses was impacted in the Perth metropolitan area, with some households told to expect to remain without electricity overnight, particularly in places where it was not safe for crews to repair the network.
The worst of the storm was due to hit Perth later on Sunday evening and Monday morning, with forecasters warning it would not ease until Monday afternoon.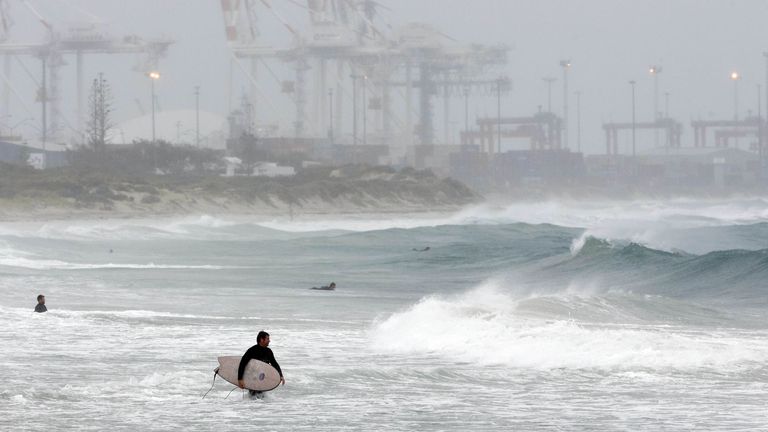 Mr Ashley added: "In a broad area, the south-west of the state will be hit really severely overnight, tonight and into tomorrow."
"Really quite severe conditions will still be experienced in Perth tomorrow morning."
Damage was reported to buildings, homes, fences, electricity infrastructure and trees across Perth as the storm front moved south.
Hong Kong protesters hit with teargas as world figures condemn China's plans for security law | World News
Police have fired teargas at protesters in Hong Kong after nearly 200 political figures from around the world condemned China's plans for new security laws.
Hundreds of demonstraters clashed with security officials in Hong Kong's Wanchai district on Sunday over Beijing's proposals to set up government intelligence bases in the territory.
Protesters were seen cowering behind umbrellas as officers with shields fired the gas to try to disperse crowds of activists and journalists carrying "Free Hong Kong" signs.
China says it wants to prevent a repeat of last year's riots, which were triggered by a bill that would have allowed islanders to be extradited to the mainland.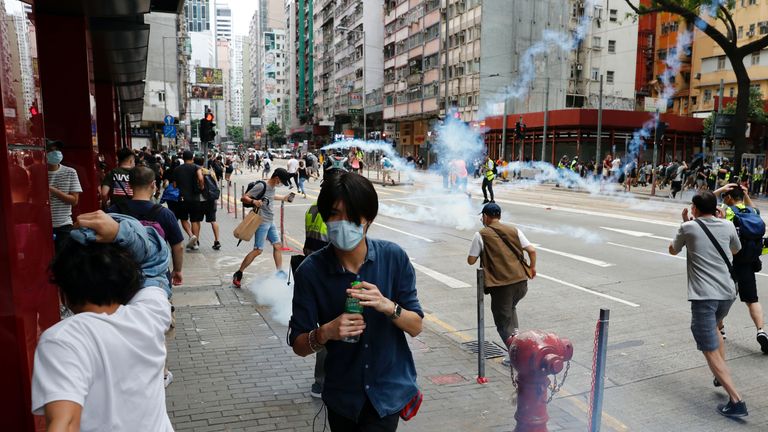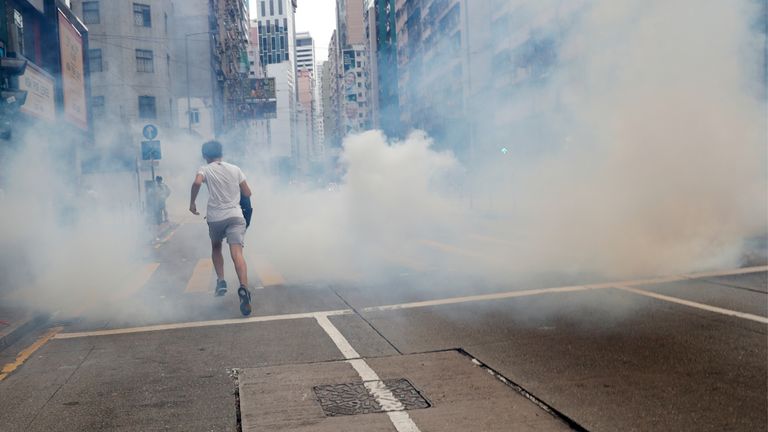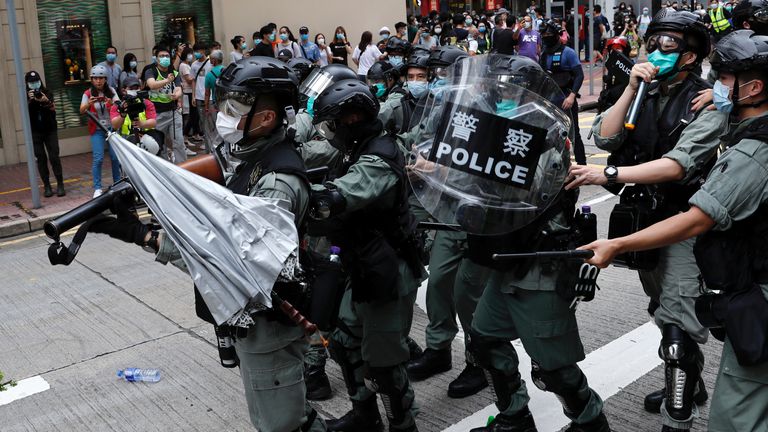 :: Listen to the All Out Politics podcast on Apple Podcasts, Google Podcasts, Spotify, Spreaker
The government says the laws are necessary to "prevent, stop and punish" such protests in the future, after the last demonstrations crippled the territory for months.
Leading democracy activist Joshua Wong defended the decision to protest in violation of Hong Kong's ban on gatherings of more than eight people amid the coronavirus outbreak.
He described the security proposals as the "beginning of the end" and said "time is really running out" for the pro-democracy movement.
International tension over the security legislation is rising fast, with 17 members of US congress joining those criticising the move across the world.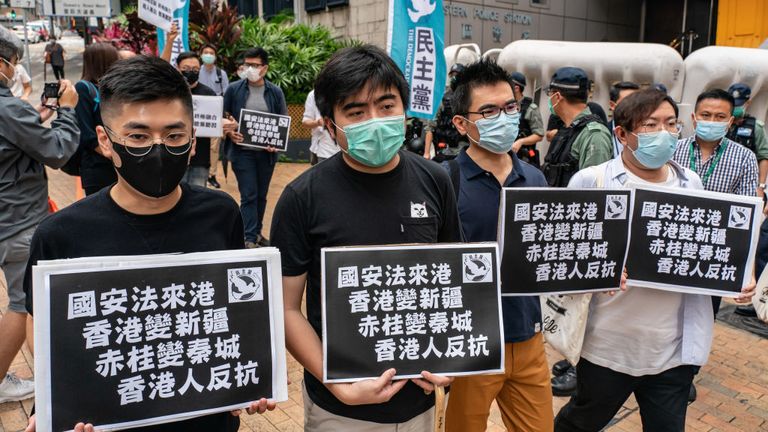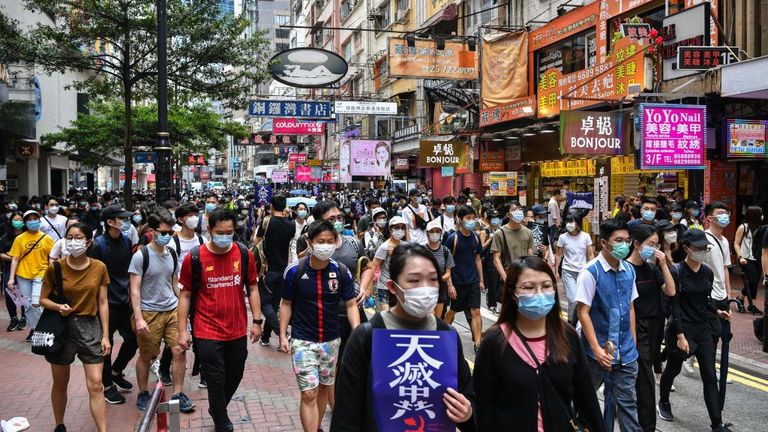 In a joint statement organised by former Hong Kong Governor Chris Patten and former British foreign secretary Malcolm Rifkind, 186 law and policy leaders said the proposed laws are a "comprehensive assault on the city's autonomy and rule of law".
They say the laws threaten "fundamental freedoms" and are a "flagrant breach" of the Sino-British Joint Declaration that returned Hong Kong to China in 1997.
"If the international community cannot trust Beijing to keep its word when it comes to Hong Kong, people will be reluctant to take its word on other matters," they wrote.
The legislation comes as the relationship between Washington and Beijing is at a low ebb after Donald Trump blamed China for the COVID-19 pandemic.
US officials have said the Chinese legislation would be bad for the economies of both Hong Kong and China and could jeopardise the territory's special status in US law.
China has dismissed other countries' complaints as meddling.
Some of the US president's fellow Republicans – Senator Marco Rubio, acting chairman of the Intelligence Committee, and Senator Ted Cruz – signed the statement.
Democratic signatories included Senator Bob Menendez, the top Democrat on the Senate Foreign Relations Committee, and Representatives Eliot Engel, head of the House Foreign Affairs Committee, and Adam Schiff, chairman of the House of Representatives Intelligence Committee.
In London, 44 MPs and eight members of the House of Lords also signed the statement, alongside figures from across Europe, Asia, Australia and North America.