Joe Root's reaction in gay sledging row 'more important than a win' | World News
Joe Root's reaction during a heated incident with Shannon Gabriel has been lauded as "more important than a victory".
Former England captain Nasser Hussain reacted on Twitter after Root told the West Indies fast bowler "there's nothing wrong with being gay" during an on-field incident on day three of the third Test in Saint Lucia.
Hussain tweeted about the alleged sledging incident: "I don't know who said what to whom… but boy do I applaud Joe Root's reaction here. For me his twelve words as a role model will be in the end more important than a test hundred or possible victory."
The Sky Sports cricket expert and columnist insisted that while there was currently no evidence of any wrong-doing by Gabriel, Root's reaction sent an important message.
He told Sky News: "Joe Root as a role model, as England captain, stood up in the middle of a Test match to what he thought was homophobic abuse and said 'I'm not having that'. He could have shrugged or laughed it off but he didn't.
"There's no room for homophobia on or off the cricket pitch which is why I applaud what Joe Root did."
Gabriel's part of the conversation was not picked up by the stump microphone but the Trinidadian was spoken to by at least one of the on-field umpires, Kumar Dharmasena and Rod Tucker, about his language.
Following the close of play, England's current skipper was asked to explain the tussle with Gabriel.
"It's Test cricket. He's an emotional guy trying to do everything he can to win a Test match.
"Sometimes people say things on the field that they might regret, but they should stay on the field.
"He's a good guy who plays hard cricket and is proud to be in the position he is. The battle was a good contest. He's had a wonderful series and he should be proud."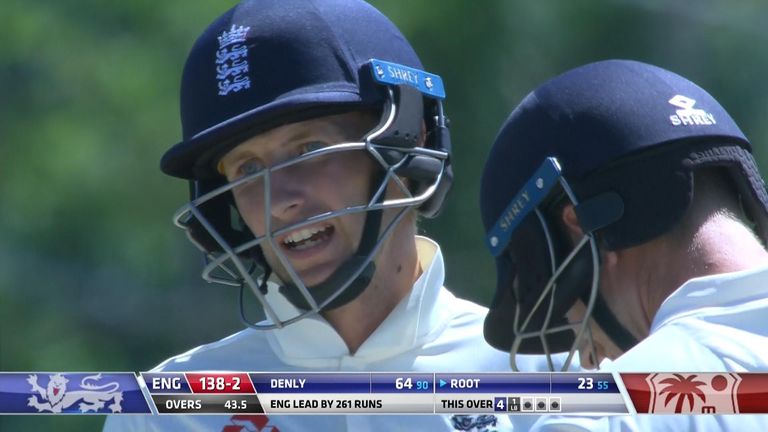 Robbie de Santos, head of campaigns for Stonewall, told Sky News: "What we've seen here is a genuine response from Joe Root that will be really heartening to LGBT people throughout sport that there are allies like this speaking up for us."
West Indies coach Richard Pybus was unaware of any potential controversy at close of play, but told the BBC: "Nothing has been reported to me but if a comment was made we'll review it and if it was untoward we'll be addressing it."
Sledging is a term used in cricket to describe how some players seek to gain an advantage by insulting or verbally intimidating an opposing player to try to affect their concentration.
Opioid crisis driven by 'inappropriate prescription' of painkillers to surgery patients | UK News
A new study shows that a growing opioid crisis is being driven partly by the amount of strong painkillers being given, wrongly, to surgery patients.
The use of prescription opioids more than doubled worldwide between 2001 and 2013.
Researchers who conducted the global study found that an increased reliance on strong opioids was associated with a rising epidemic of their misuse and overdose-related deaths.
The study concluded that 10% of patients experience chronic pain following surgery.
Clinicians often prescribe higher levels of opioids which can lead to increased pain and increased opioid use.
The inappropriate prescription of opioids was found to be a substantial contributor to the opioid crisis.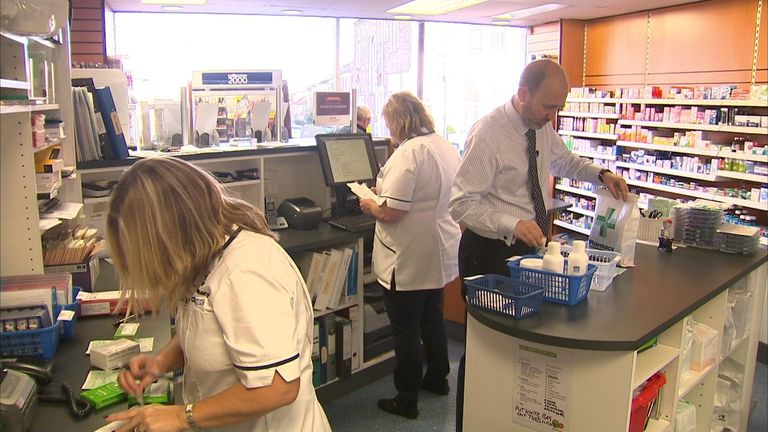 Professor Lesley Colvin, from the University of Dundee, told Sky News: "Most people are aware of the opioid epidemic in the States, where there's been a huge increase in strong opioids prescribed for the management of chronic pain.
"One of the things we're trying to do is find out why that's happened, so there's no doubt that one of the contributors has been the people who have had surgery, they need strong painkillers afterwards… those painkillers are sometimes not stopped when they should be.
"People carry on, sometimes with chronic pain, but they carry on with bigger doses of opioids so they end up with the problems of the side effects, misuse problems, tolerance, opioid-induced hyperalgesia (an increase in pain in line with increased opioid consumption)."
The opioid crisis began in the United States in the mid-1990s when inadequate pain relief was perceived as poor quality healthcare. In 2017, President Donald Trump declared the opioid crisis in the US a "national public health emergency".
Opioids are now one of the most commonly prescribed medication in the USA. Prescriptions for the drugs has also markedly increased in other high-income countries, including the UK.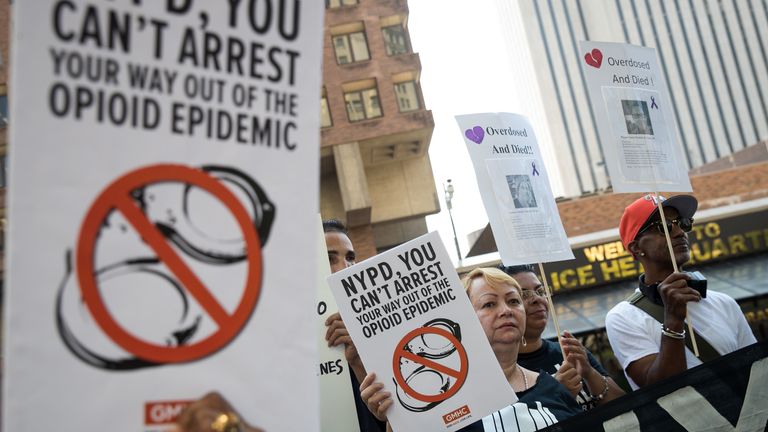 The study found differences between countries in prescribing opioids after surgery.
Data comparing one US and one Dutch hospital found that 77% of patients undergoing hip fracture repair in the US hospital received opioids, whereas none did in the Netherlands hospital, and 82% of US patients received opioids after ankle fracture repair compared with 6% of Dutch patients.
Despite these differences, patients in each of these countries show similar levels of satisfaction with pain management.
In addition, excessive amounts of opioids are prescribed to US patients after surgery.
Studies between 2011-2017 found that 67-92% of US surgery patients reported not using all of their opioid tablets, typically leaving 42-71% of their prescribed pills unused.
Researchers behind the study have called for a new approach to pain management, with a number of ideas to reduce the risk of opioid use.
They include specialist transitional pain clinics and new ways for opioid-users to dispose of the drugs they don't need, in an effort to reduce the possibility of misuse and the chance that they end up in the wrong hands.
Professor Colvin said: "There are research gaps that must be addressed to improve the current opioid situation. Firstly, we must better understand opioid tolerance and opioid-induced hyperalgesia to develop pain relief treatments that work in these conditions.
"We also need large population-based studies to help better understand the link between opioid use during surgery and chronic pain, and we need to understand what predisposes some people to opioid misuse so that we can provide alternative pain relief during surgery for these patients."
"These recommendations affect many areas of the opioid crisis and could benefit to the wider crisis too."
Stormzy cancels Snowbombing gig after accusing organisers of 'racial profiling' | Ents & Arts News
Rapper Stormzy has pulled out of his appearance at an Austrian music festival, after accusing organisers of racial profiling – just hours before he was due to step on stage.
Stormzy, real name Michael Omari Owuo Jr, told fans in a series of Instagram story posts that his friends and manager were stopped by security who had "reason to believe someone was carrying a weapon" in his group.
He added that security were "physically aggressive" and that there was no effort by the festival to deal with the problems.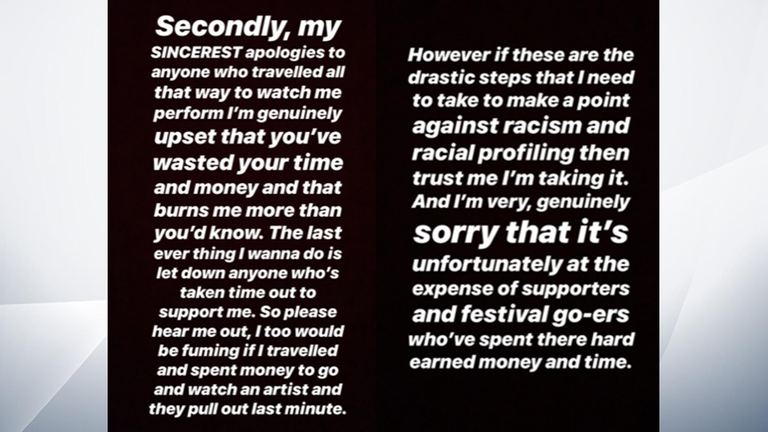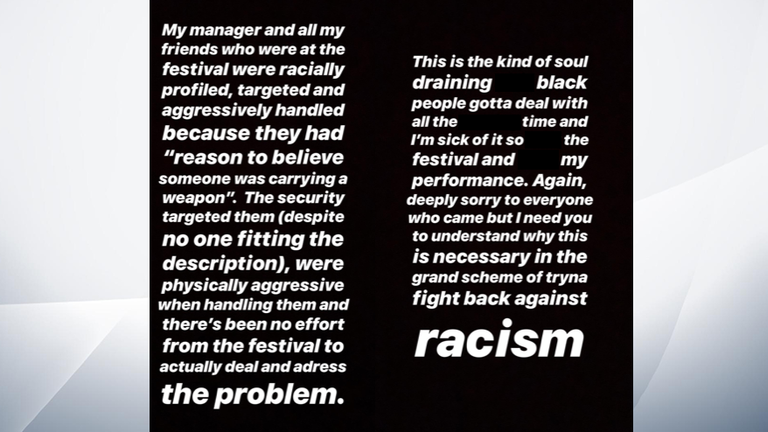 The Glastonbury headliner said: "My sincerest apologies to anyone who travelled all that way to watch me perform.
"I'm genuinely upset that you've wasted your time and money and that burns me more than you'd know.
"The last ever thing I wanna do is let down anyone who's taken time out to support me."
The south London musician added: "However if these are the drastic steps that I need to take to make a point against racism and racial profiling then trust me I'm taking it."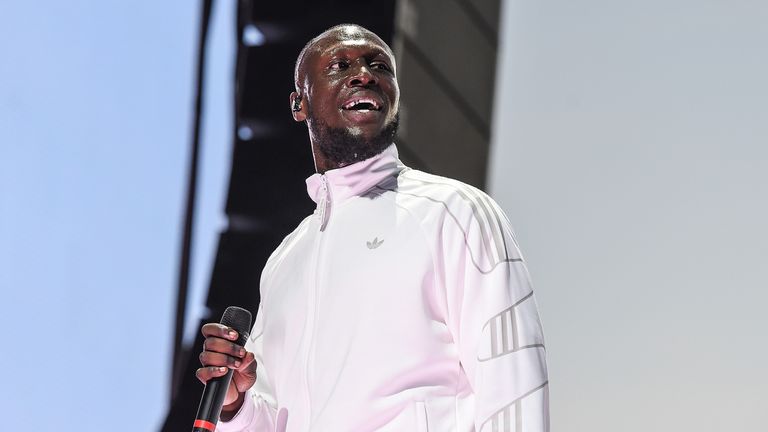 The 25-year-old was set to headline Snowbombing festival in Austria, which takes place at the ski resort of Mayrhofen in the Alps.
A spokesperson for the festival said they were "deeply saddened" by the announcement, but claim that staff had "acted in accordance with protocol" at the event.
They added that Stormzy was not on the site at the time of the incident.
Snowbombing regrets to inform you that Stormzy will no longer be performing at the festival this evening. For more information please click the link https://t.co/gjLA6VBJNj

— Snowbombing (@Snowbombing) April 11, 2019
In a statement, the festival said: "Snowbombing's security were alerted to the possibility that an individual at the festival was allegedly carrying a weapon.
"In accordance with protocol, a small number of attendees, including Stormzy's manager were escorted to the nearest exit, searched and no weapon was found.
"Stormzy's management were unhappy with the manner by which this took place and as a result Stormzy will no longer be performing tonight."
Young woman raising her five siblings alone surprised with new car | US News
A young woman who is raising her five younger siblings after their parents died of cancer has been gifted a new car.
A group of anonymous donors from Florida bought Samantha Rodriguez and her family a Nissan Versa after hearing about their situation.
Orange County's Sheriff's Office surprised the family with the gift after inviting them for a tour of their aviation unit.
In a video posted on Twitter by the force, Ms Rodriguez was asked to come up on stage, where one deputy unveiled a picture of the car.
"It's yours," he said.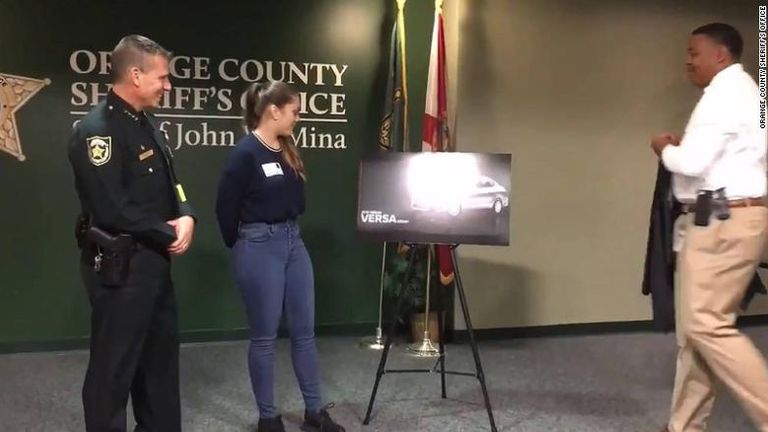 Visibly surprised, Ms Rodriguez thanked the contributors who donated towards the cost of the car.
The 20-year-old said: "Wow, I'm in shock, guys.
"Thank you guys so much, you don't know how much this means to us and it is such a big help.
"Doing everything on my own is very hard but I am so glad to have people like you guys in my life."
Ms Rodriguez, who became the caretaker for her younger siblings after the death of her parents, was described as "an inspiration" by officers.