Joe Root's reaction in gay sledging row 'more important than a win' | World News
Joe Root's reaction during a heated incident with Shannon Gabriel has been lauded as "more important than a victory".
Former England captain Nasser Hussain reacted on Twitter after Root told the West Indies fast bowler "there's nothing wrong with being gay" during an on-field incident on day three of the third Test in Saint Lucia.
Hussain tweeted about the alleged sledging incident: "I don't know who said what to whom… but boy do I applaud Joe Root's reaction here. For me his twelve words as a role model will be in the end more important than a test hundred or possible victory."
The Sky Sports cricket expert and columnist insisted that while there was currently no evidence of any wrong-doing by Gabriel, Root's reaction sent an important message.
He told Sky News: "Joe Root as a role model, as England captain, stood up in the middle of a Test match to what he thought was homophobic abuse and said 'I'm not having that'. He could have shrugged or laughed it off but he didn't.
"There's no room for homophobia on or off the cricket pitch which is why I applaud what Joe Root did."
Gabriel's part of the conversation was not picked up by the stump microphone but the Trinidadian was spoken to by at least one of the on-field umpires, Kumar Dharmasena and Rod Tucker, about his language.
Following the close of play, England's current skipper was asked to explain the tussle with Gabriel.
"It's Test cricket. He's an emotional guy trying to do everything he can to win a Test match.
"Sometimes people say things on the field that they might regret, but they should stay on the field.
"He's a good guy who plays hard cricket and is proud to be in the position he is. The battle was a good contest. He's had a wonderful series and he should be proud."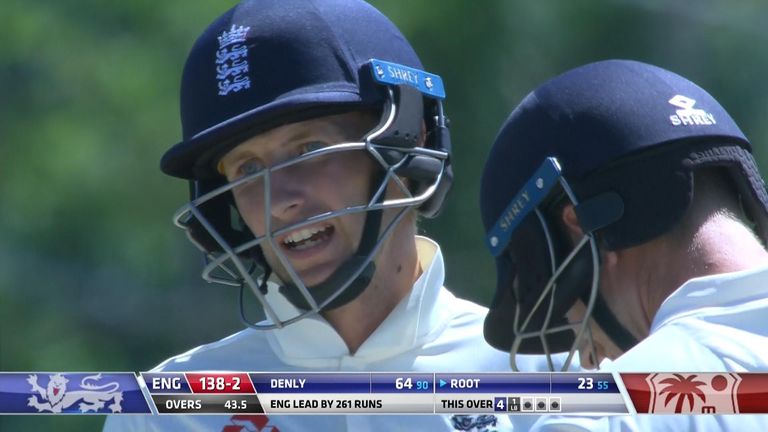 Robbie de Santos, head of campaigns for Stonewall, told Sky News: "What we've seen here is a genuine response from Joe Root that will be really heartening to LGBT people throughout sport that there are allies like this speaking up for us."
West Indies coach Richard Pybus was unaware of any potential controversy at close of play, but told the BBC: "Nothing has been reported to me but if a comment was made we'll review it and if it was untoward we'll be addressing it."
Sledging is a term used in cricket to describe how some players seek to gain an advantage by insulting or verbally intimidating an opposing player to try to affect their concentration.
Hong Kong protests: Crowds 'baying for blood' as mobs attack civilians | World News
Protests in Hong Kong have descended into violence once again – with demonstrators trampling on a Chinese flag, vandalising a train station and setting a fire across a street on Sunday.
As the 16th consecutive weekend of unrest continued, protesters were seen taking turns to run over a Chinese flag before defacing it, putting it in a bin, and pushing it into a nearby river.
At Sha Tin railway station, surveillance cameras were smashed, ticket sensors were knocked off gates and spray-painted, and the screens of ticket machines were smashed.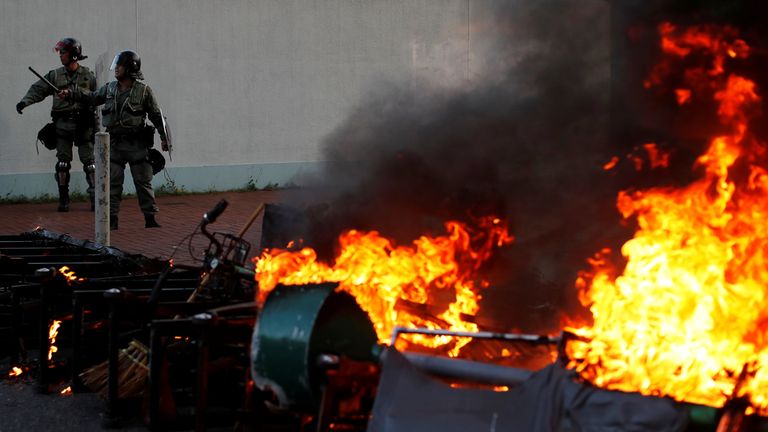 Many of the protesters used umbrellas to shield their identities.
A man suspected of advocating a pro-Beijing stance, who began attacking protesters, was beaten.
Police feared tear gas as they tried to advance on the protesters and disperse the crowds.
Inside a shopping centre in Sha Tin, objects were kicked over and fire extinguishers let off.
Police eventually moved in and many of the protesters were forced to run, with some of them being caught by heavily armed officers.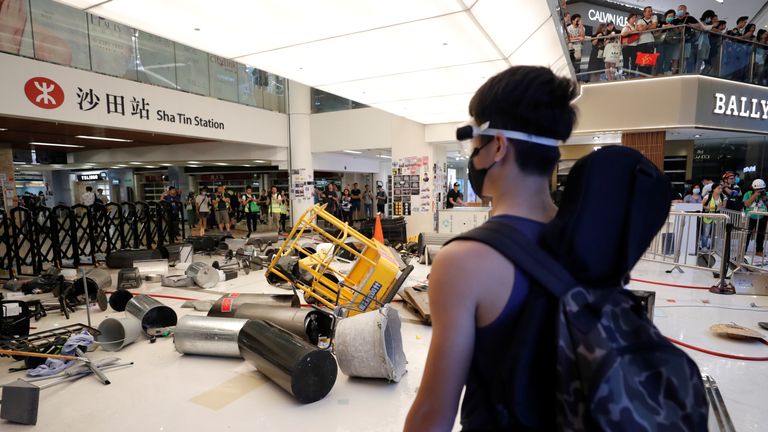 Sky's Tom Cheshire, who was inside the Sha Tin mall, said: "It's a pretty fast moving situation. They've been ripping bins off the wall, ready, because the police have been entering in full riot gear. It's getting very chaotic.
"This started earlier in the day with people singing, doing sit-ins.
"The airport has very high security. There was no way the protesters were going to go there.
"It's taken a really ugly turn. We were sitting when we saw a man with a bloody mess. He had been beaten up by the crowd. There was a mob around him baying for his blood. Eventually some of the protest medics came to his aid."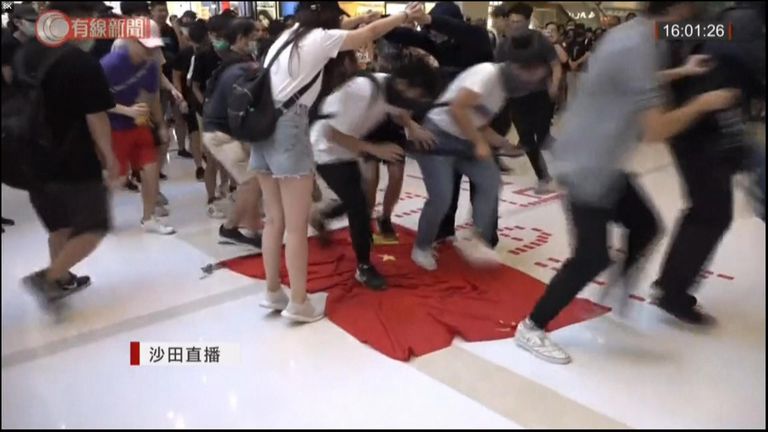 A hardcore group of protesters say violence is necessary to attract the government's attention. They are demanding the resignation of Hong Kong chief executive Carrie Lam, as well as an independent investigation into claims of police brutality.
Even though Ms Lam has agreed to withdraw a controversial extradition bill that triggered the protests back in June, the protesters are now calling for fully democratic elections in the semi-autonomous Chinese territory.
On Saturday night, police used tear gas and rubber rounds against protesters throwing gasoline bombs in their direction.
TV footage showed scenes of arguments and brawls, with people covered in blood.
At least three people were beaten with fists and umbrellas and kicked, and left bloodied and bruised.
Hard border on island of Ireland will return under no-deal Brexit, says EU's Juncker | Politics News
A hard border will return on the island of Ireland if Britain leaves the EU without a deal, Jean-Claude Juncker has told Sky News.
The European Commission president said he would not be the architect of no-deal but the bloc would have to act to protect its citizens' health and safety.
He hit out at unnamed MPs who "are forgetting about the history" of the peace brought to Ireland by the Good Friday Agreement, but warned them if a hard border did return "history will be back immediately".
Speaking exclusively to Sophy Ridge on Sunday, Mr Juncker denied the EU would be responsible for the return of violence seen in The Troubles when tensions between Northern Ireland and the Republic of Ireland flared.
He insisted: "The EU is in no way responsible for any kind of consequences by Brexit – that was a British decision.
"A sovereign decision we are respecting but don't try to charge the EU with responsibility.
"The EU is not leaving the UK, the UK is leaving the EU."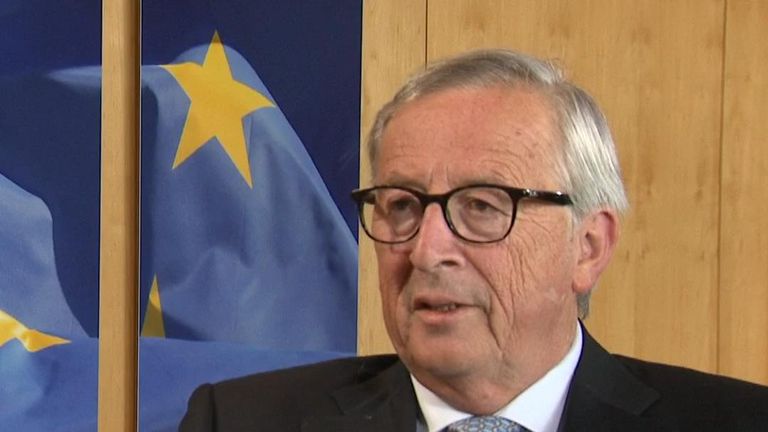 Asked directly if a no-deal divorce on 31 October would mean the return of a hard border, Mr Juncker said "yes".
He added:"I myself am not an architect of new border stations.
"The British have to tell us exactly the architectural nature of this border.
"I don't like it, a hard border. Because after the Good Friday Agreement – and this [agreement] has to be respected in all its parts.
"The situation in Ireland has improved; we should not play with this.
"Sometimes I have the impression that some people are forgetting about the history. But history will be back immediately."
Pressed to say who he was talking about, Mr Juncker simply said: "Some members of the British parliament.
"I'm not criticising them, I have the highest respect possible for Westminster because it's the mother of all parliaments – although not being in session."
Last year, Sky News uncovered a leaked cabinet letter from then foreign secretary Boris Johnson saying "it is wrong to see the task as maintaining 'no border'" in Ireland post-Brexit.
He added that the government's task would be to "stop this border becoming significantly harder".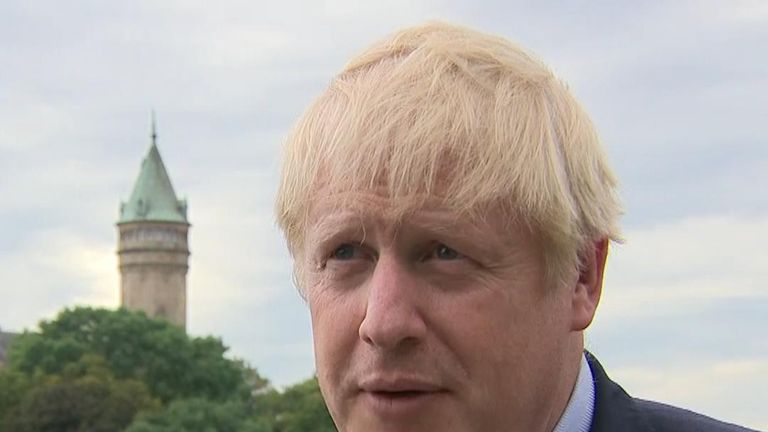 Mr Johnson's new administration is aiming for a Brexit deal but has insisted the UK will leave the EU with or without a deal "do or die" on Halloween.
One suggested way of avoiding a hard border is to keep Northern Ireland closely aligned with the EU in certain areas while creating a border with Great Britain in the Irish Sea.
This would be contentious for many Northern Ireland unionists and Mr Johnson's official spokesman said officials were "not seeking" such an arrangement.
:: Listen to All Out Politics on Apple Podcasts, Google Podcasts, Spotify, Spreaker
Earlier this week Sky News revealed how Mr Juncker said he was doing "everything to get a deal" but warned Britain leaving the EU without a withdrawal agreement would have "catastrophic consequences".
He also said he did not have "an erotic relation" to the so-called Irish backstop – the insurance plan that only kicks in if Britain leaves with a deal to stop a hard border re-forming in Ireland.
Pence visits island that banned cars 100 years ago… with a motorcade | US News
Vice President Mike Pence has taken an eight-car motorcade through a island which banned cars more than 100 years ago.
Mr Pence was on Mackinac Island in Michigan where cars – except for emergency vehicles, snowmobiles and government-owned service vehicles – have been banned since 1898.
Despite this, Donald Trump's deputy defied the ban and brought several cars to the island, which sits in Lake Huron, between Michigan's upper and lower peninsulas.
Detroit Free Press reported it was the first-ever motorcade on the island, where residents usually walk or cycle.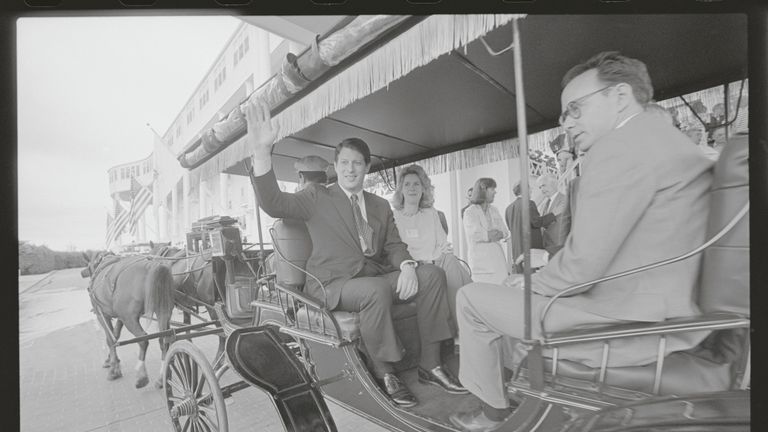 Gerald Ford is the only person to have visited the island while a sitting president, but he travelled by horse.
Other presidents – including George HW Bush, Harry Truman and John F Kennedy – also visited the island before or after their time in the Oval Office, and also travelled by horse.
Mr Pence was on the island to speak at the Michigan Republican Party's leadership conference, the first ever sitting vice president to address it in its 60-year history, according to the Washington Examiner.
He was there on 21 September, the day before World Car Free Day.
Some American voters on social media were furious. One said: "An eight car motorcade on Mackinac Island. Breaking 121 year tradition of no motor vehicles on the island in order to make a show.
"Even President Gerald Ford rode in a horse drawn carriage. Is there no limit to the crass elitist raised middle finger to America?"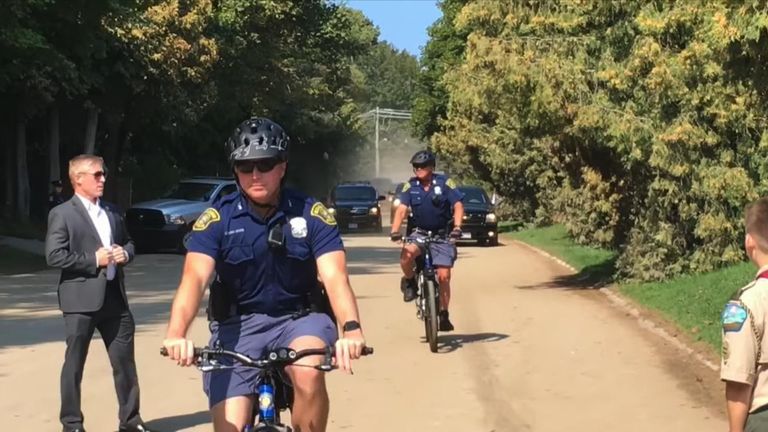 Another said: "You sir have lost my vote forever! Disrespecting the tradition of no motor vehicles on #MackinacIsland by bringing a entourage of an 8 vechile [sic] motorcade."
But Phil Anderson from Minnesota, who was on the island over the weekend, told Detroit Free Press: "It's not an issue at all.
"The wonderful president and the wonderful vice president have to get out and meet people and they can't walk from the airport."
Zach Gorchow, editor of Gongwer News Service in Michigan tweeted: "You got to love seeing Secret Service on a tandem bike on Mackinac Island."
He later covered Mr Pence's speech, which included a "crowd-pleasing line" that Karen Pence had told him not to bother coming home if he didn't have fudge, and mentioned that the couple had been to the island multiple times.