'I hope I can inspire others' British teen youngest person to row solo across any ocean | UK News
A British teenager has become the youngest person to row solo across any of the world's oceans.
Lukas Haitzmann – The Wild Oarsman – rowed 3,000 miles (4,800km) from the Canary Islands to English Harbour in Antigua as part of the Talisker Whisky Atlantic Challenge.
Arriving in Antigua on Saturday, the 18-year-old, from Windsor, Berkshire, beat two world records by becoming the youngest person to row across any ocean solo, and the first Austrian – his father is from Austria – to row solo across the Atlantic.
He was also the fastest solo rower from the 2018 challenge, completing it in 59 days, eight hours and 22 minutes.
While most young people leaving school last summer were thinking about the universities they would be going to, the jobs they could get or where they would travel, Lukas decided he needed a serious challenge.
Having grown up rowing and sailing, he decided to put university off for a year to row across the Atlantic.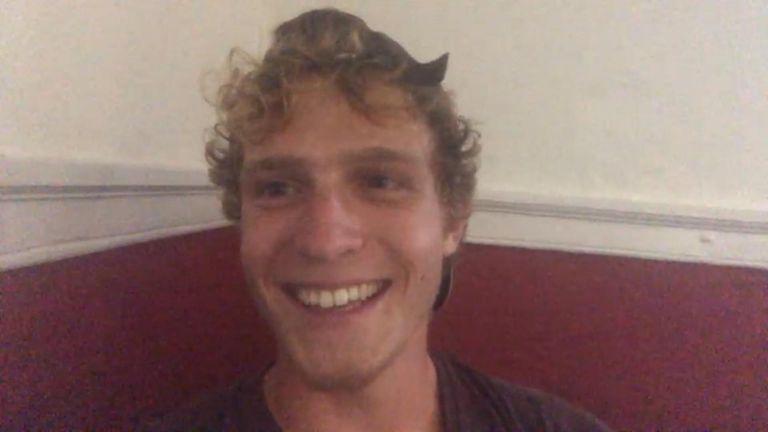 His dyslexia was put to the test trying to fundraise enough money to buy a specially-built ocean rowing boat and everything he would need, from food to suncream.
He told Sky News: "To be honest, the fundraising bit was harder for me than the training – I already had the fitness from rowing for the past five years.
"I really like to challenge myself and think it's important to. My mum wasn't so impressed when I first told her but I managed to persuade her eventually.
"I didn't realise I was going to be the youngest person to ever cross an ocean solo until I started doing a bit of digging, because others who have done it have broken some records.
"It wasn't why I did it, but that did help push me along during the row."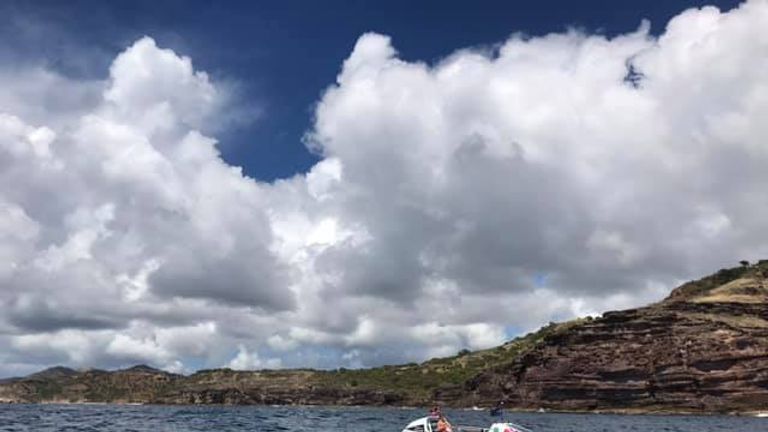 Many people who do the Atlantic Challenge hallucinate and struggle with the loneliness, but Lukas said he felt it was quite peaceful.
He would sleep for about five hours in the middle of the night as his boat drifted, then a couple of hours around lunchtime to get his energy back up in the heat of the day.
"I didn't really talk to myself, it was more talking my thoughts out loud. My music ran out after a month so that was a bit hard for the second half.
"I think the most difficult part was my water changer broke after 10 days so I had to use a manual pump to change sea water into drinking water which was very tiring, but I finally managed to fix it."
During his nearly two months at sea Lukas said he saw dolphins, which he swam with, a whale swam under his boat, and he saw a turtle and fish.
"I had a storm petrel, a type of bird, following me for a while which was really great, he kept me company, although he wasn't great at conversation!
"I thought I'd see a lot more though, it wasn't like there was wildlife every single day, which was quite sad.
"I did see a lot of pollution, some which had been there for a long time, which was awful.
"Being out on the ocean for that long made me really respect it. There's no messing around, and you really have to have your wits about you."
The teenager is hoping his feat will help inspire other youngsters to push themselves at whatever they want.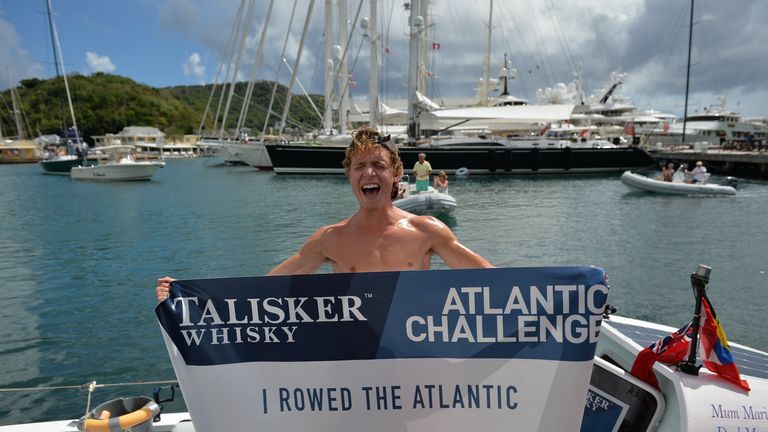 "I'm just a normal kid really, I'm not Superman, I just really enjoy a challenge and this was a way of really pushing myself," he added.
"I hope it shows people that no matter what age you are, you really can do more than you think. If you don't succeed, it doesn't matter, just keep trying and try something else to challenge you if that doesn't work."
Not one to remain on terra firma for long, Lukas is going to use his time in Antigua to go sailing with his family before going back to the UK where he wants to go to university.
"After uni, we'll see, I want to get an education, and actually being at sea really made me appreciate learning more because I couldn't Google what fish that was, or why the clouds were forming like they were.
"I did miss not being able to pick up my phone all the time, but actually I really relished it because it made you appreciate the ocean."
British woman Faye Mooney killed by kidnappers in Nigeria | World News

Kidnappers in Nigeria have shot dead a British woman and a Nigerian man, and abducted three others, officials have said.
Police and the British High Commission have named the woman as Faye Mooney and said they were aware of an incident which took place at a holiday resort on Friday but added that they would not speculate on a motive.
Her next of kin have been informed.
The Briton was working in Nigeria as a communications specialist for aid group Mercy Corps and had travelled to the northern city of Kaduna from Lagos as a tourist, police said.
In a statement, Mercy Corps said it was "utterly heartbroken" by the killing.
Police said Ms Mooney, who worked in the west African nation for nearly two years, had been attending a party before the incident.
A Kaduna state police spokesman said: "Some suspected kidnappers armed with dangerous weapons gained entry into a recreational resort called Kajuru Castle in Kajuru local government area shooting sporadically and in the process shot dead two persons, including an expatriate lady, and took away three others."
Officers have not yet named the other person killed in the incident.
No individuals or groups have said they are behind the killing and police are yet to identify the kidnappers.
Northern Nigeria has been dealing with a Boko Haram and Islamic State insurgency and clashes between farmers and herders, in which hundreds have died.
In a statement, the British High Commission said: "We are engaging with the Nigerian authorities, and we understand an investigation is under way."
More follows…
Comedian Volodymyr Zelenskiy wins Ukraine presidential election by landslide – exit poll | World News

Comedian Volodymyr Zelenskiy has won Ukraine's presidential election with 73% of the vote, according to an exit poll.
An exit poll showed Mr Zelenskiy had beaten Petro Poroshenko by a landslide with the incumbent winning just 25% of the vote.
More follows…
Gorillas appear to pose for selfie with park ranger in the Democratic Republic of Congo | World News

A photo has emerged of what a park ranger claims to be a selfie with two gorillas in the Democratic Republic of Congo.
Ranger Mathieu Shamavu says the picture was taken at Virunga National Park, a UNESCO World Heritage Site in the Democratic Republic of Congo.
A spokesperson for the park told Sky News the pair both lived in a specially designed unit which cares for gorilla orphans who have been victimised by poachers or animal traffickers.
Mr Shamavu described his captivating composition as just "another day in the office".
He is part of the park's Elite Anti-Poaching Units And Combat Trackers group, which is tasked with protecting the animals.
A team of more than 600 rangers undergoes "intensive training, risking their lives on a daily basis to safeguard the park's exceptional wildlife", according to the Virunga National Park website.
Around one third of the world's population of critically endangered mountain gorillas live in the park's lush volcanic forests.
The rangers have previously posted several photos of them exceptionally close to gorillas.
A Virunga National Park spokesperson said the pair were "friendly" because they were used to human contact in the Senkwekwe Centre for Gorilla Orphans.
Yvonne Ndege, a spokesperson for UNHCR Kenya, re-posted the image on Twitter, writing: "Selfie of the Year no question!"
Thousands of people responded to the image on Facebook, with one user saying: "Wow, that is an awesome office you've got there. Stay safe and thank you for the amazing work you do."
Another user simply said: "Now that's a selfie!"
With the photograph being shared thousands of times across social media, supporters have urged people to "make a difference" and donate to Virunga's conservation efforts.