'I hope I can inspire others' British teen youngest person to row solo across any ocean | UK News
A British teenager has become the youngest person to row solo across any of the world's oceans.
Lukas Haitzmann – The Wild Oarsman – rowed 3,000 miles (4,800km) from the Canary Islands to English Harbour in Antigua as part of the Talisker Whisky Atlantic Challenge.
Arriving in Antigua on Saturday, the 18-year-old, from Windsor, Berkshire, beat two world records by becoming the youngest person to row across any ocean solo, and the first Austrian – his father is from Austria – to row solo across the Atlantic.
He was also the fastest solo rower from the 2018 challenge, completing it in 59 days, eight hours and 22 minutes.
While most young people leaving school last summer were thinking about the universities they would be going to, the jobs they could get or where they would travel, Lukas decided he needed a serious challenge.
Having grown up rowing and sailing, he decided to put university off for a year to row across the Atlantic.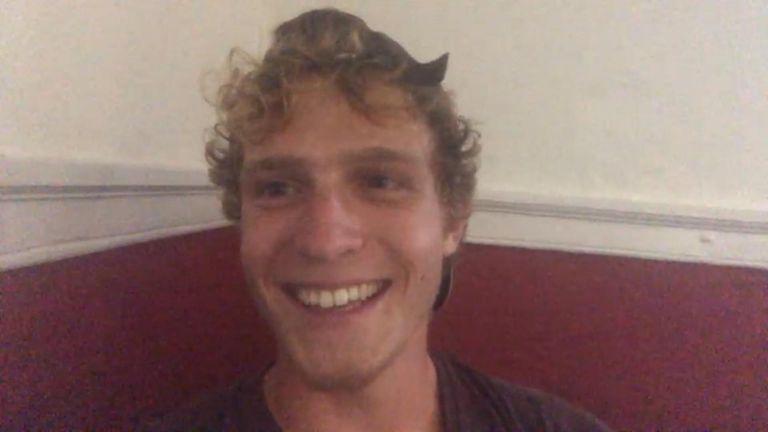 His dyslexia was put to the test trying to fundraise enough money to buy a specially-built ocean rowing boat and everything he would need, from food to suncream.
He told Sky News: "To be honest, the fundraising bit was harder for me than the training – I already had the fitness from rowing for the past five years.
"I really like to challenge myself and think it's important to. My mum wasn't so impressed when I first told her but I managed to persuade her eventually.
"I didn't realise I was going to be the youngest person to ever cross an ocean solo until I started doing a bit of digging, because others who have done it have broken some records.
"It wasn't why I did it, but that did help push me along during the row."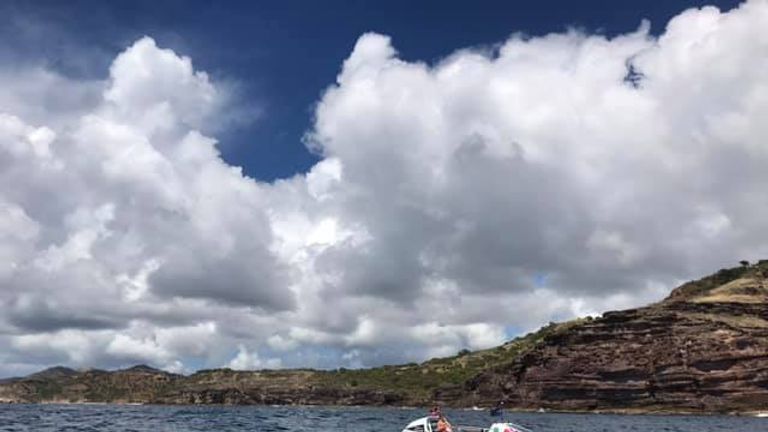 Many people who do the Atlantic Challenge hallucinate and struggle with the loneliness, but Lukas said he felt it was quite peaceful.
He would sleep for about five hours in the middle of the night as his boat drifted, then a couple of hours around lunchtime to get his energy back up in the heat of the day.
"I didn't really talk to myself, it was more talking my thoughts out loud. My music ran out after a month so that was a bit hard for the second half.
"I think the most difficult part was my water changer broke after 10 days so I had to use a manual pump to change sea water into drinking water which was very tiring, but I finally managed to fix it."
During his nearly two months at sea Lukas said he saw dolphins, which he swam with, a whale swam under his boat, and he saw a turtle and fish.
"I had a storm petrel, a type of bird, following me for a while which was really great, he kept me company, although he wasn't great at conversation!
"I thought I'd see a lot more though, it wasn't like there was wildlife every single day, which was quite sad.
"I did see a lot of pollution, some which had been there for a long time, which was awful.
"Being out on the ocean for that long made me really respect it. There's no messing around, and you really have to have your wits about you."
The teenager is hoping his feat will help inspire other youngsters to push themselves at whatever they want.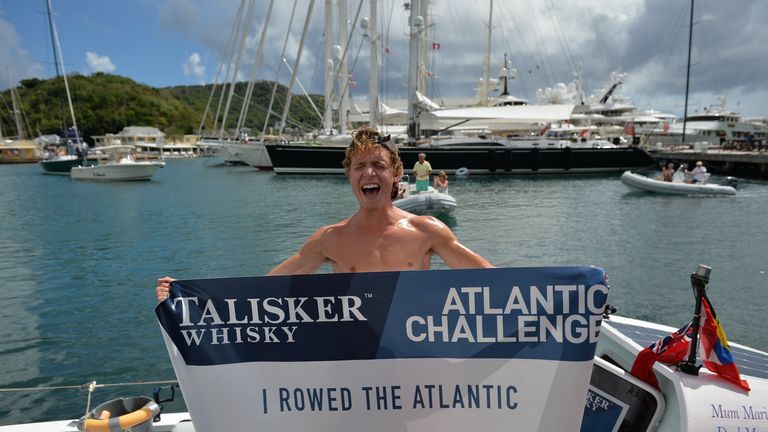 "I'm just a normal kid really, I'm not Superman, I just really enjoy a challenge and this was a way of really pushing myself," he added.
"I hope it shows people that no matter what age you are, you really can do more than you think. If you don't succeed, it doesn't matter, just keep trying and try something else to challenge you if that doesn't work."
Not one to remain on terra firma for long, Lukas is going to use his time in Antigua to go sailing with his family before going back to the UK where he wants to go to university.
"After uni, we'll see, I want to get an education, and actually being at sea really made me appreciate learning more because I couldn't Google what fish that was, or why the clouds were forming like they were.
"I did miss not being able to pick up my phone all the time, but actually I really relished it because it made you appreciate the ocean."
Paris streets near Notre-Dame cathedral to be decontaminated | World News
Work is about to begin on decontaminating the streets around the Notre-Dame cathedral after high levels of lead were detected following the blaze at the landmark in April.
Fences have been erected in a number of Paris streets and a bridge has been put up around the cathedral as specialists prepare to start work.
The culture ministry said workers planned to use two decontamination techniques including spreading a gel on public benches, street lights and other fixtures to absorb the lead.
It will then be allowed to dry for several days before it is removed.
High pressure water jets with chemical agents are also to be deployed in the clean-up operation.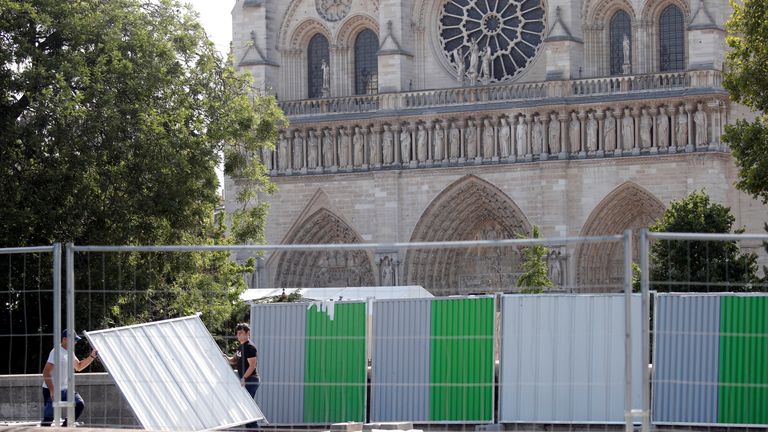 Work inside Notre-Dame that was suspended last month for safety reasons will resume next week.
Hundreds of tonnes of lead in Notre Dame's spire and roof melted during the fire.
Last week, health officials said a child in the city was at risk of lead poisoning after hundreds of children were tested following the fire.
The youngster needs monitoring following tests but does not yet need treatment.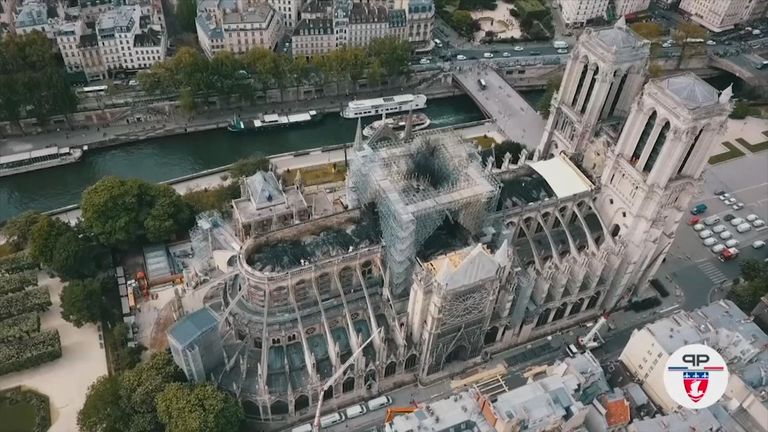 Checks are being done to find out whether the lead came from the fire at the famous 12th century landmark or another source.
The child's school, near the cathedral, was closed in July after high lead levels were found on its grounds.
Despite the move, authorities' response has been criticised, and in July a French environmental group sued Paris officials.
The spire and roof were devastated but the cathedral was saved from total destruction.
An estimated 12 million people flock to Notre-Dame each year, making it one of the world's most popular tourist attractions.
Nora Quoirin: Body found in search for missing London girl in Malaysia 'resembles Nora' | World News
Police in Malaysia have found a body which "resembles Nora" in the search for the missing London teenager.
Nora Quoirin, 15, was reported missing on 4 August while on a family holiday at a jungle resort near Seremban, around an hour south of the capital Kuala Lumpur.
Police have confirmed that rescuers have found a body about 1.2miles (2km) from where she was reported missing.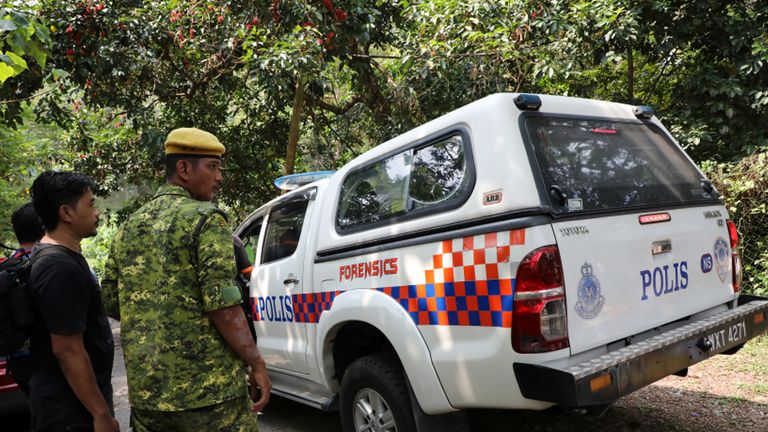 A spokesman for the Lucie Blackman Trust which is handling media enquiries for Nora's family said it is "likely" the body is that of the missing teenager.
Police said they had found the body of a Caucasian female in the forest surrounding the resort, and that officials are in the process of determining whether it is Nora.
Police said they sent officials to a waterfall after receiving a call from a member of the public.
The body was carried to hospital by helicopter as it was in a hard to reach area.
Nora's parents are travelling to the hospital to identify the body.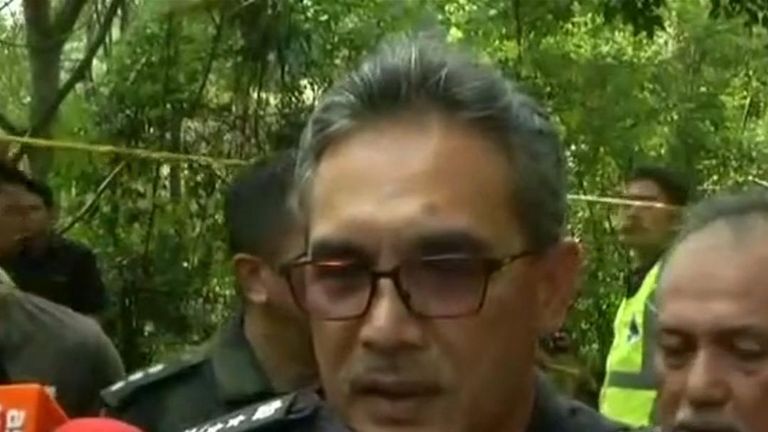 In a statement, the LBT said: "The Lucie Blackman Trust can confirm a body has been found in the search for Nora Quoirin.
"At this time we cannot confirm it is Nora. However it sadly seems likely.
"Investigations are under way to confirm identity and cause of death.
"The charity will update as soon as possible."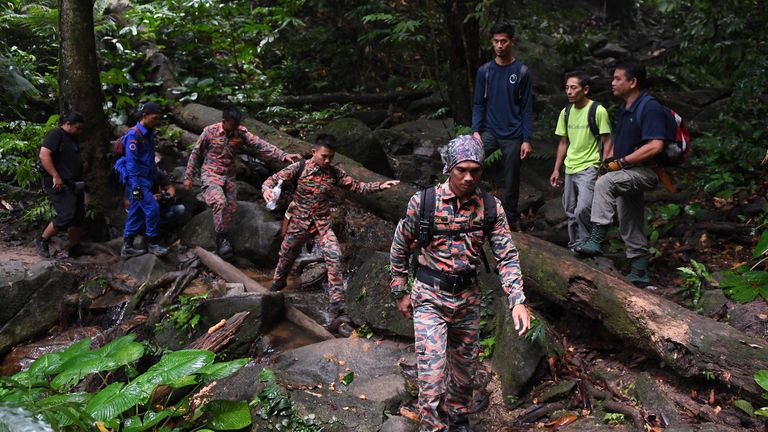 Simon Coveney, Ireland's deputy prime minister and foreign affairs minister, said: "Irish + French embassies in Malaysia working together to provide every assistance to the Quoirin family. Irish embassy is in touch with Malaysian authorities on today's discovery of a body. At this harrowing time all of our thoughts + prayers are with the family."
Hundreds of people joined the search operation to try to find Nora, who was born with the brain defect holoprosencephaly and has special needs.
Nora's mother made a heartfelt plea on Monday to find her, and a £10,000 reward was offered for information leading to her safe return.
Her parents, Meabh and Sebastien Quoirin, who are Northern Irish and French, thanked those looking for her, many of which are volunteers, as a fundraiser for the family reached £100,000.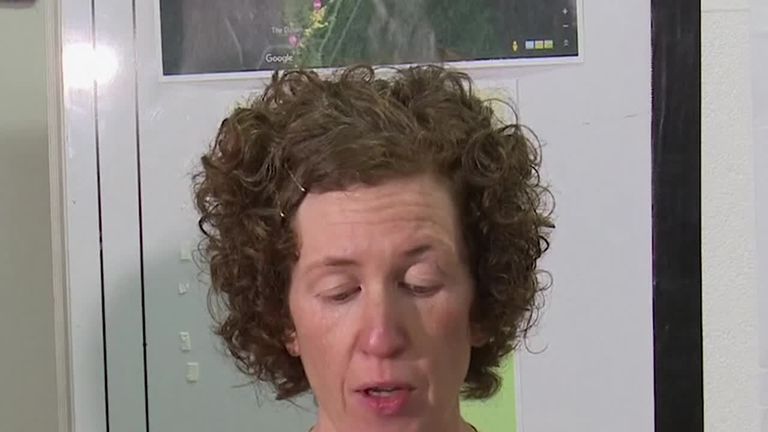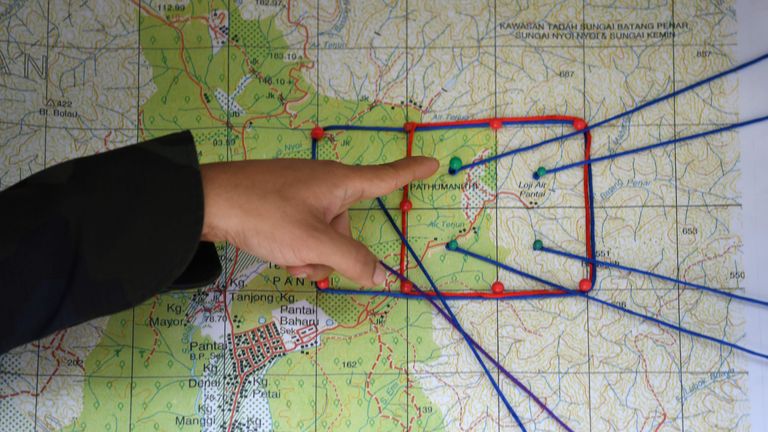 On Monday, Ms Quoirin said: "Nora is our first child.
"She has been vulnerable since the day she was born.
"She is so precious to us and our hearts are breaking. We are appealing to anyone who has information about Nora to help us find her."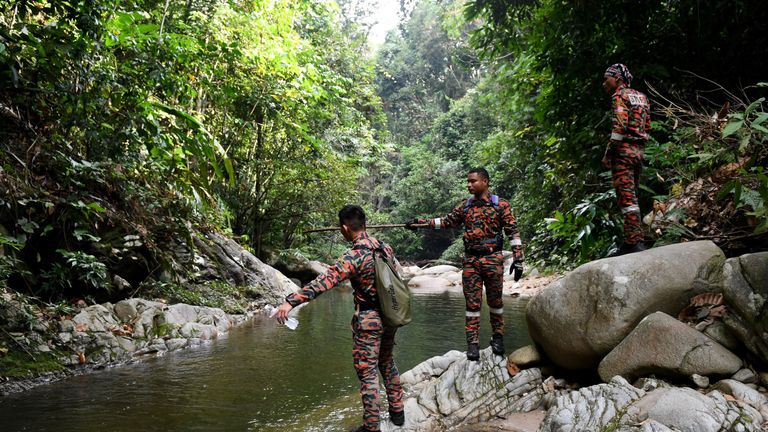 Nora's father found she was not in her bedroom on the morning of 4 August, when he went in and discovered the window was open. A family friend said it was "out of character" for her to "go wandering off".
At the early stages of the investigation, police in Malaysia said there was no evidence of foul play, but her family repeatedly insisted she had been abducted.
As the days continued, police investigated footprints in the forest as well as fingerprints on the open window of a downstairs hallway in the resort where Nora and her family were staying.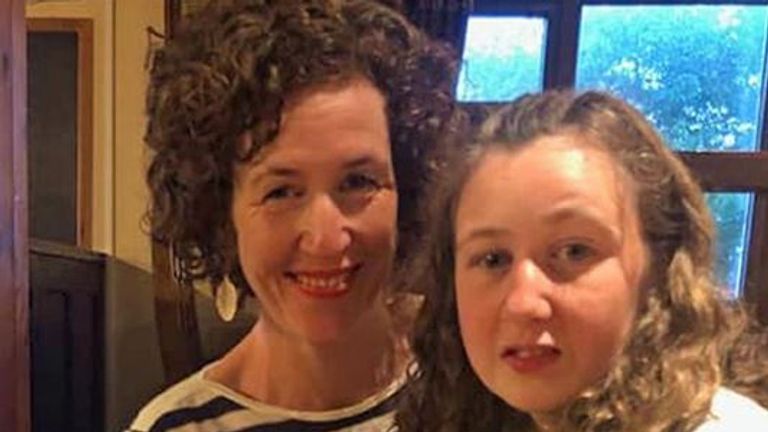 At the end of last week, her parents gave more details of her special needs, clarifying that she can read like a young child, but cannot write more than a few words, and cannot do maths, making money impossible to manage.
She also cannot make or receive phone calls independently.
Police have refused to rule out a criminal element.
Nora was travelling on an Irish passport while on holiday, but her parents have lived in London for 20 years.
She is a parishioner of St Bede's Catholic Church, in Clapham Park, south London, and the church has held vigils for her since she went missing.
The primary school of the same name will be opened this afternoon. In a post, the school said: "The school will be open today from 1pm for all who want to join in prayer for Nora and her family. This is the time we need to show the strength of our community and seek God's guidance and support in this hearbreaking and horrific moment."
Sydney stabbing: British 'heroes' pin down suspect after woman fatally stabbed | World News
Three British men pinned down a knife-wielding man who allegedly attempted to stab several people in Australia.
Police confirmed the man, 21, who witnesses say yelled "Allahu akbar" – or "God is great" – during the incident, has been arrested and is being questioned.
The body of a 21-year-old woman was found in an apartment building near the scene, at a busy intersection in Sydney.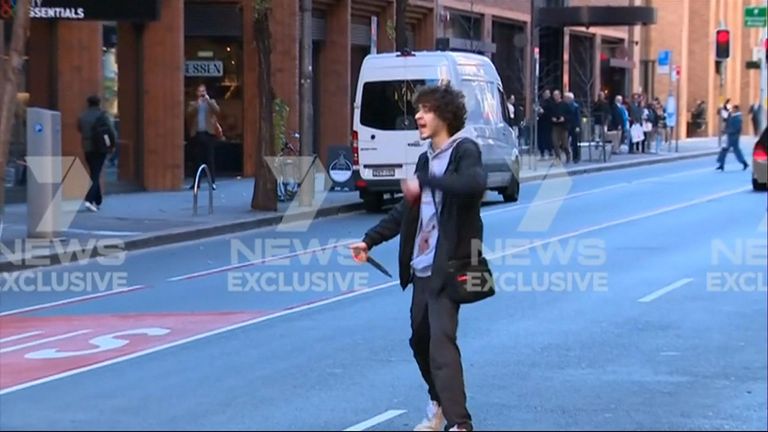 Another woman, aged 41, was stabbed in the back in the street and has been taken to hospital where she is in a stable condition.
Lee Cuthbert, Paul O'Shaughnessy and his brother Luke, all from Manchester, were working in their recruitment company office when they heard shouting in the street and gave chase.
They managed to pin down the man and restrain him until police arrived.
Mr O'Shaughnessy said: "We saw what was going on and chased the man.
"He had a knife, it was covered in blood. He kept saying something in Arabic, he was clearly under the influence of something.
"My brother Luke managed to keep him pinned down until the police arrived. My brother put a crate and a chair to keep him pinned down. He didn't show any remorse at all."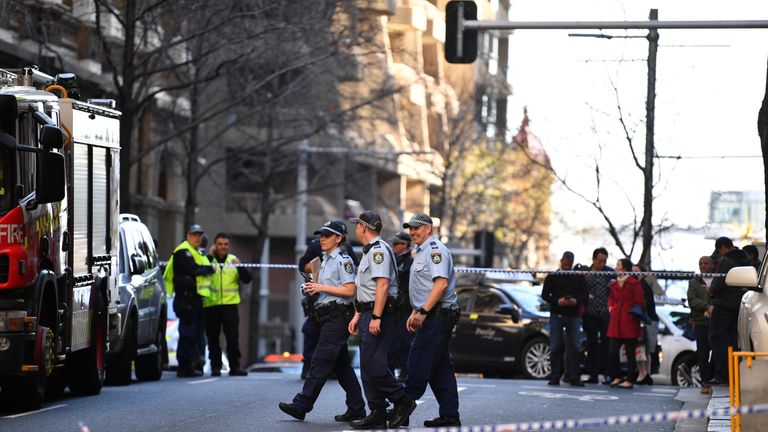 Speaking to reporters near the scene, New South Wales (NSW) Police superintendent Gavin Wood said: "A number of members of the public actually physically restrained the offender.
"And I want to acknowledge those people, those members of the public who got involved. They are brave, and I can only use that word seriously.
"They are significantly brave people. They approach the person… with clear evidence of a stabbing previously.
"These people are heroes, and I want to acknowledge that."
Police minister David Elliott also praised the men. He said: "The city tonight, celebrates three brand-new heroes.
"And I think it would only be appropriate for the commissioner and I to thank those three individual citizens who have acted well and truly beyond the call of any citizen in bringing this offender to bear."
Although the incident is not being treated as terror-related, the knifeman was described by police as a "lone actor" who may have some terrorist ideologies.
NSW police commissioner Mick Fuller said: "Information was found on him that would suggest he had some ideologies related to terrorism… but he has no apparent links to other terrorist organisations."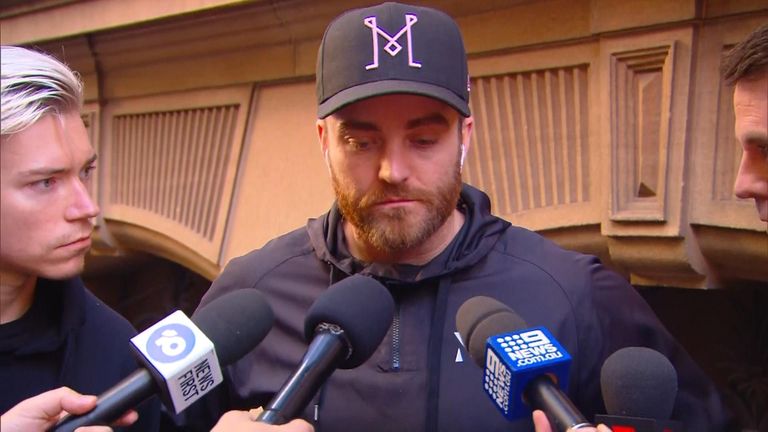 A witness told reporters the man was screaming comments about religion, before yelling to police that he wanted to be shot.
Video footage showed a young man running across a city intersection and jumping on to the hood of a car, waving what appeared to be a long-bladed knife.
Police said he used the Arabic phrase "Allahu akbar".
Australian Prime Minister Scott Morrison said: "The violent attack that took place in Sydney this afternoon is deeply concerning.
"The attacker is now in police custody following the brave actions of those who were present at the scene and were able to able to restrain him."